Resurgent Ichinojo Maintains Sole Lead at Nagoya Basho
The Mongolian veteran is having his best tournament since March of 2019.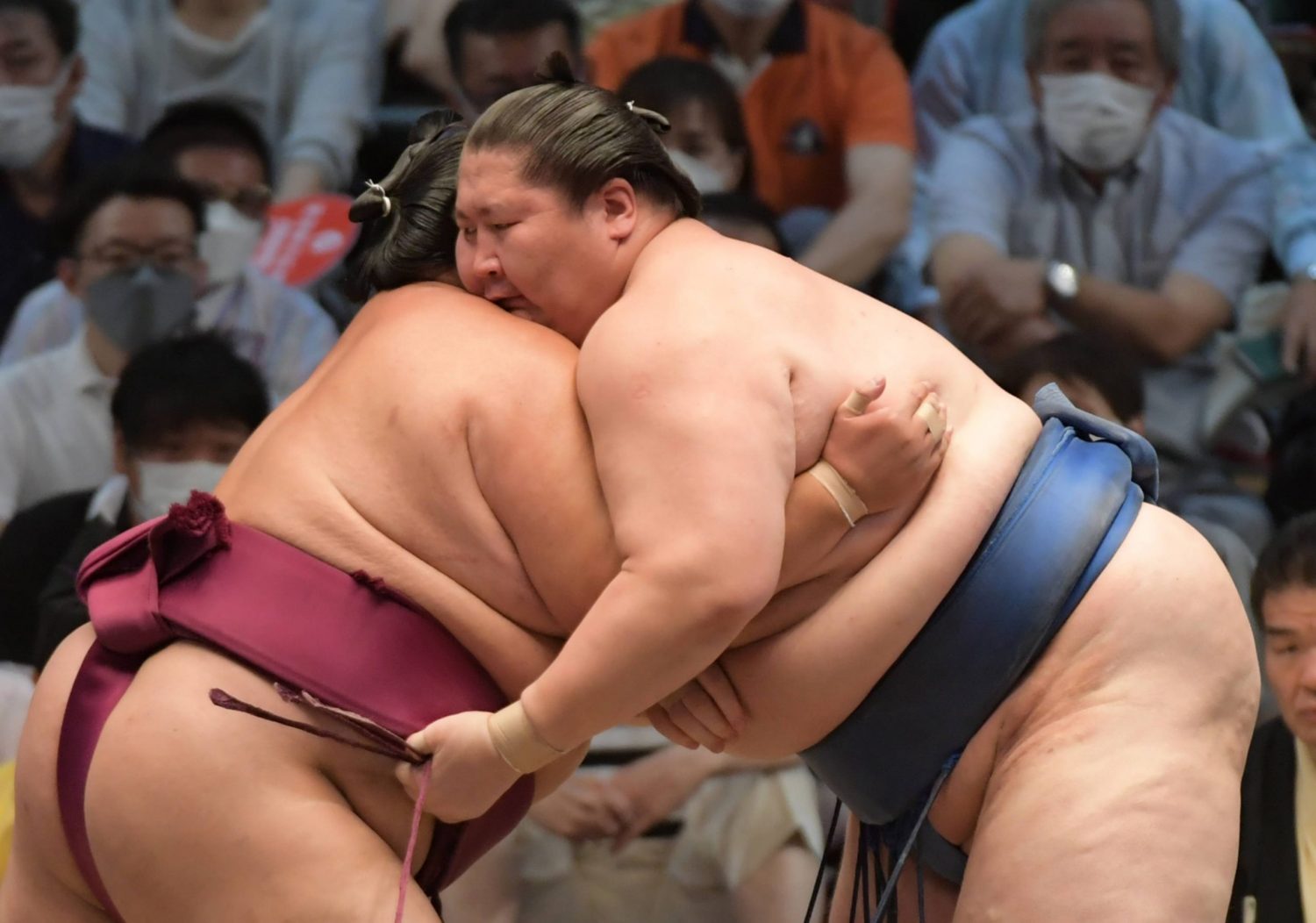 Surprise leader Mongolian Ichinojo easily beat struggling ozeki Mitakeumi on Friday, July 15 to maintain sole possession of the lead at the Nagoya Grand Sumo Tournament.
No. 2 maegashira Ichinojo quickly got a left-hand grip on the belt of Mitakeumi, spun the ozeki around and forced him out with little fuss to improve to a perfect 6-0.
"I was able to decide the match quickly," said Ichinojo, who skipped the Summer Basho in May due to a COVID-19 infection. "I missed the previous tournament, so I was really ready to go for this one. It's way too early to think of the championship yet."
Ichinojo is having his best tournament since March of 2019 when he went 14-1, one win shy of Hakuho's perfect mark of 15-0, which secured the title for the yokozuna legend.
Mitakeumi, who needs a winning record in the 15-day tournament to keep his ozeki status for the next tournament, put up little resistance and fell 2-4.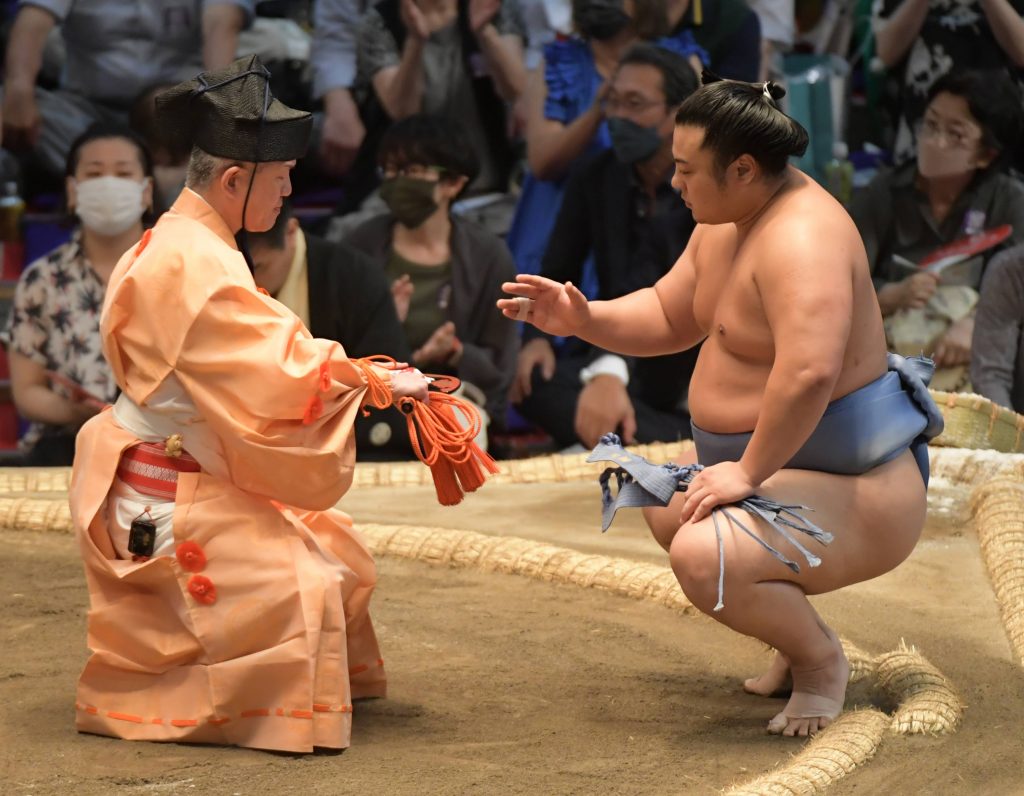 Impressive Results for Tobizaru
Sumo's Flying Monkey Tobizaru moved into sole possession of second place at 5-1 with a hard-fought win over rank-and-filer Nishikigi.
Tobizaru was forced back to the edge after the face-off but the determined No. 6 maegashira recovered and used a textbook under-arm throw to send the No. 8 maegashira Nishikigi (4-2) toppling off the raised ring.
Grand champion Terunofuji produced a comprehensive thrust-down win over Tamawashi in the day's final bout to stay two wins behind the leader at 4-2.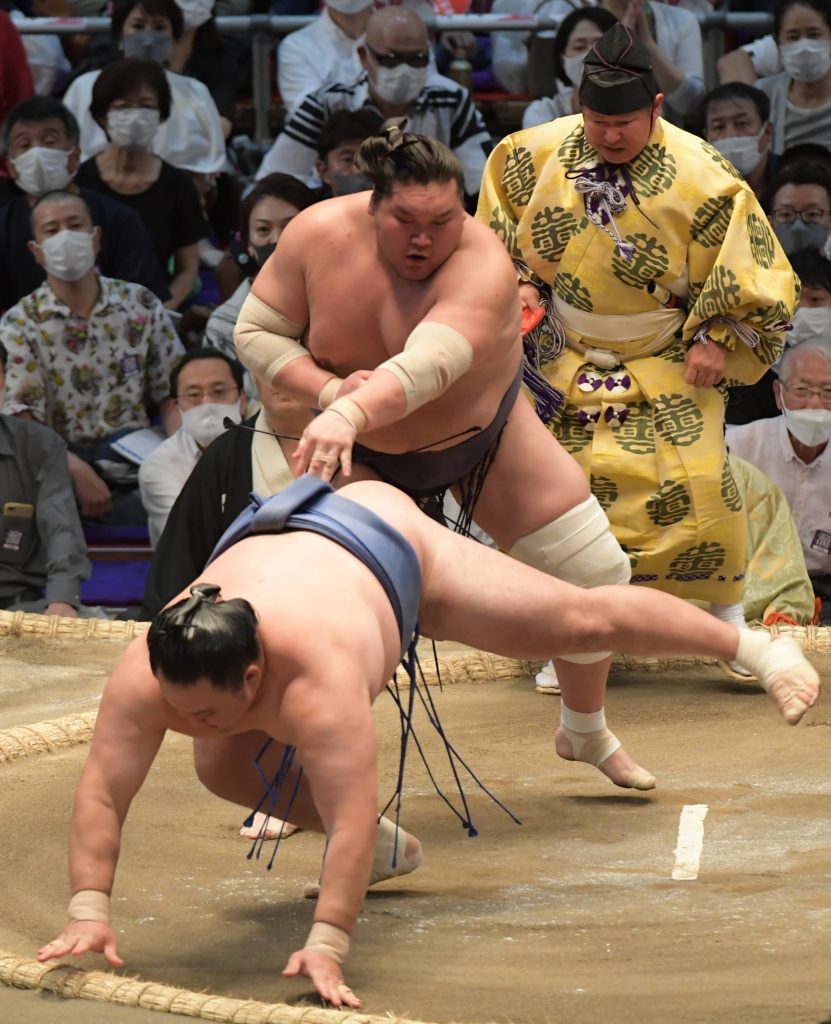 No. 3 maegashira Tamawashi had beaten Terunofuji in their three previous bouts but couldn't pull off another dramatic kinboshi on this day.
Ozeki Takakeisho improved to 4-2 when he made quick work of Ura with a rear push-out win over the No. 3 maegashira, who dropped to 3-3.
Ozeki Shodai picked up a much-needed second victory when he shoved Daieisho out over the straw ridge to improve to 2-4. Needing a winning record in this tournament, Shodai desperately wanted the win over sekiwake Daieisho, who had won three in a row and now stands at 3-3.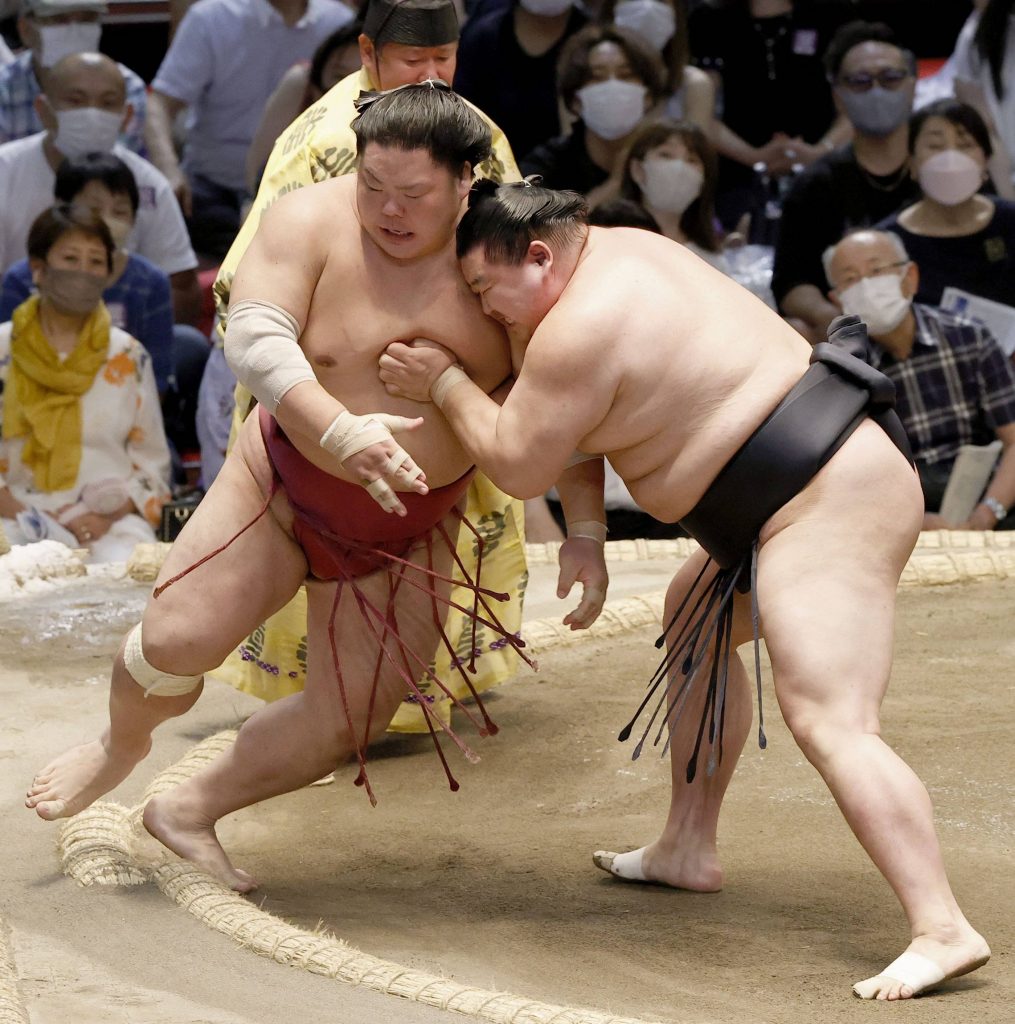 Sekiwake Wakatakakage halted a four-match losing streak to Kiribayama with an impressive frontal crush-out win over the top maegashira to give both wrestlers a 3-3 record.
No. 2 maegashira Kotonowaka deployed a perfect over-arm throw at the edge to beat top maegashira Takanosho (1-5) and improve to 4-2.
In a showdown of komusubi grapplers, Hoshoryu snapped a four-bout losing skid when he shoved Abi out to pick up just his second win against four losses.
Abi, who couldn't establish his trademark thrusting attack, fell to 3-3.
Wakamotoharu Evens Record at 3-3
A day after beating an ozeki for the first time, No. 4 maegashira Wakamotoharu kept the good vibes going when he fought off a barrage of arm thrusts by Bulgarian Aoiyama and shoved the sixth-ranked maegashira out to earn his third win against three losses.
In a highly entertaining bout, Kotoeko and Tochinoshin got a grip of each other's belt and spun around three or four times before Kotoeko finally prevailed by thrusting his opponent down at the edge.
It wasn't part of the title chase, but it gave the near-capacity crowd at Aichi Prefectural Gymnasium a thrill. 
No. 9 maegashira Kotoeko improved to 3-3, the same record for eighth-ranked Tochinoshin.
Further down the ranks, No. 15 maegashira Onosho came bursting out of the face-off and used a push-out technique to dispatch Ichiyamamoto in a matter of seconds.
No. 13 maegashira Ichiyamamoto was in the early lead but lost his second bout in a row and dropped to 4-2.
Maegashira No. 15 Oho, the grandson of the 48th yokozuna Taiho, was hauled down by No. 16 Daiamami to fall to 3-3.
Daiamami, who had to sit out two days due to an ankle injury, improved to 1-3-2.


Author: Jim Armstrong
The author is a longtime journalist who has covered sports in Japan for more than 25 years. You can find his articles here.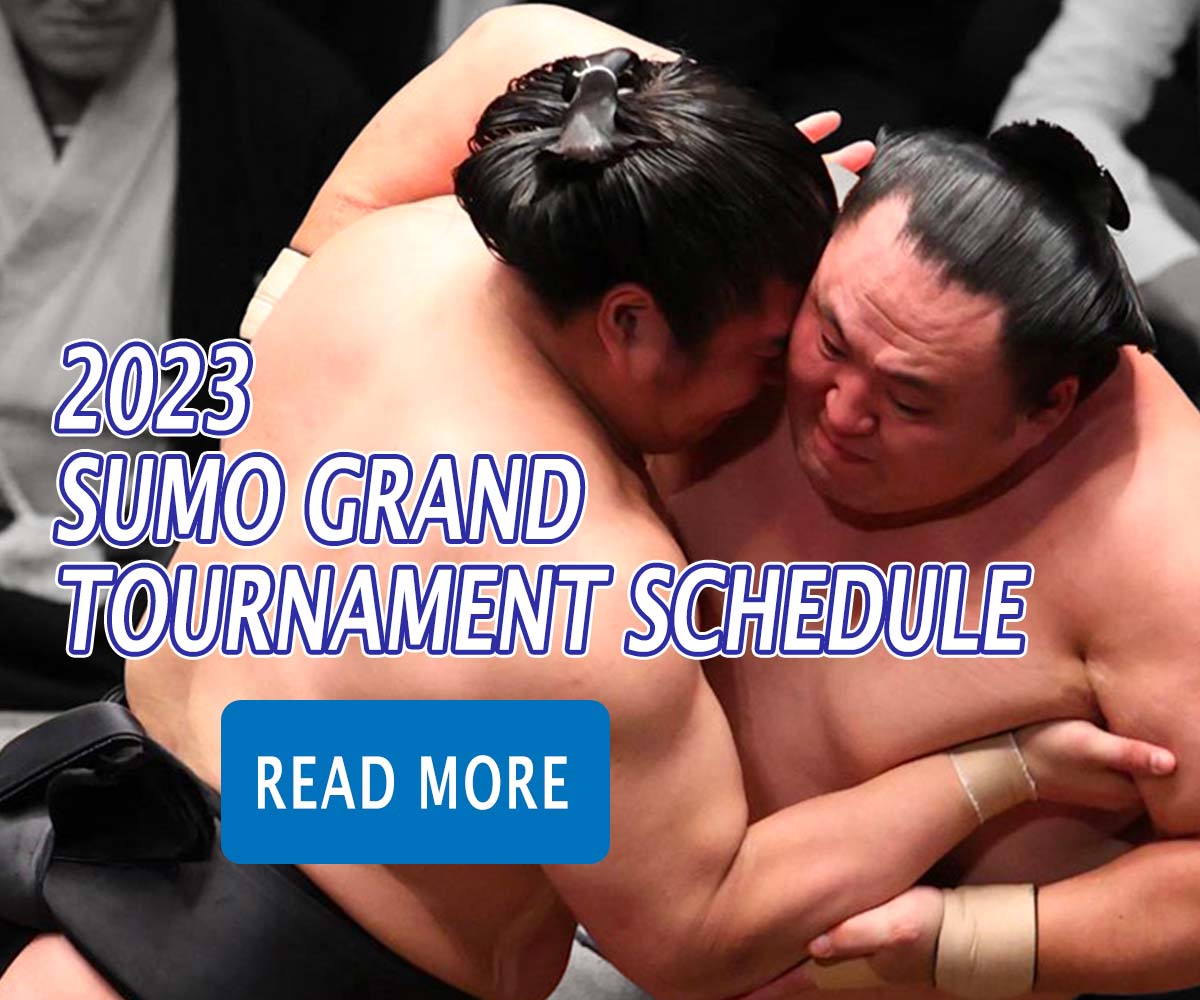 Subscribe to Our Newsletter