Rejuvenated ozeki Takakeisho overpowered Okinoumi on Saturday, November 20 to remain tied for the lead with yokozuna Terunofuji after seven days of the 15-day Kyushu Grand Sumo Tournament.
Ozeki Takakeisho came in low at the face-off, got both hands on the chest of third-ranked maegashira Okinoumi and shoved the veteran grappler out in a matter of seconds to improve to 7-0.
After going a sub-par 8-7 in the September tournament, the 25-year-old Takakeisho came into the Kyushu meet determined to do better and the results have been promising so far.
The Tokiwayama stable wrestler is aiming to regain the form that allowed to win this tournament in 2020. Takakeisho has had injury issues in the past but hopefully they won't flare up in the second half of the Kyushu Basho.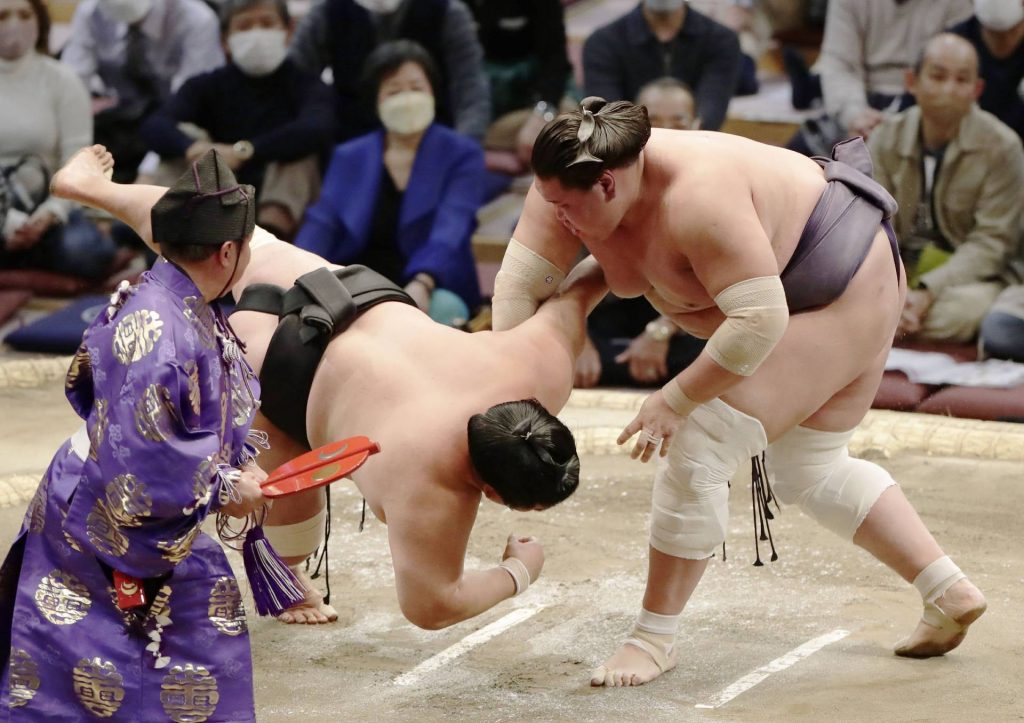 In the day's final bout at Fukuoka Kokusai Center, grand champion Terunofuji stayed undefeated when he used a textbook arm throw to send third-ranked maegashira Myogiryu (2-5) sprawling to the dirt surface.
Terunofuji is bidding for his second straight Emperor's Cup at the sport's highest rank and will be tough to beat if he keeps showing the same level of poise he did in Saturday's bout.
Meanwhile, Mitakeumi, Tamawashi and Abi all won earlier bouts to remain one win off the pace at 6-1.
In the day's penultimate bout, Kumamoto native Shodai put a halt to a two-bout losing skid when he got a double-inside position on Takarafuji (3-4) and drove the fourth-ranked maegashira out to pick up his fourth win against three losses.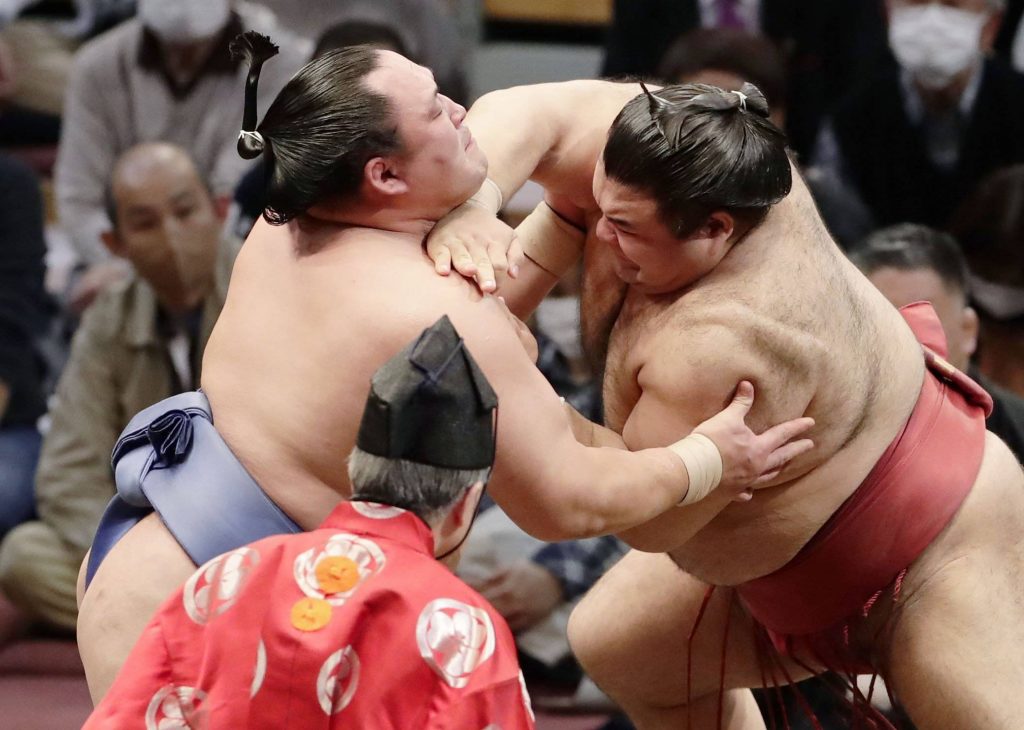 Mongolian Tamawashi remained one win off the pace when he got both hands under the arms of Takayasu (4-3) and thrusted the fifth-ranked maegashira out to improve to 6-1.
It was the sixth straight win for Tamawashi, who lost on the opening day but has won every bout since.
Sekiwake Mitakeumi also stayed one win back at 6-1 when he dodged to his side at the face-off and swatted down struggling komusubi Kiribayama.
Kiribayama simply came bursting out of the face-off with little technique and dropped to a disappointing 1-6.
Fifth-ranked maegashira Hoshoryu got both arms around Kotoeko and forced out the winless No. 8 maegashira to improve to 3-4.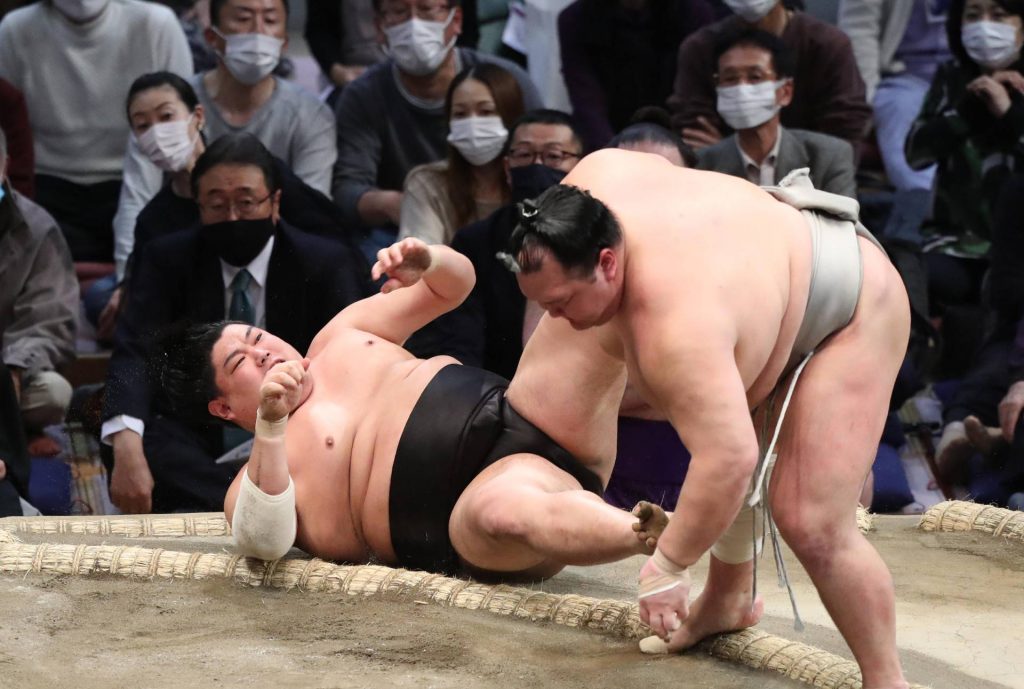 In an earlier bout, rank-and-filer Abi (6-1) fell out of a share for the lead when he was swatted down by No. 12 maegashira Hokutofuji, who improved to 5-2.
In other major bouts, fourth-ranked maegashira Endo hauled down seventh-ranked Ura to pick his fourth win against three losses. Ura, who attempted to pull Endo by the arm, lost his footing and dropped to 5-2.
In a match that lasted only seconds, Daieisho overextended himself at the face-off and was swatted down by No. 2 maegashira Takanosho, who improved to 4-3. Top maegashira Daieisho fell to 3-4.
Mongolian behemoth Ichinojo stunned Wakatakakage with a slap to the face and a forearm to the head immediately after the face-off and then used his 80-kg weight advantage to shove the top maegashira out.
Komusubi Ichinojo moved to 4-3 while Wakatakakage fell to 2-5.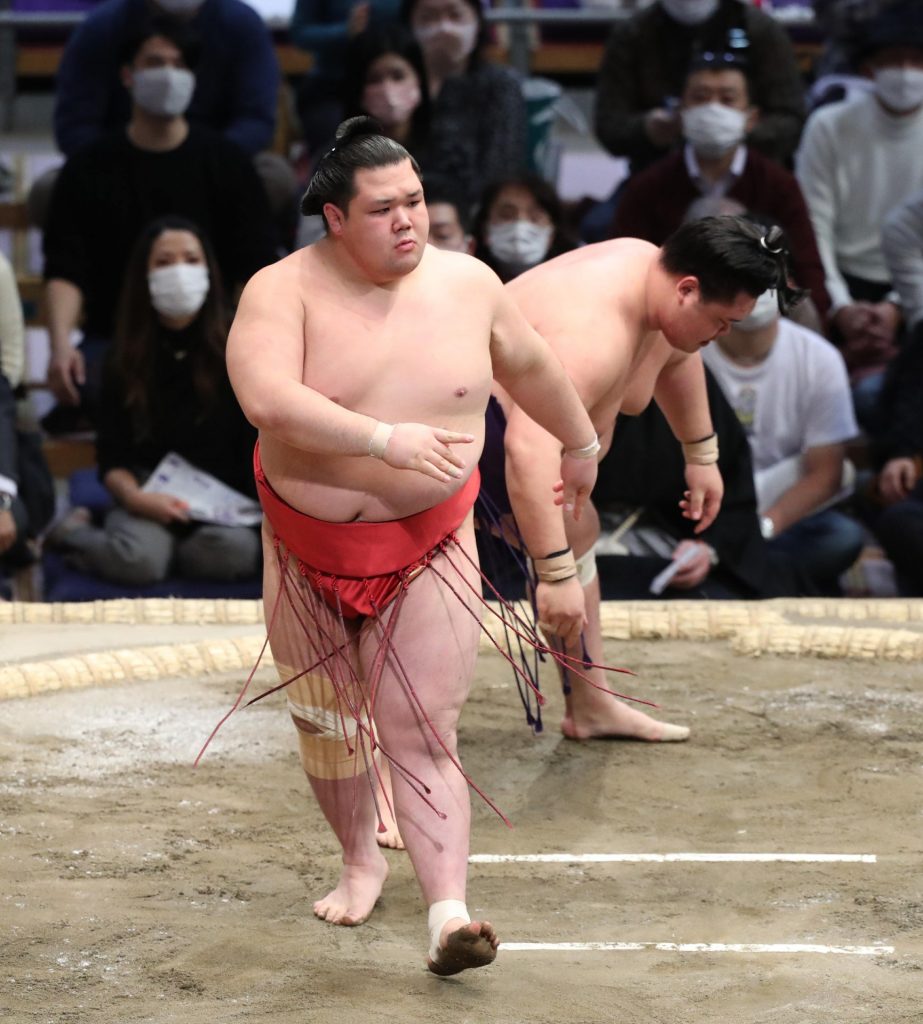 No. 2 maegashira Onosho took advantage of a flat-footed stance by Meisei and made the sekiwake pay the price with a slap down win to earn his second win against five losses.
Meisei, who is aiming for promotion to ozeki in the future, dropped to 3-4 and can ill-afford more setbacks if he wants to achieve his goal of double-digit wins.

Three Stars
First Star: Tamawashi. With his sixth straight win, the Kataonami stable wrestler has quietly put himself in the thick of things. After an opening-day loss the Mongolian grappler has looked like a title contender.
Second Star: Takakeisho. The ozeki's one-sided win over veteran Okinoumi is a sure sign the Tokiwayama stable grappler means business. He's already well on his way to improving on the 8-7 record he posted last time out.
Third Star: Mitakeumi. The big sekiwake showed deft footwork at the face-off when he read Kiribayama like a book and dodged to his side before swatting down his opponent.


Author: Jim Armstrong
The author is a longtime journalist who has covered sports in Japan for more than 25 years. You can find his articles here, on JAPAN Forward.