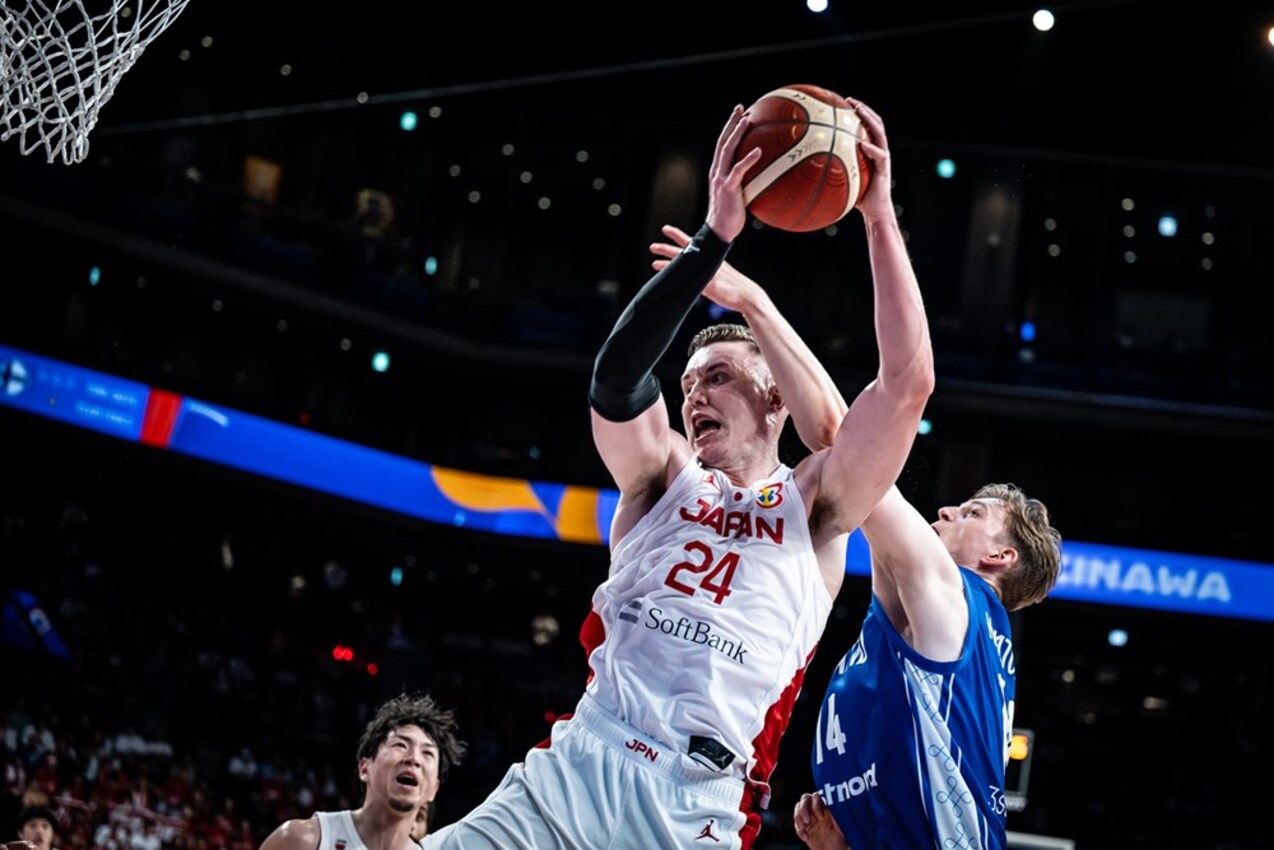 OKINAWA CITY ― With a 10-point deficit entering the fourth quarter, Japan faced a formidable challenge against Finland in a FIBA Basketball World Cup game on Sunday night, August 27.
But Japan coach Tom Hovasse's squad aced the test with flying colors, earning a crowd-pleasing 98-88 victory.
World No 36 Japan outscored 24th-ranked Finland 35-15 in the final quarter.
To the delight of the home crowd, 172-cm backup guard Yuki Kawamura, scored 15 of his 25 points in the fourth.
Big man Josh Hawkinson, who was chosen as the Player of the Game, finished with 28 points and 19 rebounds, game-high totals in both categories. The Washington State alum, who became a naturalized Japanese citizen in 2023, had an influential performance on offense, making 7 of 9 shots from the floor, and 14 of 15 free-throw attempts.
Hawkinson had 12 points in the final quarter.
"He really gutted it out today," Hovasse said of Hawkinson. "It was amazing,"
Hovasse made astute substitutions throughout the game, using player combinations that worked well together.
Reserves Makoto Hiejima (17 points in 14-plus minutes), Kawamura (4-for-7 on 3s, nine assists and zero turnovers in about 25 minutes) and Keisei Tominaga (17 points, 4-for-7 on 3s and three steals in 18-plus minutes) were difference-makers in this game.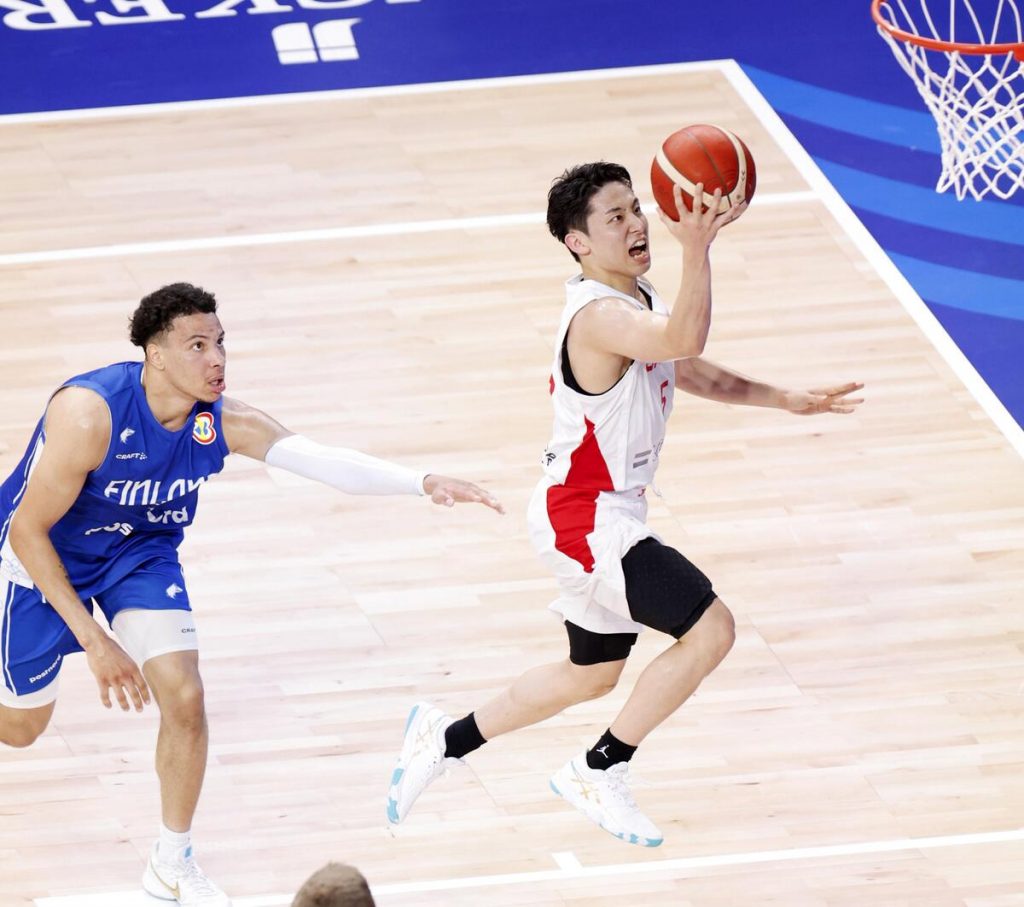 Kawamura and Tominaga are the youngest players on Akatsuki Japan's 12-man World Cup roster. Neither 22-year-old guard appeared fazed by the pressure of trying to earn a win in front of the home crowd.
'A Huge Win for Us'
"That was a huge win for us," Tominaga proclaimed in the post-game news conference. "We were down 18 points but we never gave up."
He added, "We knew we could still do it so we trusted each other."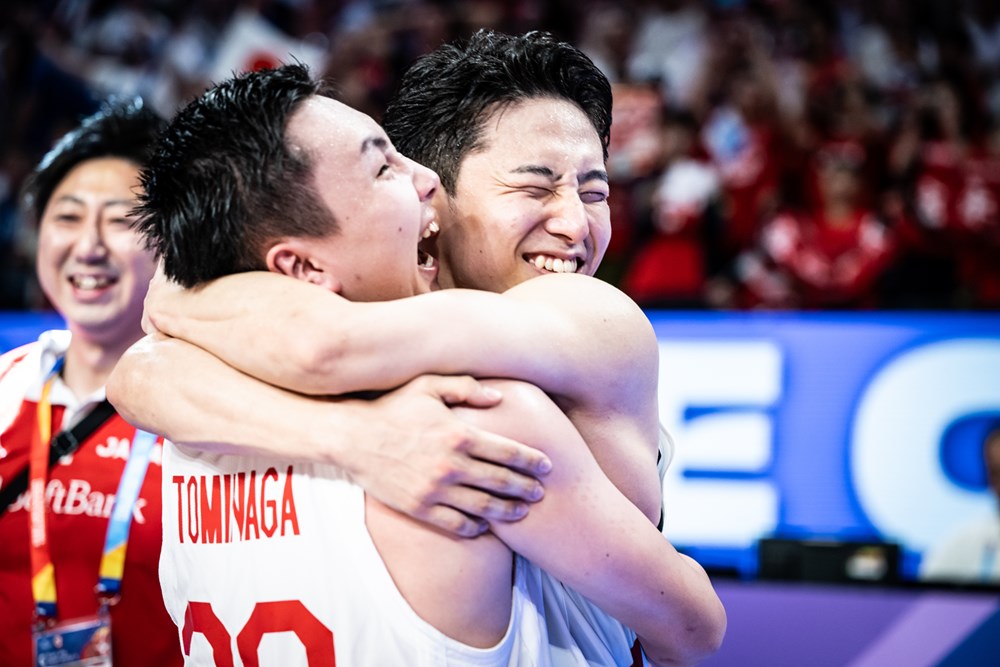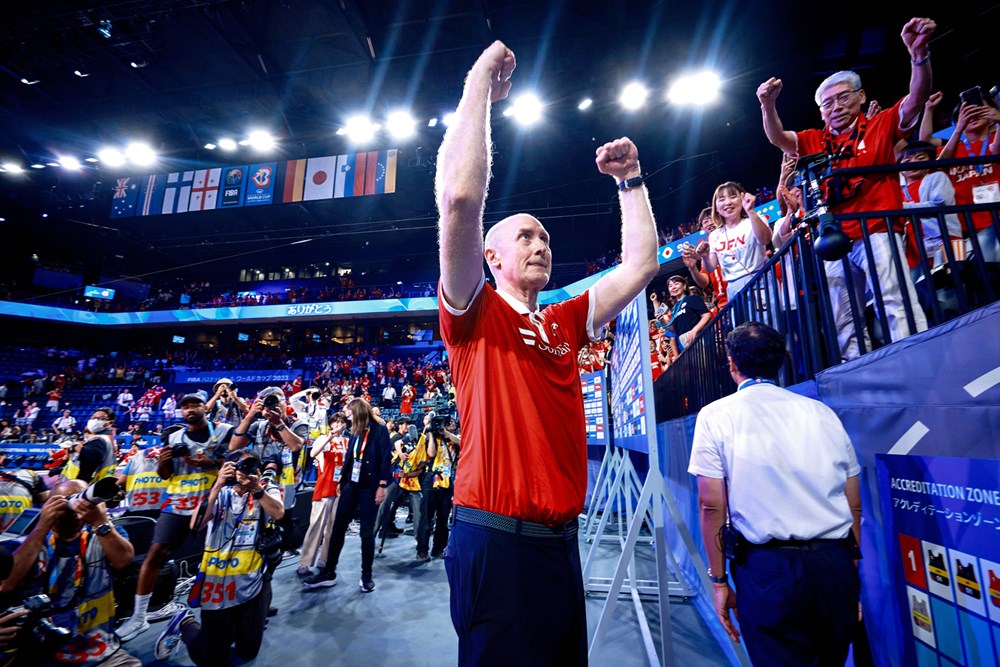 Japan Bounces Back After a Loss to Germany
With the win, Japan improved to 1-1 in the first round. Japan opened the 32-nation tournament with an 81-63 loss to Germany on Friday, August 25. In that game, Japan shot 6-for-35 from 3-point range.
Against Finland, Japan made 11 of 28 shots from beyond the 3-point arc.
"Man, that was a crazy game," Hovasse said in his opening remarks to reporters afterward.
Despite Japan's big deficit, Hovasse said "the guys just never gave up. It was looking kind of bleak there for a minute. We haven't shot the ball well for the last three or four games, and I think the young guys, Tominaga and Kawamura, came in and gave us a really big boost on the offensive end, and Tominaga was really active on defense, too, which is really important for us."
When the final buzzer sounded, it became official: This was Japan's first victory in the tournament since August 21, 2006, when it earned a 78-61 decision over Panama in Hiroshima. (At that time the tournament was known as the FIBA World Championship.)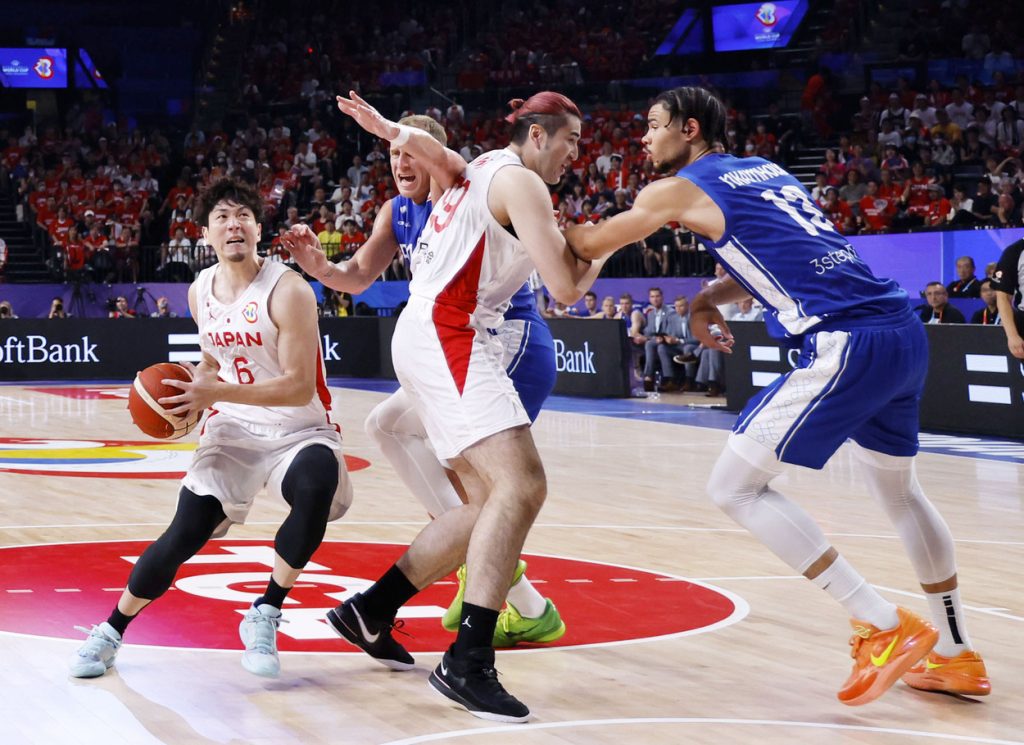 Up Next for Japan in the Basketball World Cup
There will be little time to dwell on the excitement of beating Finland.
Japan faces world No 3 Australia in the teams' final Group E match on Tuesday, August 29 at 8:10 PM at the same venue.
Lauri Markkanen led Finland with 27 points and corralled 12 rebounds. Mikael Jantunen had 13 points and Edon Maxhuni finished with 12.
Finland small forward Elias Valtonen said, "Huge respect for Japanese players [for] how they fight. I mean, they played their hearts out today. One-on-one battles at both ends of the floor. They won the rebounds by one (36-35) also, so it tells a lot.
"I think we were ready, but we let them play their game and hit very tough shots at the end and got the crowd going, so congrats for them."
Pivotal Run in the Fourth Quarter
Trailing 73-63 after three quarters, Japan used an 11-3 scoring spurt to open the final stanza of the Group E game and cut the lead to 76-74, much to the delight of the partisan crowd at Okinawa Arena.
In other words, the result was up for grabs with just under 6 minutes remaining.
Kawamura sank a scoop shot with 4:35 left to tie it at 78-78. He was fouled on the play, then made the shot to give Japan a one-point lead.
Seconds later, Kawamura, a rising star for the B.League's Yokohama B-Corsairs, drained a step-back 3-pointer to increase the lead to 82-78 as the crowd clapped and cheered in unison. Finland called a timeout to regroup.
Hawkinson made two free throws with 1:31 to play, giving Japan a 91-83 lead.
On the next possession, Finland's Sasu Salin buried a 3-pointer to make it 91-86.
Kawamura answered with a pull-up 3-pointer, and the lead was back to eight with 1:01 left.
Twenty-one seconds later, Tominaga sealed the win with a driving layup courtesy of a Yuta Watanabe pass. Japan now led 96-86, and Finland ran out of time to attempt a frenetic rally.
Defense Lifts Japan in First Quarter
Defensive pressure, frequently double-teams, triggered Japan's strong first-quarter effort. As a result, its defense provided a potent catalyst for its offense.
Finland turned the ball over six times in the opening period, and Japan turned those takeaways into six points.
Another early bright spot for the host nation: Japan's bench players scored 13 points in the first quarter, with Hiejima pumping in nine points. This included a rare four-point play in which Hiejima knocked down a 3-pointer and was fouled on the play. He nailed the subsequent free throw to give Japan a 13-5 lead at the 3:42 mark.
Finland trailed 22-15 entering the second quarter.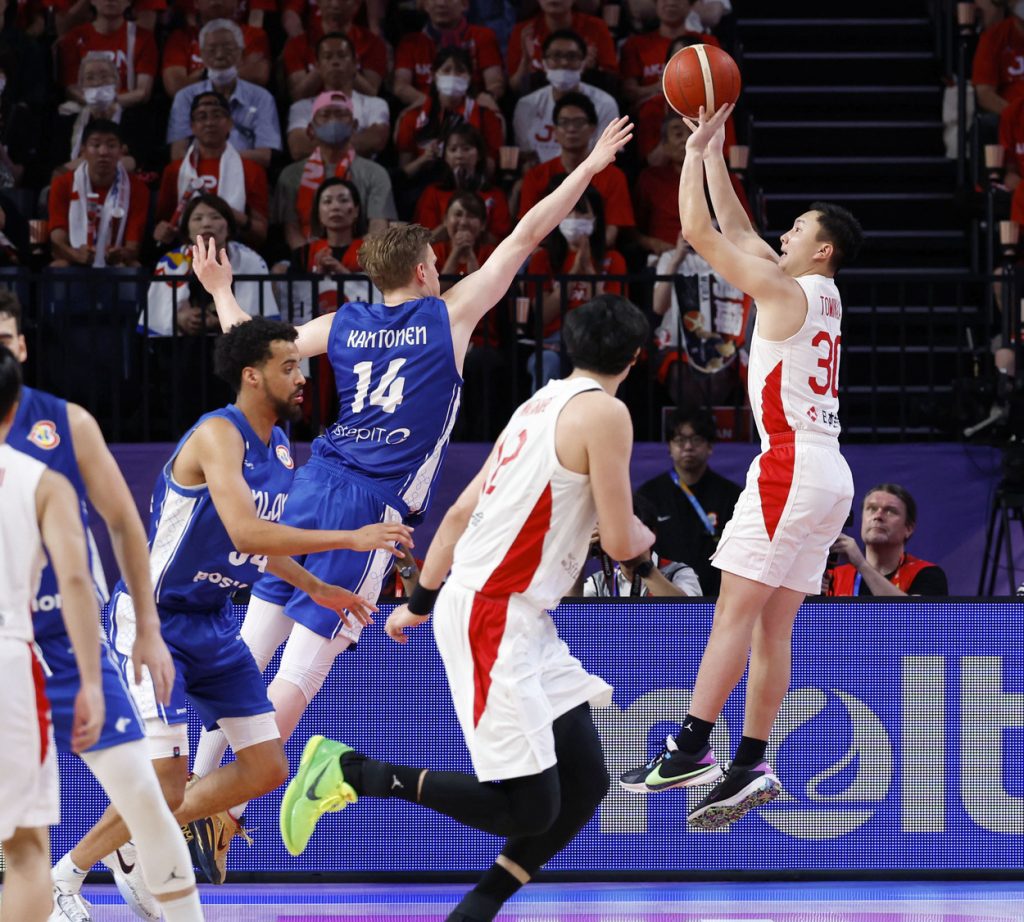 Tominaga canned a deep 3-pointer from the left wing to make it 25-21 at the 8:29 mark. The University of Nebraska guard sank another 3 with just over 6 minutes remaining in the half to give Japan a 28-24 advantage.

A 10-0 Finland run capped by a Jantunen layup shifted momentum in a hurry. Japan trailed 34-28 at the 2:58 mark.
Finland stretched its lead to 46-36 at halftime.
Hiejima had 14 points in the first half, Hawkinson scored eight and pulled down nine rebounds and Tominaga had six points.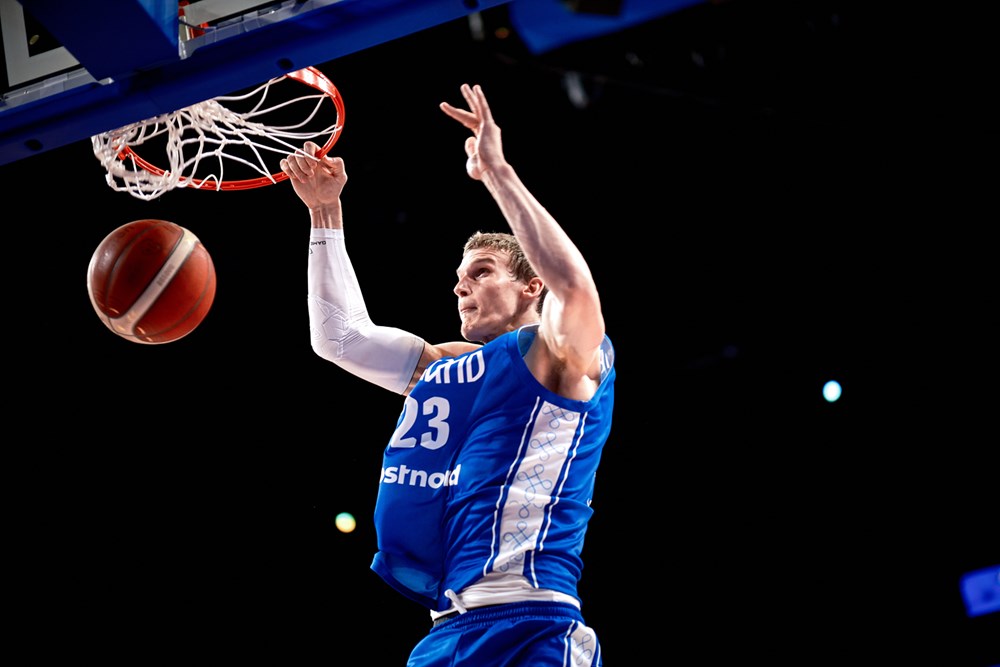 The Biggest Lead of the Game
Finland appeared to be on the verge of a blowout win in the third quarter, when it took an 18-point lead (71-53) on a pair of Markkanen free throws at the 2:46 mark. (In July 2021, Finland defeated Japan 76-71 in a pre-Olympic exhibition game in Okinawa.)
But this time, Japan, buoyed by outstanding effort and execution at both ends of the floor, enjoyed a winning feeling as the fourth quarter wrapped up.
"The fans were amazing," Hovasse said. "It was a big win for us. I'm really happy for the guys. We're trying to create a new standard here for Japan basketball, and this was definitely a big step in the right direction."
RELATED:
Author: Ed Odeven
Find Ed on JAPAN Forward's dedicated website, SportsLook. Follow his [Japan Sports Notebook] on Sundays, [Odds and Evens] during the week, and X (formerly Twitter) @ed_odeven.