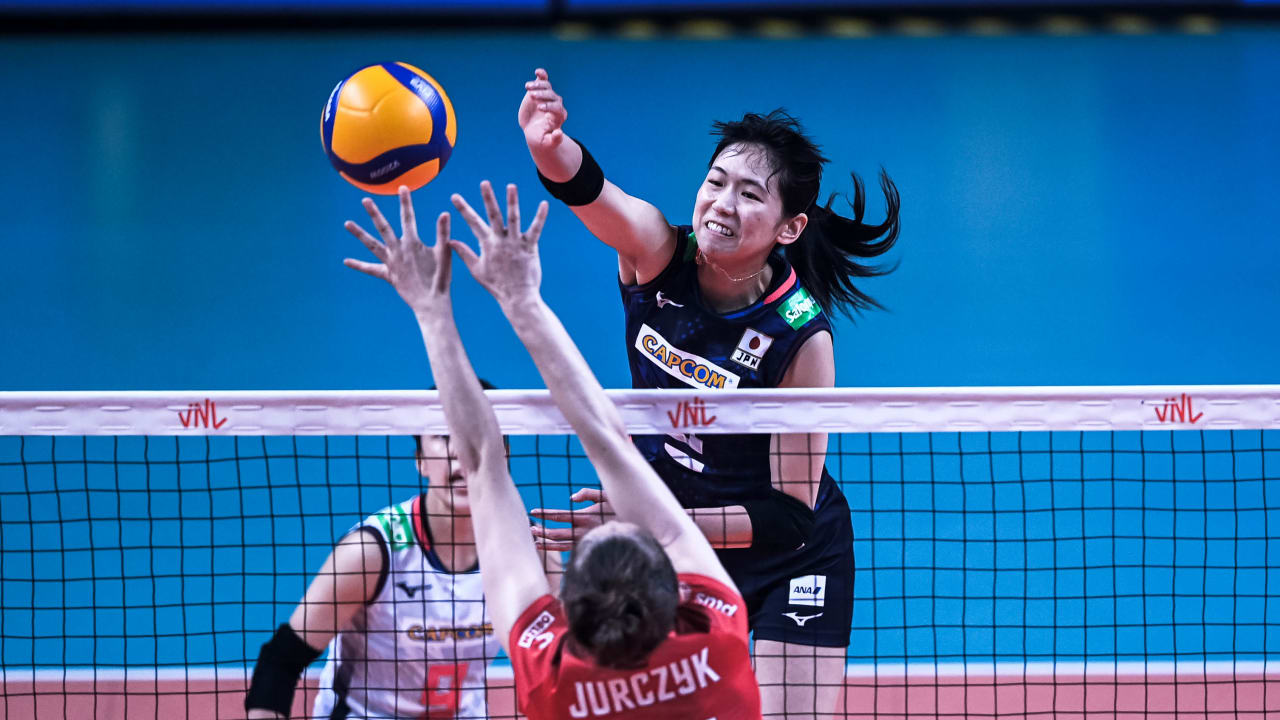 It's been a decade since the Japan women's volleyball team's bronze-medal finish at the 2012 London Olympics. And it was 12 years ago that the squad placed third at the FIVB Women's Volleyball World Championship at Yoyogi National Gymnasium.
But after a 10th-place finish at the Tokyo Olympics last summer, the team dubbed "Hinotori Nippon" has enjoyed a sensational start at the ongoing FIVB Women's Volleyball Nations League, a 16-team competition, in the Philippines.
Japan improved to 7-0 in the preliminary round, beating Thailand 25-22, 15-16, 25-14 on Friday, June 17 in Quezon City. Outsider hitter Sarina Koga, the team captain, led the victors with 21 points, including 18 attack points. Arisa Inoue, also an outside hitter, contributed 17 points.
Three days earlier, Japan prevailed 25-21, 25-21, 25-21 over Poland. In doing so, Japan (5-0 at the time) remained the lone unbeaten team in the Nations League.
Koga paced Hinotori Nippon with 19 points. Inoue was again a big point producer, finishing with 17. Middle blocker Haruyo Shimamura added 10 points, while Kotona Hayashi had seven.
"We focused on speed-serving and tried to make them play out of system," the 25-year-old Koga said after the match, according to FIVB.com. "We'll keep doing that for the rest of the week and we'll try to keep winning."
Setter Nanami Seki was pleased with the team's balanced attack.
"Our training for attackers worked. I was sharing the ball for our attackers and I have options," Seki was quoted as saying by the Philippine Daily Inquirer.
After Week 2's preliminary round competition wraps up in the Philippines (there's another eight-team pool in Brasilia), Japan and seven other national teams are scheduled to travel to Calgary, Alberta, for the next week of the tourney. That starts on June 30, when Japan takes on the Netherlands in the Canadian city.
But first things first: Japan closes out the Philippines portion of its preliminary round schedule against China on June 19.
And with an 7-0 record to date, Koga is determined to keep pushing her teammates to play as a cohesive unit.
"We will try to make it one strong team and keep everybody together," Koga said, according to the Philippine Daily Inquirer.
Through June 17, Koga was No. 1 in the Nations League in points (151), which includes the most attack points (137). Inoue is 10th overall with 108 points.
Starting on June 2, Japan recorded victories over South Korea, Germany, the Dominican Republic, United States, Poland, and Bulgaria, before meeting Thailand.
Sofia, Bulgaria, is the other Week 3 host for the other eight-nation round, beginning on June 28.

Eight teams will advance to the final phase.
The Volleyball Nations League finals are set for July 13-17 in Ankara, Turkey.
A year ago, the United States, Turkey and Brazil collected the gold, silver and bronze medals, respectively, in the pre-Olympic Volleyball Nations League, which concluded on June 25. Japan placed fourth, falling to Turkey in the third-place match.

Baseball
Ohtani Showcases All-Around Skills in Win
Shohei Ohtani won his second consecutive start and kept his hitting streak alive in a 4-1 road victory over the Seattle Mariners on Thursday, June 16.

The Angels arrived at their hotel in Seattle around 4 AM that morning after playing in Los Angeles the previous day.

Ohtani (5-4) held the M's to three hits ― one less than he had in four at-bats (two singles) ― and struck out six. He walked two and threw 93 pitches.
"I knew my pitch count was up there. If I had seven to 15 less pitches I would have definitely wanted to go back out," Ohtani told reporters through an interpreter, The Associated Press reported.
Ohtani served as LA's designated hitter and batted third in the lineup. With the aforementioned singles in the third and fifth innings, he extended his hitting streak to 11 games, matching his longest streak in the majors.

After the Angels' June 3 game, the day before his hitting streak began, Ohtani had a .240 batting average. He raised it to .263 with Thursday's 2-for-4 effort.

On May 16, he was batting .264.
"Physically, I went into the game not feeling all that great due to our travel schedule," he said, according to Kyodo News.
Despite the fatigue, what was Ohtani's assessment of his pitching performance?
"I still got a lot of movement, and when I missed in the zone, those pitches only got fouled off," he stated. "That's how good my stuff was."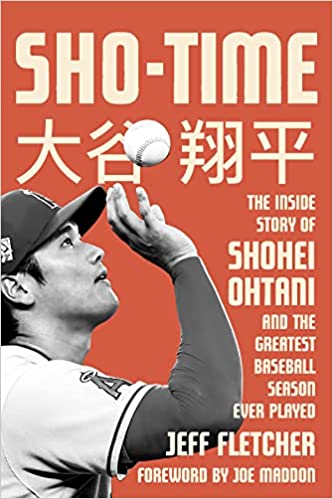 In related news, Angels beat writer Jeff Fletcher of the Orange County Register is the author of the book, Sho-time: The Inside Story of Shohei Ohtani and the Greatest Baseball Season Ever Played, set to be published in July.

Bleacher Report published an excerpt entitled "Inside the Recruiting Battle for Shohei Ohtani" on June 14.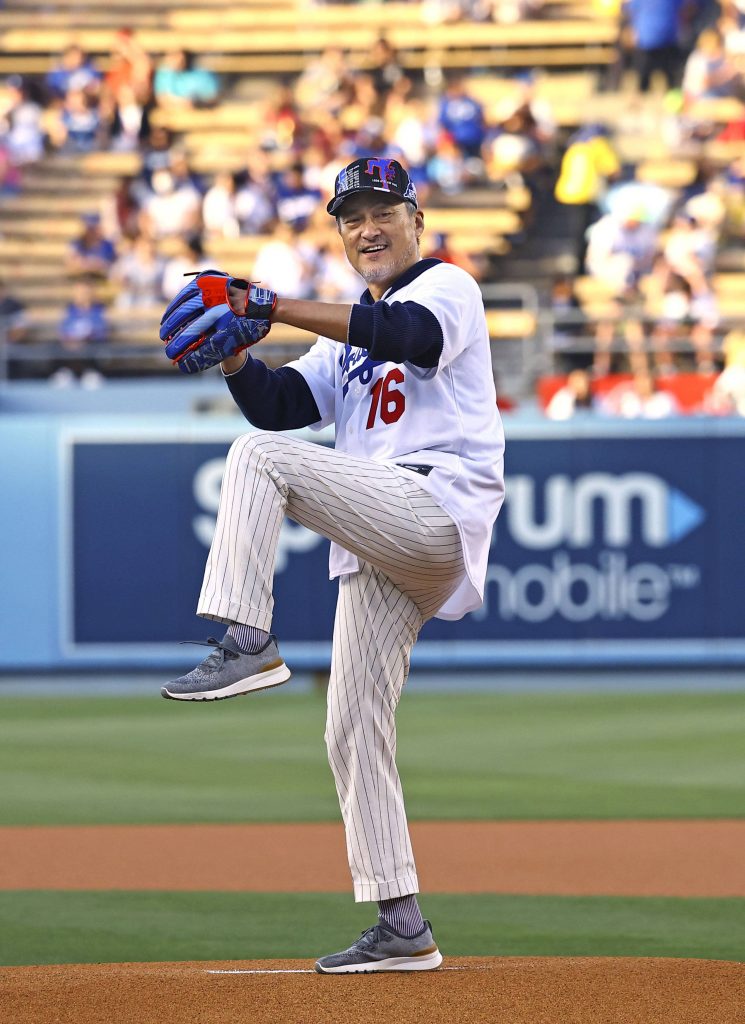 Actor Watanabe Pays Visit to Dodger Stadium
"The Last Samurai" star Ken Watanabe tossed the ceremonial first pitch at Dodger Stadium on Wednesday, June 15 before the Los Angeles Dodgers-Los Angeles Angels game. It was Japanese Heritage Night at the ballpark.
Watanabe also posed for pictures with Dodgers manager Dave Roberts, who was born in Okinawa.
The 62-year-old actor shared his thoughts on reigning American League MVP Shohei Ohtani during his visit to the ballpark.
"I have sympathy for him [Ohtani] as one who is continuing to challenge the unknown," Watanabe said, according to Kyodo News. "I am looking forward to the results and success he can produce this year if he can avoid injury."
The Dodgers scored three runs in the first inning en route to a 4-1 victory.

Basketball
Ryukyu Bench Boss Oketani Reaffirms Commitment to Chasing a Championship
Ryukyu Golden Kings coach Dai Oketani will return for a second season in charge of the B.League club in 2022-23.

The team's announcement on Tuesday, June 14 was not a surprise. The Golden Kings had the best record (49-7) in B1 this past season and finished as the championship runner-up squad, falling to the Utsunomiya Brex in the championship round in May.
"I will continue to take command during the 2022-2023 season," Oketani said in a statement. "I would like to work hard to build a team that can continue to grow without forgetting the foundation that Kings has cherished. I am looking forward to fighting with you again in the new season."
Duncan Joins Golden Kings
After four years with the Chiba Jets, veteran forward Josh Duncan is switching teams for the upcoming season.
The 36-year-old Xavier University alum has signed a one-year deal with the Golden Kings, the team announced on June 14.
"I am excited to be joining the Golden Kings," Duncan said in a news release. "I look forward to working towards a successful season with my new teammates. I would like to thank the management and coaching staff for giving me this opportunity and I will do my best to try and get the championship for the Golden Kings. Please come and support us."
Duncan averaged 13.2 points, 7.7 rebounds and 2.0 assists in 45 games in 2021-22.

Boxing
Mayweather, MMA Fighter Asakura to Meet in September Exhibition
Legendary boxer Floyd Mayweather Jr., who was unbeaten in 50 professional bouts, retired in 2017. But he's participated in a series of exhibitions against mixed martial arts fighters since then.
And he's planning to return to the ring again in September against MMA fighter Mikuru Asakura, it was announced on June 14. Additional details were not released.
In December 2018, Mayweather took on Japanese kickboxer Tenshin Nasukawa in a scheduled three-round exhibition match at Saitama Super Arena. The fight lasted 2-plus minutes, with Mayweather winning by technical knockout.

On June 12, Mayweather participated in the International Boxing Hall of Fame induction ceremonies in Canastota, New York.
The IBHOF honored three induction classes (2020, 2021 and this year's) as a combined event. The past two years' ceremonies were delayed due to the COVID-19 pandemic.
"I [have] done a lot in my career, but this is by far the best," Mayweather was quoted as saying by The Associated Press. "I want to thank the International Boxing Hall of Fame for giving me this. This right here is going to my dad because he deserves it. Bernard Hopkins said it best — `You've got to earn it.′ — and my dad earned this ring."
Horse Racing
Grenadier Guards Finishes 19th in Platinum Jubilee Stakes
On the penultimate day of the Royal Ascot meet, Grenadier Guards, guided by Cristian Demuro, placed 19th in the Group 1 Prince Jubilee Stakes on Saturday, June 18.
The winner, 33-1 shocker Naval Crown, defeated Creative Force by a neck at Ascot Racecourse.
"It was a lovely surprise. I would be lying if I said I expected him to win today," winning jockey Doyle told ITV Racing. "He's not short on speed, he ran nicely behind Home Affairs and he saw it out well."
William Buick steered Creative Force to a runner-up finish.
Favorite Home Affairs faded late in the six-furlong (1,607-meter) race, finishing 20th.
Grenadier Guards, a 50-1 longshot on Saturday, is a Frankel-sired, Japanese colt owned by Sunday Racing. Trained by Mitsumasa Nakauchida, he won the Asahi Hai Futurity Stakes as a 2-year-old, followed by a victory in the Grade 2 Hanshin Cup last December.
Japanese racing journalist Naohiro Goda spoke to Britain's Sky Sports in the run-up to the Prince Jubilee Stokes and shared an insider's perspective on how special it would be for Nakauchida to saddle a horse at the prestigious race.
"It was always one of his dreams to have a runner at Royal Ascot, and today, his dream has come true," Goda said on camera.
RELATED:
Swimming
An Insider's Predictions for Medals at World Championships
Swimming World Magazine's David Rieder wrote a story on the eve of the FINA World Swimming Championships on Friday, June 17 and predicted the medalists for all 42 combined men's and women's events over eight days in Budapest.
In his medals forecast, Rieder wrote that Japanese swimmers would win a total of eight medals, but no golds.
On Saturday, the first day, he penciled in Daiya Seto as the bronze medalist for the men's 400-meter individual medley. (Seto placed sixth.)
Other predictions in chronological order:
June 19: Yui Ohashi (bronze, women's 200 IM)
June 20: Reona Aoki (bronze, women's 100 breaststroke)
June 21: Tomoru Honda (silver, men's 200 butterfly)
June 22: Daiya Seto (silver, men's 200 IM)
June 23: Ryuru Miura (bronze men's 200 breaststroke)
June 24: Naoki Mizunuma (bronze, men's 100 butterfly)
June 25: Yui Ohashi (silver, women's 400 IM)
Read Rieder's full list of medal predictions here.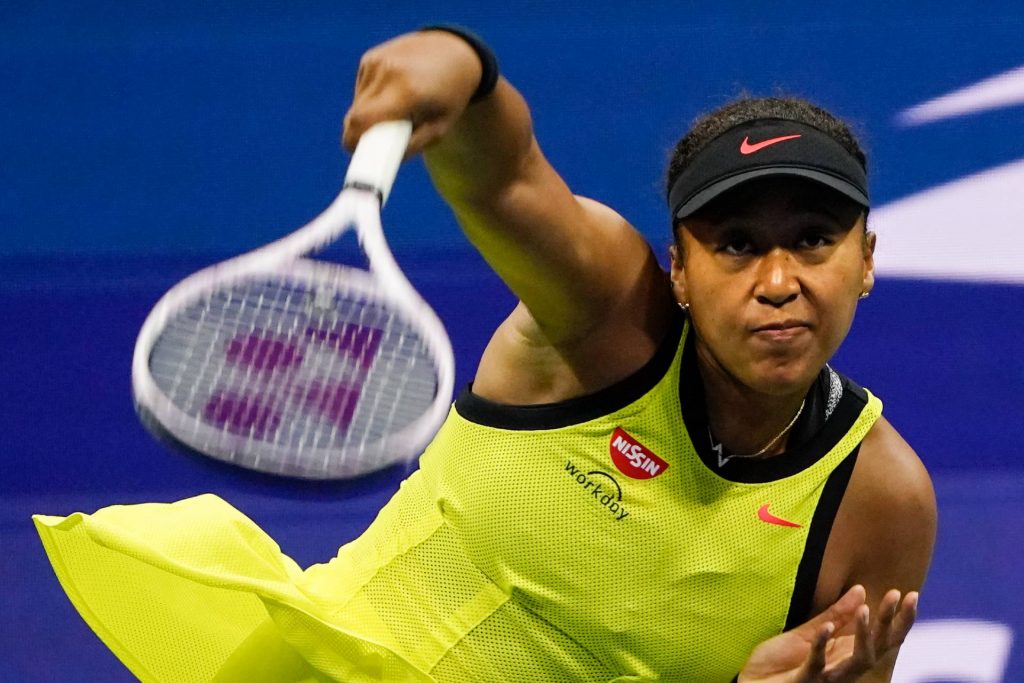 Tennis
Osaka Pulls Out of Wimbledon
Naomi Osaka withdrew from Wimbledon later this month citing lingering pain caused by a left Achilles injury she sustained at the Madrid Open in early May, the former world No. 1 announced on Saturday, June 18.
"[My] Achilles still isn't right so I'll see you next time," Osaka tweeted.
Previously, she said she might skip the Grand Slam event after ranking points were removed from this year's tournament, saying a lack of motivation was a factor.
Wimbledon organizers' decision to bar Russian and Belarusian players from participating due to Russia's invasion of Ukraine was countered by the ATP and WTA stripping rankings points for the tournament.
"The decision [on ranking points] is affecting my mentality going into grass," Osaka said in May. "I'm not 100% sure if I'm going to go."
Explaining her mindset to reporters, she added: "I feel like if I play Wimbledon without points, it's more like an exhibition. I know this isn't true, but my brain just feels that way. When I think something is like an exhibition, I just can't go at it 100%."
Author: Ed Odeven
Follow Ed on JAPAN Forward's [Japan Sports Notebook] here on Sundays, in [Odds and Evens] here during the week, and Twitter @ed_odeven