Japan Stuns 2010 World Cup Champion Spain to Reach Knockout Stage
Second-half goals from Ritsu Doan and Ao Tanaka gave the Samurai Blue a historic win in their final World Cup Group E match in Qatar.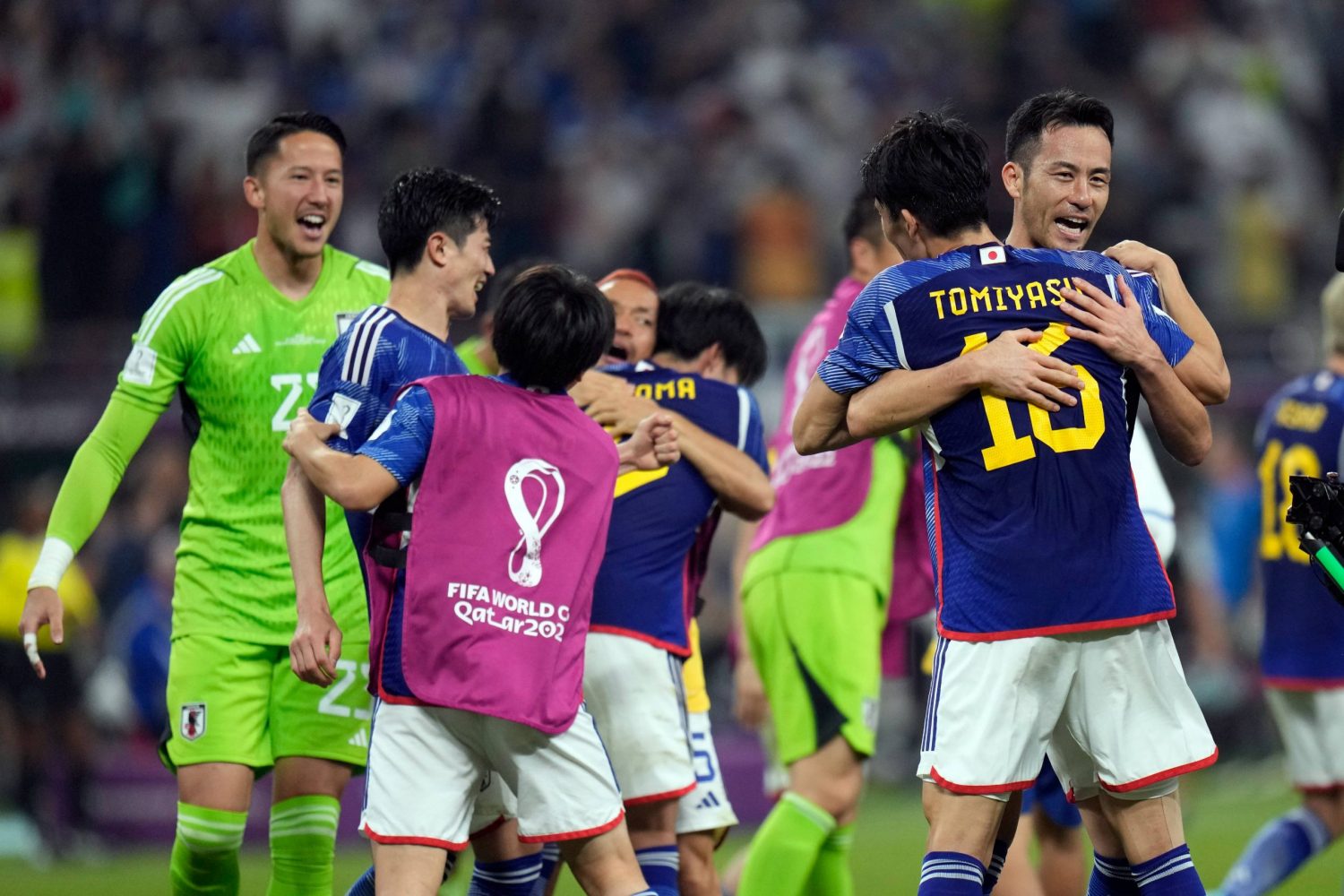 Japan staged a stunning second-half comeback with two quick goals on Thursday, December 1 to defeat powerhouse Spain 2-1 and advance to the knockout stage of the FIFA World Cup.
Despite the loss, Spain still advanced to the round of 16 after Germany beat Costa Rica 4-2.
World No. 24 Japan, which finished top of Group E with six points, will face 2018 runner-up Croatia in the next round on Monday, December 5 (12 AM JST Tuesday). Spain, which was second in the group with four points, will face Morocco the following day.
"We played with a lot of confidence and tenacity," Japan manager Hajime Moriyasu said. "It was a tough match especially in the first half but we believed in ourselves."
Spain, ranked seventh in the world, dominated the first half at Khalifa International Stadium in Doha and took the lead in the 11th minute on a header by Alvaro Morata. The 2010 world champions finished the first half with almost 80% possession.
Moriyasu, who came under fire for his decisions after the 1-0 loss to Costa Rica on Sunday, looked to shake things up in the second half.
He sent on super substitute Ritsu Doan and the move paid off almost immediately.
"We knew we had to score in the second half and were able to get some good chemistry," Moriyasu said.
Doan Delivers Tying Goal
Pressing for an equalizer, Japan went on the attack and took advantage of some sloppy defending by Spain.
Doan pounced on a loose ball and scored on a left-foot blast from outside the box in the 48th minute. Spain goalkeeper Unai Simon got a hand on the ball, but it wasn't enough to keep it out.
"I feel like we broke through a wall with this win," said Doan, who also scored the tying goal against Germany in the 75th minute on November 23. "I was able to find a course and took advantage. We were told to be aggressive so I didn't hesitate."
Controversial Goal Gives Japan the Lead
Japan took the lead just three minutes later under controversial circumstances.
Ao Tanaka scored but the goal initially looked to have been called back as it appeared the ball rolled out of play before Kaoru Mitoma, another second-half sub, cut it back to Tanaka, who tapped in from close range.
A VAR review was made and it was ruled to be a good goal. Most angles showed the ball was over the line, but other angles may have been different.
And it's not just about the ball being over the line, the curvature overhanging the line is also a factor for VAR officials.
What was Tanaka's initial reaction to the play?

"From my angle I think the ball was clearly half out, but more than that I could not see because of the speed," Tanaka said later, according to The Associated Press. "I was concentrating on scoring. There was always a possibility that it was out. ... But in the end it was a goal, so that was great."
With a 2-1 lead, Japan defended well and had several scoring chances to widen the lead.
'We Totally Lost Control'
Looking back on Japan's quick goals in the match's decisive stretch, Spain boss Luis Enrique said, "We totally lost control during those five minutes, we panicked.

"If they had to score more goals, they would have been able to do it," he was quoted as saying by The Associated Press. "They got past us like an airplane."
Spain pressed for an equalizer but rarely threatened. When it did, Japan goalkeeper Shuichi Gonda came up with key saves.
Spain could have been eliminated had the result of the Germany-Costa Rica game been different.
Instead, Germany, the 2014 World Cup champion, exited after the group stage for the second straight time. Spain's plus-six goal differential to Germany's plus-1 was the tiebreaker, sending Japan's latest foe to the round of 16. Spain whipped Costa Rica 7-0 in the teams' opener.
Samurai Blue Make History
It was a historic win for Japan, which became the first team out of Asia, Africa or Oceania with multiple wins against former world champions at the World Cup, having beaten Germany 2-1 on November 23.
It is also the first time the Samurai Blue have advanced to the World Cup knockout stage in two consecutive tournaments. Japan's previous trips to the round of 16 were achieved in 2002, 2010 and 2018.
Even though it was around 6 AM JST on Friday when the final whistle blew, the win touched off wild celebrations in Japan, mostly in Tokyo's Shibuya area, which is known for its raucous soccer celebrations.
"For Asia and for Japan, our victories over Spain and Germany, two of the top teams in the world, is something that gives us great confidence and we are very pleased," Moriyasu told reporters, according to The Associated Press.
"Of course, there are many things we still have to learn," said Moriyasu. "But Asia can win on the world stage, Japan can win on the world stage."
RELATED:

Author: Jim Armstrong
The author is a longtime journalist who has covered sports in Japan for more than 25 years. You can find his articles here.

Subscribe to Our Newsletter