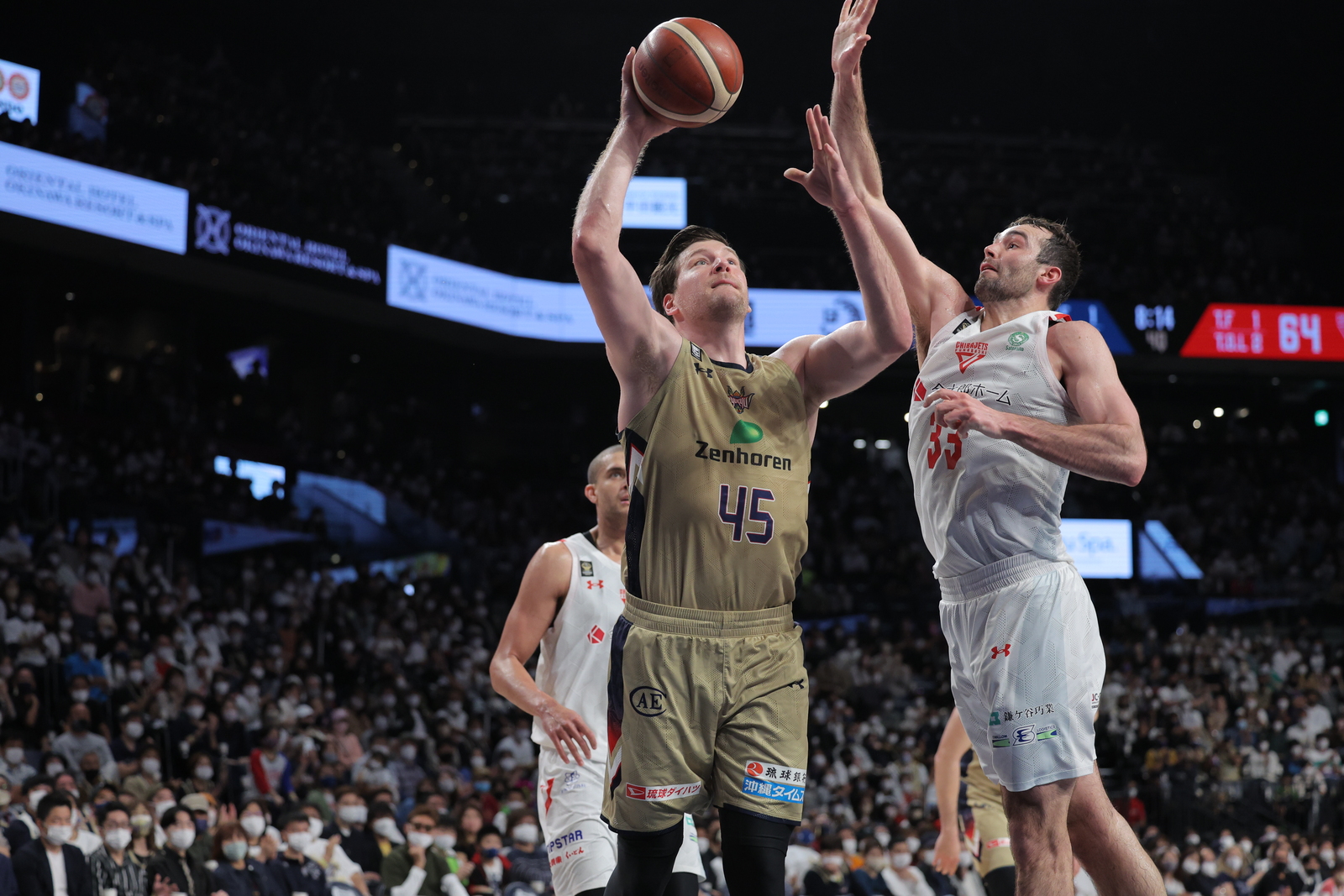 Rebounding is an art, a science, and a visible display of muscle, hustle and desire.
Who wants the ball?

And who has a penchant for grabbing the ball the most times after missed shots at either end of the floor?

Professional basketball has always had top-notch rebounders, including NBA standouts Bill Russell and Wilt Chamberlain, Moses Malone and Dennis Rodman, Charles Oakley and Charles Barkey. In the B.League, two men are at the top of the rebounding chart in the 2022-23 season: Ryukyu Golden Kings center Jack Cooley (12.3 per game) and Chiba Jets power forward John Mooney (12.2).

Title-contending teams don't always have one of the best rebounders, of course. But Chiba (34-4) and Ryukyu (29-9) through games of Sunday, February 12 do. That gives both clubs a better chance than most of the league's 24 teams of winning the championship in May.
Strength in numbers, with several players capable of securing the basketball after missed shots, makes a difference, too.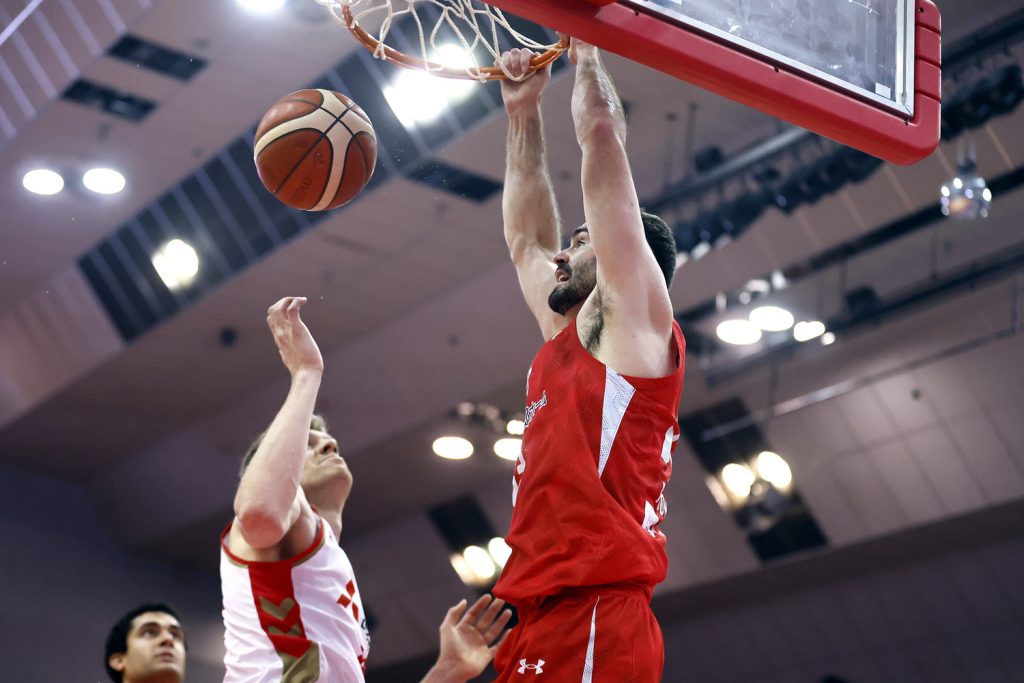 Rebounding and Defense With Pride
Favorite quotes can reveal a key component of an athlete's character and/or mindset. On the Jets website, Mooney lists a favorite quote by Sylvester Stallone's multigenerational cinematic boxing character Rocky Balboa: "Every champion was once a contender who refused to give up."
Watching the 206-cm Mooney play in a game, a relentless drive to help his team score, defend, and get loose balls are recurring themes.
Speaking to reporters after a game against the visiting Sunrockers Shibuya on October 16, 2022, when he had 20 points and 19 rebounds, Mooney mentioned his main areas of focus whenever he's on the court.
"Rebounding and [playing] defense with pride," he said, according to Basket Count. "If I can concentrate on these two things, I think the results will follow."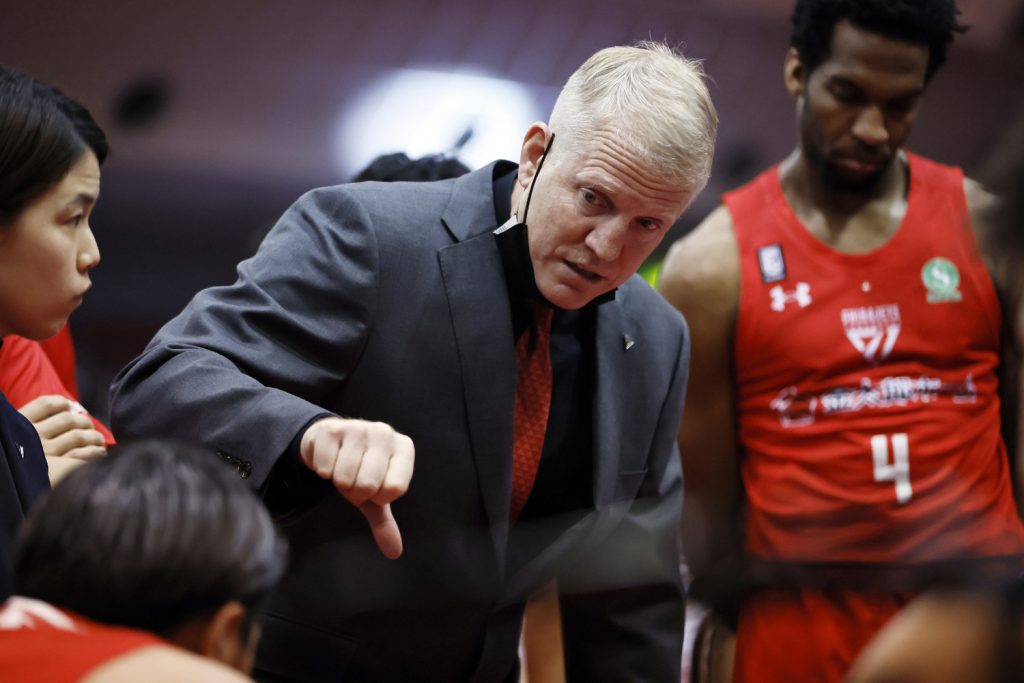 An Epic Win Streak
With first-year head coach John Patrick, a former Stanford University guard, running the show, the Jets are riding a 20-game win streak ― with their most recent win a 94-76 decision over the Nagoya Diamond Dolphins at Funabashi Arena on Sunday, February 12. It matches the B.League first-division record set last season by the Golden Kings, who finished with a 49-7 record. 
Then, in the B.League Finals, the Utsunomiya Brex swept the Golden Kings.
The Golden Kings have won six consecutive games. They are two games behind the Western Conference-leading Shimane Susanoo Magic (31-7).

Ryukyu's most recent victory (73-63 over the San-en NeoPhoenix on Sunday) featured a vintage Cooley performance: 13 points and a game-high 16 rebounds, including five offensive boards.
After the game at Hamamatsu Arena, Golden Kings coach Dai Oketani commended his players for their effort.
"I feel that the tenacity we [showed] in today's match is the reason for our six-game winning streak," said Oketani, who is in his second season at the helm. "So we will continue to do so for the rest of the season."
Currently, there are 363 NCAA Division I men's college basketball teams in the United States. That makes it an interesting tidbit that Cooley and Mooney both starred for the University of Notre Dame Fighting Irish before launching their pro careers in 2013 and 2020, respectively.

Cooley joined the Golden Kings in 2019. He led the league in boards in the 2019-20 season (13.3 per game) and repeated as rebounding champion the next season (12.3). Cooley averaged 10.4 rebounds in 2021-22, placing third overall.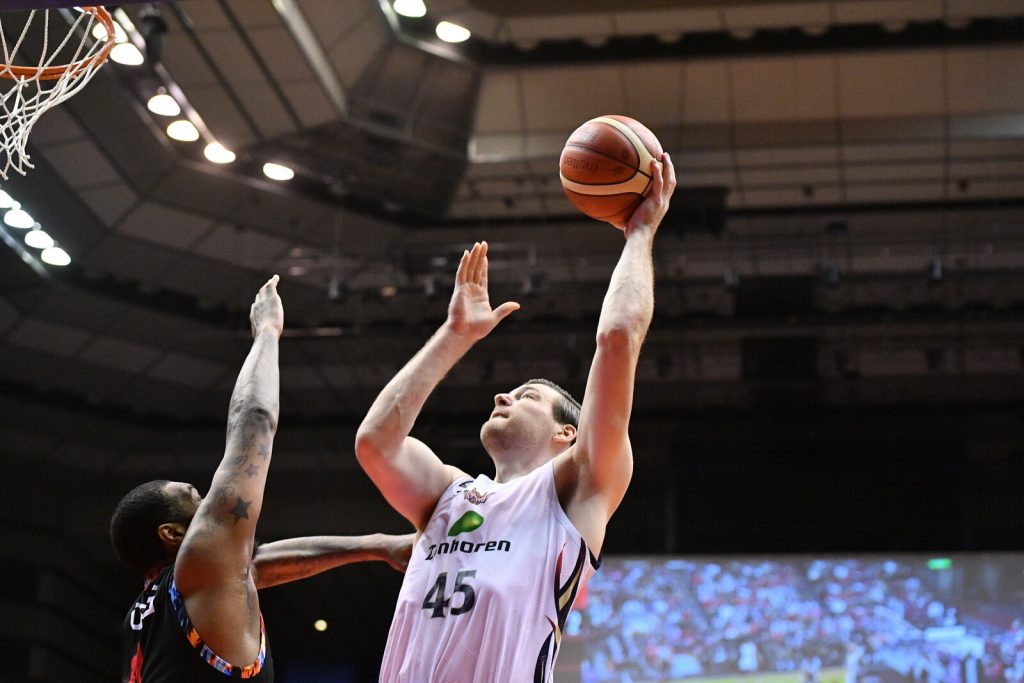 Development at Notre Dame Paved the Way for Cooley's Pro Career
As a freshman at Notre Dame in 2009-10, Cooley finished with 1.8 rebounds a game, increased his output to 3.1 as a sophomore, then made a big jump to 8.9 boards along with 12.5 points as a junior. In his senior season (2012-13), Cooley was named to the All-Big East Conference First Team, averaging 13.1 points and 10.1 rebounds.

Cooley's overall productivity as a junior and senior solidified his future as a sought-after overseas player. He was not selected in the 2013 NBA Draft and began his pro career with Trabzonspor in Turkey. Later, he also played in Spain, Germany and Italy.

Now 31, Cooley's pro career can be viewed through the lens of his being an established star in Japan who also spent parts of two seasons in the NBA ― 16 games with the Utah Jazz in 2014-15 and seven appearances with the Sacramento Kings in 2017-18.

NBA-level fierce competitiveness is a chief trait of the 208-cm Cooley's game. In addition to his aforementioned B.League-best rebounding average this season, he's also increased his scoring from 12.8 points in 2021-22 to a team-best 17.2 this season for the Golden Kings.

Cooley corralled a season-high 21 rebounds to complement his 20 points against the Gunma Crane Thunders on January 29, game two of Ryukyu's current win streak.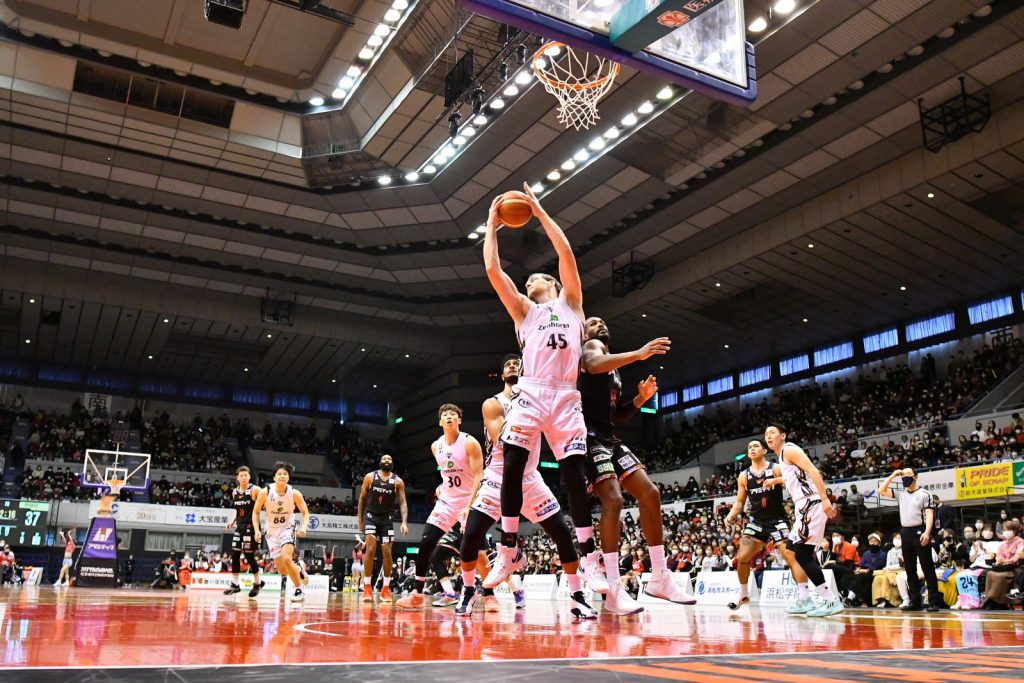 Recognition for Cooley
He was named the B.League's November MVP after helping lead his Okinawa-based team to four wins and a loss in the month while providing 22.6 points, 13.6 rebounds, 1.4 assists, 1.8 steals and 1.2 blocks.

Asked about his prolific rebounding in a Q&A for the Japanese website Basketball King last December, Cooley summed up his playing style this way: "I don't count how many [rebounds] I'll get today during the game. When the game is over, when I look at the results, it's my style to say, 'I got this much.' I'm thinking about how hard I'm going to play."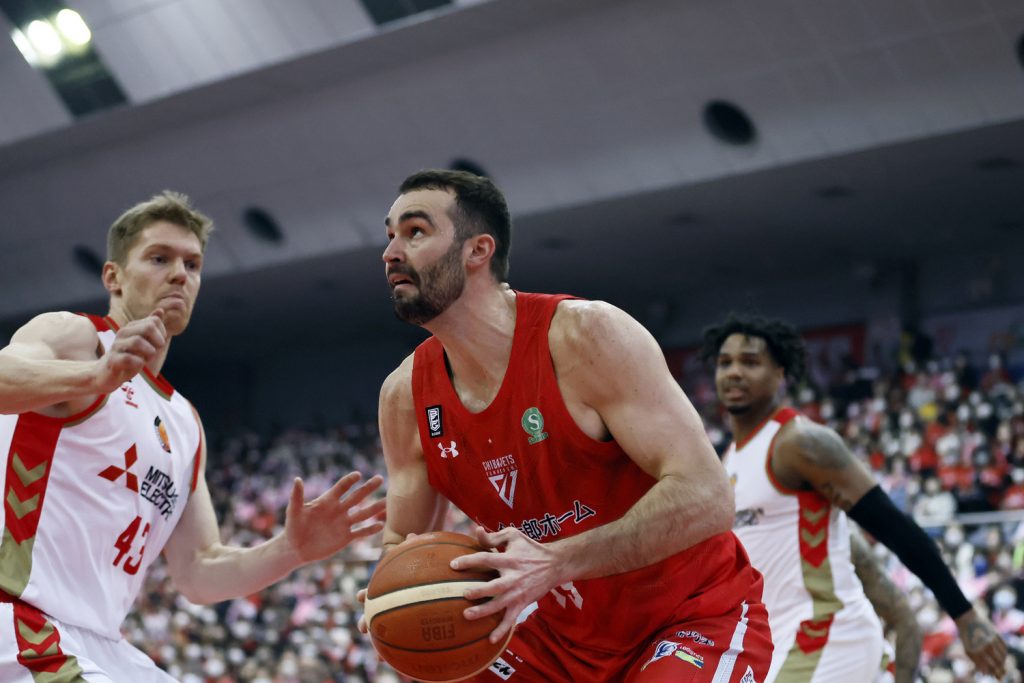 Mooney's Path from Notre Dame to the Pros
Mooney, who turns 25 on March 20, also exhibited steady growth at Notre Dame under longtime head coach Mike Brey, who has patrolled the sideline since 2000 for the famous school.
In 2016-17, he averaged 1.2 points and 1.6 rebounds, and those numbers rose to 5.6 and 3.9 the next season.

As a junior, Mooney clearly demonstrated he had pro potential, posting 14.1 and 11.2 scoring and rebounding averages, respectively. Then, as a senior, he capped his Fighting Irish career with 16.2 points and 12.7 rebounds per game in the 2019-20 season.

Mooney was named to the All-Atlantic Coast Conference First Team as a senior. (Notre Dame left the Big East in 2013 and joined the ACC.)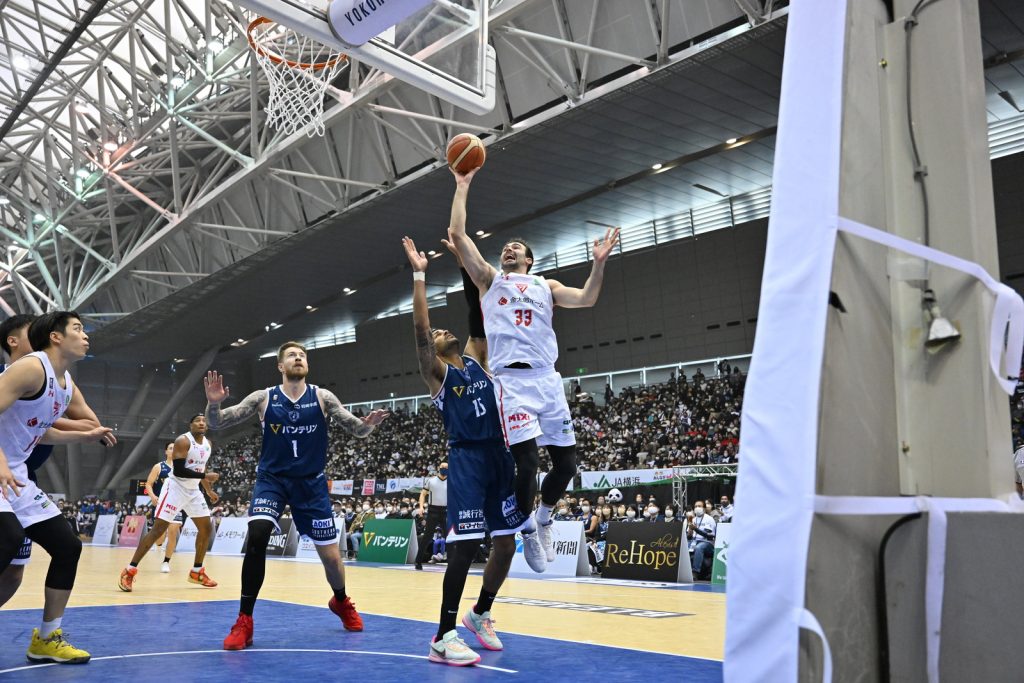 Looking back on his four years at Notre Dame, near South Bend, Indiana, Mooney admitted it was a rewarding experience.

"We wanted a place where I could have a good relationship with the head coach and the staff," he said in a May 2020 interview with The Observer, a Notre Dame publication. "...And then we wanted a place where I could fit in with the guys on the team and fit in with the vibe of the student body, and Notre Dame is great with that. I've made countless friends and countless memories with people there."
Mooney launched his pro career with the Australian NBL's Perth Wildcats in 2020 and proved that his basketball skills translated from the college game to the pro level.

Throughout the next season, Mooney recorded 27 double-doubles in 42 games (including the playoffs). He averaged 17.3 points and 11.4 rebounds in the regular season and played a major part in leading Perth to a championship runner-up finish.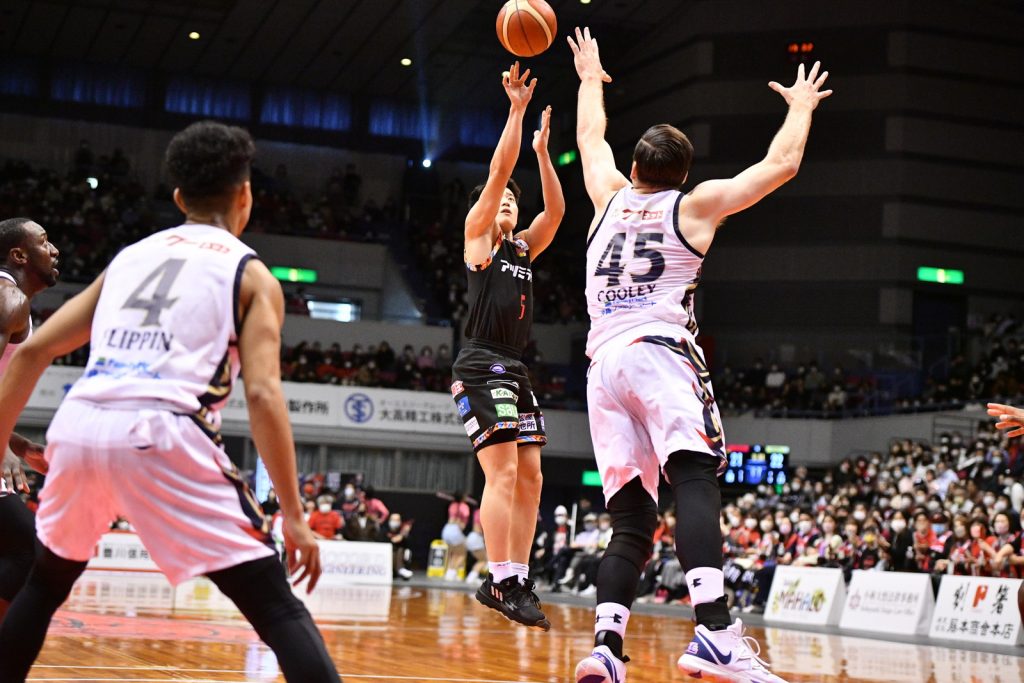 A Look Back, A Look Ahead
The Fighting Irish alumni met just one time in the 2021-22 regular season, on May 4. It was a 92-84 Ryukyu victory. Mooney finished with 23 points and seven rebounds. Cooley had 10 points and nine boards.
Mooney and Cooley will put their rebounding pride and overseas Notre Dame bragging rights on the line when the Golden Kings and Jets square off on April 1-2 at Chiba Port Arena.
"I consider Mooney of the Chiba Jets to be my rival in terms of rebounding," Cooley told Basketball King. "We also graduated from the same university. In that sense, I don't want to lose to him in rebounding."

Expect a game within the game, with the Cooley-Mooney clash a compelling storyline in and of itself.

When exceptional rebounders collide, that's the way it is.

RELATED:
Author: Ed Odeven
Find Ed on JAPAN Forward's dedicated website, SportsLook. Follow his [Japan Sports Notebook] on Sundays, [Odds and Evens] during the week, and Twitter @ed_odeven.