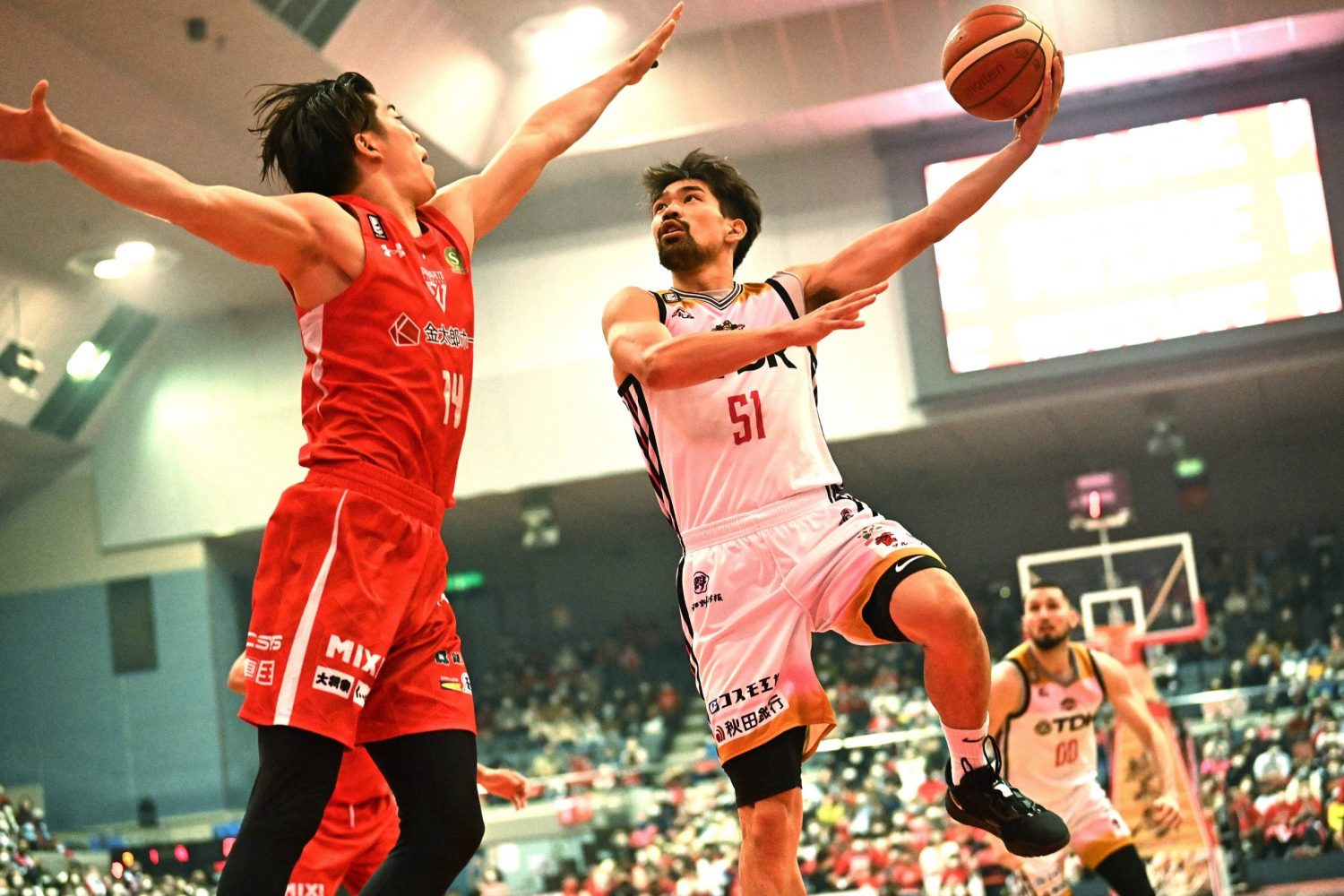 Changing coaches or managers creates an adjustment period for professional sports teams in all sports, including the Chiba Jets, one of the B.League's perennial powerhouses.
Sixteen games out of 60 (more than 25%) to open Japan's 2022-23 pro basketball season is a pretty big sample size to analyze new head coach John Patrick's impact on the Jets.
By all visible signs, the Jets (13-3, tied for the best record in the 24-team league with the Ryukyu Golden Kings through Sunday, December 4) remain a title contender.
Defense is the foundation of the team's success, a building block of Patrick's overall coaching approach.
And with about 1 minute remaining and his team leading the Akita Northern Happinets 75-67 on Sunday, December 4 at Funabashi Arena, Patrick, a former Stanford University guard (1987-91) stood on the sidelines and enthusiastically encouraged his players to "D-up, D-up!"

It's an abbreviated reminder to play defense, to give a strong effort in limiting the other team's scoring opportunities.

Patrick's plea didn't change the course of the game. But it sent a strong reminder from the sideline that he's paying attention to every detail during every game.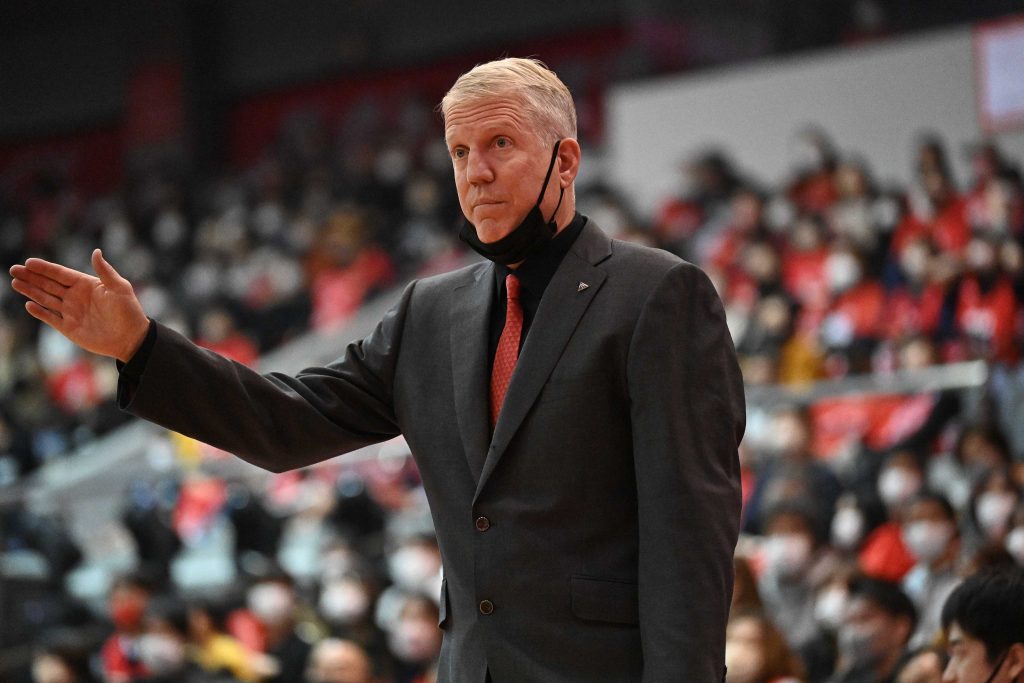 Insights from Coach Patrick
In a post-game interview, Patrick said sticking to his core principals as a coach is an essential part of his general approach to running the team.

"I'm going to coach my style and they are picking it up," said Patrick, who guided German club Riesen Ludwigsburg from 2013-22.
What were Patrick's expectations when he took over as Jets coach?

"I didn't have any expectations," he said, before adding, "Every team wants to win the championship, so there's probably 20 out of 24 teams, saying, let's win the championship. For me, it's like trying to play a style of basketball that's attractive, that's fast."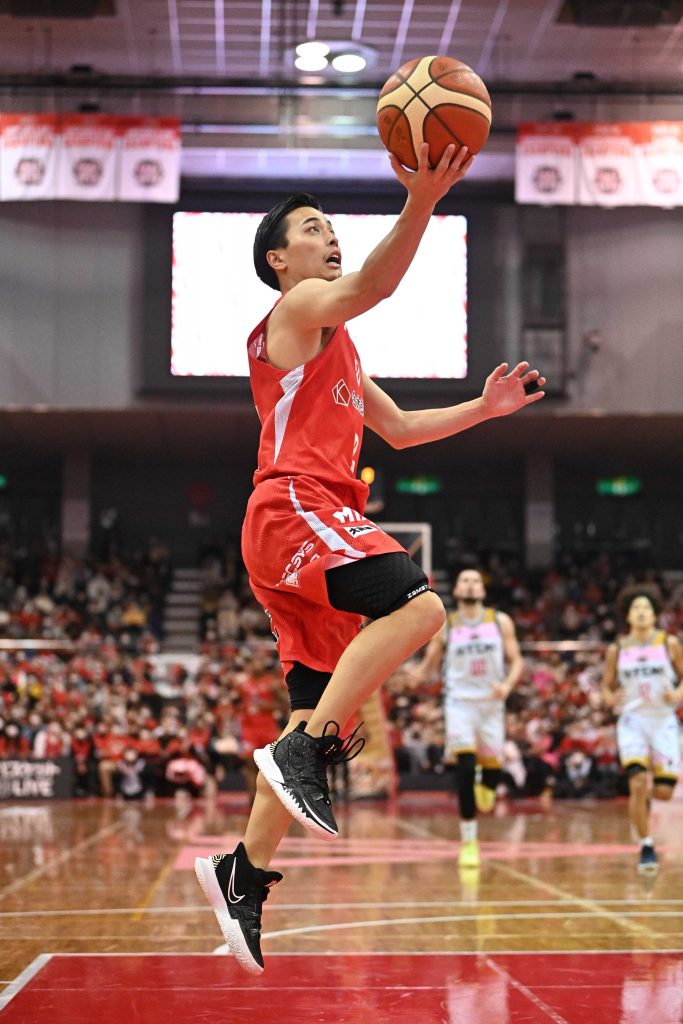 Elaborating on that point, Patrick spoke about offensive spark plug Yuki Togashi, calling him "a special talent" and "trying to take into account that we have a speedy, small point guard (167 cm) who's kind of the face of the team, and we play tough defense.
"We've shown that we can beat everybody," said Patrick, who coached the Toyota Alvark, the forerunner of the B.League's Alvark Tokyo, to the JBL Super League title in 2005-06. "When we're full strength we can actually press for 40 minutes and really bother teams."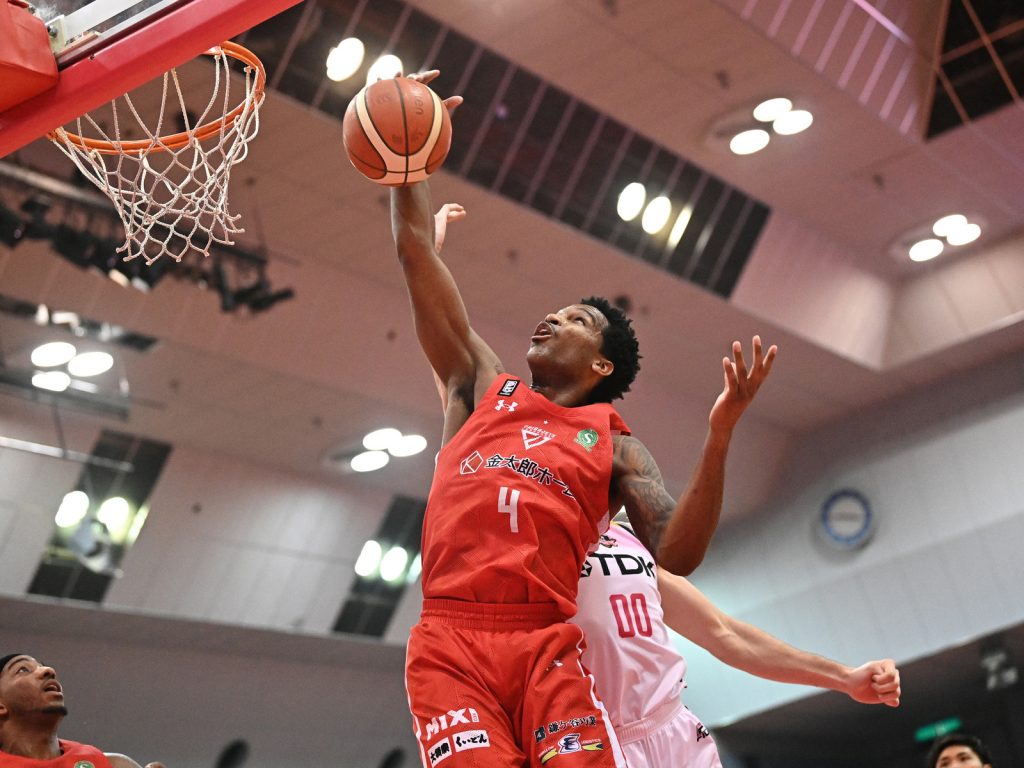 Success for Chiba Jets
The Jets went on to win 75-67 on December 4, extending their winning streak to seven games.

It was a game in which they trailed 23-16 after the opening quarter. Then their defense and offense got into more of a synchronized rhythm. Defensively, Chiba played better as the game progressed, holding the Northern Happinets (7-9) to 17, 17 and 10 points over the next three quarters.
Veteran players set the tone for the Jets in the series-ending victory. Former University of Connecticut forward Gavin Edwards had 19 points, 13 rebounds (including eight offensive boards), five steals and two blocks. Newcomer Vic Law had 16 points. Longtime floor leader Togashi chipped in with 11 points and eight assists, while swingman Shuta Hara, one of the league's unsung defensive standouts, added nine points and also made a big impact in helping slow down Akita's offense.
The Jets held the Northern Happinets to 37.1% shooting from the floor, including 13-for-33 from 2-point range.
As a team, Chiba ranks fourth in the B.League in scoring defense, holding foes to 72.3 points per game. In addition, the Jets are No. 4 in points (85.4). They are fifth in rebounding (35.1).
Former Jets coach Atsushi Ono, who led the club from 2016-22, is now the bench boss for the San-en NeoPhoenix.
Edwards' Impressions of the Jets
After the December 4 game, Edwards, who has played for the Jets since 2017, was asked for his impressions of the team's overall performance under Patrick. He was also asked to share what was the coach's general message to his players about their play.

"I think with any big change in coaching staff there's always some growing pains," Edwards said, "but he definitely demands a lot of us. And I think his biggest thing is, like, effort stuff. There's always going to be some kind of miscommunication, I guess, with changing over styles of play and styles of coaching and stuff."

Are the Jets reaching a point where Patrick will be satisfied that his system has been fully implemented?

"I think we are kind of getting there, we are not quite there yet, and there's always something we can improve on," Edwards stated.

In his view of Patrick's assessment of the team's play to date, Edwards summed it up by saying he thinks his coach is "mildly satisfied."
At the same time, Edwards is pleased with the team's all-around effort and productivity.

"We can definitely go up from here," he said, "but I think we are in a very good place as a team."
East Asia Super League Update
After initially announcing it would hold its inaugural season's Championship Week in March in the Philippines, the East Asia Super League recently unveiled revised plans to stage the event in Japan from March 1-5. (Plans to hold group stage games at various sites in Japan, the Philippines and elsewhere during the season were called off due to COVID-19-related travel issues.)
Instead, the first six games of the revised tournament will be held at Brex Arena Utsunomiya, home of the B.League's Utsunomiya Brex, in Tochigi Prefecture, in the group stage.
After that, the tournament will shift to Okinawa Prefecture for the last two group stage games, the third-place contest and the title match. Okinawa Arena, home of the Golden Kings, will be the extravaganza's second venue.
Baseball
Murakami, Swallows Finalize Deal with Eye on MLB Move in 2026
Tokyo Yakult Swallows third baseman Munetaka Murakami reached a contractual agreement with the Central League club for the next three seasons at ¥600 million JPY ($4.4 million USD) per year plus incentives on Friday, December 9.
It's a hefty pay raise for the 2022 CL Triple Crown winner, who earned ¥220 million JPY this past season.
As part of Friday's announcement, the Swallows said they'll give Murakami the opportunity to be posted to MLB after the 2025 season.
"I'm just grateful to have signed a deal like this," Murakami said, according to Kyodo News. "I'll need to work even harder."
RELATED:
Ohtani Makes All-MLB Team at Two Positions
Shohei Ohtani, the 2022 American League MVP runner-up, was selected to the All-MLB Team as a designated hitter and starting pitcher, it was announced on Monday, December 5.
The All-MLB Team, in its fourth year of existence, was revealed at MLB's Winter Meetings.
In 2021, the Los Angeles Angels superstar Ohtani was the first player to be chosen for the All-MLB Team, making the first team as a designated hitter and second team as a pitcher.
Fans and an MLB experts panel each made up 50% of the votes cast for the first and second teams.
Five starting pitchers and two relievers were named to each of the two teams based on overall votes. The same was true for position players, including designated hitter.
This year, Ohtani made the All-MLB First Team at pitcher (15-9 record, 2.33 ERA and an MLB-best 11.9 strikeouts per nine innings). He hit 34 home runs and drove in 95 runs to land a spot on the second team as a DH.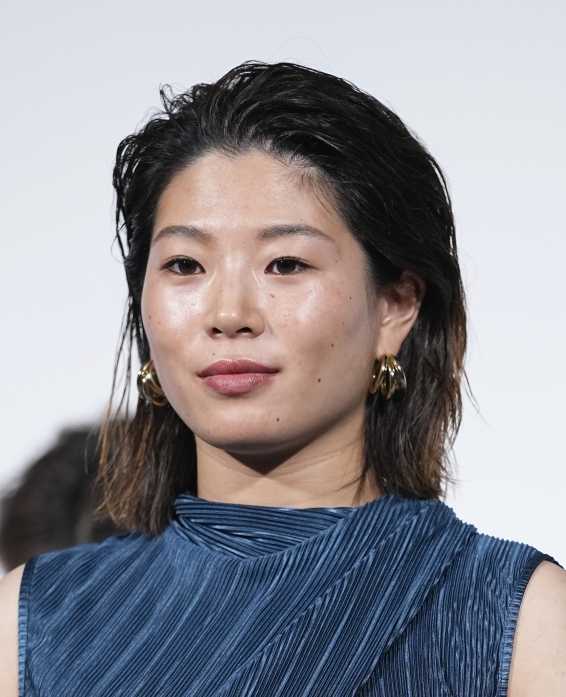 Snowboarding
Olympic Medalist Tomita to Skip Season Due to Health Issues
Snowboarder Sena Tomita, the women's halfpipe bronze medalist at the Beijing Olympics, has decided to skip the 2022-23 season due to unspecified health issues.

The Ski Federation of Japan made an announcement on Friday, December 9.
"I've had health problems since the offseason, so I decided to sit out this season," Tomita, 23, said in a statement. "It was a tough decision. I'll try to return stronger next season."
Soccer
Nadeshiko Japan to Play in 2023 SheBelieves Cup
The Japan women's national soccer team, affectionately known as Nadeshiko Japan, will compete in the 2023 SheBelieves Cup, a four-nation tournament in February.
US Soccer released the schedule on Friday, December 9.
Japan faces Brazil on February 16 in Orlando, Florida, to open the tourney. The host United States takes on Japan on February 19 in Nashville, Tennessee.
Japan then meets Canada on February 22 in Frisco, Texas.
All four teams have qualified for the 2023 FIFA Women's World Cup.

Team USA head coach Vltako Andonovski said the SheBelieves Cup, which was first held in 2016, is good preparation for the World Cup.
"We love the SheBelieves Cup for the world-class competition it brings, the format that helps replicate group play at a World Cup and the overall meaning that it has for our team and women's sports," Andonovski said.

Coming up on #Colbert... the lovely @NaomiOsaka joins Stephen!

See you shortly on @CBS at 11:35/10:35c! 🎾 pic.twitter.com/vT427Fnopu

— The Late Show (@colbertlateshow) December 6, 2022
Tennis
Osaka Appears on 'The Late Show with Stephen Colbert'
Four-time Grand Slam singles champion Naomi Osaka appeared on the popular late-night, American TV program "The Late Show with Stephen Colbert" on Monday, December 5.
Responding to the comedian's inquiry at the outset of her interview segment, Osaka said it was her first late-night talk show appearance.
To spark conversation with Osaka, Colbert displayed a photo of her as a young girl, maybe 4 or 5 years old, holding a tennis racket at an outdoor court in New York City and asked her to share any memories of that time.
She said she doesn't have any particular memories of that photo.
Before their conversation turned to the topic of Osaka's new children's book, "The Way Champs Play," and other subjects, Osaka reflected on childhood memories of playing tennis under the stern supervision of her father, Leonard.
"I just remember watching all the other kids take their summer vacations and we had to be on the courts," Osaka commented. "Which I'm happy he made us do it now, but like at the time I was so jealous of everyone else."

Watch the full interview (about 8 minutes long), which also includes her thoughts on mental health, here.

Author: Ed Odeven
Follow Ed on JAPAN Forward's [Japan Sports Notebook] here on Sundays, in [Odds and Evens] here during the week, and Twitter @ed_odeven.