Midorifuji Maintains Lead at the Spring Basho with a Clutch Win over Ura
Rank-and-filer Midorifuji, a 26-year-old from Shizuoka Prefecture, will face his toughest test on Day 10 of the Spring Basho when he meets komusubi Tobizaru.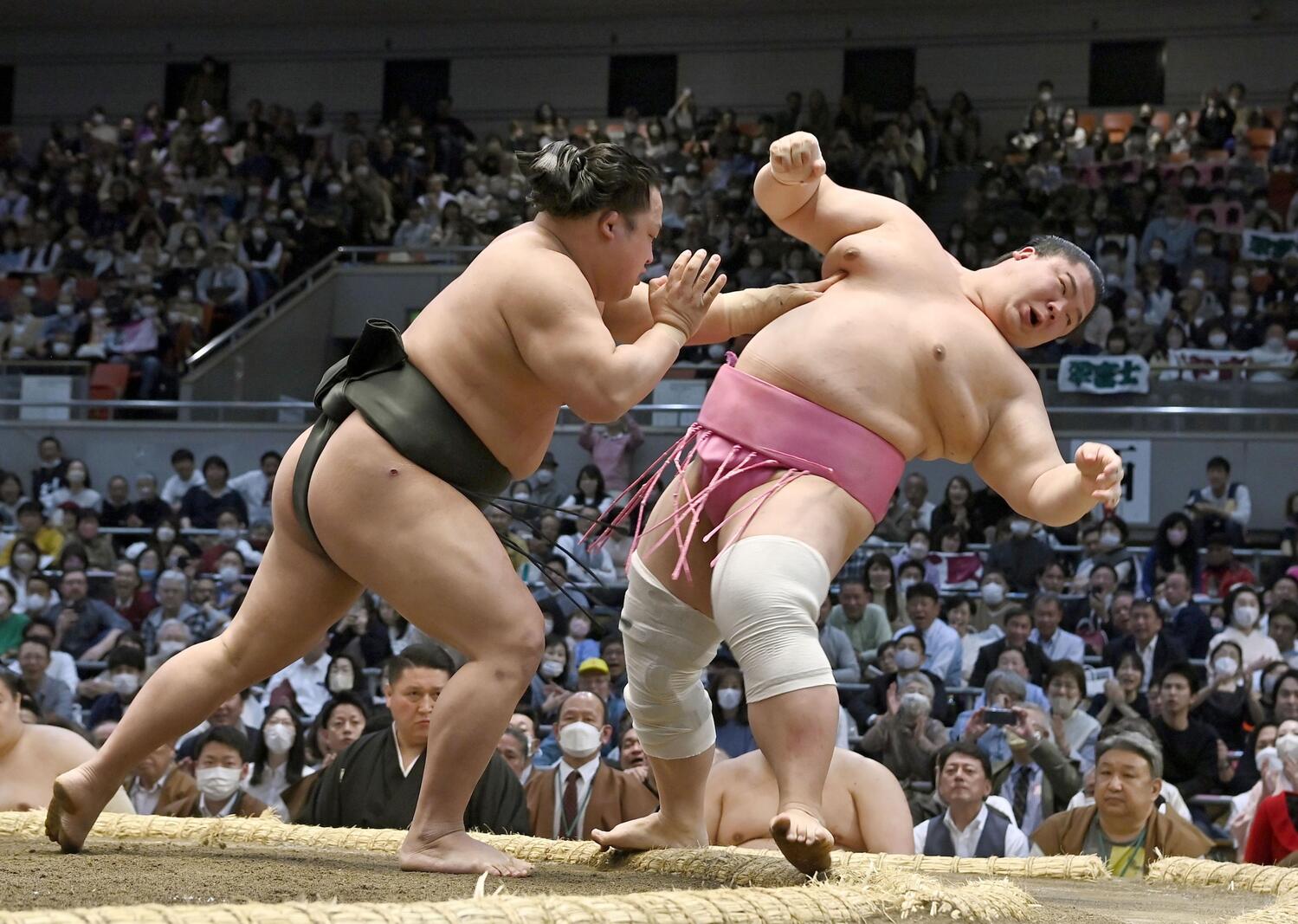 Surprise leader Midorifuji maintained sole possession of the lead on Monday, March 20 when he overpowered fellow rank-and-filer Ura on Day 9 at the Spring Grand Sumo Tournament.
Fifth-ranked Midorifuji, who has never won an Emperor's Cup, took advantage when Ura attempted an ill-advised pulling technique of his opponent.
That allowed Midorifuji to bury his head in the chest of Ura and drive the stunned No. 8 maegashira out with a frontal push-down to improve to 9-0. Ura dropped to 5-4.
Midorifuji will face his sternest test of the 15-day basho at Osaka Prefectural Gymnasium on Day 10 when he takes on komusubi Tobizaru.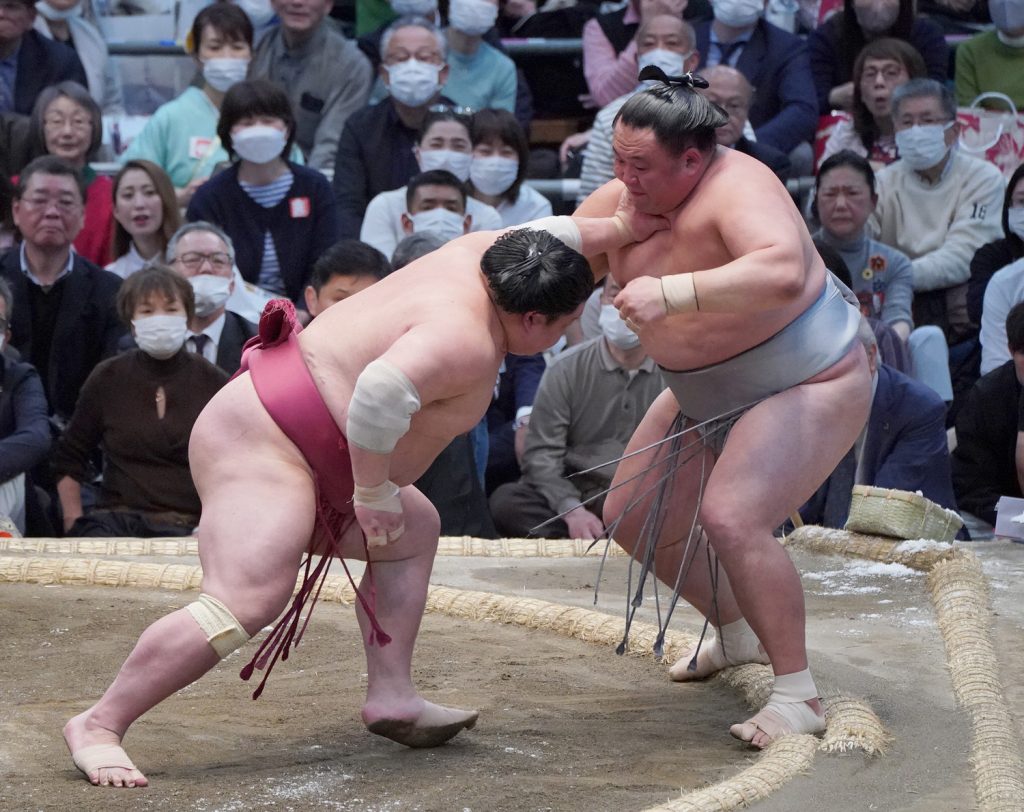 Komusubi Daieisho is just one win off the pace after he used a superior face-off and a barrage of arms thrusts to defeat struggling top maegashira Tamawashi while improving to 8-1.
"My initial face-off was very good," Daieisho said. "I was able to hit him hard and move forward. It was great to wrap up a winning record today. I just want to keep my focus and poise going forward."
Sumo's ironman, 38-year-old Tamawashi, has looked totally overwhelmed in this tournament and dropped to an unflattering 1-8.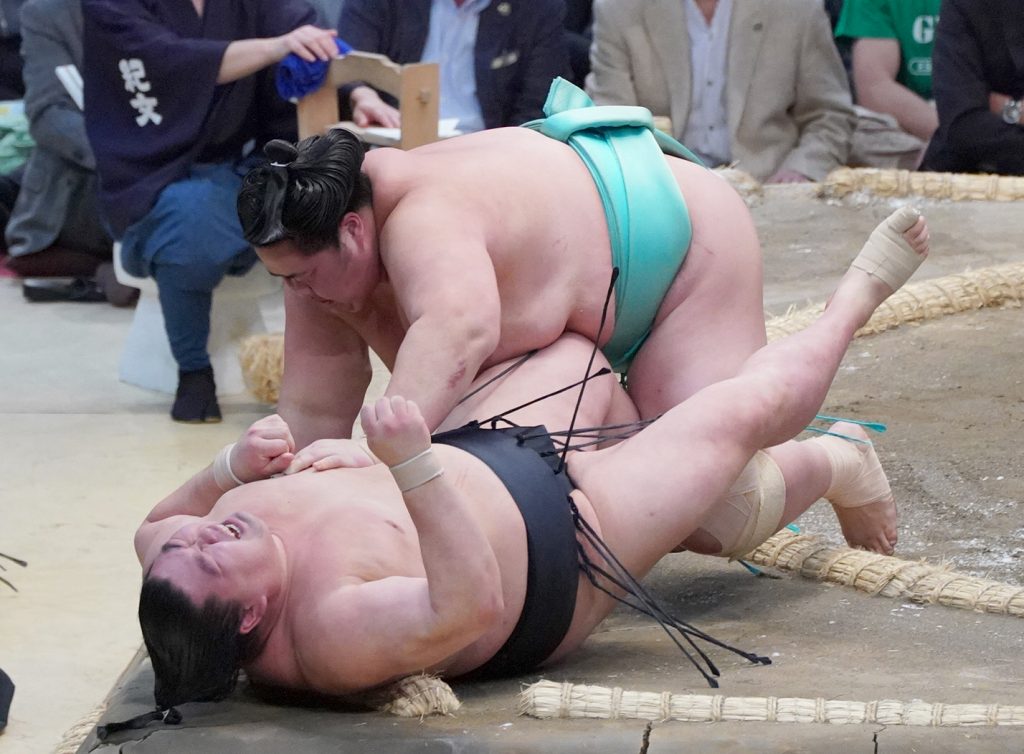 Kotonowaka Outduels Shodai
Up-and-coming grappler Kotonowaka was pushed back at the initial charge but recovered nicely to use a frontal push-down to defeat former ozeki Shodai while improving to 7-2.
Top maegashira Shodai pushed Kotonowaka right back to the edge but couldn't get a hold of his opponent's belt and dropped to 6-3.
Kotonowaka is one of three wrestlers at 7-2.
Fan favorite Endo, a No. 6 maeghashira, won his third straight bout when he drove out Hiradoumi to join the chase pack at 7-2. Ninth-ranked maegashria Hiradoumi fell to 4-5.
Former ozeki Takayasu took advantage of a superior face-off to shove out Bulgarian giant Aoiyama and improve to 7-2. Aoiyama, a No. 9 maegashira, dropped to 4-5.
No. 7 maegashira Takayasu has never won an Emperor's Cup but has been runner-up seven times. At 7-2, he may be in just the right position for the second week of action.
When he leads a tournament, Takayasu tends to buckle under the pressure, so he may feel more comfortable challenging the leaders.
Takayasu will face makuuchi division debutante Kinbozan on Day 10. No. 14 Kinbozan dropped to 6-3 when he was thrown down by 10th-ranked Nishikifuji, who also stands at 6-3.
Wakamotoharu Improves to 6-3
Komusubi Wakamotoharu got both arms around Abi and bulldozed the No. 2 maegashira out over the edge to pick up his sixth win against three losses. Abi fell to 5-4 after losing to Wakamotoharu for the first time.
Tobizaru dodged to his side at the face-off but Mongolian sekiwake Hoshoryu was having none of the trickery, quickly recovering to swat down the Flying Monkey and improve to 6-3. Tobizaru dropped to 4-5.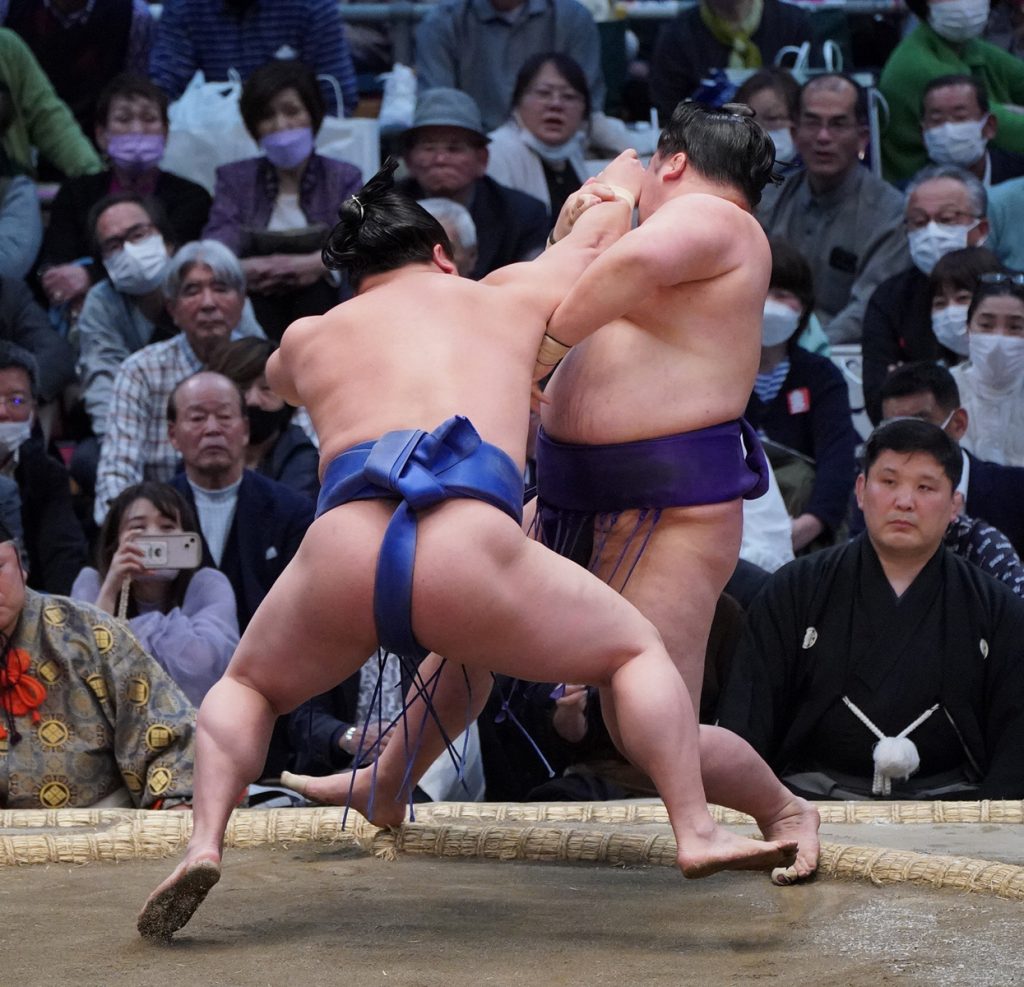 Sekiwake Wakatakakage won his fourth straight bout and improved to 4-5 with a frontal push-down victory over No. 4 maegashira Meisei, who also stands at 4-5.
In the day's final bout, sekiwake Kiribayama posted a hard-fought frontal force-out victory over Ryuden to move to 6-3. No. 2 maegashira Ryuden put up a good fight but ran out of steam at the end and dropped to 1-8.

Author: Jim Armstrong
The author is a longtime journalist who has covered sports in Japan for over 25 years. You can find his articles on SportsLook.