Midorifuji Topples Flying Monkey Tobizaru to Stay in Sole Lead at Spring Basho
With five days left in the 15-day Spring Basho in Osaka, the rank-and-filer is two wins ahead of Daieisho, Kotonowaka and Endo.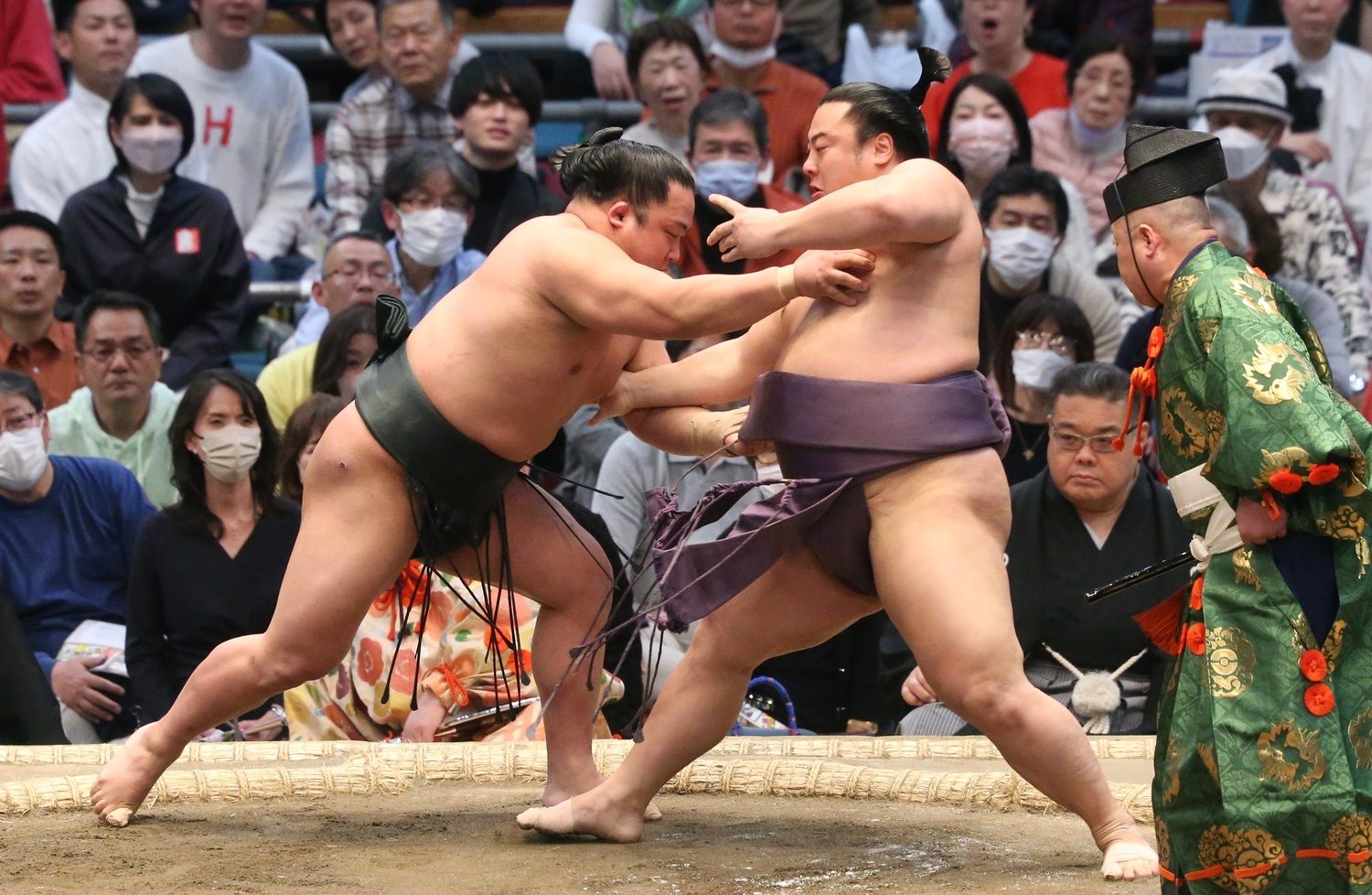 Rank-and-filer Midorifuji used a rare technique to defeat komusubi Tobizaru on Tuesday, March 21 and remain in the sole lead at the Spring Basho with a perfect 10-0 record.
Fifth-ranked maegashira Midorifuji waited out Tobizaru (4-6) before deploying an upper-arm force-out to claim his first win over a sanyaku wrestler and stay undefeated in the 15-day Spring Grand Sumo Tournament at Osaka Prefectural Gymnasium.
Midorifuji was also able to widen his lead thanks to sekiwake Hoshoryu, who handed komusubi Daieisho his second loss. The Oitekaze stable wrestler fell into a tie for second place with komusubi Kotonowaka and No. 6 Endo at 8-2.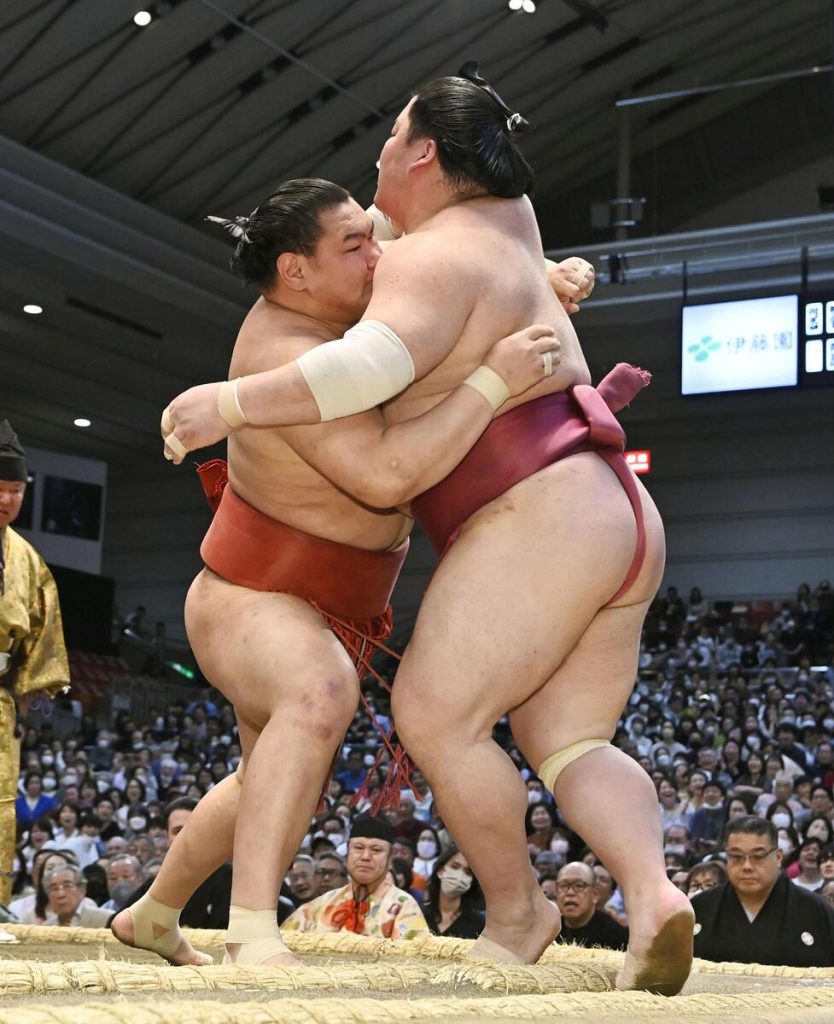 Mongolian Hoshoryu is 7-3 and is still very much in the running for the title with five days to go.
Diminutive Midorifuji has never won an Emperor's Cup and is thriving in the absence of ozeki Takakeisho, who pulled out on Day 7, and yokozuna Terunofuji, who is absent due to injury.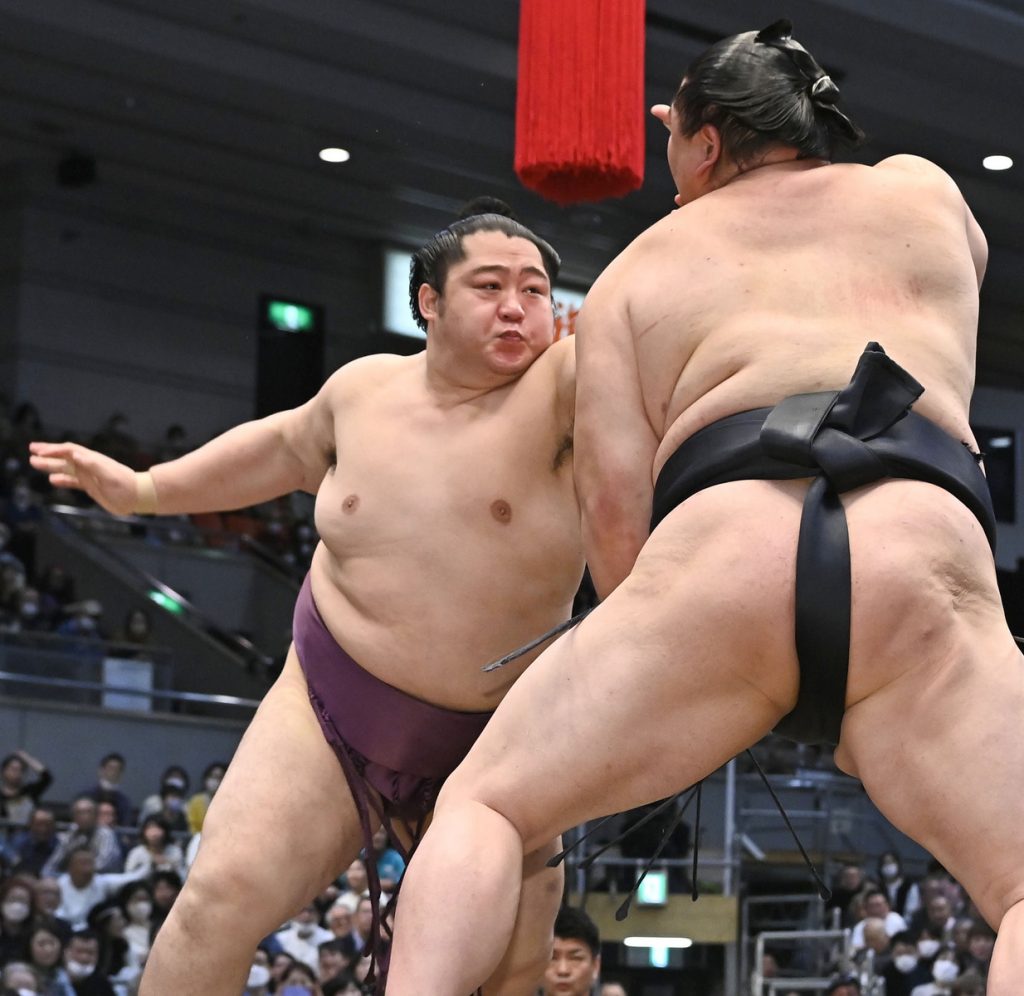 Fan favorite Endo used a textbook beltless arm throw to send former ozeki Shodai toppling to the dirt surface. Top maegashira Shodai has looked strong in this tournament but lost his second straight to fall to 6-4.
Rising star Kotonowaka stayed in the thick of the title chase when he used a thrust-down technique to defeat No. 2 Abi and improve to 8-2. Former sekiwake Abi dropped to an even 5-5.
In other major bouts, sekiwake Wakatakakage (4-6) lost for the first time after four straight wins when he was pushed out by fifth-ranked maegashira Kotoshoho, who improved to 2-8.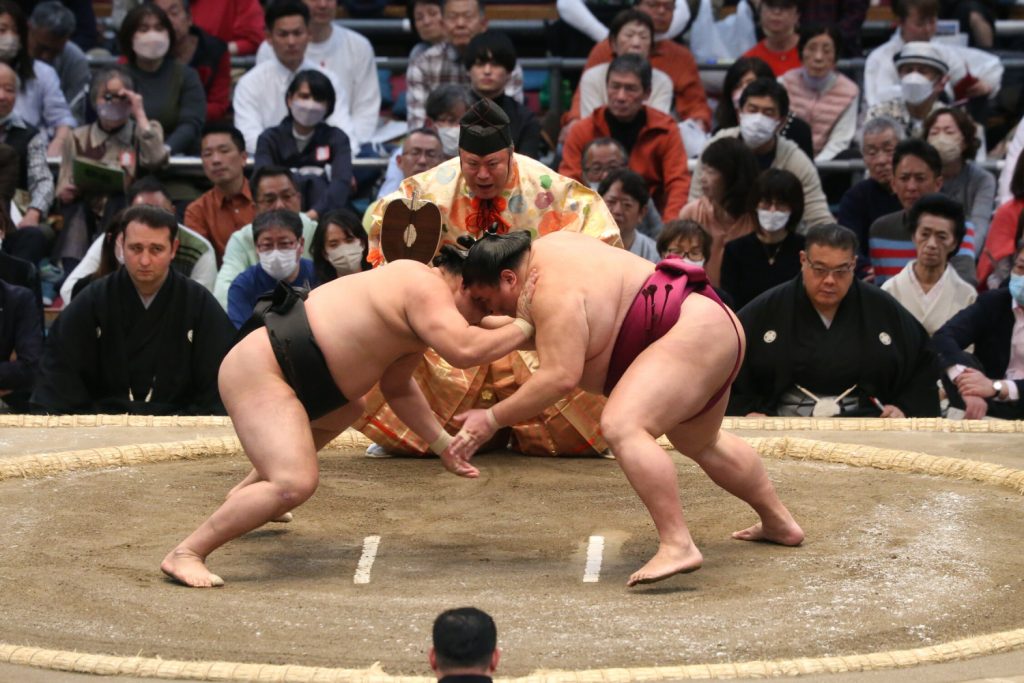 Additional Highlights from Day 10 of the Spring Basho
New sekiwake Kiribayama moved to within one victory of a winning record when he forced out No. 3 maegashira and former ozeki Mitakeumi to improve to 7-3. Mitakeumi stands at 4-6.
Komusubi Wakamotoharu, the older brother of Wakatakakage, shoved out fourth-ranked Meisei (4-6) to keep pace at 7-3.
Further down the ranks, makuuchi division debutante Kinbozan, the first wrestler in the elite division from Kazakhstan, shoved out former ozeki Takayasu, currently a No. 7 maegashira, to give both grapplers a record of 7-3.
Chiyoshoma swatted down fellow rank-and-filer Myogiryu (4-6) to improve to 7-3.
Struggling top maegashira Tamawashi (2-8) put a halt to a grueling eight-bout losing streak when he shoved out No. 2 maegashira Ryuden, who at 1-9 has his own problems.
The Spring Basho is the first without a wrestler from the top two ranks, yokozuna and ozeki, since the start of Japan's Showa Era in 1926.

Author: Jim Armstrong
The author is a longtime journalist who has covered sports in Japan for over 25 years. You can find his articles on SportsLook.