Wakamotoharu Hands Surprise Leader Midorifuji First Loss of Spring Basho
Rank-and-filer Wakamotoharu is still in the lead at the 15-day tournament, but Daieisho is closing in with four days left in Osaka.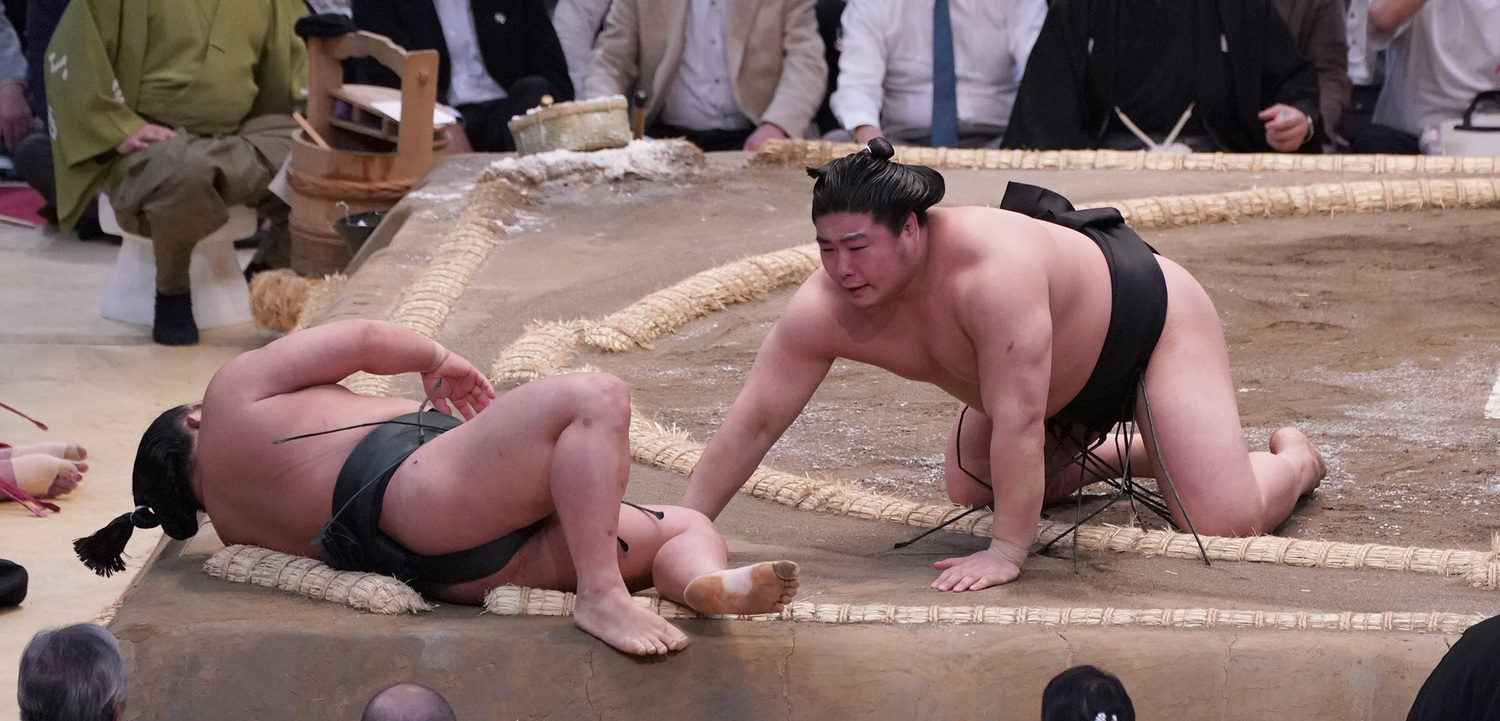 Komusubi Wakamotoharu handed Midorifuji his first loss of the Spring Grand Sumo Tournament on Wednesday, March 22 to cut into the sole leader's lead with four days left in the 15-day basho.
Wakamotoharu took advantage of a superior face-off against the much smaller Midorifuji and forced his opponent out when the No. 5 maegashira attempted an ill-advised shoulder swing-down.
That allowed Wakamotoharu to send Midorifuji over the edge while wrapping up a winning record at 8-3. Midorifuji still has the overall lead at 10-1 but Daieisho is right behind him.
"I'm just trying to take it one day at a time," Wakamotoharu said. "I didn't think about my opponent's record and just tried to stay totally focused on what I had to do against a strong foe."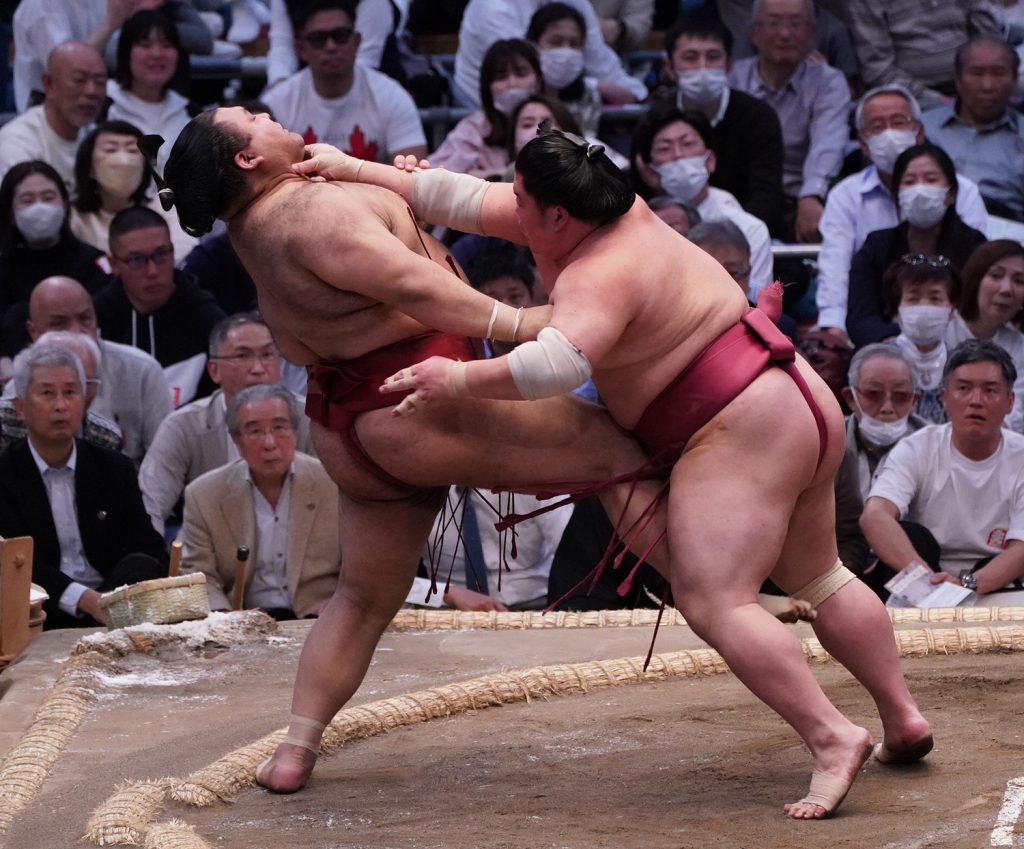 In other major bouts, Daieisho pulled to within one win of the leader when he used a series of powerful arm thrusts to send Takayasu out over the straw ridge.
Komusubi Daieisho improved to 9-2 while No. 7 maegashira Takayasu dropped to 7-4.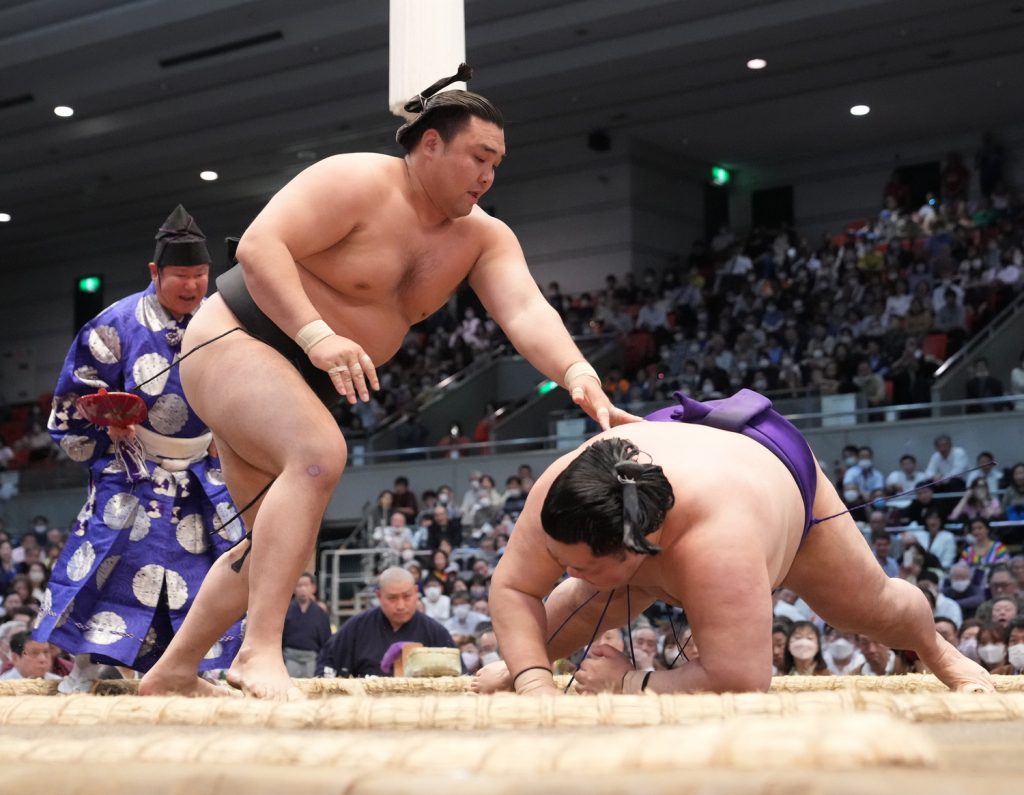 Kiribayama Seals Winning Record
Mongolian komusubi Kiribayama wrapped up a winning record and improved to 8-3 when he slapped down fourth-ranked maegashira Meisei (4-7) in a matter of seconds.
In the day's final bout at Osaka Prefectural Gymnasium, Endo moved to his side after the face-off, but sekiwake Hoshoryu got a right-hand grip on the belt of the No. 6 maegashira and threw him down like a rag doll.
"I was able to stay focused and keep up with his move," said Hoshoryu, who wrapped up a winning record.
He added, "I will just keep moving forward and do my best the rest of the way."
It was a tough loss for Endo, who dropped to 8-3 and is now tied for third with Hoshoryu, Kiribayama, Wakamotoharu, Kotonowaka and Chiyoshoma.
Ura Outwrestles Shodai
Osaka native Ura, a No. 8 maegashira, gave the local fans a thrill when he defeated former ozeki Shodai.
Ura was pushed back to the edge by top maegashira Shodai. But he displayed spectacular footwork on the straw ridge where he unleashed an under-shoulder swing-down to give both wrestlers a record of 6-5.
Hokutofuji dealt a serious blow to Kotonowaka's championship hopes when he hauled down the komusubi to hand him his third loss against eight wins.
No. 7 maegashira Hokutofuji won for the seventh straight time to improve to 7-4. Had he not lost his first four bouts, he may be in contention for the title but it's likely too late now for Hokutofuji.
Sekiwake Wakatakakage spun Tobizaru around after the face-off and shoved the komusubi grappler out from behind to improve to 5-6. Tobizaru lost his fourth straight and dropped to 4-7.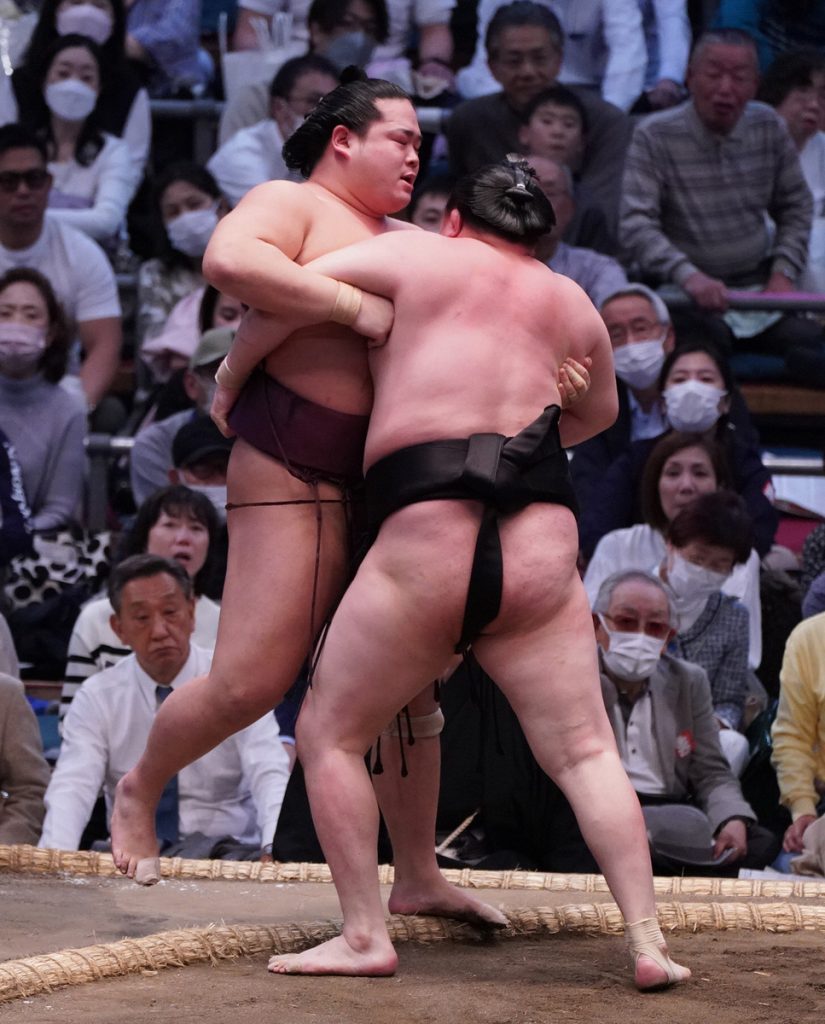 Further down the ranks, No. 16 maegashira Chiyoshoma wrapped up an all-important record when he shoved out 10th-ranked Nishikifuji, who dropped to 6-5.
"My body is in pretty good shape and my lower body is much better," Chiyoshoma said. "I was able to move forward quickly."
He added, "I had to get a winning record because at maegashira 16, I don't have much room behind me. I've never won double figures so that is my next goal."

Author: Jim Armstrong
The author is a longtime journalist who has covered sports in Japan for over 25 years. You can find his articles on SportsLook.