Unheralded Midorifuji Remains in the Sole Lead at the Spring Basho
Rank-and-filer Midorifuji held his own against Bulgarian Aoiyama and has a one-win lead at the midway point of the 15-day tournament.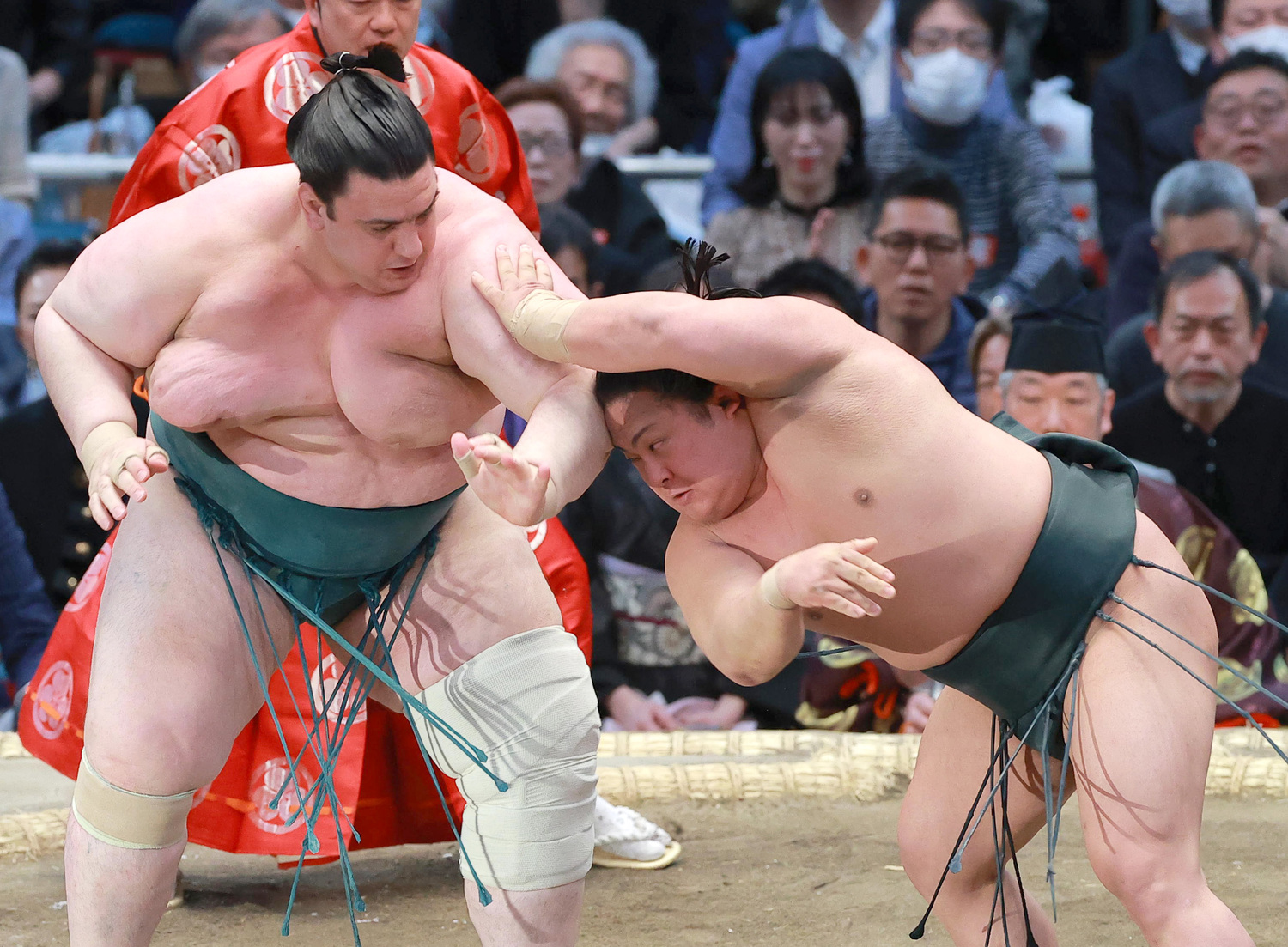 Rank-and-filer Midorifuji defeated Bulgarian giant Aoiyama on Sunday, March 19 to remain in sole possession of the lead at the midway point of the Spring Grand Sumo Tournament.
Fifth-ranked maegashira Midorifuji overcame a 72-kilogram weight difference to maneuver the No. 9 maegashira to the edge where he shoved him out with a frontal force-out, improving to 8-0. Aoiyama stands at 4-4.
"It's the first time for me to wrap up a winning record on Day 8," an elated Midorifuji said at Osaka Prefectural Gymnasium. "I knew he was going to hit me at the face-off with a lot of power but I was able to hold my ground."
With ozeki Takakeisho out of the tournament due to injury, the focus now shifts to the leaders. Few would have predicted that the diminutive Midorifuji would be in the sole lead on Day 8.
His nearest rival is komusubi Daieisho, who used his trademark thrusts to the neck and upper body to send No. 2 maegashira Abi backpedaling out while improving to 7-1. Abi dropped to 5-3.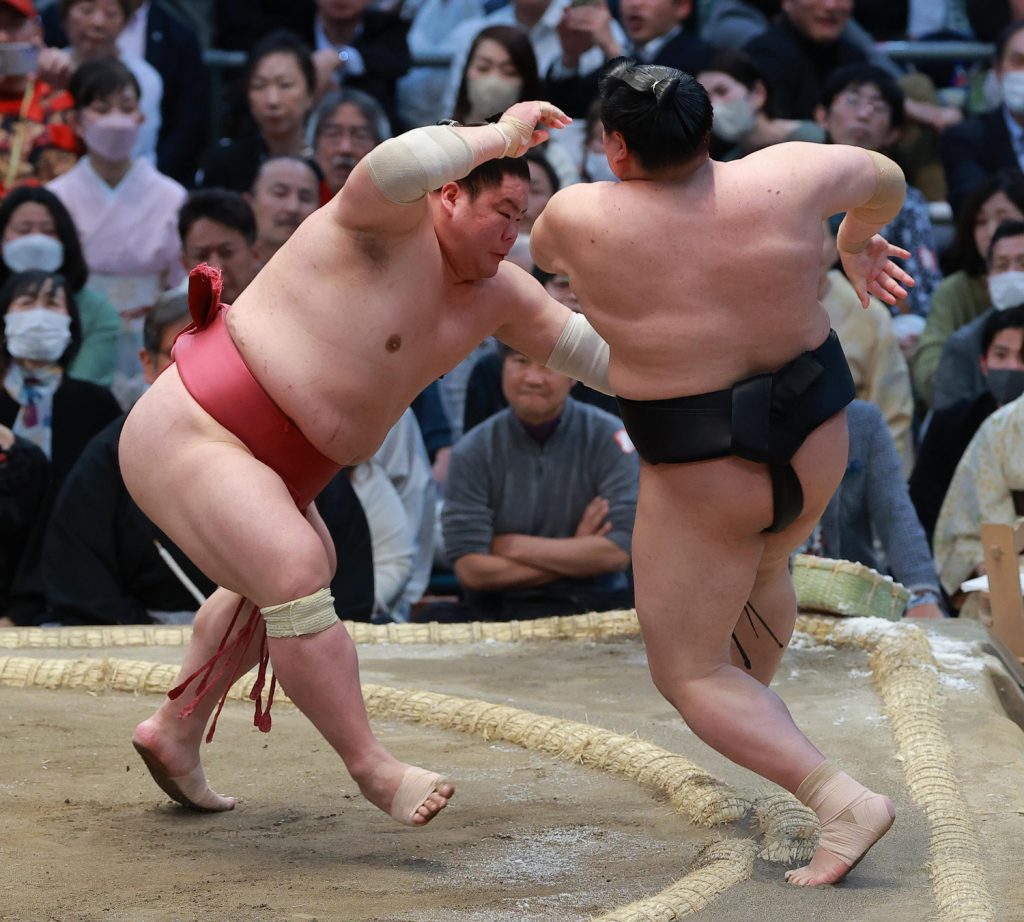 Sizable Pack of Contenders
A group of five wrestlers are two wins off the pace at 6-2.
Among that group is rising star Kotonowaka, who got both arms around veteran Tamawashi and used a frontal crush-out to send his opponent toppling off the raised ring.
Top maegashira Tamawashi dropped to 1-7 and will face demotion for the May tournament with one more loss.
Another wrestler at 6-2 is resurgent top maegashira Shodai, who is displaying the type of sumo that helped him reach the rank of ozeki not too long ago.
Shodai came bursting out of the face-off, got a left arm in on his opponent and used a frontal crush-out. Komusubi Wakamotoharu dropped to 5-3.
Hiradoumi used a frontal force-out to knock former ozeki Takayasu out of the pack of wrestlers who came into Day 8 one win off the pace.
No. 9 maegashira Hiradoumi improved to 4-4 while seventh-ranked Takayasu dropped to 6-2.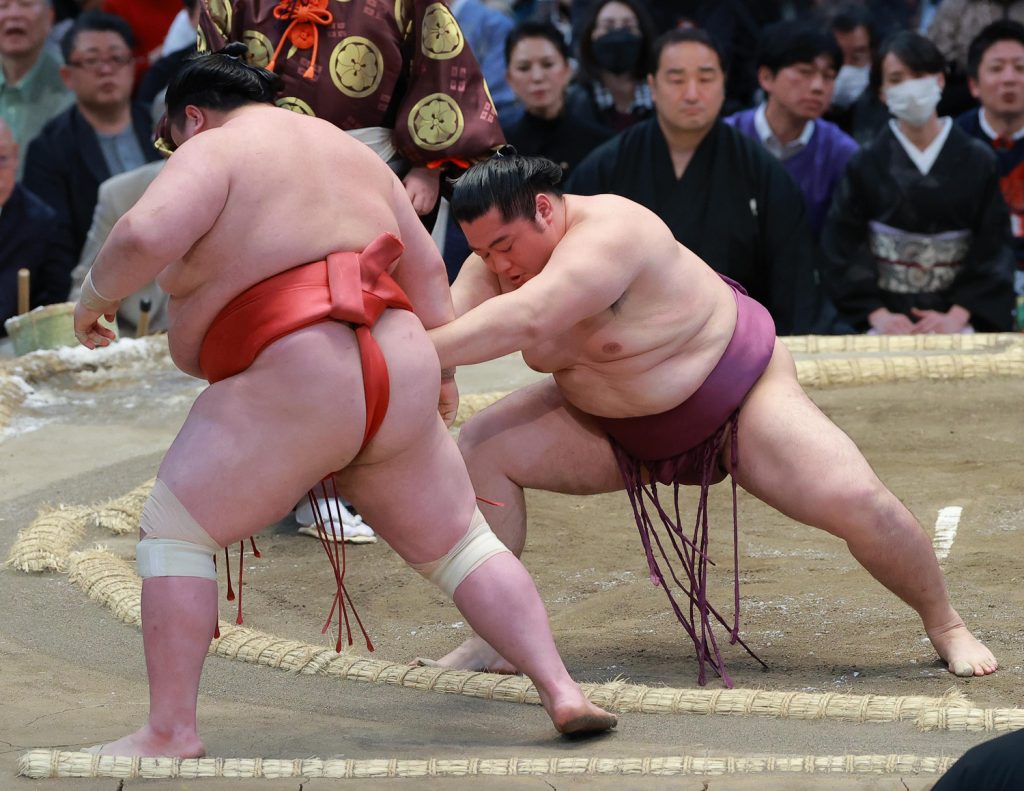 Fan favorite Endo, a No. 6 maegashira, also improved to 6-2 when he shoved out fourth-ranked Onosho (4-4). 
Kinbozan Improves to 6-2
Further down the ranks, makuuchi division debutante Kinbozan continued to impress by defeating Chiyoshoma (5-3) to pick up his sixth win against a pair of losses.
Kinbozan is the first wrestler from Kazakhstan to be competing in the elite class and is well on his way to wrapping up a winning record.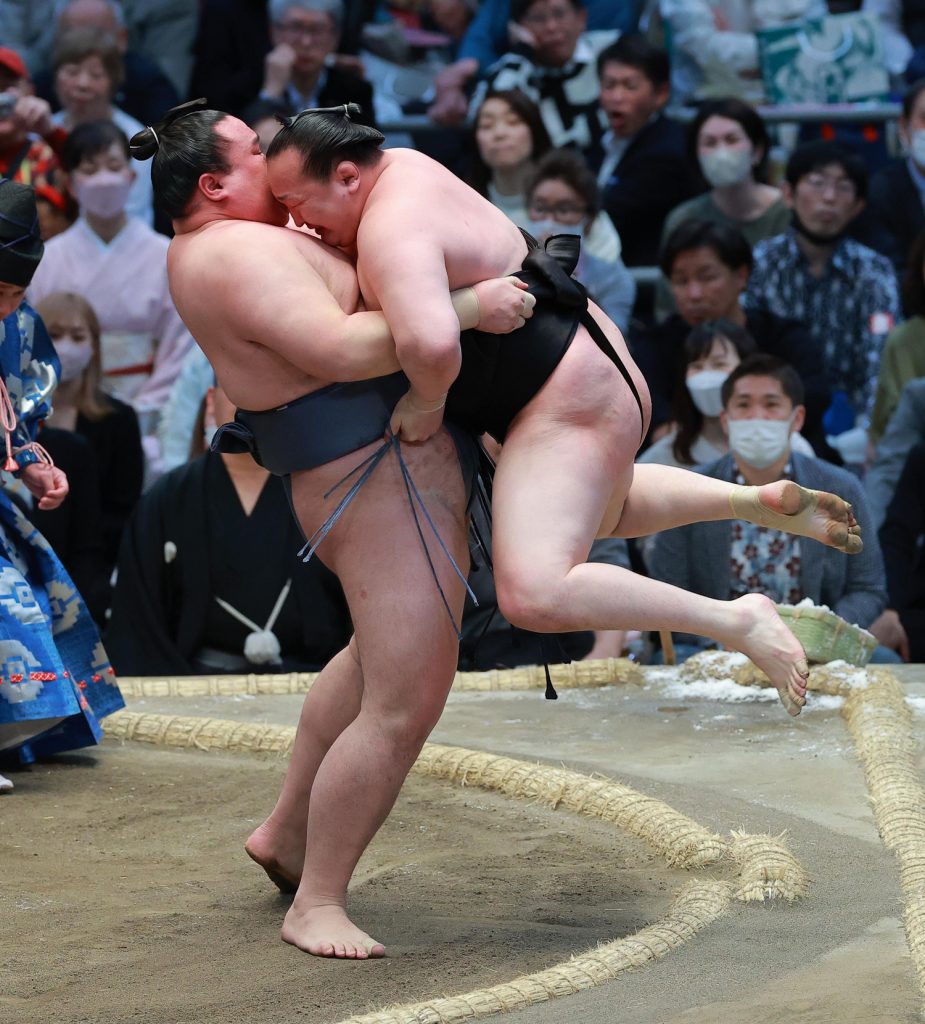 Trying to salvage his March campaign, sekiwake Wakatakakage thrust down No. 3 maegashira Nishikigi to move to 3-5.
Wakatakakage got off to a nightmare start with five straight losses but has now won three in a row and is slowly moving toward securing a winning record.
In one of the day's more spirited bouts, Mongolian Kiribayama used an arm throw at the edge to send Tobizaru flying off the raised ring.
Sekiwake Kiribayama improved to 5-3 while komusubi Tobizaru, who looked woozy after hitting the dohyo, dropped to 4-4.
In the day's final bout, Mongolian sekiwake Hoshoryu ousted No. 3 maegashira Mitakeumi (3-5) to move to 5-3. 

Author: Jim Armstrong
The author is a longtime journalist who has covered sports in Japan for over 25 years. You can find his articles on SportsLook.