[NPB NOTEBOOK] Cy Young Award Recipient Trevor Bauer Struggles in Japan
After two rough outings, the Yokohama DeNA BayStars sent veteran pitcher Trevor Bauer down to their Eastern League farm team to work on his game.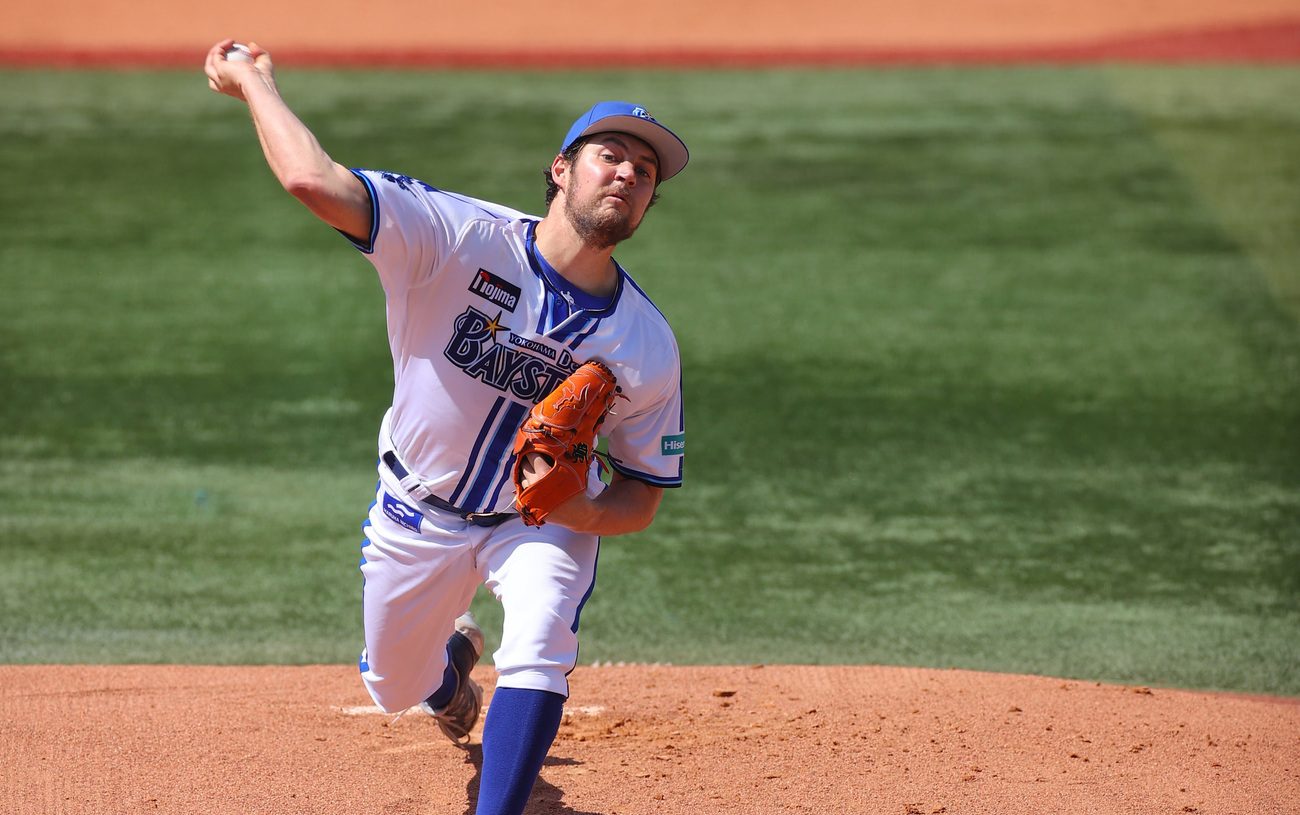 Trevor Bauer has hit a rough patch in his transition to Japanese baseball.
After going seven strong innings to pick up the win for the Yokohama DeNA BayStars in his NPB debut on Wednesday, May 3, Bauer was shelled in his next two starts.
In his last outing with the top team on May 16, Bauer was pounded by the Hiroshima Carp for seven runs on eight hits in two innings. This came a week after a defeat at the hands of the Yomiuri Giants, who tagged him for seven runs and 11 hits in six innings.
After that, there was nowhere for Bauer to go but down to the BayStars' Eastern League farm team to see if he could make some much-needed adjustments to his game.
On Sunday, May 21, the 2020 National League Cy Young Award winner pitched against the Chiba Lotte Marines farm team.
In six innings he gave up one earned run on eight hits while striking out 10 batters on 97 pitches in an 8-1 victory for DeNA's farm team.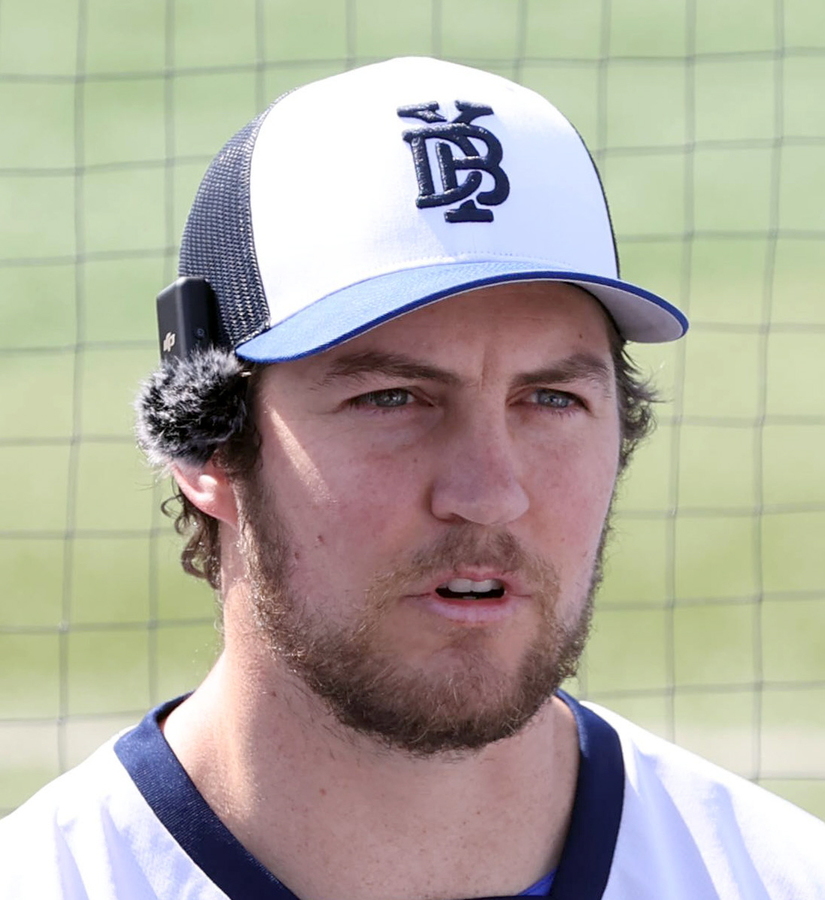 Bauer is Reportedly Tipping His Pitches
Bauer's fastball has been clocked as high as 157 kph (97 mph) so that's not the problem.
According to reports in the Japanese media, Bauer is tipping his pitches with a form that is different between his fastball and his off-speed pitches.
In three starts, he has given up 26 hits and 15 runs in 15 innings this season for the BayStars.
After the loss to Hiroshima, BayStars manager Daisuke Miura, a former pitcher, gave his candid opinion.
"They really hit him well," Miura was quoted as saying by Kyodo News. "It's not only about how hard you throw."
Bauer's struggles are a reminder that the transition to Japanese baseball is not an easy one, even for big-name major leaguers.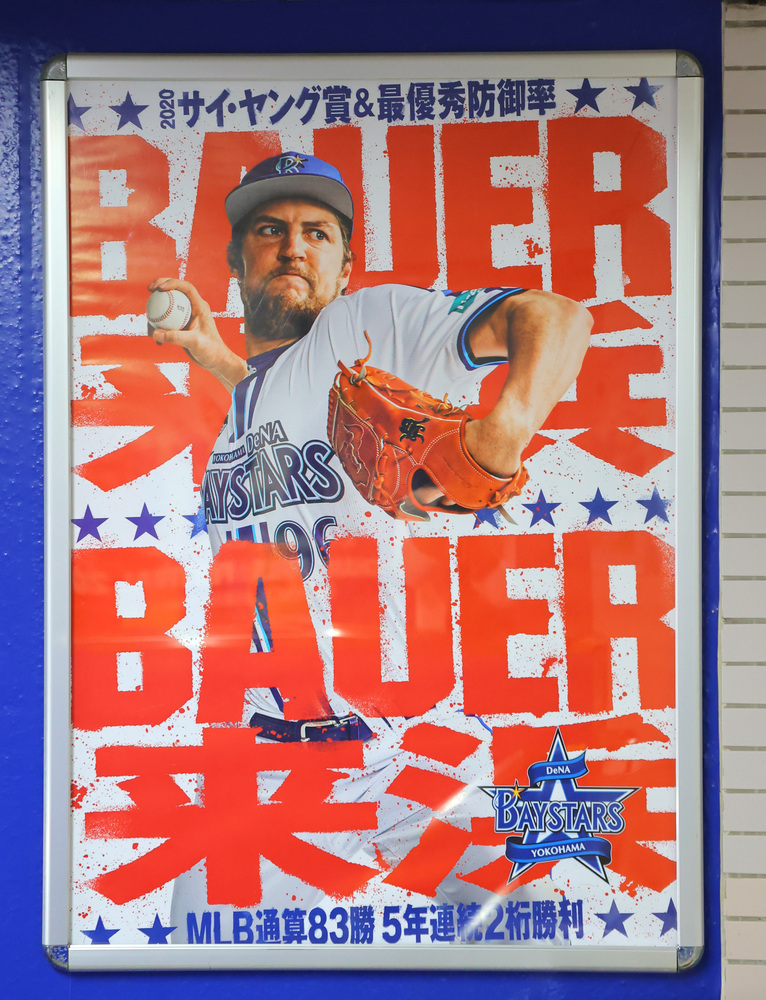 Dodgers Released Bauer
Bauer (1-2) arrived in Japan under a cloud following a 194-game suspension for violating MLB's domestic violence policy. The Los Angeles Dodgers released him despite owing him over $20 million USD (nearly ¥2.8 billion JPY) for this season. DeNA signed Bauer to a contract after every MLB team passed on him.

After making his aforementioned start for the farm team, Bauer has returned to the parent club. He is scheduled to start against the Chunichi Dragons in Nagoya on Saturday, May 27.

"Heading to his next start, I hope he can make the proper adjustments," Miura told reporters after the minor league start.
RELATED: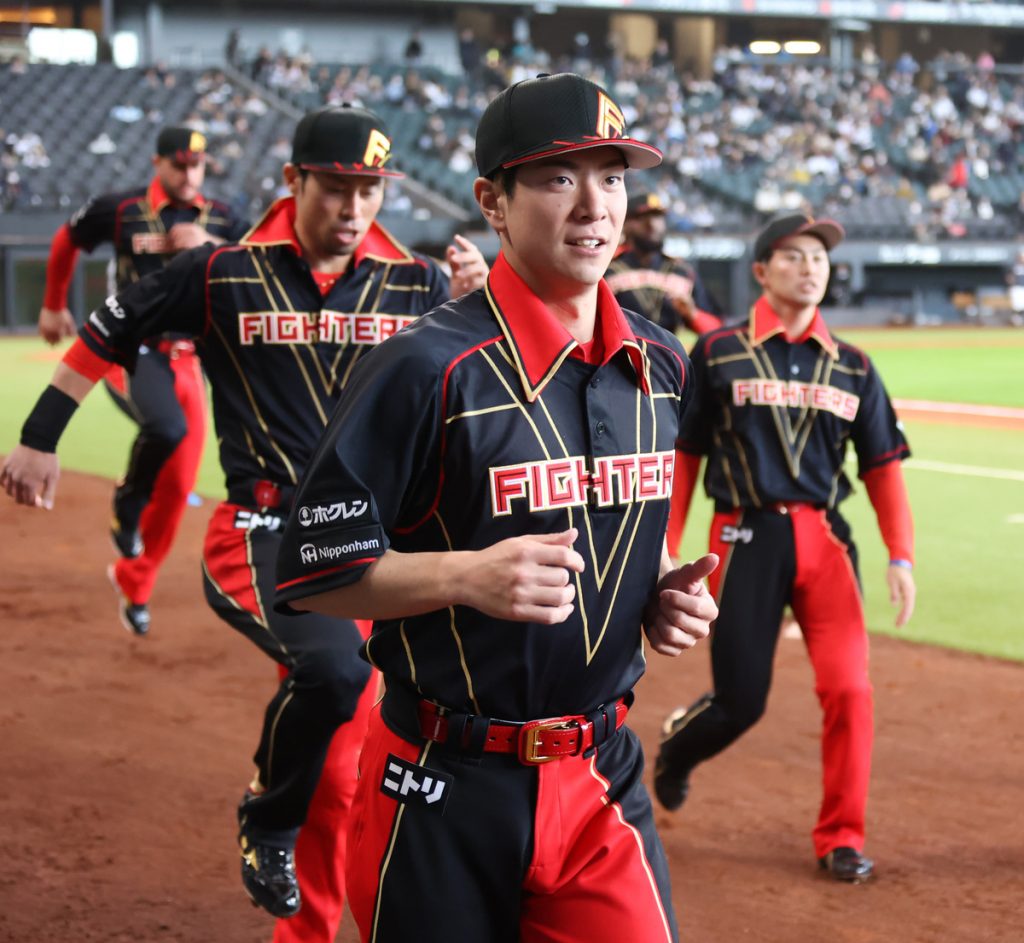 Fashionista Fighters
I'm no fashion critic, but the Hokkaido Nipponham Fighters' recently released alternative uniforms are simply out of this world.
Ever since the Fighters donned their flashy Tsuyoshi Shinjo-designed alternate uniforms in mid-May, the team has gone on something of a winning streak to climb out of the Pacific League cellar.
The uniforms are a bizarre combination of Ultraman meets Elvis. They feature a high dress shirt collar and different colored pant legs.
Shinjo, in his second season as manager, was always known for his showmanship and these unis are right out of the Shinjo playbook.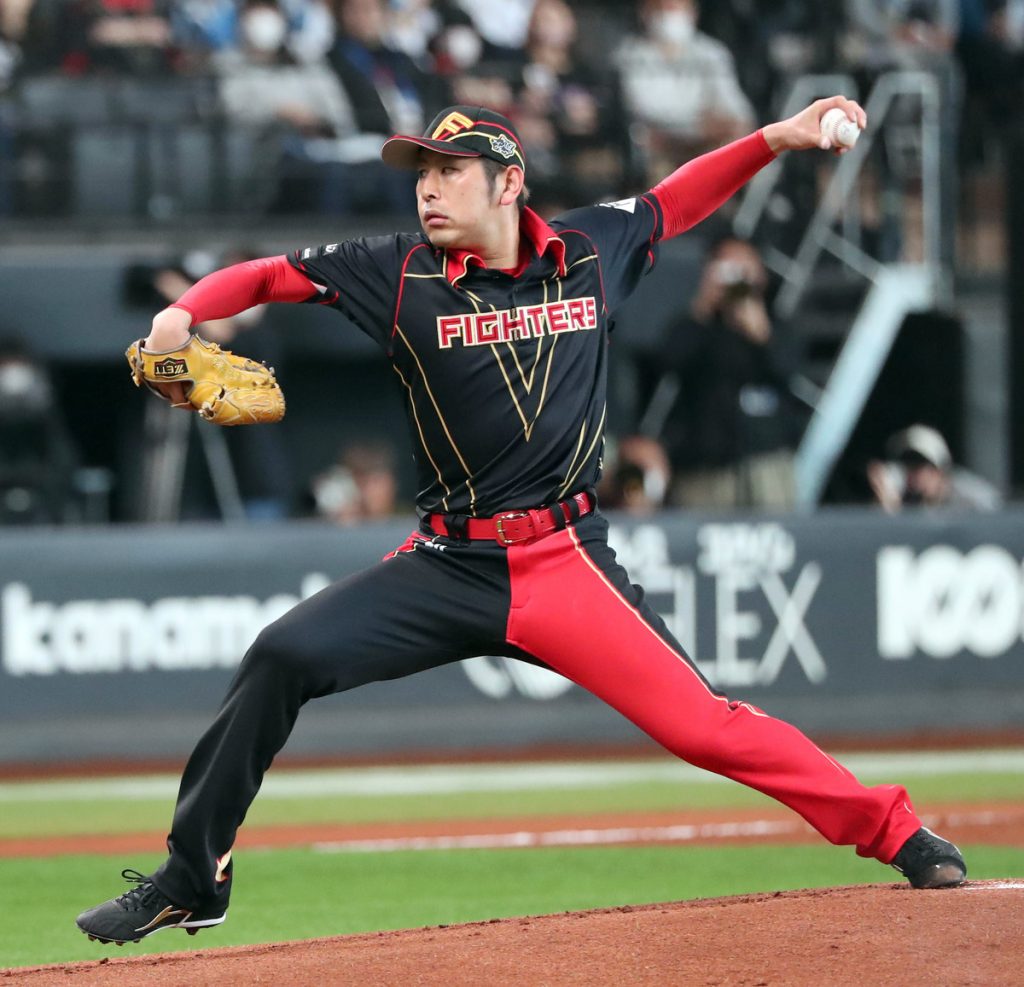 Before the team unveiled the new unis, the Fighters won four in a row from May 4, including a three-game sweep of the struggling Tohoku Rakuten Golden Eagles. Knowing how superstitious players can be, it's likely we haven't seen the last of these duds.
The recent success has seen the team climb out of the PL cellar and move into fourth place through Thursday, May 25, just 7½ games out of first place. They are ahead of both the Saitama Seibu Lions and the Eagles.
Of course, it's not entirely the result of those uniforms.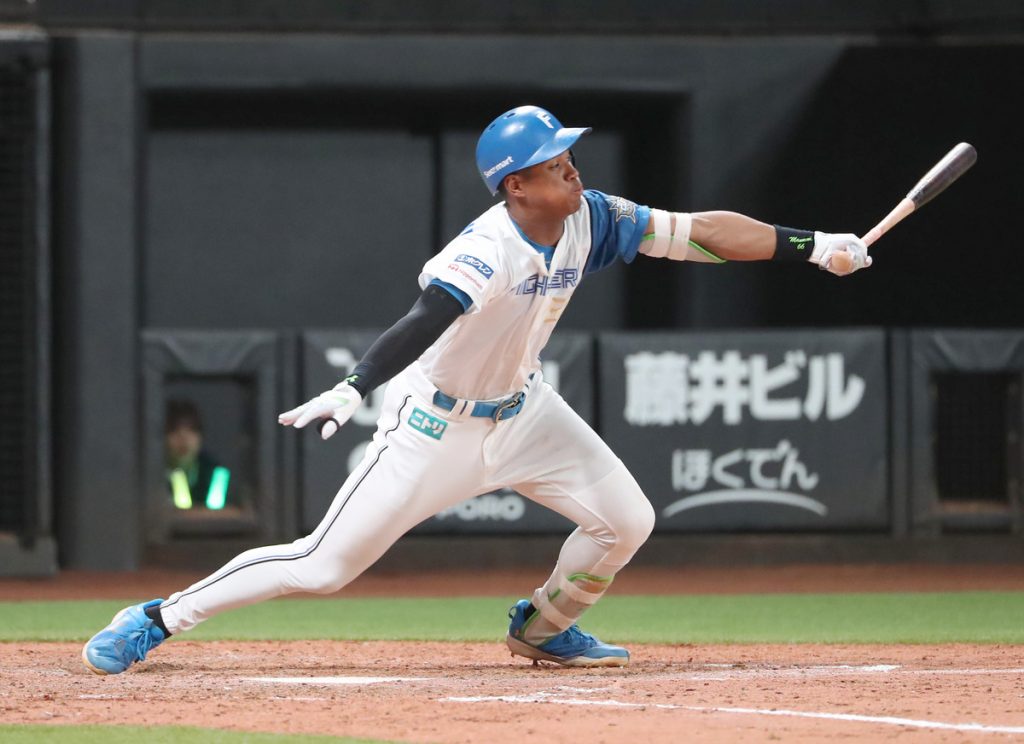 Chusei Mannami is having a great year at the plate with 27 RBIs (second in the league) and eight homers, which is tied for the league lead. Go Matsumoto is among the league leaders in batting average (.294 average through Thursday).
Takayuki Kato (4-2, 2.07 ERA, 37 Ks) and Naoyuki Uwasawa (4-3, 3.57 ERA, 40 Ks) have been outstanding on the mound.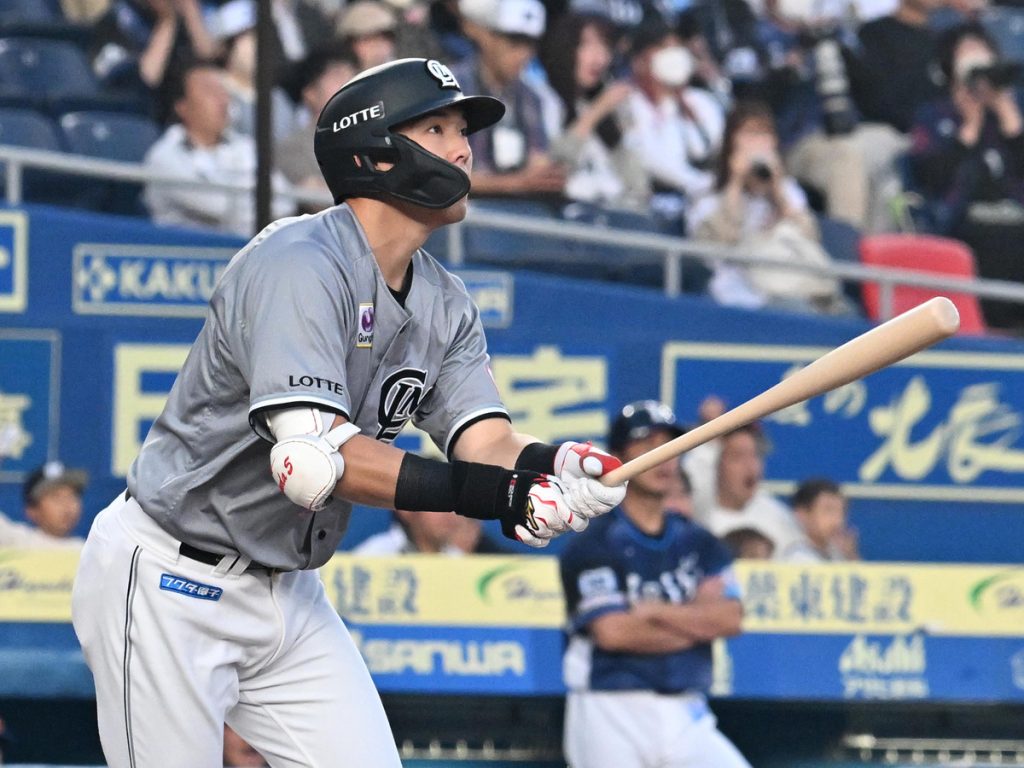 Marines March On
One of the biggest surprises in this young season has been the play of the Chiba Lotte Marines.
Through games on Thursday, May 25, the Marines were in first place in the Pacific League with a 24-14-2 record, two games ahead of the 2022 Japan Series champion Orix Buffaloes (24-18-2).
Few would have expected that. Lotte finished fifth in the six-team PL standings last season.
The team has given up the fewest runs (108) in the PL and has a league-leading 2.55 ERA, so pitching is a big reason for that success.
Of course standout pitcher Roki Sasaki is one of the main contributors.
On Wednesday, May 24, Hisanori Yasuda hit two of five homers and drove in six runs as the Marines crushed the Lions 11-1.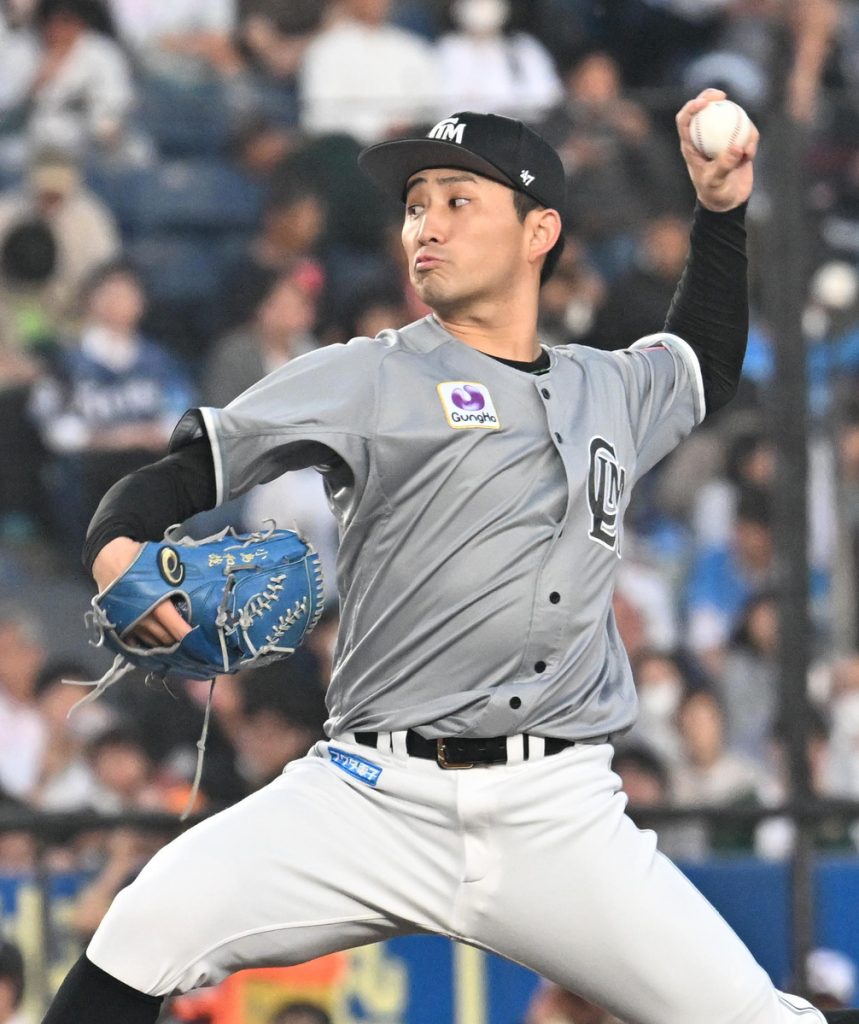 In the rout, Lotte lefty Kazuya Ojima allowed one run over six innings to earn his Pacific League-leading fifth win.
This is the Marines' first season under manager Masato Yoshii, who had a long career in both NPB and MLB as a right-handed pitcher.
Not surprisingly, Sasaki was first in voting for the PL's starting pitcher for NPB All-Star Games on July 19,20. That's according to interim results released by NPB on Monday, May 22.
The 21-year-old right-hander has a 3-0 record with a stellar 0.84 ERA in five starts so far this season. Sasaki has 15,256 votes while fellow WBC teammate Yoshinobu Yamamoto of the Buffaloes is second with 9,810 votes.
Game 1 will be played at Vantelin Dome Nagoya on July 19 and Game 2 at Hiroshima's Mazda Stadium the next day.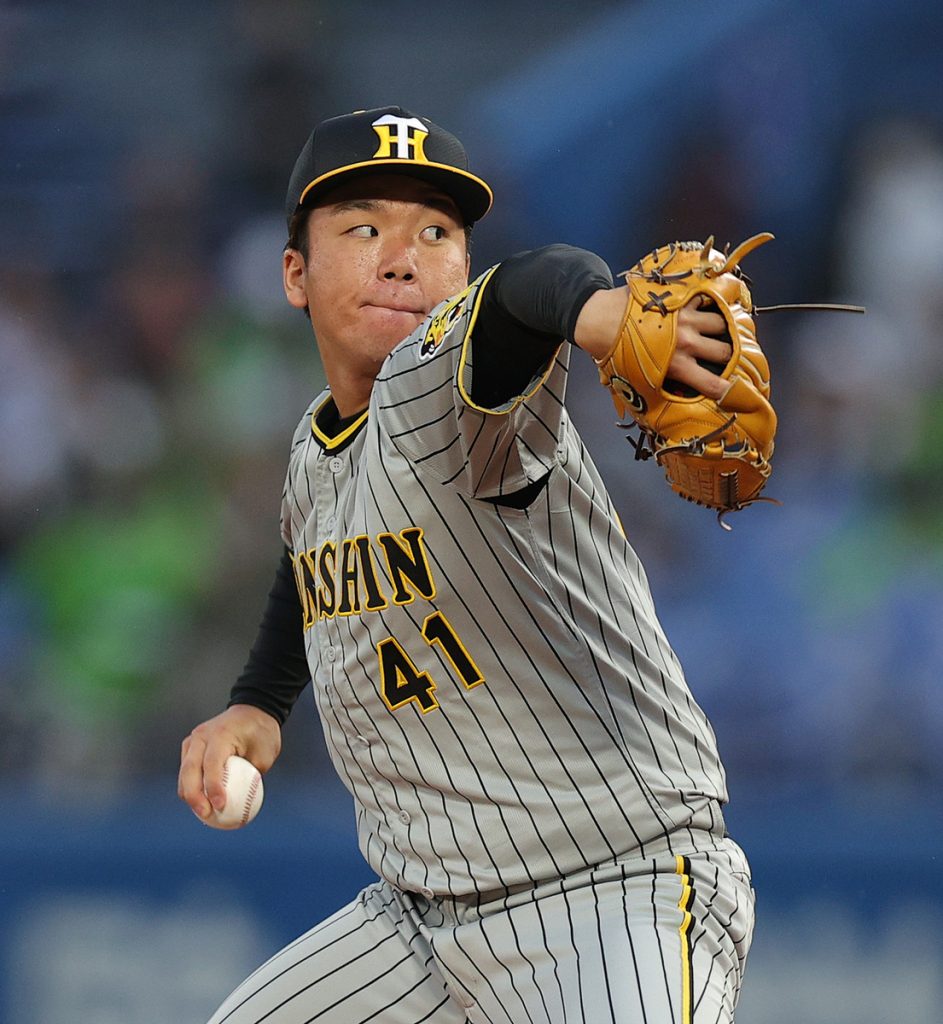 Tigers Pouncing
The Central League-leading Hanshin Tigers show no sign of slowing down, but of course have yet to go through their annual road trip from hell when they get kicked out of their home park for two-plus weeks due to the National High School Baseball Championship, which starts on August 6, at Koshien Stadium.
As of now, everything is going well with the Tigers, who enjoy a four-game lead over the BayStars with a 28-14-1 record.
One highlight for the Tigers this season has been the play of rookie pitcher Shoki Murakami.
Murakami improved to 4-1 on the season on Tuesday, May 23 when he allowed just two runs on four hits over six innings. The CL's pitcher of the month for April struck out seven and walked just one batter as the Tigers beat the slumping Tokyo Yakult Swallows 6-3.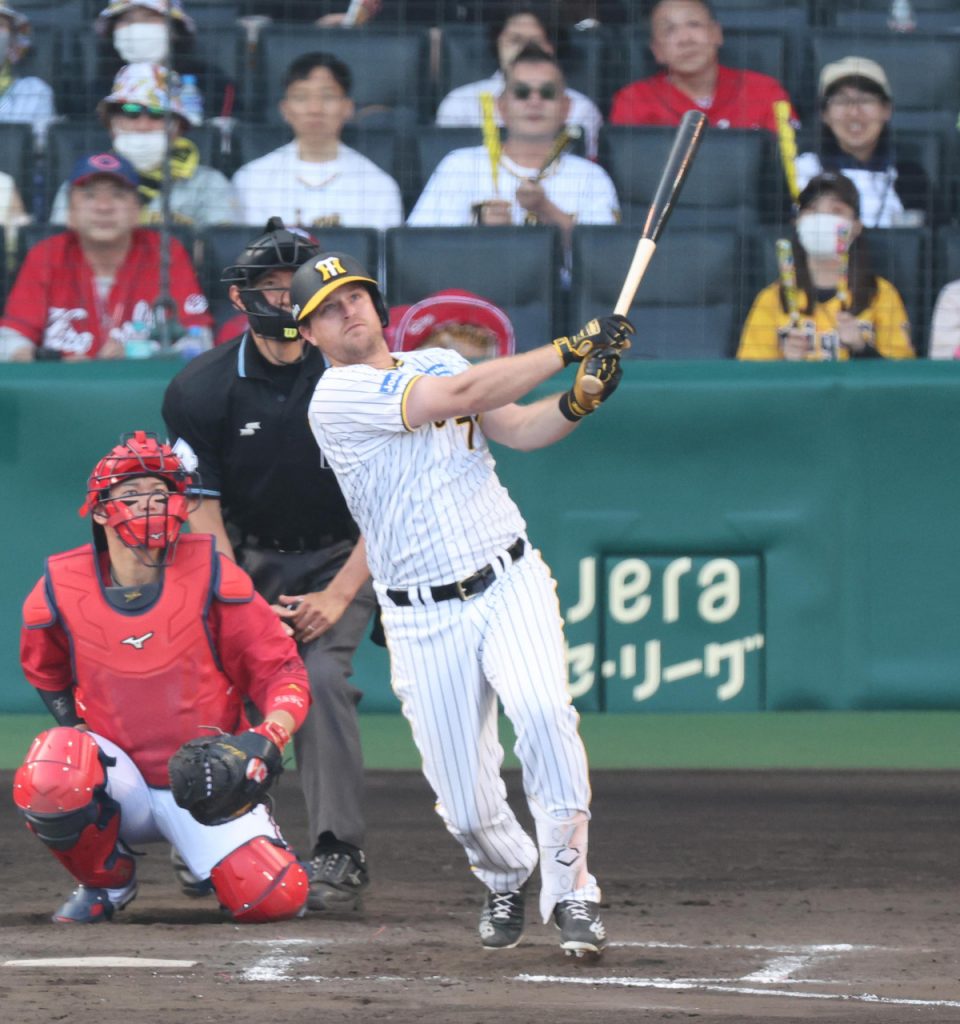 Another bright spot has been new import player Sheldon Neuse. In that game against the Swallows, Neuse drove in five runs to lead the attack.
After a quiet start, Neuse (pronounced noisy), who played for the Oakland Athletics and Los Angeles Dodgers before joining the NPB team, has 48 hits and 20 RBIs, which includes four home runs.

Author: Jim Armstrong
The author is a longtime journalist who has covered sports in Japan for over 25 years. You can find his articles on SportsLook.