[ODDS and EVENS] All Blacks Help Elevate Level of Japan Rugby League One
Current All Blacks Beauden Barrett and Aaron Smith will join the Toyota Verblitz after the 2023 Rugby World Cup, giving the fledgling league more star power.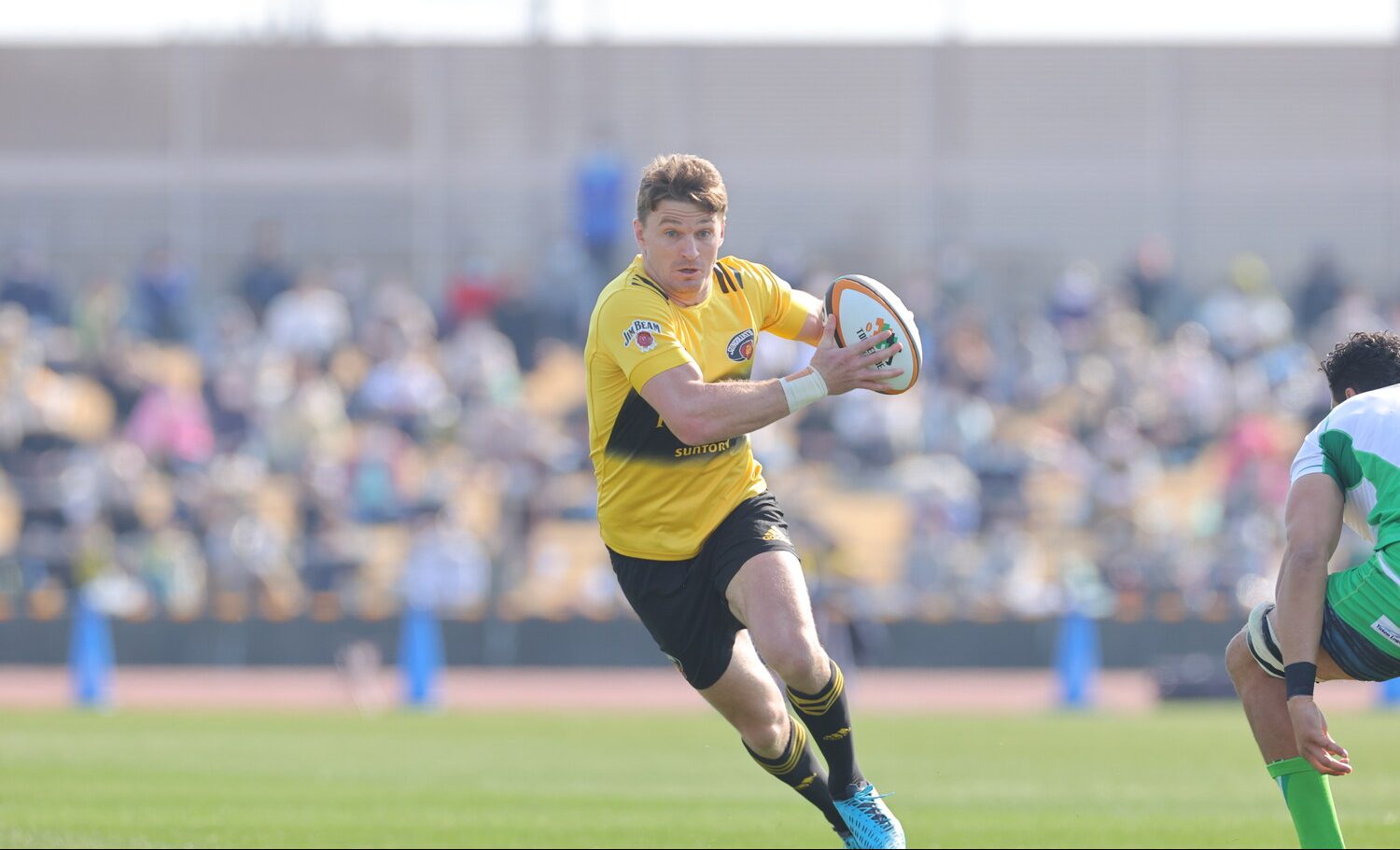 Investing in top-level foreign players, including current and former All Blacks, is a smart developmental plan for Japan Rugby League One teams.

After all, the New Zealand national team has had astounding success on the global stage. Three Rugby World Cup titles (1987, 2011, 2015) are a historic reminder of the All Blacks' overall excellence and wealth of talent.

To elevate the level of competition in Japan, accomplished players from anywhere on earth should be considered candidates for contracts.
Japan Rugby League One, which kicked off its second season in mid-December, is home to 12 first-division teams. Last season, the Toyota Verblitz placed fifth, 20 points behind the inaugural champion Tokyo Sungoliath.

In the current campaign, the Saitama Panasonic Wild Knights (7-0), the last remaining unbeaten squad, are the cream of the crop. Meanwhile, the Verblitz (2-5) are off to a slow start, but team management has long-term ambitions of marked improvement.

Although the 2022-23 season will wrap up in May, the Verblitz are laying the groundwork for what they hope will help produce more success in 2023-24.

All Blacks Beauden Barrett, a two-time World Rugby Player of the Year (2016 and 2017), and Aaron Smith are a major part of those plans. The veteran players will join the Verblitz after the 2023 Rugby World Cup in France wraps up in late October, the Aichi Prefecture-based Toyota squad announced on February 7.

For Japanese rugby fans, the start of the 2023-24 season can't come soon enough. Having these two globally-renowned players (and numerous others from foreign countries) in League One can only push all players to raise the level of competition.

In other words, it's a win-win situation.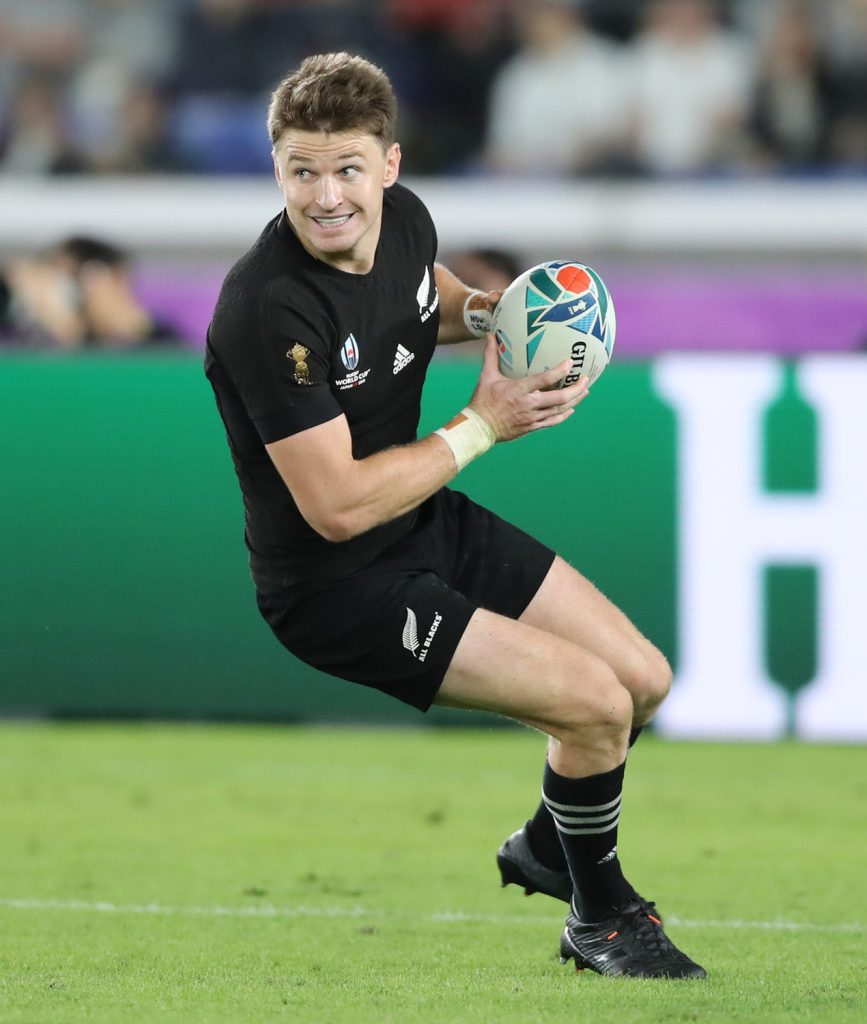 Barrett, One of the All Blacks' All-Time Greats
Barrett, 31, has earned 112 caps in his storied career for the All Blacks. A two-time World Rugby Player of the Year, he was one of the driving forces behind New Zealand's title-winning effort at the 2015 RWC in England, where Steve Hansen coached the All Blacks to victory.

Hansen held the top post from 2012-19. He now serves as the Verblitz's director of rugby.

So, in a way, Barrett's career has come full circle. Hansen's word carries weight within the Verblitz organization, and their renewed alliance should be a boon for the Japan Rugby League One squad.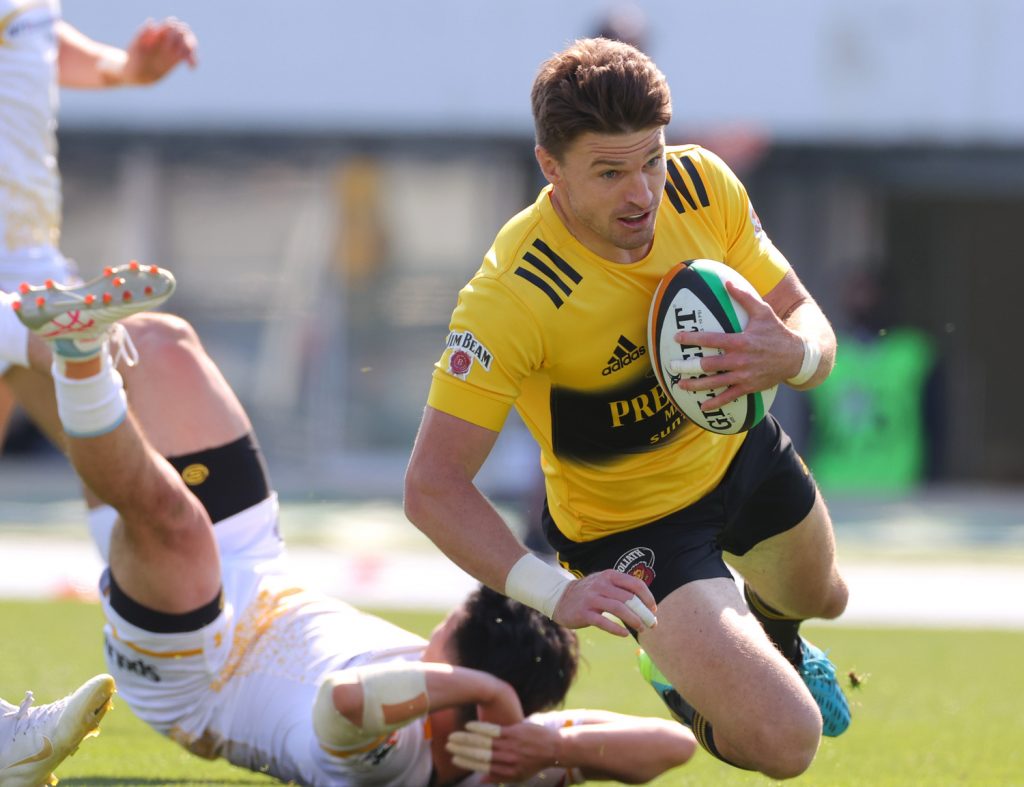 Barrett has played for New Zealand Rugby Football Union club Taranaki since 2010, while also making his mark for a pair of Super Rugby teams in his homeland, the Hurricanes (2011-19) and the Blues (since 2019). And before League One's launch in 2022, Barrett had a spell with Suntory Sungoliath, now called Tokyo Sungoliath, in its predecessor (Japan Rugby Top League) in 2021. It was a stint highlighted by a slew of highlights, including seven tries in 10 matches for the league runners-up.

Retired former All Black Nick Evans gushed with superlatives about Barrett's talents in June 2017.

"He's got the pace, he's got the ability, he's got that nous to just ghost into gaps and he's always playing on the front foot," Evans told BBC Sport.

Evans declared that England's Owen Farrell is a "fantastic player" before adding that "Beauden, when he's at his best, is absolutely on another planet."
Six years is a long time in sports. New stars emerge while older standouts fade to less-prominent roles or retire. But Barrett is not yet at an age when retirement is just around the corner. He likely has at least five more productive years as a top-level player.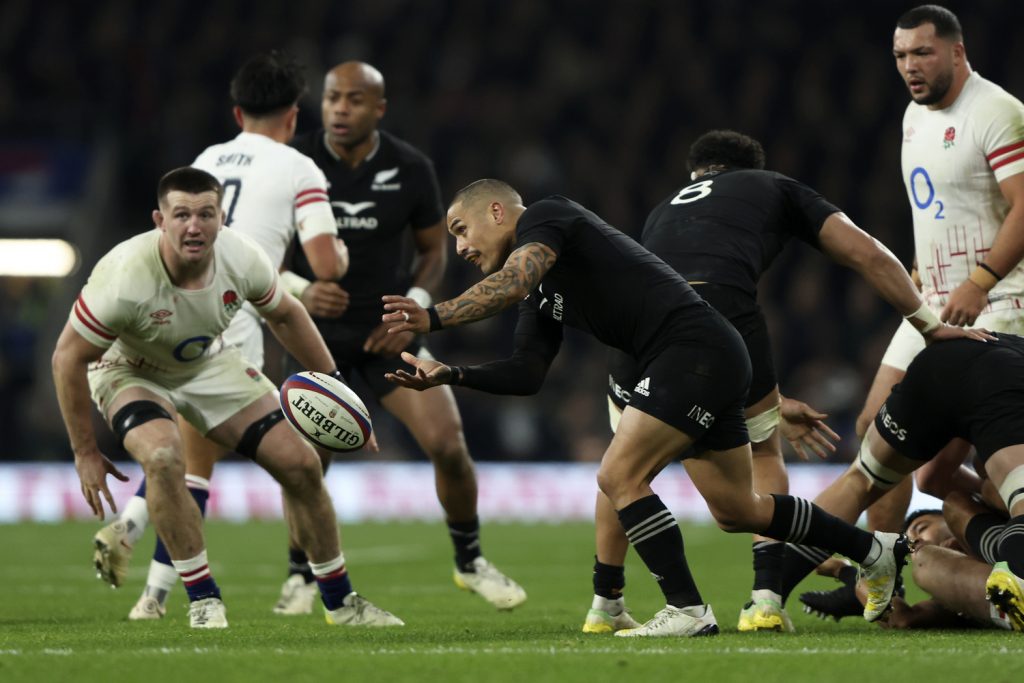 Smith: A Consummate Professional, An Iconic All Black
There's an obvious reason why Smith's name has been penciled in the All Blacks' starting lineup again and again and again over the years. With 114 caps, he's played more test matches than any other scrumhalf in All Blacks history. And remember this: Professional rugby executives around the world pay attention to facts such as this one.
His skill level and impact on a match go hand in hand.

Smith's All Blacks page eloquently summarizes his on-field trademarks, noting that he "ignites backlines with his bullet-like pass, which is widely regarded as one of the best in world rugby, while reinforcing defensive lines with a crunching tackle."
His Super Rugby career began in 2011 for the Dunedin-based Highlanders. Producing points is a major part of his appeal. In 176 matches for the Highlanders, he amassed an impressive 160 points.

Still a formidable player at 34 (he turns 35 in November), Smith is one of this generation's premier halfbacks.

More than a decade ago, his rugby brilliance was recognized by then-Manawatu Rugby Football Union head coach Jason O'Halloran, who's now an assistant coach with Suntory.

"From the first time I saw him he was an amazing distributor and he was also very agile in his ability to move laterally and step," O'Halloran said in a 2012 interview with New Zealand website Stuff. "But it is his passing technique that is very unique because he almost squeezes the ball out between his thumb and forefinger."


Excited for Upcoming Opportunity
Barrett is eager to put his personal stamp on the Verblitz's identity, helping author a new chapter next season.

"My family and I are excited to be going back to Japan and to play for Toyota Verblitz," Barrett said in a team-issued statement. "I thoroughly enjoyed my stint in Japan back in 2021 and learnt a lot both on and off the field."
He added, "I'm also looking forward to reconnecting in the same team with Sir Steve Hansen and having my close friend, Aaron Smith."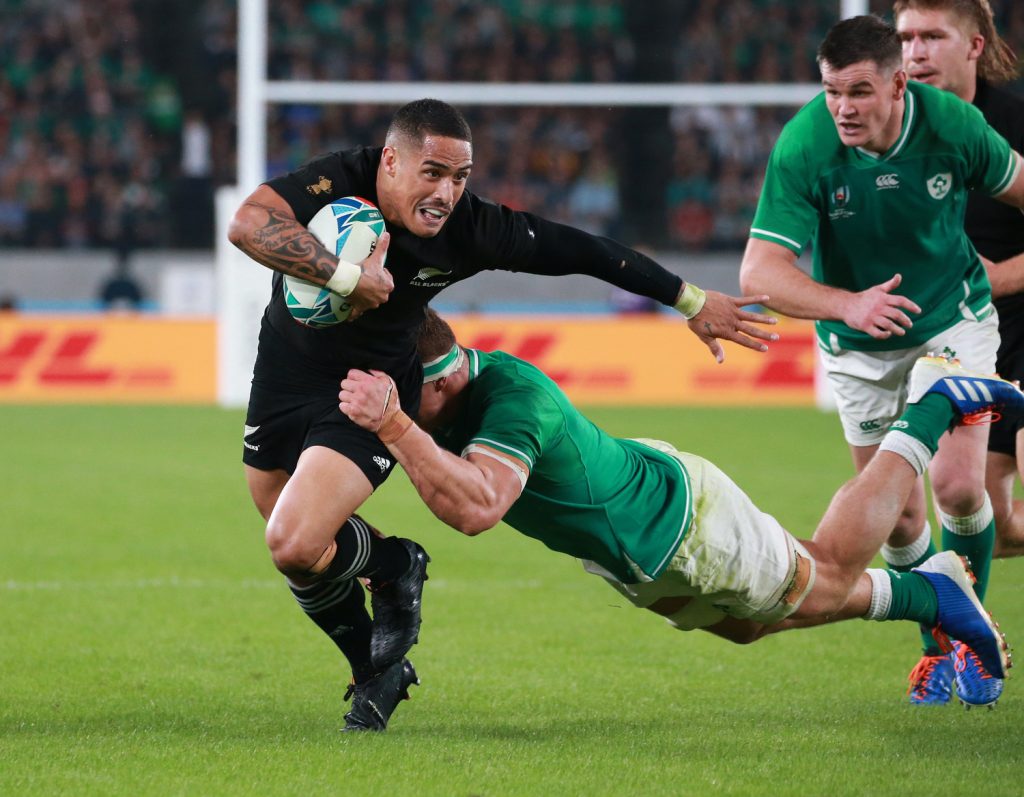 Like Barrett, Smith is anticipating his post-Rugby World Cup move to Japan with unbridled enthusiasm.
"I have loved my time in Japan when I have visited with the All Blacks and am excited for my family to share those experiences with me," Smith was quoted as saying by Kyodo News.
The late, great MLB manager Sparky Anderson once boiled down a necessary component of success for any team's top leader.
Anderson famously said, "Baseball is a simple game. If you have good players and if you keep them in the right frame of mind then the manager is a success."

As a lifelong observer of baseball, I wouldn't call it that simple. Nor would I describe rugby as a simple sport. The combined efforts of 15 players against the opposing XV require elaborate synergy, speed, strength, stamina ― and that's true at all levels of the game.

Raising the Bar
In an interview with The Associated Press in April 2022, Suntory Sungoliath coach Milton Haig said he sees the impact of foreign-born players as one of the catalysts for the improvement of Japanese rugby.

"With the quality of players and with Japan improving their performances at international level the whole competition itself has got a lot better," Haig said. "Probably a few years back, it might have been a bit of a giggle. I know a lot of people used to say it was quick but there wasn't a lot of physicality."
The longtime coach added, "Well I think that's definitely changed now and I think one of the things that I've noticed since I've been here for three years is how physical the competition's got, certainly at the breakdown and defense. Definitely that contact area is pretty serious these days."
Additional examples of high-profile current and past All Blacks plying their craft in Japan include ex-national team captain Kieran Read's stint with Toyota Verblitz (2020-21), Sam Whitelock's time with the Wild Knights (2020) and Damian McKenzie's productive 2022 season with the Sungoliath.
RELATED:
Author: Ed Odeven
Find Ed on JAPAN Forward's dedicated website, SportsLook. Follow his [Japan Sports Notebook] on Sundays, [Odds and Evens] during the week, and Twitter @ed_odeven.