[ODDS and EVENS] For Sakura 15, Women's Rugby World Cup Represents Opportunity for Growth
Japan's national squad is making only its third tournament appearance this century. Therefore, each match is a vital part of its overall development.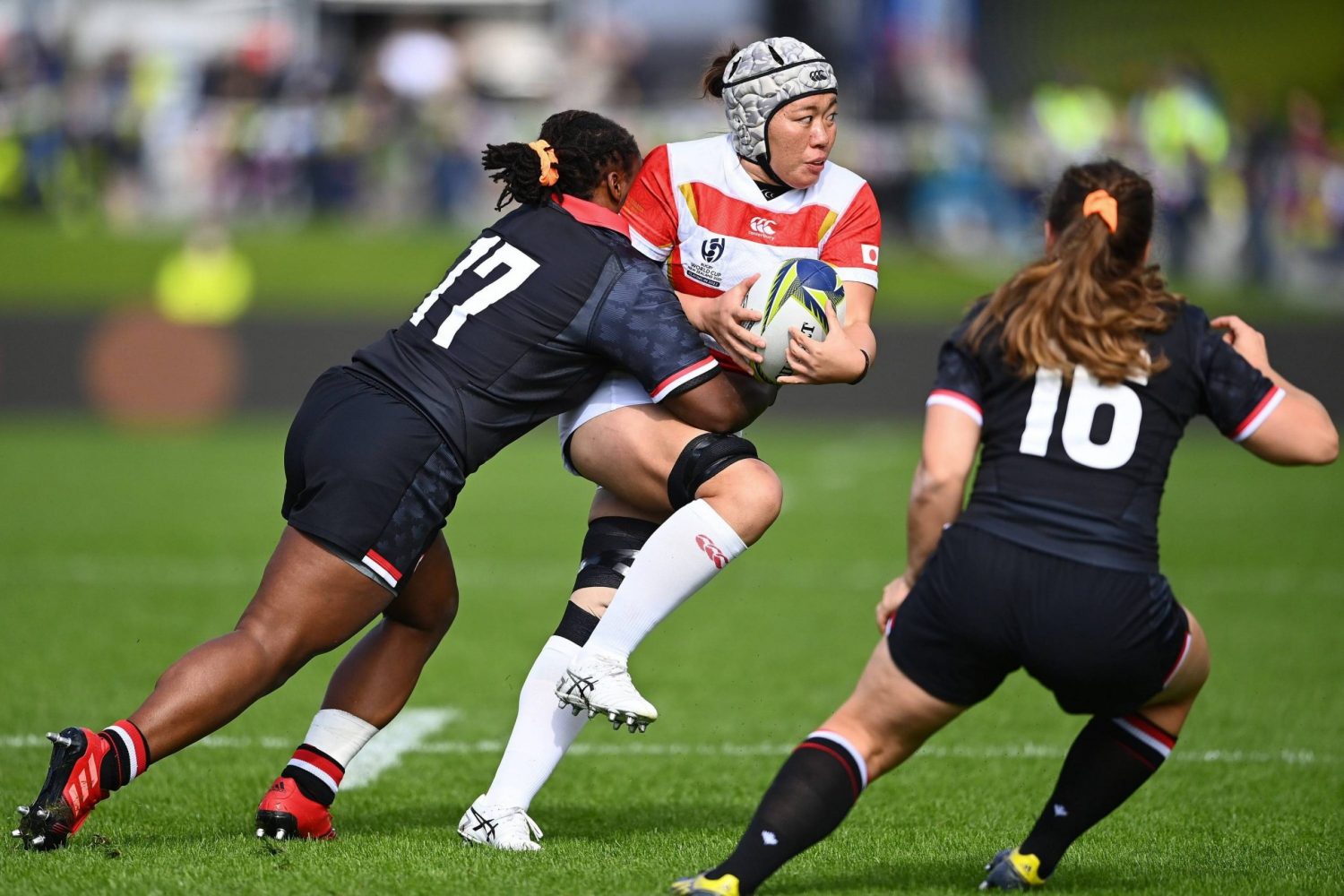 Global tournaments are important testing grounds for individual athletes and national teams.
Case in point: The ongoing Women's Rugby World Cup, which got underway on October 8 and is scheduled to end on November 12.
At the 12-nation tournament in New Zealand, Japan is appearing in back-to-back World Cups for the first time since 1991 (the inaugural tournament) and '94.
Japan didn't qualify for the 1998 tourney, returned in 2002, then failed to qualify again until 2017, missing out three times (2006, 2010 and 2014).
In 2017, Japan finished 11th overall, winning its final clash in Ireland (44-5 over Hong Kong) to end the tournament on a positive note after dropping its first four matches. Since 2017, there was a five-year gap due to the global pandemic, with the 2021 Women's Rugby World Cup being delayed a year.
Entering the current World Cup, the Sakura Fifteen are ranked No. 13 in the world. Fiji, at No. 21, is the lowest-ranked squad competing in New Zealand. The top half-dozen ranked teams are No. 1 England, reigning champion and No. 2 New Zealand, aka the Black Ferns, No. 3 Canada, No. 4 France, No. 5 Italy and No. 6 United States.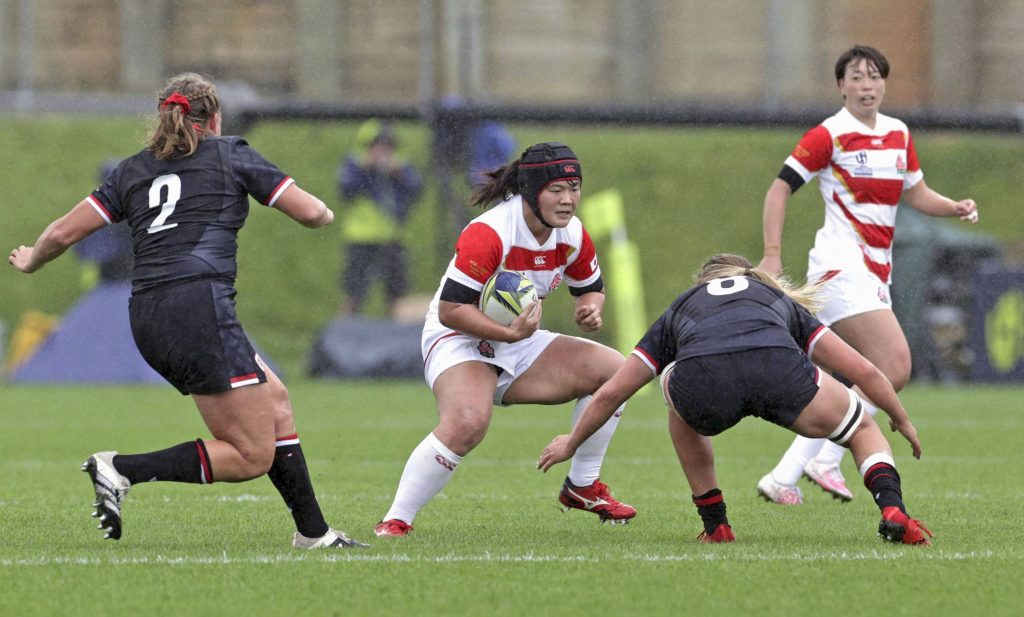 Canada Routs Japan in Opener
Japan opened its World Cup campaign against Pool B foe Canada on Sunday, October 9.
Maki Takano's fifth-minute try made it 5-5 at Okara Park in Whangarei. Canada then scored 36 unanswered points to close out the match, winning 41-5.
Rugby World analyzed Japan's overall performance this way: "When Japan are able to string passes together they can stretch teams but that didn't happen often enough in their opening Rugby World Cup match in Whangarei."

In its online report, the magazine concluded that the Sakura Fifteen "showed glimpses of their potential and when they got their dangerous runners onto the front foot they looked lively, but they were often simply overpowered by the Canadians ― and their ill-discipline didn't help. That allowed Canada to kick for territory and create opportunities with their effective driving maul."
Speaking to reporters after the match, Japan captain Saki Minami said, "It was good that we were able to show what we had prepared for the first match of the World Cup, but the result was not what we wanted. We were unable to turn the tide, so the score piled up."
For Sakura Fifteen coach Lesley McKenzie, who began her tenure in 2019, it was a match against her homeland and the national team she represented as a player in the 2006 and 2010 Women's Rugby World Cups.
Despite the lopsided score, McKenzie maintained a positive mindset after the match.
"I'm actually really happy with a lot of the things that we did in the game," McKenzie was quoted as saying by Canadian Broadcasting Corporation (CBC). "We wanted to be physical. They're a physical team and we wanted to meet that and show that we're a different team than [the one that] came in 2017."
Canadian Captain's Perspective
Sophie de Goede, whose mother, Stephanie (née White), and father, Hans, served as captains of Canada's women's and men's national squads (1994 and 1987 World Cups, respectively), has followed in their footsteps.
The 23-year-old de Goede, who was appointed team captain in September, said it was a positive tourney opener for Canada.
"It was a good game for us," de Goede said, according to the CBC. "We started strong, got to work some kinks out. I still think we have a stronger performance in us. I think we'll keep building from this. But massive credit to Japan. I thought they played as expected. Very well-disciplined. Good structure."
Canada faces Pool B foe Italy on Saturday, October 15.
Italy is coming off a 22-10 victory over the United States on the second day of the tournament.
Japan faces the United States on Sunday, October 16 (1:30 PM JST) at the same venue in New Zealand's Northland Region.
Gaining Experience at the World Cup
Before the current World Cup began, Japan's five-year absence from the sport's biggest tournament triggered a big shakeup of its roster.
A half-decade often represents a generational shift in sports, so a major overhaul of the team's personnel in the run-up to the World Cup wasn't surprising.
Of Sakura Fifteen's 32-player squad in New Zealand, nine were on the 2017 roster in Ireland: Takano, Minami, Seina Saito, Misaki Suzuki, Makoto Lavemai, Iroha Nagata, Moe Tsukui, Minori Yamamoto and Ayaka Suzuki.
Saito entered the World Cup as the squad's most-capped player (32).
Former coach Goshi Arimizu departed in 2019.
His successor, McKenzie, offered a glimpse of her present tactical approach after the Canada match.

"I think it's obvious why we decided not to compete [at the lineout] as we needed to remove that momentum and ask them to go elsewhere to go forward," McKenzie told reporters, according to Rugby Asia 247. "It's just a matter of learning that lesson faster and adjusting more quickly."
Minami agreed that making quick adjustments against the Ameicans is important.
"We want to make better decisions for the next match," the captain said.
A Look Ahead
After facing the Americans, Japan will close out its Pool B schedule against Italy on October 23.

The top two teams in each pool and the top two third-place teams will book spots in the quarterfinals.
Japan's match against Team USA is a critical test, a match that should determine whether it has any shot at securing a place in the quarters.
The Sakura Fifteen prepared for the tournament with a test match against five-time World Cup champion New Zealand on September 24 in Auckland, falling 95-12.
Two more pre-tourney tests followed. World No. 7 Ireland routed Japan 57-22 on August 20 in Shizuoka. Seven days later, the Sakura Fifteen rebounded with a 29-10 win in Tokyo over Ireland, which had moved up to No. 6 in the world rankings.
Every match is an important building block for Minami and her teammates in their collective development.

Author: Ed Odeven
Follow Ed on JAPAN Forward's [Japan Sports Notebook] here on Sundays, in [Odds and Evens] here during the week, and Twitter @ed_odeven.