[JAPAN SPORTS NOTEBOOK] Japanese Judoka Dominate at 2022 World Championships
With 13 total medals, Japan finished No. 1 among all nations competing in Tashkent, demonstrating its supreme judo skills. Updates on several other sports, too.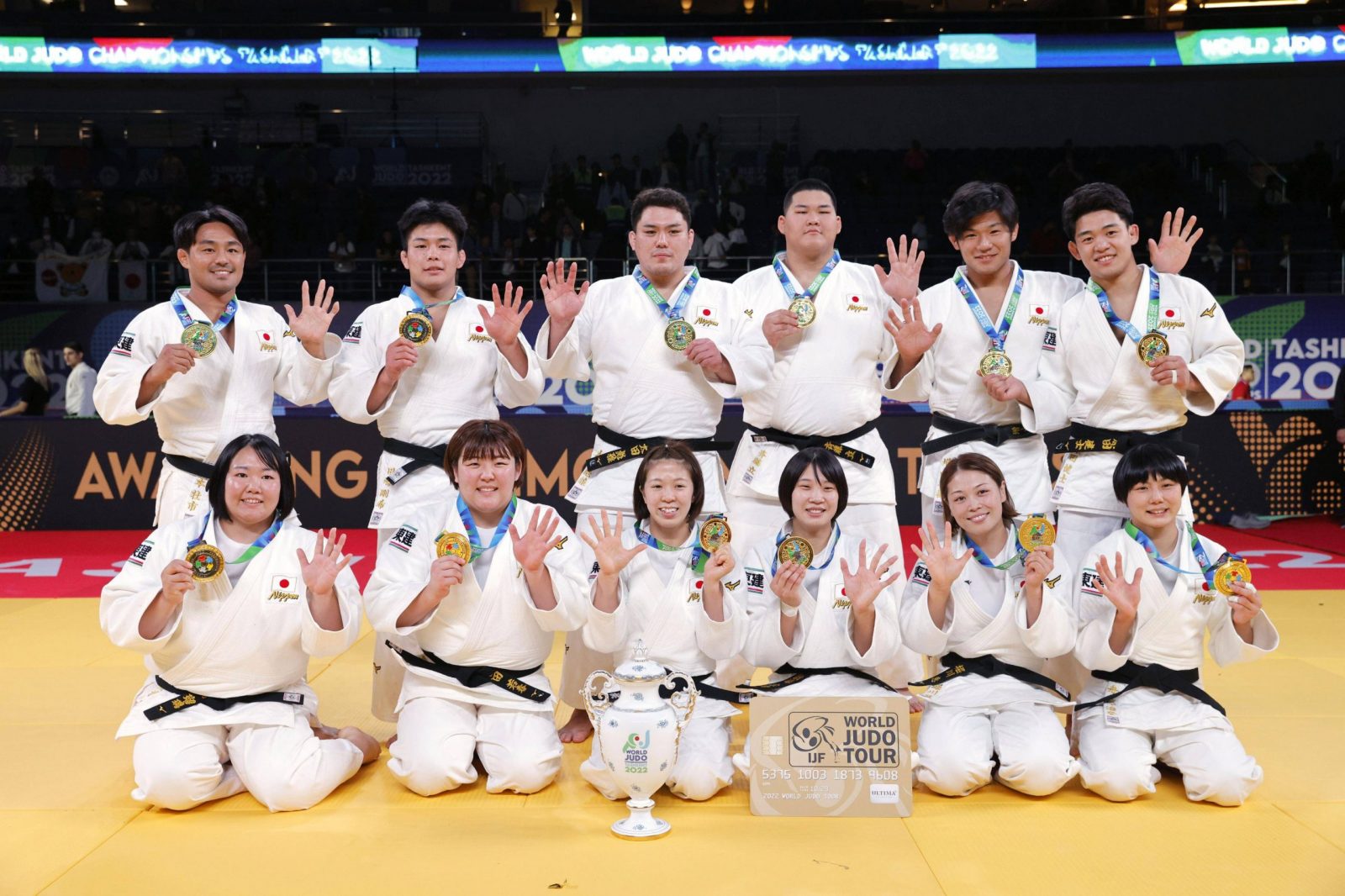 Japanese judoka showcased the nation's abundant talent in the sport at the 2022 World Judo Championships.
Japan captured 13 medals (six gold, four silver, three bronze) before the meet concluded on Thursday, October 13 in Tashkent, Uzbekistan. France was second in total medals (five), including three bronze. Brazil and tourney host Uzbekistan finished runner-up in gold medals with two apiece.
Of the 14 individual weight categories (seven for men, seven for women), Japan collected a medal in all but three of them ― women's 78 kg, men's 90 kg and men's 100 kg.
Japan won the mixed team event on the final day.
Before that, there were memorable accomplishments on a daily basis for the Hinomaru throughout the eight-day tournament. In the end, five Japanese athletes left Tashkent as individual gold medalists: female standouts Natsumi Tsunoda (48 kg), Uta Abe (52 kg) and Megumi Horikawa (63 kg) and male compatriots Naohisa Takato (60 kg) and Hifumi Abe (66 kg).
Japan's silver medalists: Haruka Funakubo (women's 57 kg), Joshiro Maruyama (men's 66 kg), Soichi Hashimoto (men's 73 kg) and Tatsuru Saito (men's over-100 kg).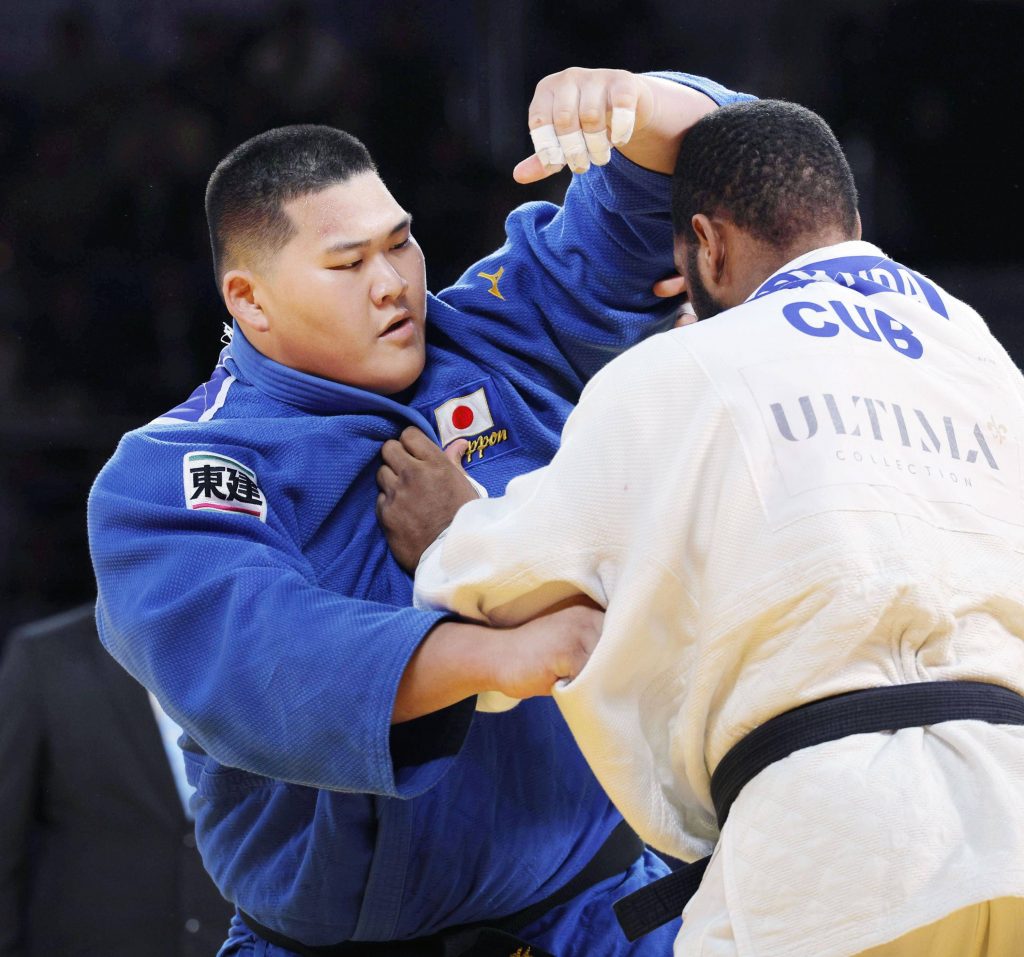 Also for Team Japan, Saki Niizoe (70 kg) and Wakaba Tomita (over-78 kg) grabbed bronze medals in women's competition, while Takanori Nagase claimed the men's 81-kg division bronze.
At the 2021 World Judo Championships, which were held in June in Budapest in the run-up to the Tokyo Olympics, Japan had nearly identical results to this month's performance in the Uzbek capital, finishing with six gold, four silver and two bronze. Its 12 medals were seven more than runner-up the Netherlands.
Lytvynenko Shocks Hamada
One of the most compelling moments in Tashkent occurred in one of the two bronze-medal matches in the women's 78-kg weight class, with reigning Olympic champion Shori Hamada, 32, facing Ukrainian teenager Yelyzaveta Lytvynenko on Tuesday, October 11.
The 18-year-old Lytvynenko produced a stunning upset, quickly defeating Hamada in a match that lasted less than 30 seconds. (Watch a replay here.)
With her sensational performance, a rapid, crafty display of aggressive moves, Lytvynenko brought tears of joy and jubilation to her war-torn nation, securing Ukraine's lone medal at the World Judo Championships.
Hamada's title hopes vanished with a loss to Brazil's Mayra Aguiar in the quarterfinals. Aguiar went on to win the gold.
After her subsequent loss to Lytvynenko, Hamada expressed disappointment in her back-to-back matches that day.

"I wanted to finish with a win," Hamada was quoted as saying by Kyodo News. "I wasn't so bad, but my opponents were strong.
"There are many strong rivals at 78 kg. I will try to improve to be able to beat everyone."
'Focus on My Personal Skills'
After conquering Hamada, Lytvynenko described her pre-match mindset in a revealing interview that appeared on the European Judo Union website.
"I tried not to think about the fact she was Olympic champion," Lytvynenko admitted. "I just wanted to focus on my personal skills, to show the world that I have what it takes to be the next one."
And what was her reaction to winning the world title?
"It is so cool," Lytvynenko said before adding, "I am full of emotions and it was beautiful for me."
Self-confidence played a key role in her success in Uzbekistan.
Or as Lytvynenko explained: "I had high expectations for myself. I came here to take a medal, to prove that all the hard work will pay off and I can manage to take home a medal."
Lytvynenko demonstrated her judo abilities at other prominent meets last year and earlier this year, too. She won gold at 70 kg at the 2021 Cadet European Judo Championships in Riga, Latvia. She also triumphed in her current weight class at the European Judo Championships Juniors in September in Prague.
Now that she's reached the pinnacle of the sport, the Ukrainian said she's hungry to keep improving.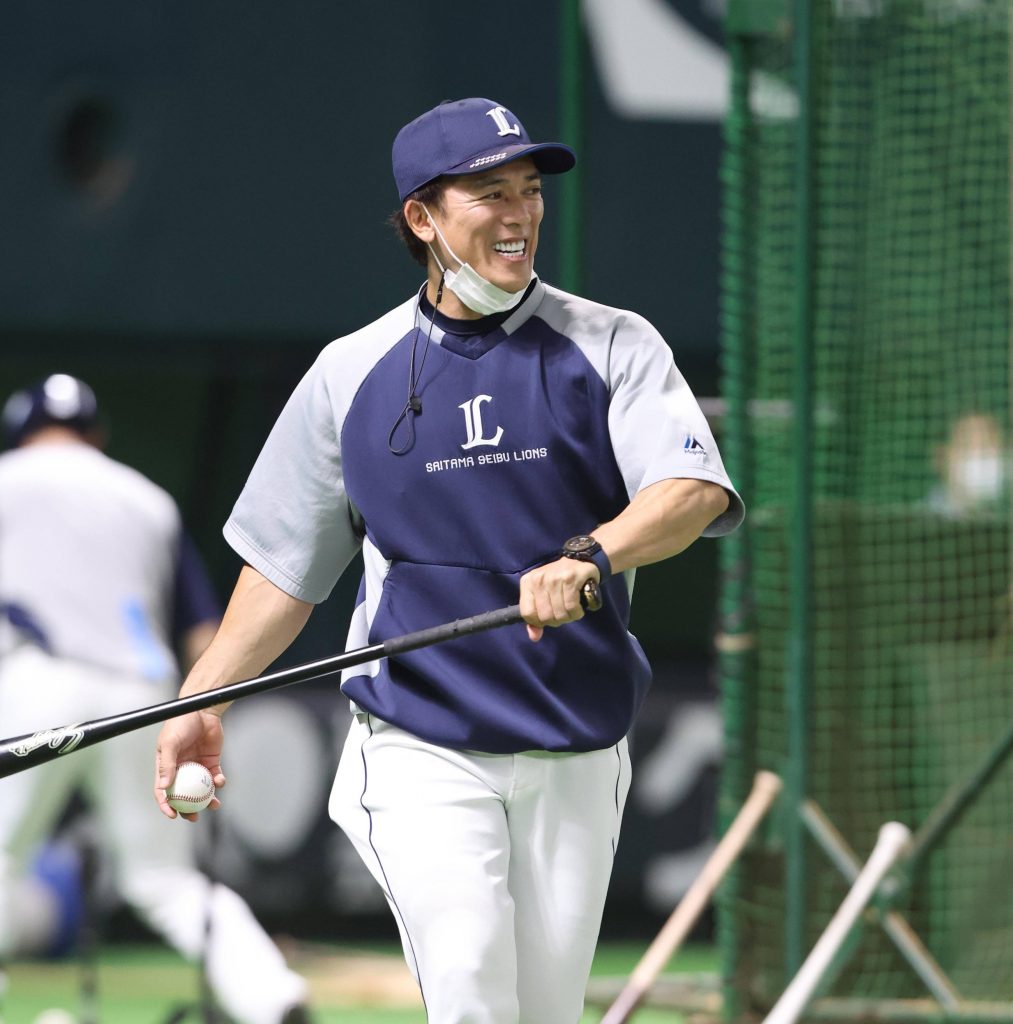 Baseball
Former MLB Infielder Matsui to Manage Lions
After Hatsuhiko Tsuji recently said that he's stepping down after six seasons as Saitama Seibu Lions manager, the Pacific League club needed a replacement for the 2023 season.

The Lions, who were eliminated in the PL Climax Series First Stage by the Fukuoka SoftBank Hawks, didn't look far to find their man.

Head coach Kazuo Matsui will be promoted to manager, the Lions announced on Thursday, October 13.
At age 46, Matsui is 17 years younger than his predecessor.
Matsui began his playing career with the Lions in 1995. He hit .300 or better in seven consecutive seasons through 2003 before joining the New York Mets in 2004. He played in the majors with the Mets, Colorado Rockies and Houston Astros from 2004-10, then joined the Tohoku Rakuten Golden Eagles in 2011 before a final season with the Lions in 2018 before retirement.
In related news, the Hanshin Tigers said on Saturday that Akinobu Okada would serve as manager in 2023. Okada replaces Akihiro Yano, who held the post from 2019-22.
Okada, 64, previously managed the club from 2004-08. He piloted the Orix Buffaloes from 2010-12.
Other managerial moves for 2023 were announced a week earlier. The Hiroshima Carp appointed Takahiro Arai as manager on October 7, while Masato Yoshii was named the Chiba Lotte Marines' new skipper on the same day.
Boxing
Inoue-Butler Bout to be Held at Ariake Arena
First, the date was announced.

Now, months later, a venue has been confirmed, too.
Naoya Inoue's bantamweight world title unification bout against Paul Butler will take place at Tokyo's Ariake Arena on December 13, it was announced on Thursday, October 13.
Unbeaten in 23 pro fights with 20 knockouts, "Monster" Inoue, 29, holds the WBA, WBC and IBF title belts.

The 33-year-old Butler, the WBO champion, is 34-2 (15 KOs).

Butler spoke this week about the challenge that lies ahead for him in this title fight.

"I've been boxing for over 20 years and all the successes and setbacks have led me here, to the biggest fight of my career, with the biggest prize in the sport on offer," the British boxer said in a news release.
"I am under no illusions as to the size of the task that faces me, but I have been going to bed dreaming of becoming the undisputed bantamweight champion of the world.
"Inoue is a phenomenal fighter but not one person should be underestimating me, my skills or my resolve. I am going to Japan to write my name into the history of our sport."
Speaking at a news conference in Yokohama on the day of the fight venue's announcement, Inoue discussed his outlook for the fight.
"I want to etch my name in the history of boxing and change the history of the Japanese boxing world," Inoue was quoted as saying by Boxing Scene. "For the next two months, I want to do what I can and get in the ring. [Butler] is a very well-rounded fighter with no holes. The perception is that I will weaken him little by little with my own boxing and knock him out.
"I want to overwhelm [Butler] with my power to unify the four titles."
RELATED:
Volleyball
Brazil Women Defeat Japan in Quarterfinals at 2022 World Championship
Brazil bounced back from a slow start and outplayed Japan over the final three sets in the quarterfinals at the FIVB Women's World Championship on Tuesday, October 11 in Apeldoorn, the Netherlands.
Captain Gabriela Braga Guimaraes, known as Gabi to the team's legions of fans, powered Brazil with 25 points in an 18-25, 18-25, 25-22, 27-25, 15-13 triumph.
Outside hitter Kotona Hayashi led Japan with 21 points, followed by middle blocker Nichika Yamada's 19 and outside hitter Mayu Ishikawa's 18. Arisa Inoue, another outside hitter, finished with 16 points.
Japan coach Masayoshi Manabe said the loss to Brazil will be a motivational lesson for his team.
"In the end, we were unable to overcome Brazil's toughness," Manabe said, according to Kyodo News. "This is a good lesson, however. Our players worked really hard. We want to make this bitter feeling a stepping stone for next year."
Commenting on Brazil's big comeback, Gabi said: "I still can't believe what my team did today. I'm so proud of the girls. We really didn't leave the match for one second, although we started a bit nervous."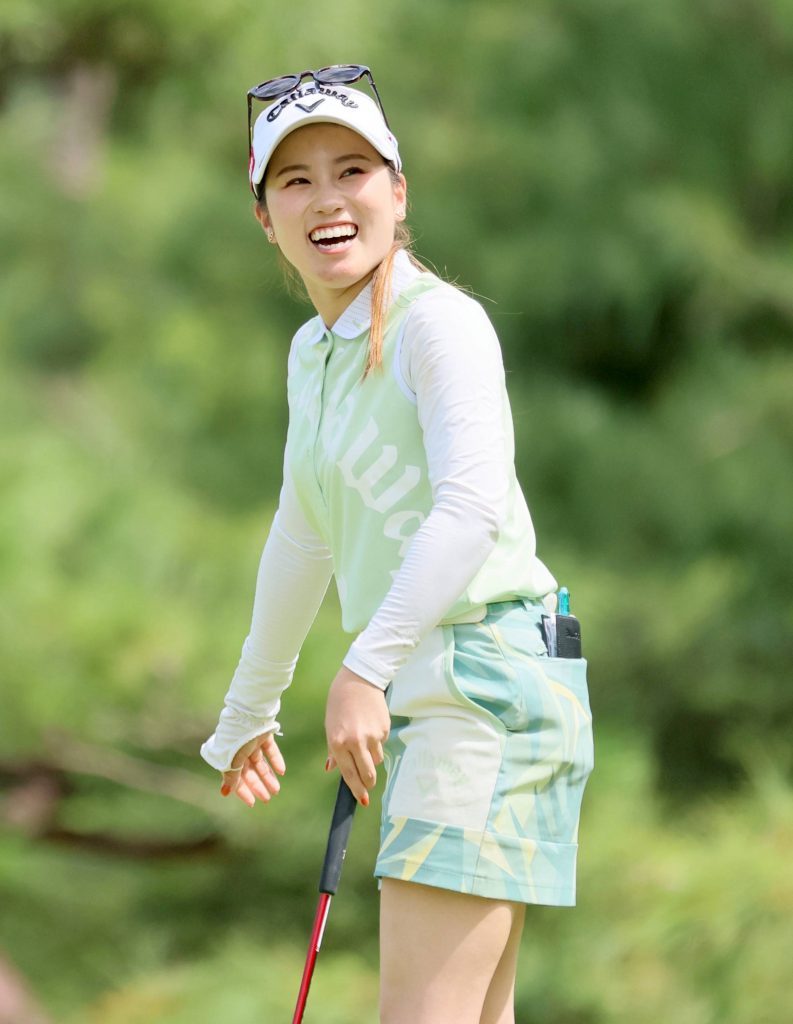 Golf
Nishimura Aiming for Spot on LPGA Tour
Six-time JLPGA Tour winner Yuna Nishimura, who most recently triumphed in the Nipponham Ladies Classic on July 10, said on Wednesday, October 12 that she plans to participate in LPGA's Q-School in Alabama in December.
The 22-year-old's goal is to be eligible to play on the LPGA Tour next year.
"When the year started, I had a goal of challenging for an overseas major, and I wanted to play in the United States someday," Nishimura was quoted as saying by The Sankei Shimbun.
This year, Nishimura competed in three LPGA majors. She missed the cut at the US Women's Open in May and the Women's British Open in July. In June, Nishimura tied for 15th at the Evian Championship in France.
Nishimura is scheduled to participate in Q-School's eight-round final qualifying. Four rounds will be held December 1-4 at Magnolia Golf Course in Mobile, Alabama, followed by four more at Highland Oaks Golf Course in Dothan, Alabama, from December 8-11.
The field will be reduced in size the second week, and after the second week of competition wraps up 45 golfers will earn cards to compete on the LPGA Tour next year.
Ice Hockey
Defenseman Kanda Joins Wheeling Nailers for Training Camp
Roy Kanda, a 22-year-old defenseman, is on the Wheeling Nailers' training camp roster, the ECHL team announced on Monday, October 10.

Kanda is the third Japanese player to join the Nailers. Yushiro Hirano and Hiroyuki Miura previously played for the Pittsburgh Penguins' minor league affiliate.
The Hokkaido Prefecture native laced up his skates for S-Kiekko, who compete in the third tier of Finnish pro hockey, in the 2021-22 season, appearing in 23 games with three goals and seven assists. In addition, he saw action in 12 games for S-Kiekko's entry in the U20 Mestis, the Finnish Ice Hockey Federation's development circuit for players mostly under the age of 20. He also played several games for the Yokohama Grits last season in the Japan Cup.
The Nailers open the regular season at home against the Toledo Walleye on October 22.
Basketball
Lucious Jackson, a 1964 Tokyo Olympic Gold Medalist, Dies at 80
Lucious "Luke" Jackson, one of the top American players at the 1964 Tokyo Olympics, died of heart failure on Wednesday, October 12, in Houston, Texas. He was 80.
The 6-foot-9 (206-cm) Jackson averaged 10.0 points per game in nine Olympic games in Tokyo, playing a key role for the United States en route to the gold medal. Future US Senator and NBA Hall of Famer Bill Bradley was second on the team in scoring (10.1 ppg) and Jerry Shipp was No. 1 (12.4).
The No. 4 pick of the Philadelphia 76ers in the 1964 NBA Draft, Jackson spent his entire pro career with Philly. In the 1966-67 season, the star-studded Sixers, whose roster included Wilt Chamberlain, Chet Walker, Hal Greer, and Billy Cunningham, Jackson was the second-leading rebounder (8.9) and helped the team win the NBA title.
Jackson averaged 9.9 points and 8.8 rebounds in his eight-season career.
New Tokyo Team Shows Great Potential for Fan Support
The Tokyo United Basketball Club, one of the B.League third division's new teams, attracted 9,295 spectators, a league record for a regular-season game, for its clash with the visiting Saitama Broncos at Ariake Arena on Sunday, October 9.
The previous record was 9,167 for a game between a pair of B1 powerhouses, the Alvark Tokyo and Chiba Jets, on the previous day at Yoyogi National Gymnasium.
Tokyo United, led by head coach, Masaki Hayamizu, is in its first season in B3.
Quote of the Week
"I'm grateful for just being able to participate. I hope I can reach the hearts of others when they see me take on a challenge even in old age."
―Toshisuke Kanazawa, an 86-year-old participant in the Japan men's bodybuilding championships in Osaka on October 8, commented after rewriting his own record as the oldest athlete at the annual event, the Mainichi Shimbun reported.

Author: Ed Odeven
Follow Ed on JAPAN Forward's [Japan Sports Notebook] here on Sundays, in [Odds and Evens] here during the week, and Twitter @ed_odeven.