[ICE TIME] Yoshida, Nakamura and Kataise Claim Medals in Italy to Earn JGP Final Berths
Japanese skaters secured half of the combined 12 total spots for the men's and women's singles competitions for December's JGP Final in Turin.
Japan concluded its highly successful Junior Grand Prix campaign by taking half of the singles medals at the last JGP of the regular season in Egna, Italy, over the weekend of October 14-16.
Hana Yoshida won the women's title, while Shunsuke Nakamura and Takeru Kataise placed second and third in the men's event at Wurth Arena.
Yoshida scored a solid victory with a total score of 208.31 points on Saturday, ahead of South Korea's Chaeyeon Kim, who was second at 203.94. Georgia's Inga Gurgenidze was third on 190.52.
Mone Chiba, who was third after the short program, had to settle for fourth with 185.73.
Nakamura, who won the season-opening JGP in Courchevel, France, lost by the narrowest of margins to Lucas Broussard of the United States on Saturday. Broussard was victorious with a total tally of 211.14 to edge out Nakamura, who had 211.01. Kataise joined Nakamura on the podium with a score of 201.35.
Yoshida qualified for the JGP Final in Turin, Italy, in December with her triumph, while Nakamura and Kataise also earned berths in the prestigious competition by virtue of their finishes in Egna.
Japan's Representatives for the JGP Final
Half of the singles skaters in the JGP Final, which features the top six finishers in each discipline during the JGP season, will be Japanese. The men's lineup will feature Nakamura, Kataise and Nozomu Yoshioka, who won the JGP in Ostrava, Czech Republic. Meanwhile, the women's field will include Mao Shimada, winner of both her JGPs, Yoshida (who also won two JGPs) and Ami Nakai (who triumphed at the first JGP in Gdansk).
Chiba is the first alternate for women after coming in seventh in the final JGP standings. Rio Nakata is the first alternate for men, after losing out on a tiebreaker to Robert Yampolsky of the US for the sixth spot in the standings.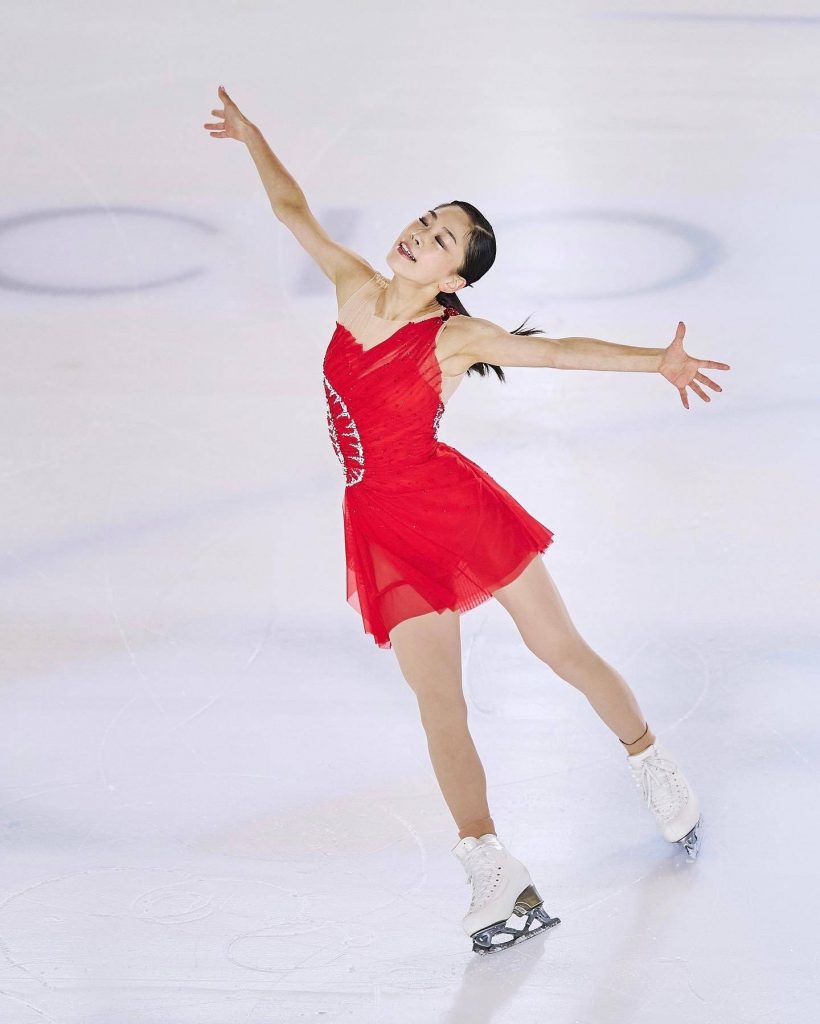 Yoshida Pleased with Results
Yoshida opened with a beautiful triple axel in her free skate to "The Planets" and "Princess Leia's Theme" from "Star Wars." The 17-year-old landed seven clean triple jumps and earned level fours on all of her spins to overtake Kim for the victory.
"Here in Egna it is so difficult," Yoshida was quoted as saying. "I was like 10 times more nervous today [than in the first JGP]; I was so happy that I was able to win twice." Then she added, "I was concentrating just on myself, and I was doing what I can. It wasn't perfect, but I'm satisfied."
ISU announcer Ted Barton praised Yoshida's patience while analyzing her free skate.
"Soft landing, soft knees, takes the time, changes the edge," Barton commented on Yoshida's triple loop.
"It's working every position, keeping in the moment," Barton noted on one of Yoshida's spins.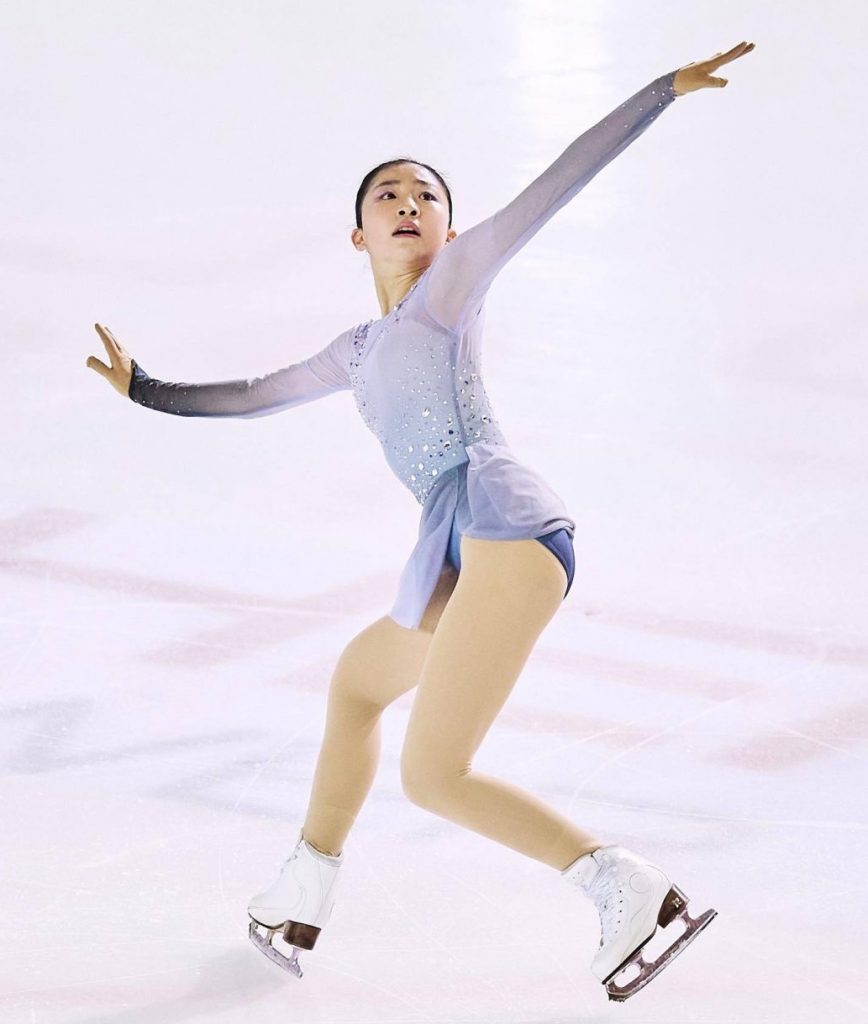 Chiba Struggles in Free Skate
Chiba under-rotated a triple toe loop early in her free skate to "Butterfly Lovers Concerto," and fell on a triple lutz late in the program to miss out on clinching a berth in the JGP Final. She did receive level fours on all of her spins, however.
Barton felt the fall and recovery were problematic for Chiba.
"She slips off the back edge and gets behind in the music here," Barton said while reviewing her free skate. "Just did not get up quick enough and has to chase the program a little bit."
Barton Analyzes Nakamura, Kataise
Nakamura fell on his opening quad toe loop in his free skate to "Sheik" but recovered to hit a nice triple axel and went on to land eight clean triples. The 17-year-old won the free skate, despite getting level threes on two of his spins and singling a planned triple toe loop on the back end of a combination jump.
"I wouldn't say that is the most engaging program I've ever seen from a Japanese skater," Barton observed. "Pretty workman-like: get the elements done, put the points in the bag, get yourself to Torino."
The 18-year-old Kataise rallied from seventh place after the short program to finish third with his free skate to "Rondo Capriccioso." His opening triple axel was downgraded and a second triple axel was judged a quarter short, but Kataise battled to land six clean triples and received level fours on two of his spins.
Barton cited Kataise's tenacity in not giving up after early struggles in the program.
"He made a couple of mistakes throughout the program, but he didn't let it all go, which is really good," Barton remarked, adding: "He had a good fight throughout it. You can see the quality ― wonderful soft knees, great acceleration."
Skate America Kicks off Senior GP Season
The senior Grand Prix campaign will get underway this week at Skate America in Norwood, Massachusetts. Competition will begin on Friday, October 21 with pairs and men's short programs.
World champion Kaori Sakamoto and Rino Matsuike will represent Japan in the women's event against the likes of world junior champion Isabeau Levito of the US and Haein Lee of South Korea.
Kao Miura, Sena Miyake and Koshiro Shimada will represent the Hinomaru in the men's field, which will include world junior champion Ilia Malinin of the US, South Korea's Junhwan Cha, and Daniel Grassl of Italy. Shimada replaces Beijing Olympic silver medalist Yuma Kagiyama, who withdrew last week with an ankle injury.
Kana Muramoto and Daisuke Takahashi are entered in ice dance. Japan will not field a team in pairs.
Championship Host Sites Announced
The International Skating Union announced on October 12 that the 2025 world championships would be held in Boston, while the 2026 worlds will take place in Prague. This season's worlds are set for Saitama (March 20-26), while the 2024 event will be hosted by Montreal.
The ISU also revealed that the 2025 European Championships will be in Zagreb, while the 2026 Euros will be contested in Sheffield, England.
Malinin Looking to Improve Skating Skills
Malinin, the first skater to land a quadruple axel in competition, talked about his need to work on his skating beyond jumps in a recent interview with Olympics.com.
"I want to show that I'm not only good at jumping," the 17-year-old Malinin stated.
He added, "I expect to spend time and energy on improving my skating skills, spinning, and working on the second mark so it becomes much better than last season."
"These aspects require a lot of effort," Malinin continued. "But if you only think about jumps, then you do not use your potential to the maximum. When the process of learning and practicing jumps starts to go easier, you need to start devoting more time to the choreography, and more work on the program components."

Author: Jack Gallagher
The author is a veteran sports journalist and one of the world's foremost figure skating experts. Find articles and podcasts by Jack on his author page, here, and find him on Twitter @sportsjapan.