[ODDS and EVENS] Ventforet, Sanfrecce Set for Compelling Clash in Emperor's Cup Final
Kofu is the first J2 team to reach the title match since 2014, while Hiroshima aims to end its run of disappointment in the tournament final.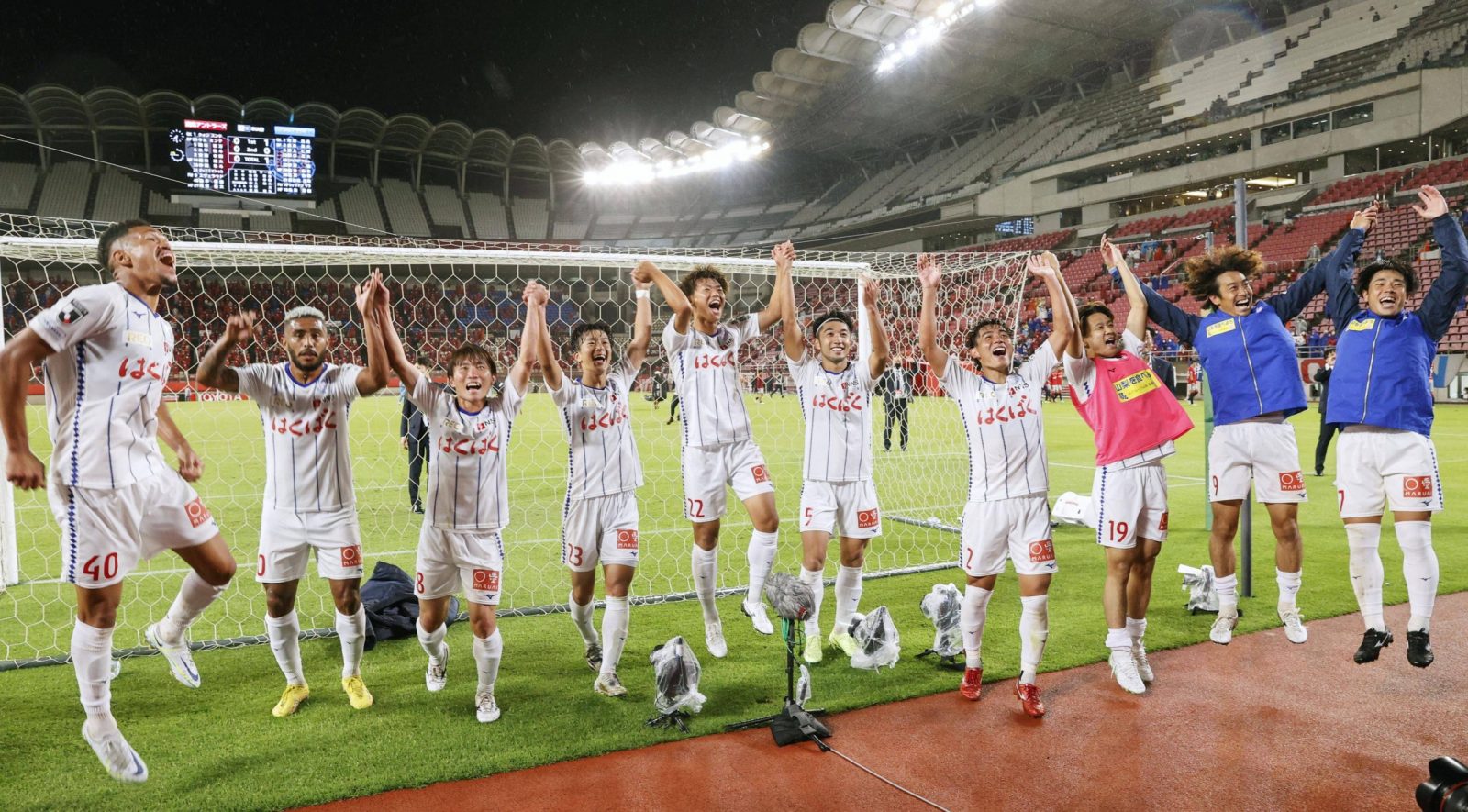 The Emperor's Cup, also known as the All-Japan Football Championship Tournament, boasts one of Japan's richest sporting traditions.
More than a century of matches has ensured that.
The 102nd Emperor's Cup, which has featured 88 teams, will be held on Sunday, October 16 at Nissan Stadium in Yokohama. Ventforet Kofu, classic underdogs, and Sanfrecce Hiroshima, making their sixth appearance in the final during the J.League era, are the finalists.
Other tournaments in the modern era, including the Asian Champions League and the Levain Cup, as well as the J.League season, compete for soccer fans' attention in Japan. But there remains something special about an event that brings winners of all 47 prefectural tournaments, including college teams, and all squads from the J.League's first and second divisions into a single 88-team competition.
Upsets can ― and often do ― happen. The element of surprise in the Emperor's Cup is a crowd-pleasing part of its charm.
For instance, J2 squad Thespakusatsu Gunma eliminated reigning champion Urawa Reds 1-0 on June 22 in the third round.
J2's Ventforet, a Yamanashi Prefecture-based team, reached the final with four consecutive victories over J1 teams. That, in and of itself, is a big deal.
The overall talent gap between the J.League's first and second flights is significant.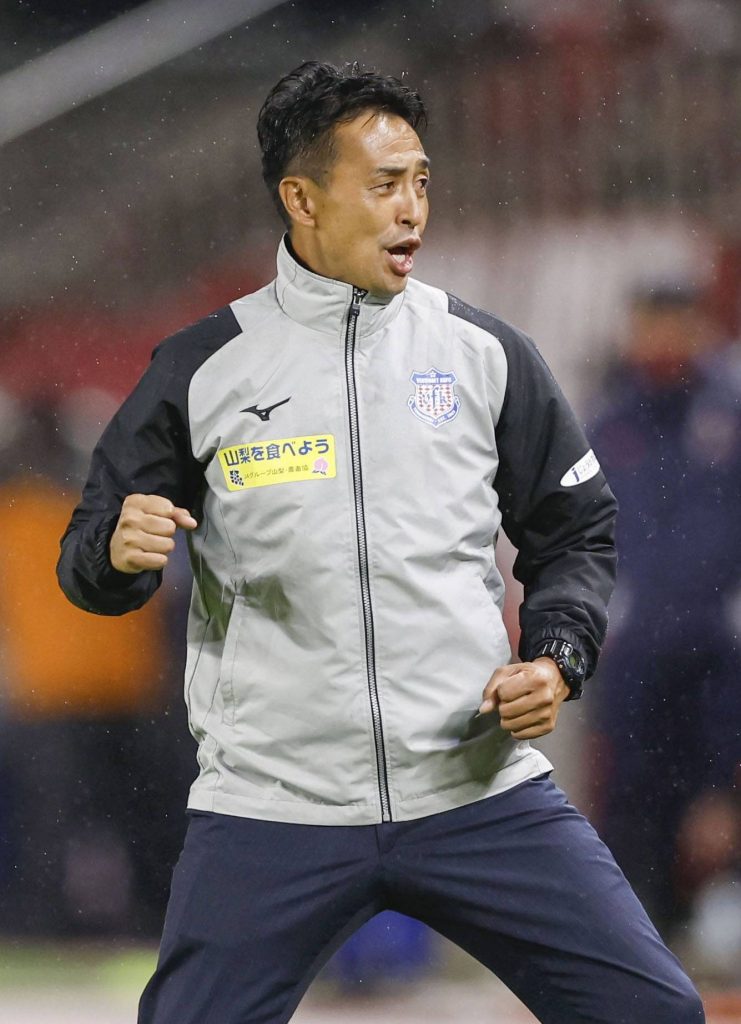 Ventforet's Road to the Final
First-year Kofu manager Tatsuma Yoshida, who previously led the Singapore national team, has maximized his players' talents throughout this tournament.
Ventforet steamrolled International Pacific University 5-1 in the second round on June 1 (J.League teams received a first-round bye).
Yoshida's squad then upset J1's Hokkaido Consadole Sapporo 2-1 on June 22, and followed with a 3-1 triumph over top-flight side Sagan Tosu on July 13.

In the quarterfinals on September 7, Ventforet beat Avispa Fukuoka 2-1 in extra time in Kyushu.
For Kofu, a semifinal showdown with the Kashima Antlers, one of the J.League's most storied franchises, produced another nerve-wracking encounter. A single goal determined the outcome, with 22-year-old forward Jumma Miyazaki sending the ball sailing into the net in the 37th minute at Kashima Stadium on Wednesday, October 5.
Miyazaki credited teammate Niki Urakami for his pinpoint aerial pass, a well-placed ball beyond the reach of the Antlers' defenders, for setting up a golden scoring opportunity.
"We have worked on that pattern between us two throughout the season. It's great it has come off," Miyazaki told reporters after the match, according to Kyodo News. "I think I thrive more in big matches. I want to score in the final, too."
Surprising Everybody
Although Ventforet have lost six consecutive games in the J2 regular season and sit in 18th place in the 22-team second flight, Yoshida acknowledged the team's success in the Emperor's Cup is thrilling.
"I think nobody expected us to win and we wanted to defy that. I'm extremely happy," Yoshida was quoted as saying by Kyodo News.
Ventforet are the first J2 team to book a spot in the final since Montedio Yamagata in 2014, when Gamba Osaka won the match 3-1.
The Antlers, five-time winners of the Emperor's Cup, most recently in 2016, are in fifth place in the J1. A six-game winless streak, including four ties, in league play has added to the team's string of disappointments of late.
Sanfrecce's Run to the Final
Throughout this year's Emperor's Cup, first-year Sanfrecce manager Michael Skibbe has effectively motivated his players.
The well-traveled German boss, who most recently guided Saudi Arabian club Al-Ain, is also having a terrific all-around debut season in Hiroshima.
Sanfrecce, who are in third place in J1, will face Cerezo Osaka in the Levain Cup final on October 22 at Tokyo's National Stadium.
But before they have a shot at their second piece of championship hardware this month, the Emperor's Cup final awaits them. And how did Hiroshima emerge as one of two teams out of 88 still in the hunt?
A 2-0 win over the Japan Football League's Honda Look on June 1 kicked off Sanfrecce's title quest.
After that, there were wins over J2's Yokohama FC (5-0 on June 22, Thespakusatsu Gunma (1-0 on July 13), Cerezo Osaka (2-1 on September 7) and Kyoto Sanga (2-1 in extra time on October 5).
Hiroshima Finds a Way
In the Emperor's Cup semifinal on Wednesday, Brazilian forward Douglas Vieira put Sanfrecce ahead 1-0 on a 40th-minute penalty.
Sanga's Origbaajo Ismaila, a Nigerian forward, knotted the score at 1-1 in the 79th minute, thus forcing extra time.
With both teams aspiring to wrap up a win, two of Sanfrecce's international-born players made the biggest difference at the end.
In the 95th minute, Swiss-born forward Nassim Ben Khalifa, in his first season in the J.League, capitalized on a terrific play from Ezequiel Santos da Silva, booting the Brazilian midfielder's back-heel pass into the goal to seal the victory.
One More Goal for Sanfrecce
One more win is what it will take to end Sanfrecce's decades of disappointment in the Emperor's Cup final during the J.League era.

Hiroshima finished as the runner-up in 1995, 1996, 1999, 2007 and 2013.
Indeed, Skibbe can't change past results. He is, however, delighted that Sanfrecce are in a position to possibly end the trend cited above.
"It was a very long and hard-fought match," Skibbe said after his squad's semifinal triumph, according to the team's website. "I think Kyoto gave it their all. It was a match worthy of the Emperor's Cup semifinal. I'm very happy to advance to next week's final. We created a lot of chances and shot a lot, but they always had chances to counter."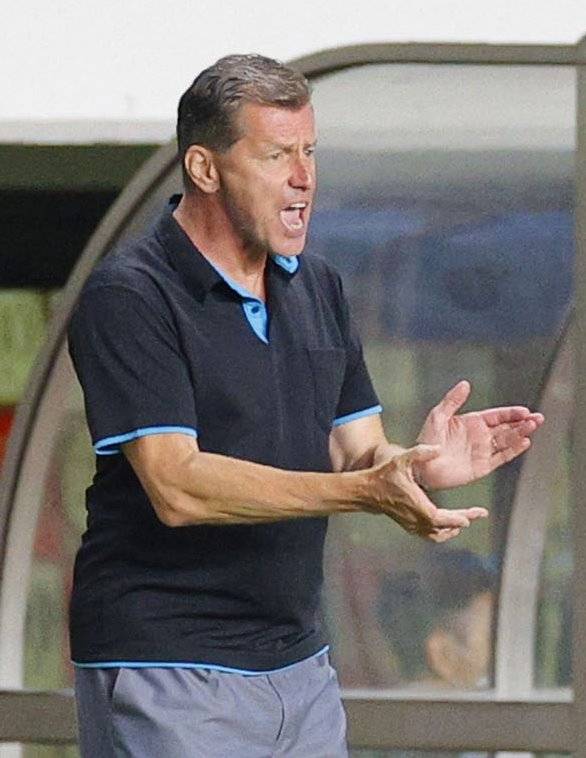 It was noteworthy that both of Sanfrecce's goals against Sanga were scored by substitutes. That fact underscores Skibbe's emphasis on pushing all of his players to be hungry to contribute.
"I think this is because we have created a situation in which fresh players understand their role and do their best to help the team," he commented.
Looking ahead to the October 16 clash with Ventforet, Skibbe said: "Of course I want to win the final. I also want to rewrite history. However, I know that [Kofu] will not be an easy opponent. I think they are a very strong team, and I think it will be a difficult match because it is the final, but I definitely want to win."

Author: Ed Odeven
Follow Ed on JAPAN Forward's [Japan Sports Notebook] here on Sundays, in [Odds and Evens] here during the week, and Twitter @ed_odeven.