Osuna, Shiomi Lead Yakult to Win over Orix in Game 1 of Japan Series
In a rematch of last year's NPB championship series, the Swallows got clutch hitting and a solid start from Yasuhiro Ogawa.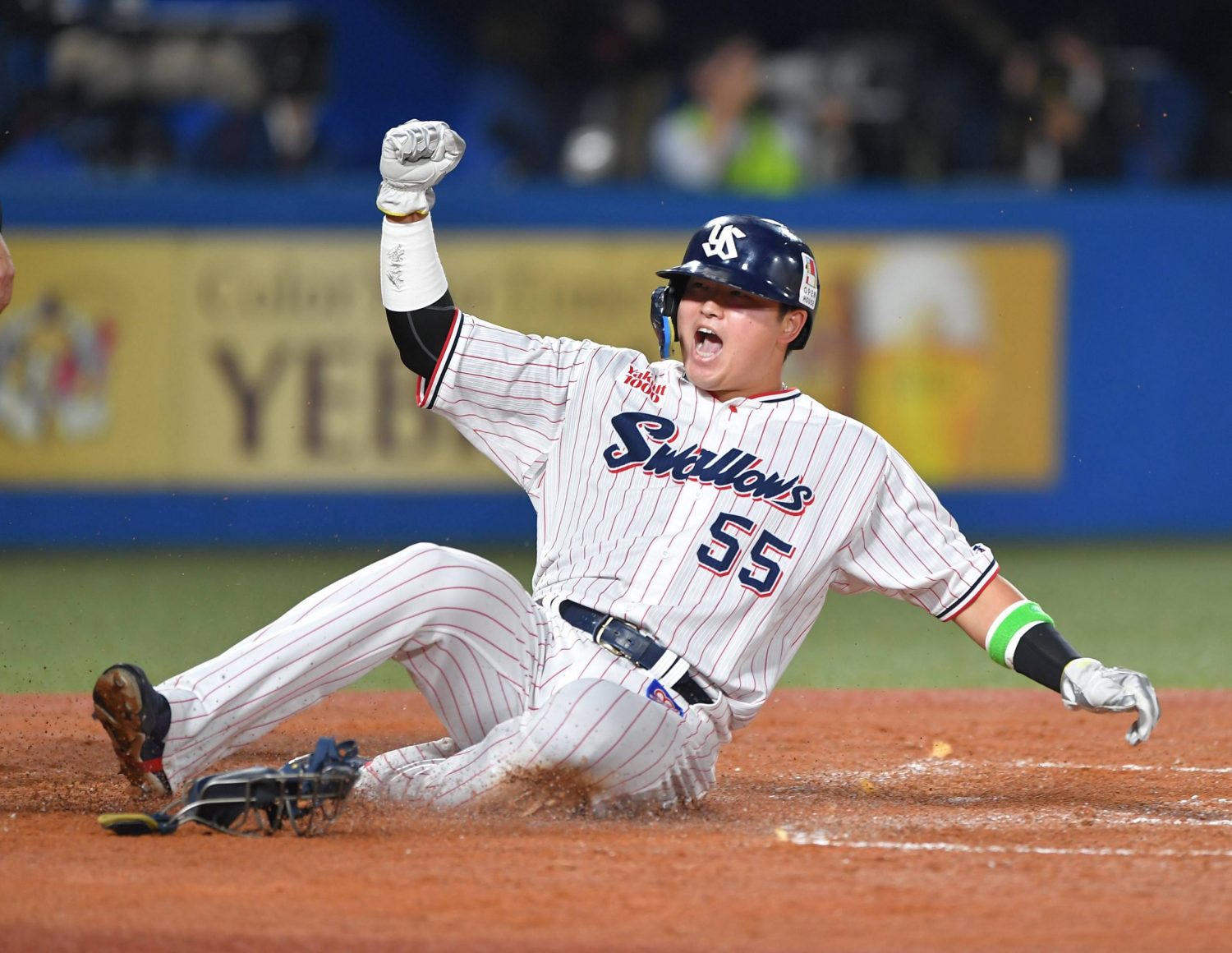 Jose Osuna and Yasutaka Shiomi provided plenty of offense and starting pitcher Yasuhiro Ogawa went five strong innings as the defending champion Tokyo Yakult Swallows beat the Orix Buffaloes 5-3 in Game 1 of the Japan Series on Saturday, October 22.
Shiomi singled to left off Orix starter Yoshinobu Yamamoto and stole second in the bottom of the first inning at Jingu Stadium. Yamamoto walked Triple Crown winner Munetaka Murakami and that set the stage for Osuna's first big hit.
The Venezuelan first baseman hit a grounder down the third base line for a double that plated Shiomi and Murakami for a 2-0 lead.
"Shiomi got on base and that set the table for Osuna to come through with a big clutch hit," Yakult manager Shingo Takatsu said. "I told my players before the game we've come this far, now it's time to reach the pinnacle."
The Buffaloes came right back in the top of the second inning. With the bases loaded, Kotaro Kurebayashi singled to right to drive in a run and Ogawa then walked in the tying run.
Shiomi hit a solo homer to left off Yamamoto in the third inning and Osuna connected for another solo shot in the fourth to make it 4-2.
The Buffaloes squandered a golden opportunity to get back in the game in the fifth inning. With one out, Yuma Mune was thrown out trying to steal second base.
Keita Nakagawa then hit a triple that was misplayed by Yakult right fielder Domingo Santana.
Ogawa walked Masataka Yoshida and hit Yutaro Sugimoto with a pitch to load the bases but Masahiro Nishino popped out to end the inning.
Early Exit for Yamamoto
Facing his first batter in the fifth, Yamamoto suddenly left the game during an at-bat by pinch hitter Patrick Kivlehan. It was later announced he had a cramp in his right side.
Orix fans will be hoping the 15-game winner is able to make his next start in the series if it goes beyond four games.
Ogawa, who went 8-8 this season with a 2.82 ERA, wasn't overpowering but was effective when he needed to be to pick up the win. He also got Mune to fly out with the bases loaded in the second inning.
He left the game after giving up two runs on six hits with three walks and one strikeout over five complete innings.
Yamamoto took the loss after giving up four runs on four hits over four-plus innings.
Pinch hitter Takahiro Okada drove in a run with a single to center in the top of the eighth to cut the lead to 4-3, but that was as close as Orix would get.
Swallows Add Insurance Run in Eighth
Murakami, who hit 56 homers in the regular season, connected off of Yoshihisa Hirano with a towering blast into the right-field stands in the eighth to make it 5-3.
Swallows closer Scott McGough, who notched 38 saves in the regular season, retired the side in the ninth for the save.
Game 2 is at Jingu on Sunday. After a day off on Monday, the series will resume at Kyocera Dome in Osaka on Tuesday.

Author: Jim Armstrong
The author is a longtime journalist in Japan who has covered sports for over 25 years. You can find his articles here.