Shoma Uno Roars Back to Win NHK Trophy and Clinch Spot in Grand Prix Final
The reigning world champion collects his second straight NHK Trophy title with a dynamic free skate, climbing from second place after the short program.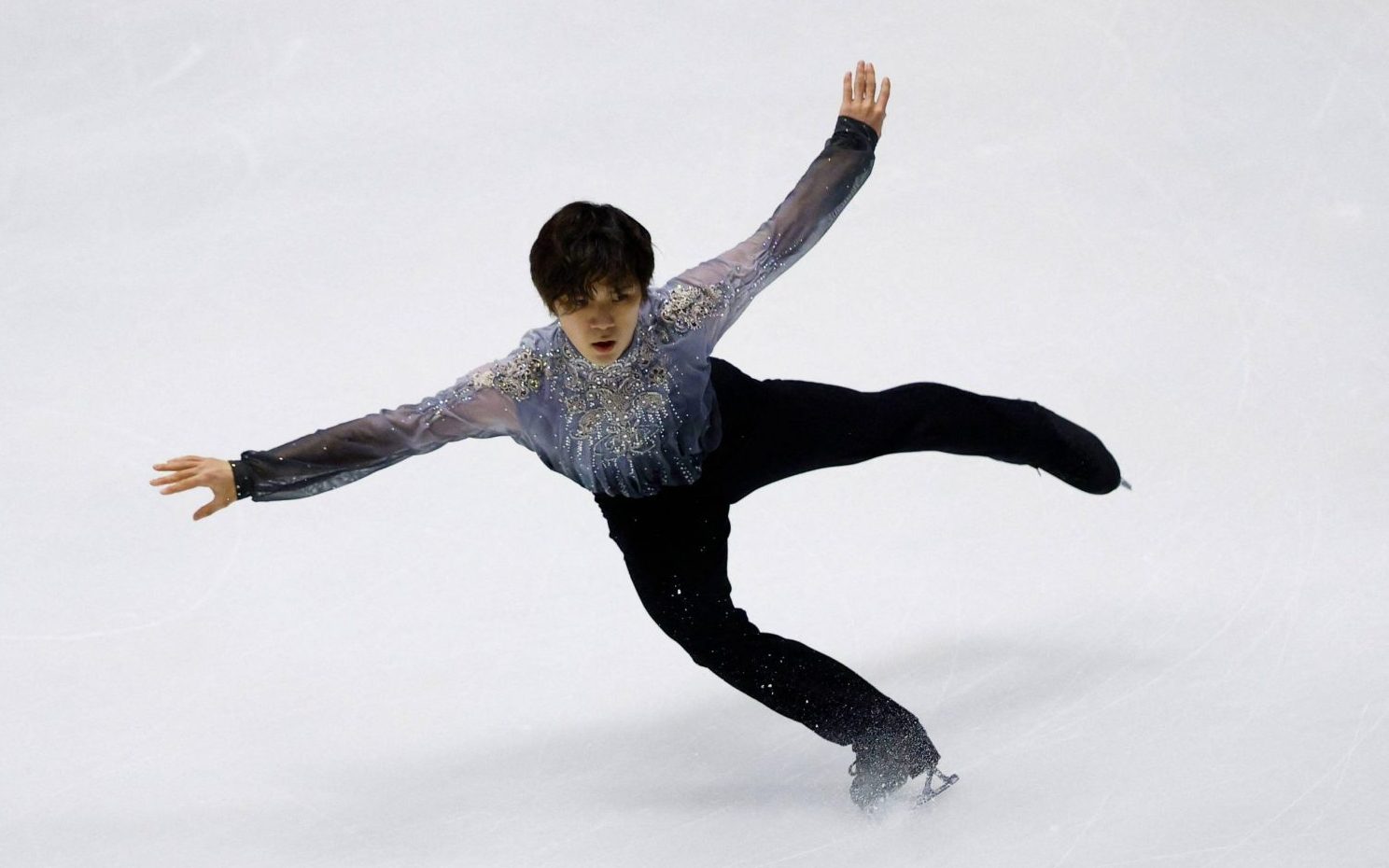 SAPPORO ― World champion Shoma Uno put on an impressive show of power and interpretation in his free skate to rally and capture the NHK Trophy on Saturday night, November 19 at Makomanai Arena.
The star claimed the competition crown for the second straight year and third time overall and wrapped up a place in next month's Grand Prix Final with the victory.
Uno's winning total score was 279.76 points, which moved him ahead of compatriot and friend Sota Yamamoto, the leader after the short program, who finished second with 257.85.
Yamamoto put forth a valiant effort, and did qualify for the GP Final with the result. But Uno's skill set was just too much to contend with on this night. Uno landed four clean quads and exhibited excellent line and edge on the way to the triumph.
South Korea's Junhwan Cha came in third at 254.76, while Kazuki Tomono took fourth on 251.83.
Kim Tops Sakamoto, Sumiyoshi
South Korea's Yelim Kim won the women's title with 204.49, beating out Kaori Sakamoto, who was second at 201.87. Rion Sumiyoshi took third on 193.12.
Both Kim and Sakamoto clinched berths in the GP Final with their results.
Audrey Shin of the United States was fourth with 189.00, while Rinka Watanabe (188.07) placed fifth, keeping her chance at making the GP Final alive.
The final Grand Prix of the regular season will take place in Espoo, Finland, next week (November 25-27).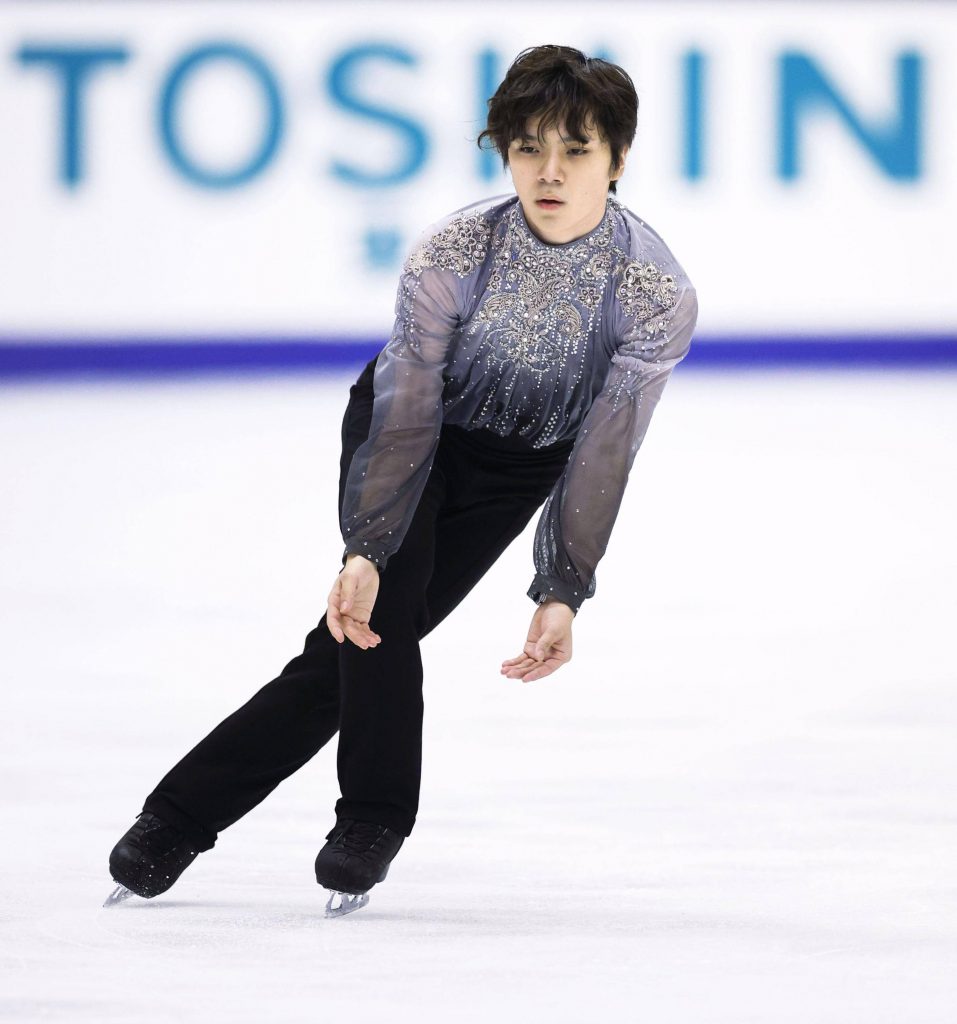 Uno Showcases Range of Skills
Uno skated to "Air on the G String" and began with a beautiful quad loop, followed by a quad salchow. The lone blemish on his scoresheet came on his next jump when he popped a planned quad flip into a double.
The 24-year-old Uno was undaunted, however, as he proceeded to reel off a triple axel/double axel combination jump and went on to hit two more quad toe loops. The Olympic bronze medalist earned level fours on two of his spins, and a level three on his step sequence.
"Regarding my free skate, I think it was one of the best this season," Uno stated. "When you can't train at the level you like to, you just go through it and try to raise it to the level you want. How I face the training now is something of a challenge."
Added Uno, "The drive for me to continue to skate is to have good training every day. If I can't do that, it affects me on the whole."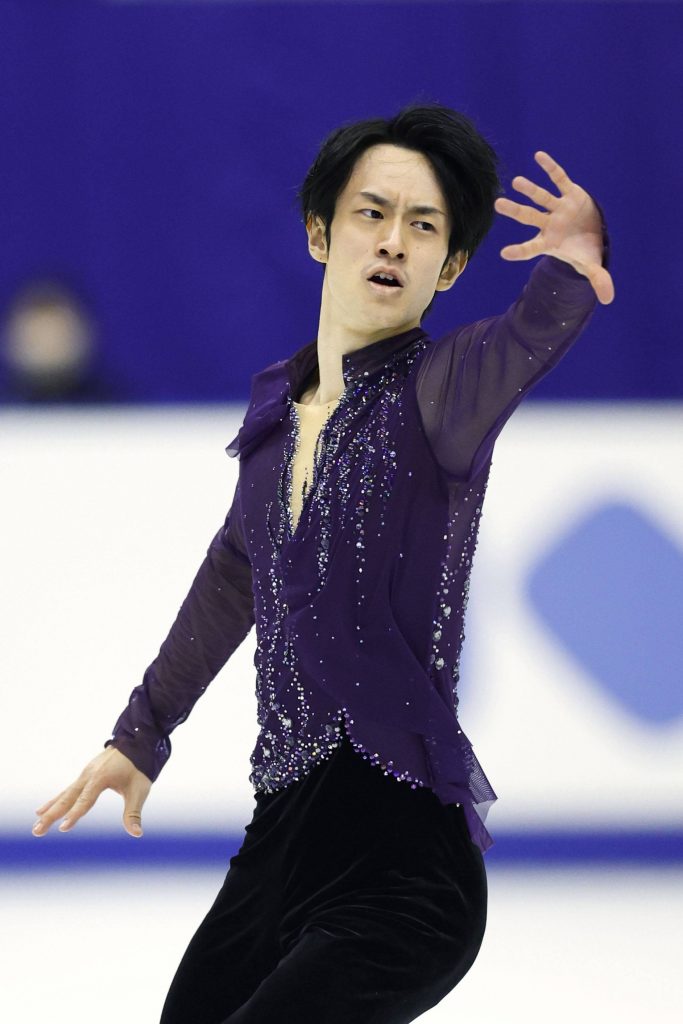 Yamamoto Motivated to Improve
Yamamoto skated last to "Piano Concerto No. 2" by Sergei Rachmaninoff and opened with a nice quad salchow, a quad toe loop/triple toe loop combo, then another quad toe loop before falling on a triple axel. He fell again on a second triple axel, but did notch level fours on all of his spins.
"I tried to do my best to recover, so I jumped an extra triple toe loop," Yamamoto commented about his second fall. "I'm very happy with the result, but there are still some mistakes, so I'm going to work hard to achieve a more complete form."
Cha, who was sixth after the short program, moved up to make the podium with a solid skate to "No Time To Die" that saw him land two quads and five clean triples.
"After a disappointing short program yesterday, I was quite satisfied with my performance today," Cha remarked. "I still have more to work on."
Kim Shocked by Outcome
The 19-year-old Kim, who came in second at the Grand Prix de France two weeks ago, skated last to "Summer of 42" and did just enough to earn the victory. She put her hand down on the ice on the landing of a triple flip, then fell on another triple flip that was supposed to be a combination jump, but did hit five triple jumps and get level fours on two of her spins.
"Still I can't believe I got first place in the Grand Prix series," said an elated Kim, who was the leader after the short program. "I'm so, so happy today. After the short program I tried to do image training [for the free skate] to concentrate."
Kim paid tribute to 2010 Olympic champion Yuna Kim when asked about the continuing rise of Korean skaters the past several years. This season, three Korean female skaters have qualified for the Junior Grand Prix Final.
"Yuna Kim motivated all the skaters in Korea, and that is why we have seen improvement in our skaters in the past several years," Kim noted.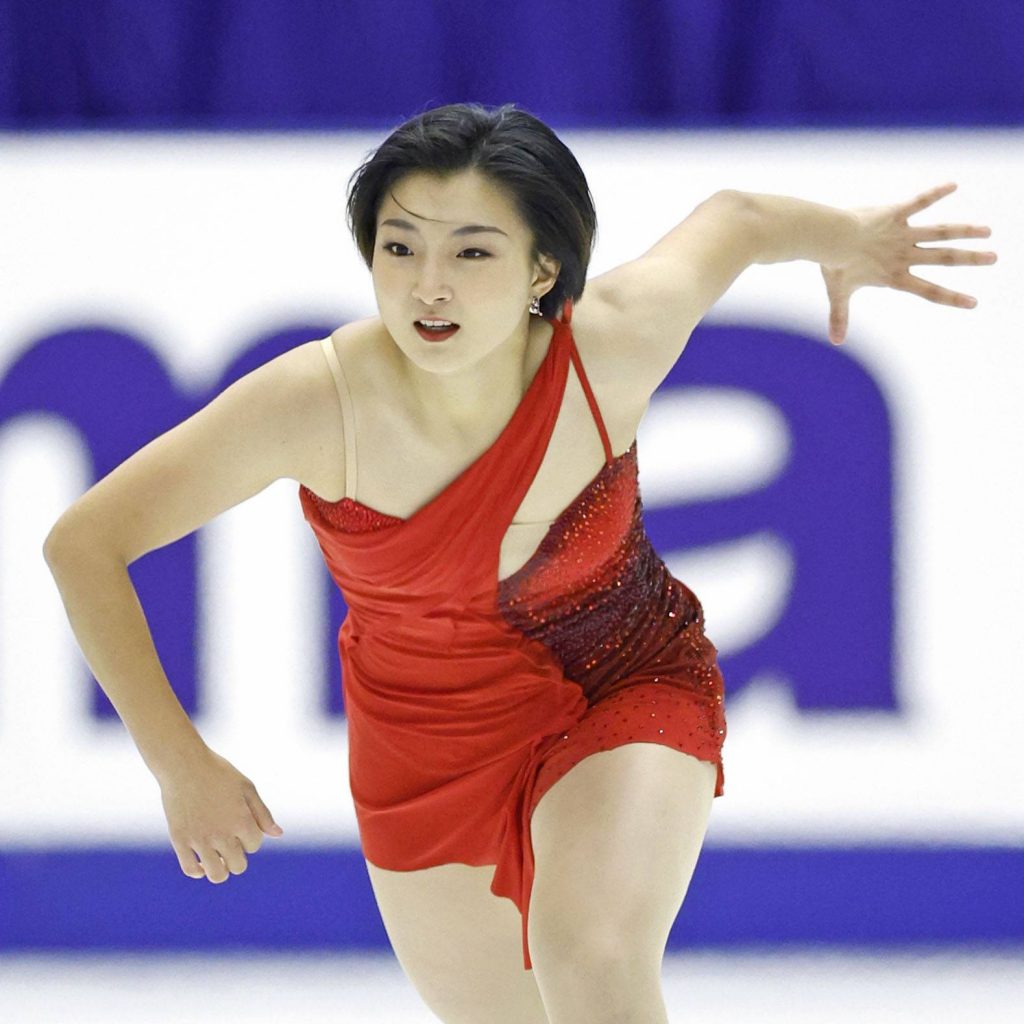 Sakamoto Not Satisfied with Result
Sakamoto, who won Skate America last month, was clearly not at her best this day, as she made multiple mistakes and landed just three clean triples. The Olympic and world bronze medalist had an edge call on her triple lutz early in her skate to "Elastic Heart," then botched a triple flip/triple toe loop combo, and singled her last jump in the program (a planned triple loop).
Sakamoto, who was second after the short program, did post level fours on all of her spins, but got only a level three on her step sequence, and was not pleased with her performance.
Sakamoto admitted that motivation has been hard this season coming off a glorious campaign that saw her claim both Olympic and world medals.
"While I feel like I have to enter this season and do my best, the devil and angels are fighting in me," Sakamoto confessed. " 'I have to do my best' and 'I'm tired of working hard' are in conflict. But I want to beat the devil somehow!"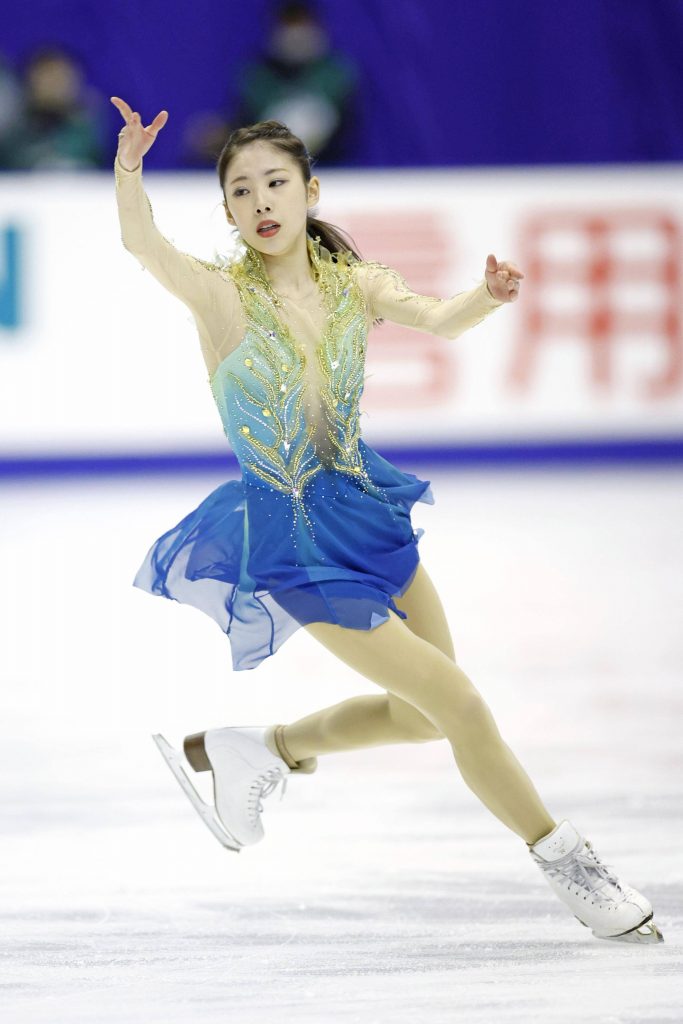 Sumiyoshi Overcomes Falls to Make the Podium
Sumiyoshi, who was third after the short program, fell hard on her opening quad toe loop to "Enchantress" but fought back to land six straight triples, before falling on her last jump (a planned triple salchow). She notched level fours on one of her spins and her step sequence, but it was enough in the eyes of the judges to make the podium.
"Given that this is my first GP series as a senior, in both events I came in third, so I am happy," Sumiyoshi declared.
"However, there were many regrettable points about my performance today."
Miura, Kihara Triumph in Pairs
Riku Miura and Ryuichi Kihara clinched a spot in the GP Final with their victory in pairs on Saturday. The world silver medalists triumphed with 216.16 to win by a wide margin over Americans Emily Chan and Spencer Howe, who finished second at 187.49.
Canada's Brooke McIntosh and Benjamin Mimar came in third on 175.65.
"More than skating perfectly, we want to show our personalities and smile," Miura stated. "We were able to completely finish the performance within the allocated time and felt good about that."
Kihara said he and Miura are happy to have another shot at the GP Final after it was called off last season.
"We had won a spot at the Grand Prix Final last year, but because of the Omicron variant [of COVID-19] it was canceled, and we were very disappointed," Kihara commented.
He added, "We are very happy to go now and we found a lot of things that we will look to improve on."
Canadians Win Ice Dance Title
Canada's Laurence Fournier Beaudry and Nikolaj Soerensen captured the ice dance crown with 210.41, edging out world bronze medalists Madison Chock and Evan Bates of the US, who were second at 209.13. Americans Caroline Green and Michael Parsons took third place with 191.10.
Kana Muramoto and Daisuke Takahashi (178.78) came in sixth, while Misato Komatsubara and Tim Koleto (164.30) finished in ninth.
The NHK Trophy will conclude with the Exhibition Gala on Sunday.
RELATED:
Author: Jack Gallagher
The author is a veteran sports journalist and one of the world's foremost figure skating experts. Find articles and podcasts by Jack on his author page, here, and find him on Twitter @sportsjapan.