Sota Yamamoto Takes Lead Over Shoma Uno at NHK Trophy
Among the women, Yelim Kim is in first place, while Kaori Sakamoto and Rion Sumiyoshi are second and third, respectively, after the NHK Trophy short program.
SAPPORO ― Sota Yamamoto is the surprise leader after the short program in the NHK Trophy at Makomanai Arena on Friday night, November 18. The 22-year-old recorded a personal-best score of 96.49 points with a fine performance at Japan's annual Grand Prix event.
Shoma Uno is in second place at 91.66 after a fall on the front end of a planned combination jump, while France's Adam Siao Him Fa is third on 87.44.
Kazuki Tomono is in fourth with 85.07.
South Korea's Yelim Kim is in first place after the women's short program with 72.22. World champion Kaori Sakamoto stands in second at 68.07, with Rion Sumiyoshi in third on 68.01.
Audrey Shin (65.87) of the United States is fourth, while Rinka Watanabe is ninth with 58.36.
Watanabe will need a big rally in the free skate if she hopes to qualify for next month's Grand Prix Final in Turin, Italy.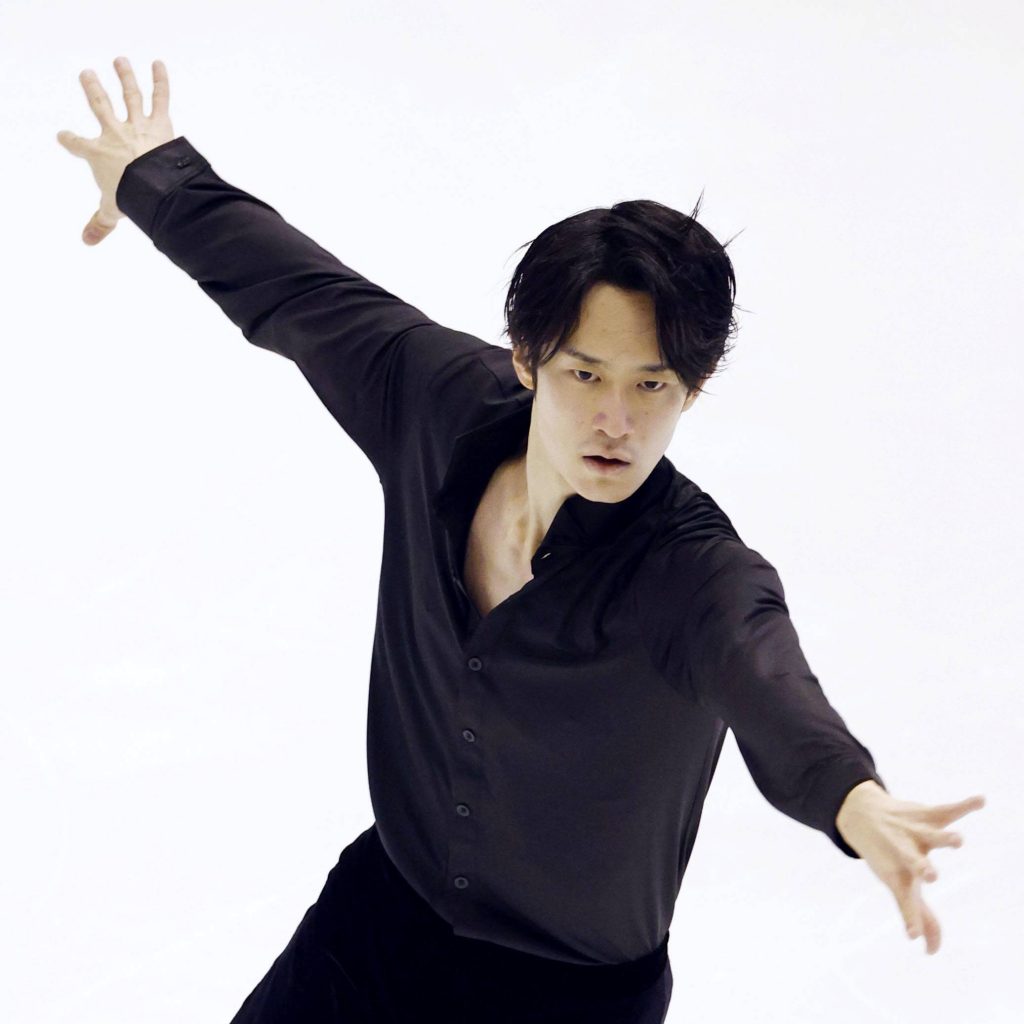 Yamamoto Receives a Standing Ovation
Yamamoto skated to "Yesterday" and opened with a big quad toe loop/triple toe loop combo, then hit a quad salchow and a triple axel. He looked as strong and confident as he has ever been and the home crowd rewarded him with a standing ovation as he finished.
"This season I have been quite consistent with my short program," Yamamoto stated. "Today I was able to hit all my jumps. Tomorrow I will forget what I did today and work on my free program."
Yamamoto addressed the possibility of qualifying for the GP Final, which a victory here would put him into.
"I have not really had a track record at the Grand Prix series, so I don't want to overthink about it," Yamamoto noted.
Instead, he said, "I just want to focus on what I need to be doing."
Uno Stumbles in Short Program
Uno opened his skate to "Gravity" with his patented quad flip, but went down hard on the front end of a planned quad toe loop/triple toe loop combo and was unable to execute the latter jump. The rest of his program was nearly flawless, but the big miss leaves him looking up at Yamamoto going into the free skate.
"I had a mistake on my jump, but emotionally I did a good job with my performance," Uno commented. "The past few years I have not been able to be in the Grand Prix Final."
He added, "I understand that my result here will decide if I will qualify, but I hope to make my skating a refined product by the end of the season."
Tomono Unable to Land Quad Salchow
Tomono competed to "Happy Jazz" and got off to a nice start with a big quad toe loop/triple toe loop combo, but then fell on his quad salchow. He recovered to land a nice triple axel, but the damage was done.
"My body was not feeling good after the six-minute warmup," Tomono said. He went on, saying, "My happiness level is about 35 percent now."
Kim Pleased with Her Performance
Kim skated to "Mercy" in a free-flowing performance that included a nice triple lutz/triple toe loop combo, a double axel and a triple flip. She earned level fours on her spins and level three on her step sequence.
"I'm so happy with my short program today," Kim stated, adding, "I am satisfied."
Kim said she was trying to block out thoughts about qualifying for the GP Final.
"I am trying to not think about the final, because that will take the focus off my performance," Kim remarked.
Sakamoto Delivers Uneven Performance
Jump issues prevented Sakamoto from being in the lead, as she received an edge call on her triple lutz and an under-rotation on the back end of her triple flip/triple toe loop combo during her skate to "Rock With U." She did post level fours on her spins and step sequence.
"Today's performance was not expected," Sakamoto commented. "I had issues with all of my jumps and need to work on them."
Sakamoto said she has made qualifying for the GP Final a priority this season.
"After last season's cancellation, I really wanted to make the GP Final this year," Sakamoto admitted. "I have been thinking about it since before the start of the season."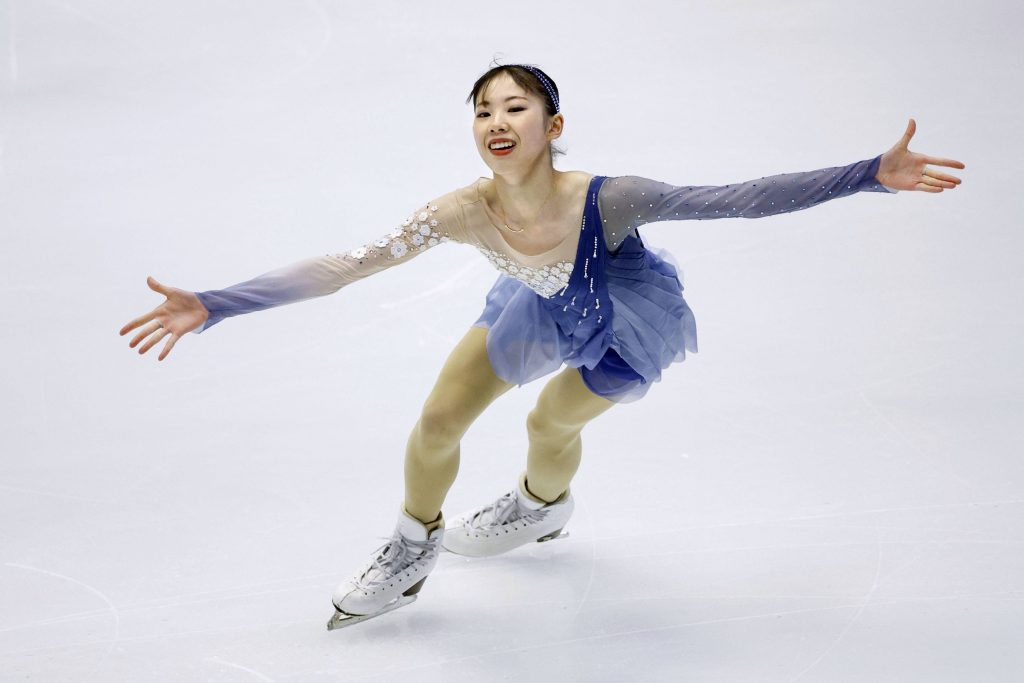 Sumiyoshi Shines in Short Program
Sumiyoshi competed to "White Flowers Take Their Bath" and exuded grace and confidence. The lone blemish on her scorecard came on a quarter call on the latter part of her triple flip/triple toe loop combo. She received level fours on her spins and step sequence.
"I was very focused for each and every element and wanted to do my best," Sumiyoshi noted. "Until today my short program was not very good, but my output was good this time."
Sumiyoshi acknowledged that she was thinking about making the GP Final, but that she didn't want that to sidetrack her from the task at hand.
"I was third at the France Grand Prix. So it is always on my mind," Sumiyoshi stated. "I try to keep it in the back of my mind so I can really enjoy my first NHK Trophy. Which is what I was able to do today."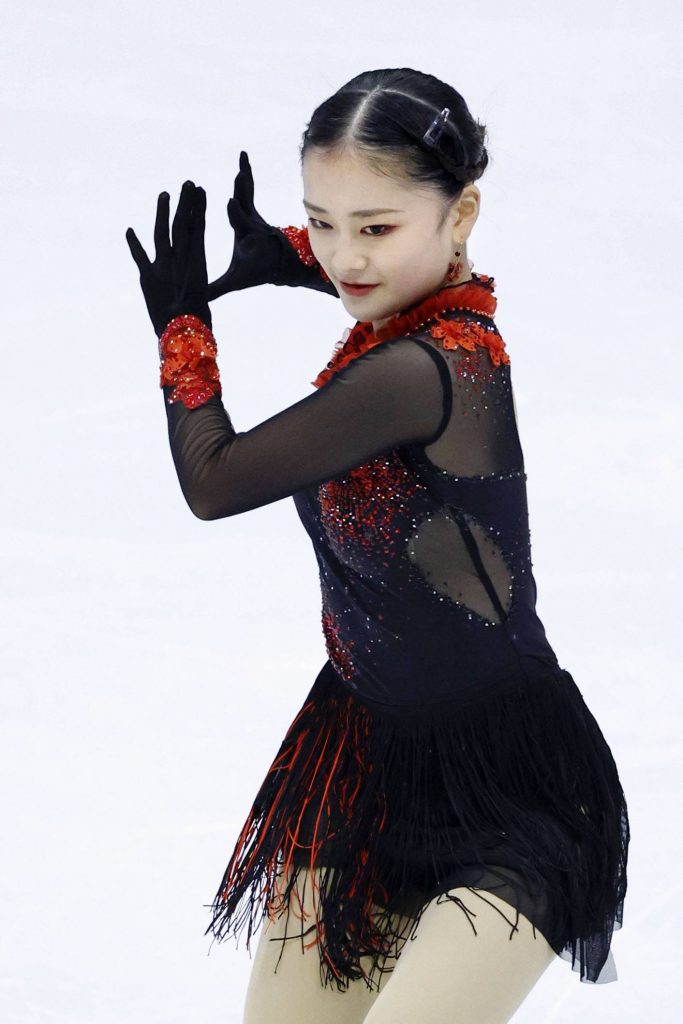 Bad Start Sets Tone for Watanabe
Watanabe skated to "El Tango De Roxanne" and ran into problems from the outset. She fell on her opening triple axel, then singled her planned triple loop.
"I think emotions got the best of me," Watanabe confessed. "It's the same with the fact you carry Japan on your back. Trying to make the final is emotionally hard.
"I was so nervous today, so I want to switch tomorrow so that I can make up for it."
Miura, Kihara Lead in Pairs
World silver medalists Riku Miura and Ryuichi Kihara took the lead in pairs after the short program with a personal best of 78.25. They skated to "You'll Never Walk Alone" and exuded poise from start to finish.
Kihara talked about the challenges he and Miura faced after they were unable to practice for nearly two months after she suffered a dislocated shoulder during the summer. The pair won Skate Canada despite the lost training time.
"For Skate Canada we were actually very worried going in because of our lack of practice," Kihara stated. "We were able to come out with a good result and that gave us confidence."
Kihara added, "We were able to do some great training with our coach after Skate Canada and that work came out in what we did today."
Beaudry, Sorensen in First After Rhythm Dance
Canada's Laurence Fournier Beaudry and Nikolaj Soerensen lead the ice dance following the rhythm dance with 85.66. World silver medalists Madison Chock and Evan Bates of the US are second at 85.00.
Kana Muramoto and Daisuke Takahashi (75.10) are in sixth place, while Misato Komatsubara and Tim Koleto (66.65) stand in eighth.
The NHK Trophy continues on Saturday with the pairs and women's free skates, the free dance and the men's free skate.
RELATED:
Author: Jack Gallagher
The author is a veteran sports journalist and one of the world's foremost figure skating experts. Find articles and podcasts by Jack on his author page, here, and find him on Twitter @sportsjapan.