Takakeisho Beats Kotoshoho to Capture Third Emperor's Cup at New Year Basho
Lone ozeki Takakeisho comes through with a clutch win against the rank-and-filer on the final day, collecting his first title since November 2020.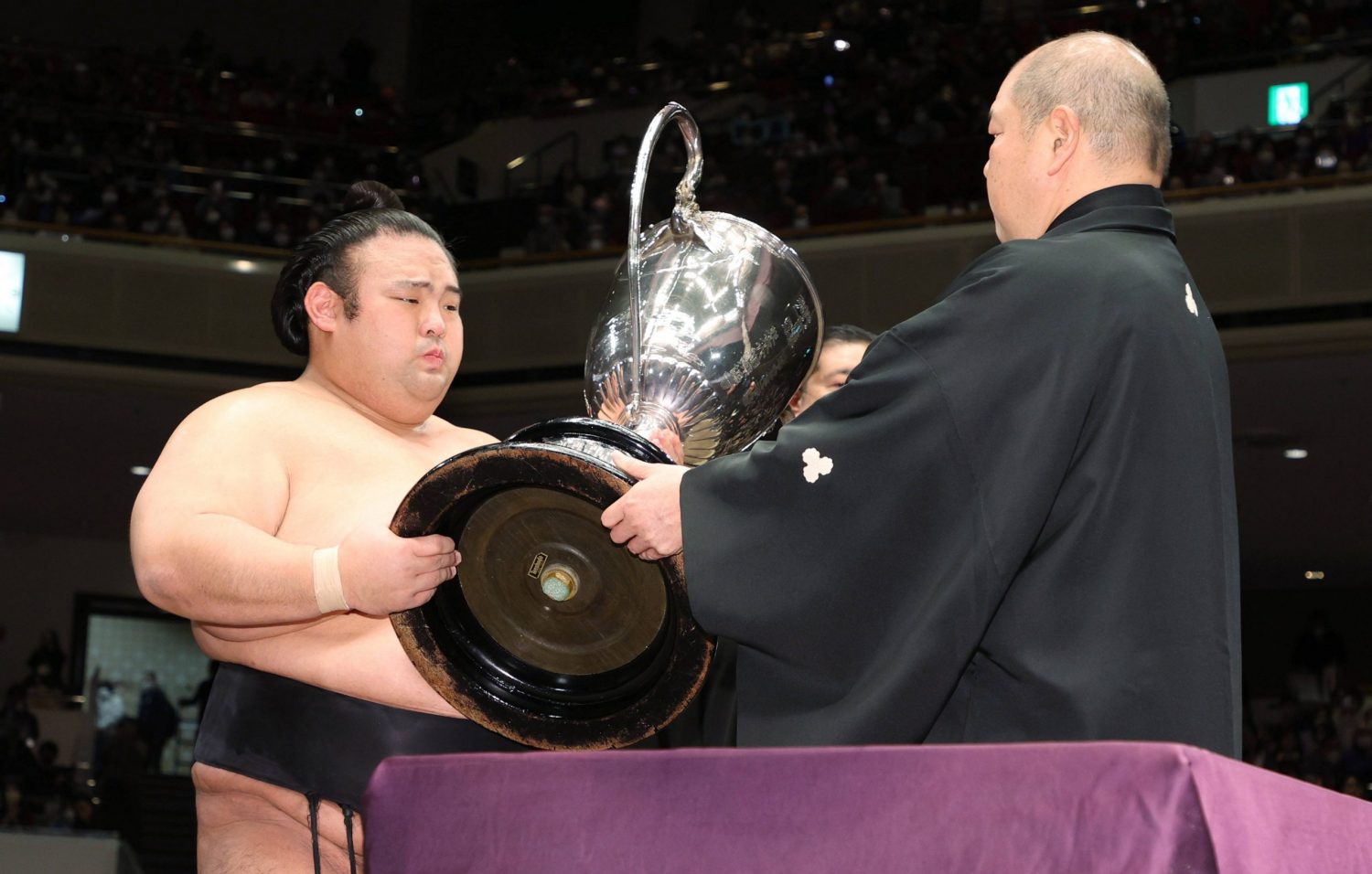 Ozeki Takakeisho defeated unheralded rank-and-filer Kotoshoho on Sunday, January 22 to win his third career Emperor's Cup on the final day of the New Year Grand Sumo Tournament.
In the finale at Tokyo's Ryogoku Kokugikan, Takakeisho got his left arm under the arm of Kotoshoho and used a perfect beltless arm throw to hurl his opponent to the dirt surface and improve to 12-3. It was his first title since November of 2020.
"This was my first championship since I got married so I'm delighted," Takakeisho said. "I wasn't able to get my training under control in recent years and often came up just one win short so it feels great to get this win."
No. 13 maegashira Kotoshoho dropped to 11-4, but he impressed the sumo world with a spectacular performance that will help him move up the ranks.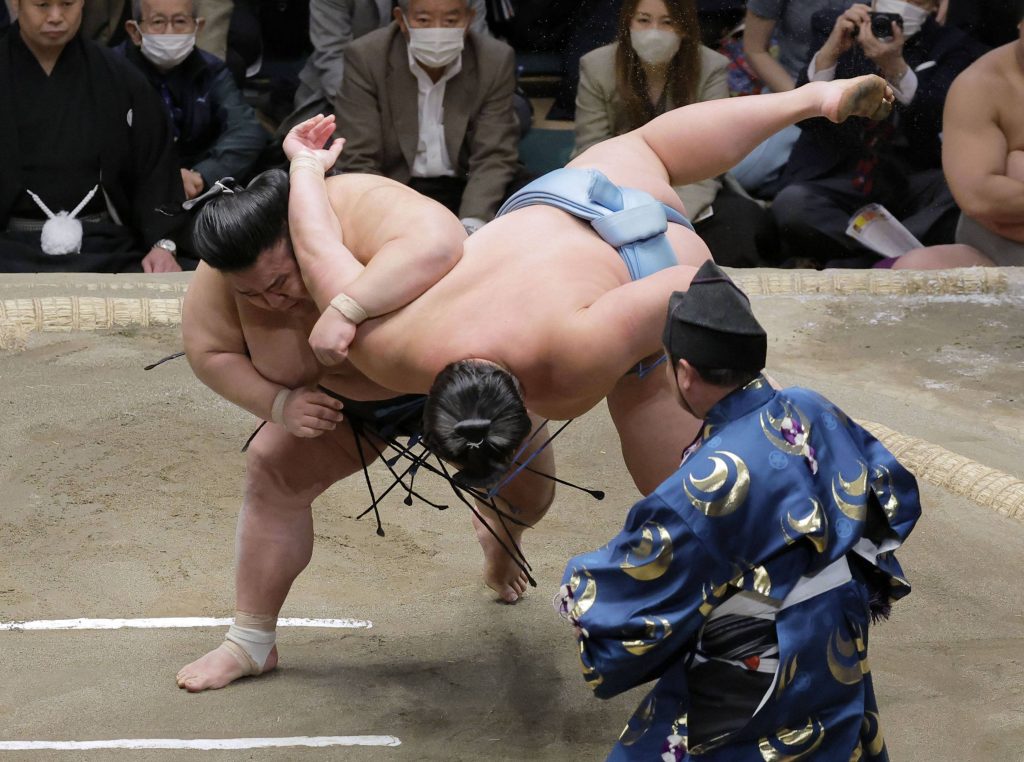 Takakeisho Eyes Promotion to Yokozuna
Lone ozeki Takakeisho was gunning for promotion to yokozuna in this tournament but with three losses, including two in a row from Day 11, it's unlikely that he will earn a spot at the top of sumo's rankings.
"Whether it's pressure or not it was more a case of meeting the high expectations of the fans, that's how I approached it," Takakeisho said. "As an ozeki, you are expected to win so I had to dig deep and find inner strength."
Takakeisho's next chance will come at the Spring Grand Sumo Tournament in his hometown of Osaka from March 12-26.
His third title came in a tournament in which there was no grand champion competing with Terunofuji injured, and no other ozeki at sumo's second-highest rank. That will certainly be a factor in the decision-making process.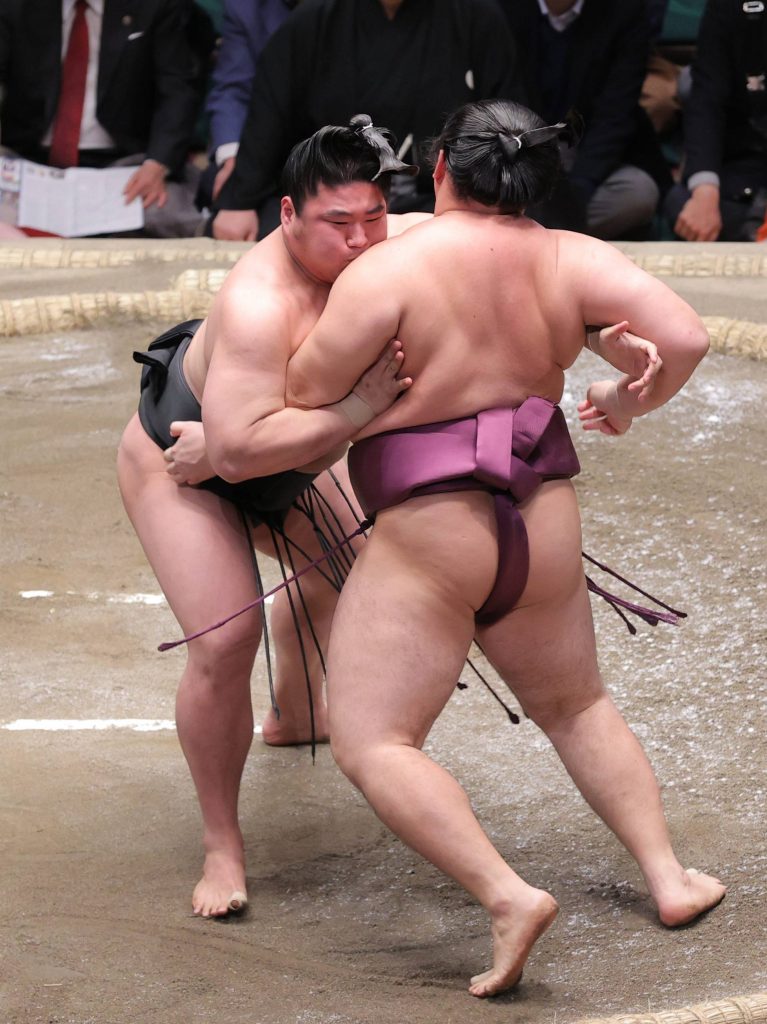 Wakamotoharu, Kotonowaka Win on Final Day
In other major bouts, up-and-coming grappler Wakamotoharu, a komusubi, finished a very impressive New Year campaign when he shoved out ninth-ranked maegashira Endo to give both wrestlers a 9-6 record.
Komusubi debutante Kotonowaka got both arms around Hokutofuji immediately after the face-off and drove the No. 6 maegashira out in a one-sided bout to secure a winning record of 8-7. Hokutofuji finished at 7-8.
"I wanted to give it my all," Kotonowaka said before adding, "I was able to concentrate and got better and better as the tournament went on."

He continued, "I want to keep moving forward and move up the ranks."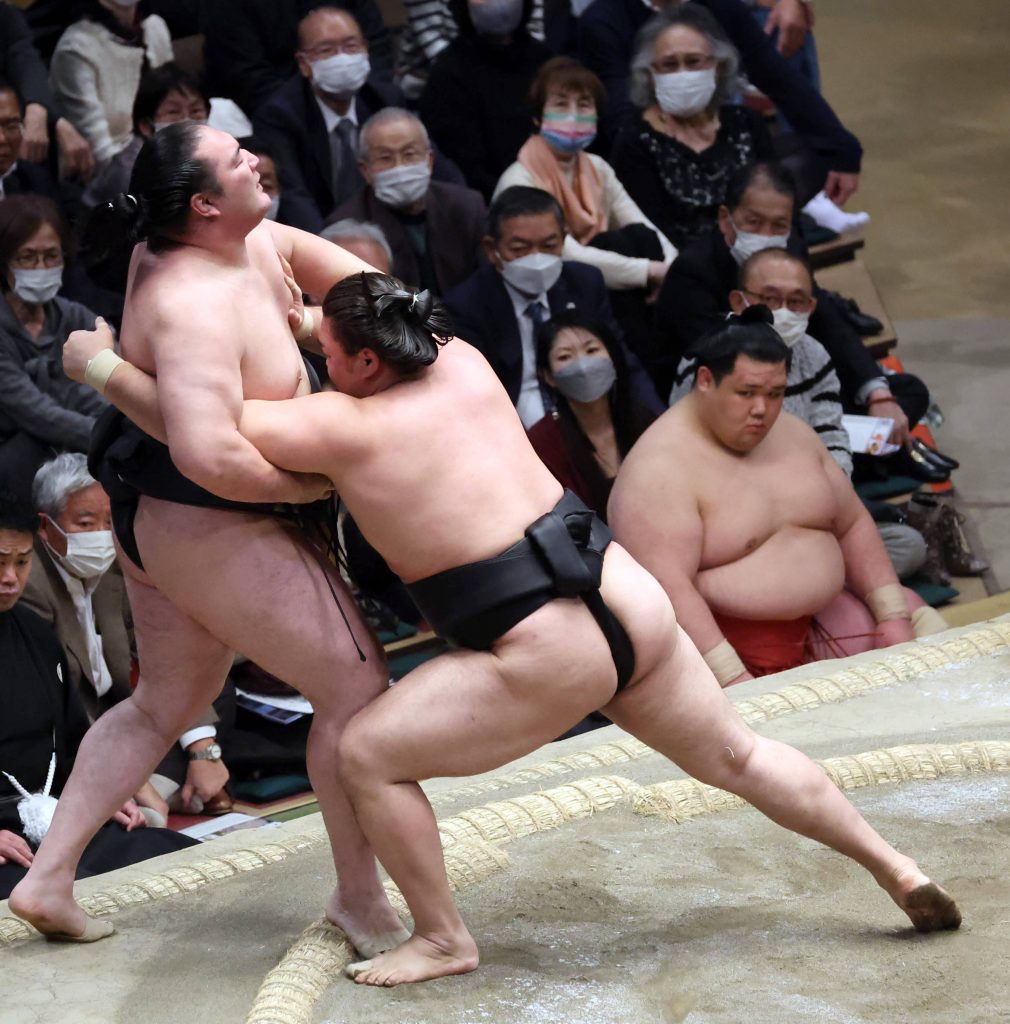 Kiribayama Finishes Strong
In a marathon bout, Mongolian komusubi Kiribayama used a frontal force-out of Ryuden to finish with a superb 11-4 record. It was also a very good tournament for No. 5 Ryuden, who closed out with a 9-6 record.
For his efforts, Kiribayama, who is being mentioned as a future ozeki, took home the tournament's Technique Prize.
"It was hard to get the upper hand against Ryuden," Kiribayama said. "I think I'm getting better at moving forward."

He added, "I was in good form all tournament and moving well."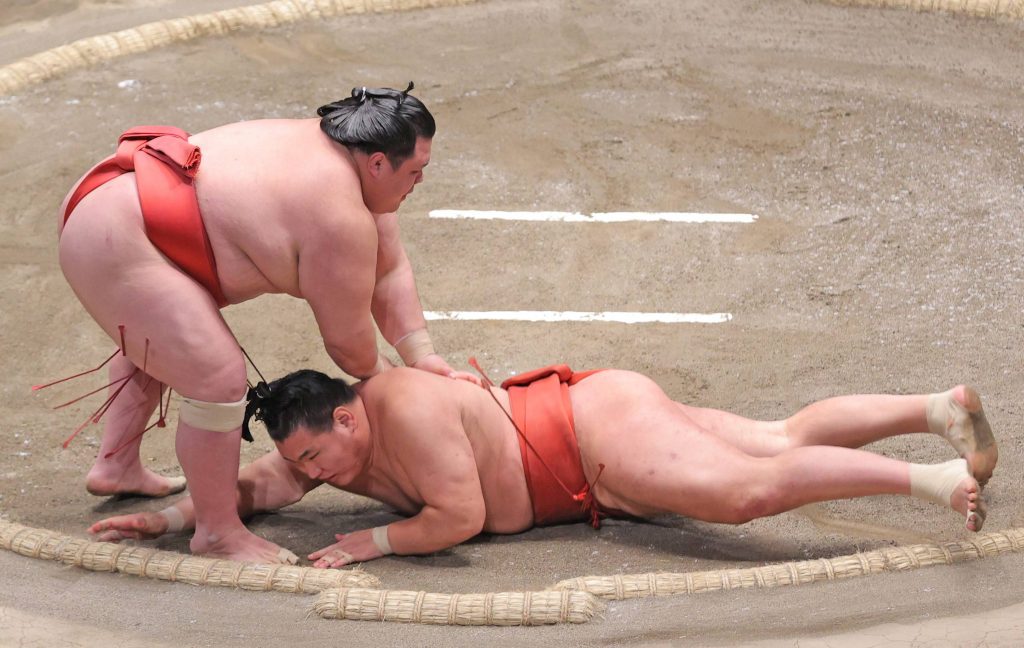 Hoshoryu Seals Winning Record
Mongolian Hoshoryu wrapped up a winning record of 8-7 when the ringside judges ruled that Onosho grabbed the sekiwake's top knot while throwing his opponent down.
It was an important win for Hoshoryu, who was hampered by an injured ankle over the final few days of the tournament. But he will be staying at sekiwake for the next tournament thanks to the winning record.
Despite the unintentional rule violation, No. 8 maegashira Onosho finished with a very impressive record of 10-5.
Sekiwake Wakatakakage slapped down No. 5 maegashira Nishikigi as both men finished with strong 9-6 records.
No. 3 maegashira Abi, the November tournament winner, salvaged a winning record when he used his trademark arm thrusts to oust No. 15 Tsurugisho to improve to 8-7.
In a battle of one of the oldest wrestlers and against one of the youngest, 38-year-old Tamawashi used a right-handed thrust to the throat to force out Hiradoumi and finish with a respectable 9-6.
No. 10 maegashira Hiradoumi, who is just 22, closed out the New Year Basho with a record of 8-7.
Top maegashira Tobizaru won his fifth bout in a row and wrapped up a winning record at 8-7 when he used a double-arm thrust to send No. 13 Kotoeko (7-8) over the straw ridge.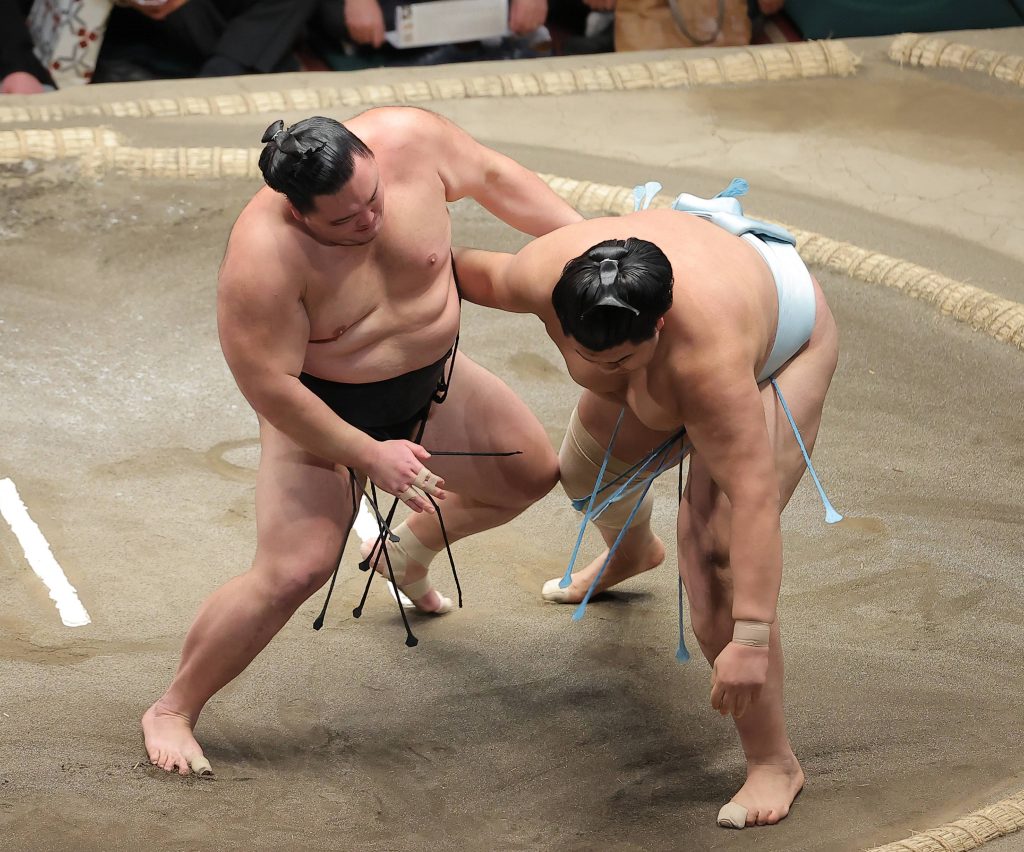 Asanoyama Earns Juryo Division Title
Former ozeki Asanoyama won the juryo division with a stellar 14-1 record and is due for a return to the elite makuuchi division.
Asanoyama was suspended in June 2022 for a year for violating the Japan Sumo Association's coronavirus protocols. He returned to the sport in July with a victory in the fourth-tier sandanme division at the Nagoya Basho.

Author: Jim Armstrong
The author is a longtime journalist who has covered sports in Japan for over 25 years. You can find his articles here.