Takakeisho Dominates Kotonowaka to Maintain Fast Start at Kyushu Basho
Veteran grappler Takakeisho is bidding for his third Emperor's Cup at the 15-day tournament held in Fukuoka.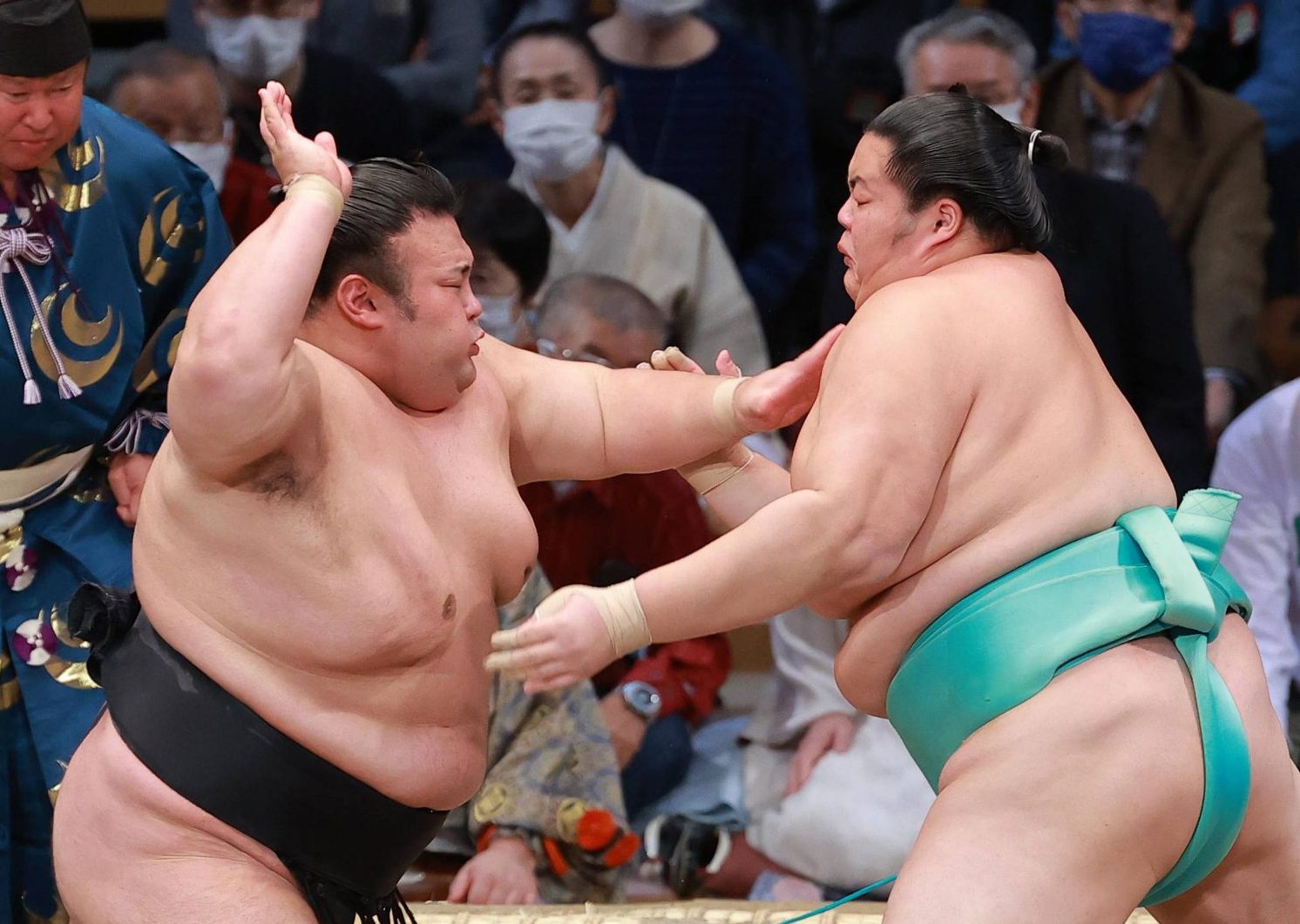 Ozeki Takakeisho used his trademark thrusting technique to send Kotonowaka backpedaling out over the straw ridge while improving to 2-0 on Monday, November 14, the second day of the Kyushu Grand Sumo Tournament.
In the day's penultimate bout at Fukuoka Kokusai Center, top maegashira Kotonowaka put up little resistance against the determined ozeki and dropped to 0-2.
Takakeisho won this tournament in 2020 and 2018 and, with yokozuna Terunofuji absent due to injury, would have to be considered one of the favorites to lift the Emperor's Cup.
In other major bouts, ozeki Shodai used a frontal force-out against Takayasu (1-1) to post a confidence-boosting win over the top maegashira while improving to 1-1.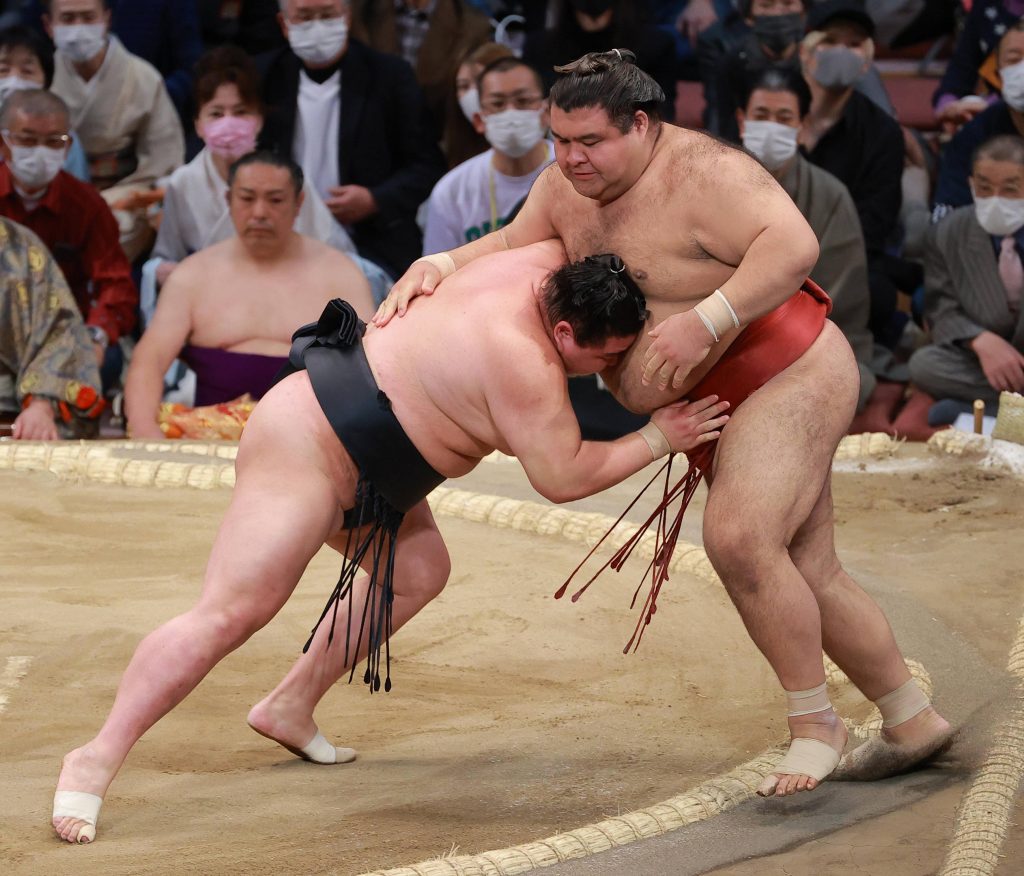 Shodai went a disastrous 4-11 in the previous tournament and needs a winning record in this 15-day meet to maintain his ozeki status for the 2023 New Year Basho in January. The Kumamoto Prefecture native has a habit of getting off to slow starts in the first week, so he was eager to post his first win as soon as possible.
With the win, Shodai improved to 14-1 against Takayasu in bouts since May of 2019.
Hoshoryu Raises Record to 2-0
Sekiwake Hoshoryu defeated September tournament winner Tamawashi when he knocked the komusubi off balance, forcing the veteran grappler to step out with his right foot to improve to 2-0.
Tamawashi, who will turn 38 on Wednesday, could not overcome a 15-year age difference with his Mongolian counterpart and dropped to 0-2.
Sekiwake Mitakeumi, who is aiming to regain his ozeki status in this tournament, forced out Mongolian giant Ichinojo to stay undefeated at 2-0. No. 2 maegashira Ichinojo, who won the July tournament, dropped to 1-1.
Sumo's Flying Monkey Tobizaru displayed superb footwork at the edge when he swatted down winless No. 2 maegashira Meisei to stay undefeated at 2-0.
Tobizaru, who won his opening bout on Sunday by beating Shodai, is fighting at the fourth-highest rank of komusubi after going an impressive 10-5 in the September tournament.
Up-and-coming grappler Nishikifuji, a No. 5 maegashira, used a thrusting attack to dispatch sixth-ranked maegashira Ryuden (1-1) and improve to 2-0.
Since winning the juryro division title in May with an 11-4 mark, Nishikifuji has produced 10-5 records in his first two top division tournaments.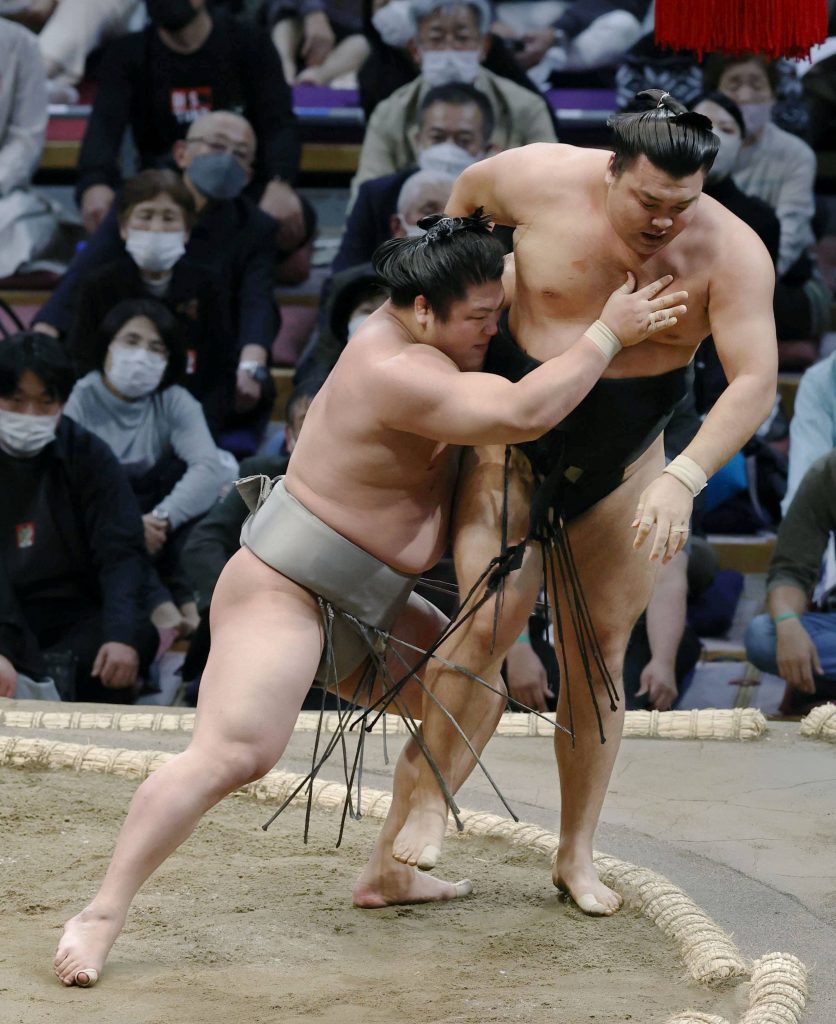 Wakatakakage Improves to 1-1
Sekiwake Wakatakakage picked up a hard-earned force-out win to defeat Mongolian komusubi Kiribayama to give both wrestlers a record of 1-1.
Komusubi Daieisho bounced back from Sunday's opening-day loss to Takakeisho when he used a powerful series of thrusts to the upper body to send Ura out over the edge.
Daieisho improved to 1-1 while third-ranked maegashira Ura remains winless at 0-2.
No. 5 maegashira Hokutofuji got a right-arm inside grip on the belt of Wakamotoharu and then used his weight advantage to shove the fourth-ranked maegashira out and give both wrestlers a 1-1 record.
No. 3 maegashira Midorifuji used a textbook under shoulder swing-down to send fourth-ranked Sadanoumi sprawling to the dirt surface. Both wrestlers stand at 1-1.
Former sekiwake Abi, who sat out the September tournament due to injury and is now a ninth-ranked maegashira, used his trademark arm thrusts to shove Chiyoshoma out to improve to 2-0. No. 10 Chiyoshoma fell to 0-2.

Author: Jim Armstrong
The author is a longtime journalist who has covered sports in Japan for over 25 years. You can find his articles here.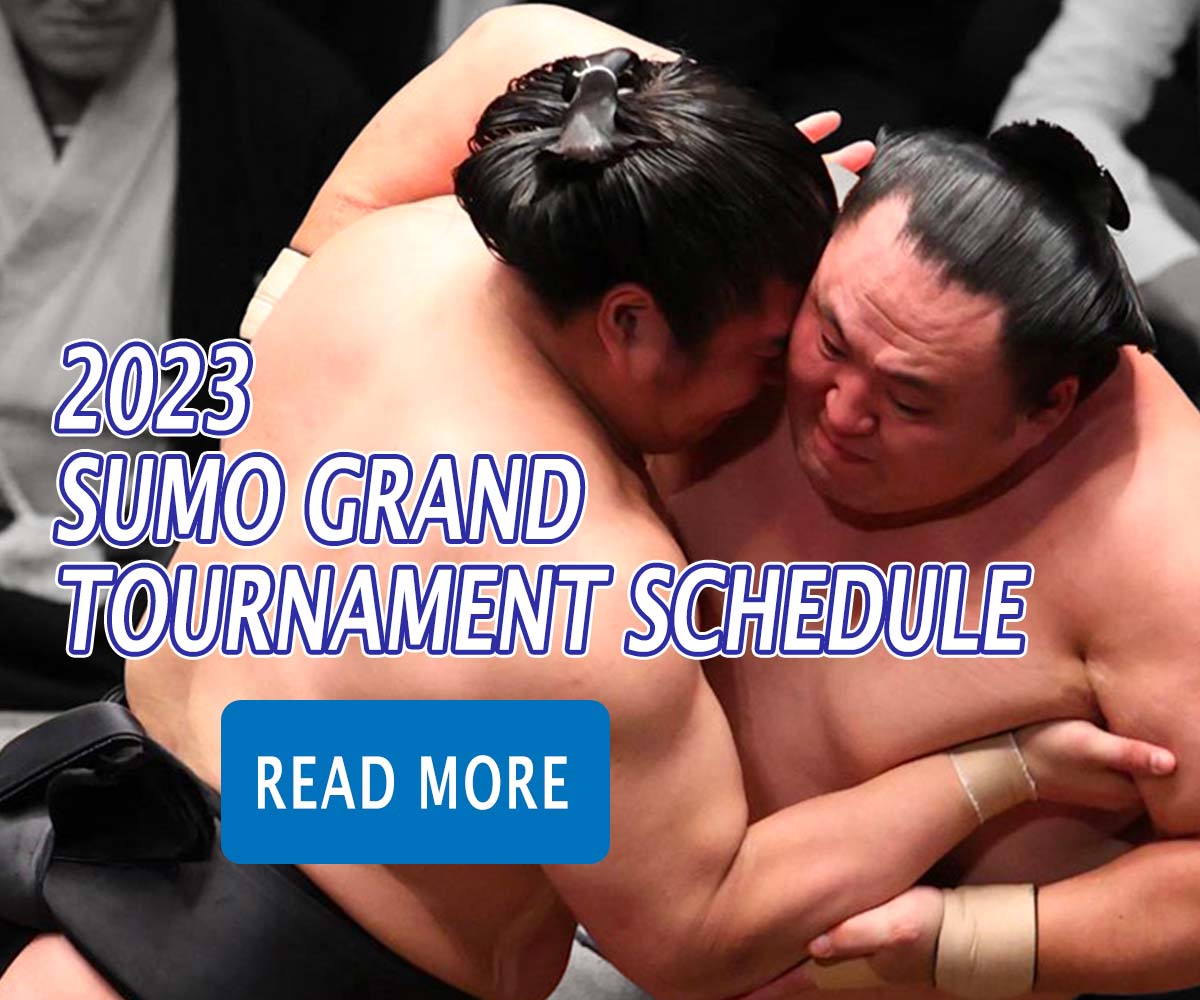 Subscribe to Our Newsletter