Top maegashira Takayasu upset Takakeisho on Tuesday, November 15 to knock the ozeki grappler out of the lead on Day 3 of the Kyushu Grand Sumo Tournament.
In the day's final bout at Fukuoka Kokusai Center, Takayasu used a forearm blast at the face-off to stun the ozeki and then shifted to his side before swatting his opponent down to give both wrestlers a record of 2-1.
Takakeisho has won both of his championship titles at this tournament and is one of the favorites to lift the Emperor's Cup at the end of the 15-day Kyushu Basho.
Takayasu has come close to winning the title before but has never been able to pull it off and is hoping this could be his chance.
"The face-off was good and I just tried to do my best," Takayasu said. "My body is in good shape. This is the last tournament of the year so I want to generate some buzz and see what I can do."
Shodai Earns First Win Over Kotonowaka
In other major bouts, ozeki Shodai took advantage of a superior face-off and superb footwork to shove out Kotonowaka and improve to 2-1 with his first win in six bouts against the top maegashira.
It was a confidence-boosting win for Shodai, who needs at least eight wins to maintain his ozeki rank for the next tournament.
Kotonowaka attempted to swat Shodai down but was unable to pull it off and that opened the door for the ozeki to drive his opponent out to his third straight loss.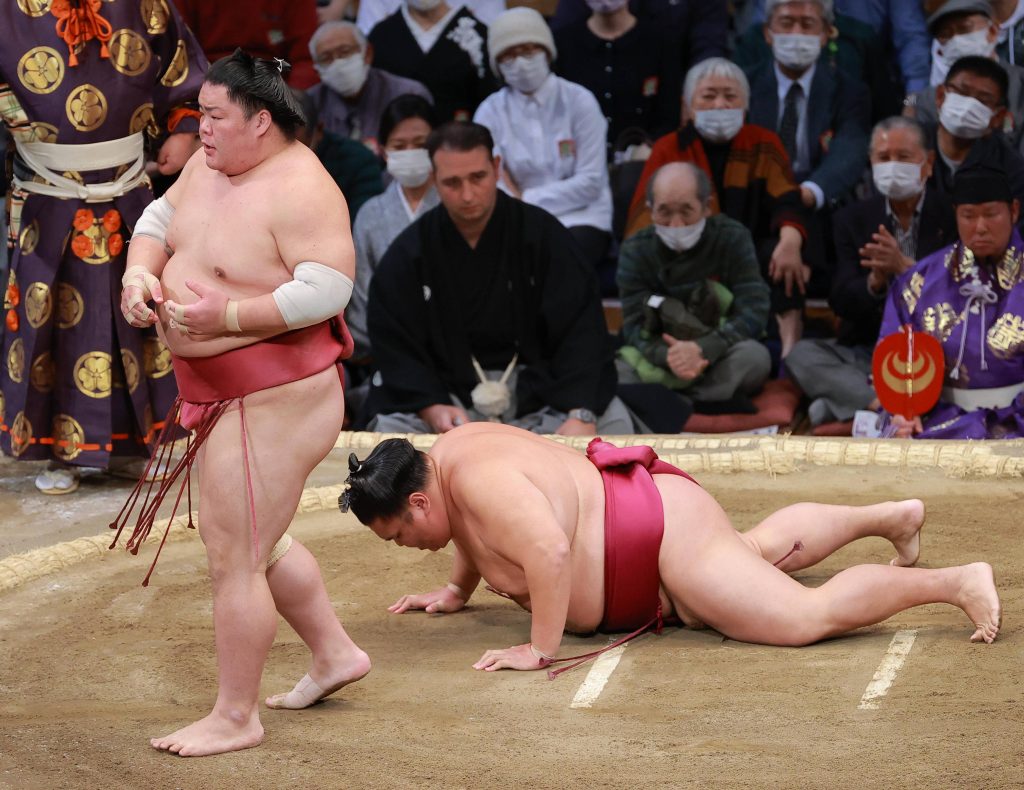 Sekiwake Mitakeumi, bidding to get his ozeki rank back with at least 10 wins in this tournament, suffered a setback when he was thrust down by komusubi Daieisho to give both wrestlers a record of 2-1.
Sekiwake Wakatakakage displayed excellent footwork after getting a grip of Meisei's belt and forcing the winless No. 2 maegashira out to improve to 2-1. No. 2 maegashira Meisei is winless.
Tobizaru Maintains Perfect Record
Tobizaru, one of five wrestlers in the early lead at 3-0, used an evasive move at the face-off when he came in very low to stun fellow komusubi Tamawashi before shoving him out to remain perfect.
As a 37-year-old veteran, Tamawashi has seen a lot of moves in his career but perhaps none like the one Tobizaru threw at him on Day 3.
The September tournament winner is off to a sluggish start and dropped to 0-3.
Sekiwake Hoshoryu got a double-handed grip on the belt of Mongolian compatriot Ichinojo (1-2) and bulldozed the No. 2 maegashira out over the edge to maintain his share of the lead at 3-0.
Komusubi Kiribayama used a pulling over arm-throw to send Midorifuji sprawling to the dirt surface while picking up his second win against a lone loss. Third-ranked Midorifuji dropped to 1-2.
Fourth-ranked maegashira Wakamotoharu started with a forearm blast to the head and then used a frontal push-out to send Ura toppling off the raised ring.
Wakamotoharu improved to 2-1 while third-ranked maegashira Ura remains winless.
As is often the case, there were many empty seats at the Fukuoka Kokusai Center. The tournament is often sparsely attended in the first week and the absence of injured yokozuna Terunofuji doesn't help.
Abi Wins All-Maegashira Battle
Former sekiwake Abi, now wrestling as a ninth-ranked maegashira, used his trademark two-arm thrust at the face-off and then hauled down No. 8 maegashira Tochinoshin (1-2) to remain perfect at 3-0.
Lower-ranked wrestlers Kotoshoho and Hiradoumi are also at 3-0.
No. 15 maegashira Atamifuji, making his debut in the elite makuuchi division, finally picked up his first win in the top flight when he shoved out winless juryo wrestler Churanoumi.
"It's a huge relief," said the 20-year-old Atamifuji, who improved to 1-2. "My sumo hadn't been good the first few days so it felt great to get the first win under my belt."

Author: Jim Armstrong
The author is a longtime journalist who has covered sports in Japan for over 25 years. You can find his articles here.