Top maegashira Takayasu swatted down Mongolian Hoshoryu on Wednesday, November 16 to ensure there would be no unbeaten wrestlers after Day 4 of the Kyushu Grand Sumo Tournament.
Takayasu, who upset previously undefeated Takakeisho on Day 3, took advantage of a superior face-off to defeat the only remaining undefeated wrestler in sekiwake Hoshoryu and give both men a record of 3-1.
Takayasu, who is aiming for his first championship, and Hoshoryu are now among 13 wrestlers who are tied for the lead at 3-1, an early indication that the 15-day Kyushu Basho will be a wide open affair.
In other major bouts, sekiwake Wakatakakage had a chance to be in that large group but was swatted down by previously winless top maegashira Kotonowaka to drop to 2-2.
Both Ozeki Defeated
The tournament's two ozeki wrestlers are not among the leaders.
No. 2 maegashira Meisei handed Takakeisho (2-2) his second straight loss when he buried his head in the chest of the ozeki and drove his opponent out to pick up his first win.
"I just tried to go forward," Meisei said. "I was doing my best and not thinking too much about my record. I'm from Kyushu so I wanted to put up a good result in front of the home fans."
In the day's final bout at Fukuoka Kokusai Center, No. 2 maegashira Ichinojo went chest to chest with ozeki Shodai and bulldozed his opponent out to give both men a record of 2-2.
Mitakeumi Improves to 3-1
Sekiwake Mitakeumi took advantage of a tactical error by Ura and drove out the winless No. 3 maegashira to bounce back from the previous day's loss and move to 3-1.
It was a clutch result for Mitakeumi, who needs at least 10 wins in this tournament to get his ozeki rank back.
Ura attempted an ill-advised swat-down at the edge and that allowed Mitakeumi to shove his opponent out with authority.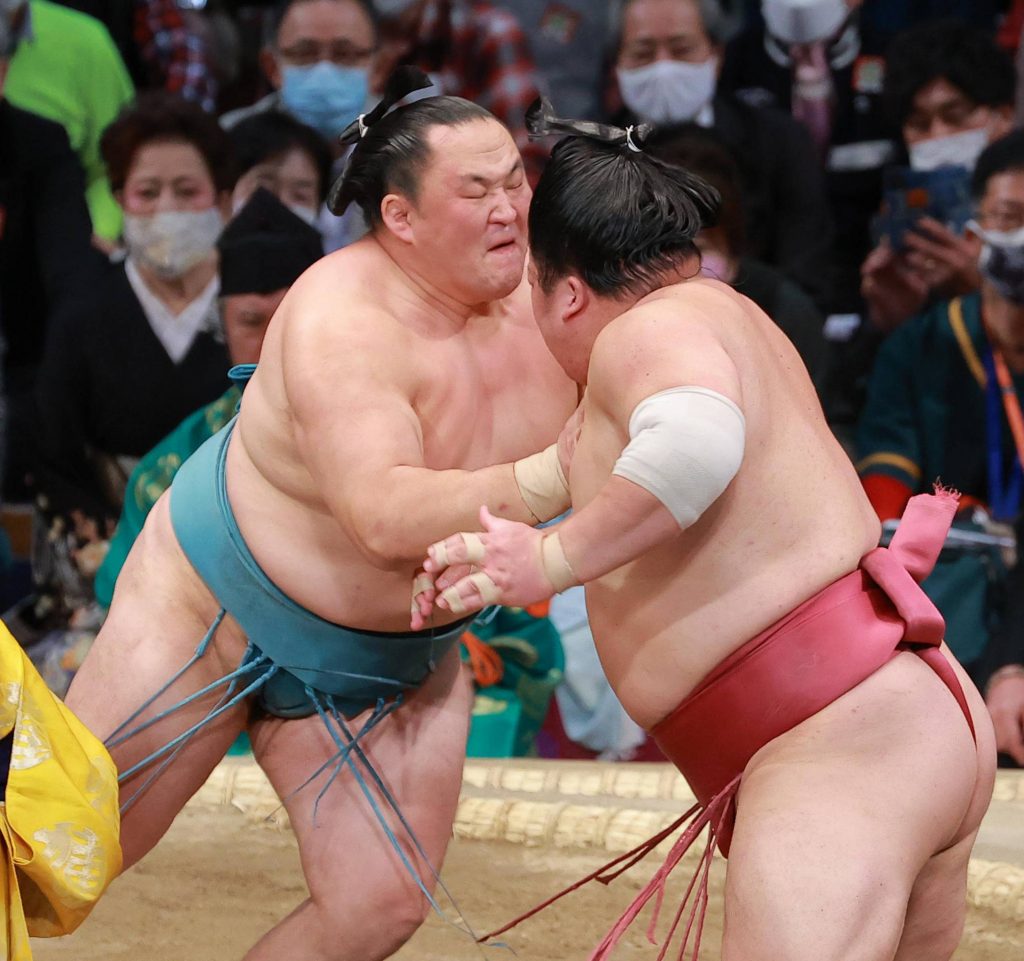 September tournament winner Tamawashi celebrated his 38th birthday with a hard-fought victory over fellow komusubi Daieisho (2-2) to pick up his first win of the tournament and improve to 1-3.
In an all-komusubi showdown, Mongolian Kiribayama established a superior position after the face-off and then used a twisting over-arm throw to send Tobizaru sprawling to the dirt surface and give men a record of 3-1.
Tobizaru came in low at the face-off. While he got a grip of Kiribayama's belt, his head was underneath Kiribayama's arm so he was in no position to pull off a winning technique.
Up-and-coming grappler Nishikifuji, a No. 5 maegashira, went on the attack from the outset and deployed a series of powerful thrusts to send Endo out over the edge while improving to 3-1.
Seventh-ranked Endo is off to a sluggish start and dropped to 1-3.
Wakamotoharu Tied for the Lead
Wakamotoharu stayed in the chase pack at 3-1 when he got a double-handed grip on the belt of Sadanoumi (2-2) and lifted his fellow fourth-ranked maegashira out in dominant fashion.
No. 11 maegashira Onosho took Abi out of the lead when he used a frontal thrust-out to knock the No. 9 maegashira off balance and give both wrestlers a record of 3-1.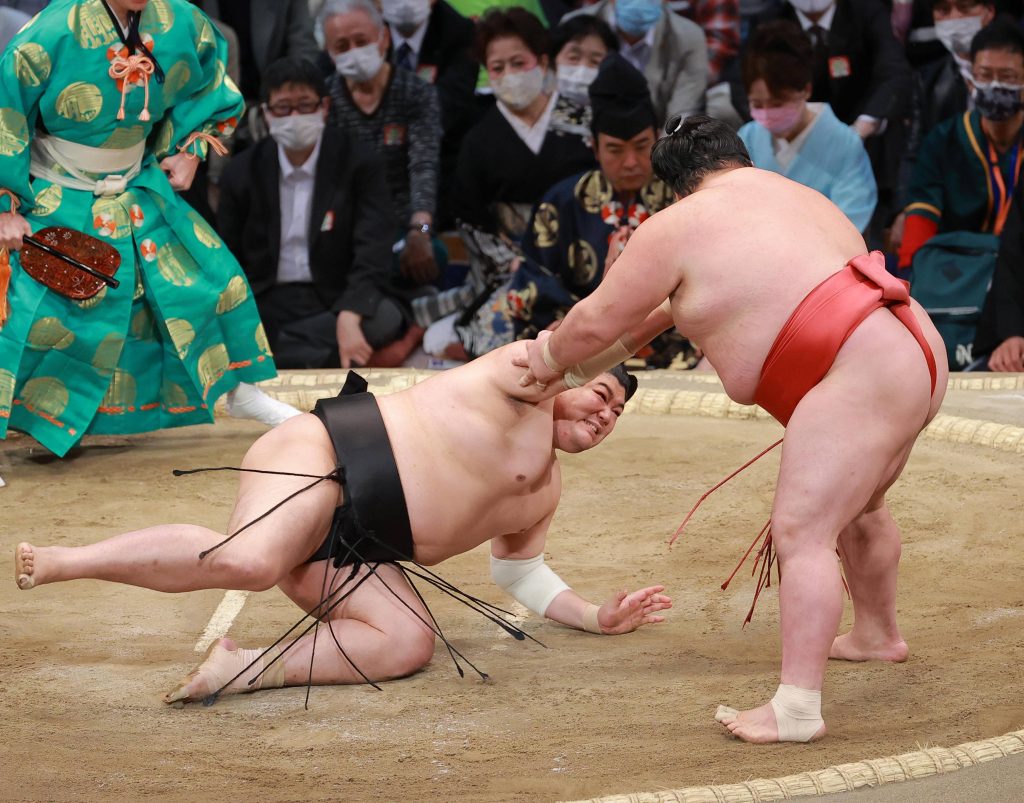 In a showdown of No. 8 maegashira, Georgian Tochinoshin swatted down winless Takarafuji to improve to 2-2.
Further down the ranks, previously undefeated grapplers Kotoshoho and Hiradoumi lost their Day 4 bouts to drop to 3-1.
Author: Jim Armstrong
The author is a longtime journalist who has covered sports in Japan for over 25 years. You can find his articles here.