Takakeisho Keeps Promotion Hopes Alive with Bounce-Back Win over Ryuden
Ozeki grappler Takakeisho used his trademark arm thrusts to notch an all-important victory on Day 5 at the Spring Basho in Osaka.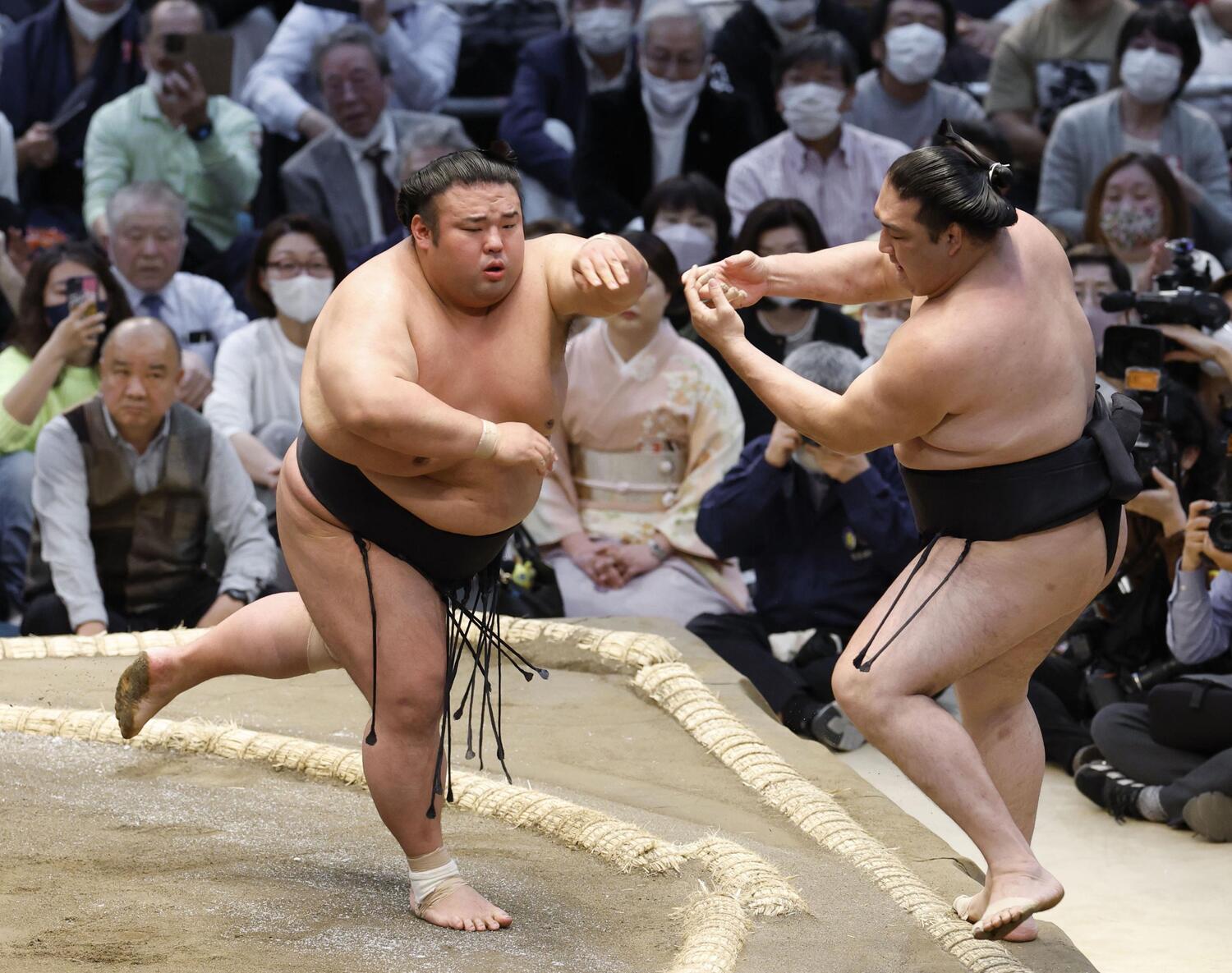 Ozeki Takakeisho overpowered Ryuden on Thursday, March 16 to bounce back from a loss on the previous day and keep his yokozuna promotion hopes alive at the Spring Grand Sumo Tournament.
In the day's final bout at Osaka Prefectural Gymnasium, Takakeisho took advantage of a poor face-off by Ryuden (1-4) and quickly shoved the No. 2 maegashira out over the edge to improve to 3-2.
Takakeisho will have his hands full on Day 6 when he takes on former ozeki Mitakeumi, who has looked strong so far. Another loss would all but dash Takakeisho's promotion hopes.
Komusubi Daieisho is among four rank-and-file wrestlers leading the 15-day basho with a perfect 5-0 record after he overwhelmed Shodai with a powerful thrust to the neck immediately after the face-off.
Daieisho is off to his best start since he won the Emperor's Cup at the New Year Basho in January of 2021.
Top maegashira Shodai, who has been wrestling with more authority of late, was no match for the determined Oitekaze stable wrestler and dropped to 3-2.
The other leaders are Midorifuji, Takayasu and Nishikifuji.


Midorifuji Tops Sadanoumi
Diminutive No. 5 maegashria Midorifuji got a left-hand grip on the belt and shoved out Sadanoumi to maintain his share of the lead at 5-0. No. 6 Sadanoumi was handed his fourth loss against a lone win.
No. 7 maegashira Takayasu had his hands full with eighth-ranked maegashira Ura.
After the two wrestlers exchanged a barrage of arm thrusts, Ura attempted to grab the leg of Takayasu. When he missed, Takayasu thrust his opponent down to maintain his share of the lead at 5-0. Ura fell to 3-2.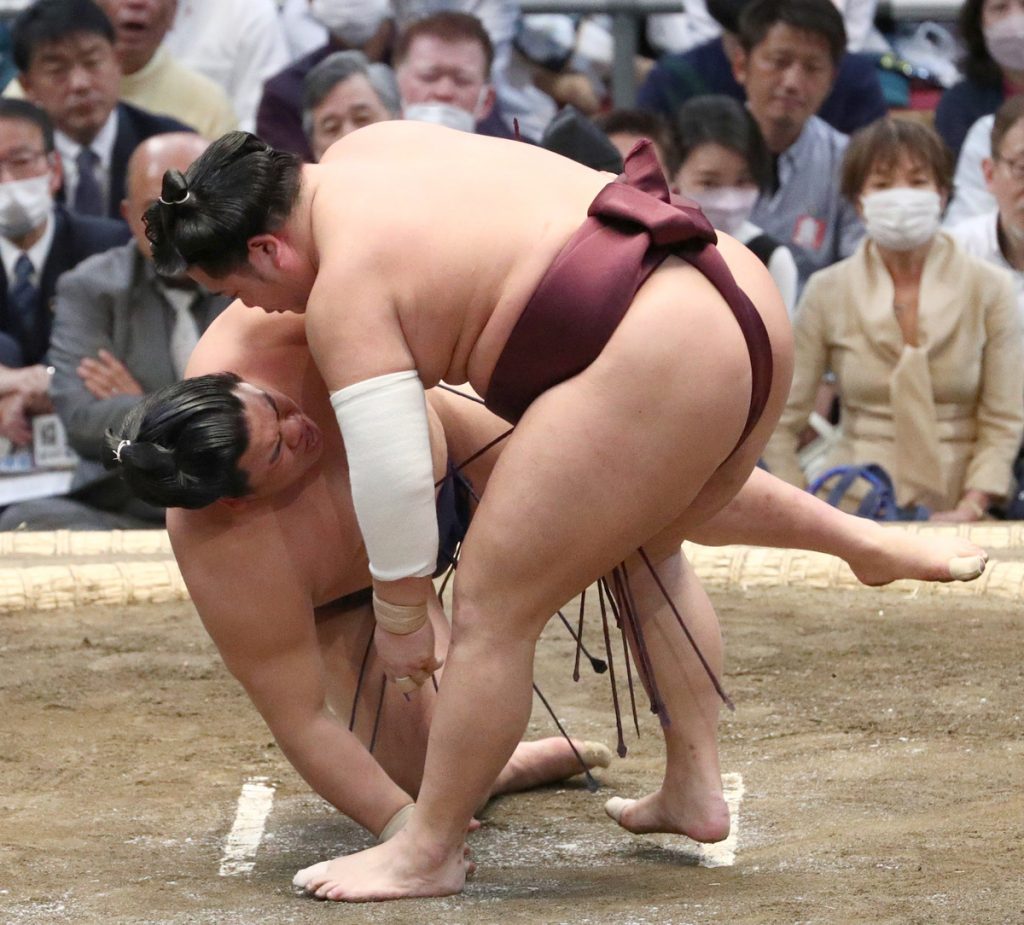 No. 10 maegashira Nishikifuji deployed a textbook overarm throw to send ninth-ranked Hiradoumi sprawling to the sandy surface. 
Nishikifuji improved to a perfect 5-0 while Hiradoumi fell to 2-2.
No. 2 maegashira Abi is among a large group of seven wrestlers one win off the pace at 4-1. Abi used a frontal push-out to dispatch fourth-ranked Meisei (1-4).
In an all-komusubi showdown, Kotonowaka joined the wrestlers at 4-1 when he manhandled sumo's Flying Monkey Tobizaru, who dropped to 3-2.
Fourth-ranked maegashira Onosho thrust down sekiwake Kiribayama to keep one win off the pace at 4-1. Kiribayama was handed his second loss against three wins.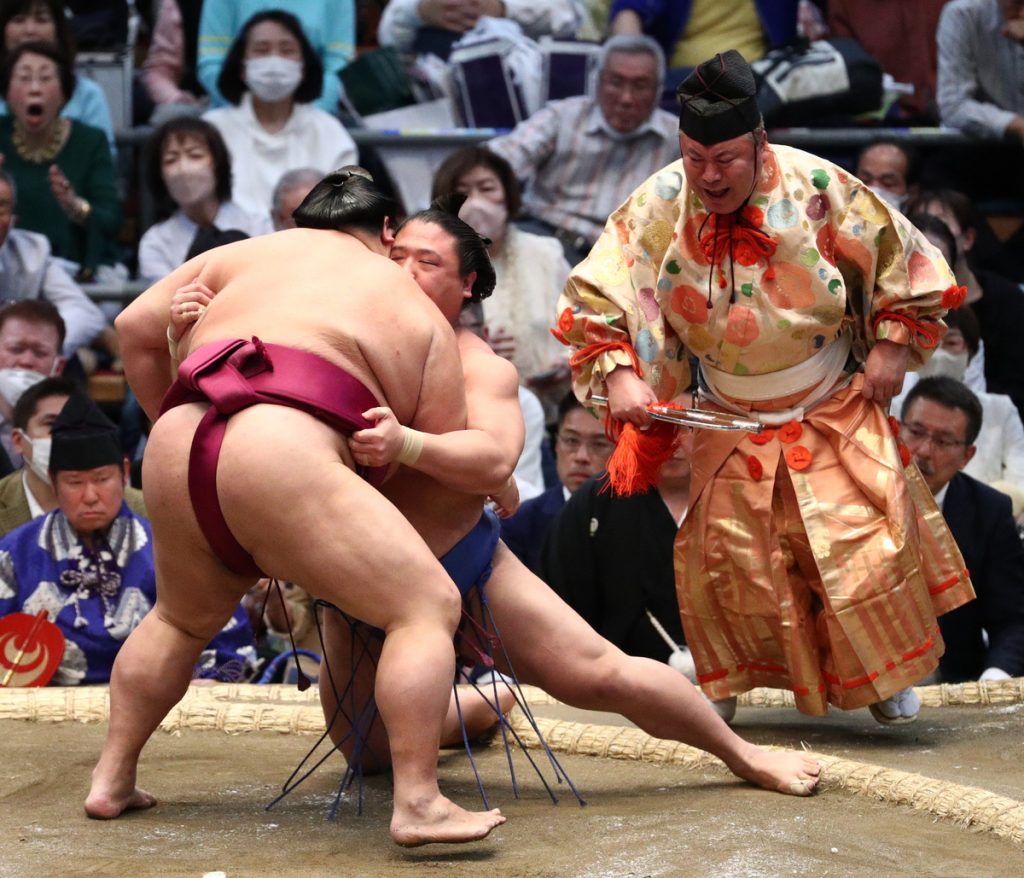 Wakatakakage Falls to 0-5
There was more misery for sekiwake Wakatakakage, who appeared to have his first win of the tournament when he toppled Mitakeumi.
But the ringside judges determined Wakatakakage's knee touched down before No. 3 maegashira Mitakeumi (2-3) was upended, meaning the sekiwake dropped to 0-5.
It's a disappointing result for a wrestler who won this tournament last year and was expected to contend for the title this time.
Further down the ranks, No. 13 maegashira Kotoeko (4-1) used a superb beltless arm throw at the edge to defeat No. 16 Chiyoshoma (3-2).
Makuuchi division debutante Kinbozan of Kazakhstan dodged to his side at the face-off and shoved out fellow rank-and-filer Tsurugisho (3-2) to improve to 4-1. 
Hokuseiho, another rookie in the elite ranks, was forced out by juryo division wrestler Ichinojo to drop to 4-1. Mongolian veteran Ichinojo is 5-0 in the juryo division.

Author: Jim Armstrong
The author is a longtime journalist who has covered sports in Japan for over 25 years. You can find his articles on SportsLook.