Mitakeumi Beats Takakeisho, All but Ending the Ozeki's Promotion Chances
With three losses in the first week, Takakeisho has virtually no chance for promotion to sumo's highest rank after the Spring Grand Sumo Tournament.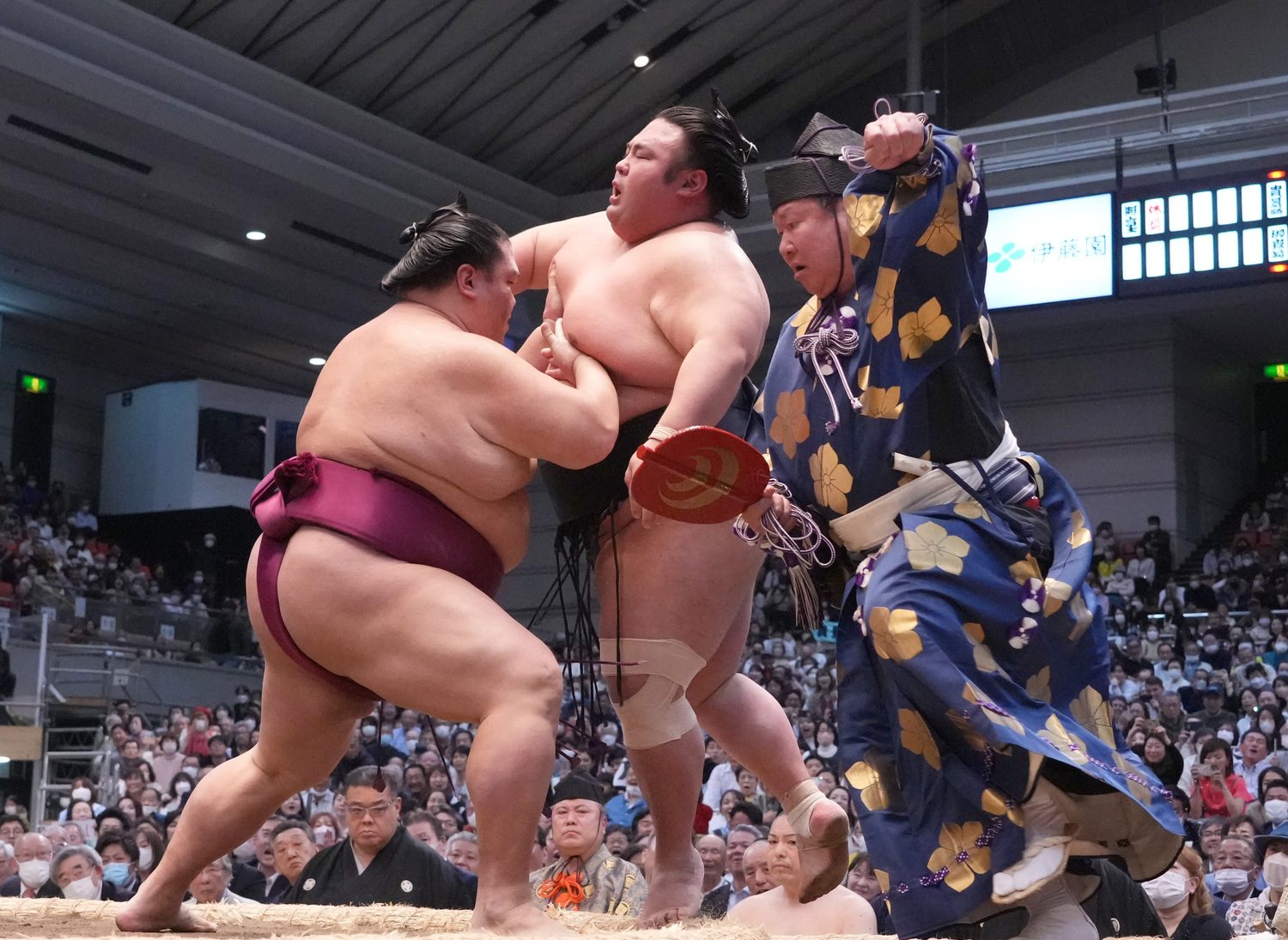 Mitakeumi shoved out Takakeisho on Friday, March 17, all but dashing the ozeki's hopes of earning promotion to yokozuna at the Spring Grand Sumo Tournament.
Former ozeki Mitakeumi (3-3) got into an exchange of arm thrusts with Takakeisho before surging forward and sending his opponent out to his third loss against three wins.
Hobbled by a wonky knee and a sore ankle, Takakeisho just hadn't been able to fight his brand of sumo in this tournament and after three losses has virtually no chance of earning promotion.
The two grapplers headed into Friday's bout with 12 wins apiece in their previous head-to-head matches.
Takakeisho won his third career championship at the New Year Basho in January.
An Opportunity Slips Away for Takakeisho
A fourth title in this tournament would have put him in a very good position to be promoted to sumo's highest rank along with yokozuna Terunofuji, who is sitting it out due to a knee injury.
Sumo hasn't had a Japanese grand champion since Kisenosato retired in 2019.
As much as sumo officials would like a new Japanese yokozuna, they probably want to avoid a situation similar to that of Kisenosato's brief time at the top.
After he was promoted, the oft-injured Kisenosato won just one tournament at the sport's highest rank. A yokozuna is expected to dominate, but that certainly wasn't the case with Kisenosato.
Terunofuji's future remains very much in doubt. Sumo needs a new grand champion, but is Takakeisho the right man for the job?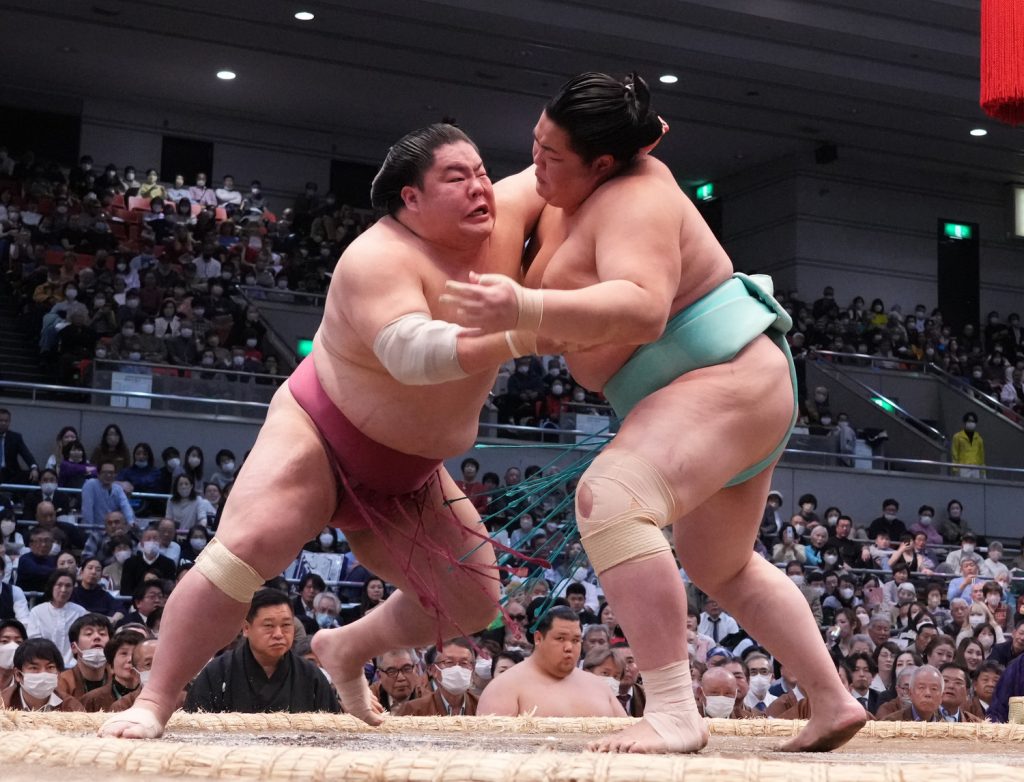 Title Chase Heats Up
Three rank-and-filers share the lead at 6-0.
Daieisho was pushed back to the edge by Kotonowaka but managed to dodge to his side and used a thrust-down technique to send his fellow komusubi out while improving to a perfect 6-0.
It was a frustrating result for Kotonowaka, who did everything right up until the end and dropped to 4-2.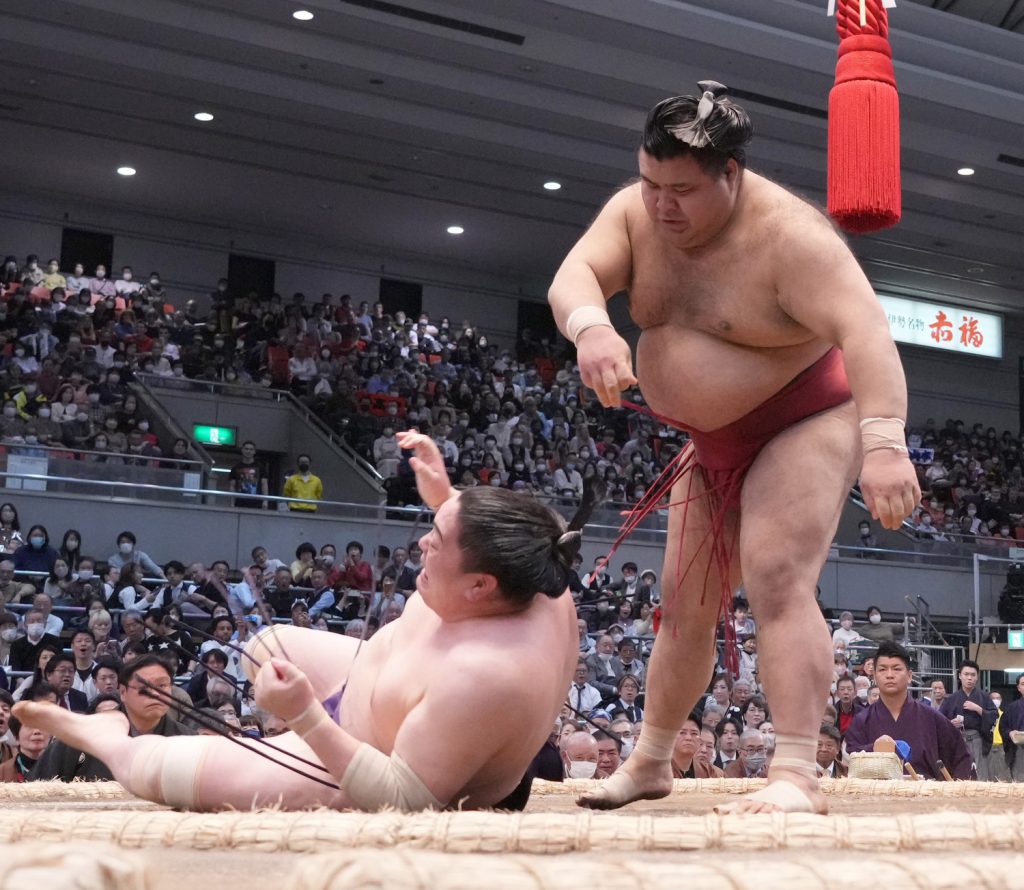 Former ozeki Takayasu, a No. 7 maegashira, deployed a superb arm throw at the center of the ring to send Ichiyamamoto sprawling to the dirt to maintain his share of the lead at 6-0.
No. 8 maegashira Ichiyamamoto has been struggling mightily in this tournament and dropped to 0-6.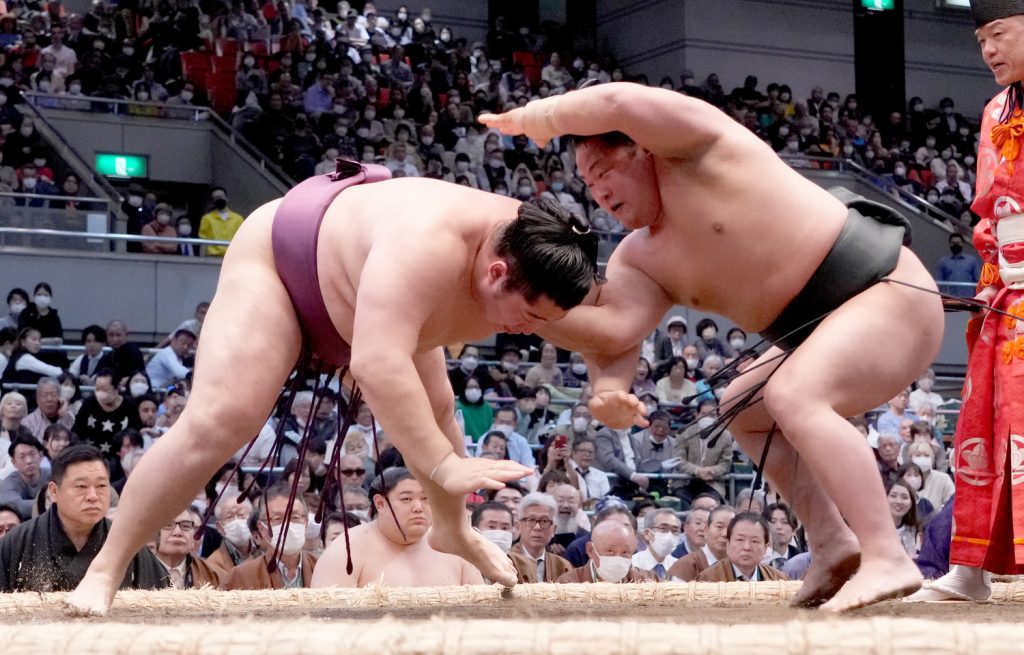 Fifth-ranked maegashira Midorifuji used an under-shoulder swing down to defeat No. 6 maegashira Endo and stay tied for the lead. Endo fell to 4-2.
Aoiyama Overpowers Nishikifuji
Bulgarian giant Aoiyama took advantage of his considerable size advantage to knock Nishikifuji out of the lead with a force-out victory.
No. 9 maegashira Aoiyama improved to 4-2 while 10th-ranked Nishikifuji fell to 5-1.
No. 2 maegashira Abi stayed in the thick of things when he swatted down winless fifth-ranked maegashira Kotoshoho to join the three wrestlers at 5-1.
Further down the ranks, No. 13 Kotoeko unleashed a perfect beltless arm throw to dispatch No. 14 Kinbozan to stay one win off the pace at 5-1.
Kinbozan, the first wrestler in the elite division from Kazakhstan, dropped to 4-2.
Sekiwake Wakatakakage finally got in the win column when he got his left arm under the arm of Ryuden and forced the No. 2 maegashira out to give both men a record of 1-5.

Author: Jim Armstrong
The author is a longtime journalist who has covered sports in Japan for over 25 years. You can find his articles on SportsLook.