Abi Takes Down Takakeisho to Damage the Ozeki's Promotion Hopes
With two losses already, ozeki grappler Takakeisho finds himself with his back to the wall in the 15-day Spring Basho in Osaka.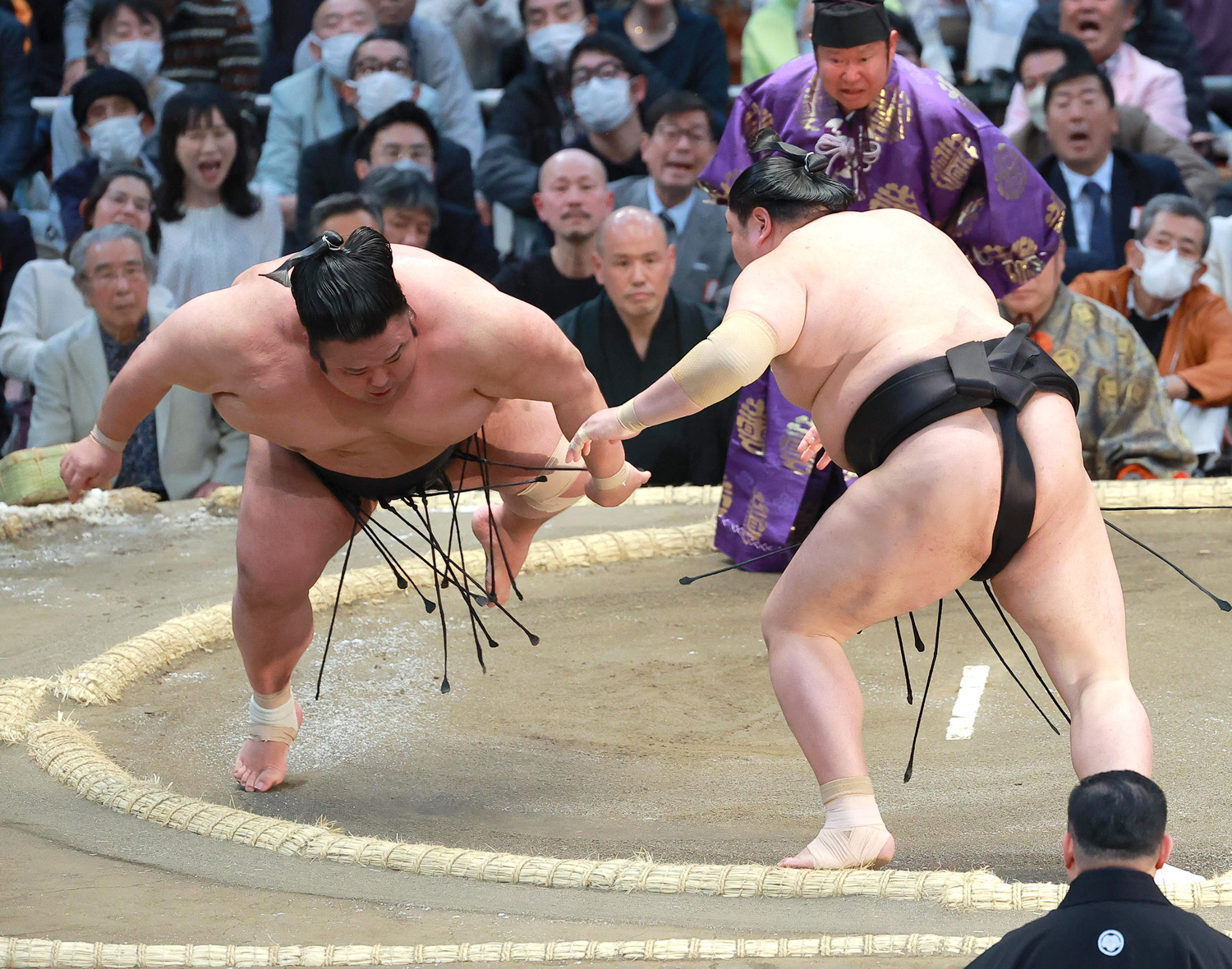 Rank-and-filer Abi defeated Takakeisho on Wednesday, March 15, dealing a serious blow to the ozeki's yokozuna promotion hopes at the Spring Grand Sumo Tournament.
In the day's final bout at Osaka Prefectural Gymnasium, No. 2 maegashira Abi (3-1) dodged slightly to his side after the initial face-off and then swatted down Takakeisho, who dropped to 2-2.
It was a tough loss for Takakeisho, who seems to be favoring his right ankle. To earn promotion after the 15-day meet he would need a record of 13-2 or 12-3. Any more than three losses would probably not cut it.
He is now faced with the gargantuan task of winning just about all of his remaining bouts on a wonky ankle.
Meanwhile, five rank-and-file wrestlers, including Daieisho, are currently tied for the lead at 4-0.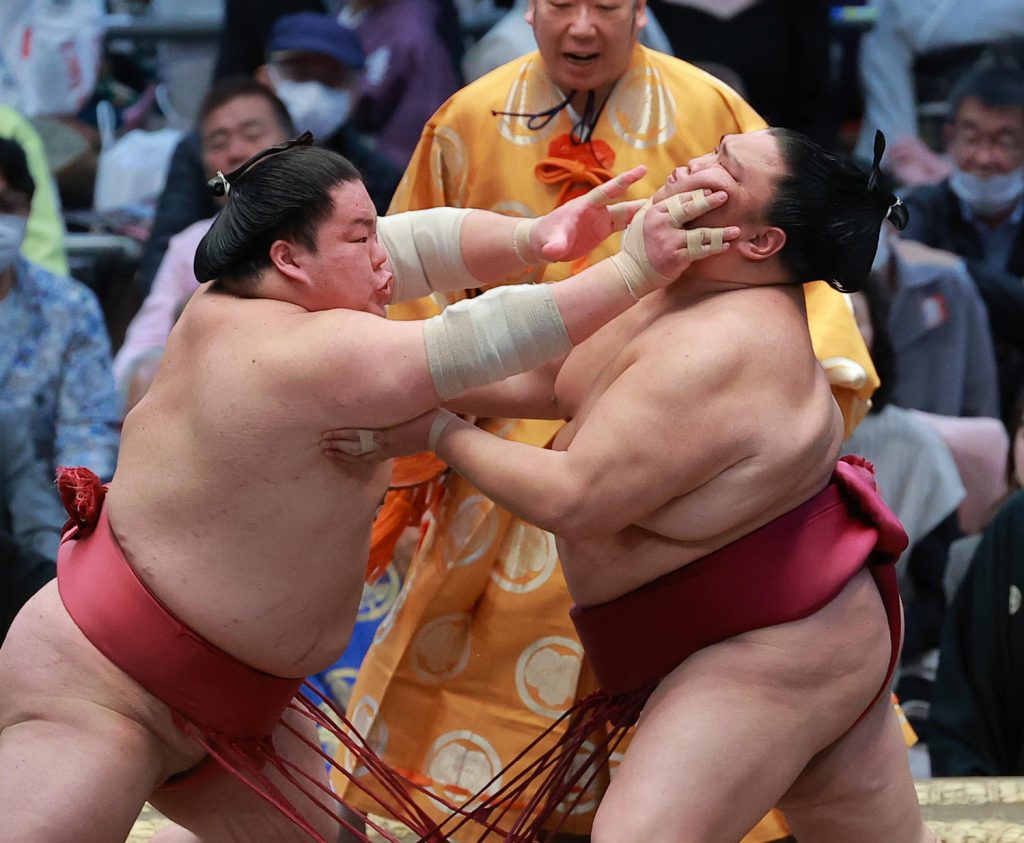 In a battle of heavyweights, komusubi Daieisho used a frontal thrust-out to stay undefeated after a hard-fought victory over No. 3 maegashira Mitakeumi (1-3).
For Daieisho, this is the first time he has gone 4-0 to start a tournament since January 2021, when he won the New Year Basho.
Kiribayama Conquers Wakamotoharu
In other major bouts, sekiwake Kiribayama dodged to his side after being pushed back at the face-off and used a rear push-out to defeat komusubi Wakamotoharu and improve to 3-1.
Wakamotoharu lost his second straight bout and dropped to 2-2.
In a showdown of Mongolians, sekiwake Hoshoryu pushed out 38-year-old veteran Tamawashi to win for the second straight day and improve to 2-2.
Top maegashira Tamawashi, who lost to Takakeisho on Day 2, fell to 1-3.
Top maegashira Shodai (3-1) bounced back from the previous day's loss to Takakeisho, using a powerful pushing attack to dispatch struggling sekiwake Wakatakakage.
Shodai has looked impressive in this tournament now that he doesn't have to worry about maintaining his former ozeki rank. At the other end of the spectrum, Wakatakakage has had a nightmare first week and dropped to 0-4.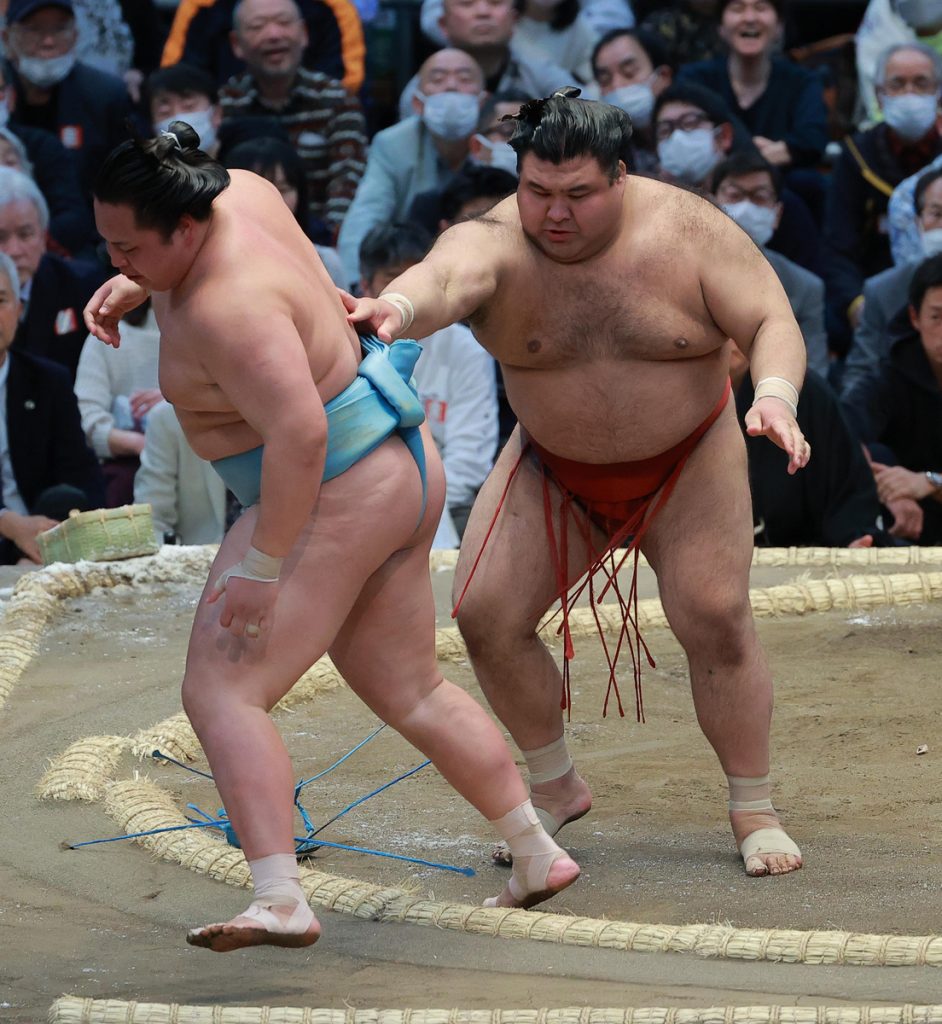 Takayasu Still Unbeaten
Former ozeki Takayasu, fighting as a No. 7 maegashira, got an inside position on Kotoshoho and used a barrage of arm thrusts to send the No. 5 maegashira out while improving to 4-0.
Kotoshoho, who went 11-4 in the New Year tournament and was in contention until the end, has had a rough start to this basho and dropped to 0-4.
Fifth-ranked maegashira Midorifuji also stayed in the pack of leaders when he overpowered winless No. 7 maegashira Hokutofuji with a frontal force-out.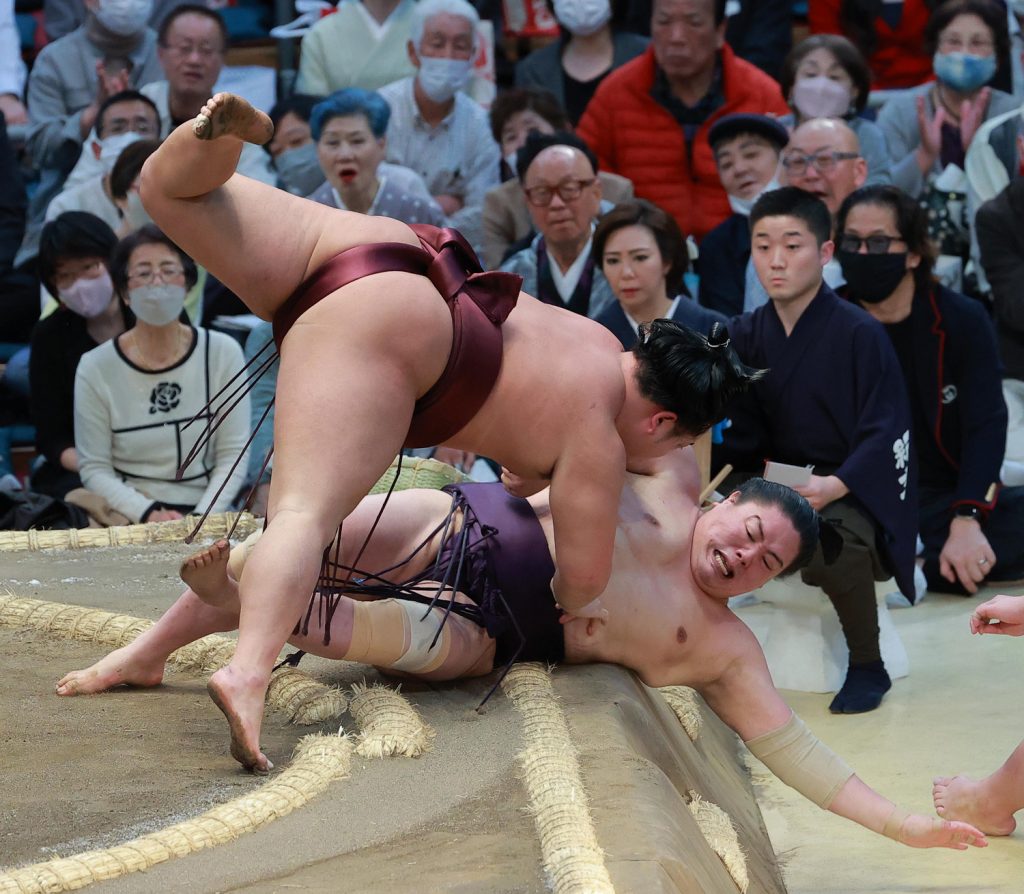 No. 10 maegashira Nishikifuji is also on top at 4-0 after he deployed a frontal crush-out to send winless eighth-ranked Ichiyamamoto toppling off the raised ring.
Ryuden caught sumo's Flying Monkey flat-footed at the face-off and utilized a well-timed shoulder throw to send Tobizaru sprawling to the dirt surface.
No. 2 maegashira Ryuden picked up his first win and improved to 1-3. Tobizaru was handed his first loss and dropped to 3-1.
Hokuseiho Triumphs Again
Further down the ranks, top division rookie Hokuseiho improved to a perfect 4-0 when he forced out fellow rank-and-filer Mitoryu, who remained winless.
Another makuuchi division debutante, Kinbozan, unleashed a powerful right-handed thrust to the chin to send Takarafuji out immediately after the face-off.
Kinbozan, the first wrestler in the elite division from Kazakhstan, improved to 3-1. Takarafuji fell to 1-3.

Author: Jim Armstrong
The author is a longtime journalist who has covered sports in Japan for over 25 years. You can find his articles on SportsLook.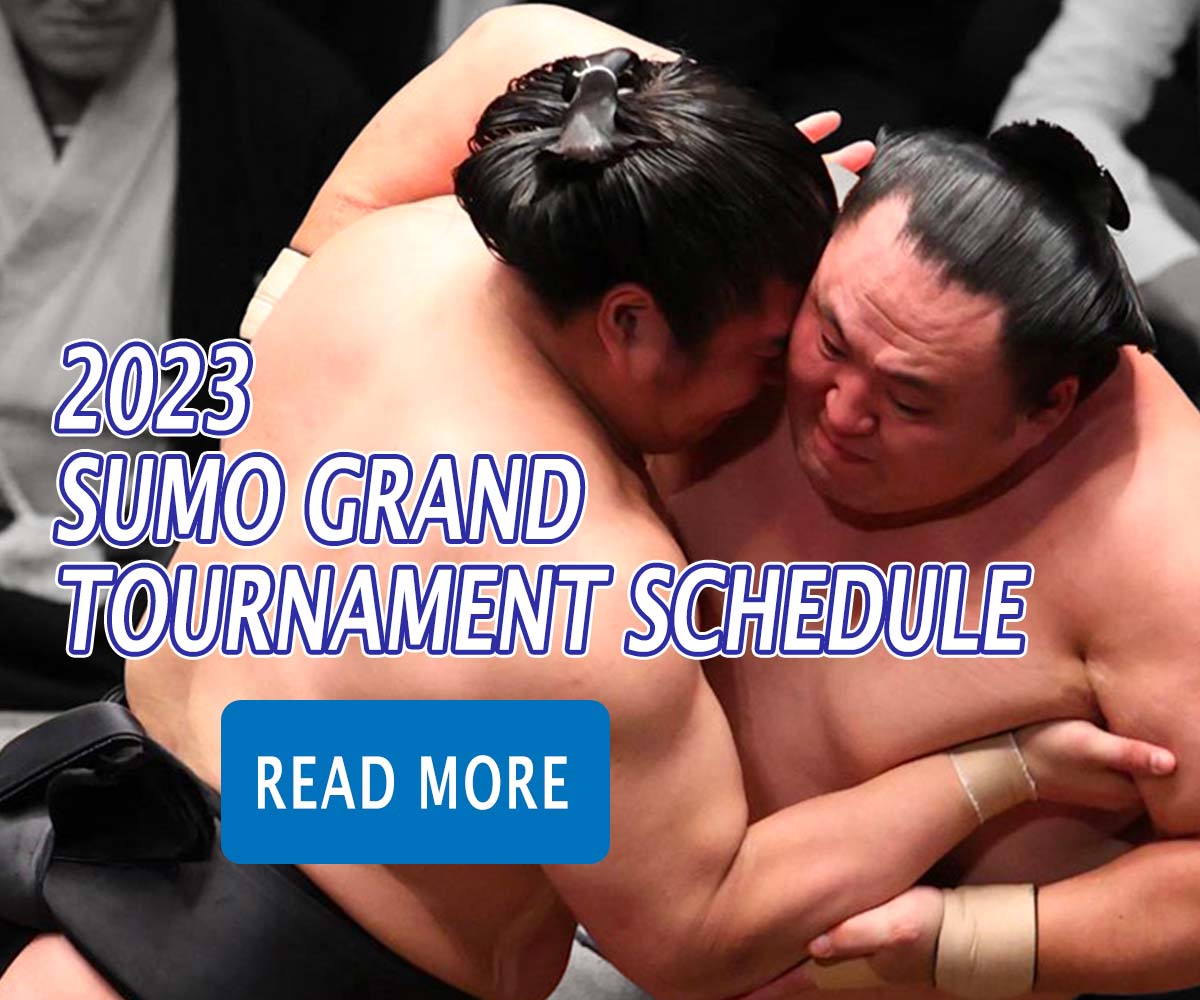 Subscribe to Our Newsletter