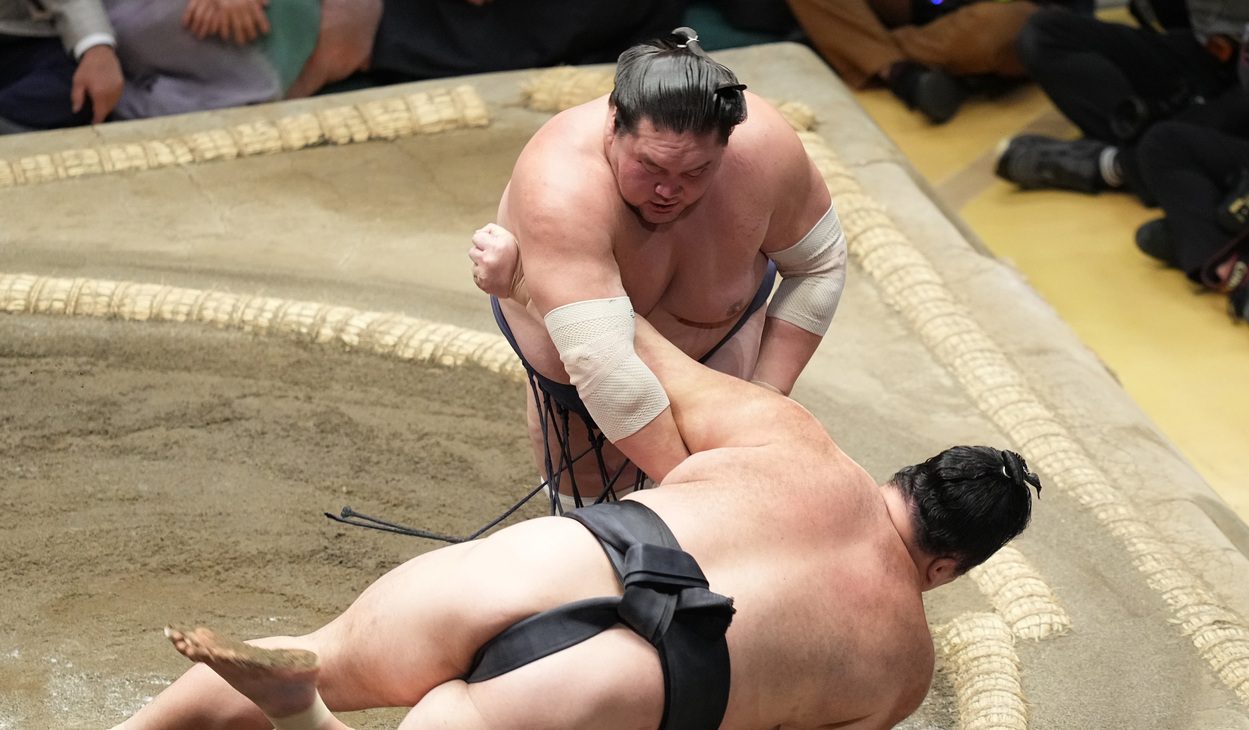 Lone grand champion Terunofuji used a perfectly timed arm throw to defeat Asanoyama on Friday, May 26 to stay in sole possession of the lead with just two days left in the Summer Grand Sumo Tournament.
No. 14 maegashira Asanoyama pushed Terunofuji back to the edge in the day's final bout at Ryogoku Kokugikan, but the veteran yokozuna calmly pivoted with his feet while using a textbook kotenage arm-lock throw.
With the clutch victory, Terunofuji improved to 12-1 and took a major step to securing his eighth Emperor's Cup. (He won his most recent title in May 2022.)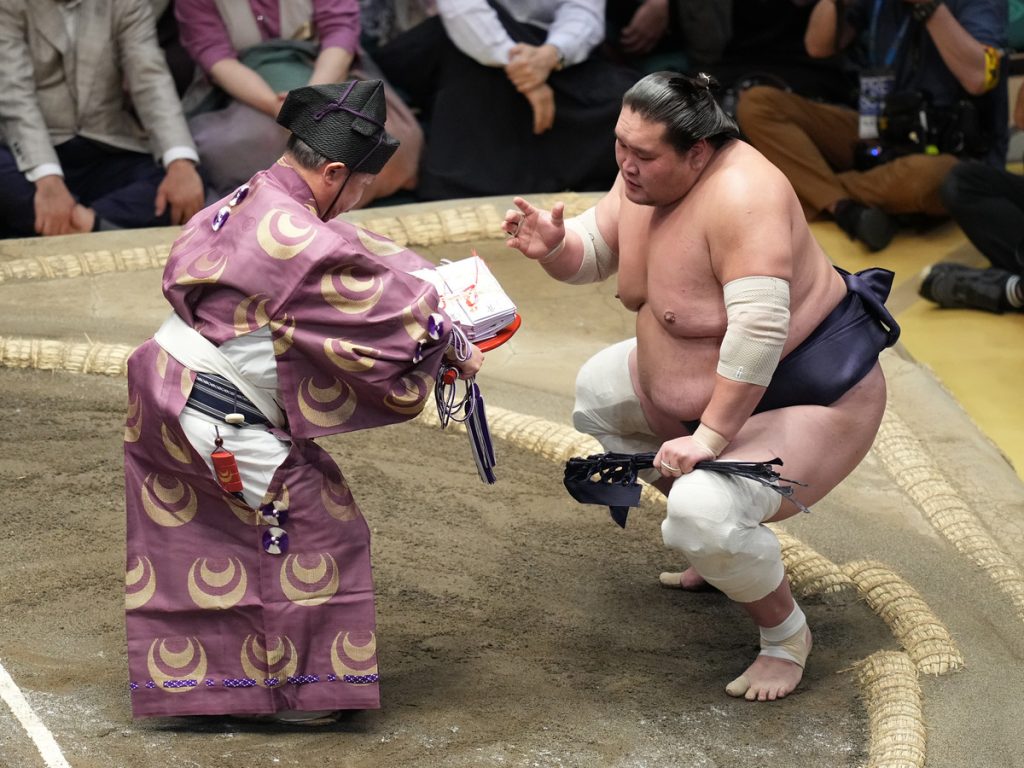 After his hard-fought win over Wakamotoharu on the previous day, there was some concern about the condition of Terunofuji's knees. But he looked fine against the former ozeki.
Asanoyama, who was 0-5 against Terunofuji going into Friday's bout, dropped to 10-3 and saw his title hopes all but dashed.
Sekiwake Kiribayama used a well-timed leg trip to topple Hokuseiho to improve to 11-2 and further make his case for promotion to ozeki while staying in contention for the title.
Kiribayama overcame a 42-kilogram weight difference to defeat the giant No. 11 maegashira, who dropped to 8-5.
On Day 14, Kiribayama will take on Terunofuji. A win by Terunofuji would make him champion once again.


Takakeisho Triumphs over Meisei
In other major bouts, it was desperate times calling for desperate measures in the day's penultimate bout when Takakeisho dodged to his left at the face-off and swatted Meisei down to pick up his all-important eighth win against five losses.
Takakeisho needed a minimum of eight wins to maintain his ozeki status for the next tournament and he got it with a move at the face-off that some in sumo frown upon, though it is by no means against the rules.
No. 6 maegashira Meisei, who should have seen the move coming, went tumbling off the raised ring and dropped to 8-5.
Sekiwake Wakamotoharu used a straightforward thrust-down to topple rank-and-filer Tsurugisho and give both wrestlers a record of 9-4.
Mongolian sekiwake Hoshoryu was all business when he got a right-hand grip on the belt of Hiradoumi and shoved him out near the edge to pick up his ninth win against four losses. No. 9 maegashira Hiradoumi dropped to 7-6.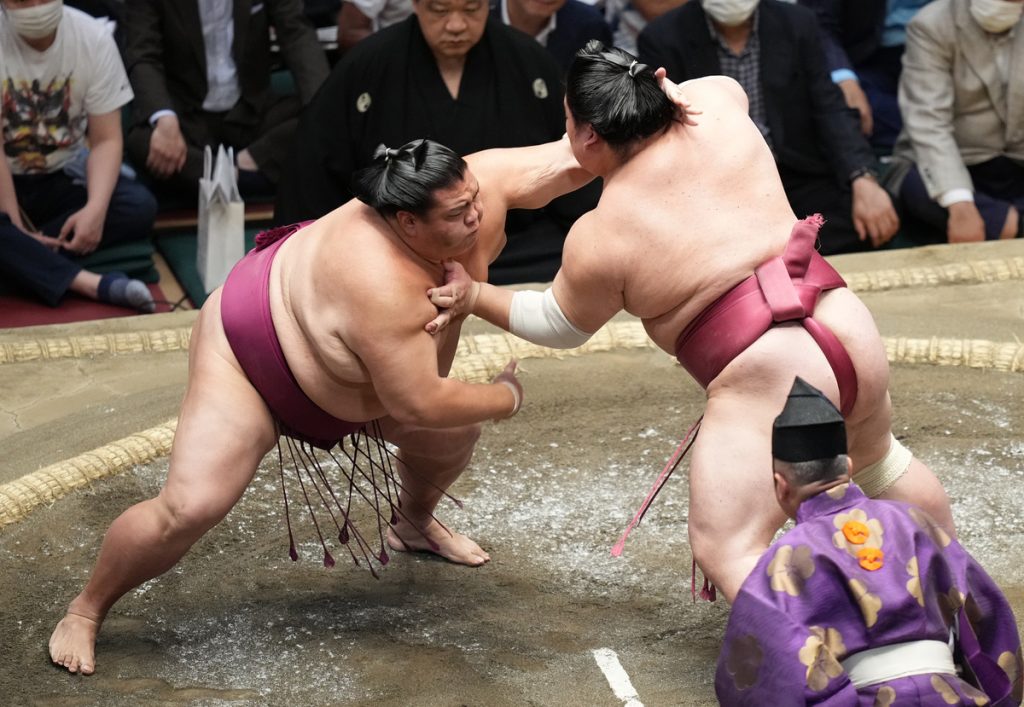 Mitakeumi Secures Winning Record
No. 6 maegashira Mitakeumi (8-5) wrapped up an all-important winning record when he used a frontal crush-out to send sekiwake Daieisho (8-5) toppling off the raised ring.
With the loss, Daieisho's bid for promotion to ozeki took a big hit. He needed to get 11 or 12 wins and contend for the title and neither of those scenarios is going to occur now.
Further down the ranks, No. 16 maegashira Oho spun Bulgarian giant Aoiyama around and shoved him out from behind to improve to 9-4. No. 12 maegashira Aoiyama dropped to 4-9.
RELATED:

Author: Jim Armstrong
The author is a longtime journalist who has covered sports in Japan for over 25 years. You can find his articles on SportsLook.