Grand champion Terunofuji made sure there was no upset this time.
The lone yokozuna deployed a textbook leg kick on Thursday, November 25 to upend sekiwake Meisei and stay in sole possession of the lead with a perfect 12-0 record at the Kyushu Grand Sumo Tournament.
Meisei was one of only two wrestlers who upset Terunofuji in the September tournament when the Mongolian made his debut at the sport's highest rank.
But there was no upset this time. Meisei pushed Terunofuji a few steps back after the face-off but Terunofuji used the leg kick combined with an arm throw to send Meisei tumbling down to a record of 5-7.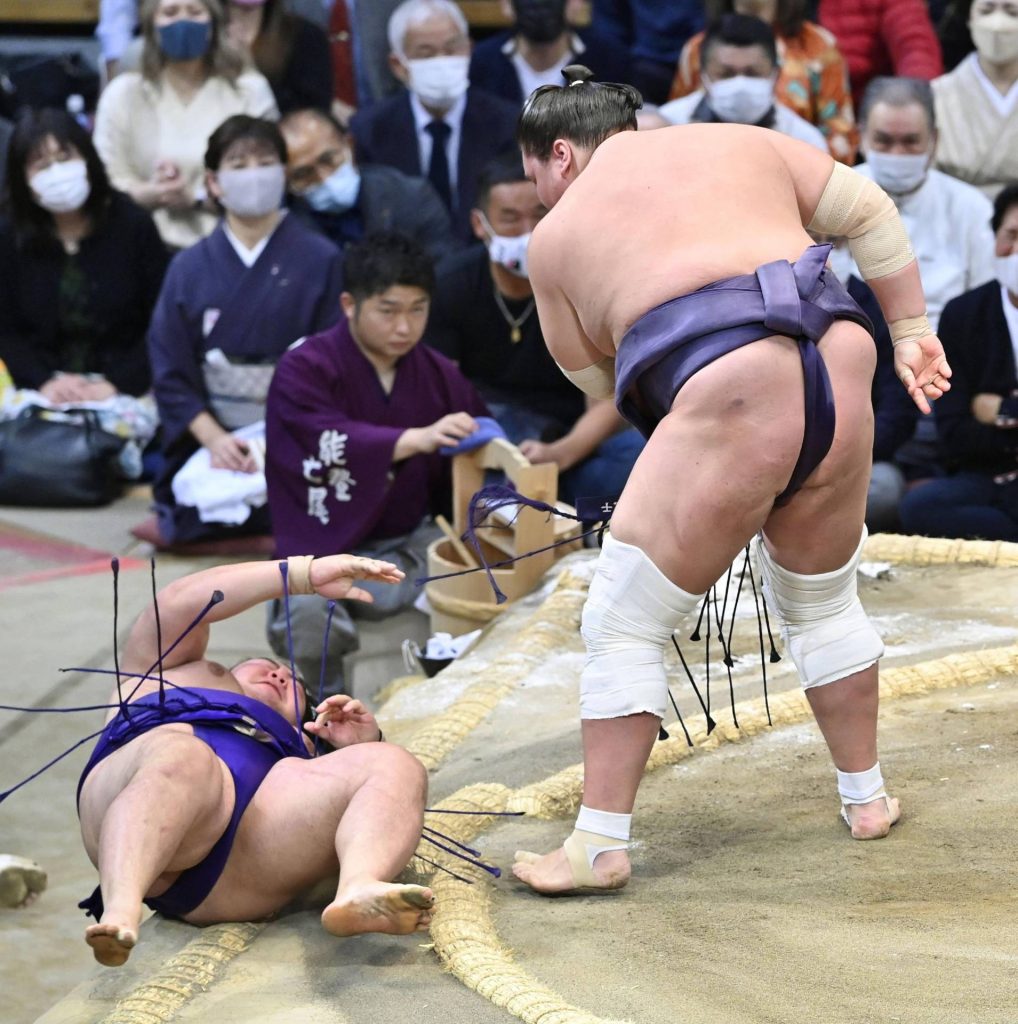 With three days left in the 15-day basho at Fukuoka Kokusai Center, Terunofuji has a one-win lead over ozeki Takakeisho and rank-and-filer Abi, who face each other on Day 13 when Terunofuji will take on sekiwake Mitakeumi.
In the day's penultimate bout, Takakeisho used his trademark arm thrusts to send Takayasu toppling off the raised ring while staying one win off the pace at 11-1.
No. 5 maegashira Takayasu used a few slaps to the face of his opponent and paid a dear price for it while falling to 5-7.
In a showdown of two wrestlers in contention, No. 15 maegashira Abi was shoved back at the face-off by Tamawashi but recovered nicely with a series of arm thrusts to the neck to shove his opponent out and improve to 11-1.
Tamawashi, a No. 6 maegashira from Mongolia, dropped to 9-3.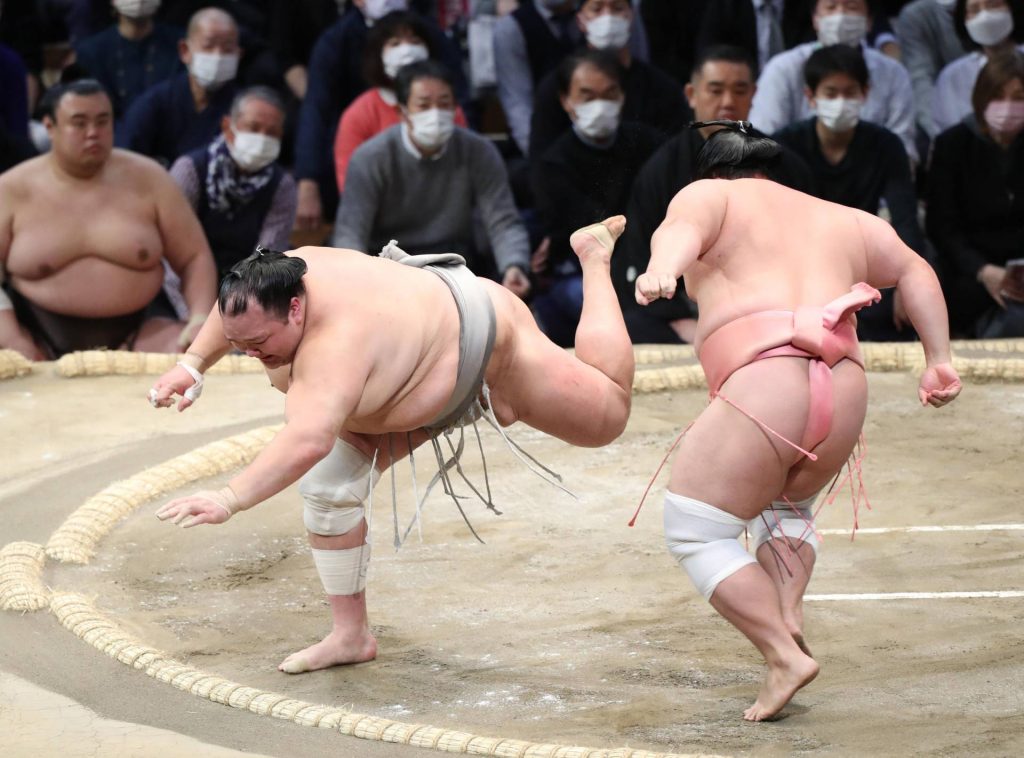 No. 7 maegashira Ura defeated Hokutofuji when he grabbed the arm of his opponent and yanked the No. 12 maegashira down to give both wrestlers a record of 9-3.
Sekiwake Mitakeumi also fell into the group of wrestlers with three losses when he was defeated by fourth-ranked maegashira Endo.
Endo (6-6) came in low at the face-off, forced Mitakeumi back to the edge and heaved his opponent out after getting a right-hand grip on the belt.
Ozeki Shodai wrapped up an all-important winning record when he overpowered Kiribayama to improve to 8-4. After thrusting Kiribayama back at the face-off, Shodai got his left arm under the right arm of the Mongolian komusubi and lifted him over the straw ridge.
There will be no winning record for Kiribayama, who dropped to 4-8.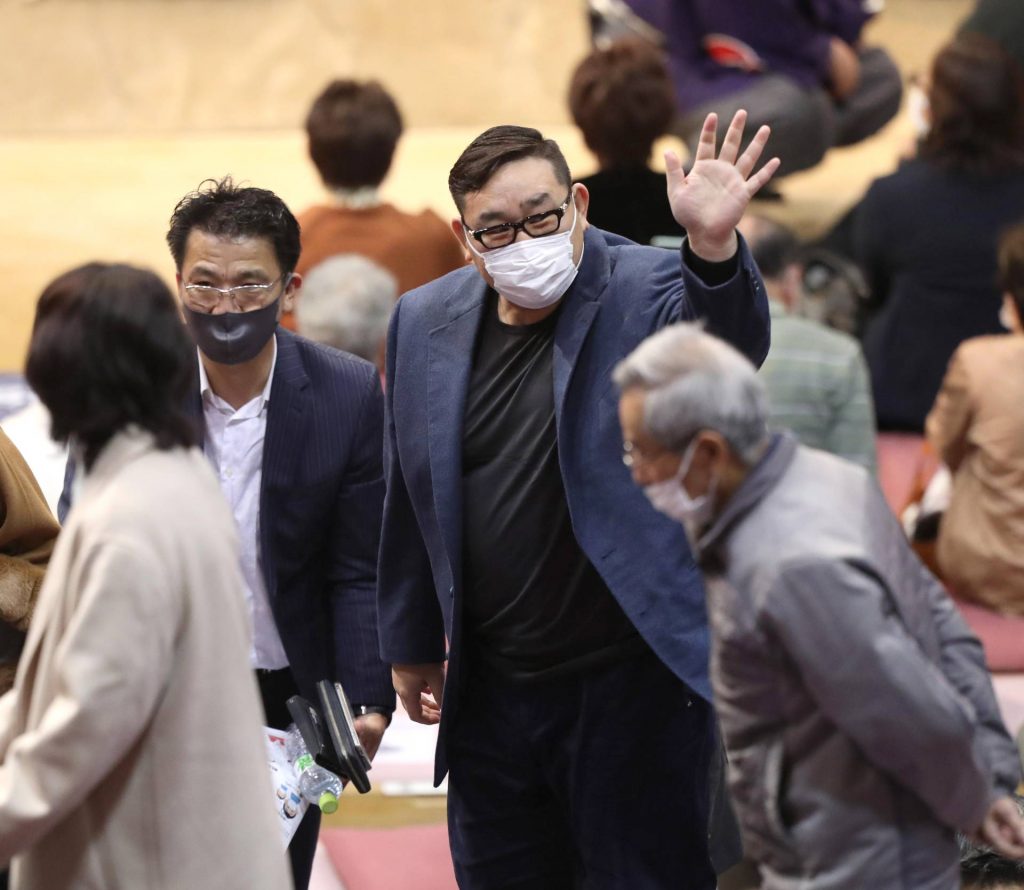 Top maegashira Daieisho toppled Mongolian and fifth-ranked maegashira Hoshoryu to give both wrestlers a record of 5-7.
Hoshoryu's uncle Asashoryu, the 68th yokozuna, was in attendance on Thursday to take in his nephew's match.
A winner of 25 championships, Asashoryu retired from sumo in 2010 and has since gone on to a successful career in business and politics in his native Mongolia.
In a long bout that lasted 2 minutes, 28 seconds, Mongolian behemoth Ichinojo outlasted Takarafuji when he shoved out his opponent to improve to 5-7.
Komusubi Ichinojo, who is the heaviest wrestler in the elite makuuchi division at 206 kilograms, was just too heavy for No. 4 maegashira Takarafuji, who dropped to 4-8.
Top maegashira Wakatakakage also avoided a losing record when he forced out Myogiryu to improve to 5-7. It's been a disappointing tournament for third-ranked maegashira Myogiryu, who dropped to an unflattering 2-10.

Three Stars
First Star: Terunofuji. Thursday's win was a big one for the big yokozuna. Meisei defeated Terunofuji in the last basho, and the Mongolian grappler is now in prime position to claim his second straight Emperor's Cup at sumo's higher rank.
Second Star. Endo. The fourth-ranked maegashira played spoiler when he all but dashed any hope Mitakeumi had of contending for the title. Endo was in control from the outset when he first got a left-hand grip on the belt then switched to a right-hand grip to finish off his opponent.
Third Star: Shodai. After struggling earlier in the tournament, Shodai has put together some clutch wins heading down the stretch to ensure he will at least have a winning record or perhaps better.


Author: Jim Armstrong
The author is a longtime journalist who has covered sports in Japan for more than 25 years. You can find his articles here, on JAPAN Forward.