Win Marilyn Outclasses Field to Win the Hong Kong Vase
With Damian Lane controlling the reins, Win Marilyn becomes the first mare to win the prestigious race at Sha Tin Racecourse since Daryakana in 2009.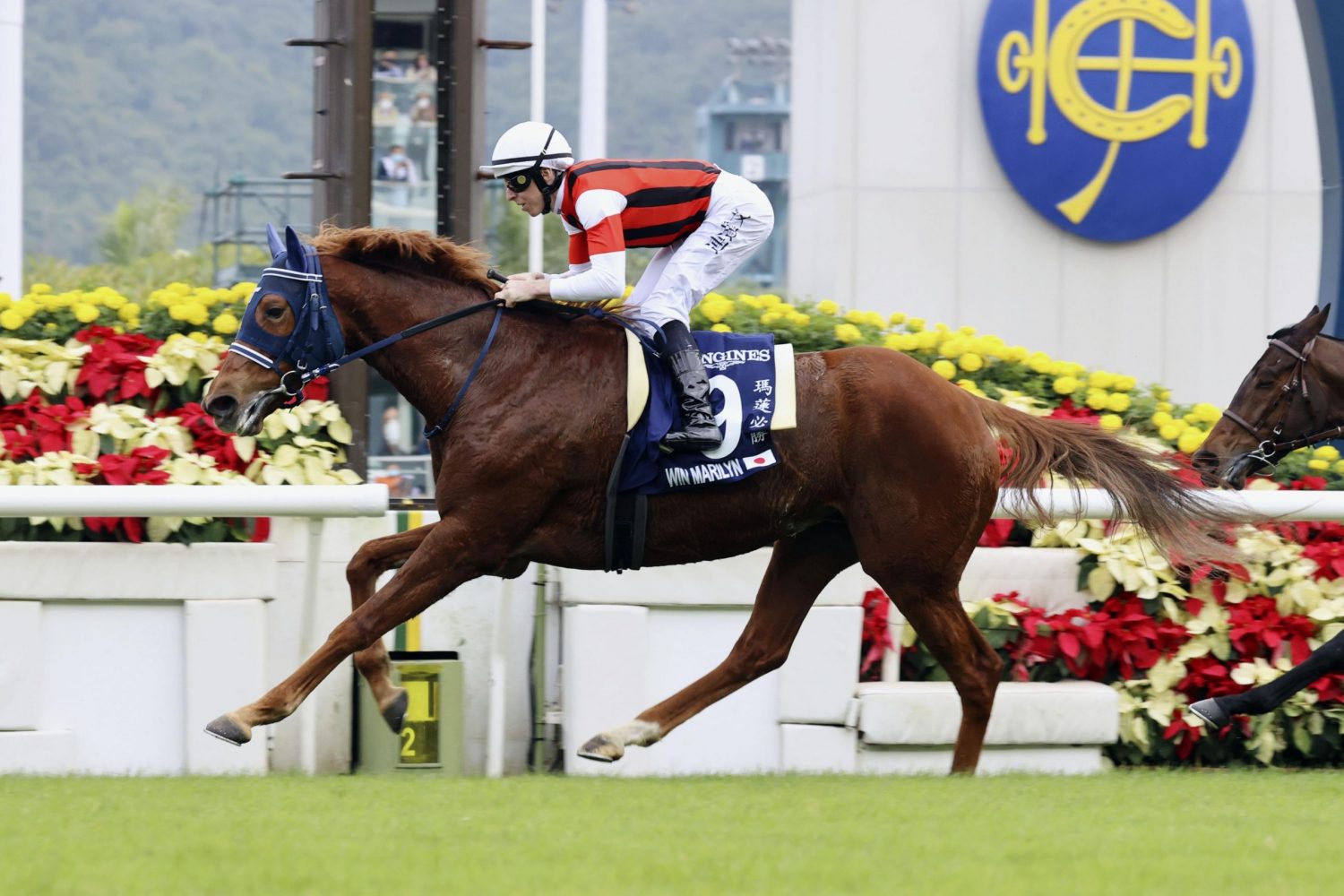 Win Marilyn triumphed in the 2,400-meter Hong Kong Vase, producing the high note for Japan's large horse racing delegation at Sha Tin Racecourse on Sunday, December 11.
Australian jockey Damian Lane guided Win Marilyn to victory. And in doing so his ride became the first female winner of the race since Daryakana in 2009.
Five-year-old Win Marilyn, sired by Screen Hero and foaled by Cosmo Cielo, completed the race in 2 minutes, 27.53 seconds.
Jockey William Buick's ride Botanik secured the runner-up spot, 1½ lengths behind Win Marilyn. Deep Impact-sired Glory Vase (trained by Tomohito Ozeki, piloted by Brazilian Joao Moreira) finished third.
Japan dispatched a 14-horse delegation to the prestigious Hong Kong International Races, a quartet of high-profile races. What's more, 11 Japanese trainers saddled up their rides on this busy day.
After the big win in the Hong Kong Vase, trainer Takahisa Tezuka spoke about his management of Win Marilyn, who finished in a dead heat with Lilac for second place behind Geraldina in the Queen Elizabeth II Cup on November 13 at Hanshin Racecourse in Takarazuka, Hyogo Prefecture.
"After the Queen Elizabeth II Cup, we got together and unanimously decided to target this race," Tezuka told reporters, "The mare was at her optimum trip and Damian gave her the perfect ride. It's my first winner here and I'm incredibly proud."

Tezuka also expressed pride in being a part of the festive celebration of racing in Hong Kong.
"This is my first trip to Hong Kong and I am very honored to be with one of the horses representing Japan," Tezuka said, according to the Hong Kong Jockey Club. "I am very glad to be here."
Speed Secures Win Marilyn's Victory
A burst of speed on the outside was pivotal for Win Marilyn down the back stretch, according to Lane, who cited that quality in her from a previous race.
Looking back on the Queen Elizabeth II Cup, Lane noted that Win Marilyn "showed such a good turn of foot in the [race] when I thought the horse that beat us was something special."

Lane, a first-time winner in the Hong Kong International Races, expressed pride in what he accomplished on Sunday, saying, "I'm proud to be a part of Japanese racing and getting on good horses like her."
Danon the Kid Places Second in Hong Kong Cup
In the Hong Kong Cup, Romantic Warrior (James McDonald) earned a 4½-length victory over Japanese runner-up Danon the Kid in the 2,000-meter race. The winning time: 1:59.70.
Yuichi Kitamura rode Danon the Kid, one of five Japanese thoroughbreds in the 12-horse field.
Geoglyph (Buick) finished sixth, Jack d'Or (Yutaka Take) placed seventh, Lei Papale (Moreira) was ninth and Panthalassa (Yutaka Yoshida) 10th.
Reflecting on the race, Kitamura told reporters that Danon the Kid wasn't at ease before the gates burst open.
"Because of the different surroundings from Japan, he wasn't relaxed a bit after starting from the gate," Kitamura commented. "But when the pace picked up I still focused on keeping his good rhythm and he unleashed his power between the horses in front like he did in the Mile Championship last time."

Kitamura was referring to Danon the Kid's runner-up finish on November 20 at Hanshin Racecourse.
Yoshida had this to say after riding Panthalassa: "He started slower than expected. I thought he would grab the bit at the first turn but he didn't. The pace was slow and he didn't respond."
Close Finish in Hong Kong Mile
Racing fans witnessed California Spangle edging Golden Sixty (Chak Yiu Ho) by a neck's length in the Hong Kong Mile.

Danon Scorpion placed sixth, the top finisher among Japan's two entrants. Christophe Lemaire, a top star on the Japan Racing Association circuit, and Schnell Meister finished last in the nine-horse race.
Salios, trainer Noriyuki Hori's entrant, withdrew due to being lame in the left front leg, racing officials announced on the previous day.
Moore, Lemaire, Finish 1-2 in Hong Kong Sprint
Two weeks after a victorious performance in the 42nd Japan Cup aboard Vela Azul, Ryan Moore experienced success in the Hong Kong Sprint.

The British jockey and Gendarme reached the wire in 1:08.76, holding off Lemaire and Sight Success, who set the pace early on, by three-quarters of a length.
Meikei Yell (McDonald), Naran Huleg (Kyosuke Maruta), Gendarme (Lane) and Resistencia (Moreira) placed fifth, 10th, 12th and 13th, respectively.
After a slow pace over the first 1½ furlongs, Moore navigated a path to victory.
"I was able to slot in just worse than midfield," he said, "had a bit of cover and I was able to go when I wanted to go."
Lemaire said of Sight Success, "He traveled sweetly in the lead and held on well, [and] he ran a great race."
How did Maruta size up Naran Huleg's performance?
"He jumped well and traveled with good rhythm until the [middle] stage of the race. But he was struggling to show his late kick," Maruta said.
Liberty Island Wins 74th Hanshin Juvenile Fillies
Race favorite Liberty Island earned a 2½-length victory over Shinryouka in the 74th Hanshin Juvenile Fillies on Sunday at Hanshin Racecourse.
The Duramente-sired filly gave Yuga Kawada his 21st Japan Racing Association Grade 1 victory. Trainer Mitsumasa Nakauchida won his second Hanshin Juvenile Fillies. He won his first with Danon Fantasy in 2018.
Liberty Island, who was clocked in 1:33.1, showcased strong closing speed over the final 200 meters to overtake leader Santee Tesoro (Kazuo Yokoyama), who faded to seventh.
"I am happy that the filly was able to show her performance at its best today," Kawada said after his victorious effort in the 18-horse race (all 2-year-olds).

He continued, "I just let the filly choose the position within the field that she felt comfortable in and concentrated on maintaining the good flow and rhythm during the trip.

"She cruised along smoothly and her response when asked was just as I had imagined. So I was quite confident that she would make it to the finish line."
Kimura Defends Jockey Title in Toronto
Hokkaido-born jockey Kazushi Kimura finished the 2022 racing season at Toronto's Woodbine Racetrack at No. 1 on the jockey wins list (152) for the second straight year.
The season wrapped up on Sunday, with Kimura claiming victories in 15 stakes races (six graded).
Kimura, who received the Sovereign Award as Canada's top jockey in 2021, is gearing up to compete at Santa Anita Park's winter meet, which starts on December 26 in California.
Author: Ed Odeven
Follow Ed on JAPAN Forward's [Japan Sports Notebook] here on Sundays, in [Odds and Evens] here during the week, and Twitter @ed_odeven.