Yokohama B-Corsairs Ascend to the Top of B.League's Central Division
After missing the playoffs last season, the Yokohama B-Corsairs have made significant improvement over the past few months and emerged as a contender.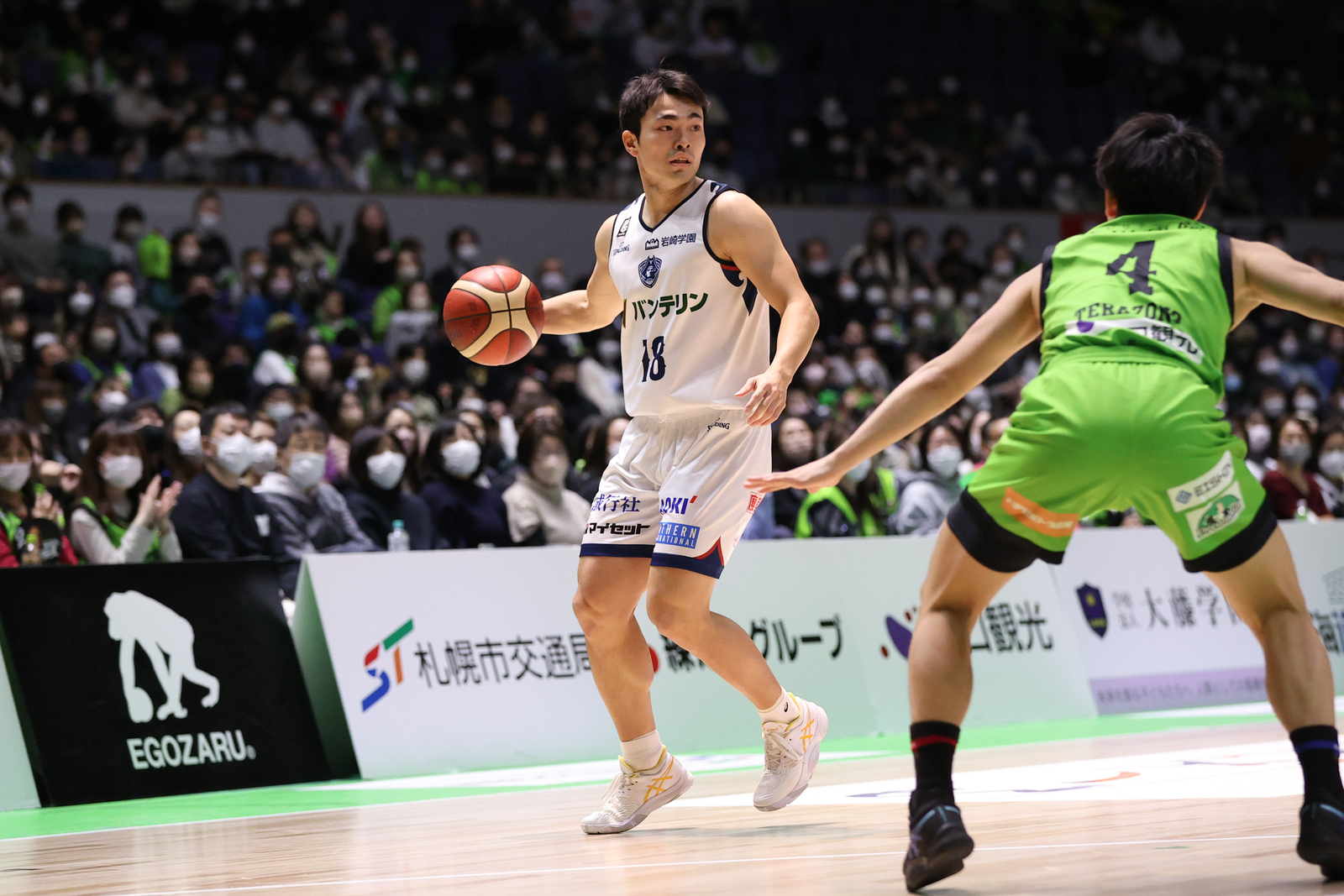 The Yokohama B-Corsairs have made big strides over the past several weeks, winning 10 of their last 12 B.League games.

With four consecutive victories, including three straight on the road, coach Taketo Aoki's club has climbed into first place in the eight-team Central Division.

The B-Corsairs (20-12) now sit one game ahead of the Kawasaki Brave Thunders (19-13) in the standings.

In a busy stretch between January 18 and 22 (three games in five days), Yokohama demonstrated that it has the talent and roster depth to be a playoff contender for the rest of the 60-game season. Kicking off the out-of-town stretch, the B-Corsairs whipped the Niigata Albirex BB 88-75, followed by 98-82 and 99-77 triumphs over the Levanga Hokkaido on back-to-back days on January 21 and 22.

B-Corsairs guard/forward Hiroki Matsuzaki was delighted with the results. But he admitted he was glad the team was returning home to play the Kyoto Hannaryz (12-20) over the weekend of January 28-29. (See the rest of the weekend schedule below.)

"The three away games in a row were really tough," Matsuzaki, who finished with six points and three assists, told reporters in Sapporo on Sunday. "While there were injured players on the team, we were able to fight through while [supporting] each other."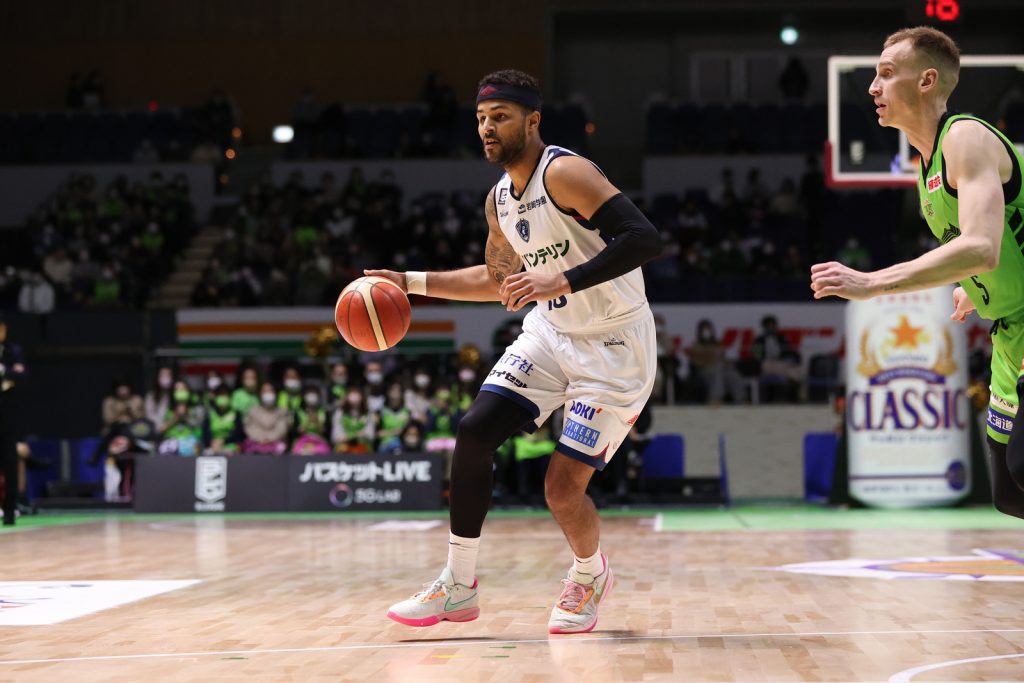 Strong Weekend for the B-Corsairs
In the series finale against the Levanga, Yuki Kawamura scored a team-high 25 points. Forward Devin Oliver, a University of Dayton alum, added 17 points, 10 rebounds and seven assists. Center Charles Jackson chipped in with 16 points and 11 rebounds.
For Yokohama, other key contributors included captain Kenta Morii (seven points, five assists) and Reita Akaho (eight points).

The B-Corsairs led 51-40 at halftime, then made 18 of 29 shots from the floor in the second half and put 48 points on the board in the final two periods to seal the win.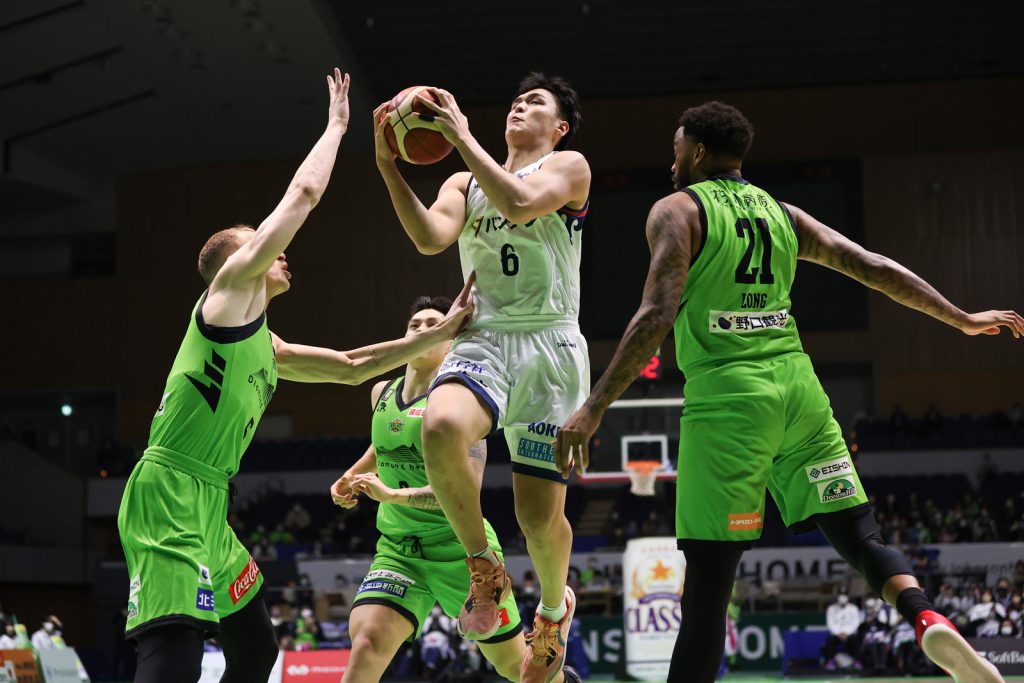 After the game, Aoki, who began his second stint as B-Corsairs coach before the 2021-22 campaign, spoke about his team's growth and how it has responded to various defensive strategies employed by opposing teams.
"In our 32 games so far, we have come across various countermeasures while playing against various teams, such as the opponent's defense changing to a zone in the middle," Aoki told reporters. "Each time, as a team, we repeated trial and error and made corrections until we reached this point.

"That's why, even [against] such a zone, everyone was able to find what they needed to do and make solid shots," added Aoki, who previously coached Yokohama from 2015-17. "I think this is growth."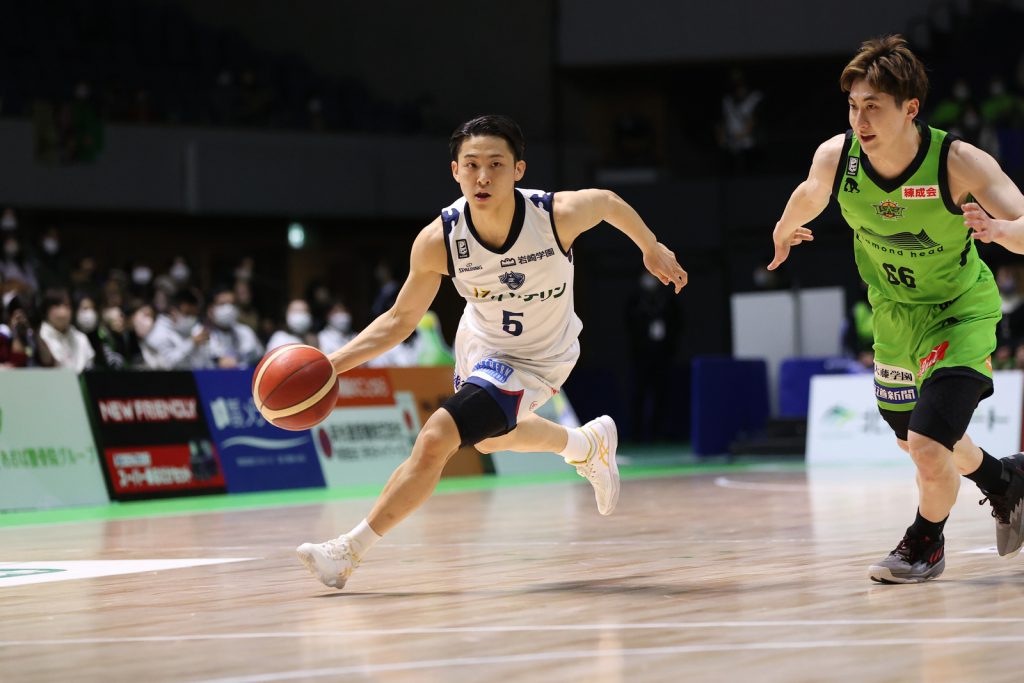 Kawamura Making a Big Impact
Last season, Kawamura appeared in 32 games and made six starts. For a young player, his 10.0 points and 7.5 assists per game were impressive statistics.

This season, the Yamaguchi Prefecture native has been in the starting lineup in all 31 games he's appeared in. It's perhaps the most important coaching decision Aoki has made since the season started in October.

Kawamura is an exceptional talent and more playing time is a key component of his development as a player.

In a nutshell, the aforementioned three road games provided a vivid snapshot of Kawamura's ability to put his stamp on a game. He scored 36 points on 12-for-22 shooting, including 7 of 13 from 3-point range, against Niigata on January 18.

Then he set a career-high scoring total for the second time in less than a week on January 21, converting 12 of 21 shots, including 6 of 11 from beyond the arc, in an electrifying 39-point effort against Hokkaido. It was the highest-scoring performance by a Japanese player in the B.League this season.

Kawamura acknowledged that he's comfortably playing alongside Morii in the B-Corsairs backcourt. He said the two players complement one another.

"Morii has the captaincy, and the strength of defense increases when Morii appears [on the court]," Kawamura told reporters after the series opener against the Levanga.
"Above all, he can establish himself as a scorer. I left the game control to Morii, and I think that kind of thing led to today's [39] points. So I am thankful."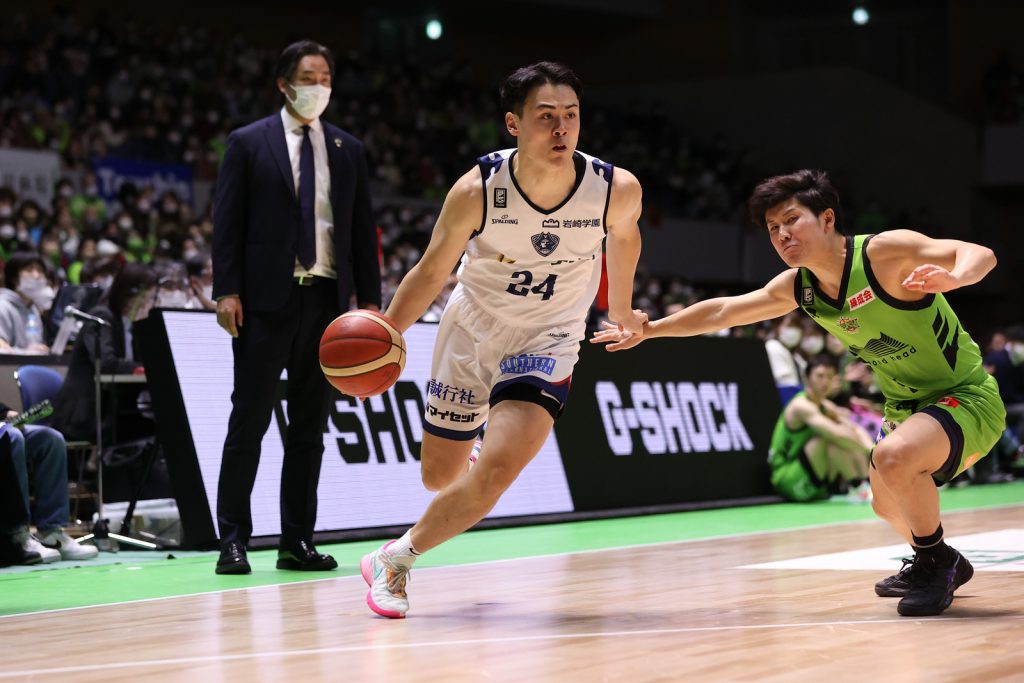 Continuity Pays Off for B-Corsairs
Yokohama has benefited from a relatively healthy roster throughout the season. Ten players have appeared in 26 or more games, including eight who've seen action in 30 or more.

As a result, Aoki's in-game tactics and adjustments have been familiar to the majority of the team's players who regularly compete in games.

There's also apparent dynamism between the coaching staff and the team's front office.
Credit goes to Ken Takeda, who made the rare quantum leap from retired player (a popular B-Corsairs guard and leader on and off the court) to general manager in May 2021, without another job in the interim. Takeda has had a tone-setting presence.
At the time of his retirement at age 42, he said that he wanted to create a positive environment surrounding the team.
"I feel a great responsibility," Takeda said, according to Kohoku Keizai Shimbun. "I will do everything in my power to keep the players and staff smiling."

Takeda replaced Tetsuya Ueda as B-Corsairs general manager and has worked with Aoki to build a competitive team.
Mission accomplished, even if it took nearly a season and a half to see the team's rebuilding efforts come to fruition.

Veteran leaders Oliver and Jackson were among the key offseason signings for the B-Corsairs, who failed to qualify for the playoffs last season with a 22-35 record. Oliver suited up for the Sendai 89ers last season, while Jackson played for the Hiroshima Dragonflies.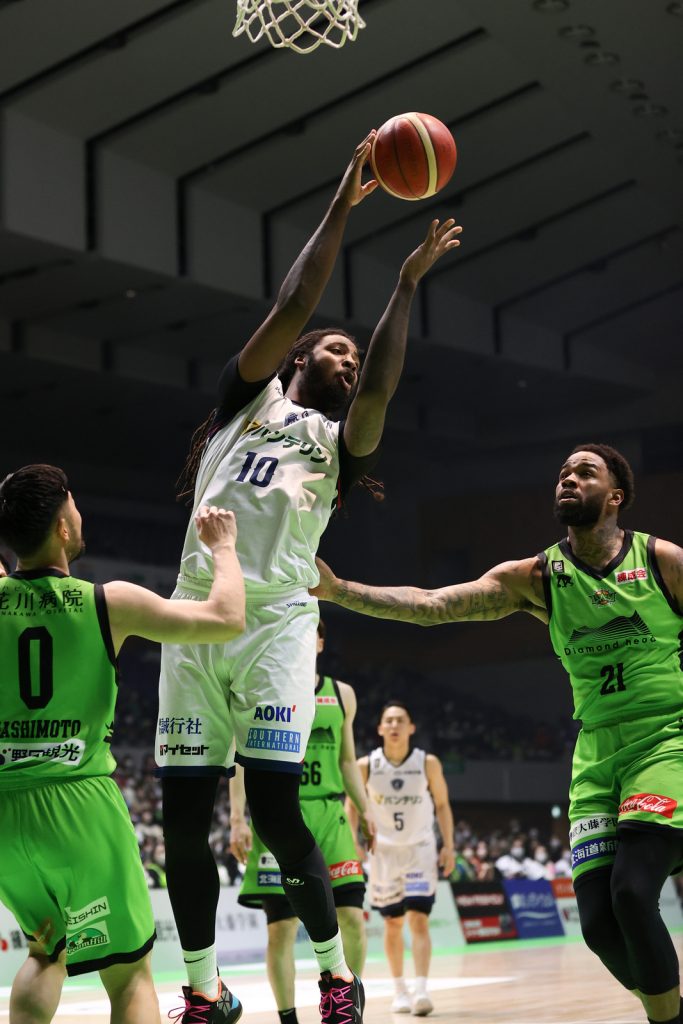 Statistical Highlights
Kawamura, who turns 22 on May 2, leads the B-Corsairs in scoring (18.3 points) and assists (8.8). Jackson is averaging 15.3 points and 9.8 rebounds, while Oliver is contributing 13.1 points, 9.0 rebounds and 3.3 assists per game.

Czech power forward Patrik Auda, who joined the club in 2020, and small forward Masaai Morikawa are averaging 10.1 and 8.0 points, respectively.
Like Kawamura, Morii is a key offensive catalyst (4.7 assists). Kai King (6.5 ppg), Koya Sudo (5.0 ppg) and Akaho (4.0) have also provided sparks for the offense.
The B-Corsairs allowed 81.3 ppg per game last season while averaging 76.5. En route to reaching first place and with 32 games completed, Yokohama has improved its defense (yielding 76.3 ppg) and increased its scoring (81.4 ppg).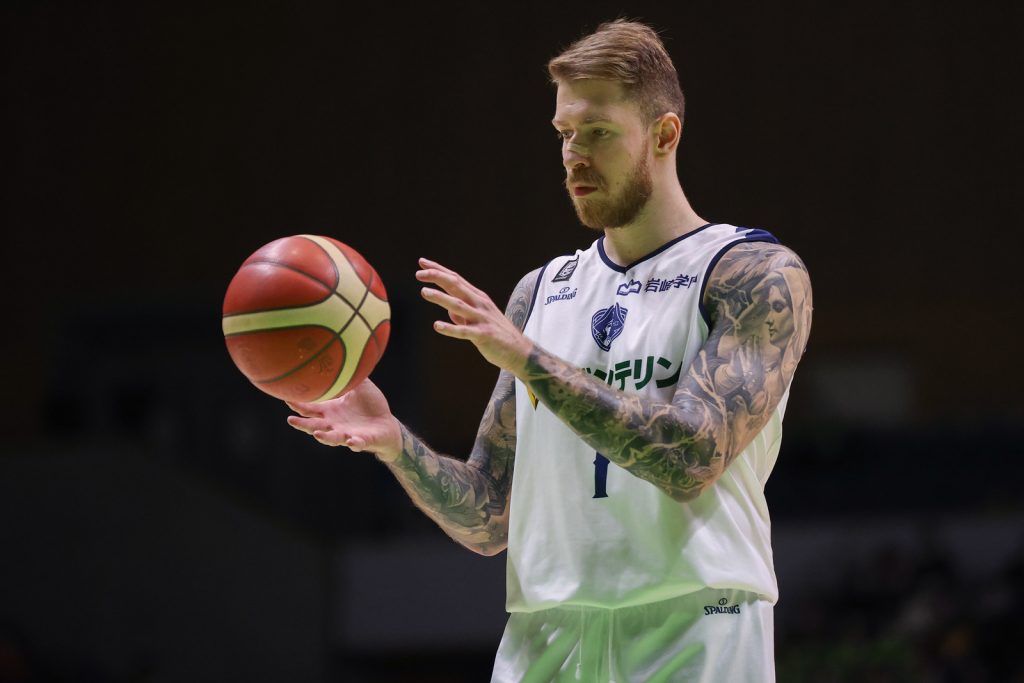 A Look Ahead
For the weekend of January 28-29, the rest of the two-game series matchups are:
Levanga Hokkaido (7-25) vs Kawasaki Brave Thunders (19-13)
Sendai 89ers (9-23) vs Shiga Lakestars (4-28)
Utsunomiya Brex (16-16) vs Hiroshima Dragonflies (25-7)
Alvark Tokyo (26-6) vs Niigata Albirex (5-27)
San-en NeoPhoenix (15-17) vs Shimane Susanoo Magic (25-7)
SeaHorses Mikawa (11-21) vs Ibaraki Robots (10-22)
Fighting Eagles Nagoya (18-14) vs Chiba Jets (28-4)
Nagoya Diamond Dolphins (24-8) vs Shinshu Brave Warriors (16-16)
Osaka Evessa (15-17) vs Sunrockers Shibuya (13-17)
Toyama Grouses (7-25) vs Akita Northern Happinets (16-16)
Gunma Crane Thunders vs Ryukyu Golden Kings (23-9)
RELATED:

Author: Ed Odeven
Find Ed on JAPAN Forward's dedicated website, SportsLook. Follow his [Japan Sports Notebook] on Sundays, [Odds and Evens] during the week, and Twitter @ed_odeven.