Japan Drops Third Consecutive Game at FIBA Women's Basketball World Cup
France outscored Japan 19-9 in the pivotal fourth quarter, including a 17-2 run that defined the overall play in the final period.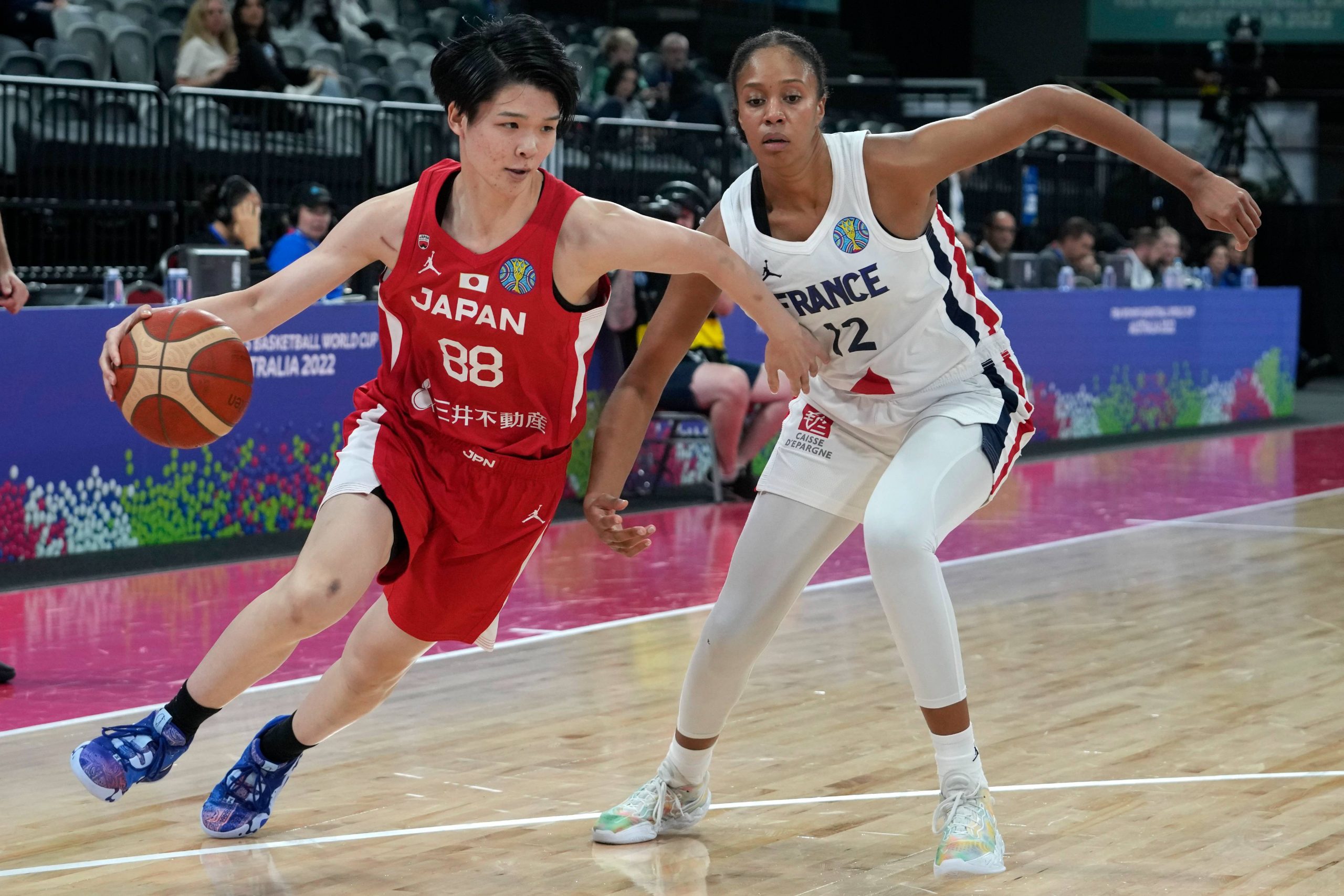 France cruised past Japan 67-53 in a 2022 FIBA Women's Basketball World Cup group phase game on Monday, September 26, avenging a pair of losses to the host of the Tokyo Olympics.
Gabby Williams paced world No. 6 France with 16 points and Iliana Rupert added a double-double (15 points, 12 rebounds) in the Group B game in Sydney. Teammates Mamignan Toure and Marine Fauthoux chipped in with 13 and 10 points, respectively.
Eighth-ranked Japan, which trailed 16-5 after the opening quarter, lost its third consecutive group phase contest, falling to 1-3 at the 12-nation World Cup, which concludes on Saturday, October 1. The United States, the three-time reigning Olympic and three-time defending world champion, is the top team in Group A.
Coach Toru Onzuka's squad takes on tourney host and world No. 3 Australia on Tuesday, September 27 in its final group game, seeking to end its losing streak.
Saori Miyazaki had a team-high 13 points for Akatsuki Japan, which made 21 of 59 shots from the field. Aika Hirashita and Himawari Akaho scored nine points apiece. Maki Takada pulled down nine rebounds.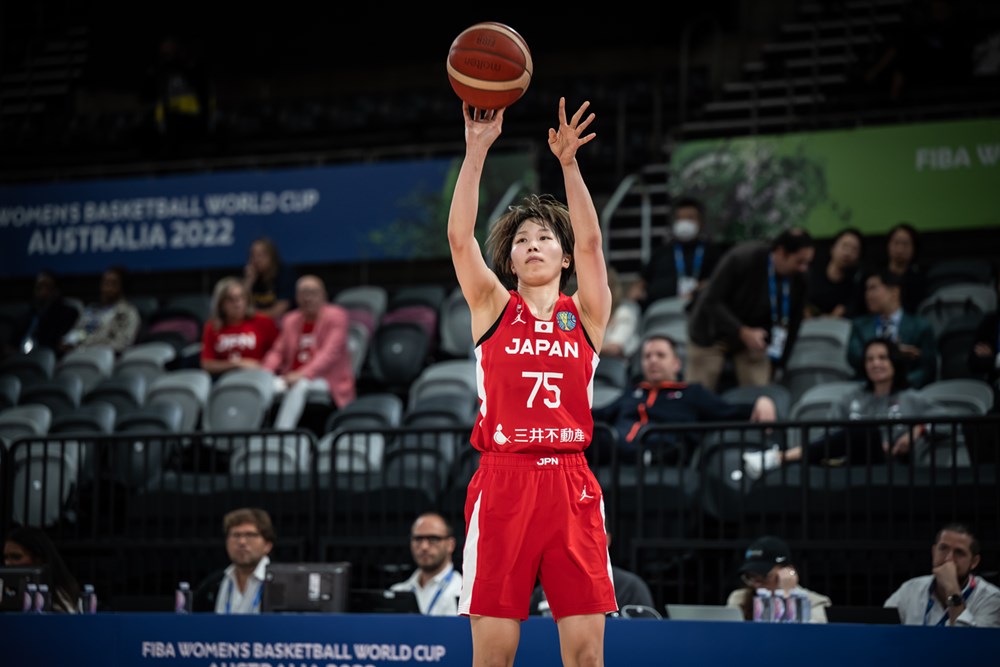 Japan made just 5 of 21 3-point shots and had 17 turnovers against France, which improved to 3-1 in Group B.
"We really wanted to win this game, but we actually lost, so I feel really sorry," Miyazaki told a post-game news conference.
Onzuka also expressed disappointment with the final result.
"I feel like I'm lacking the power to read the team," Onzuka said. "But I evaluate that the players are actually showing the attitude to play together as a whole team, and I feel really sorry that I couldn't be like the power to them."
Before facing France, Japan opened the World Cup with an 89-56 win over Mali on September 22, followed by a 69-64 loss to world No. 10 Serbia the next day and a 70-56 defeat to world No. 4 Canada on September 25.
Comeback Falls Short
Facing an 11-point deficit after the opening quarter, Japan outscored France 21-13 in the second stanza to pull within 29-26 by halftime. A driving layup by Miyazaki accounted for the final points of the first half.
Moments earlier, former WNBA forward Ramu Tokashiki had cut the lead to 22-21 on a free throw with 3:46 to play in the second quarter.
"I think the start of the game was really a problem for us," Onzuki conceded later before adding, "I just want our players to have the confidence and show what they have."
In back-and-forth third quarter, an Akaho layup cut France's lead to 48-44 with 24 second left.
The score remained the same entering the fourth quarter.
Japan's offense was held in check in the final period, and France outscored its foe 19-9. What's more, France coach Jean-Aime Toupane's team used a 17-2 run that consumed nearly the entire fourth quarter to put an emphatic finish to the teams' rematch.
After a Takada layup brought Japan within 48-46 at the 9:42 mark, France seized control, taking a 65-48 lead by the end of the big scoring spurt.
"We're really happy that we took this game," Rupert said, "because we knew that Japan is not an easy [opponent] and you really have to be focused the whole time because they can come back at any moment with the 3-point [shots]."
Toupane said, "I'm really happy for this team because it's a new team with young players, but what they have been doing since, like, the beginning of the tournament is great."
Discussing his team's tactics, Toupane said tight defense on Japan's 3-point shooters was a top objective.
Olympic Background
In 2021, France fell to Japan 74-70 in a group phase match at the Tokyo Olympics, then dropped an 87-71 decision in the Olympic semifinals. In the latter clash, Japan point guard Rui Machida dished out an Olympic women's single-game record 18 assists at Saitama Super Arena.
Japan completed the Tokyo Games with the nation's best-ever result in an officially recognized global basketball competition, earning the silver medal, while the United States claimed the gold.
Machida, who played for the WNBA's Washington Mystics this season, is not on the 12-women roster in Australia.

Of Japan's dozen players in Sydney, only six competed for the national team at the Olympics.
There was also a leadership change for the women's national squad after the Tokyo Games. Onzuka stepped in as Japan's new bench boss after Tom Hovasse left his post with the women's team and filled a vacancy for the men's squad following the departure of head coach Julio Lamas to his native Argentina after his contract expired.

Author: Ed Odeven

Follow Ed on JAPAN Forward's [Japan Sports Notebook] here on Sundays, in [Odds and Evens] here during the week, and Twitter @ed_odeven.