Japan Overwhelms Kazakhstan in Second Half of FIBA World Cup Qualifier
The hosts pulled away over the final 20 minutes in Okinawa, outscoring the Central Asian national squad by 25 points in that span.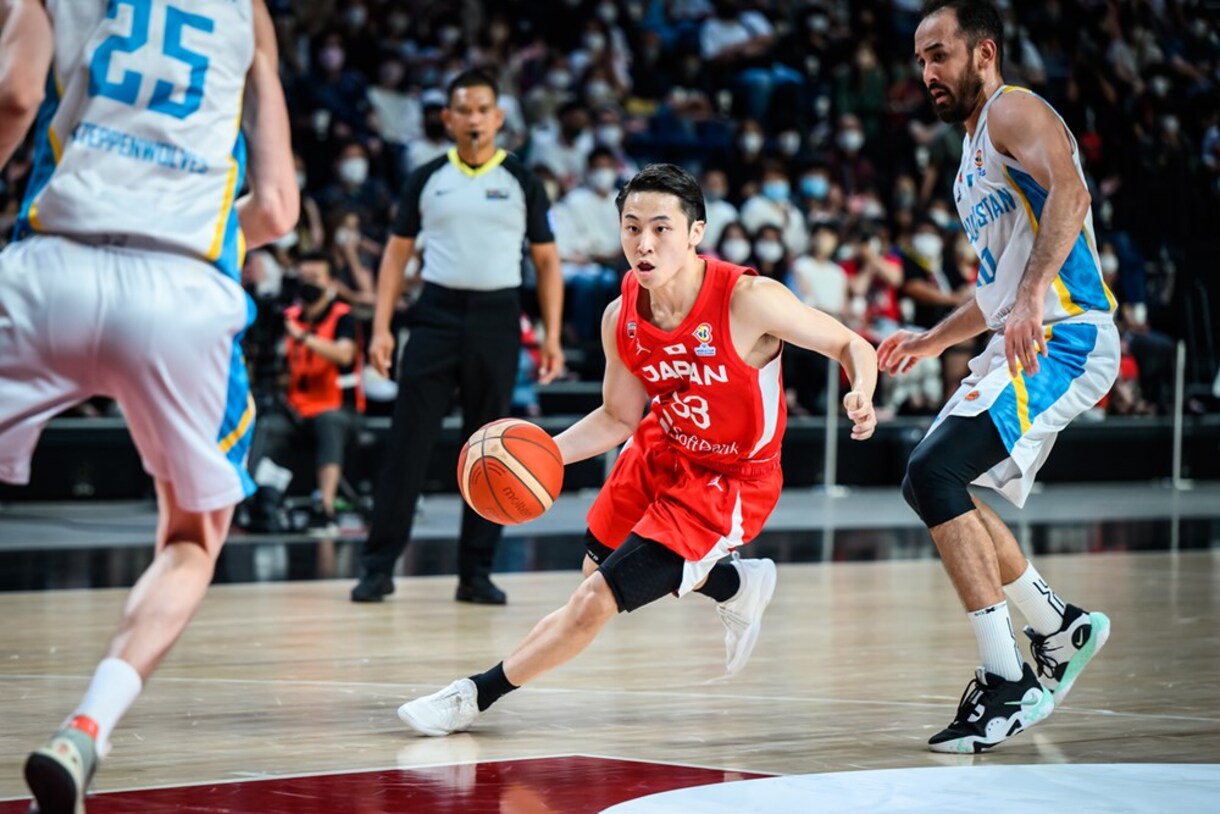 Balanced scoring and a strong all-around effort in the second half ignited Japan to a 73-48 triumph over Kazakhstan in a 2023 FIBA World Cup Asian qualifier on Tuesday, August 30.

Japan outscored the visitors 46-21 in the second half at Okinawa Arena, bouncing back from a 79-68 loss to Iran in Tehran on August 25. In that game, dynamic guard Yudai Baba had a game-best 27 points for Japan.
In this game, the hosts missed 13 of 17 shots in the opening quarter and didn't heat up for a sustained excellent stretch on offense until the third quarter.

But once they did, coach Tom Hovasse's club began to play at a higher, more consistent level.

"The game didn't start out great," Hovasse said, comparing it to the teams' most recent showdown.
In the Japan-Kazakhstan game at the 2022 FIBA Asia Cup in Jakarta on July 13, Japan trailed 48-45 at halftime. Making a big turnaround in the second half, Japan went on to win 100-68.

"It was a bad rhythm, a bad start to the game," Hovasse said of Japan's offensive production while crediting Kazakhstan's defense for creating early challenges for his players, including ball pressure. "I was confident we could turn it around."

Japan turned it around by not relying on a single player to carry the offense.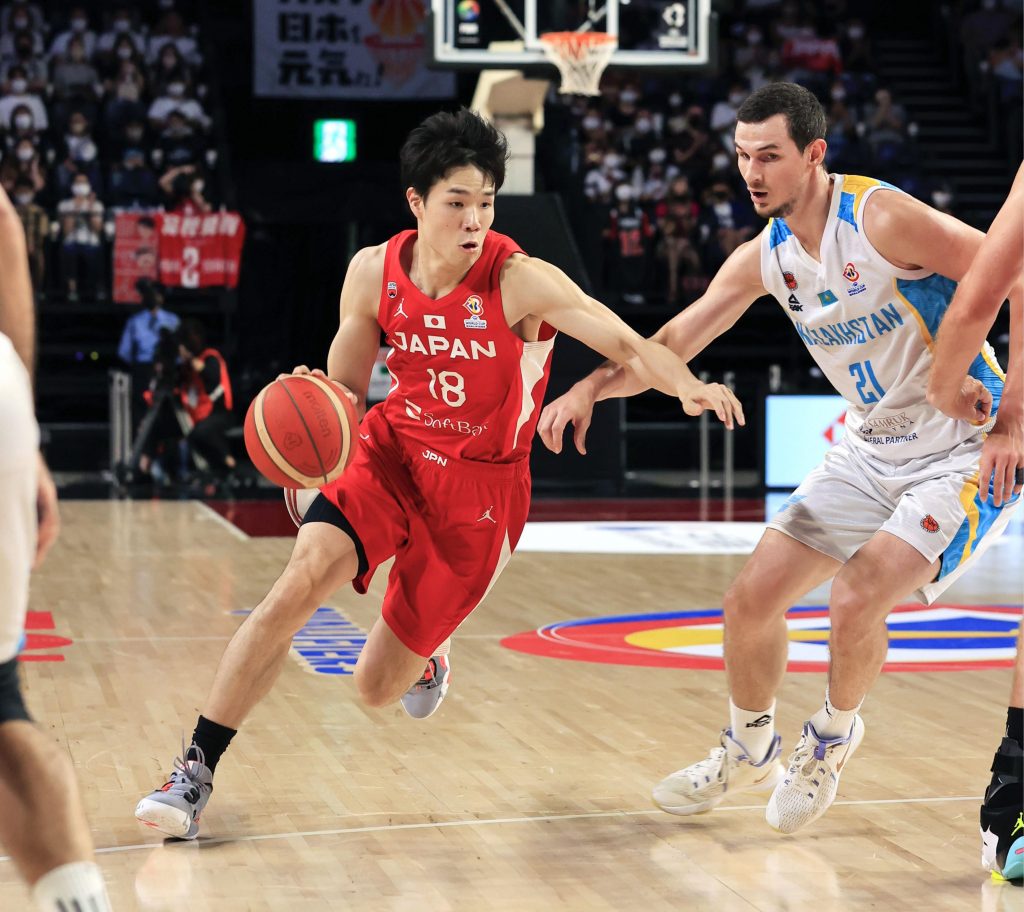 Several Key Contributors
In Tuesday's second-round match against its Group F foe, the hosts had seven players share the bulk of the scoring load. Shooting guard Yudai Nishida poured in a team-high 13 points, while Baba finished with 11 points, five rebounds, three assists and three steals.

Soichiro Inoue contributed nine points. Naturalized Japanese citizen Nick Fazekas, a longtime B.League star for the Kawasaki Brave Thunders and a former NBA player, made his first national team appearance of 2022 a success with solid all-around numbers (eight points, eight rebounds, three steals, two assists and a block). Fazekas previously competed for Japan at the 2019 FIBA World Cup in China.

Also for Japan, which along with the Philippines qualified for the 2023 tournament as co-hosts (Indonesia, another host, didn't qualify), Makoto Hiejima chipped in with eight points and seven boards. High-energy guard Yuki Kawamura came off the bench and provided seven points, seven assists and five steals in just under 16 minutes. Yuki Togashi added six points and three assists.

On defense, Japan's persistent tenacity was effective, leading to 17 steals.

A Tale of Two Halves
Fazekas sank two free throws for the first two points of the second half at the 8:20 mark. That put Japan ahead 29-27, a lead it would not relinquish.

Hiejima converted a driving layup to cap a 14-2 run and give the hosts a 41-29 lead with 5:29 to play in the third.

"We kind of regrouped at halftime and kind of just told the guys, 'Let's run a bit more,' " Fazekas said.

That approach paid off as Japan took a 49-37 lead into the final period and never let up against Kazakhstan.

For Japan, Hovasse described Fazekas as "such an important player," noting his passing ability and shooting skills. Japan utilized the 207-cm University of Nevada alum's size on offense, often positioning him in the low post in the second half. This helped keep the offense in motion, with players cutting to the basket and moving around the perimeter to create scoring opportunities.

The visitors committed 24 turnovers and shot 20-for-70 (28.6%) from the floor.
"In the last 20 minutes, we played very bad," Kazakhstan coach Oleg Kiselev told reporters. "We couldn't stop their offense ... and we were very bad moving the ball."

Speed Makes a Difference
Japan's running game, relying on its speed, played a pivotal role in its victory. The team, also dubbed Akatsuki Japan, had 28 fast-break points to Kazakhstan's four.
Japan led 14-13 after the opening quarter. The score was knotted at 27-27 at halftime. Kazakhstan center Anton Bykov, who had 14 first-half points, was the lone double-digit scorer for either team before halftime. He finished with a game-high 18 points and pulled down eight rebounds.
Baba and Togashi scored seven and six points, respectively, to lead Japan in the opening half.

Japan shot 8-for-31 from the floor in the first 20 minutes, including 3-for-18 from 3-point range.

Kazakhstan outrebounded Japan 28-19 before intermission.
In the next window of the Asian qualifiers in November, Kazakhstan will play host to Australia and Japan.


Author: Ed Odeven
Follow Ed on JAPAN Forward's [Japan Sports Notebook] here on Sundays, in [Odds and Evens] here during the week, and Twitter @ed_odeven.