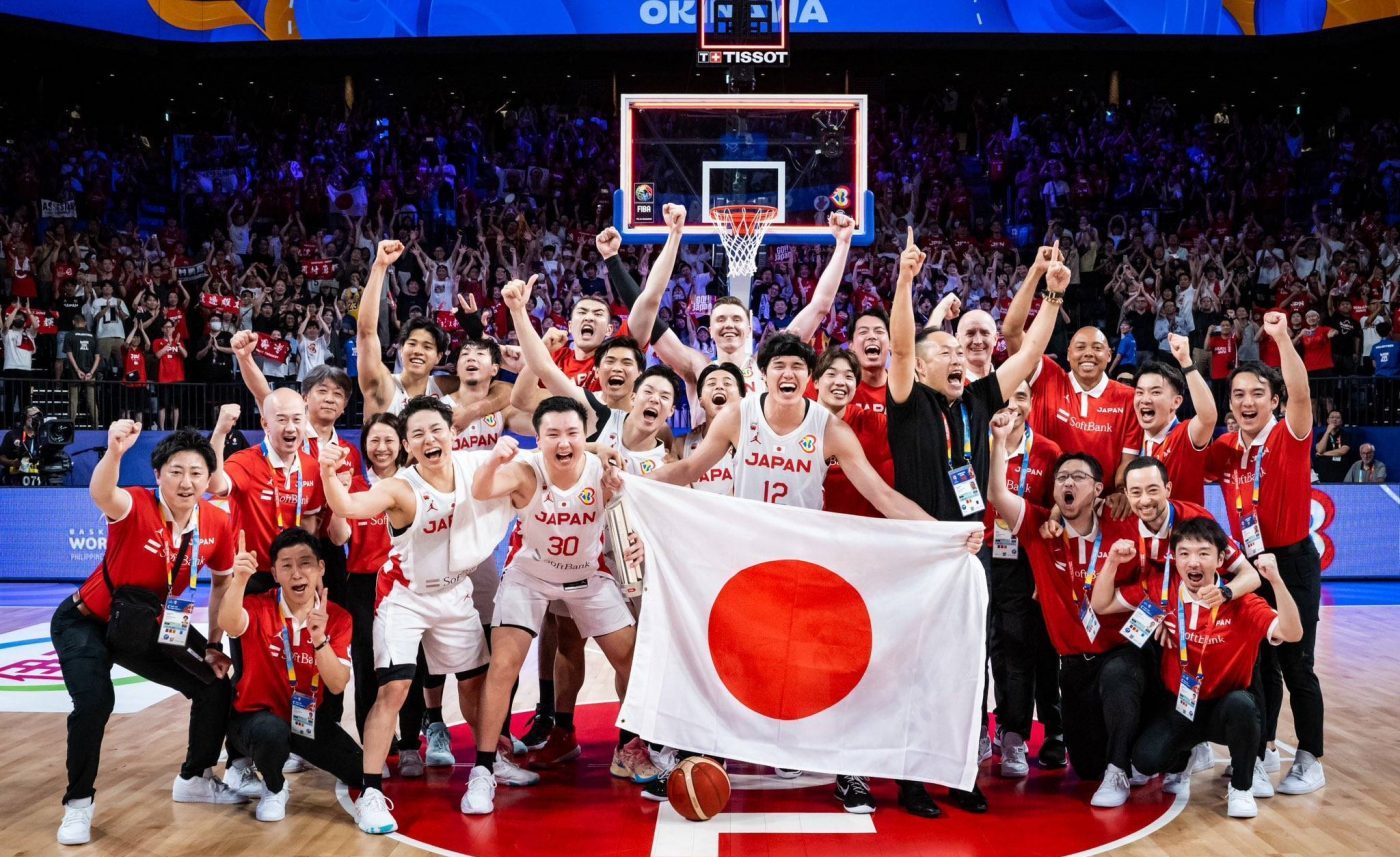 OKINAWA CITY ― Forty-eight years is, well, an epic wait for anything. To end it, Japan needed a win over Cape Verde in the FIBA Basketball World Cup in its final game of the classification round (17th-32nd place) to qualify for the 2024 Paris Olympics.
Mission accomplished.
Coach Tom Hovasse's squad dominated large stretches of the game, then saw most of its double-digit lead evaporate in the fourth quarter. But it survived, withstanding Cape Verde's spirited rally and winning 80-71 on Saturday night, September 2.
Therefore, Japan qualified for the Olympics for the first time since the 1976 Montreal Games. This time, it did so by virtue of being the Asian team with the highest finish at the Basketball World Cup. China and Lebanon will finish below Japan in the final standings.
Japan participated in the 2020 Tokyo Games with an automatic spot as the host nation.

"The fourth quarter was hectic and could have been disastrous. We avoided that, thankfully," Hovasse said.
In addition, the team also known as Akatsuki Japan to its rabid supporters, finished with its best overall record (3-2) at the Basketball World Cup (or the FIBA World Championship, the tourney's old name). A 2-6 record in 1967 in Uruguay was its previous best.
It was a thrilling outcome for Japan and Hovasse, who previously coached the Japan women's team, leading it to a runner-up finish at the Tokyo Olympics in July 2021.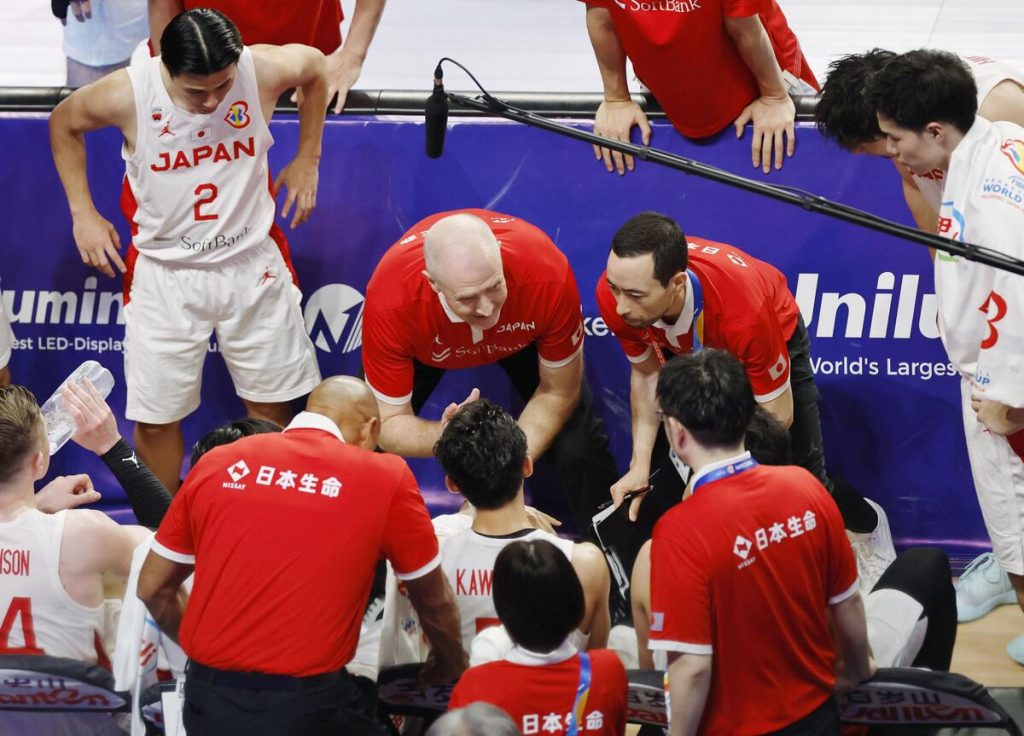 A Defining Victory for Japan
"We're going to Paris," Hovasse announced with delight after the victory. "These are the moments where you really get a chance to prove yourself, but also improve yourself. That's the mindset all of our guys have. We've got some young guys that really stepped up."
The well-respected basketball mentor added, "I'm just excited, I'm really grateful and thankful for this opportunity, [and] I'm really looking forward to the Paris Olympics."
Japanese Prime Minister Fumio Kishida congratulated the team after it qualified to play in the 2024 Olympics.
"All of Japan was inspired and moved by the way they never gave up [until] the very end and gave their all for victory," Kishida posted on X, formerly known as Twitter. "Congratulations. Thank you very much!"
An Emotional Victory at the Basketball World Cup
Japan's fans remained standing several minutes after the game ended, clapping and cheering, moments after Hovasse celebrated with assistant coaches Corey Gaines and Geoffrey Katsuhisa and hugged veteran guard Makoto Hiejima. Emotional embraces and high-fives among the various team members followed.
Before he left the court, the 56-year-old Hovasse saluted the crowd, raising both his arms above his 203-cm frame and pumping his fists for emphasis.
"I think we showed the world what we can do," Hovasse told a news conference. "Now we're on everybody's radar, we're on everybody's maps. That's a big step."
American-born center Josh Hawkinson, who became a naturalized Japanese citizen in February 2023, scored a game-high 29 points and had seven rebounds, four assists and four blocks in an inspired performance. Hawkinson, a Washington State alum who has played his entire pro career in Japan's B.League (since 2017), and frontcourt mate Yuta Watanabe (five points, 10 rebounds, two blocks) both played the entire 40 minutes.
"Everyone has been working really hard for this for the past few months, and I feel like it's finally paying off," Watanabe told reporters.


For Hawkinson, who scored Japan's final six points, the match delivered excitement.
"I got goosebumps when I entered the court," Hawkinson told reporters. "The first half was pretty good, but in the second half, the opponent came back."
In the end, Hawkinson was satisfied with the result. "I'm happy," he said with emotion.
Hawkinson averaged a team-best 21.0 points in the 32-nation tournament, which is also being held in Manila and Jakarta. (From the quarterfinals onward, starting on Tuesday, September 5, the Filipino capital is the sole host city.)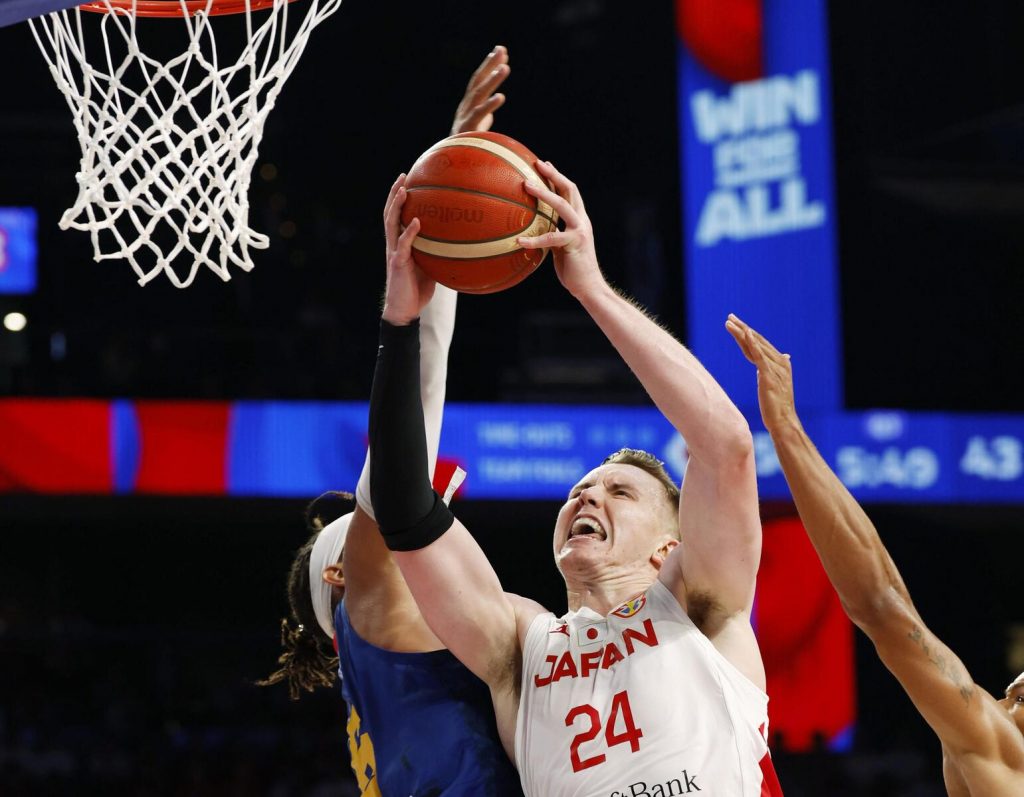 Japan Leads by 18 Points After Three Quarters
Cape Verde, appearing in the Basketball World Cup for the first time, trailed 73-55 entering the final period.
And coach Emanuel Trovoada's squad opened the fourth quarter on a 13-0 run (a 15-0 spurt, actually, going back to late in the third quarter) to cut the lead to five with 3:38 remaining.
Hiejima, Japan's hero in its comeback win over Venezuela on Thursday, made a free throw with 2:48 to play after Cape Verde center Edy Tavares was assessed a technical foul to stop the run.
But world No 64 Cape Verde remained hungry to pull off the upset. Betinho Gomes sank a floater to pull Cape Verde within 74-70 at the 1:12 mark. And a Tavares free throw a second later made it a one-possession game.
Hawkinson then revived his Superman role, scoring on a layup, courtesy of a Hiejima assist, and made a free throw to complete the three-point play. That made it 77-71, Japan.
A Big Basket for Hawkinson in the Final Minute
Seconds later, Gomes shot an airball on his 3-point attempt. And then, with 20 seconds remaining, thanks to teammate Hirotaka Yoshii's pass, the ball was back in Hawkinson's hands and he launched a 3 of his own from the left corner and made it ― "yes!" to borrow a signature call from retired legendary NBA broadcaster Marv Albert. The Okinawa Arena crowd erupted with cheers.
Japan led 80-71, and the fans sensed a victory was now secured.
Cape Verde's Shane Da Rosa missed a pull-up 3 with 13 seconds to go. Point guard Yuki Kawamura, the B.League's reigning MVP, grabbed the defensive rebound and dribbled out the clock.
Although it was outscored 16-7 in the fourth quarter, Japan survived.
Japan made 28 of 62 field-goal attempts on the night, including 12 of 32 3s. Cape Verde was 28-for-73, including 21 of 46 on 2-point attempts.
With a commanding 46-33 rebounding edge, Cape Verde created numerous additional scoring opportunities. The World Cup debutant outscored Japan 21-3 on second-chance points.
"I'm so proud of my team, my boys," Trovoada said. "We came from a small country [and] we came for the first time in this competition."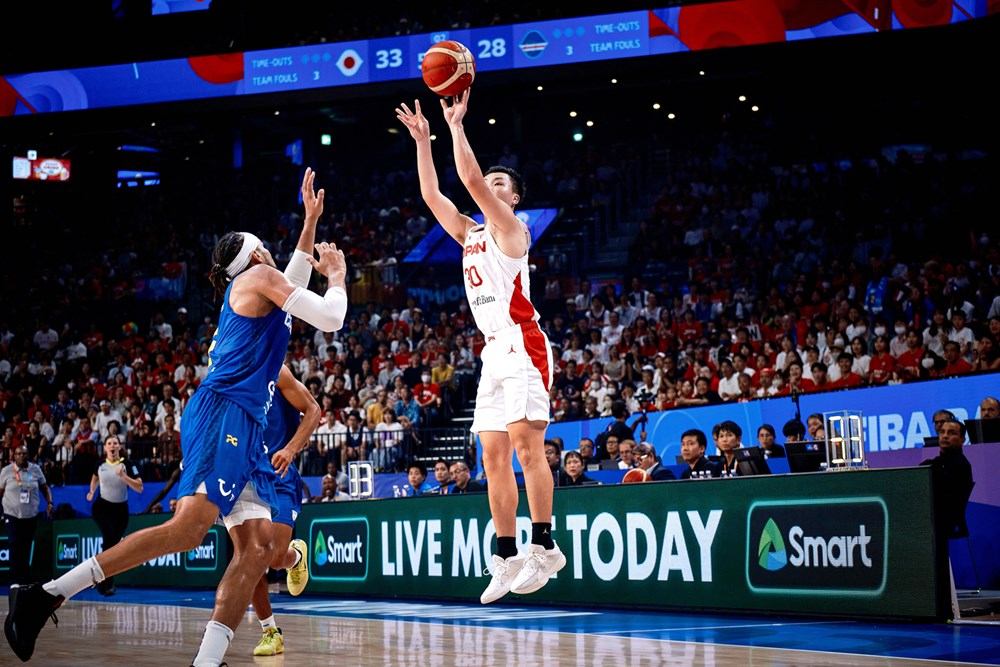 A Big Spark from Tominaga, Kawamura
Shooting guard Keisei Tominaga, who came off the bench, had 13 points in the second quarter to spark his team. The University of Nebraska guard led all scorers with 16 points on 6-for-6 shooting in the opening half, including 4-for-4 on 3-point attempts.
With Tominaga thriving and fellow 22-year-old backcourt member Kawamura also excelling, Japan built a 50-37 lead by halftime.
Kawamura was 4 of 4 from the field in a 12-point effort in the first half.
Both men factored greatly in the final outcome.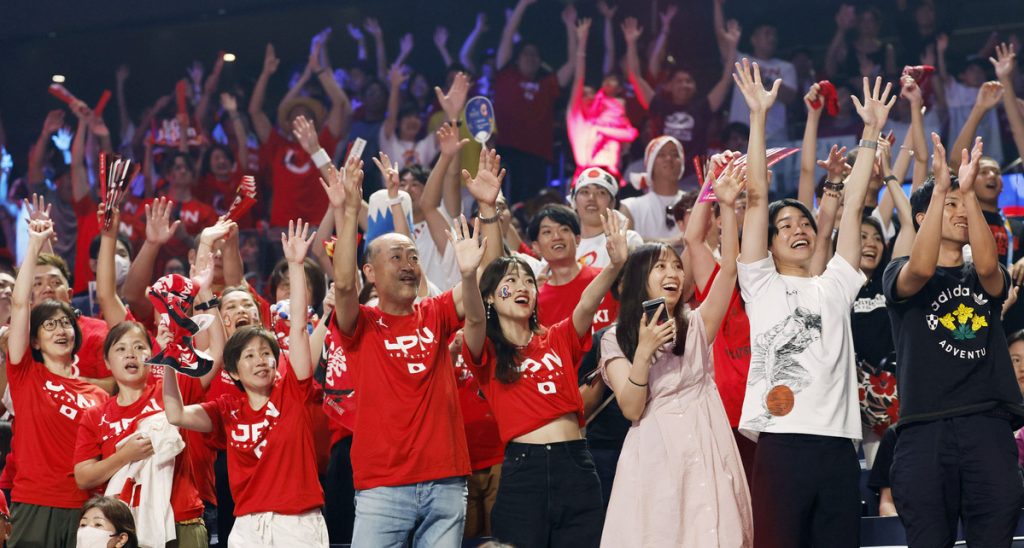 Tominaga finished with 22 points, including 6-for-8 on 3s, in a terrific 18-minute performance. Japan faced a 19-14 deficit when he entered the game for the first time late in the first quarter, then he helped Japan outscore Cape Verde 33-18 in the second quarter.
"It was a bit different from the previous four games, but I'm very happy that we were able to come through with a win like this," Tominaga was quoted as saying by The Yomiuri Shimbun. "With one year left until the Olympics, I want to grow even more and do my best to make Japanese basketball stronger."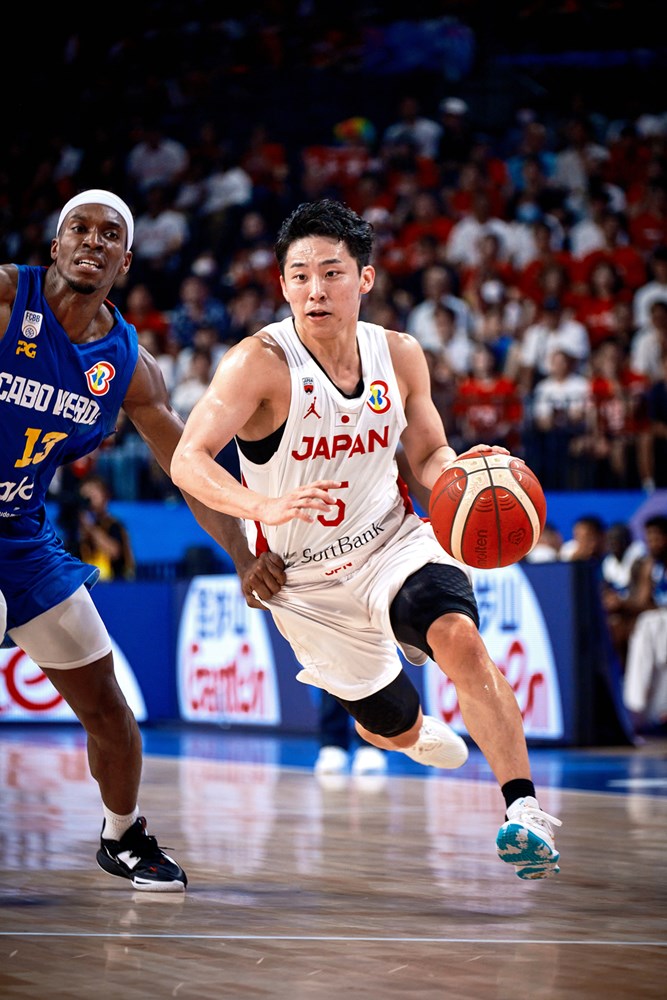 Kawamura had a 14-point, eight-assist, three-steal effort in 28-plus minutes (his second consecutive start in Okinawa).
"I am very happy," Kawamura commented after the game in his hero interview. "We have worked hard every day, and I think we should all be happy that we have finally been rewarded."
Finland Finishes on a Positive Note
In Saturday's early game at Okinawa Arena, Finland defeated Venezuela 90-75 in the classification round. Finland's Lauri Markkanen had a game-high 32 points.
RELATED:
Author: Ed Odeven
Find Ed on JAPAN Forward's dedicated website, SportsLook. Follow his [Japan Sports Notebook] on Sundays, [Odds and Evens] during the week, and X (formerly Twitter) @ed_odeven.