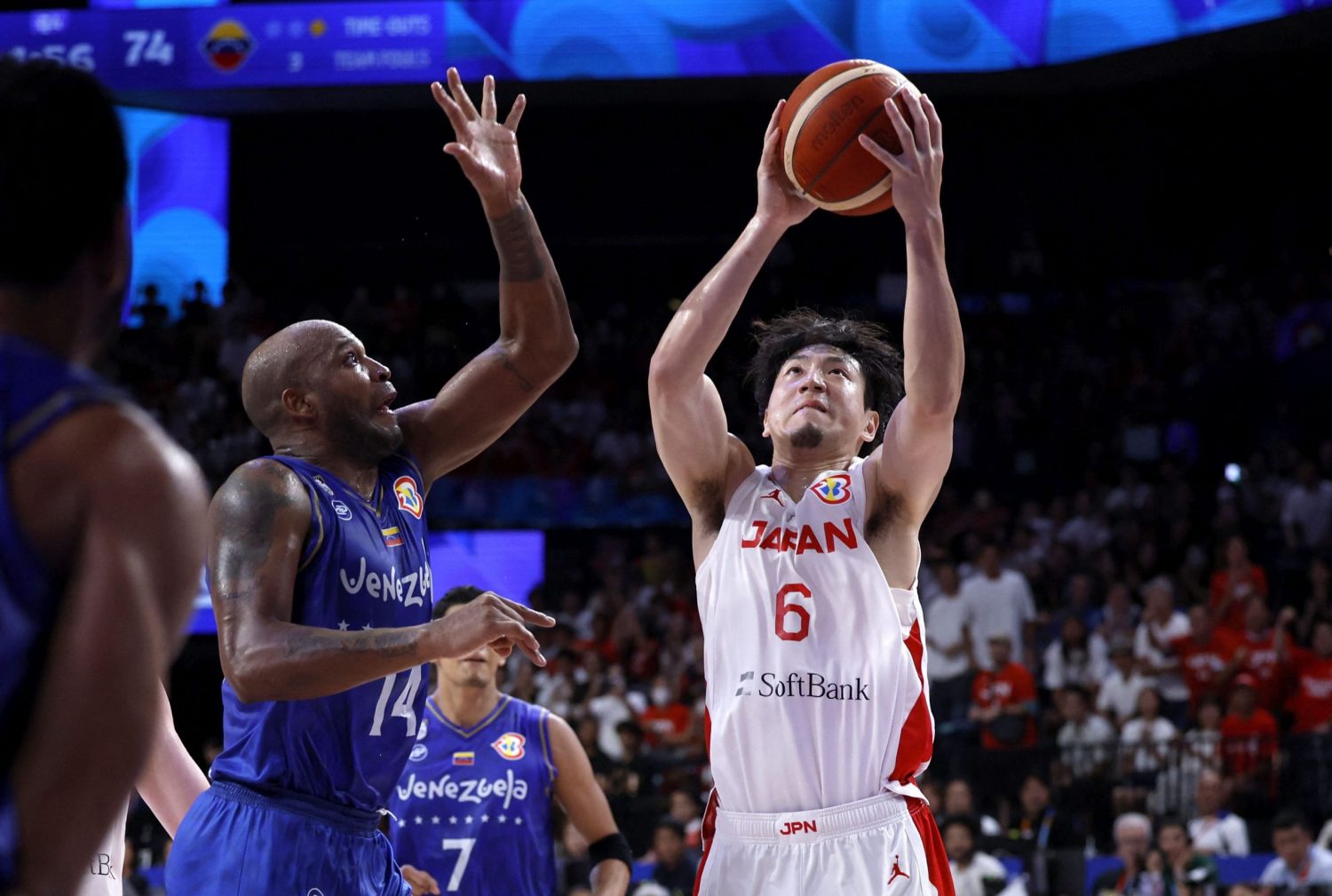 OKINAWA CITY ― Japan thrilled the home crowd with an 18-3 game-ending spurt against Venezuela in the FIBA Basketball World Cup classification round on Thursday night, August 31.
It was a dramatic turn of events.
Moments earlier, coach Tom Hovasse's squad had trailed 68-53 early in the fourth quarter. But it came racing back with a 15-2 run. And Japan transformed a 74-68 deficit with 3:30 remaining into an 86-77 win.
Veteran shooting guard Makoto Hiejima, Japan's oldest player at age 33, finished with a game-best 23 points, including an electrifying 17 points in the fourth quarter. He made 6 of 7 3-point shots. The Utsunomiya Brex standout and MVP of the 2022 B.League Finals fired up the crowd with energy and clutch shots to fuel the comeback.
With 1:55 remaining in the game at Okinawa Arena, Japan took its first lead of the second half on a Hiejima layup, which happened seconds after teammate Yudai Baba made a steal. That made it 75-74. Then Hiejima added a free throw to make it a two-point game.
Point guard Yuki Kawamura, who received the starting assignment after coming off the bench in Japan's first three tournament games, rewarded Hovasse for his faith in him with a big performance. Kawamura, who is 22, flushed a 3-pointer from the right corner to increase the lead to 79-74 with 1:13 left.
World No 17 Venezuela's offense could not muster a consistent scoring attack down the stretch in the fourth quarter against Japan's locked-in defense.
In the euphoric afterglow of the game, Hovasse called it a "great win for Japan basketball."
The coach went on to say, "We're still learning and getting better, but these are the games that it takes to continue on this process to just continue to keep getting better and better."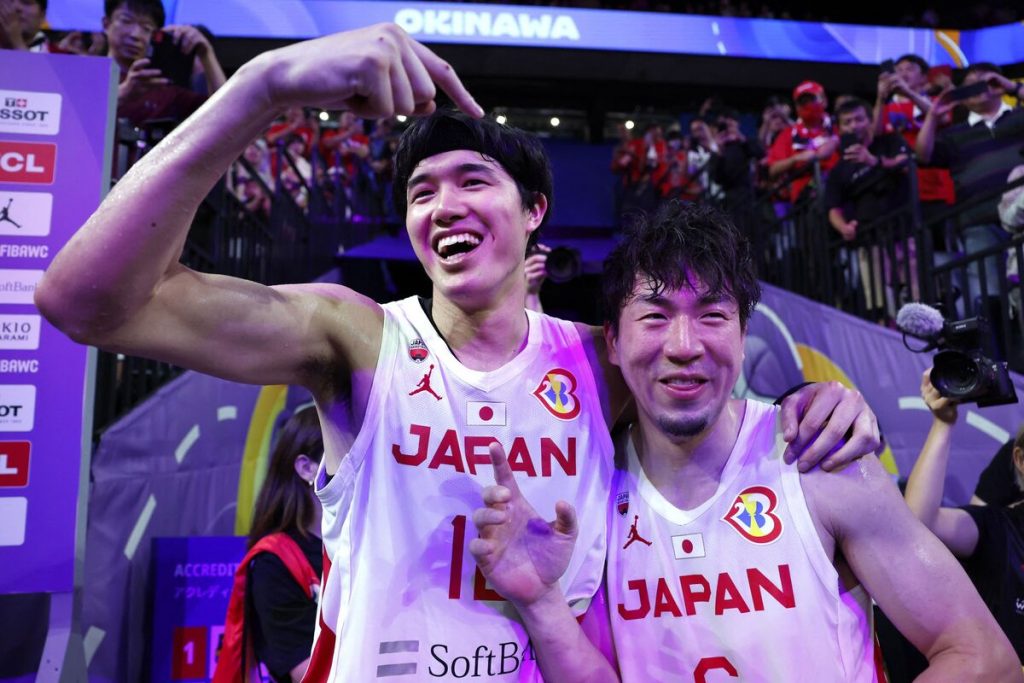 Guards Kawamura, Hiejima Help Elevate Japan
Like Hiejima, Kawamura provided a big offensive spark in the fourth quarter, when he scored nine of his 19 points. His speedy forays through traffic and sharp passes produced numerous scoring chances for his teammates, too. He had a game-high 11 assists.
"Even though it was a difficult ranking match," Kawamura was quoted as saying by NHK, "I am highly motivated to reach our goal of being number one in Asia."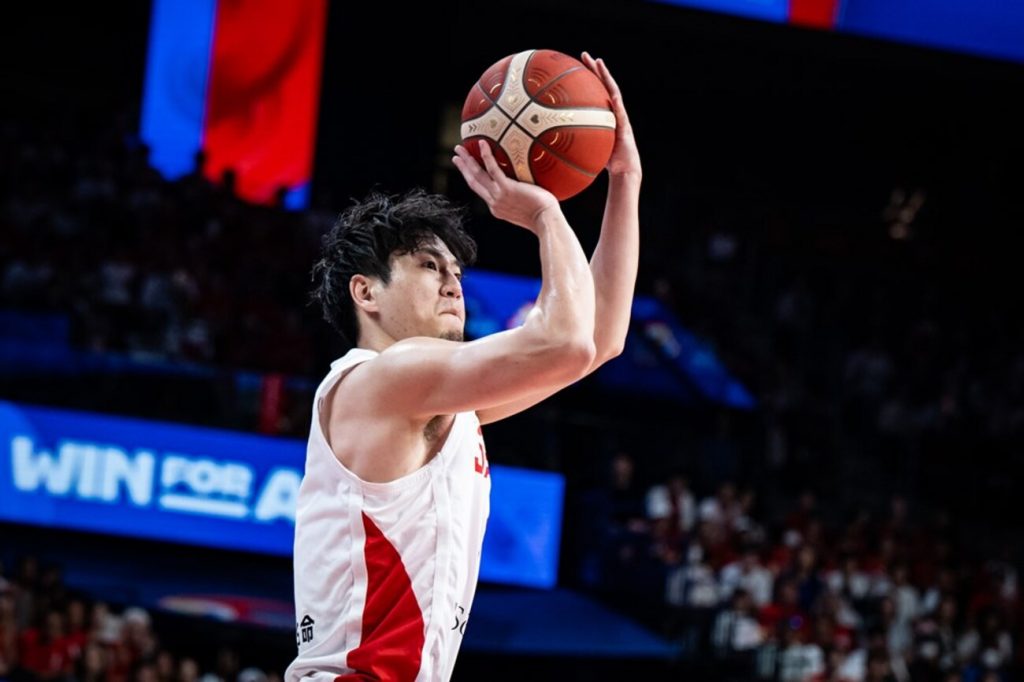 Asked about Hiejima's clutch shooting performance, Hovasse noted that he brings valuable experience to the court whenever he plays.
"He's a veteran player and he doesn't just look at what's in front of him ― he looks at the bigger picture," the coach said. "And he knows that we weren't scoring, and he just tries to make things happen."
Hovasse added, "All credit to him, he really woke our team up and got the momentum on our side. It was fantastic."
For Hiejima, mission accomplished against Venezuela.
After the game, Hiejima commended veteran teammates Baba, Watanabe and Yuki Togashi for leading the team over the past few years and on Thursday.
"Baba, Yuta and Togashi, who have been through a lot of frustrating experiences, led us to victory," Hiejima said, according to The Asahi Shimbun.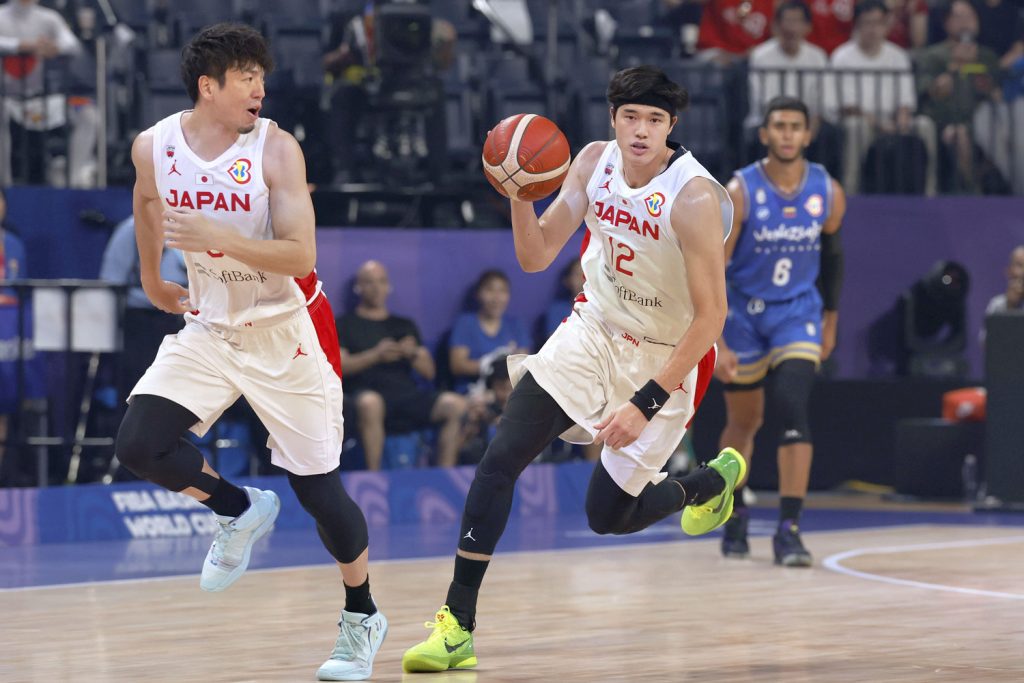 Japan Bounces Back with a Strong Fourth Quarter
Yuta Watanabe, Japan's lone NBA player on its Basketball World Cup roster, finished with 21 points, eight rebounds and two blocks. Josh Hawkinson scored six points and grabbed eight rebounds and Keisei Tominaga and Baba chipped in with five points apiece. Baba also had a team-high three steals.
Bouncing back from a 109-89 Group E loss to Australia in the first round on Tuesday, 36th-ranked Japan outscored Venezuela 33-15 in the fourth quarter.
Watanabe said, "That was a great win. Venezuela's a talented team. ... That was a tough game. But we never gave up and we fought for 40 minutes and got the win, so I'm proud of us."
Hovasse credited his players with sticking to the game plan.
"That took a lot of guts for the players to continue doing what we were doing [on offense]. It wasn't working for two-and-a-half, three quarters," said Hovasse. "Yuta started getting hot, which started to spread their defense a little bit and then Mako (Hiejima) came in and just started lighting it up.
"Once you have two players in this system that get hot, it really opens the floor. And then from there, Kawamura was really able to attack the paint. We got them in foul trouble and it just became our rhythm."


Near the outset of Japan's press conference, Hovasse then paid tribute to the fans.
"The fans were just amazing," Hovasse declared. "Without them, I don't think we win either one of these games.
"Their support was incredible."
Matching a Standard Set in 1967
Japan, now 2-2 in the Basketball World Cup, also rallied to beat Finland 98-88 on Sunday, August 27.
And with victories over Finland and Venezuela, the current Japan squad sets a new standard for the 21st century. Japan hadn't won two games at the Basketball World Cup, formerly called the FIBA World Championship, since 1967 in Uruguay, when it finished with a 2-6 record.
Venezuela Unhappy with Defensive Effort in Final Quarter
"I believe we let down on our defensive effort [against Japan] in the fourth quarter and they shot the ball very well from behind the [3-point] arc," Venezuela point guard Yohanner Sifontes said.
Venezuela coach Fernando Duro said his team didn't maintain its level of play in the decisive closing minutes of the game.
"We dominated the game for 35 minutes [and] we held them down defensively," Duro told reporters. "In the last five minutes, we stopped playing defense. We couldn't close the game out and we ended up losing the game."
Garly Sojo had a team-high 20 points for Venezuela and Nestor Colmenares added 17 points, eight boards and three steals.
Additional Details from Japan vs Venezuela
Venezuela led 41-36 at halftime.
Kawamura (10 points) and Watanabe (nine) were Japan's top scorers in the first half. Venezuela's Sojo (12 points) and Colmenares (11) had more than half of their team's scoring output.
Hawkinson, who entered the game averaging 23.3 points, was scoreless in the first half. In the third quarter, he scored his first points on a pair of free throws at the 8:36 mark.
Earlier Thursday, Finland defeated Cape Verde 100-77 in the teams' first game of the classification round.
A Look Ahead
Up next: Watanabe and his teammates will face Cape Verde in Japan's final classification round (17th-32nd place) game on Saturday, September 2. Tipoff is 8:10 PM JST.
If Japan defeats the Blue Sharks on Saturday, it can qualify outright for the Olympics for the first time since 1976. (As the host nation, it was given a spot in the tournament at the 2020 Tokyo Games.)
Noteworthy
Ryukyu Golden Kings head coach Dai Oketani and former Ryukyu player Takumi Ishizaki served as commentators on NHK Okinawa's broadcast of the Japan-Venezuela game.
During his two stints as Golden Kings coach (2008-12) and 2021 to present, Oketani has guided the team to three league championships, the first two in the now-disbanded bj-league and, most recently, in May 2023 in the B.League.
A former Japan national team player during his successful career, which included three seasons in Germany, Ishizaki retired in 2021.
RELATED:
Author: Ed Odeven
Find Ed on JAPAN Forward's dedicated website, SportsLook. Follow his [Japan Sports Notebook] on Sundays, [Odds and Evens] during the week, and X (formerly Twitter) @ed_odeven.