[JAPAN SPORTS NOTEBOOK] Equinox is the Japan Racing Association's 2022 Horse of the Year
Equinox, a 3-year-old colt, galloped to victories in the Tenno Sho (Autumn) and Arima Kinen, securing the top individual honor for a Japanese thoroughbred.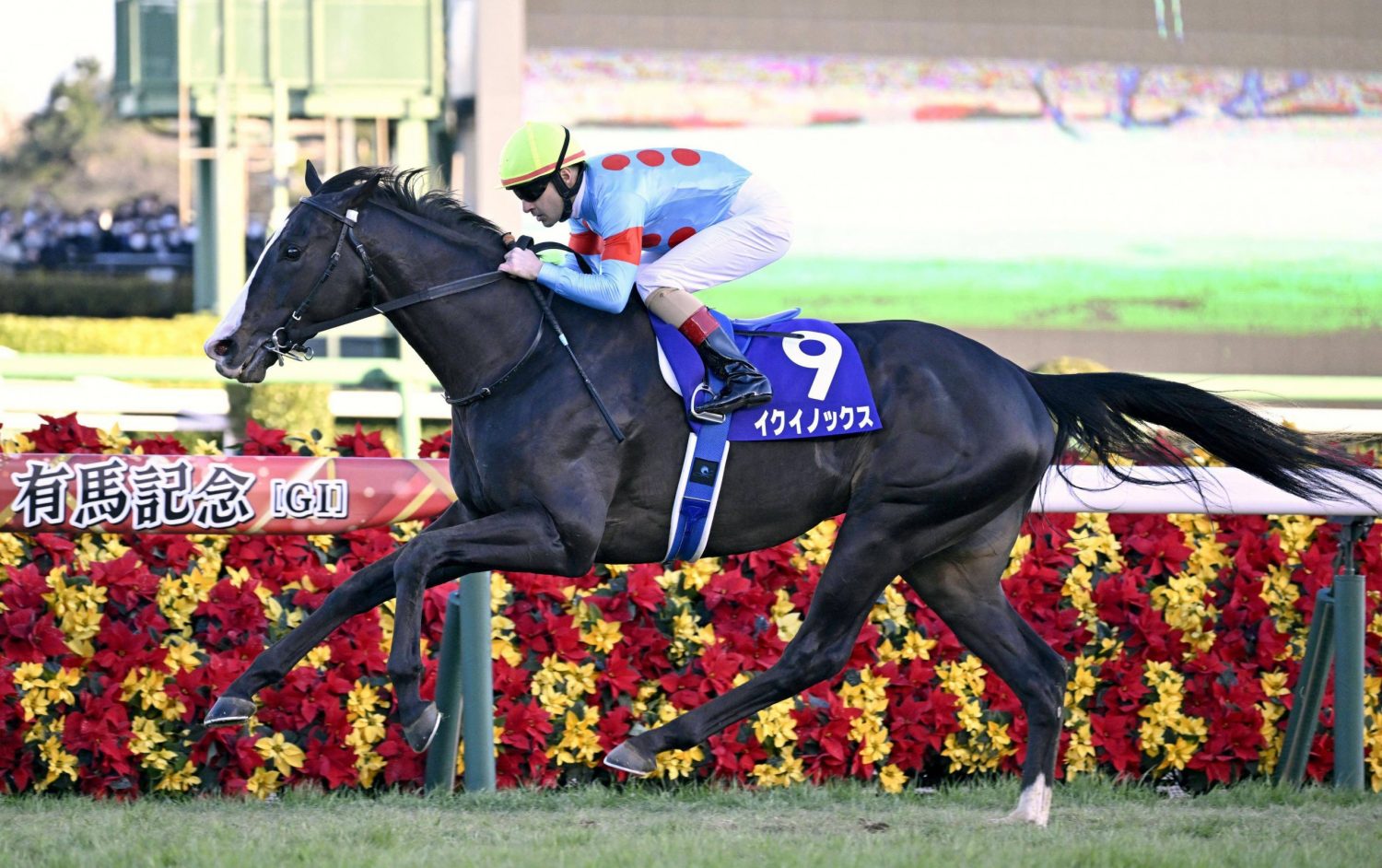 Equinox triumphed in two of Japan's biggest horse races in 2022, and those Grade 1 victories helped him garner a pair of prestigious accolades.

The Japan Racing Association named Equinox its 2022 Horse of the Year on Tuesday, January 10, a day when a number of other award winners were announced for the previous racing season.

Equinox won the Tenno Sho (Autumn) on October 30 at Tokyo Racecourse, then followed up that victory with a first-place finish in the Arima Kinen on December 25 at Nakayama Racecourse. French jockey Christophe Lemaire rode Equinox in both races.
Silk Racing Co Ltd's CEO Masashi Yonemoto, Equinox's owner, was grateful for the accolade.
"Allow me to express my heartfelt gratitude for having been selected for this distinguished award," Yonemoto said. "Last year, Equinox impressed upon me just how much he had matured in all his races, and each and every time, his performance was magnificent."

After Equinox was also named the JRA's 2022 Best Three-Year-Old Colt, trainer Tetsuya Kimura reflected on the standout horse's success (two wins in four starts) last year.
"It is an honor to receive the prestigious award for Horse of the Year," Kimura commented. "This would not have been possible without, firstly, the owner and stable staff, and the support of all those connected with the horse, including the fans and their encouragement. Thank you very much."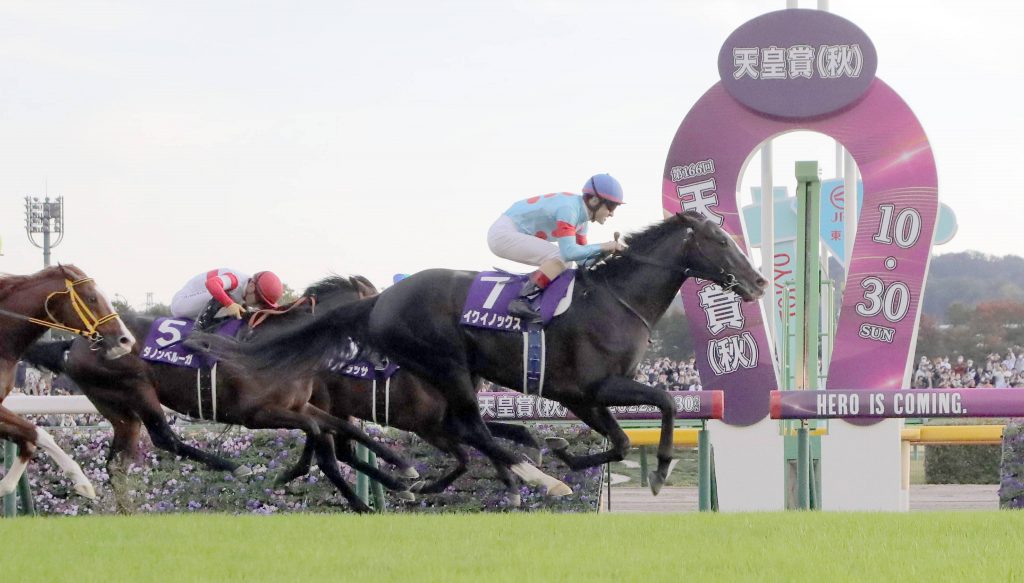 Equinox Improved as Season Progressed
Lemaire admitted he was impressed with Equinox's development in 2022.
"Equinox gradually improved over the past year," Lemaire said. "Especially from the autumn, when he had matured into an adult, he gave us some brilliant performances, such as in the Tenno Sho (Autumn) and the Arima Kinen. I am very much looking forward to this year as well."
Equinox received 282 of 288 first-place votes for the Horse of the Year award. Votes were cast by a large panel of journalists who comprised the Horse of the Year Selection Committee.

Dolce More was named the Best Two-Year-Old Colt. Liberty Island was chosen as the Best Two-Year-Old Filly. Stars on Earth received the Best Three-Year-Old Filly honors.

For a complete list of award winners, see the JRA's report.
Baseball
Ramirez, Bass Elected to Japanese Baseball Hall of Fame
Former NPB stars Alex Ramirez and Randy Bass were voted into the Japanese Baseball Hall of Fame, it was announced on Friday, January 13.
They are the first foreign-born players elected for induction since Wally Yonamine became the first one in 1994. Yonamine, a Japanese American from Hawaii, played for the Yomiuri Giants and Chunichi Dragons (1951-62) and later managed the Dragons for six seasons in the 1970s.

Ramirez, whose NPB career stretched from 2001-13 for the Tokyo Yakult Swallows, Yomiuri Giants and Yokohama DeNA BayStars, became the first foreign-born player to have 2,000 hits in NPB.

The popular slugger retired with a .301 batting average with 380 home runs among his 2,017 hits. A native of Venezuela, the naturalized Japanese citizen appeared on 81.7% of the ballots for the Hall of Fame's Class of 2023.

Ramirez played for MLB's Cleveland Indians and Pittsburgh Pirates before arriving in Japan.

The two-time Central League MVP paid tribute to former Swallows manager Tsutomu Wakamatsu for helping make his adjustment to NPB a successful one.

"If I hadn't started in Japan with someone like [Wakamatsu], I wouldn't be in the Hall of Fame today," the former slugger and ex-BayStars manager affectionately known as Rami-chan by baseball fans said, according to Kyodo News.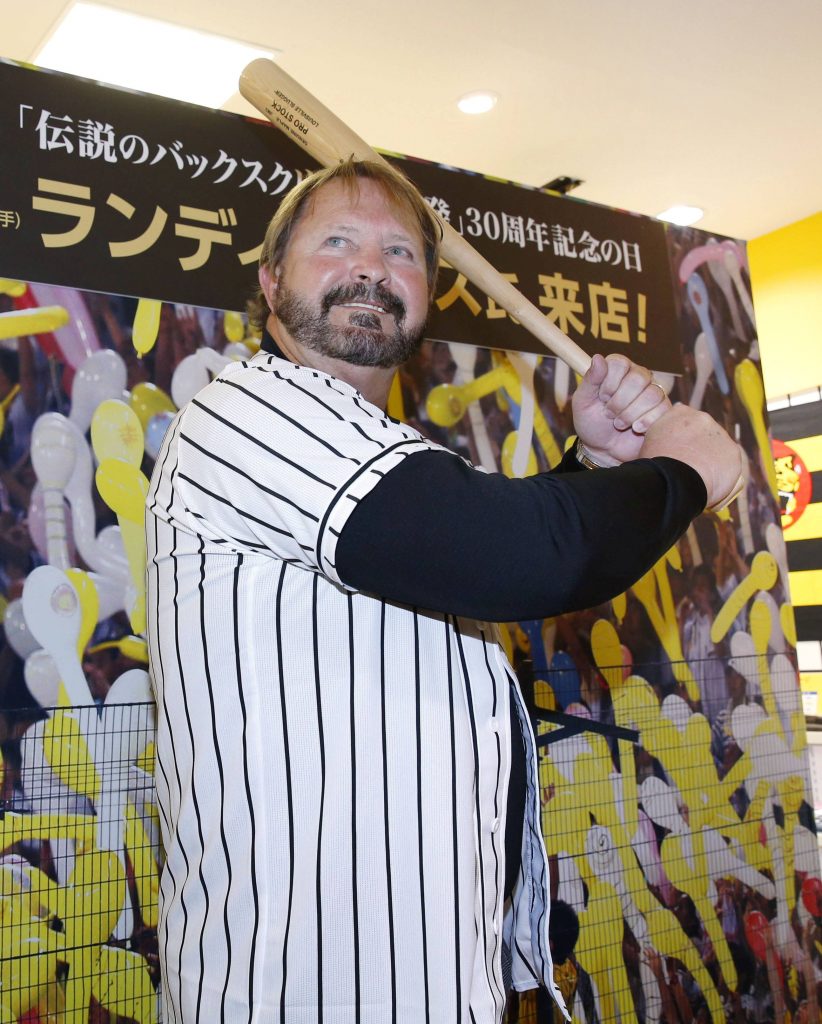 Bass Thrived After Adjusting to NPB Pitching
Bass said former Hanshin Tigers batting coach Teruo Namiki provided sage advice, which proved vital for his success in Japan.
"The pitcher would throw the ball six inches outside, and the umpire would say 'That's a gaijin (foreigner) strike.' So I had to learn how to hit that ball or I was going to strike out a lot of times," Bass was quoted as saying by Kyodo News.
"Namiki-san showed me how to hit the ball to left and center. Once it started clicking and I started hitting home runs to left and left-center, then I became a dangerous hitter."
Bass appeared on 78.6% of the ballots. The requirement for election is 75%.
Bass made his MLB debut with the Minnesota Twins in 1977 and played 130 games in the majors for five teams through 1982.

From 1983-88, Bass played for the Tigers. He became a superstar in Japan. Bass won back-to-back Central League Triple Crowns in 1985 and '86, with a .350 batting average, 54 homers and 134 RBIs in the former and a .389 average with 47 homers and 109 RBIs in the latter.
He was the Japan Series MVP in 1985, helping lead the Tigers past the Seibu Lions in six games. He finished his NPB career with 202 homers and a .337 batting average before being elected to the Oklahoma Senate in 2004.
Also, a special committee voted to induct the late composer Yuji Koseki, the creator of "Rokko Oroshi," the Hanshin Tigers' cheering song, to the Japanese Baseball Hall of Fame. Koseki passed away in 1989.
Boxing
'Monster' Inoue Relinquishes Bantamweight Titles, Moves up to Super Bantamweight
As expected, undisputed bantamweight world champion Naoya "Monster" Inoue is moving up to super bantamweight.
Inoue (24-0, 21 knockouts) made the decision official at a news conference on Friday afternoon, January 13 in Yokohama. Therefore, he is vacating the titles he won at bantamweight.

The announcement was made exactly a month after he defeated Britain's Paul Butler via an 11th-round knockout at Tokyo's Ariake Arena.
Inoue, 29, held the WBA, WBA and IBF titles entering the high-profile fight, then added Butler's WBO to his collection.

With the victory, Inoue became the ninth boxer to hold four titles in the same weight class at the same time.

Now he's shifting his focus to a new challenge.
"I'm confident that I can take on top-level super bantam boxers, even at present," Inoue told a news conference, Kyodo News reported. "But it will take a while to make myself really unbeatable."
Inoue admitted he's eager for the challenge that lies ahead.
"The real battle starts from here," Inoue told reporters. "I am very excited."
Stevenson-Yoshino Lightweight Fight in the Works
In other boxing news, American Shakur Stevenson (19-9, nine KOs) and Shuichiro Yoshino (16-0, 12 KOs) are hammering out a deal to fight on April 8 in a WBC lightweight title eliminator bout, according to published reports.

The winner would become the WBC's mandatory challenger for Devin Haney, who holds all four title belts in the weight class.

In 2022, Tochigi Prefecture native Yoshino, now 31, had a pair of victories in the ring. He recorded an 11th-round technical victory over Masayuki Ito in April, then knocked out Masayoshi Nakatani in the sixth round in November.
Skateboarding
Uprising Tokyo to be Held in Late May
Uprising Tokyo, a new international skateboarding event, will be held at Tokyo's Ariake Arena from May 26-28, Rakuten Sports announced on Friday, January 13.
Competitors will showcase their skills in men's and women's professional and amateur divisions and a junior's category.
Skateboarding star Yuto Horigome, the Tokyo Olympic men's street gold medalist, said: "This new event aims to grow skateboarding culture in Japan and worldwide and I am thrilled to watch it unfold. I hope Uprising Tokyo serves as an opportunity for many new fans to fall in love with the sport that has changed my life."
Soccer
Oda Joins Scottish Premiership's Hearts
Yutaro Oda and Scottish Premiership club Heart of Midlothian, commonly known as Hearts, finalized a 3½-year deal, it was widely reported on January 10.
Oda previously played for the J.League's Vissel Kobe from 2019-22.

Now he embarks on a new opportunity.
"I have been looking for a challenge, so this is a great club for me to come to," Oda said, according to the BBC. "As a player, I see myself as a very speedy and sharp player. I am also good at dribbling and with the ball at my feet."

Oda continued by saying, "When I had my meeting with Hearts, it was clear that they had done their research on me. To me, that shows that they really wanted to sign me, and that they are keen to help me develop further as a player."
FIFA Fan Award Nominees
Japanese soccer fans are among the three finalists for the FIFA Fan Award for the 2022 FIFA World Cup.

The Samurai Blue's supporters are being recognized for their commitment to cleanliness. They are being celebrated for their efforts.

"The Samurai Blue fans now have an established tradition of cleaning up everywhere they've been ― and that includes inside each stadium their team play at, with an army of Japanese supporters remaining after matches to clear away litter," FIFA.com reported. "Even after they produced huge upsets against Germany and Spain, these impressive fans still made a point of breaking out their blue plastic rubbish bags and tidying stands before going on to celebrate."
A Saudi Arabian fan who walked across the Arabian desert for 55 days in order to attend the first World Cup in the Middle East and Argentine supporters were also picked as nominees.
Fans can vote on this page.
Basketball
B.Black Earns a Narrow Win in 2023 B.League All-Star Game
B.Black edged B.White 127-123 in the 2023 B.League All-Star Game on Saturday night, January 14 in Mito, Ibaraki Prefecture.
Alvark Tokyo big man Sebastian Saiz had a game-high 29 points and pulled down 13 rebounds for B.Black. All-Star teammates Jack Cooley (Ryukyu Golden Kings) and Yuki Kawmaura (Yokohama B-Corsairs) scored 18 and 14 points, respectively. Kawasaki Brave Thunders and B.Black guard Ryusei Shinoyama, who finished with three points on 1-for-6 shooting and four assists, was named game MVP, with voting done by fans via SNS.
Chiba Jets star Yuki Togashi and SeaHorses Mikawa center Avi Koki Schafer paced B.White with 22 points apiece.

In Friday's All-Star basketball festivities, dynamic guard Kawamura won the Skills Challenge. Nagoya Diamond Dolphins playmaker Takumi Saito triumphed in the 3-Point Contest, while Golden Kings player Koh Flippin earned the Dunk Contest title.
The 2024 All-Star Game is set to be held at Okinawa Arena, which was to host the game in 2022, but it was canceled due to COVID-19.

Author: Ed Odeven
Follow Ed on JAPAN Forward's [Japan Sports Notebook] here on Sundays, in [Odds and Evens] here during the week, and Twitter @ed_odeven.