Naoya Inoue Becomes the Undisputed Bantamweight World Champion
Unbeaten Naoya Inoue overpowers Paul Butler with a flurry of punches in the 11th round, earning his 21st knockout victory and capturing Butler's WBO title.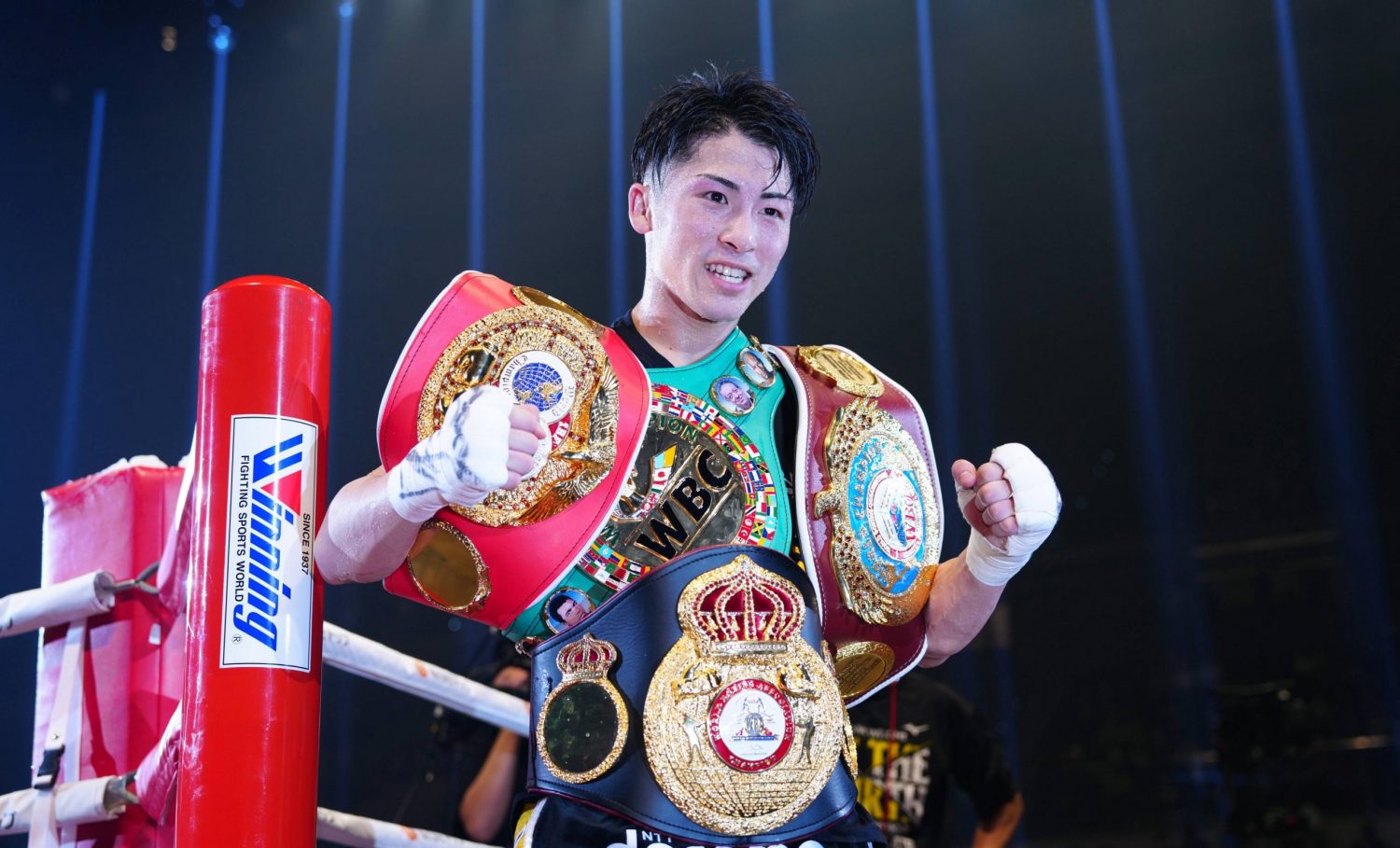 Between them, one fighter's knockout victory rate was more than double the other's entering their undisputed bantamweight world title fight on Tuesday, December 13. So it's no surprise that Naoya Inoue conquered Paul Butler with his mighty fists.
After all, Inoue had KO'd nearly 87% of his foes in a sterling pro career.
In a fight punctuated by a bevy of hard-hitting combinations from Inoue, the 11th round became his moment of truth.
Inoue battered Butler with five quick punches seconds into the round. It was quite clear that the pride of Zama, Kanagawa Prefecture, holder of the WBA, WBC and IBF world titles, had an extra jump in his step in this decisive round after a few rounds of slower activity.
As Inoue's onslaught continued, Butler, who entered the fight as the WBO champion, appeared dazed by his opponent's aggressive tactics. As Inoue continued his assault, Butler staggered near the ropes and was hit several more times before falling down.
The 34-year-old British fighter tried to get up, but he stayed on the canvas. The fight ended 1:09 into the 11th round as referee Bence Kovacs signaled that it was over.
Inoue improved to 24-0, collecting his 21st KO victory.
Butler, nicknamed the "Baby-Faced Assassin," fell to 34-3 (15 KOs).
Historic Feat for Naoya Inoue
"I finally became the undisputed bantamweight champion," Inoue declared before leaving the ring.
He then spoke about closing one chapter on his career before starting the next phase.
"I am honored to become undisputed champion at bantamweight," Inoue commented. "This is my last fight at this weight. I am excited to see what is in store [at super bantamweight at 122 pounds, or 55 kg]."
The move to super bantamweight will present new challenges, according to Inoue, who said "the division is full of powerhouses."

Inoue is the first Japanese fighter to be a world champion as recognized by all four major boxing world governing bodies, the WBA, WBC, IBF and WBO. He's also the ninth boxer in any weight class to hold four simultaneous titles, including Bernard Hopkins and Saul "Canelo" Alvarez.
What's more, the Japanese fistic warrior known as "Monster" moved a giant step away from becoming a major force in the super bantamweight division. The fight calendar will tell us when.
Consider it motivation and a healthy challenge for Inoue, who won the following rounds on my scorecard: 1, 2, 3, 4, 6, 9 and 10 before the knockout blows in the 11th. From my perspective, Butler won round five, while the seventh and eighth rounds were draws.
Inoue's 'Greatest Day'
Offering gratitude to his legions of fans, he described his hard-earned victory over Butler as the realization of a dream to become the undisputed world champion.

With unbridled enthusiasm, Inoue called it "the greatest day" of his boxing career.
It wasn't an easy accomplishment. Inoue insisted that his duel with Butler was an exhaustive endeavor, but he said it produced a satisfying feeling.
"There is nothing left unfinished in this weight class," were the words Inoue used to sum up his victorious reign as a bantamweight ― nine wins in the weight division since 2018.
Reflecting on a banner chapter in his career, he added: "Bantamweight is no easy division, and I was able to unify all four championships by taking each fight as being of the utmost importance as I pursued my objective."
Butler Demonstrates Boxing IQ
To his credit, Butler's increasingly defensive tactics in the middle rounds neutralized some of Inoue's fast, potent punches.
At the same time, Butler, guided by longtime trainer Joe Gallagher, created a wall of sorts between the two men, not stepping as close to Inoue as he had earlier.

Butler kept his hands up high, closely guarding his face and head.
"We know how explosive he is early on," said Butler, who categorized Inoue's punching power as "quite effective."

He added, "We know how hard he hits. The plan was to get past rounds 3, 4, 5 and start to get my shots."
Gallagher also noted that Inoue is a knockout artist, a fighter with a long list of opponents who have been pulverized by his punches in the early rounds.
Butler's years of experience in the ring and boxing smarts helped prolong the fight.
"Paul's boxing ability and Paul's boxing brain showed tonight," Gallagher told reporters, explaining that Inoue often knocks guys out in early rounds. Instead, Butler, to his credit, made it a fight that lasted almost the maximum (12 rounds), a rarity against Inoue.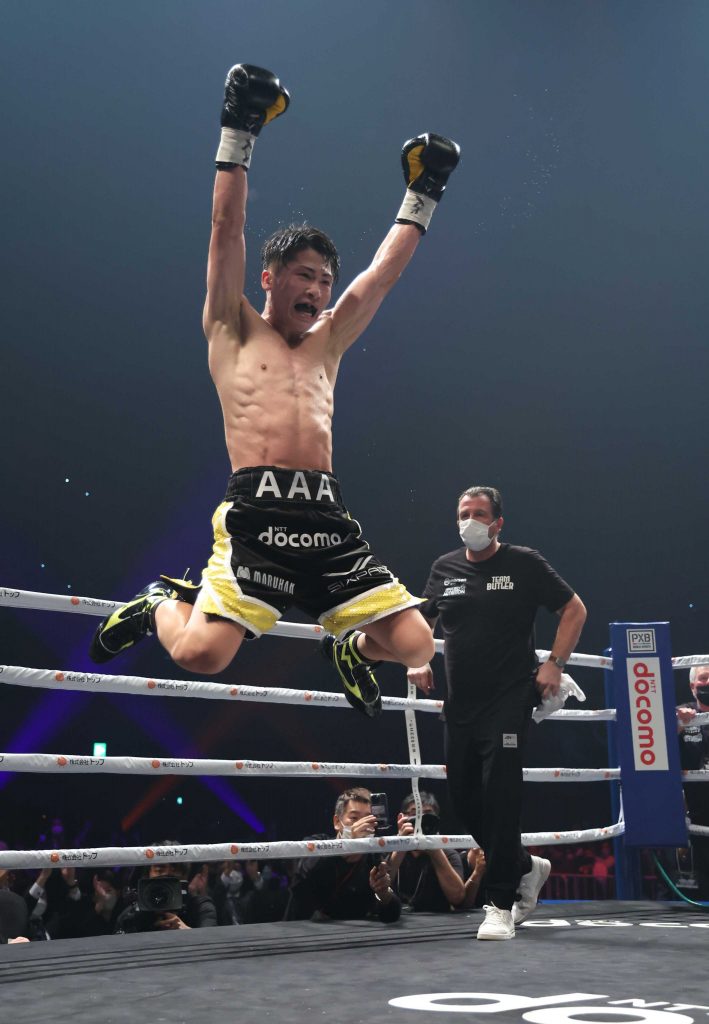 A Dramatic Moment Seen Around the World
With Butler defeated before the clock struck nine, Inoue jumped for joy in the ring. Then he embraced his father/longtime trainer Shingo Inoue before stepping onto the ropes and pumping his left fist to salute the fans.
Entering the 11th round, Inoue led on points 97-91, according to this reporter's scorecard.
In a post-fight news conference, Butler said his opponent's "punching power was good, was accurate."

"I was taking them on the chin from round 1 to round 11. It was a body shot that did me in," Butler lamented.
That on-target hit underscored Inoue's ability to exploit every opportunity, even the smallest opening, to create opportunities for victory.
Early Rounds at Ariake Arena
On several occasions in the first four rounds, Inoue, who was making his 19th consecutive world title appearance, found gaps in Butler's defense with a quick series of punching combinations.
In one vivid example of Inoue's exceptional boxing skills, he followed an effective jab by hammering Butler with a straight right to the head late in the third round.
And in the fourth round, Inoue remained the aggressor, pounding Butler with body shots, two with his left hand and another two with his right, as he stood near the ropes. Then he repeated the action with three more blows with about 50 seconds remaining in the round.
It was a recurring theme for much of the fight, the impetus for the knockout in the 11th.
"I prepared for this fight with the intention of winning by KO," Inoue was quoted as saying by NHK. "So if it was a decision, I think I would have been full of feelings of frustration."

He added, "I was able to do it, so I think this is a match where I have gained something in myself."
Extra Punches
Here are some notes from fight night and other details linked to the Inoue-Butler showdown:

The British fighter held nothing back when he analyzed Monster's ability to inflict pain on rival fighters. His comments came in an interview with the BBC, which was published a day before the fight. "Everybody knows what he does well," Butler observed. "He puts away people and he stops people."
The last undisputed bantamweight champion was Panama's Enrique Pender in 1972 in the two-division era (WBA and WBC). The IBF was established in 1983, and the WBO launched five years later.
Japanese boxing legend Masahiko "Fighting" Harada, now 79, was the nation's last undisputed bantamweight champion (1965-67).
Seven days before he laced up his gloves to take on Butler, Inoue spoke to reporters about his motivation to excel at Ariake Arena and also put a fitting close to his successful time as a bantamweight.
"I think this might be my last fight as a bantamweight. And I'm driven by a desire I've never felt before," Inoue was quoted as saying by Kyodo News. "I need to state my case for a switch to super bantam."
Before becoming a bantamweight, Inoue earned world titles at light flyweight and super flyweight.
Introduced at ringside before the fight were retired Japanese boxing stars Shinsuke Yamanaka, the WBC bantamweight champ from 2011-17, and Hozumi Hasegawa, who held the same belt from 2005-10.
RELATED:
Author: Ed Odeven
Follow Ed on JAPAN Forward's [Japan Sports Notebook] here on Sundays, in [Odds and Evens] here during the week, and Twitter @ed_odeven.

Subscribe to Our Newsletter