[JAPAN SPORTS NOTEBOOK] Team Japan Shines at World Judo Championships
In Doha, Japanese judoka collected five gold medals and 11 individual medals in 10 weight classes at the World Judo Championships.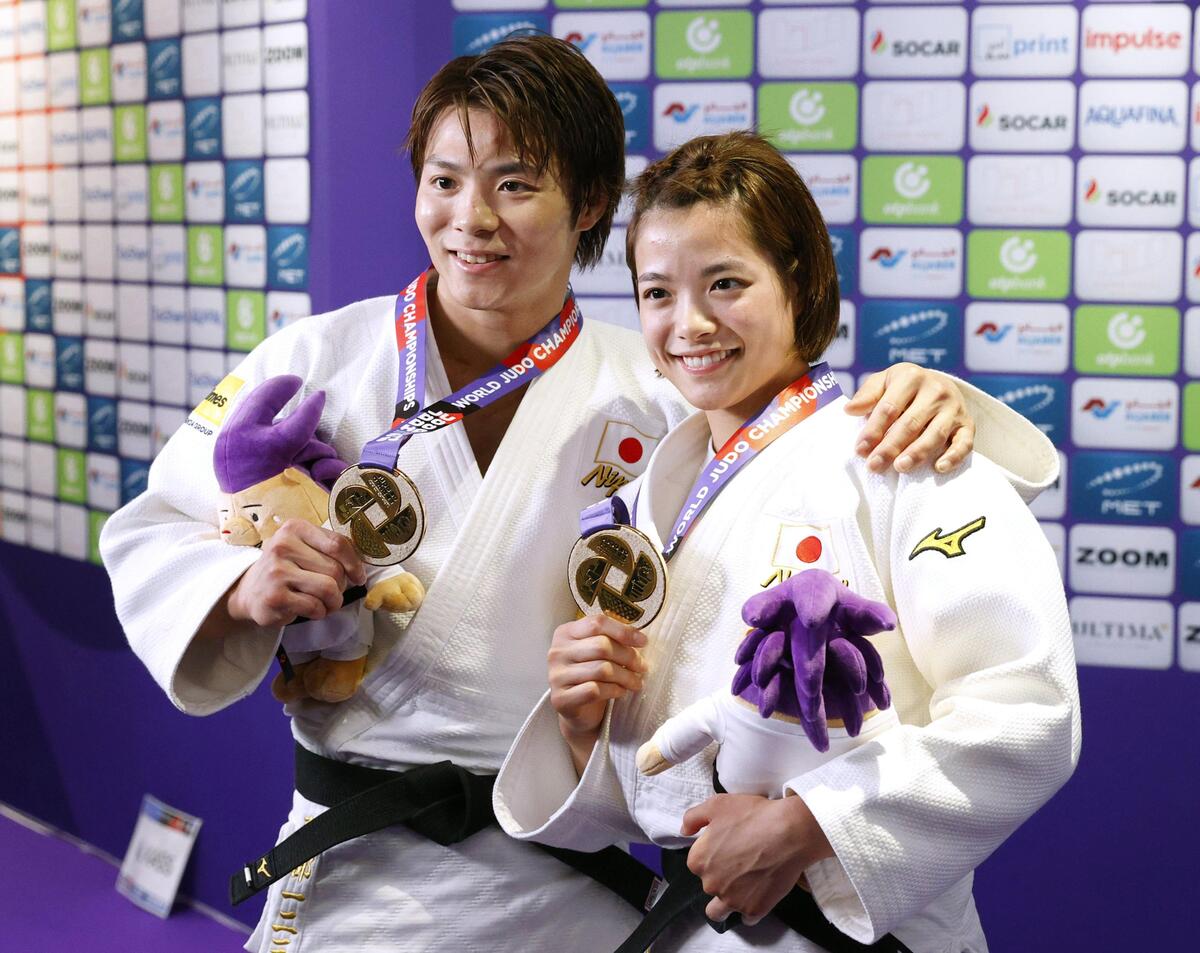 Japan delivered a comprehensive display of the nation's talented judoka at the 2023 World Judo Championships in Doha.

Entering the final day of this year's championships, when the mixed team event was to be held on Sunday, May 14, Japan was the leader in overall medals (11) and gold medals (five), with two silver and four bronze medals, too, in the Qatari capital.

This was similar to the most recent preceding world championships, held in October 2022, in Tashkent, Uzbekistan. There, Japan's judoka collected 13 medals (six gold, four silver and three bronze), more than any other nation.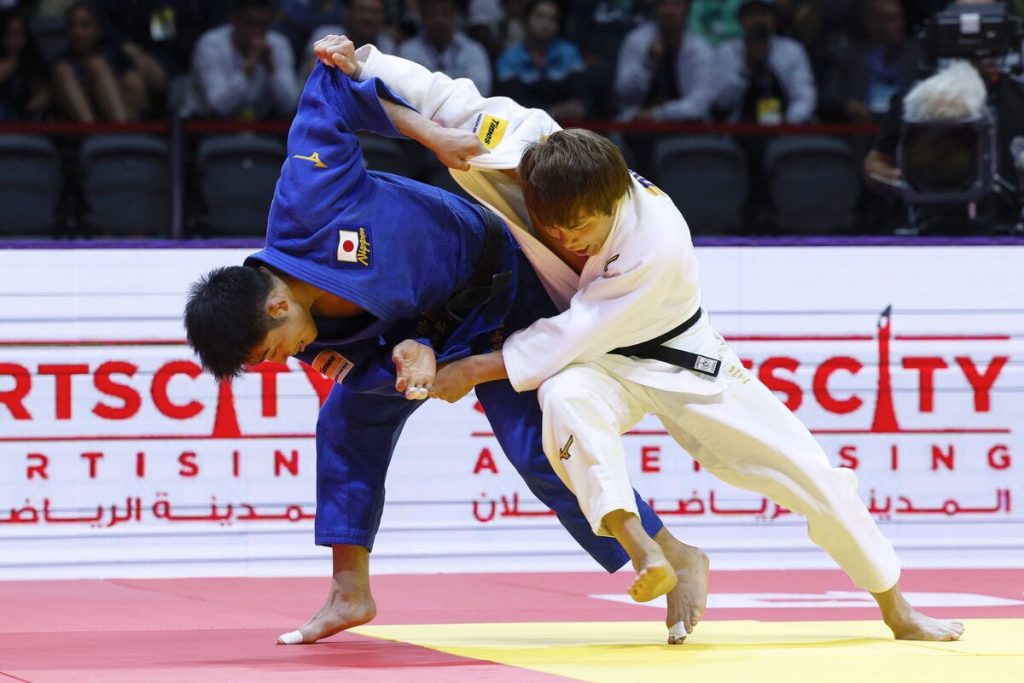 Triumphant Hifumi Abe Pleased with Effort in Final
On Monday, May 8, reigning men's Olympic champion Hifumi Abe (66-kg weight class) defended his Tashkent title and secured his fourth overall world title.

Abe defeated compatriot Joshiro Maruyama in the final.

"I was able to pursue my ideal way of fighting, giving him no chance to take the initiative," Hifumi Abe said, according to Kyodo News.

The 25-year-old added, "I fought with strong determination in the final, [and] I think I showed my strength as an Olympic champion."
Abe claimed his first world title in 2017 in Budapest. And he matched Japan's world title national record of four gold medals shared by Yasuhiro Yamashita, Naohisa Takato, Shozo Fujii and Naoya Ogawa.

Crediting his older rival for helping push him and elevate his competitive skills, Abe summed up 29-year-old Maruyama's impact on his career this way, according to Nikkan Sports: "I am who I am now because of him."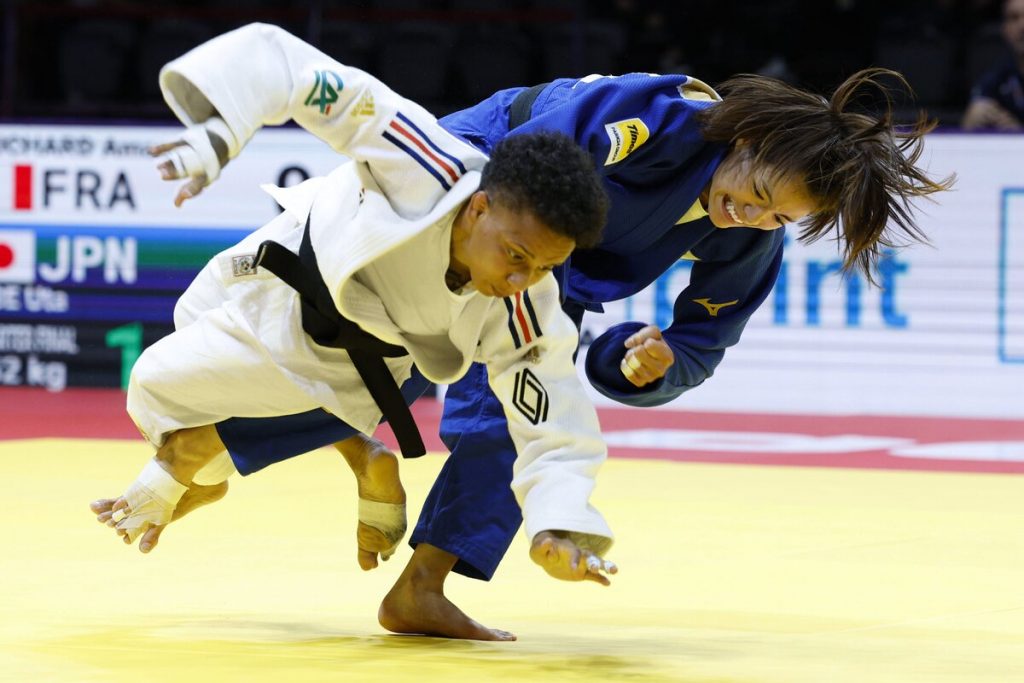 Uta Abe Repeats as World Champion
Earlier on the same day as his glorious achievement in Doha, the 66-kg judo dynamo's younger sister, Uta Abe, also repeated as world champion in the women's 52-kg division. The 22-year-old fan favorite from Kobe won her fourth straight world title, beating Uzbekistan's Diyora Keldiyorova in the final.

In a rematch of the women's gold-medal match from the Tokyo Olympics, Abe triumphed over France's Amandine Buchard in the quarterfinals.

Abe's overall brilliance as a judoka was showcased throughout the tournament, with all five of her victories achieved by ippon.

Looking back at the tournament upon her arrival at Narita Airport on Wednesday, May 10, Uta Abe reminded reporters that her success and her brother's are a unified story.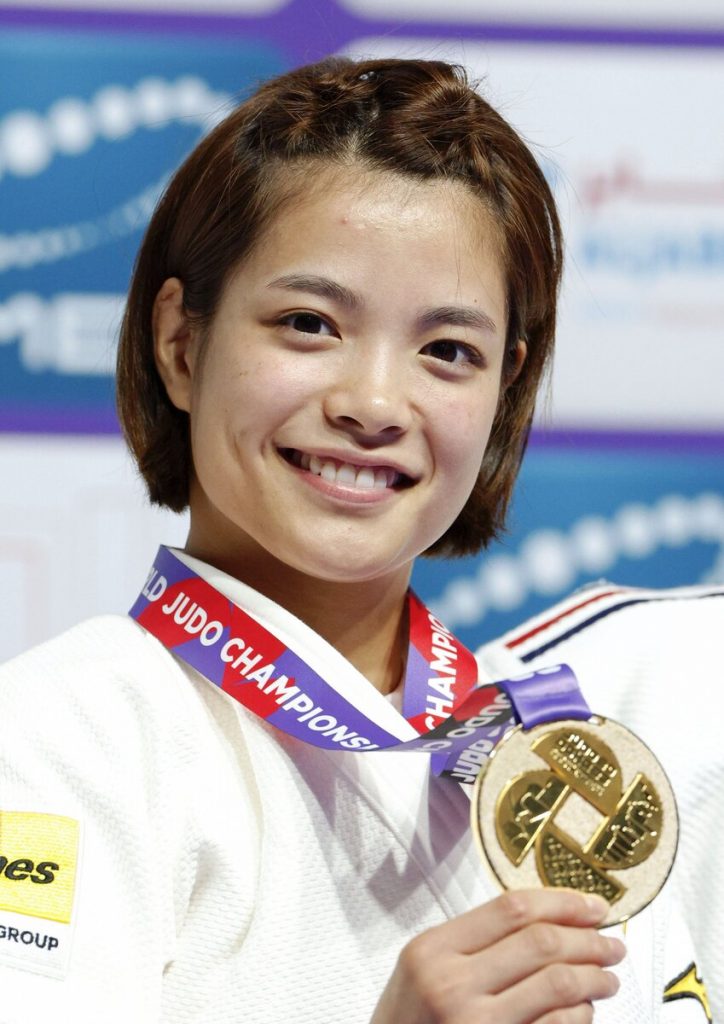 "It's amazing, isn't it? Three in a row since the Olympics," Uta was quoted as saying by Nikkan Sports. "But what I want to achieve most is to win at the Olympics [the 2024 Paris Games] with my brother. That's the only thing I'm looking forward to."

Hifumi echoed his sister's outlook, expressing his wish to do the same next year in the French capital.

"We want to celebrate our big victories today, but our goal is to win golds again at the Paris Olympics," Hifumi told reporters, according to The Yomiuri Shimbun. He added, "We will continue competing without resting on our laurels from here."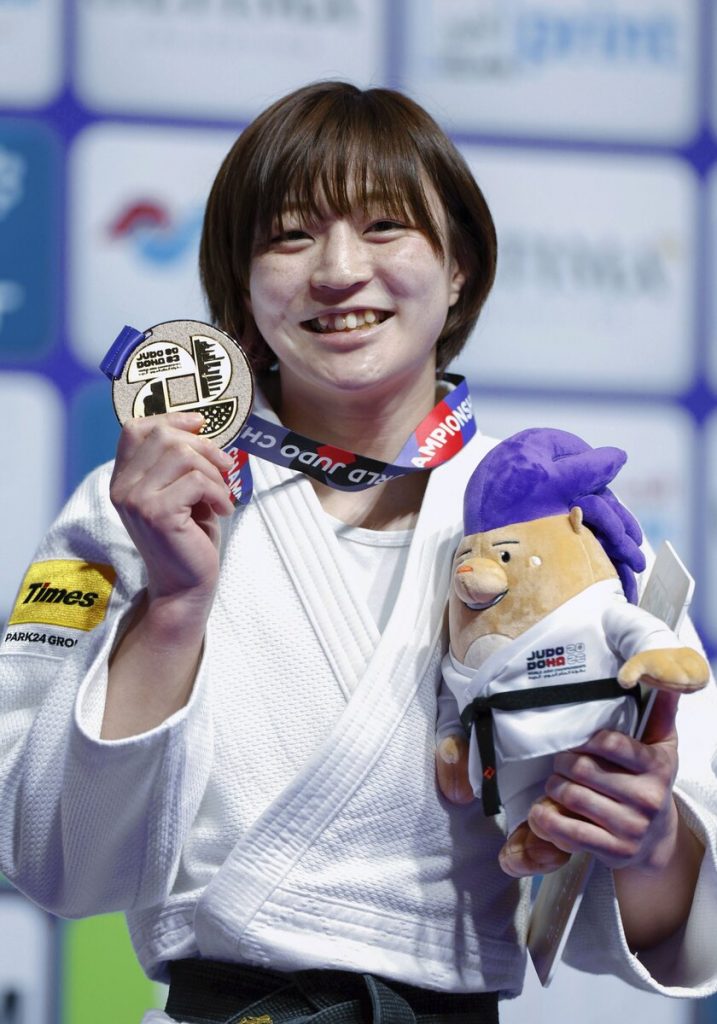 Tsunoda Claims Third World Title 
On May 7, the opening day of the world championships, Natsumi Tsunoda secured her third world title in as many years at 48 kg. Teammate Wakana Koga nabbed one of the two bronze medals up for grabs in the same weight class.

Tsunoda, 30, outpointed France's Shirine Boukli in the title match, a result that left her confessing she's already focused on big events in the near future.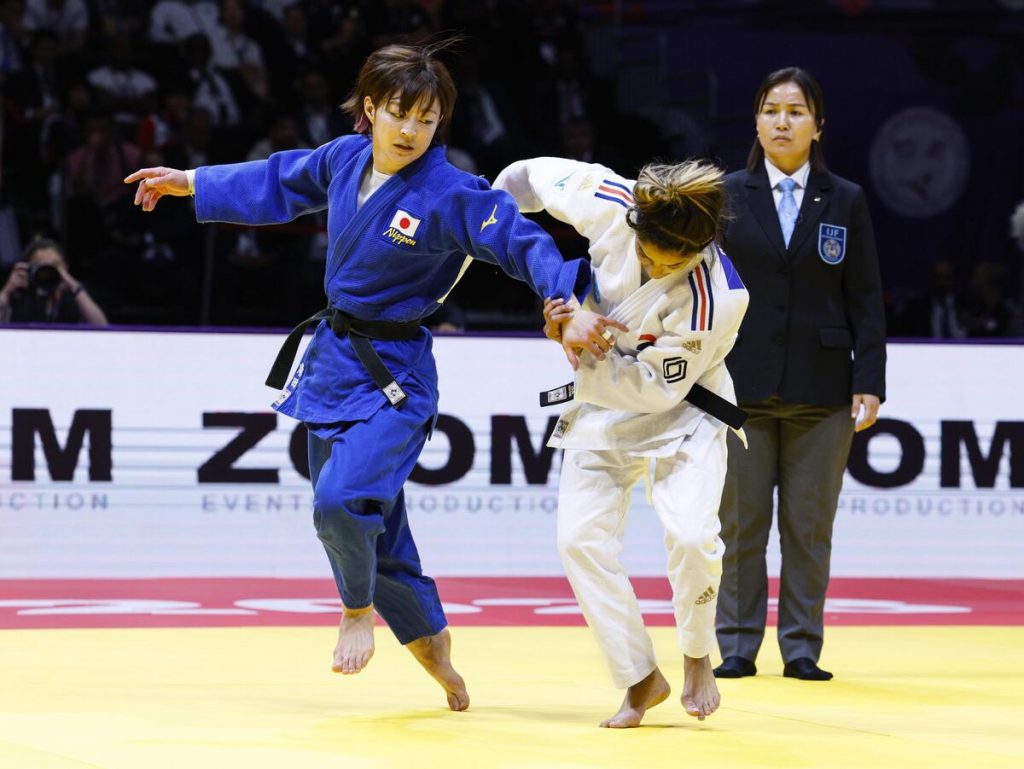 "I knew how important it was to go all the way here," Tsunoda told reporters in Doha. "Without being satisfied with this result, I want to make use of it in the next event."
On Thursday, May 12, Saki Niizoe won her first individual world title at 70 kg, improving upon her third-place finish in 2022. Niizoe was a member of Japan's gold medal-winning mixed team (2017, 2021 and '22) at three previous world championships.
It was an emotional victory for Niizoe over Germany's Giovanna Scoccimarro in the final.
"Tears flowed as the joy of this victory exceeded my expectations," Niizoe said, according to Kyodo News.
Sone Outlasts Tolofua in Epic Judo Match
There was major drama on the final night of individual competition, too. Tokyo 2020 Olympic champ Akira Sone, 22, captured her second world title in the over 78-kg division on Saturday, denying French foe Julia Tolofua's championship quest.
It was an epic match, lasting more than 11 minutes, a test of endurance for Sone. The Fukuoka Prefecture native, who won her first world title in 2019 in Tokyo, missed last year's world championships. Sone underwent left knee surgery in March 2022, forcing her to miss the first world championships after the Tokyo Olympics.
"I've had tough days since the surgery, not managing to perform the kind of judo I'd imagined," Sone told reporters, according to Kyodo News. She then said, "I prepared desperately and this win gives me confidence."
Sone added, "The important result is the Paris Olympics next year. I'll overcome issues I encountered today and get stronger to win the gold medal again at any cost."
What a technique from the Olympic Champion!🇯🇵#JudoWorlds #Judo #Qatar #Doha #Sport #OlympicQualifiers #RoadToParis2024 #WJT #Olympics @JudoDoha2023 pic.twitter.com/gIEi6mHsQA

— Judo (@Judo) May 13, 2023
At the eight-day meet, Haruka Funakubo was the women's runner-up in the 57-kg weight class. Also for Japan, Soichi Hashimoto, Takanori Nagase and Sanshiro Murao hauled in bronze medals in the men's 73, 81 and 100 kg divisions.

RELATED: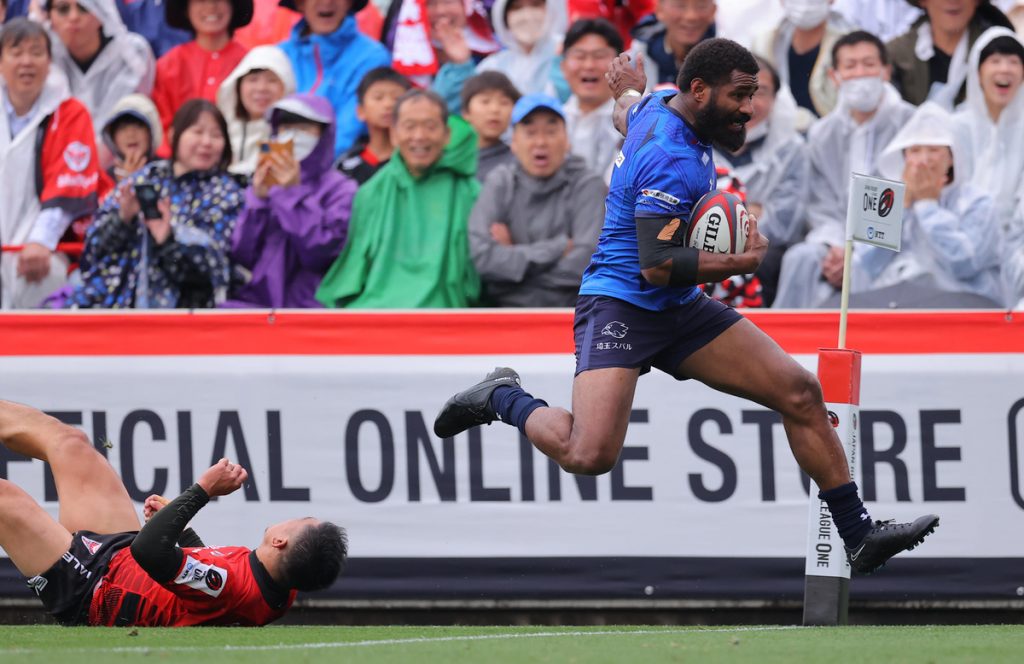 Rugby
Reigning Champion Wild Knights Advance to Final
Trailing 17-15 at halftime, the Saitama Wild Knights overwhelmed the Yokohama Canon Eagles in the second half of a Japan Rugby League One playoff semifinal match on Saturday, May 13.

The Wild Knights, League One champions in 2022, will play in the title match on May 20 at Tokyo's National Stadium against the winner of the other semifinal (Kubota Spears vs Tokyo Sungoliath on May 14).

Marika Koroibete helped ignite the Wild Knights' powerful resurgence in the second half, when he scored three tries at Tokyo's Prince Chichibu Memorial Rugby Ground.
Koroibete's first try put his team in front 20-17 in the second minute of the second half before teammate Rikiya Matsuda booted the conversion kick to extend the advantage to five.

And from that point on, it turned into a rout. Koroibete supplied a season-high 15 points for the Wild Knights.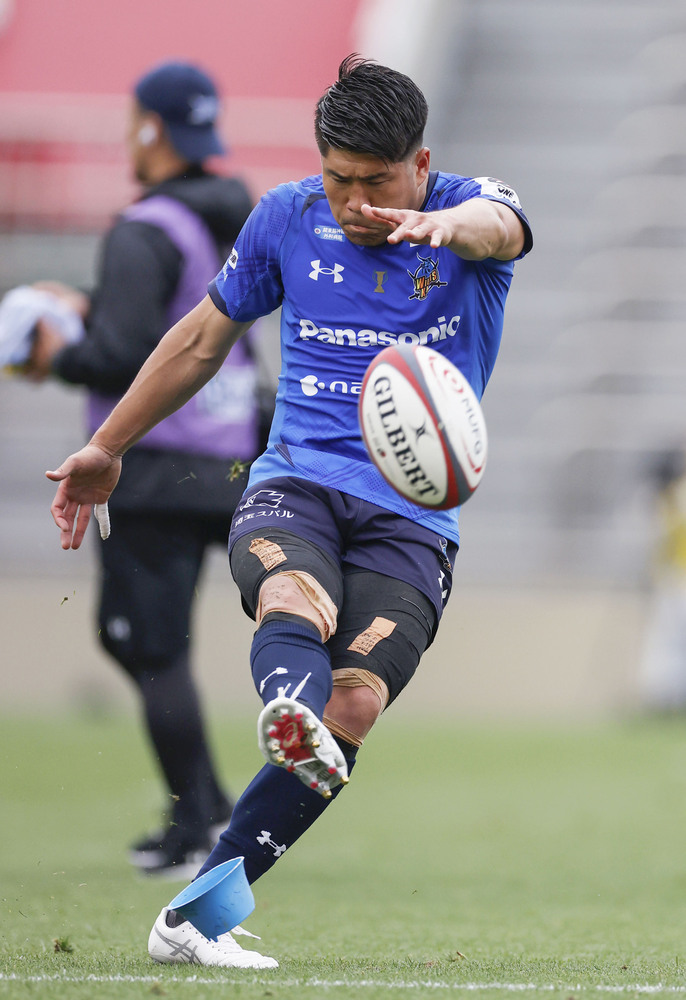 It was a busy and successful afternoon for Matsuda, who finished with a drop goal, made three conversions and also had five penalty goals (a total of 24 points).

After the match, Wild Knights coach Robbie Deans analyzed what happened on the field.

"[The Eagles] put us under a lot of pressure and disrupted our flow in the first half," Deans said, according to Kyodo News. "But the team worked their way through it and showed good composure.
"We took the points to stay in the game, and a couple of adjustments at halftime opened up the game for us."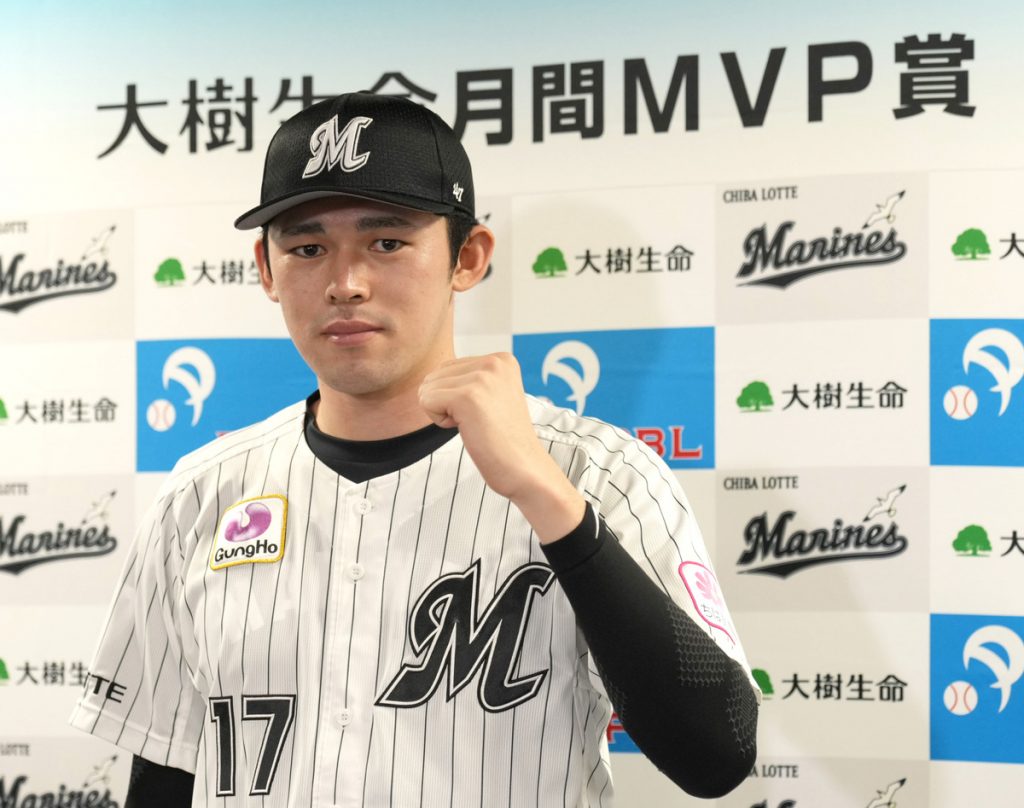 Baseball
Sasaki Earns Pitcher of the Month Award
Chiba Lotte Mariners starter Roki Sasaki was recognized for his outstanding overall mound work in March and April on Thursday, May 11, when he was named the Pacific League Pitcher of the Month.

Because the season starts in late March, NPB combines March and April for monthly award winners in the PL and Central League.

Sasaki was 3-0 with a 1.00 ERA in four starts in the season's first two months. He had 38 strikeouts in that span, tops among PL pitchers.

"From my second start, I found myself pitching in series-opening games," Sasaki said, according to Kyodo News. "Because I was going against many good pitchers, we weren't going to win unless I limited their scoring. But my teammates scored early for me and we were able to hold on to leads."

A year ago, Sasaki earned his first PL Pitcher of the Month award for March and April. Most notably, he threw a perfect game against the Orix Buffaloes on April 10, 2022.
RELATED: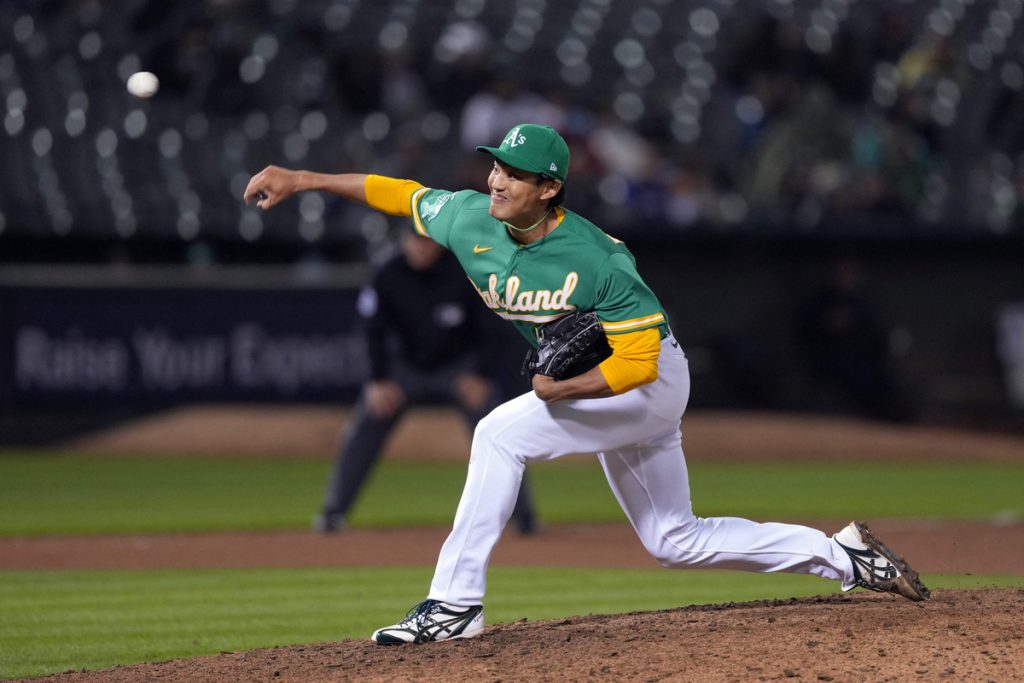 Fujinami Collects First MLB Victory
Veteran right-hander Shintaro Fujinami, who struggled as an MLB starter before being moved to the bullpen, earned his first victory with the Oakland Athletics on Friday, May 12. Fujinami had a short outing in Oakland's 9-7 win over the Texas Rangers, but gave the A's a chance to win it in the bottom of the 10th inning.

In the top of the 10th, Fujinami entered the game with two men on base and one out, with the A's leading 7-5. And he squashed the Rangers' scoring threat, starting with a strikeout of Robbie Grossman. After walking a batter, Fujinami got the final out of the inning on a flyout.

Oakland then triumphed on Brent Rooker's three-run home run in the 10th.

Fujinami made four starts in April and had a 14.40 ERA when the team opted to reassign him to the bullpen.

The 29-year-old, formerly with NPB's Hanshin Tigers, pitched in his 11th MLB game on Friday.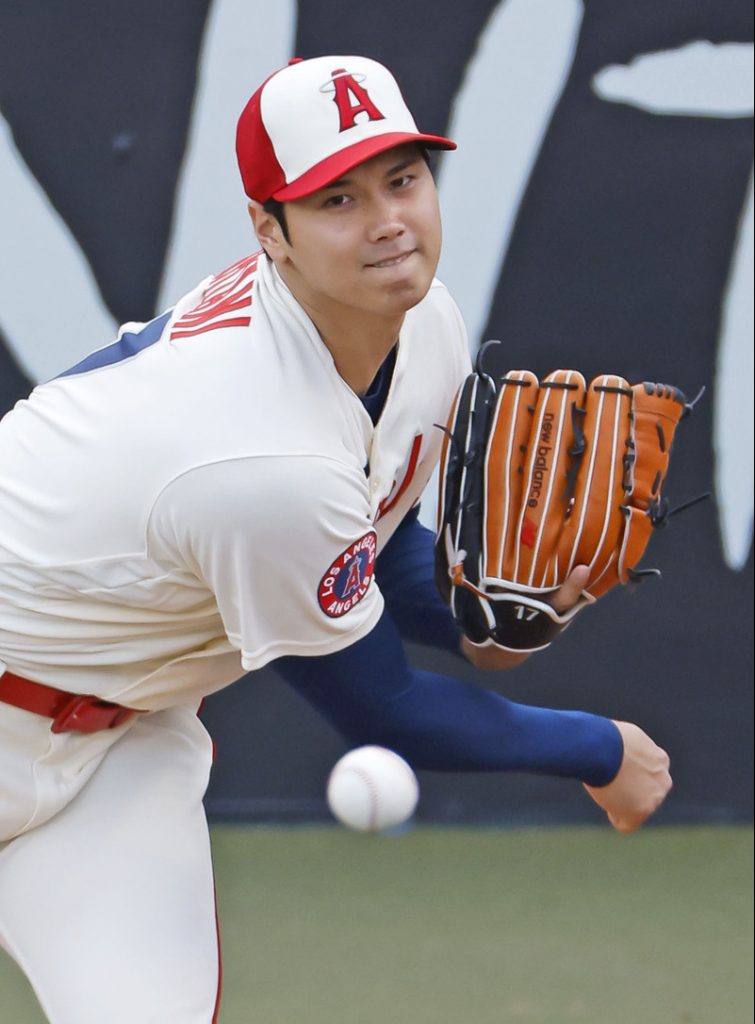 Ohtani Remains One of MLB's Top Strikeout Artists
Los Angeles Angels fireballer Shohei Ohtani is third among MLB pitchers in strikeouts (66) through Friday, May 12. Only the Toronto Blue Jays' Kevin Gausman (67) and the Atlanta Braves' Spencer Strider (79) have fanned more batters this season.

Ohtani, who has made eight starts, is 4-1 with a 2.74 ERA in 46 innings.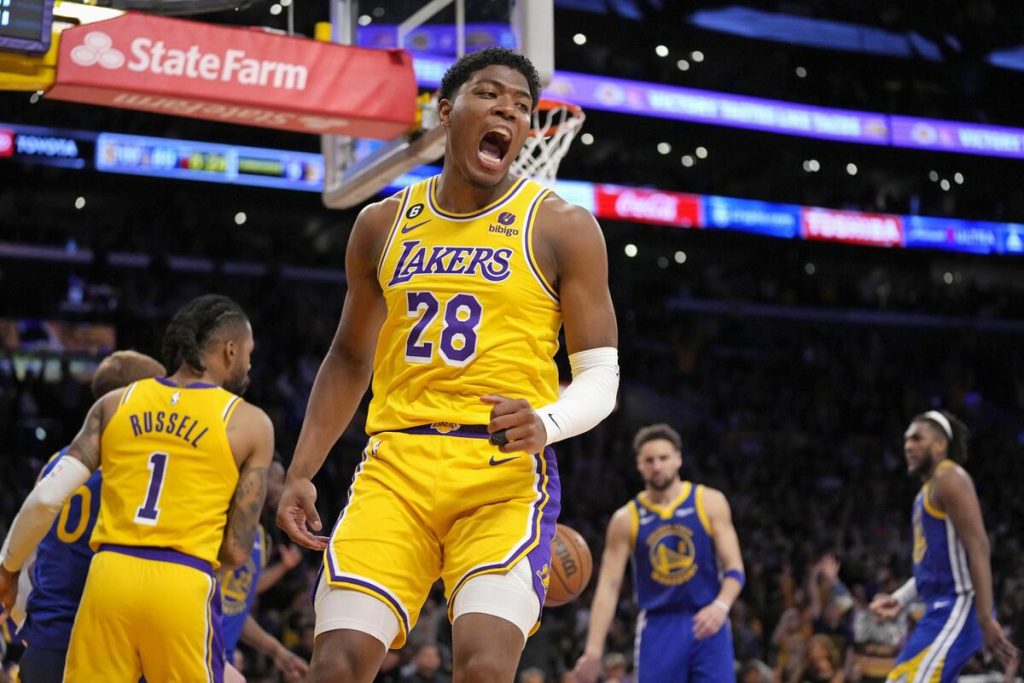 Basketball
Hachimura Helps Lakers Reach Western Conference Finals
The Los Angeles Lakers eliminated the defending NBA champion Golden State Warriors in Game 6 of the Western Conference semifinals on Friday, May 12, winning 122-101.

Coming off the bench for the Lakers, backup forward Rui Hachimura had nine points, three rebounds and two blocked shots in 16 minutes. He was 5-for-6 from the free-throw line.

For the Lakers, all-time great LeBron James had a tone-setting performance with 30 points, nine rebounds and nine assists, while Anthony Davis had 17 points and 20 rebounds.
"It was difficult to find the rhythm with [limited] playing time, but I was able to contribute," Hachimura said after the game, according to Nikkan Sports.

Up next: Los Angeles travels to play the Denver Nuggets in Game 1 of the Western Conference finals on Tuesday, May 16.
Soccer 
Asian Cup Draw Revealed in Doha
Four-time Asian Cup champion Japan has been paired with 2007 tourney winner Iraq, Vietnam and Indonesia in Group D for next winter's continental competition in Qatar.
The Asian Football Confederation announced the breakdown of the 24-team men's tournament, which has six groups for the opening round.
Qatar won the 2019 tournament, with Japan finishing as the runner-up in Abu Dhabi, United Arab Emirates.
Looking ahead to next year's tournament (January 12-February 10, 2024), Samurai Blue coach Hajime Moriyasu said his squad will face a formidable challenge.
"We've been put in an extremely difficult group," Moriyasu was quoted as saying by Agence France-Presse. "Our objective is winning the championship. We mustn't forget to enjoy this as we take on the challenge."

Author: Ed Odeven
Find Ed on JAPAN Forward's dedicated website, SportsLook. Follow his [Japan Sports Notebook] on Sundays, [Odds and Evens] during the week, and Twitter @ed_odeven.