[JAPAN SPORTS NOTEBOOK] The T.League Crowns a New Women's Champion
Kinoshita Abyell Kanagawa earned their first T.League title, defeating four-time reigning champion Nissay Red Elf in the table tennis championship final.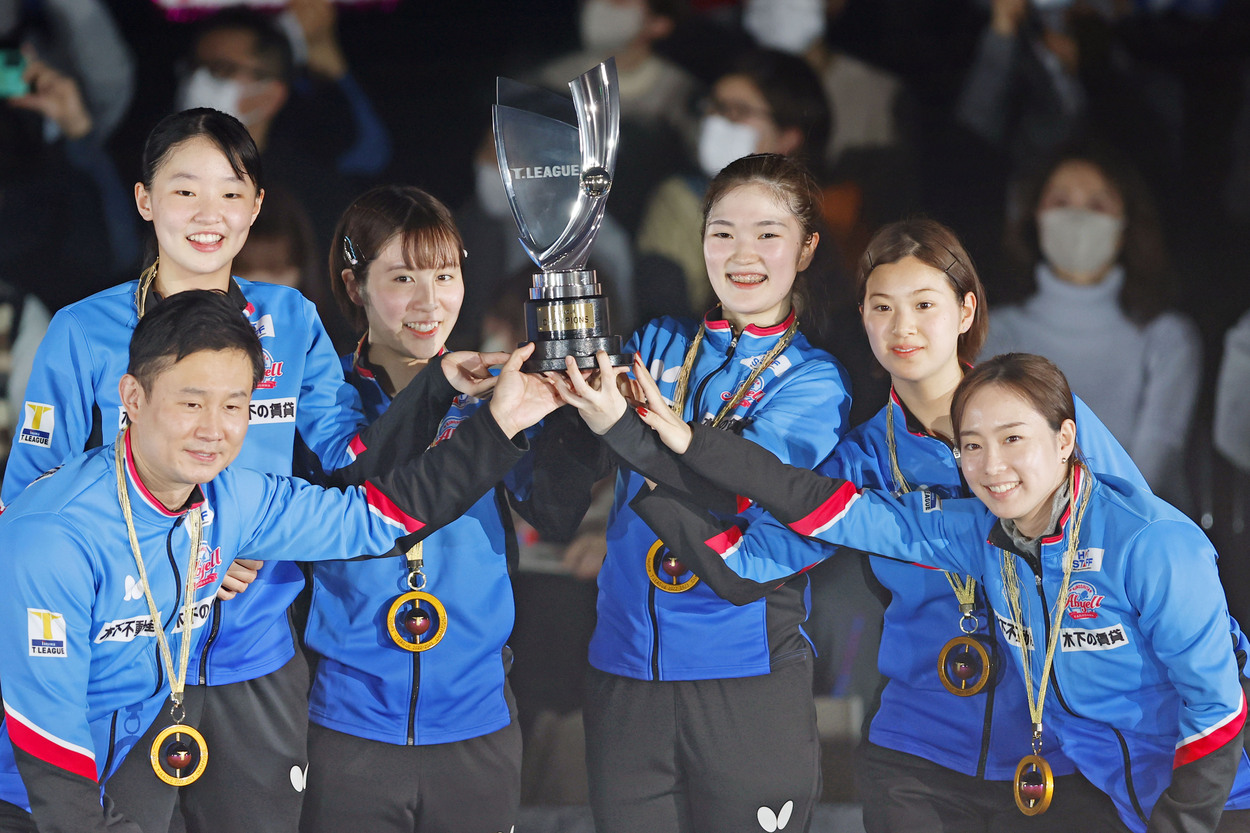 Championship experience and pride were on full display as the Nissay Red Elf squared off against T.League rival Kinoshita Abyell Kanagawa in Japan's women's pro table tennis circuit's championship final on Sunday, March 26.

Nissay brought a four-year title dynasty into the arena, collecting championships in each of the six-team T.League's first four seasons.

But with determination, teamwork and solid all-around play, Kinoshita etched its name on a T.League championship trophy for the first time, defeating Nissay 3-2 at Yoyogi National Gymnasium No 2.

In the title-deciding match, contested after four previous matches, Kinoshita standout Miyuu Kihara topped Mima Ito 11-9.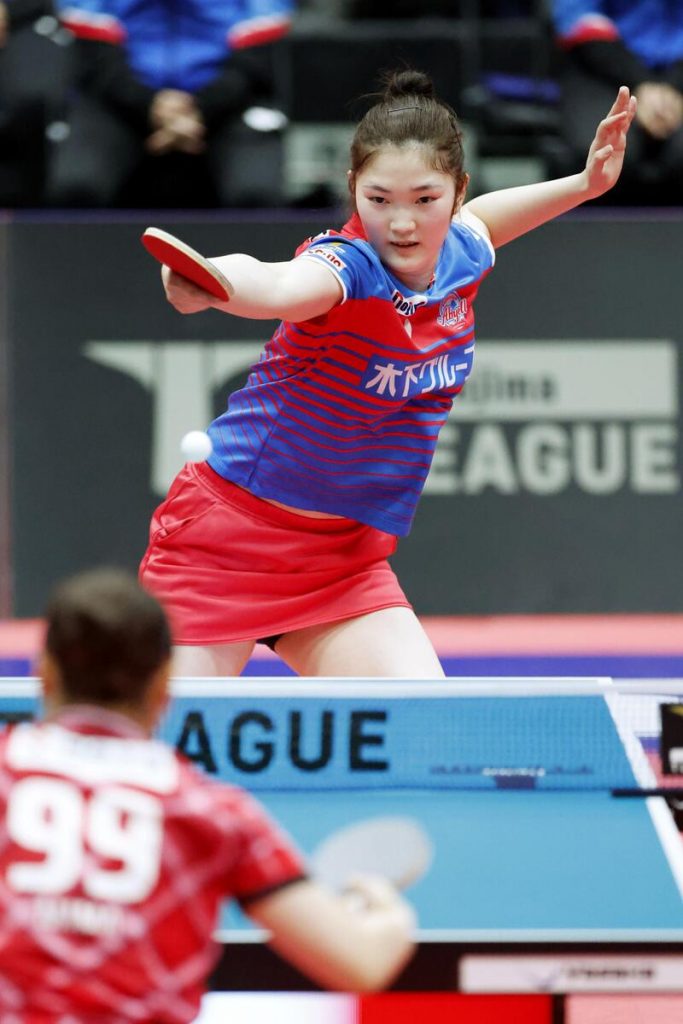 "We were able to win because we helped each other," Kihara told NHK after the match.
She added, "We've been losing to Nippon Life Insurance Co for the past four years. I think we were able to win because we all discussed tactics and characteristics and helped each other."
Despite the pressure of playing in a title-deciding match, wrapping up a long season that started in September, Kihara tried to not put too much pressure on herself.
"I played with the feeling that it was a normal match and I wanted to relax," she told the Japanese national broadcaster.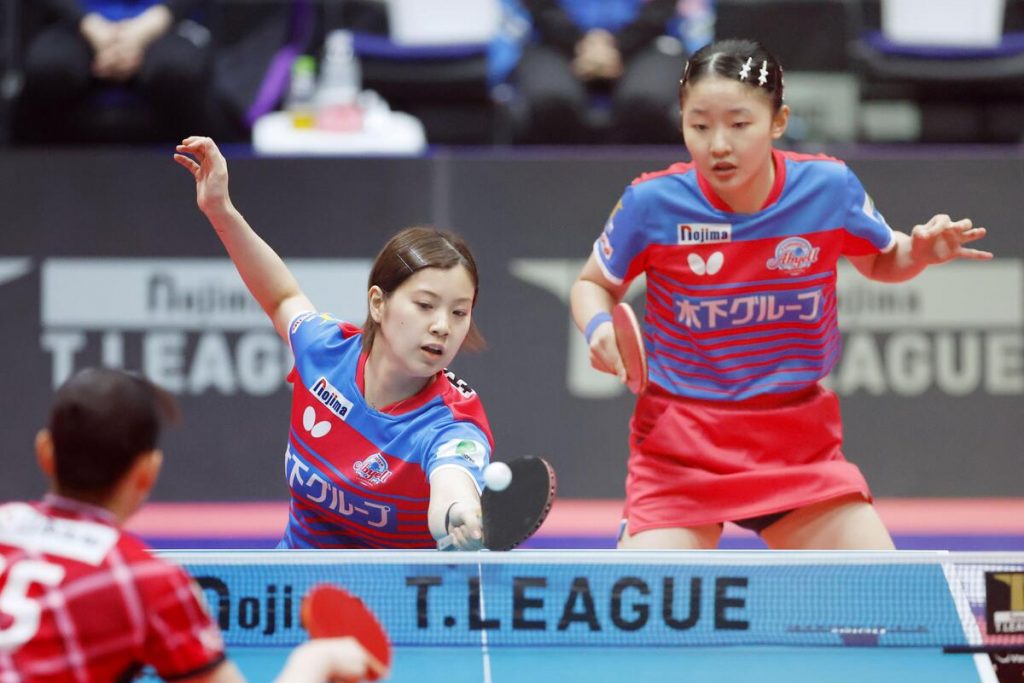 Quick Rundown on the T.League Finals
In the day's opening match, Kihara's teammates Miyu Nagasaki and Miwa Harimoto earned a 7-11, 11-9, 14-12 win in doubles play against Nissay's Hina Hayata and Kasei Akae.

Hayata then recorded an 11-4, 11-9, 11-6 win over Kinoshita's Miu Hirano, a Tokyo 2020 Olympic silver medalist (women's team event).

After that, Ito, another Tokyo Olympic women's team member, dropped a difficult five-set match (9-11, 8-11, 11-6, 11-4, 9-11) to Harimoto as momentum shifted back to Nissay.

Following Harimoto's triumph, Kihara squared off against Nissay's Sakura Mori. A back-and-forth duel ended with Kihara winning 11-6, 6-11, 12-10, 6-11, 11-7 to force a fifth and deciding match ― to extend Nissay's championship reign to five seasons or crown a new champion.
And Kihara ensured that her teammates would have a victory celebration after her clutch performance against Ito.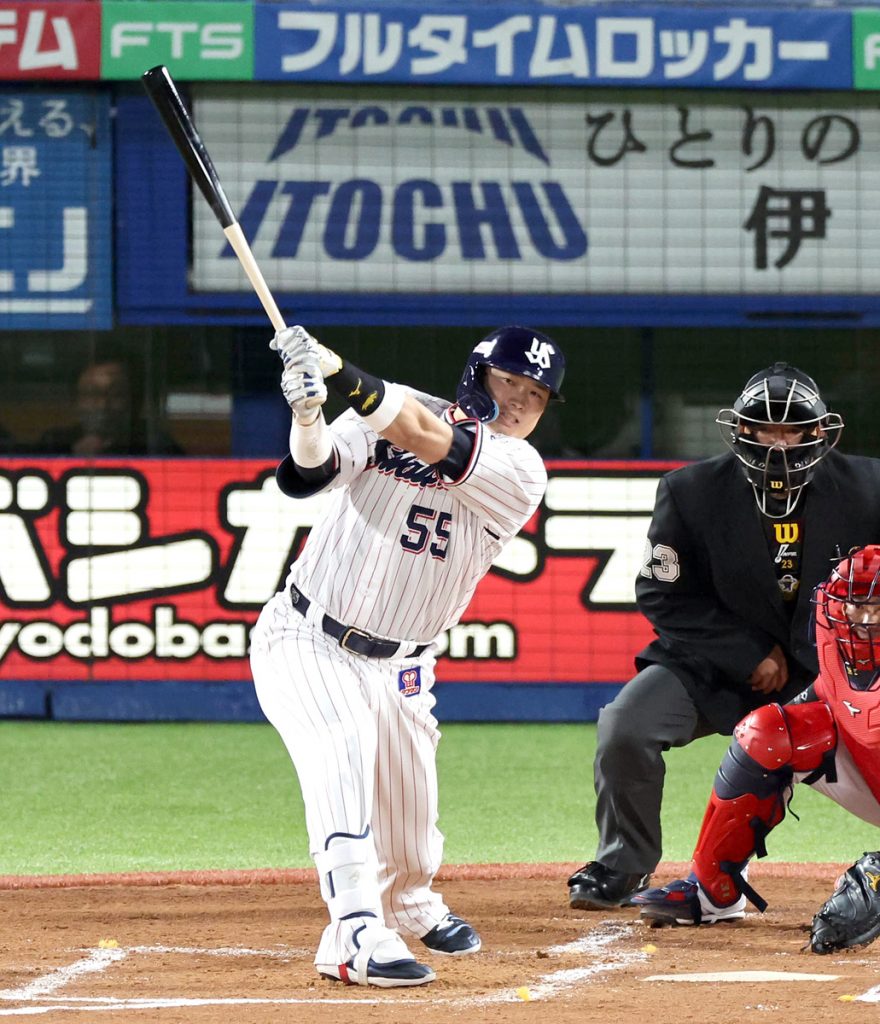 Baseball
Swallows' Murakami Homers in Opener
Tokyo Yakult Swallows slugger Munetaka Murakami belted a two-run home run to center off Hiroshima Carp starting pitcher Daichi Osera in the first inning of the teams' Central League opener on Friday night, March 31.
It was more of the same for Murakami. He slugged 56 homers last season, a record for Japanese-born NPB players, and won the CL Triple Crown.

The Swallows, who were the Japan Series runners-up in 2022, defeated the visiting Carp 4-0 at Jingu Stadium.

Murakami, the hero of Japan's walk-off win over Mexico in the World Baseball Classic semifinals on March 20, was pleased to give his team a spark in the season opener.

"I played my heart out at the WBC, and I carried that concentration into today's game," Murakami told reporters. "I'm glad my trials and errors during batting practice led to the result."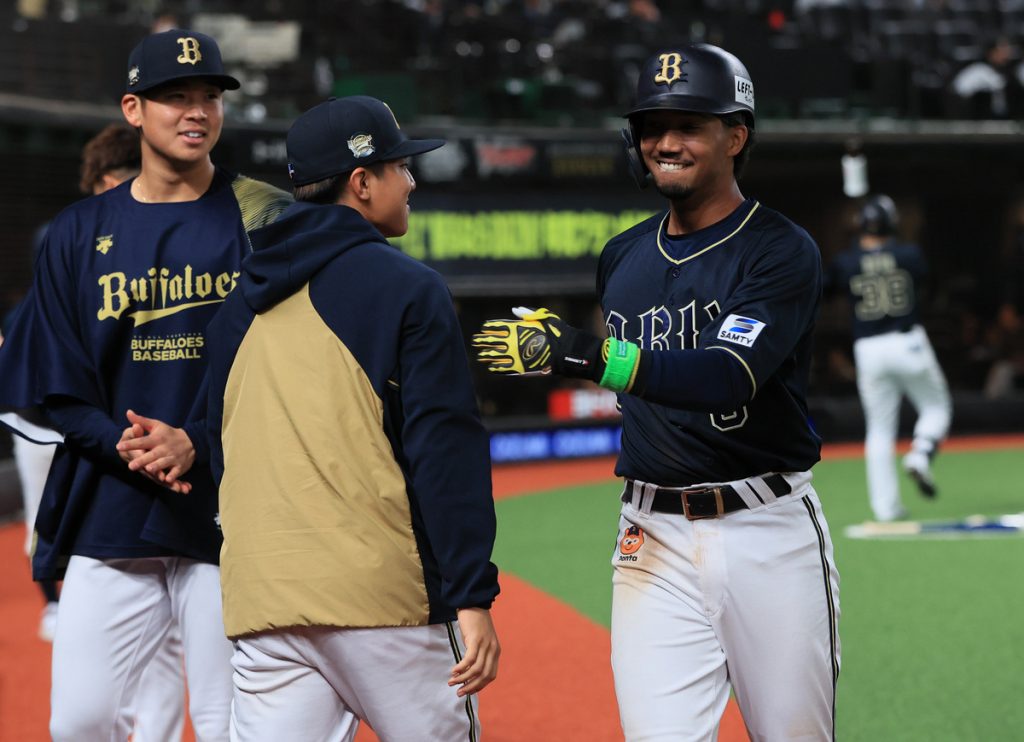 Also Friday, the reigning champion Orix Buffaloes earned a 3-2 road victory in 10 innings over the Saitama Seibu Lions at Belluna Dome. Yuma Mune belted a solo homer to lead off the 10th.
Buffaloes rookie Shunpeita Yamashita worked 5⅓ innings, allowing four hits and a run. The 20-year-old struck out seven and walked one. He also had two wild pitches. Five Orix relievers also pitched in the game.
With two outs in the ninth, Buffaloes newcomer Tomoya Mori whacked a solo homer to make it 2-2.
Fighters Earn First Win in Dramatic Way
In other NPB news, the Hokkaido Nipponham Fighters collected their first-ever win at their new stadium, Es Con Field Hokkaido, in their second game of the season, a 4-3 triumph over the Tohoku Rakuten Golden Eagles on Saturday, April 1.

Kotaro Kiyomiya had the game-winning hit in the 10th, driving in Yuki Nomura, whose head-first slide into home ended the game and sparked rowdy celebrations from the Fighters fans at the new ballpark.

The Fighters lost their opener 3-1 to the Eagles on Thursday, March 30.


The Nippon-Ham Fighters first win at Es Con Field Hokkaido is a walk-off from Kotaro Kiyomiya! pic.twitter.com/wytKEJz22A

— Yakyu Cosmopolitan (@yakyucosmo) April 1, 2023
RELATED: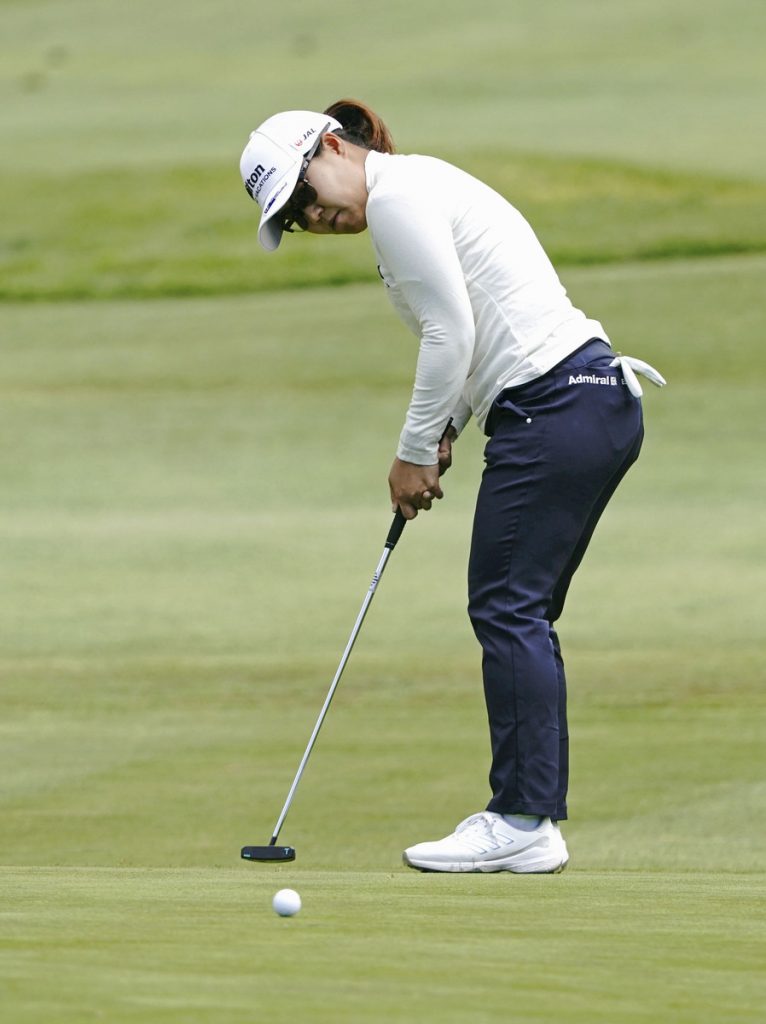 Golf
Hataoka in Contention for Another LA Open Title
At the midway point of the LA Open, reigning champion Nasa Hataoka was one shot off the pace.
Hataoka carded a 4-under 67 in the first round, followed by a 66 in the second round. The Japanese golfer's 9-under 133 put her one shot behind co-leaders Hyo Joo Kim and Ruoning Yin entering the third round on Saturday, April 1.
For Hataoka, her game plan in the tournament's first two rounds was nearly identical.
"The plan for today was simple: do the same thing I did yesterday, try to focus on my shot, try not to think too much about my shot," she told reporters after the second round. "And I think that really worked out today."

Hataoka had birdies on the first, third and ninth holes in round two, and she was asked about the final shots in each of those rounds.
"I don't really remember all three birdies, but I do remember the last one," Hataoka said. "It was a long one, so I'm glad I was able to [make it]."
After shooting an even-par 71 in the third round, Hataoka (204) was five shots off the lead heading into Sunday's final round.
In other women's golf news, Ayaka Furue finished third in the LPGA Drive On Championship with a 19-under 270 on March 26 in Gold Canyon, Arizona. France's Celine Boutier defeated England's Georgia Hall in a one-hall playoff after both players finished the fourth round at 20-under 269.
As an LPGA Tour rookie, Furue gained valuable experience.
"I learned that I need to save my energy for all the tournaments, and to focus one shot at a time," Furue commented.
RELATED: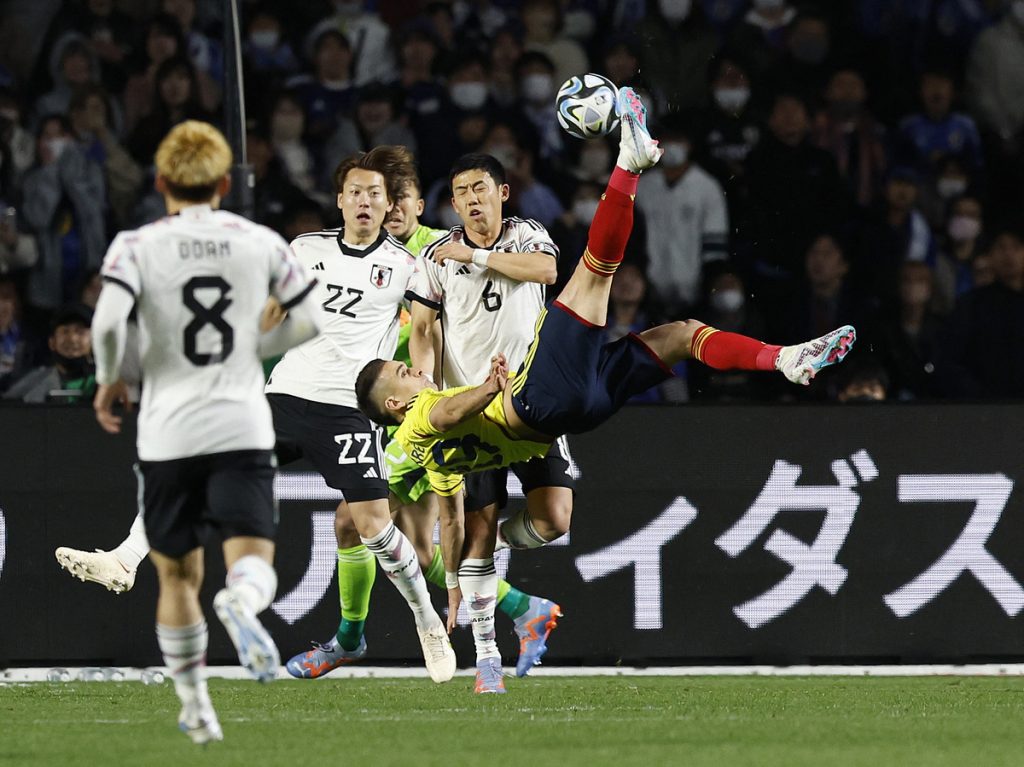 Soccer
Japan Falls to Colombia in Friendly
The Japan men's national soccer team squandered a 1-0 lead against Colombia on Tuesday, March 28 in Osaka, losing the international friendly 2-1.

Rafael Borre delivered the game-winning goal for Colombia in the 61st minute, blasting an overhead shot past Japan goalkeeper Daniel Schmidt at Yodoko Sakura Stadium.

"We weren't able to turn the game our way after that first goal and that was unfortunate," Samurai Blue manager Hajime Moriyasu was quoted as saying by Kyodo News. "Obviously, we need to find a way to win in any kind of game, and get better at controlling the game."
Kaoru Mitoma, who plies his craft for the English Premier League club Brighton, gave Japan a 1-0 lead in the third minute.
Colombia's Jhon Duran knotted the score in the 33rd minute. His team outshot Japan 14-6.
In its previous friendly, Japan recorded a 1-1 tie with Uruguay on March 24 in Tokyo.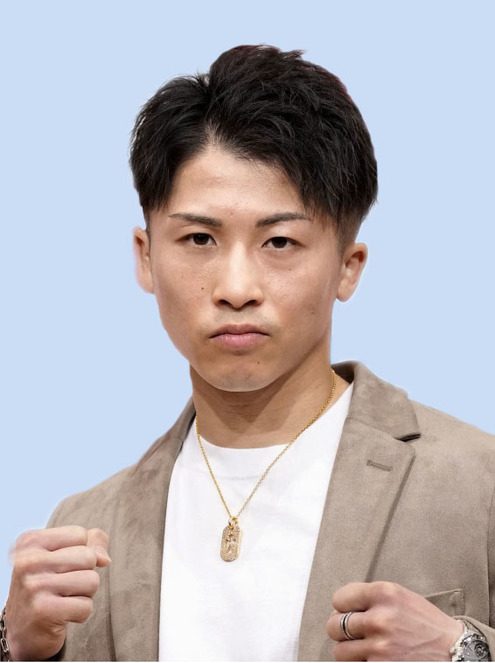 Briefly…
Boxer Naoya Inoue will return to the ring on July 25 against Stephen Fulton at Ariake Arena in Tokyo, it was announced on Wednesday, March 29. The super bantamweight title bout ― Fulton owns the division's WBC and WBO titles ― was originally scheduled for May 7, but the date was pushed back. The reason? Inoue sustained a hand injury during a March training session.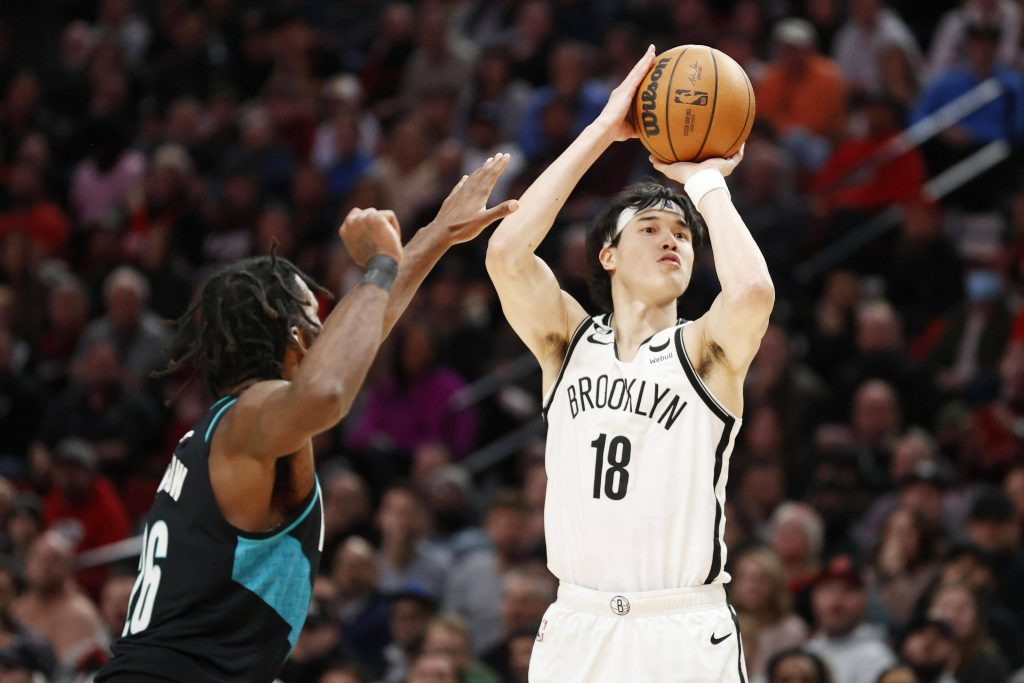 Brooklyn Nets forward Yuta Watanabe has scored in double digits in only three games since the calendar flipped to January 2023. Watanabe had a season-best 20 points against the Portland Trail Blazers on November 17, but his offensive output has decreased in recent weeks. The Nets overhauled their roster in early February, trading franchise cornerstones Kyrie Irving and Kevin Durant to the Dallas Mavericks and Phoenix Suns, respectively. In his fifth NBA season, Watanabe is averaging career-high totals in minutes played (16.2) and scoring (5.6 points per game).

Author: Ed Odeven
Find Ed on JAPAN Forward's dedicated website, SportsLook. Follow his [Japan Sports Notebook] on Sundays, [Odds and Evens] during the week, and Twitter @ed_odeven.