Kaori Sakamoto and Mai Mihara Post 1-2 Finish in Short Program at Grand Prix Final
Skating to "Rock with U" at the Grand Prix Final, Sakamoto posted a clean scoresheet and received a level four on one of her spins and step sequence.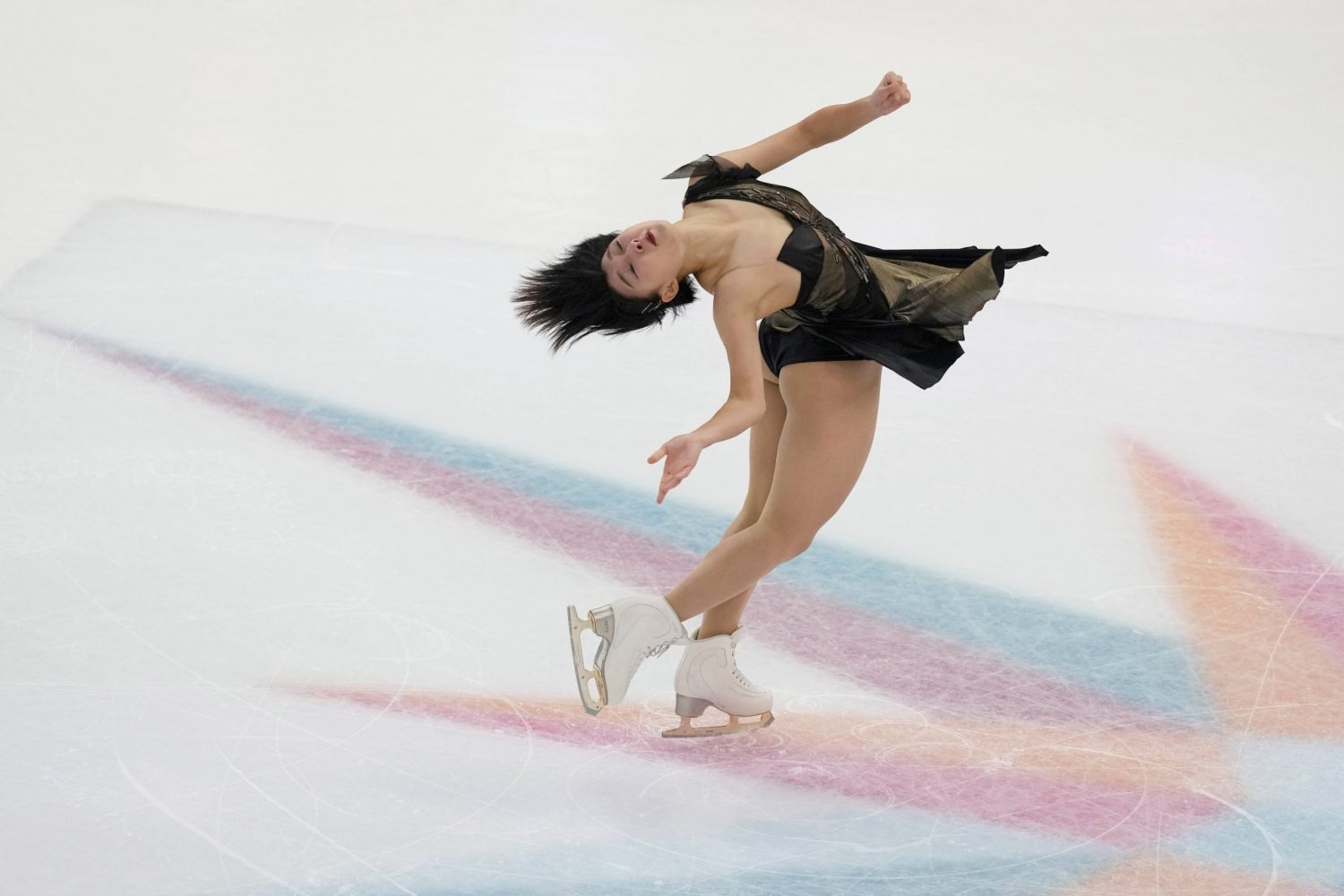 World champion Kaori Sakamoto moved out to the lead after the short program at the Grand Prix Final in Turin, Italy, on Friday night, December 9 with a solid performance as she looks to claim her first medal ever in the prestigious event.
Sakamoto earned a score of 75.86 points and leads compatriot and training partner Mai Mihara, who tallied 74.58 in second place, going into Saturday's free skate at the Palavela Arena.
World silver medalist Loena Henrdrickx of Belgium is third with 74,24, while Rinka Watanabe stands in fourth on 72.58. American Isabeau Levito, last season's world junior champion, is fifth at 69.26, with South Korea's Yelim Kim sixth on 61.55.
The 22-year-old Sakamoto skated to "Rock with U" and posted a clean scoresheet. She opened with a double axel, then landed a triple lutz, and went on to hit a triple flip/triple toe loop combination jump.
Sakamoto, the bronze medalist at the Beijing Olympics earlier this year, received a level four on one of her spins and step sequence.
"The amount of my practices didn't change in the time until the final, but I have increased my training slightly," Sakamoto stated. "When I had time, I walked or used the train instead of taking the car.
"I just thought about moving my body even during the day, and I was conscious about moving. So I feel like I got the movement of my body back."
No Time to Dwell on Short Program
Sakamoto realized she doesn't have long to enjoy her result this night.
"I understand that no matter how my short program goes, I have to do well at the free skate," Sakamoto commented.
"So finishing my short program perfectly after a long time, although I'm relieved, tomorrow's here soon so I want to focus and do my best going into tomorrow."
Mihara Copes with Nervousness
Mihara, who came into the GP Final as the top qualifier after her two victories this season, put forth another fine effort in her skate to "Merry Christmas Mr. Lawrence." She landed all of her jumps cleanly and registered level fours on her spins and step sequence.
The 23-year-old Mihara, skating in the Senior GP Final for the first time, admitted she had a case of the jitters before taking the ice on Friday.
"I had so much pressure," Mihara remarked. "Today I didn't see until right before my performance that I was going to skate last in this event, and when I saw that I was quite surprised and suddenly became nervous.
"Being the last skater in the women's event and the last skater for the whole event today, I really tried to stay focused and focus on how happy I am just to be here," Mihara added.
Watanabe In Contention for a Medal
Watanabe has a shot at making the podium after her skate to "El Tango De Roxanne" in which she topped her personal best of 66.83 by nearly six points. The 20-year-old Hosei University student was a quarter short on her opening triple axel, but landed her triple lutz/triple toe loop combo and a nice triple loop. She recorded level fours on her spins and step sequence.
"I was able to land the triple axel in the short program for the first time this season," Watanabe noted.
She added, "I'm glad I was able to achieve my personal best in my first GP Final. It will give me confidence in the future."
Miura, Kihara Claim Gold in Pairs
Riku Miura and Ryuichi Kihara brought Japan its historic first GP Final medal with their victory in pairs after the free skate. The duo won with a total tally of 214.58, prevailing by just over a point over Alexa Knierim and Brandon Frazier of the United States, who were second with 213.28.
Italy's Sara Conti and Niccolo Macii took third place at 187.02.
Miura and Kihara skated to "Atlas: Two" and "Shared Tenderness" and executed a triple twist, throw triple lutz and loop, in addition to level-four lifts.
"Today's performance was not our best, but we are really happy to win the first Grand Prix Final as a Japanese team," Kihara said. "We were saved by the power of the audience, thank you."
Kihara added, "We both made some mistakes, so we are upset about that. Overall, we think it is a great experience for us heading into the world championships in March in Japan."
RELATED:

Author: Jack Gallagher
The author is a veteran sports journalist and one of the world's foremost figure skating experts. Find articles and podcasts by Jack on his author page, here, and find him on Twitter @sportsjapan.