Kaori Sakamoto Makes History by Winning Second Consecutive World Title
Although Kaori Sakamoto didn't have her best outing, it was still good enough to win the gold and become the first Japanese skater to repeat as world champion.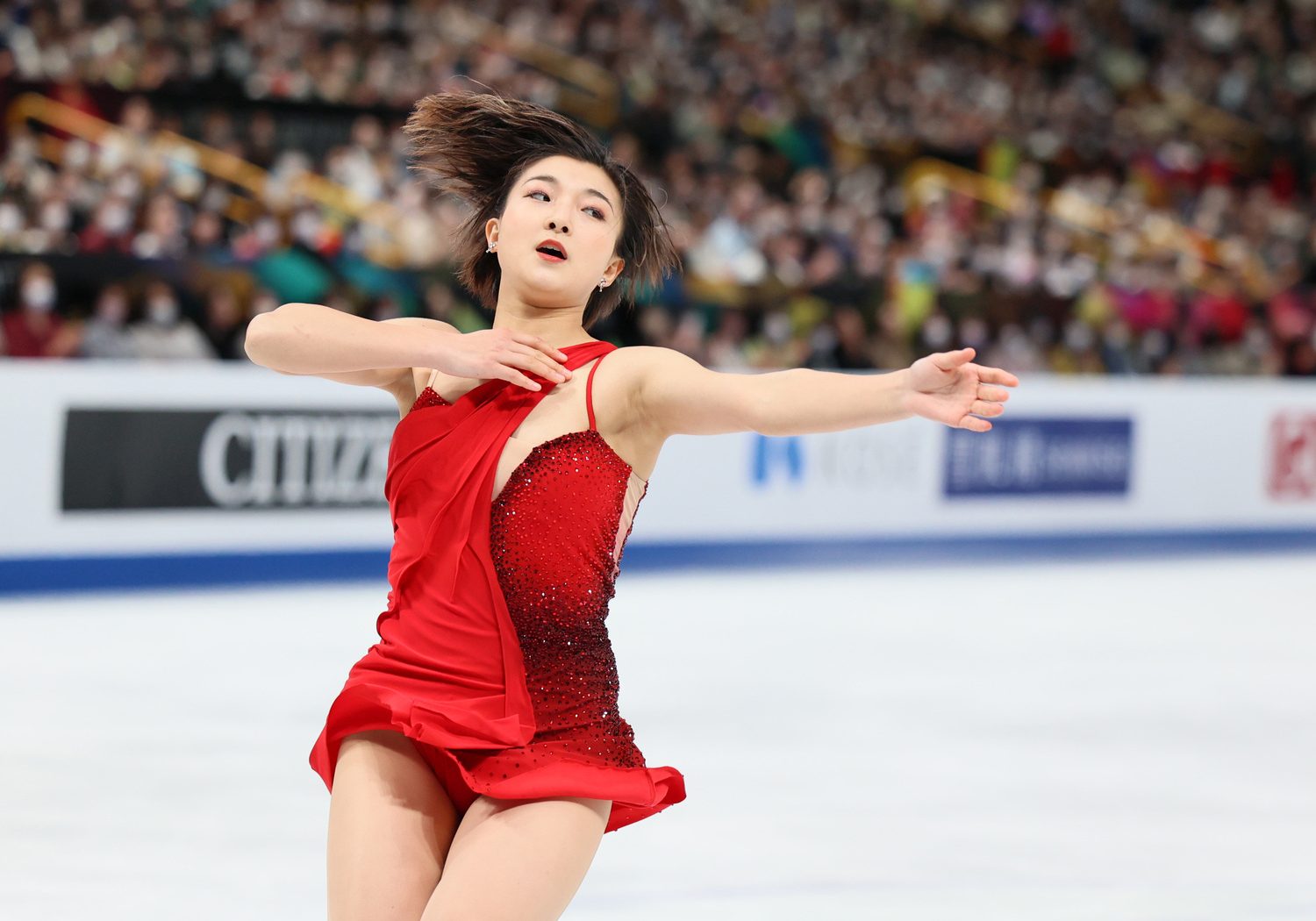 SAITAMA ― Kaori Sakamoto staved off a stiff challenge from South Korea's Haein Lee to win her second straight title at the World Figure Skating Championships at Saitama Super Arena on Friday night, March 24. In doing so, the 22-year-old Sakamoto made history by becoming the first Japanese skater ― male or female ― ever to repeat as world champion.
Sakamoto held a lead of more than five points after Wednesday's short program and seemed assured of a second consecutive crown. But Lee did not make it easy for Sakamoto after putting on a scintillating performance in her free skate.
Although Sakamoto, who became the sixth Japanese woman to win a world senior singles title in 2022 after Midori Ito, Yuka Sato, Shizuka Arakawa, Miki Ando and Mao Asada, did not have the best outing of her career on this night, it was still good enough to get the gold and a piece of history.
Sakamoto landed six clean triples and earned level fours on two of her spins and step sequence on the way to victory.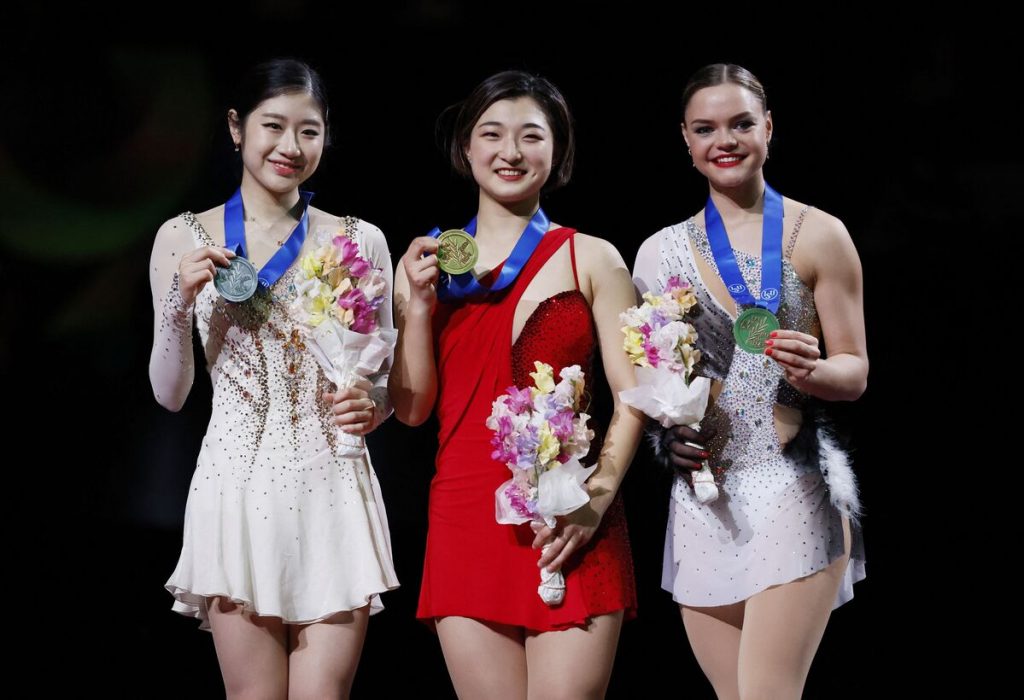 The Kobe native's winning total score was 224.61 points. Lee finished with 220.94 to take the silver medal. Belgium's Loena Hendrickx, last year's silver medalist, settled for the bronze this time at 210.42.
Isabeau Levito of the United States, last year's world junior champion, was fourth on 207.65, while Mai Mihara, who was third after the short program, dropped to fifth with 205.70.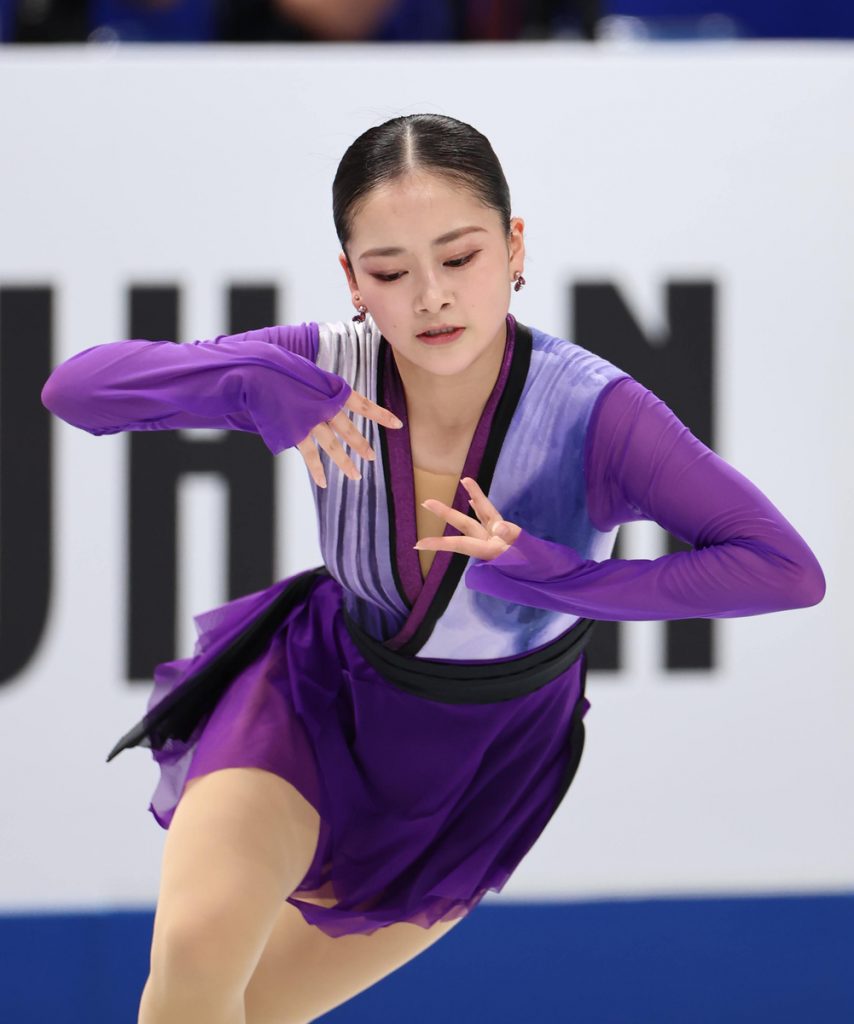 Rinka Watanabe rallied from 15th place after the short program to come in 10th at 192.81.
Kaori Sakamoto Has a Solid Overall Free Skate
Sakamoto skated to "Elastic Heart" and was steady all the way with one exception ― when she popped a planned triple flip on the front end of a combination jump with a triple toe loop into a single. That is where Sakamoto's lead after the short program proved pivotal in the final standings.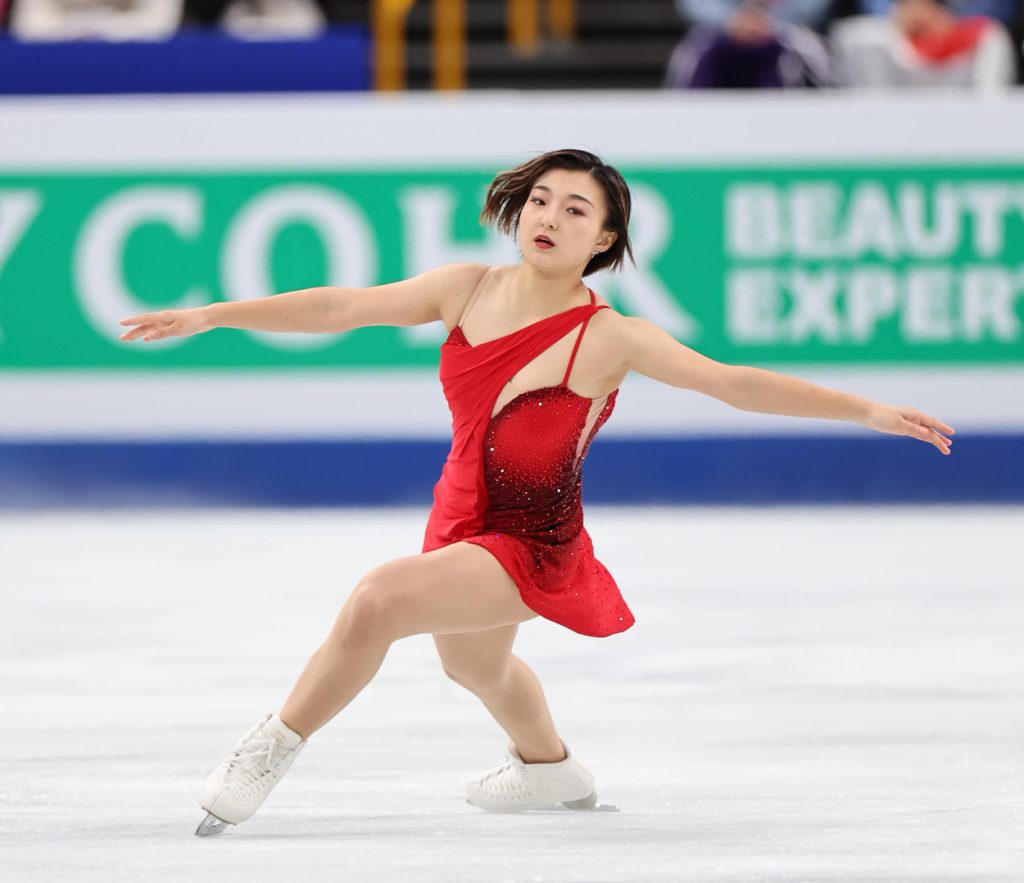 "This time, ideally I wanted to skate clean and end with a happy smile," Sakamoto stated. "However, I made the same mistake I did four years ago, so I am disappointed. I was able to recover, though, so I think I have grown from four years ago."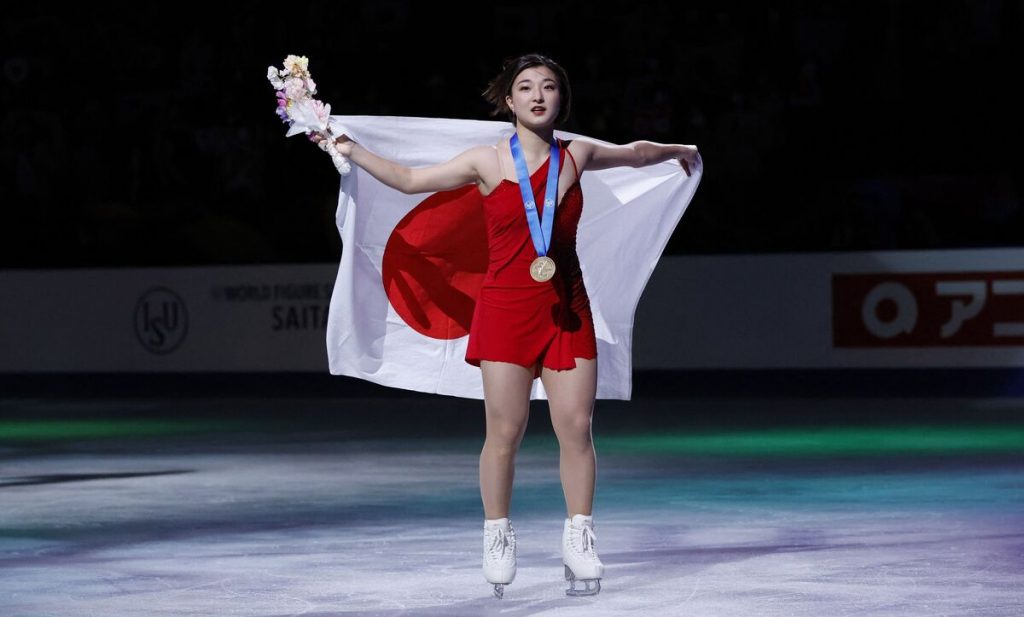 Sakamoto admitted that coming into this campaign after having great success last season placed an added burden on her.
"Last year I won a [bronze] medal at the Olympics and I won the world championships, so there was huge pressure on me this season," Sakamoto commented. "Unfortunately, I could not overcome that at the beginning of the season, but looking back it was a good experience because I was finally able to overcome the pressure at the Japan Championships. Past experience helped me with my struggles this season."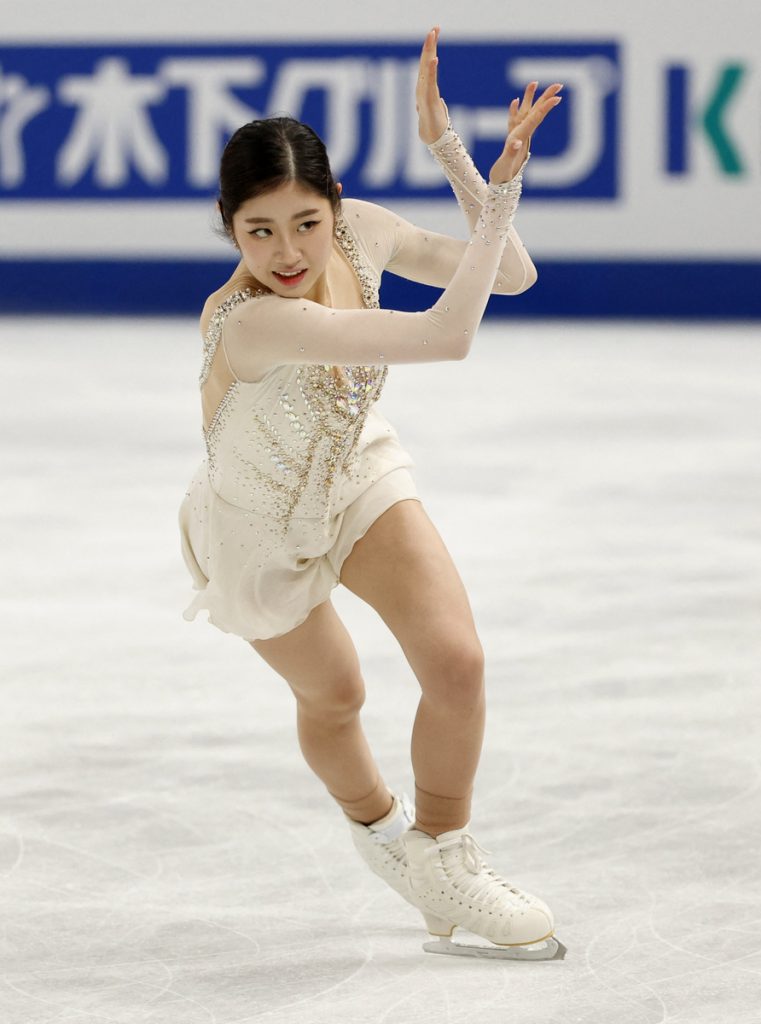 Lee Maintains Poise, Showcases Skating Skills
Lee, who will turn 18 in April, was absolutely superb under pressure on the big stage. She competed to "Phantom of the Opera" and displayed her significant skills from the outset.
The Daejeon native, who won the Four Continents in February in Colorado, hit six clean triples and recorded level fours on all of her spins and step sequence. Those who have seen her skate in the junior ranks recognize that she had great potential for the future.
"The first half of the season was rough for me. I really tried to not give up," Lee commented. "This is my first time to Japan and Saitama, and I brought everything I had to the audience. I'm really happy about this."
Lee cited Sakamoto's speed into her jumps for praise.
"Many times, skaters will get tight when they jump, but Kaori retains her speed and that is impressive," Lee said.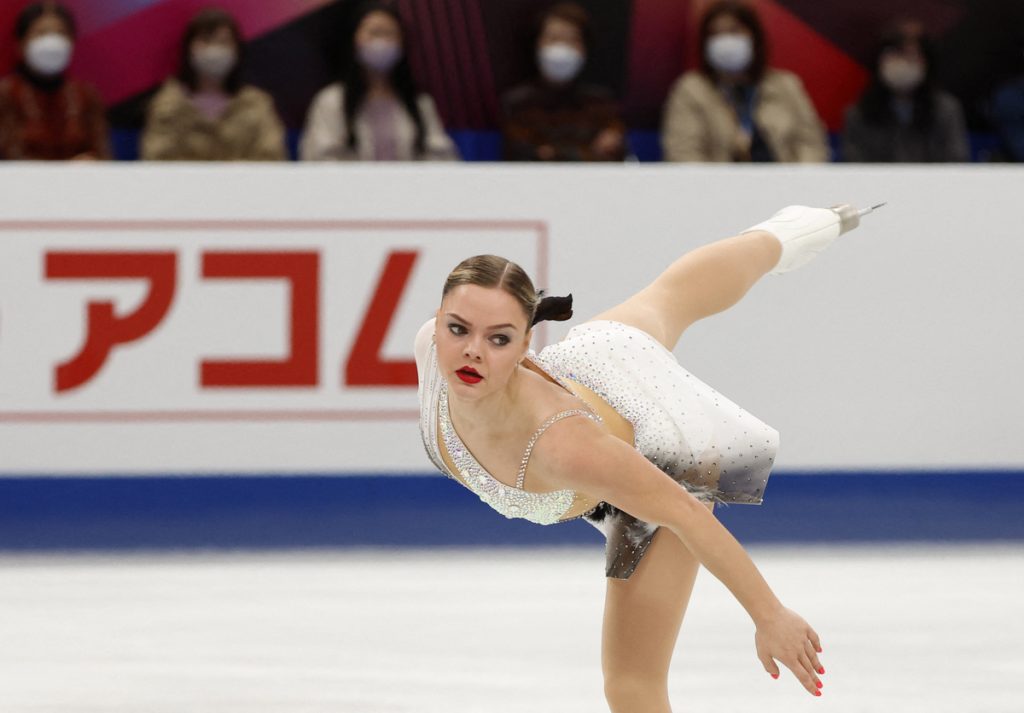 Hendrickx Pleased to Earn Medal Again
Hendrickx moved up from fifth after the short program to make the podium for the second straight year. The 23-year-old showed real poise in her skate to "Heaven" and "Fallen Angel." She fell on a triple lutz midway through the program, but bounced back to land two combinations jumps in a row.
"I'm really happy to be competing in Japan again," Hendrickx remarked. "Despite the fall on the lutz I think I had a really strong free program and am satisfied with it. I'm very happy to earn a second world medal for Belgium."
Hendrickx heaped praise on Sakamoto when asked her thoughts about her rival.
"I really admire Kaori for many years and it is an honor to compete with her," Hendrickx noted. "She has so much speed and jumps."

The Belgian added, "She is an amazing skater."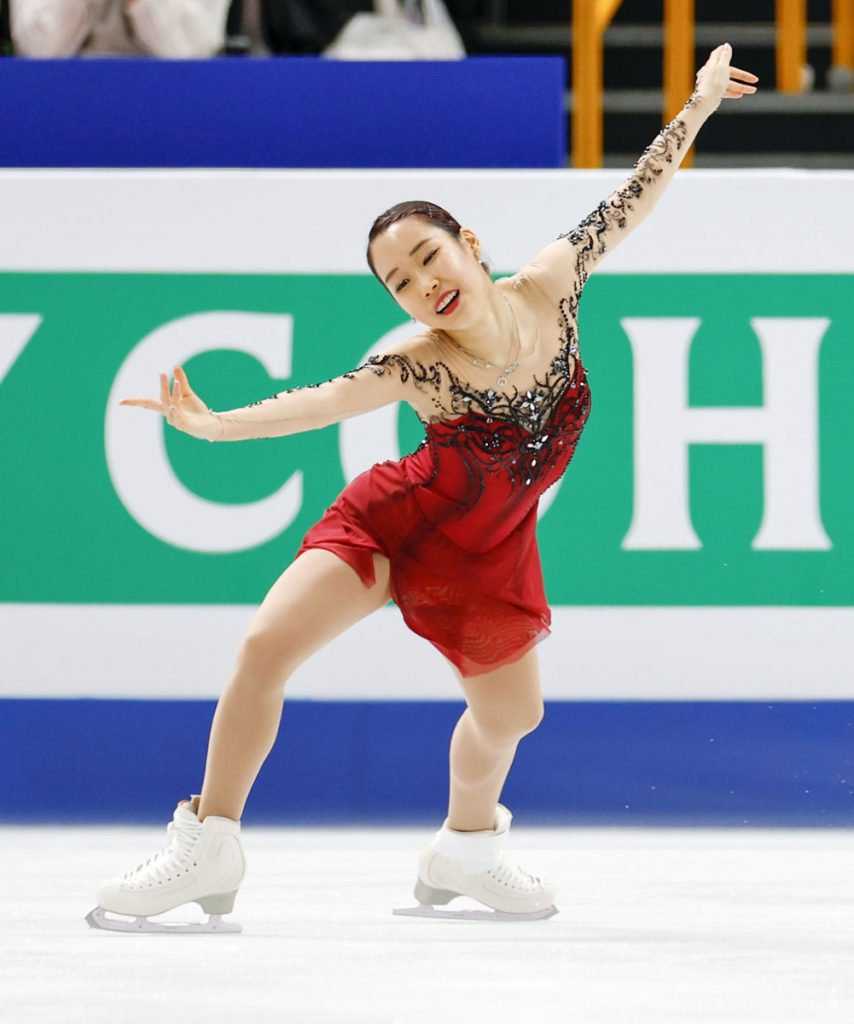 Mihara Slips Out of Medal Contention
Mihara looked primed for the first world medal of her career, but it was just not meant to be. She finished sixth in the free skate after landing only three clean triples and appeared to tire in the second half of the program.
The 23-year-old notched level fours on her spins and step sequence, but that was not enough to make up for the multiple jump issues she had.
"I'm so frustrated, so much that I can't cry," Mihara stated. "This is still not the end. I want to practice more and more. One of my weaknesses is making mistakes in the last important event. I feel that I still have a long way to go to become a top athlete."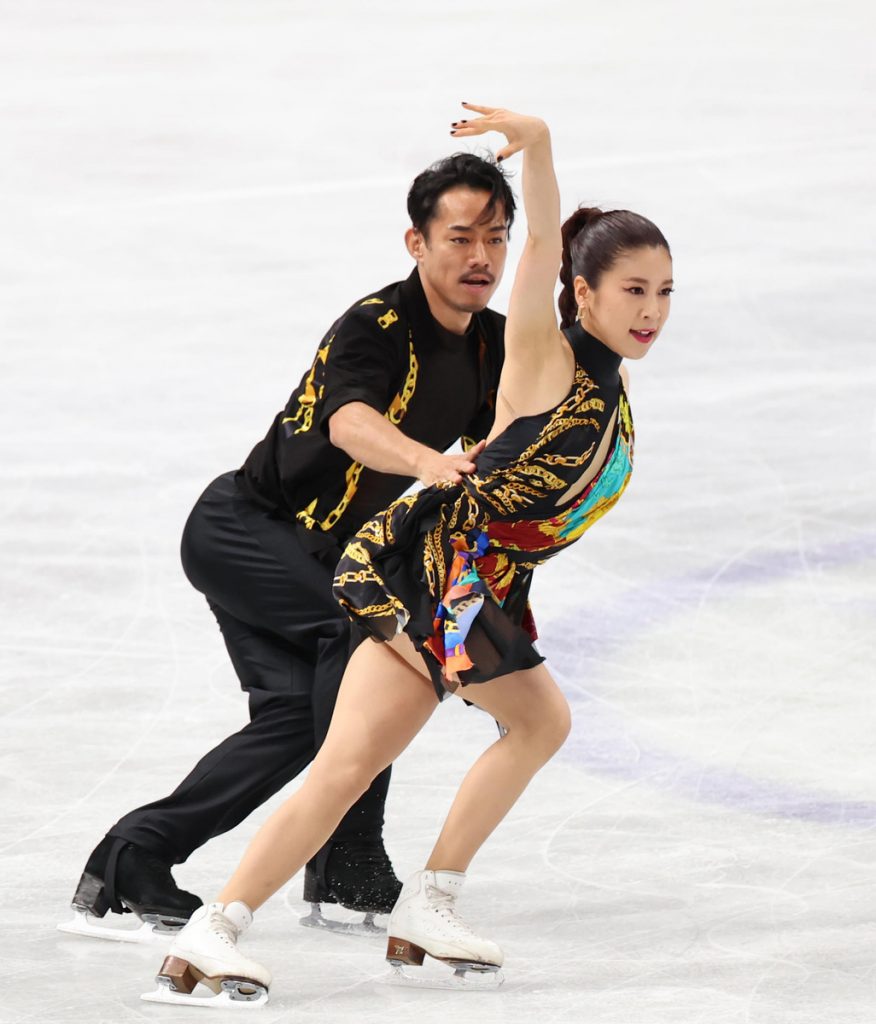 Chock, Bates Take Lead in Ice Dance
Madison Chock and Evan Bates of the US assumed the lead in ice dance after the rhythm dance earlier on Friday. The American duo, last year's world bronze medalists, are in first place with 91.94, ahead of Italy's Charlene Guignard and Marco Fabbri, who are second at 88.21.
Canada's Piper Gilles and Paul Poirier are third on 87.34.
Kana Muramoto and Daisuke Takahashi stand in 11th place with 72.92.
Takahashi, the 2010 world champion in singles, was upbeat afterward.
"I want to make the world championships a place where I can make the best memories," Takahashi commented.
He added, "I want to aim for the best performance and have no regrets."
The world championships will continue on Saturday with the free dance and the men's free skate.
RELATED:
Author: Jack Gallagher
The author is a veteran sports journalist and one of the world's foremost figure skating experts. Find articles and podcasts by Jack on his author page, and find him on Twitter @sportsjapan.