Mao Shimada Leads Japan Sweep of the Women's Short Program at Osaka JGP
Skating to 'Americano' and 'Composition,' Mao Shimada was nearly flawless from start to finish. Yo Takagi and Ikura Kushida were second and third.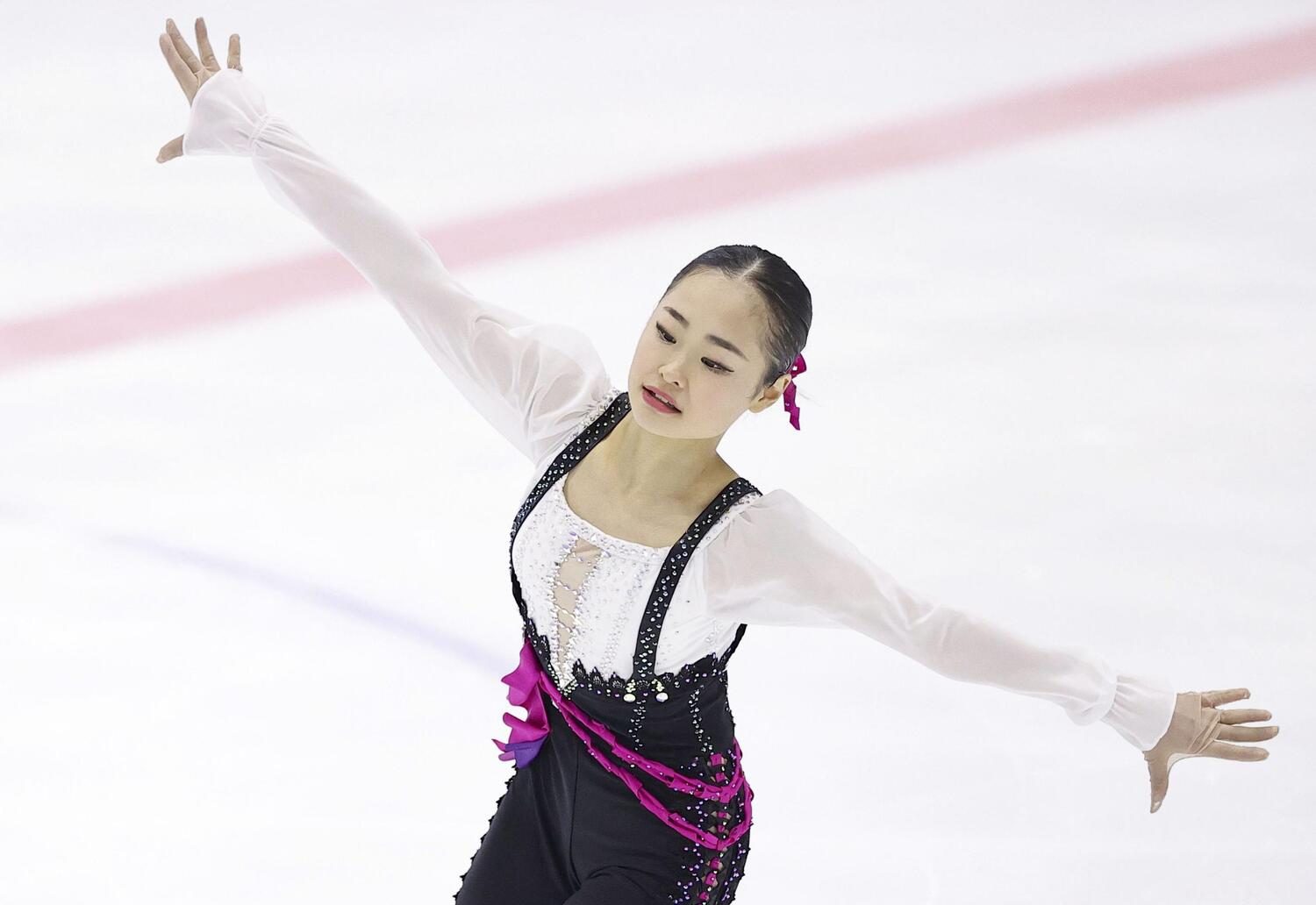 IZUMISANO, Osaka Prefecture ― World junior champion Mao Shimada picked up where she left off last season, seizing a massive lead after an electric performance in the women's short program at the Osaka Junior Grand Prix on Friday, September 15 at Kanku Ice Arena.
The diminutive 14-year-old is on top with a personal-best score of 73.78 points to lead a Japan sweep of the short program, ahead of compatriot Yo Takagi in second at 63.42 and Ikura Kushida in third on 62.79.
Shimada, who claimed the world junior, Junior GP Final and Japan Junior Championships crowns last season, looks poised to repeat the feat after her JGP season debut. She skated to "Americano" and "Composition" and was nearly flawless from start to finish to surpass her previous best score of 71.78 in the short program at last season's World Junior Championships in Calgary, Canada.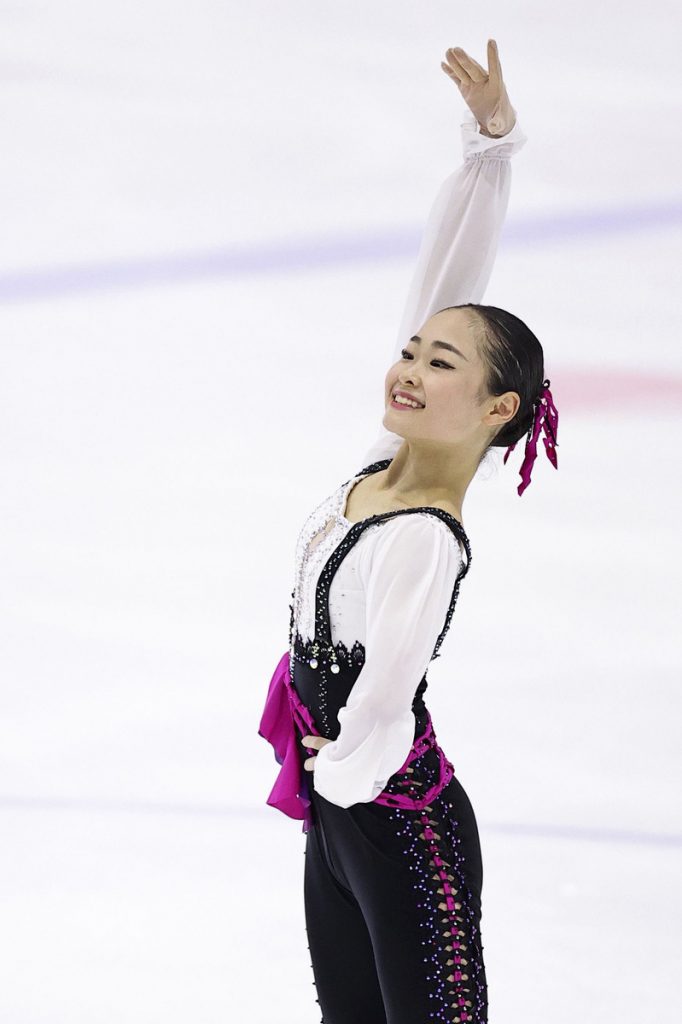 Successful Start for Mao Shimada
Shimada opened with a double axel, then landed a triple flip/triple toe loop combo, before hitting a nice triple lutz. She earned level fours on her spins and step sequence and ended her routine with a flashy high-speed hand above head spin that gained her a standing ovation from the audience.
"I was surprised because I didn't expect to get 73 points," Shimada stated. "The jumps and spins were also positively evaluated, and I was especially happy that the last spin we practiced was the most exciting."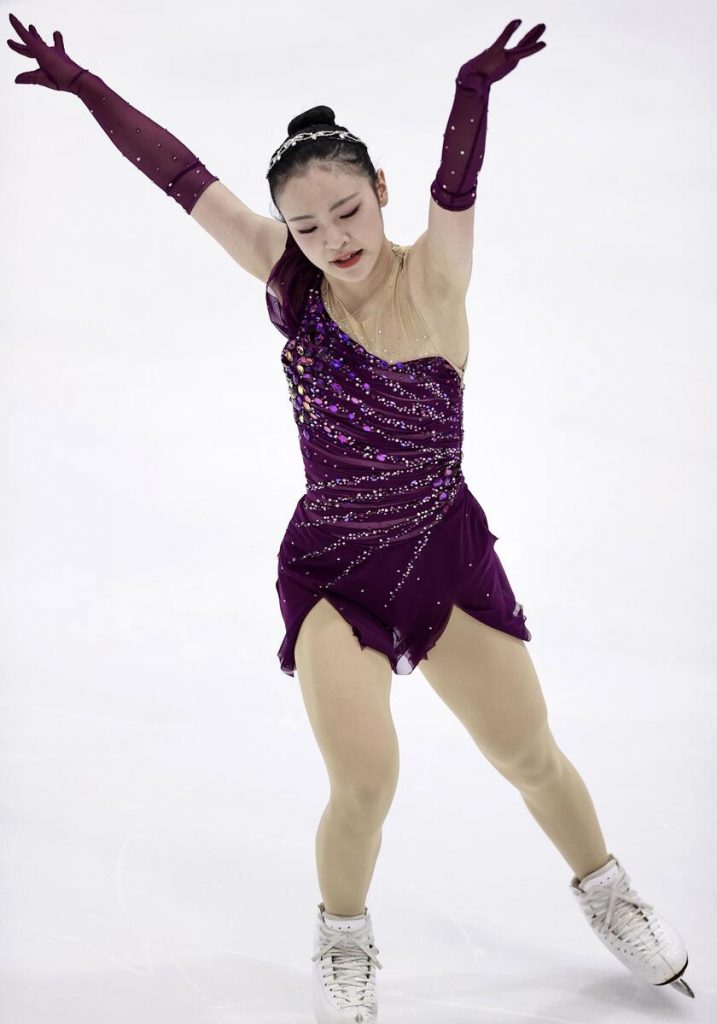 Takagi Pleased with Her Performance
Takagi, 15, competed to "Sous le ciel de Paris" and "Milord" and landed all of her jumps cleanly while recording level fours on her spins and step sequence.
"I'm really happy that I was able to achieve my personal best," Takagi commented.
She added, "I was able to skate to the end without giving up. I was able to skate better than in the Thailand competition (where she finished fourth)."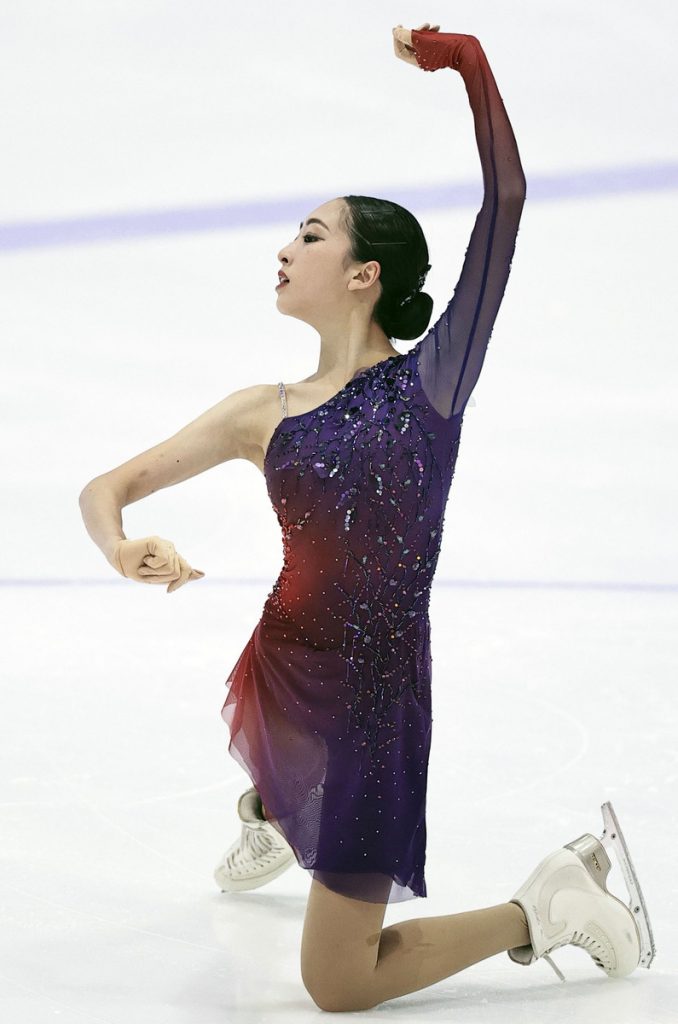 Mixed Emotions for Kushida
Kushida, also 15, started off strongly to "Red Violin" before receiving an edge call on her triple lutz midway through the program and then falling at the end of her step sequence. She notched level fours on two of her spins and the step sequence.
"The jumps and spins were well done," Kushida remarked. "I'm disappointed that I fell on the end of the step sequence."
Kushida added, "I had so much fun that my skating became bigger than usual, [and] I think I was able to convey an adult-like charm."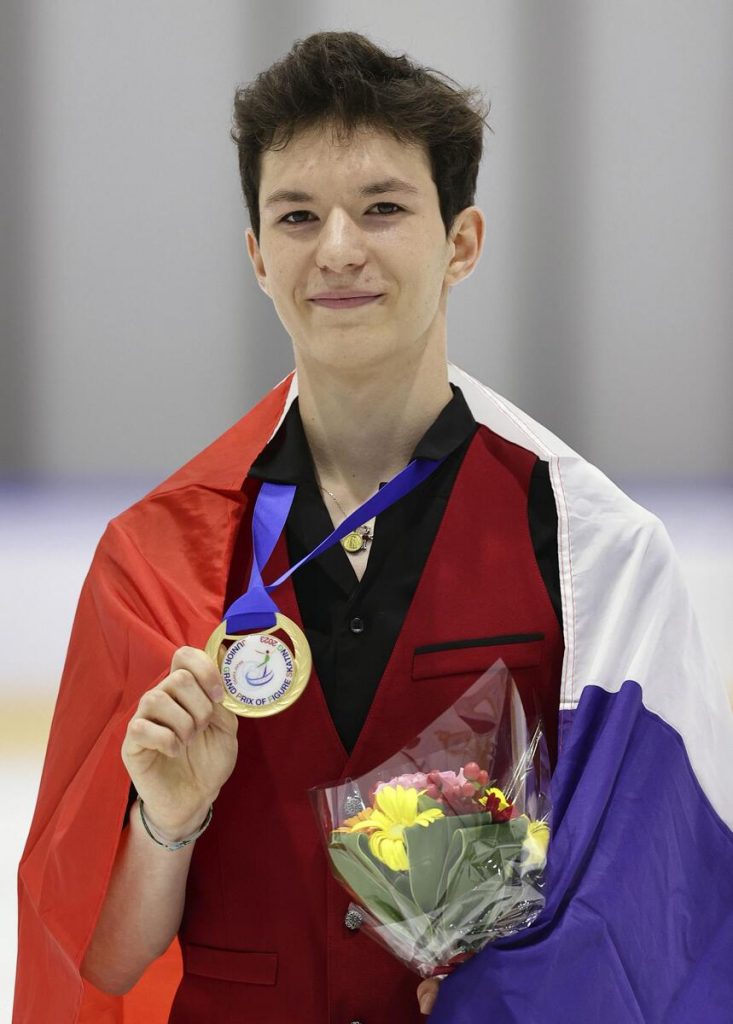 France's Pitot Captures Men's Title
France's Francois Pitot vaulted from third place after Thursday's short program to win the men's crown. Pitot's winning score was 219.86, which moved him past South Korea's Juheon Lim, the leader after the short program, and into the top spot. Lim came in second with 217.95, while Daniel Martynov of the United States rounded out the podium in third on 207.98.
The 18-year-old Pitot skated to "Cry Me a River" and landed seven clean triples on the way to victory, including a pair of triple axels. Pitot, who was second at the Bangkok JGP in August, qualified for the JGP Final with the win.
Shunsuke Nakamura, who was second after the short program, endured a calamitous free skate and wound up in eighth place with a tally of 187.88. Seigo Tauchi (177.85) was 10th, while Masaya Mishima ended up 12th (173.21).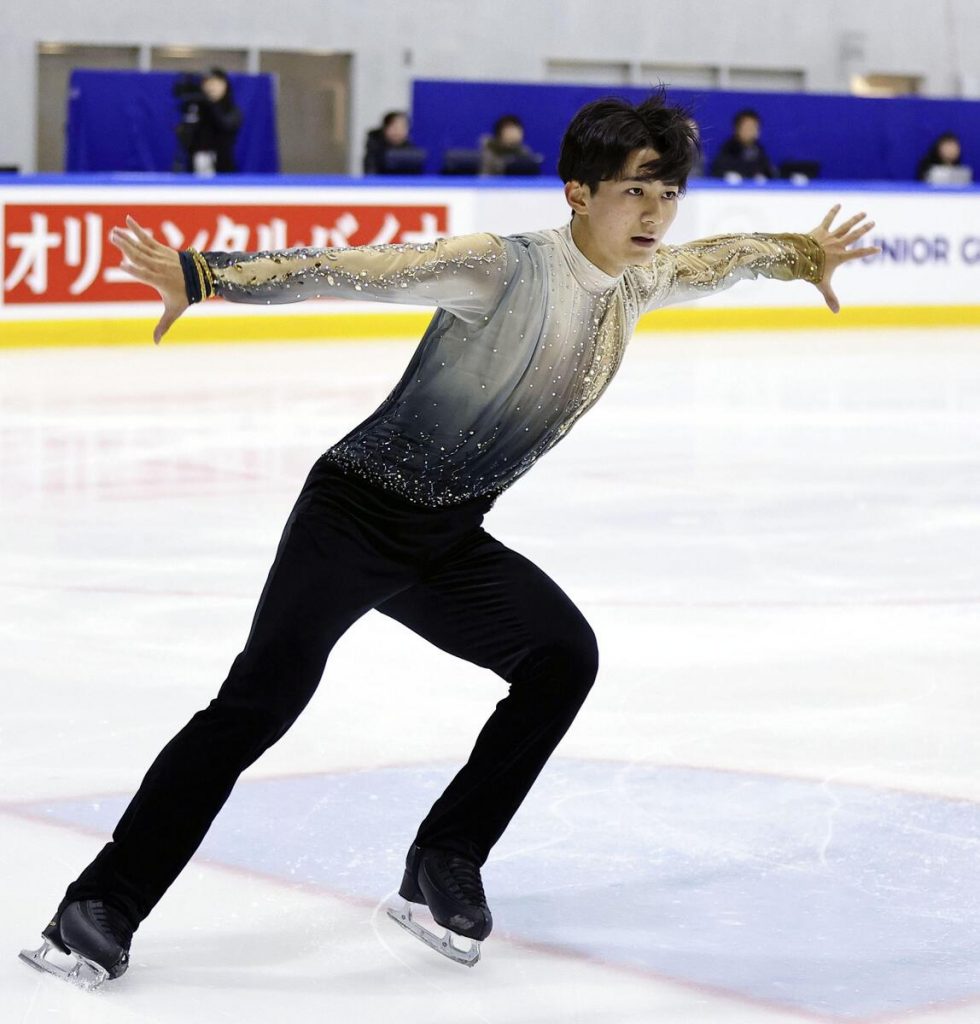 Frustrating Night for Nakamura
The 18-year-old Nakamura skated to "Child of Nazare" and was clearly disappointed with his performance on this night, which saw him hit just four clean triples and fall twice.
"I was motivated to do my best, taking advantage of the huge cheers I received at this event in Japan. But I couldn't make the right axis for my jumps," Nakamura stated. "I will take this frustration into the next competition."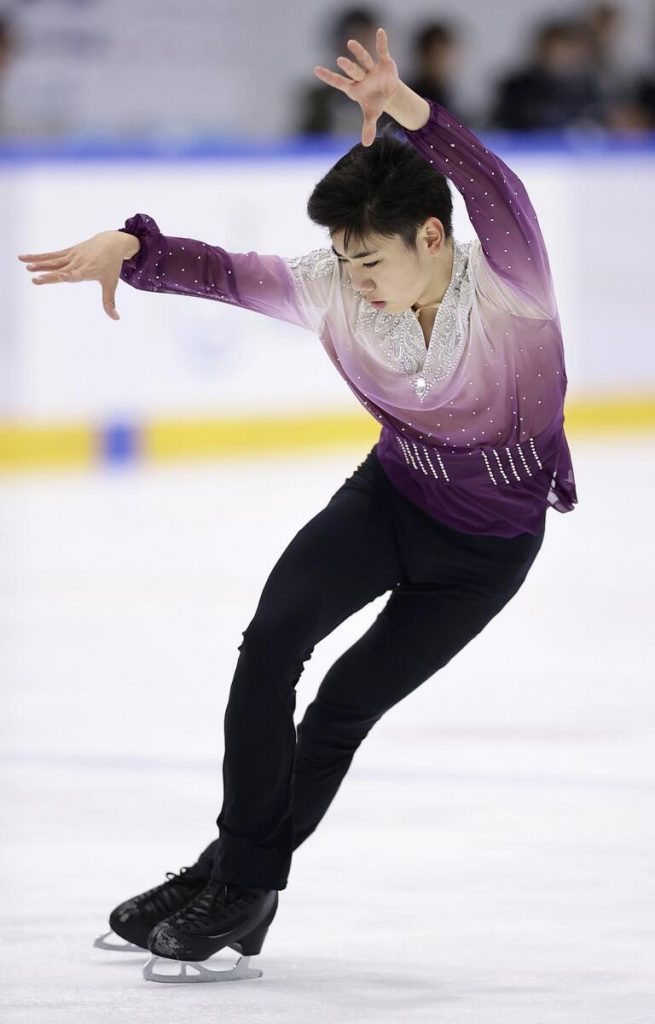 Tauchi, Mishima Focus on Positives
Tauchi, who was 10th after the short program, held that spot despite also falling twice. The 15-year-old cleanly executed five triples.
"I felt better than in the short program," Tauchi said. "Even though I tried not to be nervous, I still felt nervous. I am grateful for all the support I received."
The 16-year-old Mishima started strongly with a triple axel/double toe loop combination jump, then landed a quad toe loop to the delight of the crowd. But he faded in the second half of his program when he doubled several jumps intended to be triples.
"I am so happy that I was able to jump the quadruple toe loop," Mishima commented. "At first, I was nervous because my heart was pounding due to all of the cheering, but gradually I felt like the cheering started to give me strength."
The Osaka JGP will conclude on Saturday with the free dance and women's free skate.
RELATED:

Author: Jack Gallagher
The author is a veteran sports journalist and one of the world's foremost figure skating experts. Find articles and podcasts by Jack on his author page, and find him on X (formerly Twitter) @sportsjapan.