[NPB NOTEBOOK] Ageless Pitcher Masanori Ishikawa Showing No Signs of Slowing Down
The 42-year-old lefty continues to impress for the high-flying Swallows.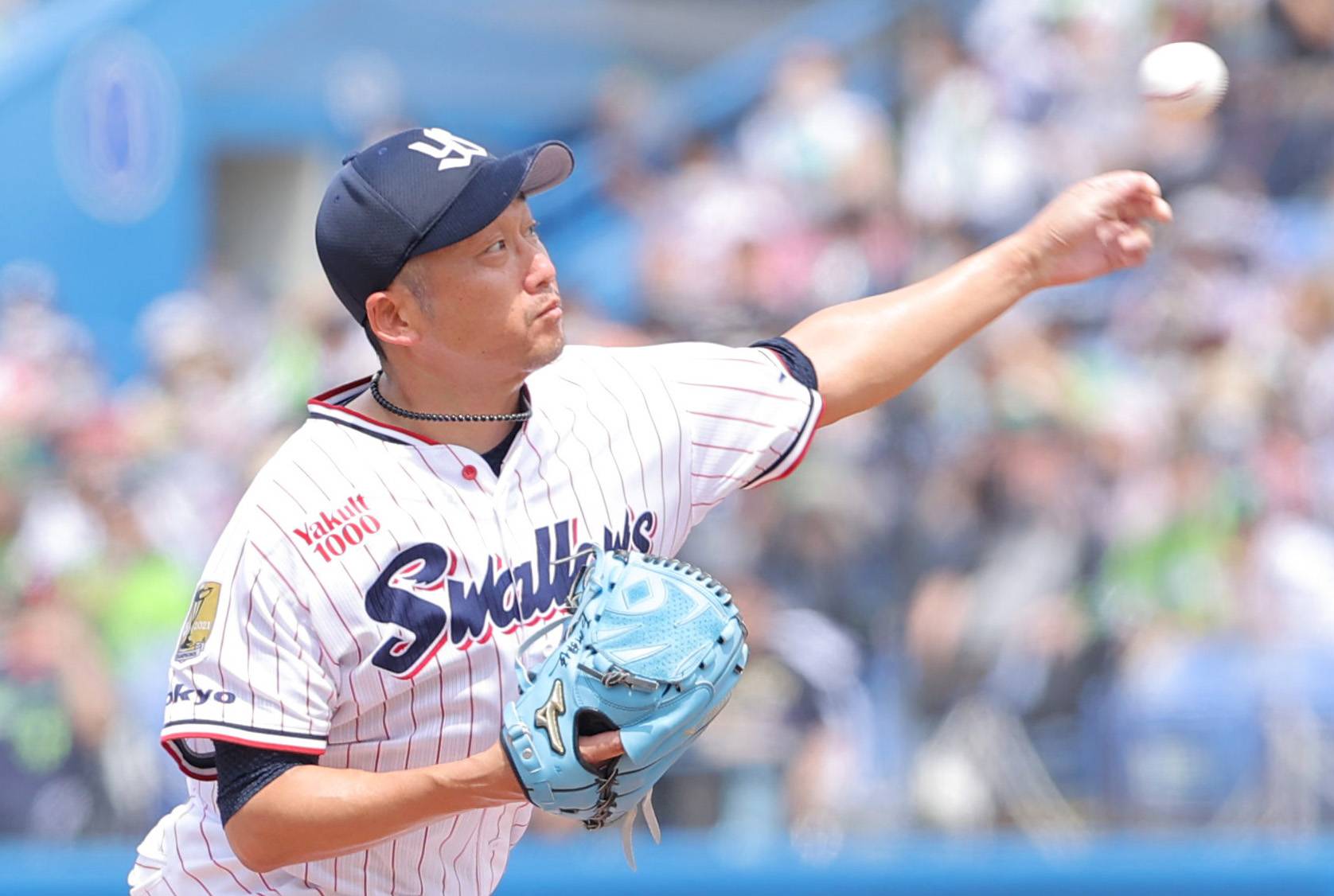 One of the more inspiring stories of the 2022 baseball season in Japan has been the performance of left-handed pitcher Masanori Ishikawa of the Central League-leading Tokyo Yakult Swallows.
Ishikawa threw seven innings on Sunday, June 19 to improve to 4-3 on the season as the Swallows beat the Hiroshima Carp 8-3.
It's impressive to see a 42-year-old perform at such a high level in an elite league like NPB.
"My teammates give me courage with their defense, their run support and the great work from the relievers coming out of the bullpen," the always humble Ishikawa told Kyodo News.
Ishikawa also got some help from 40-year-old Norichika Aoki, who hit a homer in the second inning.
"I can always depend on old-man Aoki," Ishikawa joked.

Ishikawa, currently the oldest pitcher in NPB, has a record of 181 wins and 179 losses over 20 seasons with the Swallows.
This is a pitcher who has truly mastered his craft and learned to adjust over the years. At 167 centimeters and 73 kilograms it's not as though he has the overpowering physical presence of many of his peers.
Ishikawa has stated he'd like to reach 200 wins in his illustrious career. With his dedication to fitness and given the strength of the team he plays for, that looks well within reach.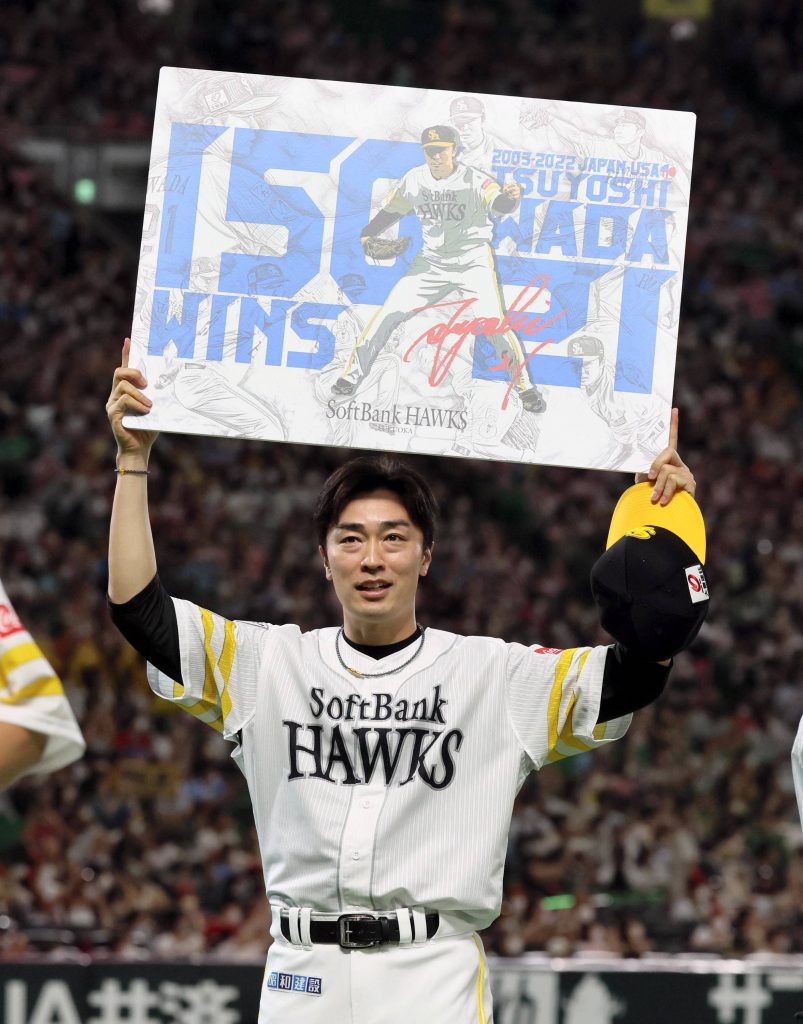 Another golden oldie has been turning back the clock lately.
Fukuoka SoftBank Hawks pitcher Tsuyoshi Wada won his 150th game in NPB and MLB combined on June 19 when he struck out eight and gave up one run and one hit over six innings in a 4-1 win over the Tohoku Rakuten Golden Eagles.
"It was a huge relief," Wada said. "I had better control over my fastball than I usually do and Takuya [Kai] called a great game behind the plate. I am appreciative of the fact and I can still pitch like this."
The 41-year-old Wada spent two seasons with the Chicago Cubs in 2014 and 2015 and was a combined 5-5.
Other than that brief stint overseas, Wada has spent his entire career from 2003 until now with the Hawks.
Tanaka Tagged by Hawks
Speaking of the Hawks, they became the first Japanese team to hit four homers in one game off Masahiro Tanaka in a 9-4 win over the Rakuten Eagles on Friday, June 17.
Tanaka, who dropped to 4-6, had allowed four homers in one game in the majors but never in Japan.
Yuki Yanagita connected in the first inning with his eighth round-tripper of the season.
Taisei Makihara and Yurisbel Gracial went deep on back-to-back homers in the third and Gracial connected again in the fifth.
The 33-year-old Tanaka was off to a better start this season than last year when he went 4-9 with a 3.01 ERA, but giving up four homers in one game has got to sting.
The win at PayPay Dome allowed the Hawks to move within a half game of the Eagles in the Pacific League-standings. As of this writing on June 23, the Hawks were a half-game behind Rakuten.
No-No Mania
There have already been four no-hitters in Japanese professional baseball this season and we came oh-so-close to No. 5 on Tuesday, June 21.
Wataru Matsumoto (4-2) of the Seibu Lions took a no-hitter into the eighth inning of a game against the Chiba Lotte Marines at ZOZO Marine Stadium.
Matsumoto surrendered a double to Takashi Ogino in the eighth and was then taken out after getting two outs. He left the game having given up no runs on one hit over 7⅔ innings. He had three strikeouts and three walks.
Had he thrown a no-hitter, Matsumoto would have joined Roki Sasaki of the Marines, Nao Higashihama of the Hawks, Shota Imanaga of the Yokohama DeNA BayStars and Yoshinobu Yamamoto of the Orix Buffaloes as members of the no-hitter club this season.

So what's with all the no-hitters? Speaking on TBS's Sunday Morning news program, former Yomiuri Giants and Boston Red Sox pitcher Koji Uehara suggested two possible reasons.
Uehara pointed out that pitchers are getting better at their craft, more pitchers are able to throw faster, and there is more spin on their off-speed pitches.
He also suggested that because of the way spring training has been interrupted by the coronavirus pandemic the last several years, hitters haven't been able to get in as much batting practice as they normally would have.
Seems like a pretty reasonable explanation from a guy who knows better than most.

Oh-My-Yama
One of the reasons the Hanshin Tigers have been able to turn their season around has been the play of slugger Yusuke Ohyama.
Ohyama has hit 10 homers in the month of June to become the first Tigers player since Craig Brazell in 2010 to hit double-digit HRs in the month.
The club record for HRs in the month of June is the 13 Randy Bass hit way back in 1986.
The 28-year-old Ohyama is third overall in the Central League with 18 homers, one behind Kazuma Okamoto of the Giants through Thursday. He is second in RBIs with 52.
A native of Ibaraki Prefecture, Ohyama has spent his entire six-year career with the Tigers.
After a miserable start to the season when they were stuck in the CL cellar, the Tigers, thanks in large part to a superb interleague record, have moved all the way up to fourth place (as of Wednesday) with a respectable 31-38-1 record.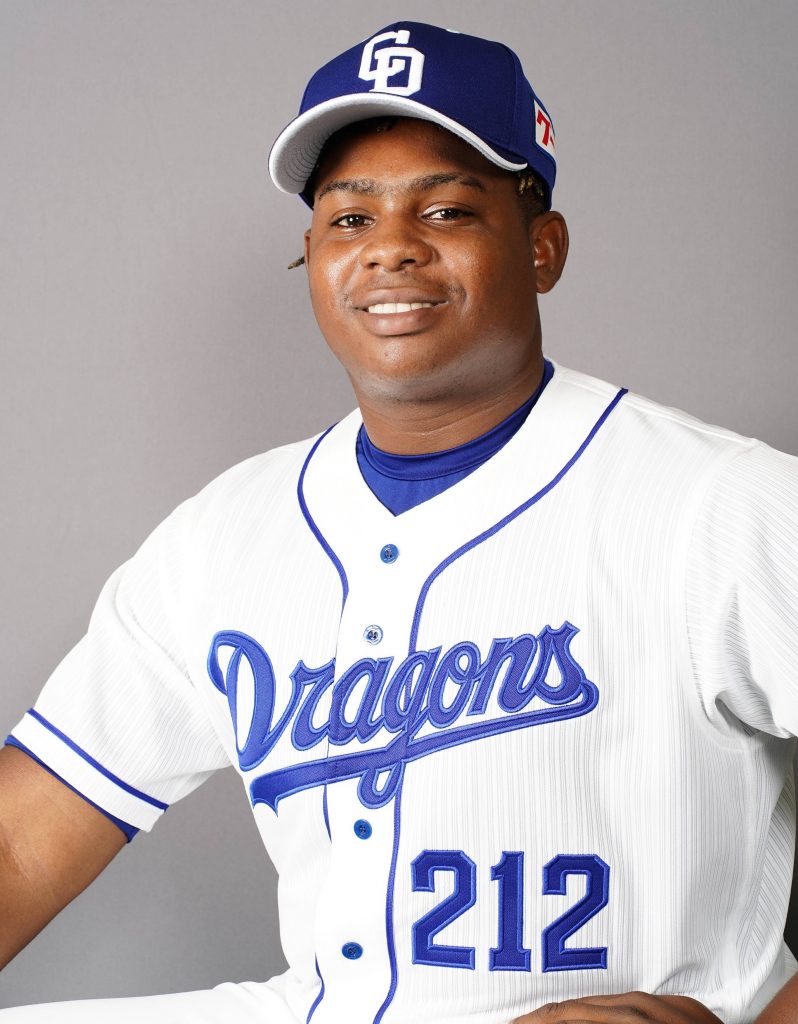 Dragons Sign Cuban Revilla
The Chunichi Dragons have once again dipped into their seemingly bottomless vault of Cuban talent.
The Dragons announced on Wednesday, June 22 the signing of 23-year-old Cuban infielder Pedro Revilla.
Revilla played for Guantanamo in the Cuban National Series. He hit 26 homers in 74 games this season.
The 175-centimeter, 100-kilogram Revilla will wear uniform No. 212 for Chunichi.
How soon Revilla will get into the lineup is uncertain, but it couldn't come soon enough for the struggling Nagoya-based team which just announced another Cuban, Dayan Viciedo, has been removed from the active roster due to pain in his shoulder.
The Dragons also have Cubans Yariel Rodriguez, Raidel Martinez and Ariel Martinez on their roster.

Author: Jim Armstrong
The author is a longtime journalist who has covered sports in Japan for more than 25 years. You can find his articles here.