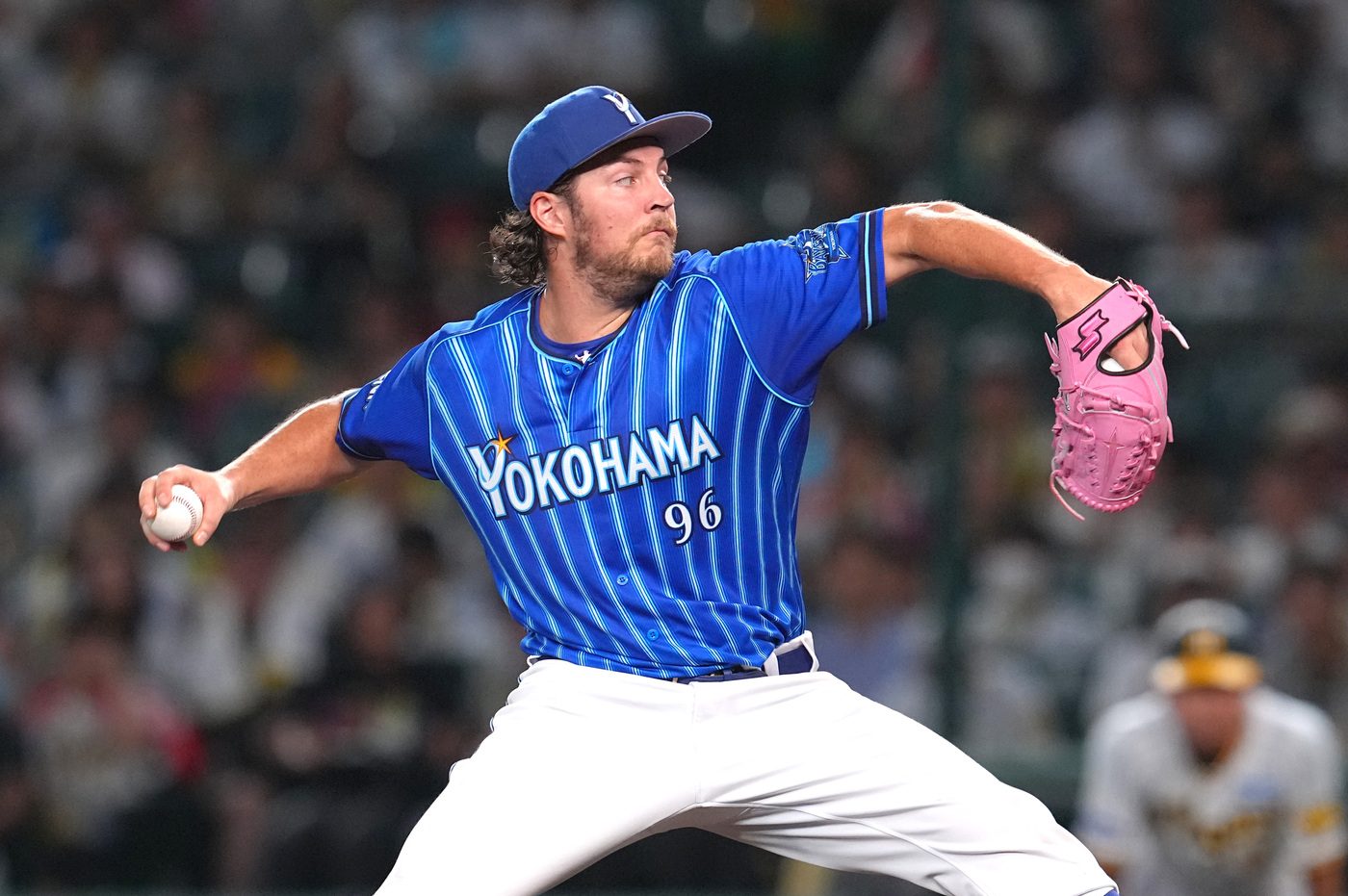 Trevor Bauer has hit a major roadblock in his first season in Japan.
The Yokohama DeNA BayStars removed Bauer from the active roster on Friday, September 1 after he was diagnosed with damage to the distal portion of his right iliopsoas muscle.
The injury occurred after Bauer fielded a ball in the third inning on Wednesday, August 30 in a game against the Hanshin Tigers. The 32-year-old right-hander left the game in the fourth inning after stating he had some discomfort near the hip joint of his right leg at Koshien Stadium.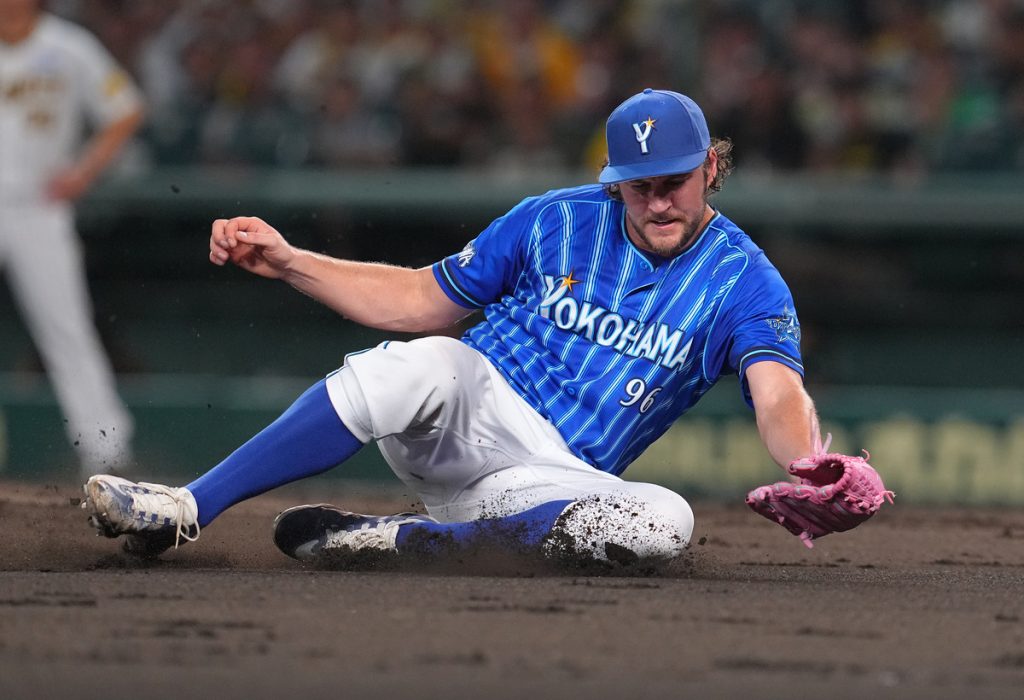 "It seems like something that will take time," Yokohama manager Daisuke Miura told reporters on Thursday. "He went to the hospital yesterday. Whether or not he can return this season remains to be seen."
It's a big setback for both the BayStars (60-55-3 and in third place in the Central League) and Bauer. A return in the regular season seems highly unlikely. But the team is hoping the former MLB starter may be available for the postseason, assuming they make it.
A Solid Season for Trevor Bauer
Much to his credit, Bauer had settled down nicely after a bumpy start to his career in Japan and had won over the admiration of teammates and fans.
He made the Central League All-Star team after he was voted in as part of the league's "plus-one" fan vote.
The 2020 National League Cy Young award winner is 10-4 with 130 strikeouts and a 2.76 ERA in 19 games for DeNA this season.
Bauer arrived in Japan with plenty of baggage but also high expectations.
In May against the Hiroshima Carp, Bauer surrendered seven runs to lose his second straight decision and drop to 1-2.
After the 7-5 loss to the Carp, Bauer had given up 15 runs, 14 earned, over 15 innings in his first three starts for the BayStars.
That prompted Miura to tell reporters: "They are really hitting him well, it's not just about how hard you throw."
Shortly after those losses, the BayStars sent Bauer down to their Eastern League farm team. The move paid off and he came back with more determination to make the difficult transition to Japanese baseball.


On June 14, Bauer struck out 12 batters and pitched a complete game, allowing just three hits, as the BayStars beat the Hokkaido Nipponham Fighters 2-1 in an interleague game at Yokohama Stadium. It was one of his best performances this season.
He improved to 4-2 with that win and just seemed to get stronger and more confident as the season went on.
Off-Field Troubles for Bauer
In July of 2021, MLB placed Bauer on administrative leave while an investigation was opened into sexual assault allegations that had been made against him.
He received a record 324-game suspension from Major League Baseball in April of 2022.
In December of 2022, Bauer's suspension was reduced to 194 games, reinstating him immediately.
Other MLB teams could have signed Bauer, who has a career 83-69 record with a 3.79 ERA, but none did and the BayStars offered him a deal that was announced in March.
RELATED:
Pennant Races Heating Up
As the 2023 NPB season enters the home stretch, things are looking good for the two teams from the Kansai region.
The Hanshin Tigers and the Orix Buffaloes lead their respective leagues and have been on fire since the All-Star Series (July 19-20).
Hanshin's notorious "Road Trip of Death" has been more like a "Road Trip of Heaven" this year.
The Central League's Tigers went 21-6 through August 27, a month during which they were mostly on the road as the National High School Baseball Championship took over Koshien Stadium.
At the same time, the Pacific League's Buffaloes were equally impressive, going 17-7 through August 27.
As of Saturday, September 2, Hanshin had a 6½-game lead over second-place Hiroshima while Orix enjoyed an 8½-game advantage over the Chiba Lotte Marines.
The prospects of an all-Kansai Japan Series look increasingly likely but anything can happen in the playoffs.
Likely Playoff Opponents
As for the playoffs, Hiroshima looks set to take on DeNA in the Central League Climax Series first stage, although the Yomiuri Giants still have a shot of squeaking into third place.
In the Pacific, the Lotte Marines look to have a comfortable hold on second place, and the Fukuoka SoftBank Hawks and Tohoku Rakuten Golden Eagles are in a fierce battle for third place as of this writing.
The Tigers stumbled slightly near the end of August with three straight losses but kicked off September in style with a 4-2 toad win over the Tokyo Yakult Swallows on Friday at Jingu Stadium.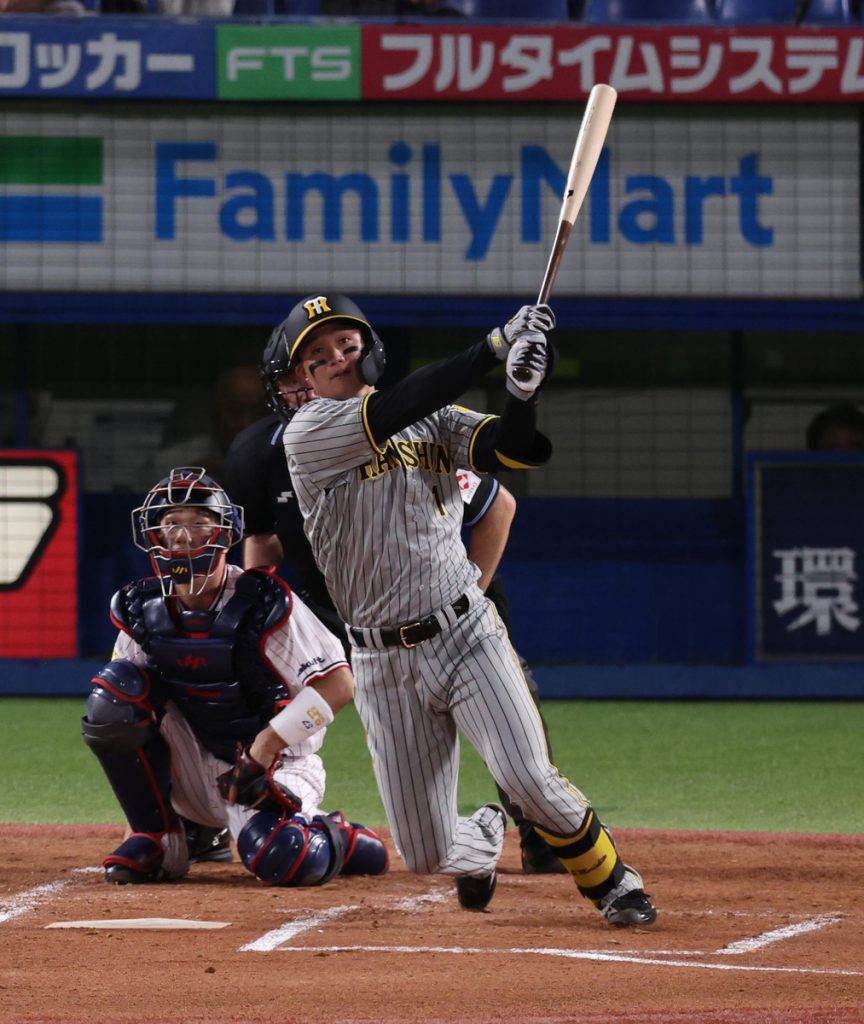 Hanshin rookie Shota Morishita homered twice in the victory and said it was important for the Tigers to get back in the winner's circle.
"It's September, a new month, and we wanted to get a fresh start with a win," Morishita told Kyodo News. "Because I haven't been hitting, I've been holding the team back, so I've been longing for a game like this."
The Buffaloes are also in fine form. On Saturday, September 2, Orix ace Yoshinobu Yamamoto improved to 13-5 when he struck out nine batters and gave up four hits and three walks over seven innings in a 1-0 road win over the Hokkaido Nippon Ham Fighters at Es Con Field.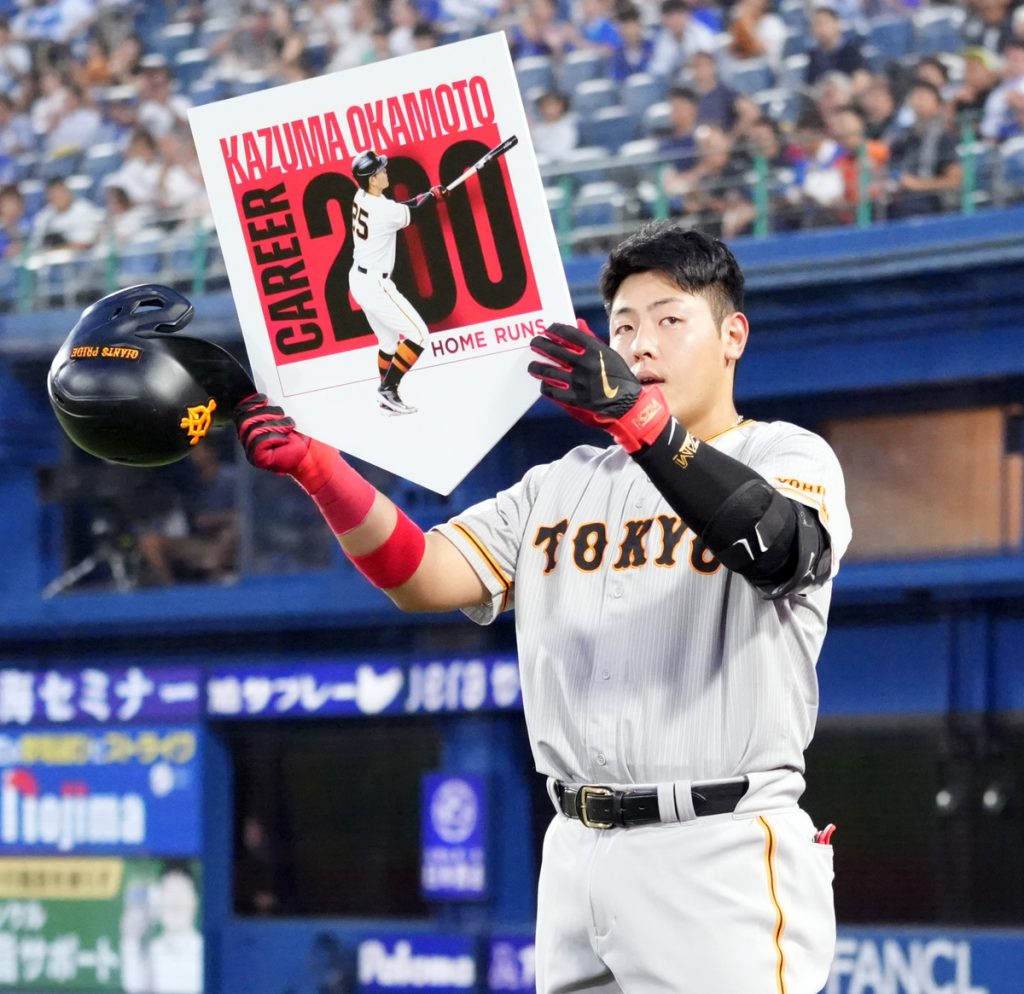 200 Dingers for Okamoto
Yomiuri Giants infielder Kazuma Okamoto has been one of the few highlights in an otherwise modest season for Tatsunori Hara's squad.
Okamoto, a key member of Japan's 2023 World Baseball Classic championship team, hit a solo homer in the second inning of Yomiuri's 9-3 loss to the BayStars on Friday, September 1 at Yokohama Stadium. It was the 200th homer of his career.
At the age of 27 years, 2 months, Okamoto became the sixth-youngest player in NPB history to reach 200 homers. He is tied with former Hanshin star Masayuki Kakefu and Katsuo Osugi of the Toei Flyers. Both men also reached 200 at 27 years, 2 months.
Okamoto is the 114th player in NPB history to reach the mark. Coincidentally, his first home run came back on September 5, 2015, versus the BayStars at Yokohama Stadium.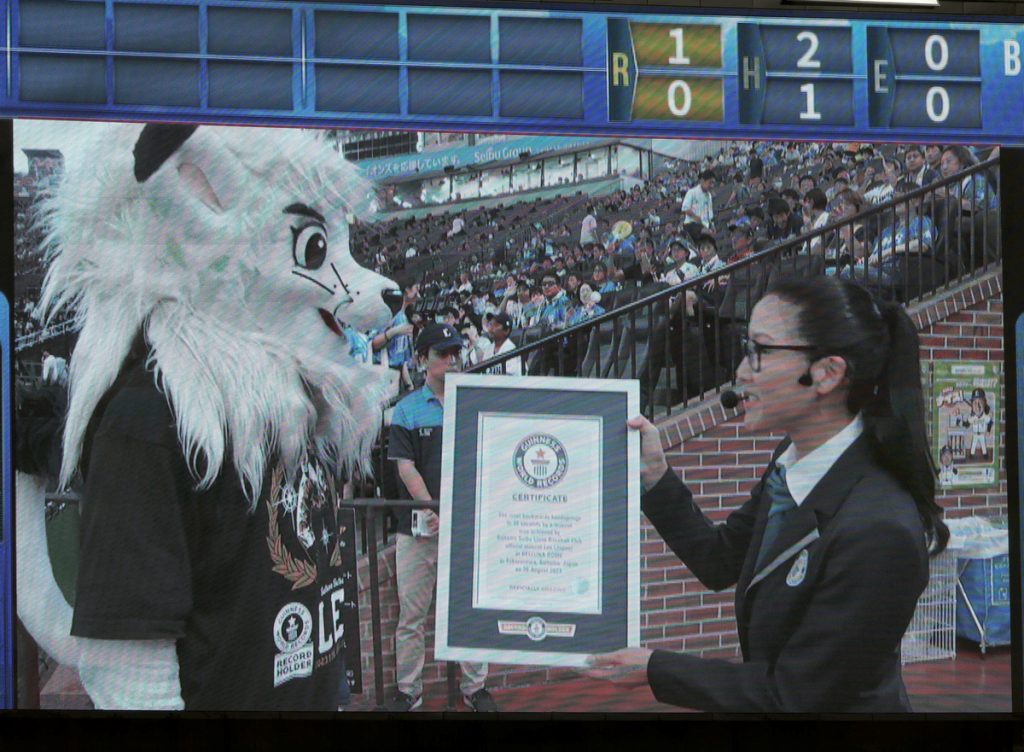 Head Over Heels for Leo
And finally, we leave you with a lighthearted story of a significant athletic accomplishment by one high-flying NPB mascot.
Saitama Seibu Lions mascot Leo set a new Guinness World Record by performing 31 backflips in 30 seconds. The breathtaking performance took place on August 26 at Belluna Dome, Seibu's home stadium in Tokorozawa, Saitama Prefecture.
"It's a record I've been thinking about for many years and I was finally able to achieve it this year," Leo told reporters after breaking the record. "I want to thank the fans for all their support."
Congratulations, Leo!

Author: Jim Armstrong
The author is a longtime journalist who has covered sports in Japan for over 25 years. You can find his articles on SportsLook.