[ODDS and EVENS] Title-Chasing Swallows Show Last Season's Success Was No Fluke
Led by slugger Munetaka Murakami, closer Scott McGough, overall pitching depth and strong managerial leadership, Yakult won its second straight pennant.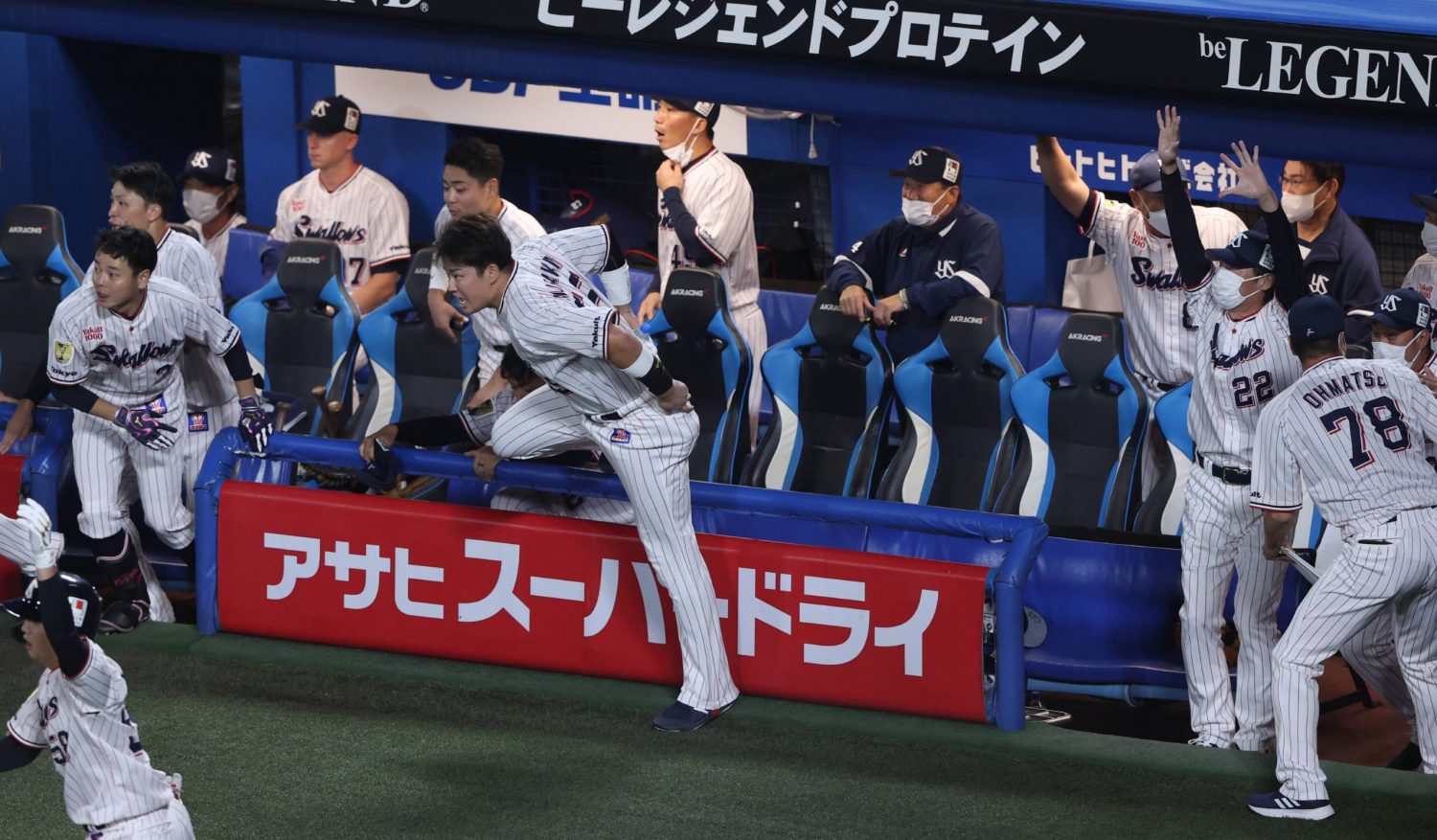 What does it take for a pro baseball team to avoid a championship hangover the year after winning it all?
Start with the following as building blocks for continued success:
A manager who instills confidence in his players even after they've reached the metaphorical mountaintop.
A dynamic power-hitting slugger who can carry the offense.
A dominant closer who puts the finishing touches on victory after victory.
Ladies and gentlemen, a noteworthy reminder: Shingo Takatsu, Munetaka Murakami and Scott McGough, respectively, fill these irreplaceable roles for the 2022 Central League pennant-winning Tokyo Yakult Swallows.
Yakult secured its second straight regular-season league title with a 1-0 win over the Yokohama DeNA BayStars on Sunday, September 25. Kazuya Maruyama provided the late-game drama with a walk-off double with one out in the ninth inning at Jingu Stadium.
When it was over, Takatsu, who's in his third season at the helm, took a break during the euphoric celebrations to sum up what the Swallows' achievement means to him.
"I'm as happy as all you fans," Takatsu, a former Swallows closer, was quoted as saying by Kyodo News.
"Winning once is difficult, winning two in a row is even more difficult. I want everyone to give the team a big round of applause."
In 2020, the Swallows finished in last place in the Central League in Takatsu's first season in charge. Then they enjoyed a storybook season by going from worst to first and becoming Japan Series champions a year ago.
The Swallows (77-58-3) have been in first place every day since May 21, no easy feat in any era.
Pitching Staff Showcases Depth
The Yakult pitching staff has not been overly flashy this season. Instead, Takatsu has trusted his pitchers to get the job done, relying on strength by numbers, e.g. depth.
Eight Swallows pitchers have earned five or more wins. Former Houston Astros right-hander Cy Sneed (9-6, 3.66 ERA) leads the team in wins.
In his second season in NPB, Sneed embodies Yakult's singular focus.
Or as he tweeted after the team clinched the pennant on Sunday: "I'm proud to be on this team ― Central League Champions! Let's keep winning! Go Go Swallows!"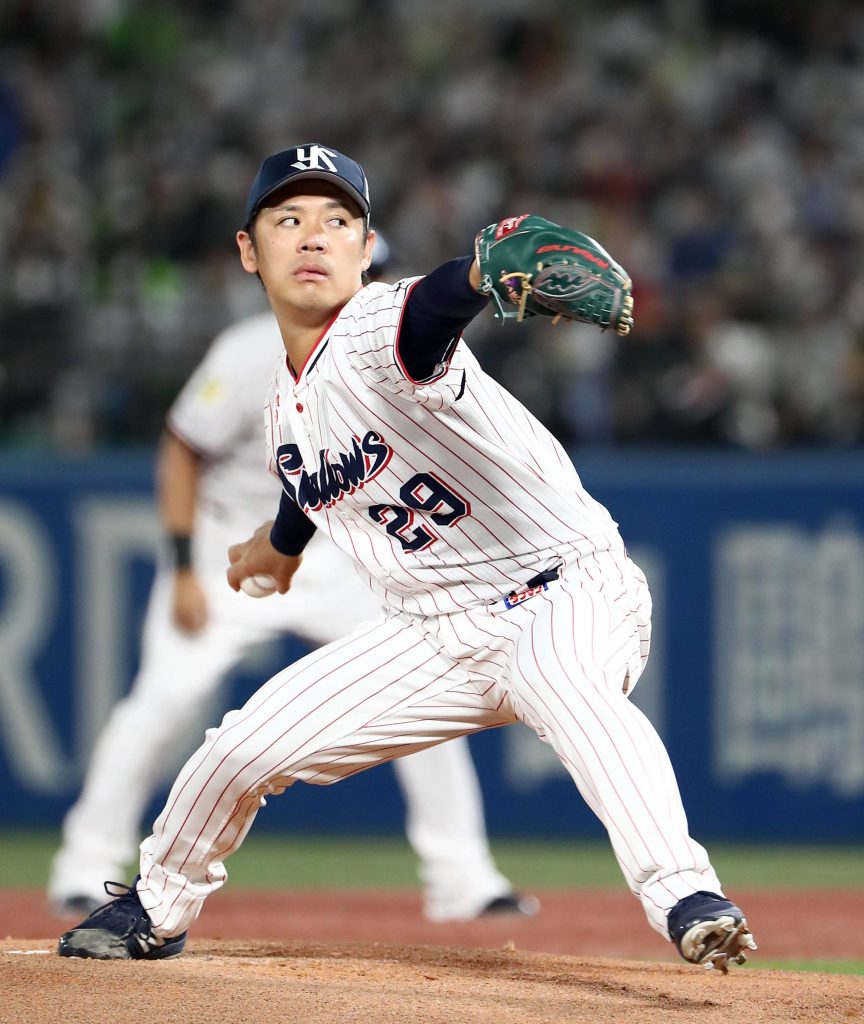 Sneed and McGough, who is tied with Raidel Martinez of the Chunichi Dragons for the NPB lead in saves (37) are integral parts of a pitching staff that also features Yasuhiro Ogawa (8-8 record), Keiji Takahashi (8-2), Naofumi Kizawa (8-3), Juri Hara (7-7), Hirotoshi Takanashi (7-8), Masanori Ishikawa (6-4) and Noboru Shimizu (5-3).
Takahashi has fanned a team-high 113 batters. Ogawa, a Swallows mainstay since a spectacular 16-4 rookie season in 2013, is No. 1 in innings pitched (150⅓).
Another pitching statistic jumps out at you when glancing at the Swallows' overall numbers: 13 Yakult pitchers have appeared in 20 or more games.
In other words, Takatsu keeps his players busy ― and always ready to be pressed into action.
And with COVID-19 infections greatly impacting the rhythm of their season, the Swallows needed everybody to contribute. (More than two members of their playing and coaching staff from their first (NPB) and second (Eastern League) squads tested positive for the coronavirus in early July.)
In addition, don't overlook the value of McGough's contributions. He's saved nearly half of Yakult's wins to date, with 57 strikeouts in 51⅔ innings. He's allowed only five home runs, 11 walks and 35 hits.
Murakami's Mighty Bat
The Swallows wouldn't be in this position without the immense offensive contributions of Murakami, who led the Central League in home runs (55), RBIs (132) and batting (.320) through Tuesday, September 27.
"Even when the team was in trouble, he worked hard alone," Takatsu was quoted as saying by The Sankei Shimbun after the Swallows' pennant-clinching victory.
In pursuit of NPB's single-season home run record (60), Murakami had a 10-game homerless drought through Tuesday.
Opposing pitchers fear Murakami, and they should. Exhibit A: Murakami bashed home runs in five consecutive at-bats, an NPB record, on July 31 and August 2.
He's hit 158 homers over the past four seasons. He had one round-tripper as an NPB rookie in 2018, when he played six games, before establishing himself as a star.
Other key hitters for the Swallows include Tetsuto Yamada (23 homers), Jose Osuna (18), Yasutaka Shiomi (16), and Domingo Santana (15).
The Swallows are scheduled to wrap up their regular season against the BayStars on Monday, October 3.

After that, they'll wait for the Central League Climax Series First Stage between the BayStars and a TBD foe to determine their opponent for the next round.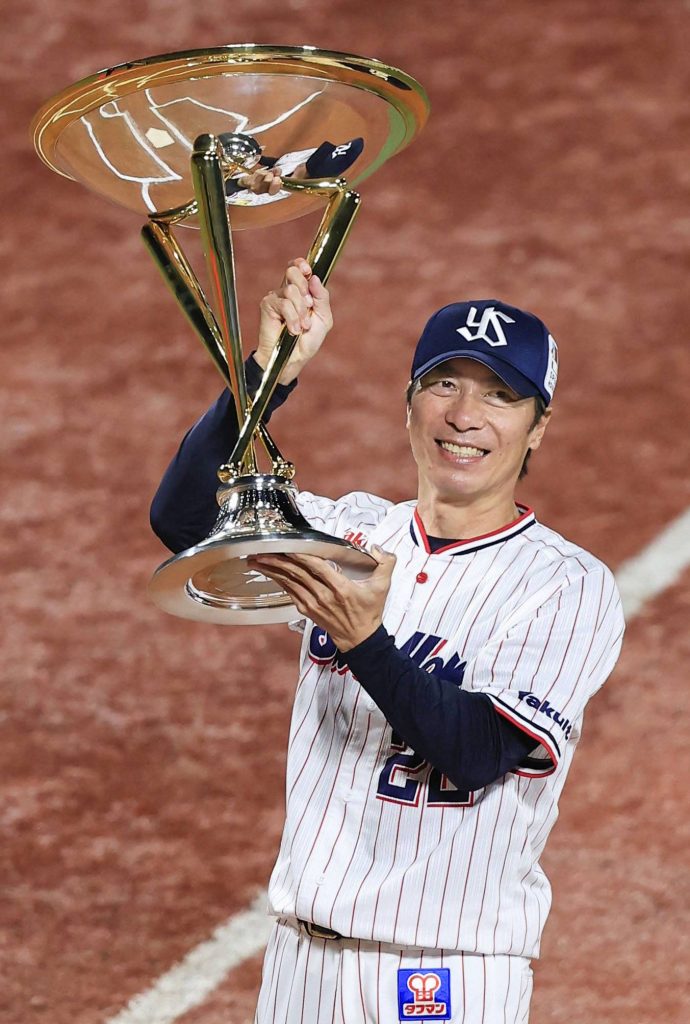 As Central League champions, the Swallows will host the Climax Series Final Stage and begin the series with an automatic one-win advantage.
Takatsu, of course, won't complain.
But as a four-time Japan Series-winning player (all with the Swallows, in 1993, 1995, '97 and 2001) who experienced the thrill again in November 2021 as a skipper, Takatsu knows as well as anyone how difficult it is to capture the real championship.
"We still have a high mountain to climb, but we want to scale the real big one that is waiting after the Climax Series," Takatsu said, according to Kyodo News.
RELATED:
Author: Ed Odeven
Follow Ed on JAPAN Forward's [Japan Sports Notebook] here on Sundays, in [Odds and Evens] here during the week, and Twitter @ed_odeven.