Rejuvenated Terunofuji Celebrates 8th Emperor's Cup in Style
Lone yokozuna Terunofuji easily defeated Takakeisho on the final day of the Summer Basho to cap a successful comeback to the raised ring.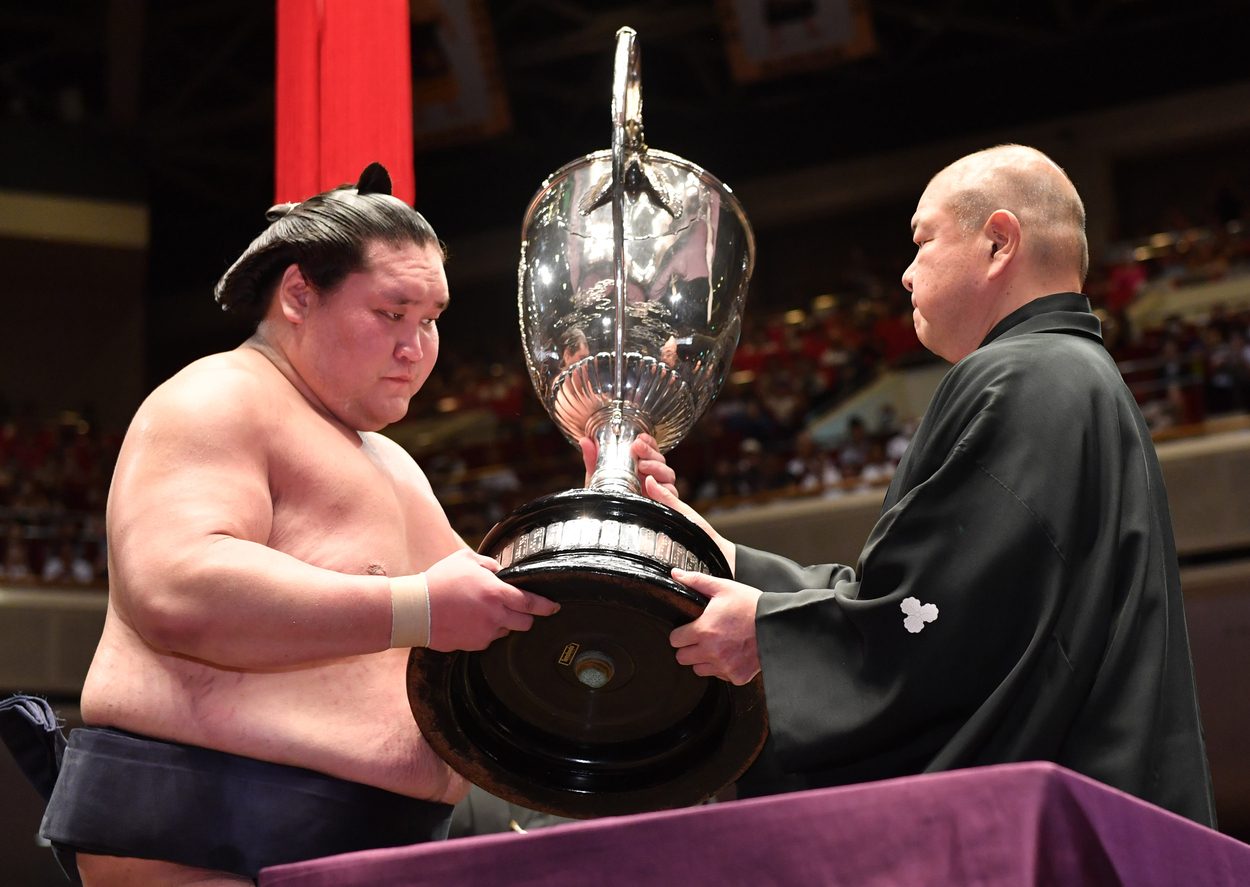 Grand champion Terunofuji put the finishing touches on his title-winning performance on Sunday, May 28 with a dominant win over ozeki Takakeisho on the final day of the Summer Grand Sumo Tournament.
A day after wrapping up his eighth Emperor's Cup, Terunofuji was all business in the final bout of the tournament when he shoved Takakeisho off the raised ring to improve to 14-1. 
"After the tournament started I was determined to do my best for all 15 days and felt like I did that," Terunofuji said after receiving the Emperor's Cup at Tokyo's Ryogoku Kokugikan. "My stablemates have been with me through good times and bad times and I owe a lot to them."
Takakeisho, who secured a winning record to maintain his ozeki status for the July tournament in Nagoya, dropped to 8-7 and never seriously threatened the Mongolian yokozuna.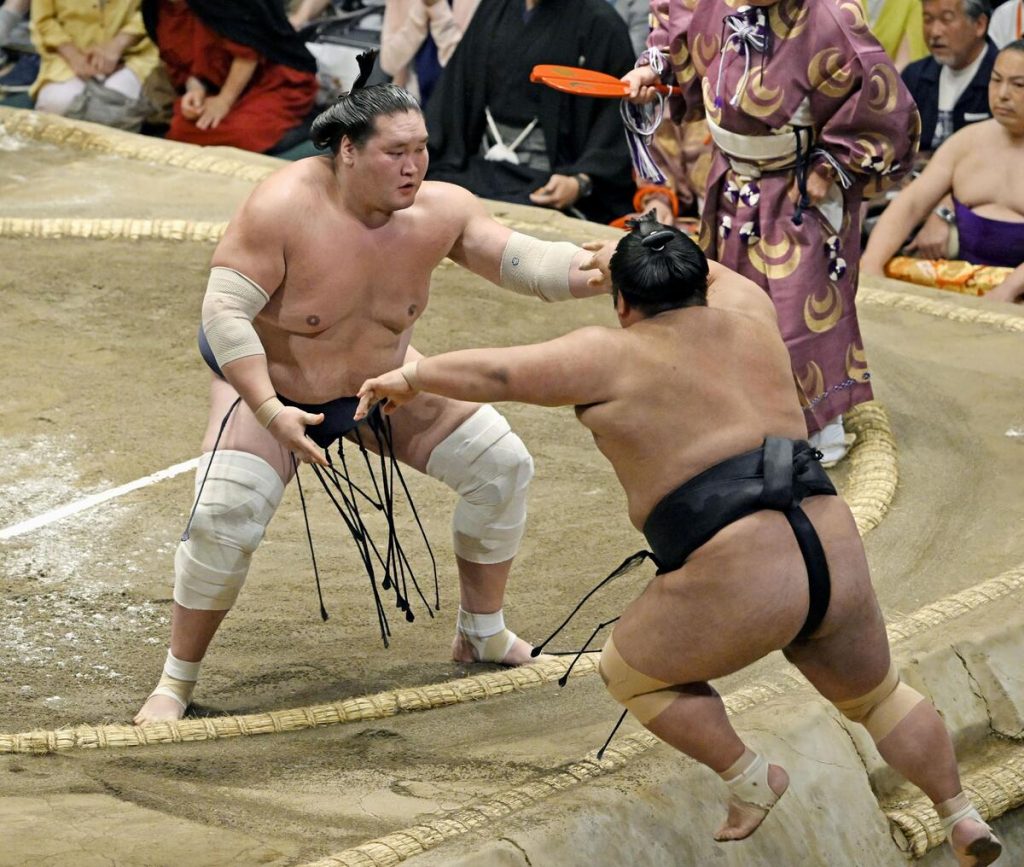 The win over Takakeisho capped an impressive comeback for Terunofuji, who withdrew from the September tournament in 2022 and then sat out three straight basho before coming back in this tournament.
During that time he had surgery on both knees and went through a lengthy rehabilitation process.
Terunofuji Reflects on Knee Surgery, Summer Basho
"I decided to have the surgery because I wanted to start a new page and show people I can do it," Terunofuji said. "From the very beginning of this tournament I knew I could deliver. It would be an insult to the sport if I thought otherwise."
The last time Terunofuji won a tournament was in May of 2022. He said on Sunday his goal is to win 10 Emperor's Cups and, given his performance in this tournament, that looks very much within his reach.
There were a lot of doubts about Terunofuji heading into the May tourney but he put those to rest. His only loss of the 15-day basho was to Meisei on Day 9.
Terunofuji's biggest win of the tournament was on the penultimate day when he beat his nearest rival Kiribayama to secure the championship.
"It was the bout that was going to decide the championship," Terunofuji added. "I told myself that my opponent was basically an ozeki so that is how I motivated myself."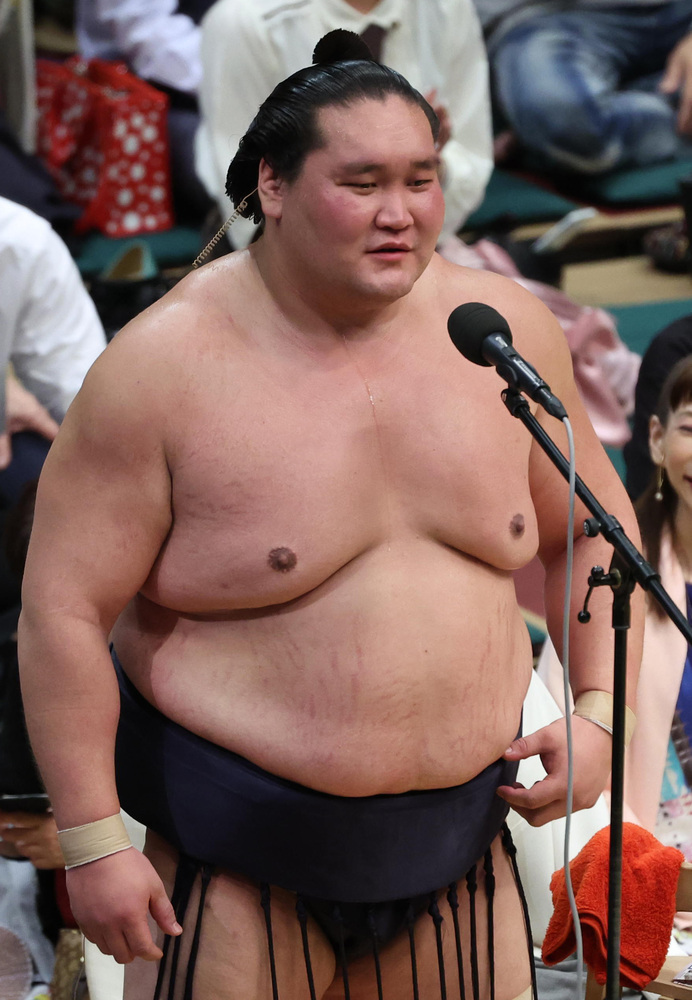 Terunofuji Expresses Gratitude for Fans' Support
There were no COVID-19 restrictions in place at Ryogoku Kokugikan for the first time in years. Fans were allowed to cheer as usual and every day was sold out. Terunofuji made sure to pay tribute to the loyal supporters.
"There were many fans willing to come to the arena to watch sumo and without them there is really no point, so hearing their cheers really motivated me," Terunofuji said. "I'm so grateful to all of them for coming out."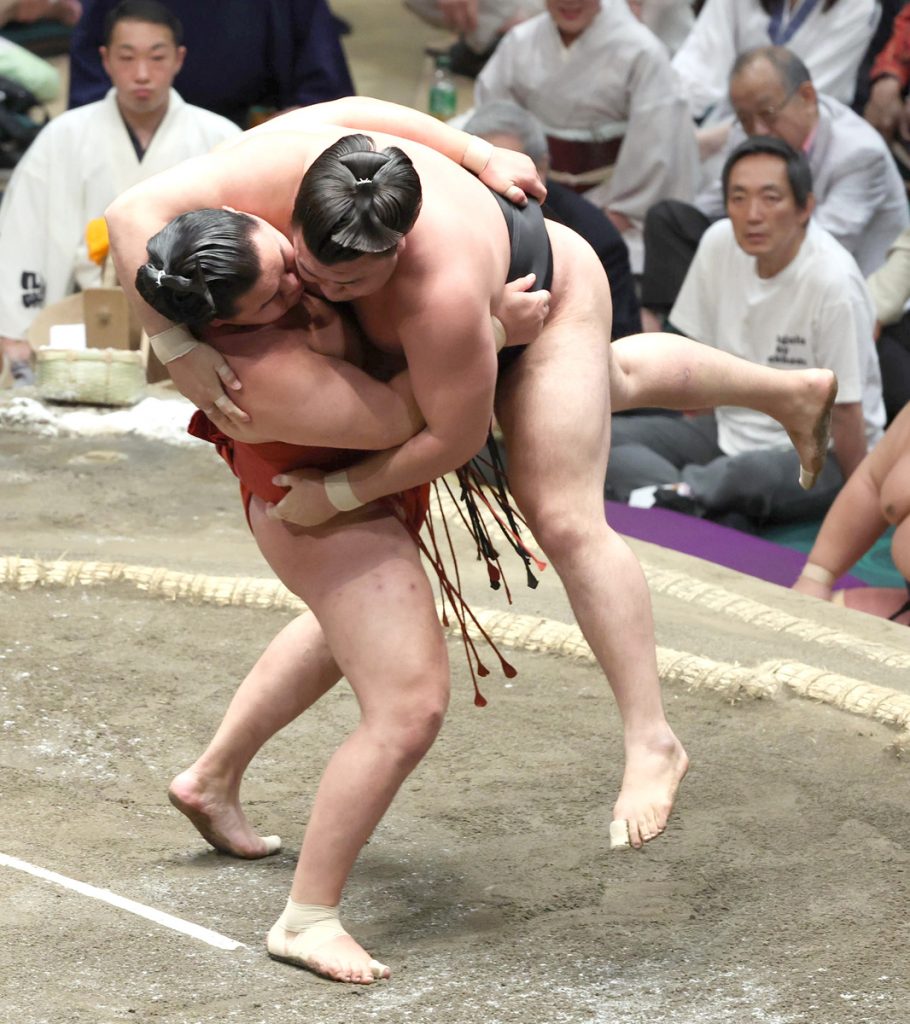 Hoshoryu Beats Kiribayama on Final Day
In other major bouts, Hoshoryu used an under-arm throw to defeat fellow Mongolian and sekiwake Kiribayama to give both wrestlers a record of 11-4.
Kiribayama will be promoted to ozeki after the tournament. He also takes home one of the tournament's Technique prizes.
"I really treated each individual bout as being important and I was a bit more nervous than usual," Kiribayama said.
He added, "I just told myself to stick to my usual sumo and that's what I was able to do."
Sumo officials are expected to officially promote Kiribayama to ozeki on Wednesday, May 31.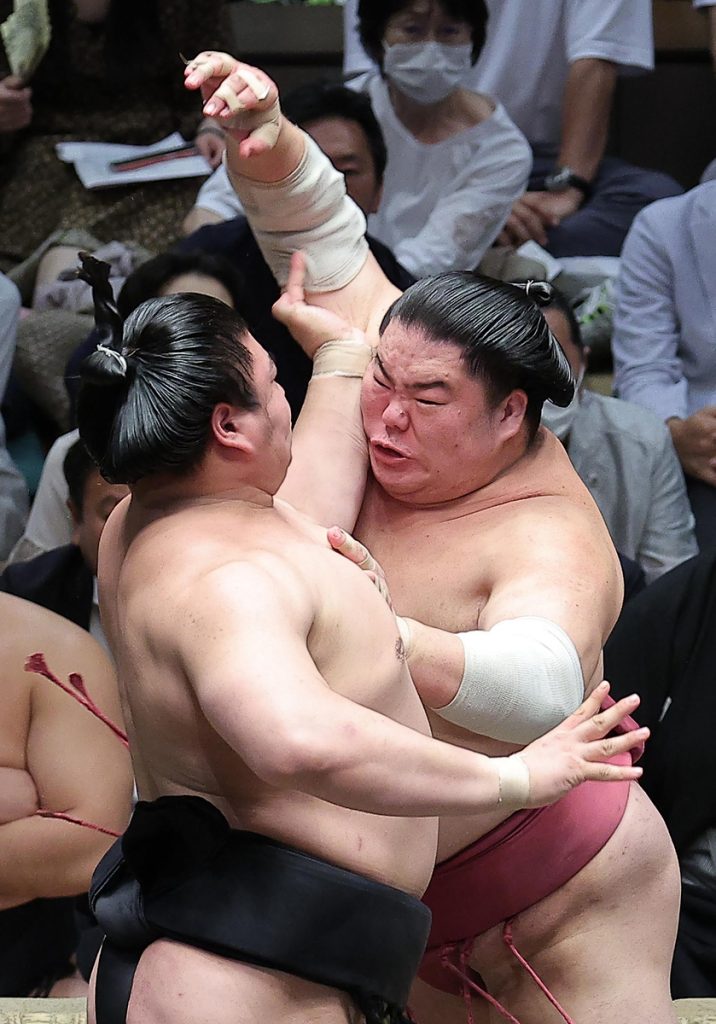 Sekiwake Daieisho got an all-important 10th win when he used a frontal thrust-down to send Wakamotoharu flying off the ring. Sekiwake Wakamotoharu also finished the tournament at 10-5.
It was an impressive tournament for sumo's four sekiwake wrestlers, who all have a shot at promotion to ozeki in the near future, something which should make sumo officials happy.
Komusubi Kotonowaka wrapped up a winning record when he shoved out Meisei to give both wrestlers a record of 8-7.
Despite the loss, his sixth straight, Meisei won the tournament's Outstanding Performance Award for his win over Terunofuji on Day 9.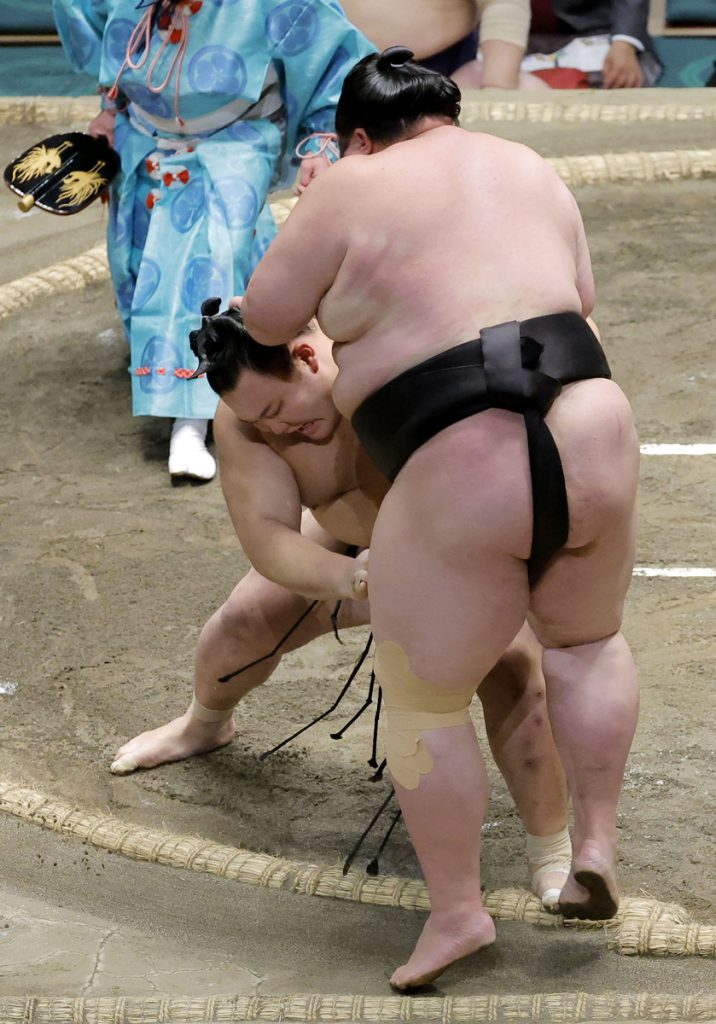 Asanoyama Goes 12-3 in Summer Basho
Further down the ranks, No. 14 maegashira Asanoyama closed out his successful comeback from suspension with a frontal force-out of Tsurugisho to finish at 12-3. No. 15 maegashira Tsurugisho also had a strong showing and finished at 9-6.
Former ozeki Asanoyama was very much in contention for the title until two losses to Daieisho and Terunofuji over the final four days.
Asanoyama was an ozeki in 2021 when he was suspended for violating COVID-19 safety measures. Following the Summer Basho in '21, Asanoyama was forced to sit out six tournaments.
His suspension meant he fell all the way down as low as the sandanme division before working his way back up to the elite makuuchi division for this basho.
Sumo's Flying Monkey Tobizaru, a No. 3 maegashira, shoved out veteran Tamawashi to finish with a winning record of 8-7. No. 7 maegashira Tamawashi completed the tournament with seven wins and eight losses.
Top maegashira Abi wrapped up his fourth consecutive winning record when he used his trademark arm thrusts to send Ura toppling off the raised ring.
Abi improved to 8-7 while No. 4 maegashira Ura fell to 7-8.
RELATED:
Author: Jim Armstrong
The author is a longtime journalist who has covered sports in Japan for over 25 years. You can find his articles on SportsLook.