Shoma Uno Powers to Big Lead in Short Program at Japan Championships
All of Shoma Uno's expected challengers encountered problems of one type or another in their programs, resulting in his significant lead.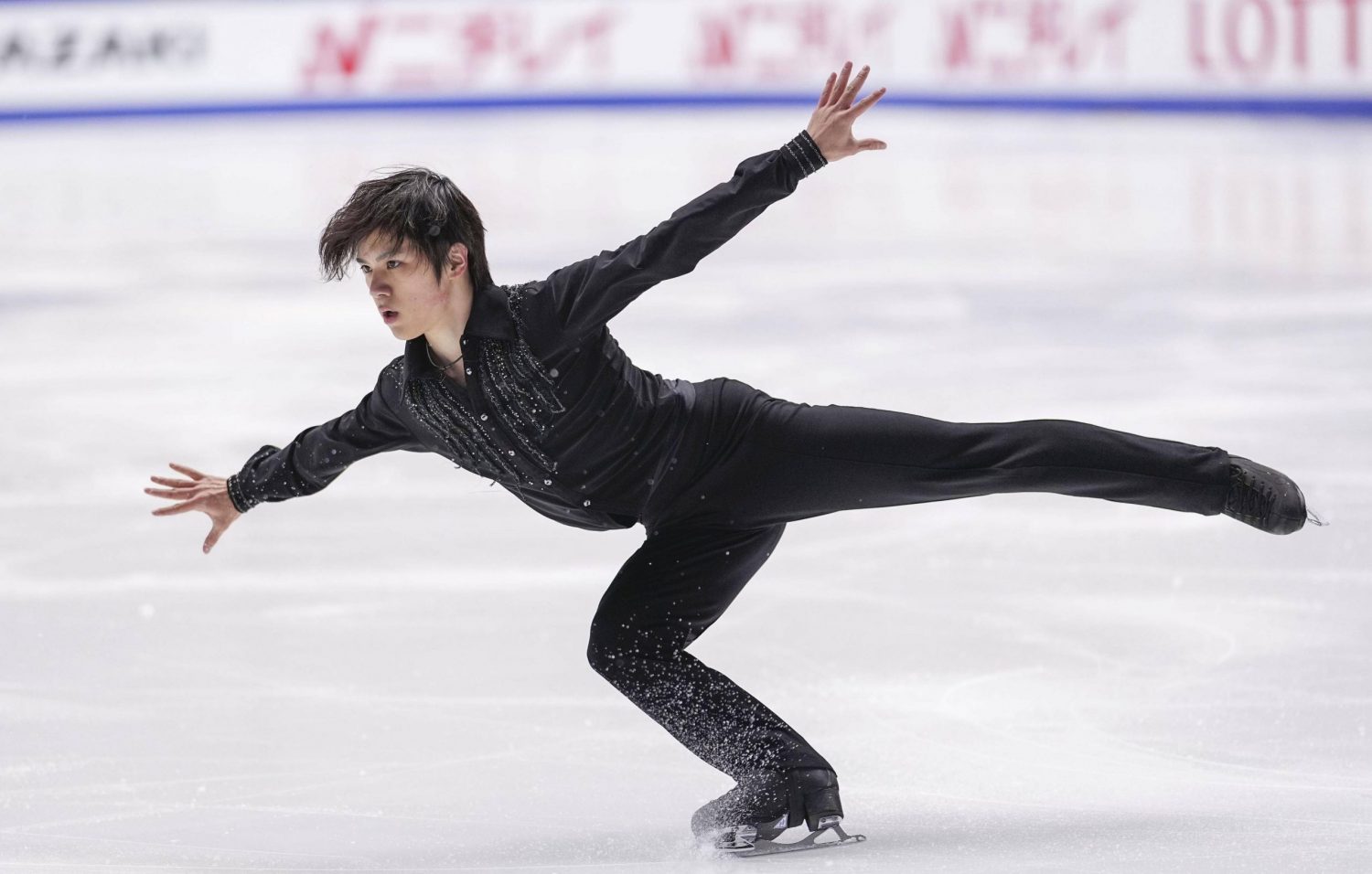 World champion Shoma Uno moved out to a huge advantage after a scintillating short program at the Japan Championships in Kadoma, Osaka Prefecture, on Friday night, December 23 as he looks to win the national title for a fifth time.
The three-time Olympic medalist showed why he is the top skater in the sport now as he displayed excellent line and edge throughout his performance.
All of Uno's expected challengers encountered problems of one type or another in their programs, resulting in his significant lead. The 25-year-old Uno is on top with 110.45 points, nearly 13 points ahead of training partner Koshiro Shimada, who is a surprise in second place with 87.69. Sota Yamamoto is third with 86.89.
Kazuki Tomono is fourth at 85.43, while Shun Sato stands in fifth on 81.78.
Beijing Olympic silver medalist Yuma Kagiyama is sixth with 81.39 in his first competition of the season.
Kao Miura, who was fifth at the Grand Prix Final, struggled through a poor outing and is out of medal contention in 13th place at 71.12.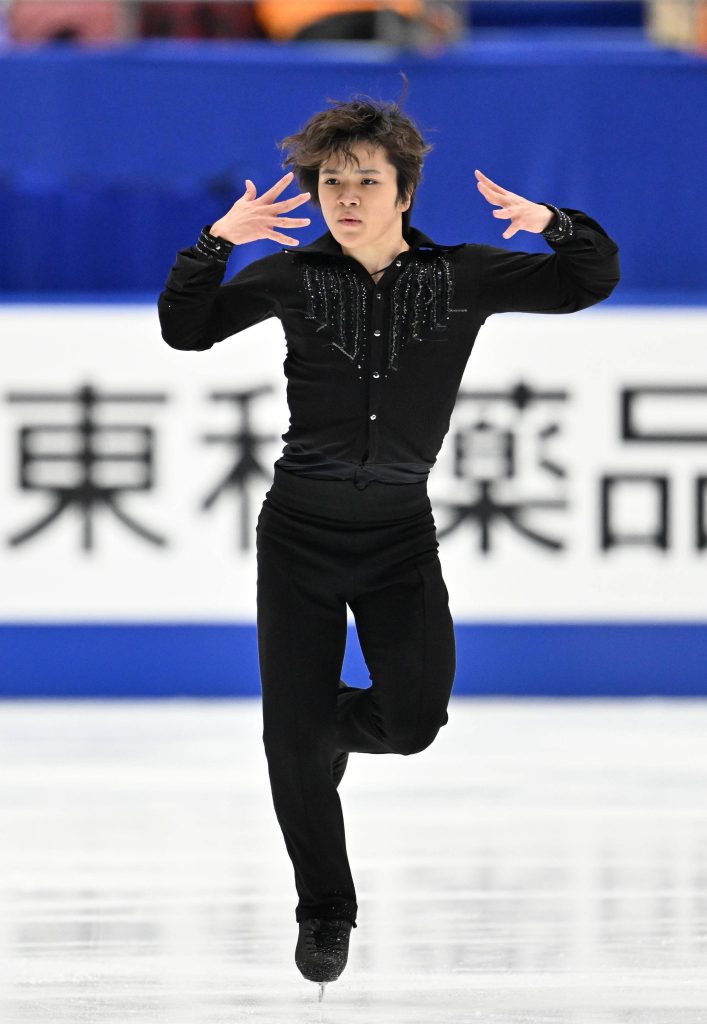 Uno skated to "Gravity" and put forth another powerful effort. The star opened with an excellent quad flip, followed by a quad toe loop/double toe loop combo, and went on to land a nice triple axel. He earned level fours for two of his spins and a level three for his step sequence.
"I think I gave the best possible performance today," Uno stated.

He added, "I missed the quad/triple on the combination and only did a quad/double."
Uno believes he still has room for improvement despite the high score.
"Compared to my short program performance in my best condition, there are still many things I couldn't do," Uno noted.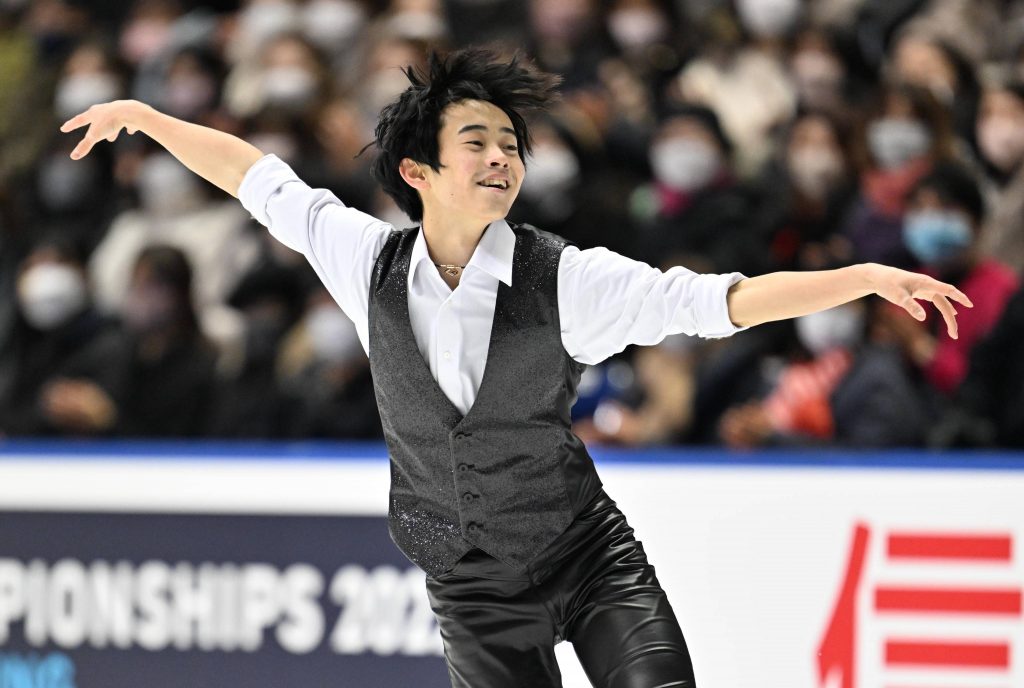 Keen Concentration Helps Shimada
Shimada competed to "Sing, Sing, Sing" and began with a shaky quad salchow before executing a quad toe loop/triple toe loop combo, and landed a solid triple axel. 
The 21-year-old Shimada, who trains with Uno under coach Stephane Lambiel in Switzerland, recorded level fours on two of his spins and a level three on his step sequence.
"I challenged with good concentration even before the competition," Shimada commented.

Shimada added, "I was able to make a good start before the free [skate]."
Yamamoto Misfires on Salchow
Yamamoto, who was second at the GP Final behind Uno, skated to "Yesterday" and began with a nice quad toe loop/triple toe loop combo, but doubled his planned quad salchow before going on to hit a triple axel. The mistake was costly for Yamamoto and likely knocked him out of any chance at the title.
"I made a small mistake with the salchow," Yamamoto said. "It's frustrating because I have had no mistakes in the short program for a long time."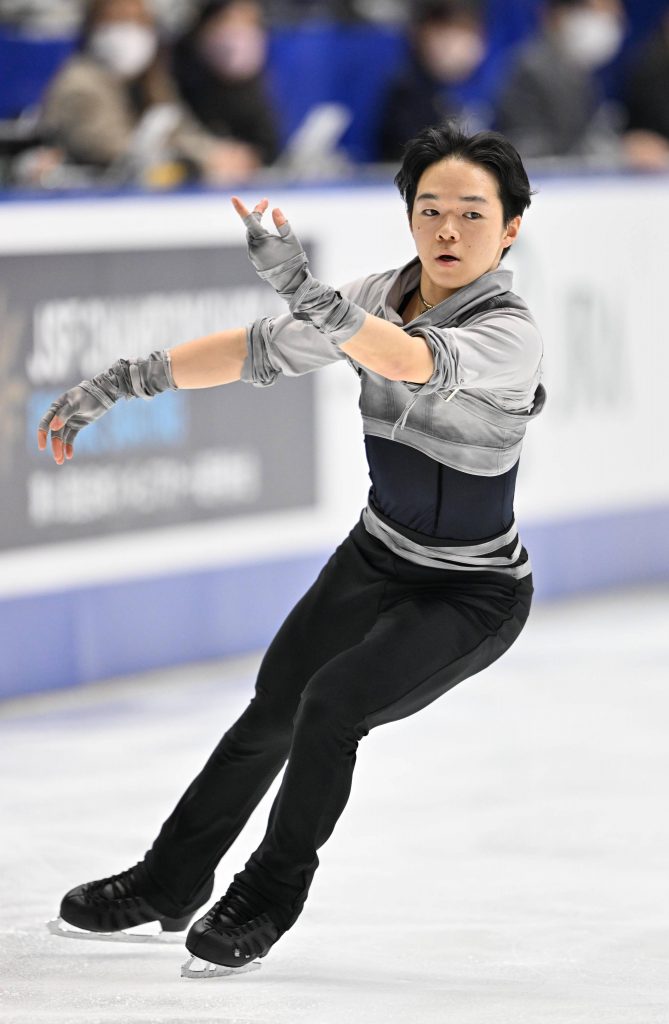 Kagiyama Grateful for Fans' Support
Kagiyama, who has been sidelined with an injury to his left foot, competed to "Believer" and had an auspicious start by landing a good quad salchow. He followed that with a triple flip/triple loop combo that was unstable, then went on to single his planned triple axel. The world silver medalist last season posted level fours on two of his spins and step sequence.
"It was my first time [to compete] in a long time and I was able to successfully complete the 2:50 mark," the 19-year-old Kagiyama said. "I am glad that I was able to perform to the end with the clapping of everyone in the venue."
Sato Botches Final Jump
Sato skated to "Carol of the Bells" and landed a nice quad toe loop at the outset. He then hit a triple lutz/triple loop combo, and was in good position going into his final jump (triple axel), which he looked to have fully rotated. But he appeared to hit a rut in the ice as he came out of his landing and fell.
"I decided not to use the lutz in my short program during practice yesterday," Sato remarked.
Rough Outing for Miura
Miura fell on his opening quad salchow, then went down again on the front end of a planned quad toe loop/triple toe loop combo before landing a triple axel. He was only able to manage a level four on just one spin and got a level three on his step sequence.
"I can't think of anything else right now," a disappointed Miura commented, "but I will think about what I can do to recover in the free program by the day after tomorrow."
The Japan Championships will continue on Saturday with the free dance and women's free skate.
RELATED:

Author: Jack Gallagher
The author is a veteran sports journalist and one of the world's foremost figure skating experts. Find articles and podcasts by Jack on his author page, here, and find him on Twitter @sportsjapan.