Shoma Uno Wins Second Straight World Title Despite Free Skate Struggles
Although he wasn't at his best, Shoma Uno showed the heart of a champion, finding a way to win. His strong program component scores helped lead him to victory.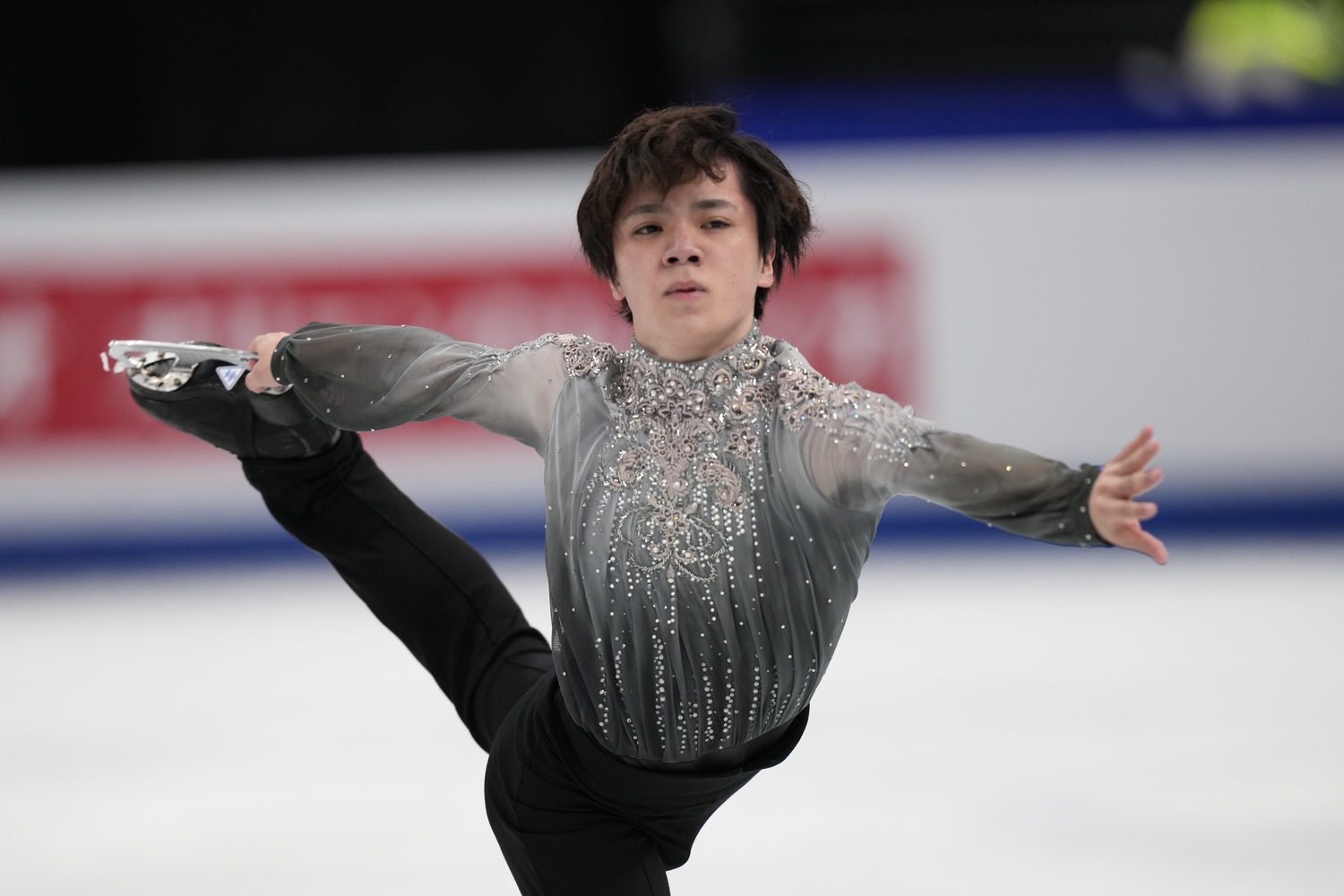 SAITAMA ― World champion Shoma Uno successfully defended his title at Saitama Super Arena on Saturday night, March 25, holding off an inspired effort from South Korea's Jun Hwan Cha to become the first Japanese man ever to win two consecutive world crowns.
The 25-year-old Uno, who held a four-point lead after the short program, was not at his best this night, but still showed the heart of a champion by finding a way to win. He landed just two clean quadruple jumps, but earned level fours on his spins and step sequence. His strong program component scores helped carry him to the triumph at the World Figure Skating Championships.
Uno's winning total score was 301.14 points, giving him a five-point victory over Cha, who claimed the silver with 296.03. Ilia Malinin of the United States, who was second after the short program, settled for the bronze at 288.44.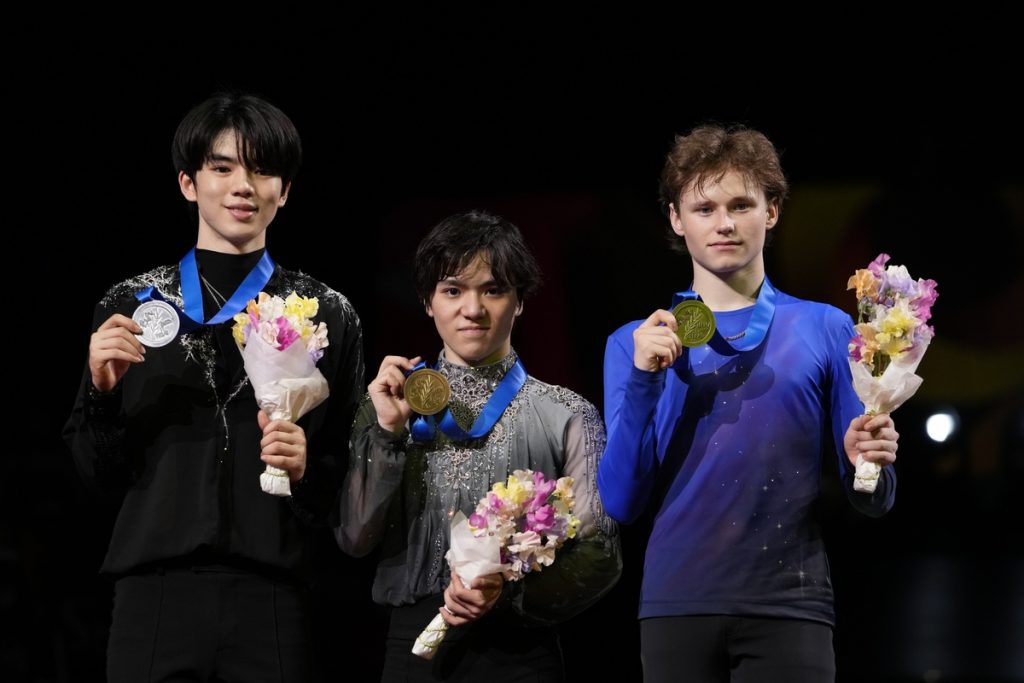 France's Kevin Aymoz came in fourth on 282.97, while Jason Brown of the US finished fifth with 280.04. Kazuki Tomono placed sixth at 273.41.
Sota Yamamoto struggled in his free skate and ended up 15th on 232.39.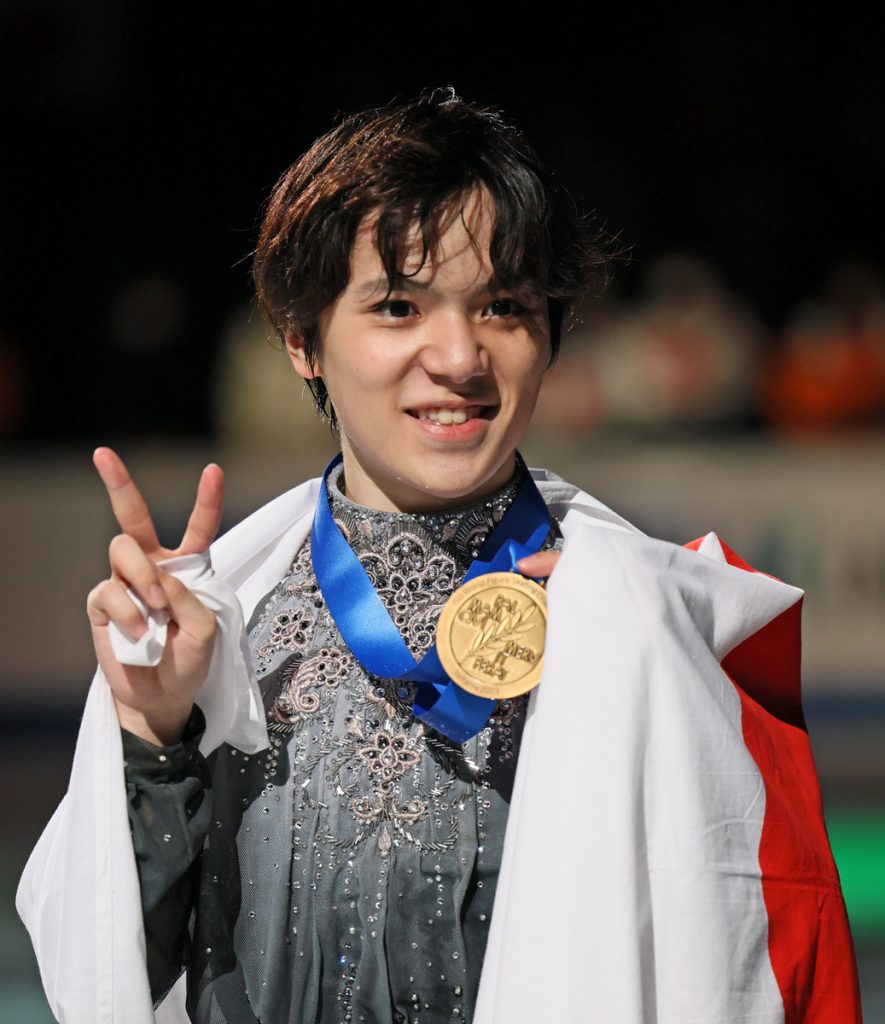 Uno Pleased with 'Solid Result'
Skating to "Air on the G String," Uno opened with a nice quad loop, but under-rotated the quad salchow that followed, before recovering to hit a beautiful quad flip. His program seemed to be going well, but after his first spin he was judged a quarter rotation short on two straight quad toe loops, only doing a single toe loop as a part of a combination on the latter.
The drama intensified at that point, as it appeared that Uno might lose his title to Cha. But the three-time Olympic medalist rallied with a fine triple axel/double axel combo, then notched level fours on his step sequence and final two spins in succession.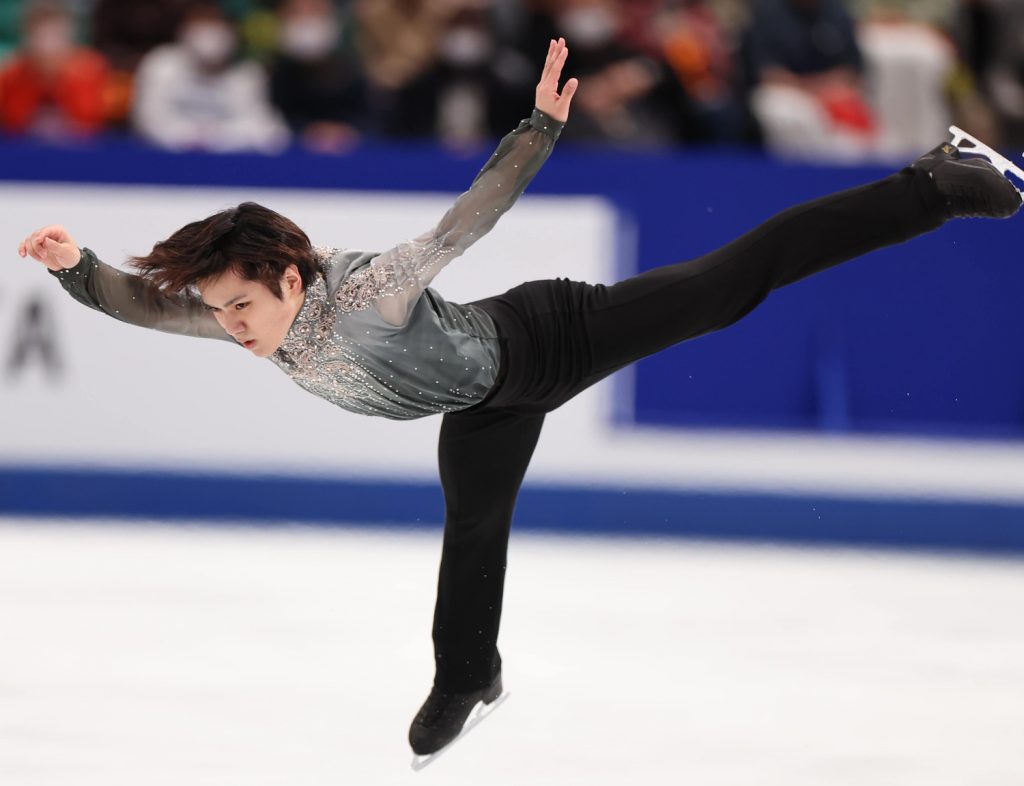 "It's hard to say that it was a perfect performance, but I can't do any better now," Uno stated. "Every jump was dangerous, but I'm happy that I was able to leave a solid result. I have been worried about the last two weeks."
He added, "I am happy that I was able to repay you with the results."
Uno, who had expressed concerns about his jumps before the competition began, paid tribute to his coaches, trainers and support staff for their role in the win after he took a hard fall in practice on Wednesday and injured his ankle.
"Without the support of many people, I would not have been able to achieve this performance, without even one of them," Uno commented. "I would like to thank everyone who has been involved."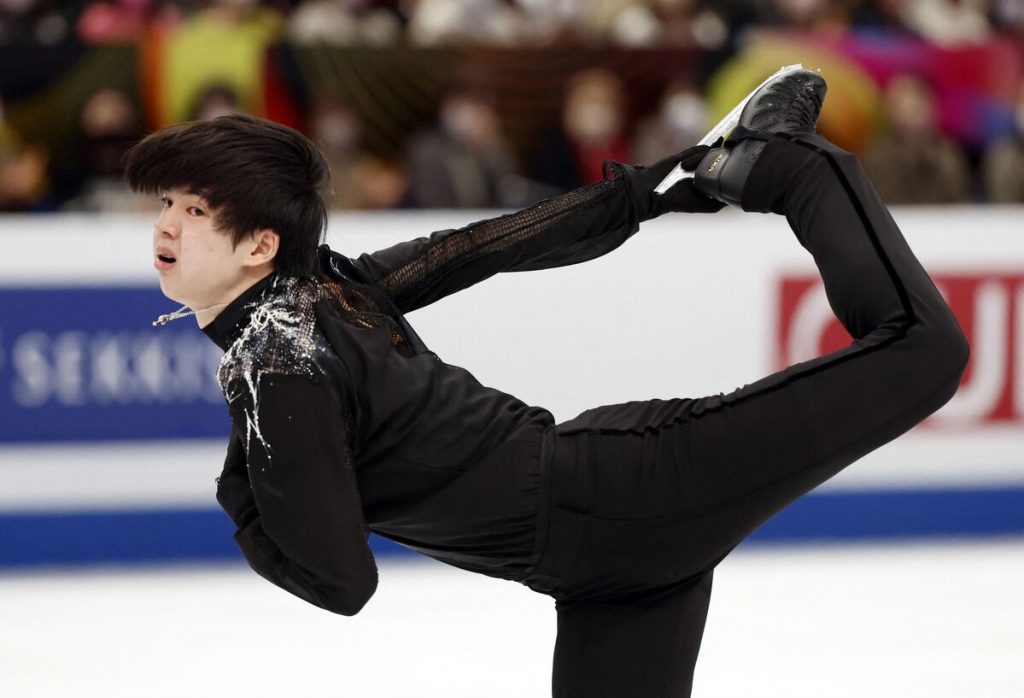 Cha Displays Potential with Strong Free Skate
Cha competed to a Michael Jackson medley and hit two clean quads and six triples while recording level fours on his spins and step sequence. It was an outstanding performance by the 21-year-old Seoul native, who finally realized his potential on the big stage by capturing the first worlds or Olympic medal of his career.
"I'm very happy about the medal today and how I skated," Cha remarked. "I really trained hard and gave everything I had. If I think about the world championships, it is not very good memories. But this time I made a good memory."
Cha's result gives South Korea three places at next year's worlds in Montreal.
"This was the best part (of his second-place finish)," Cha said. "I wanted to do this after the Beijing Olympics, [and] I'm very happy to get the three spots for my country."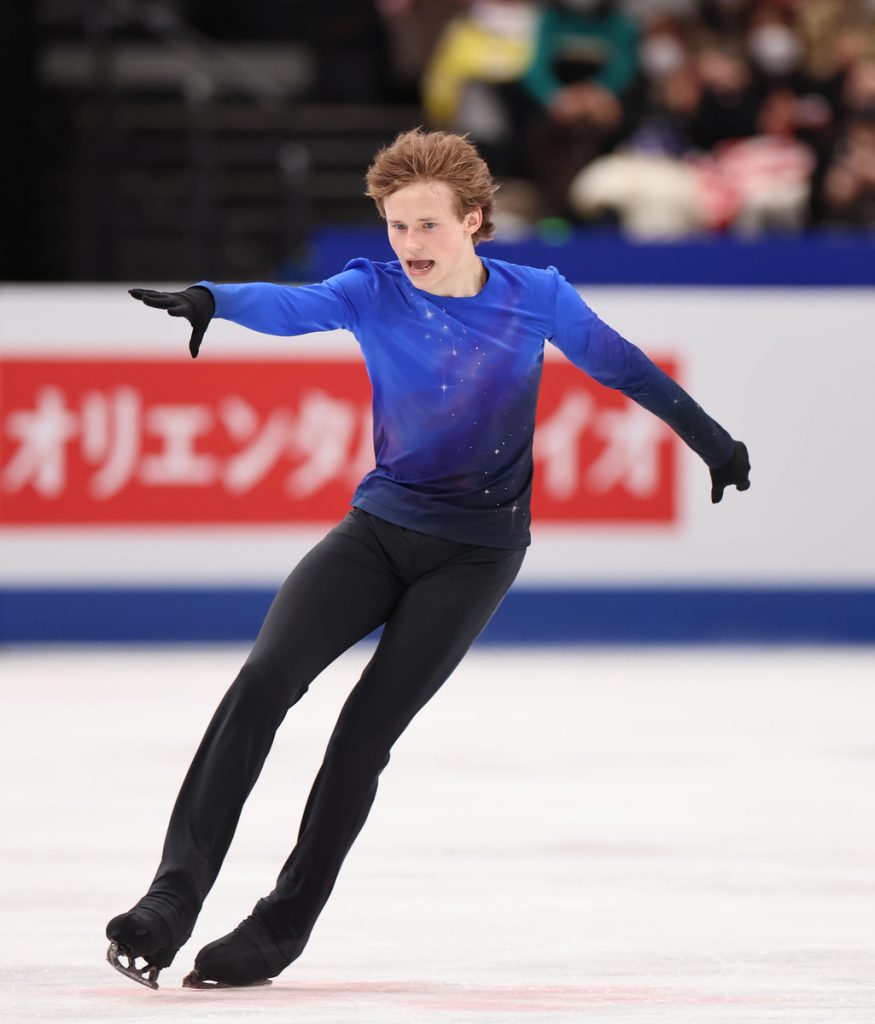 Malinin Lands Quad Axel en Route to Bronze
Malinin skated to "Euphoria" and made history by landing the first quad axel ever at the worlds with his opening jump. However, the 18-year-old was judged a quarter short on his next two jumps (a quad flip and quad lutz), then later under-rotated another quad lutz.
Malinin ended up landing three clean quads and three triples, while registering level fours on two of his spins and step sequence. But it wasn't enough on this night to challenge Uno for the gold.
"I'm grateful for the performance I was able to put out," Malinin said before adding, "I have trained very hard the past few weeks so I could do this."
Malinin reflected on what he would take away from the worlds.
"What I have learned from this competition is that sometimes the practices don't go how you want them to, but it doesn't always affect how you compete," Malinin stated. "Sometimes going for the risks you get really good rewards, but I think that maybe sometimes it's OK to lower the risks and go for a lot cleaner skate. I think it will be beneficial next season to lower the standards a bit."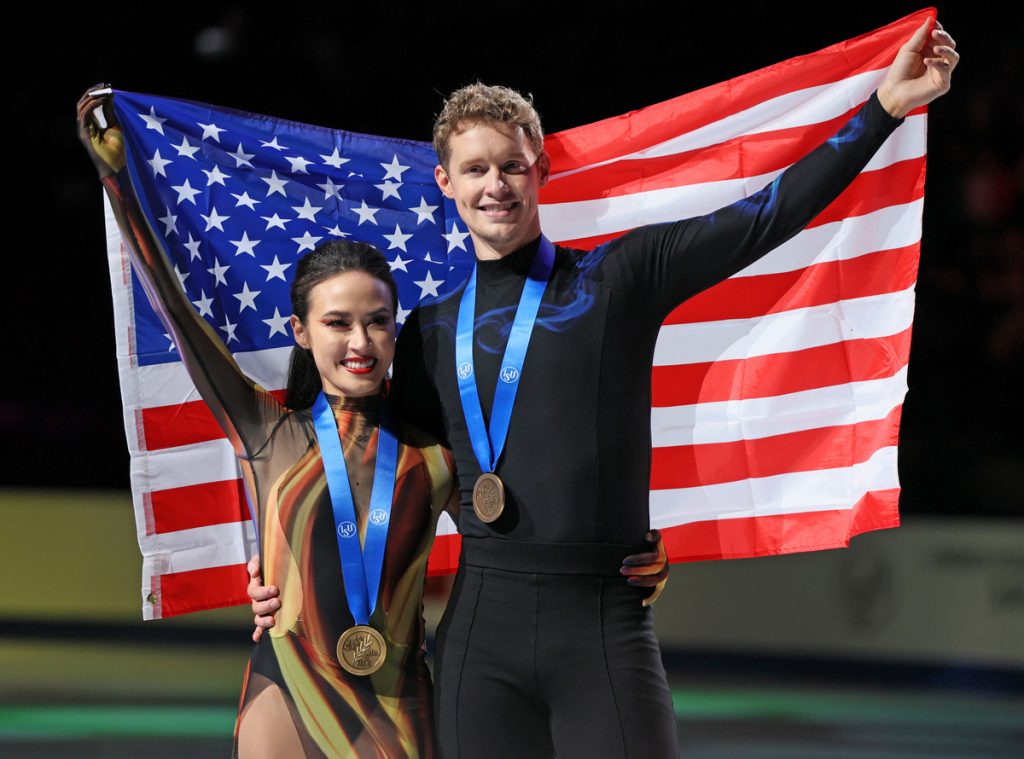 Chock, Bates Capture First World Title in Ice Dance
Madison Chock and Evan Bates of the United States won their first world crown in ice dance. The two-time world bronze medalists topped the podium with a total of 226.01, besting Italy's Charlene Guignard and Marco Fabbri, who took the silver at 219.85. Canada's Piper Gilles and Paul Poirier collected the bronze on 217.88.
Kana Muramoto and Daisuke Takahashi finished in 11th place with 188.87.


"I think today's performance really gave me the meaning to continue for a year," the 37-year-old Takahashi stated. Then he said, "I have grown and experienced a lot in this past year."
Added Muramoto, "After the world championships ended last season, it was an uncertain situation. This season has been really tough, but I am very happy."
The world championships will conclude with the Exhibition Gala on Sunday.
RELATED:
Author: Jack Gallagher
The author is a veteran sports journalist and one of the world's foremost figure skating experts. Find articles and podcasts by Jack on his author page, and find him on Twitter @sportsjapan.