Tobizaru Stuns Promotion-Chasing Takakeisho on Opening Day of Spring Basho
Sumo's Flying Monkey posted his third consecutive win over ozeki Takakeisho in the day's final bout at Osaka Prefectural Gymnasium.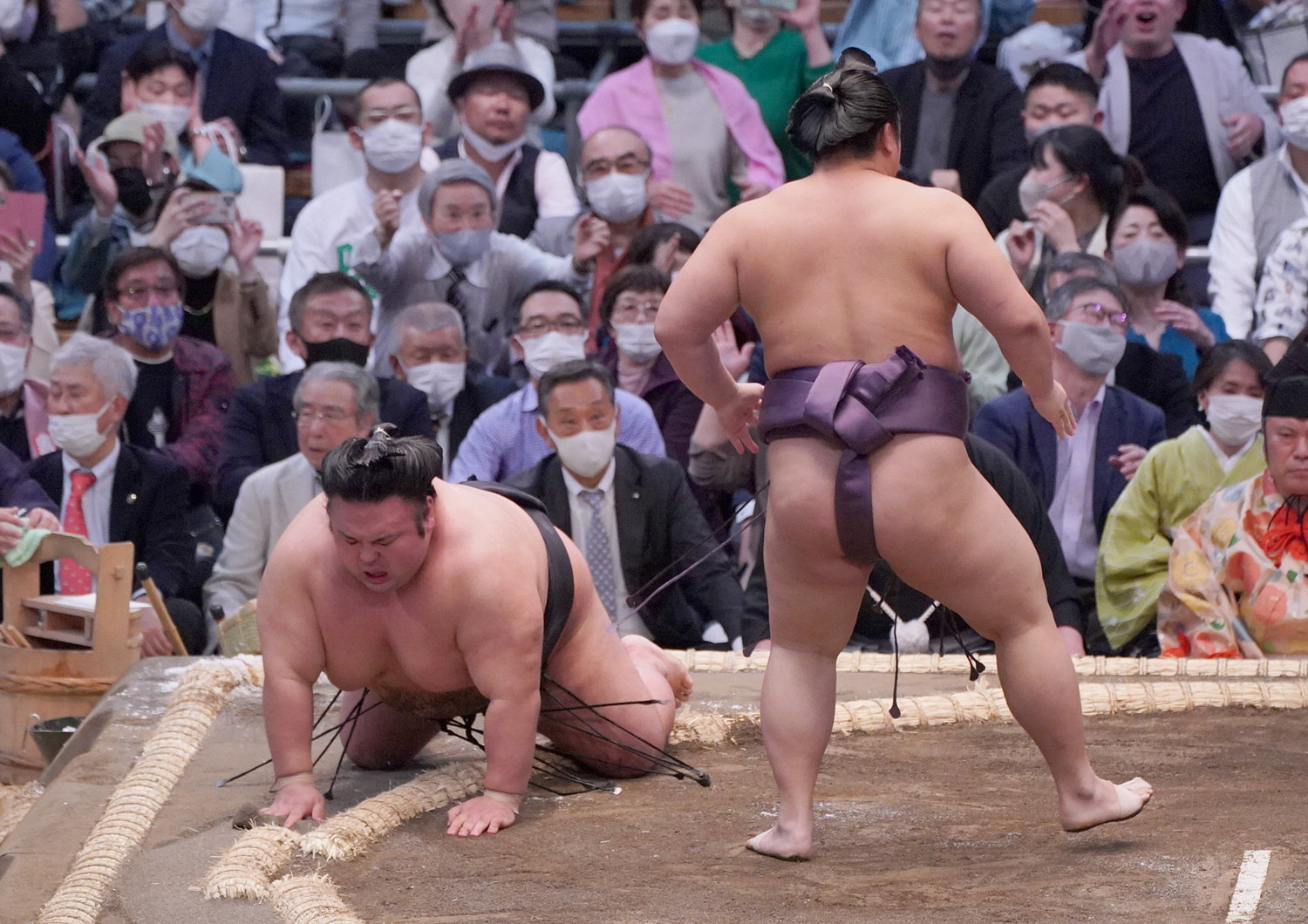 Komusubi Tobizaru upset Takakeisho on Sunday, March 12, dealing an early  setback to the ozeki's hopes of winning the title and earning promotion to yokozuna on the opening day of the Spring Grand Sumo Tournament.
Takakeisho pushed Tobizaru back after the face-off in the day's final bout at Osaka Prefectural Gymnasium, but sumo's Flying Monkey shifted to his right and swatted the stunned ozeki down.
"I was able to move well," Tobizaru said. "I'm very pleased to defeat the ozeki on the opening day and I got a lot of energy from the crowd and want to continue to do my brand of sumo."
It was the third consecutive tournament where Tobizaru has defeated Takakeisho.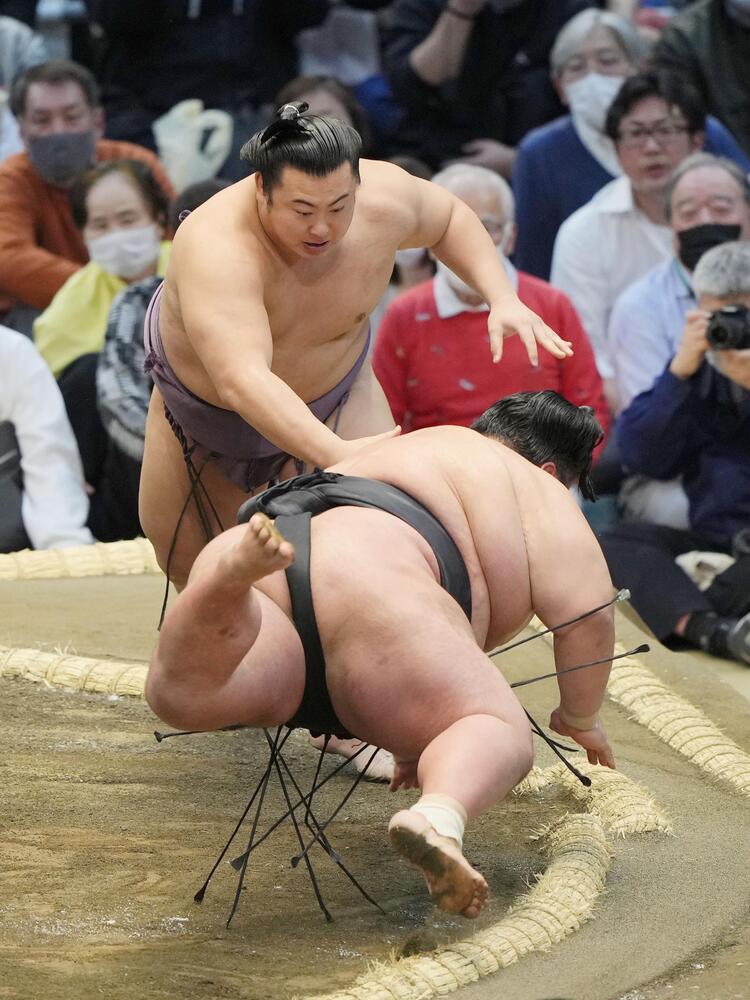 After winning the New Year Basho for his third title overall, Takakeisho is hoping to earn promotion to yokozuna with a fourth title in the 15-day meet. But he didn't get the start he wanted.
There is still a long way to go, but Takakeisho can ill-afford any more slip-ups like this. He had Tobizaru where he wanted him but couldn't get the job done.
Grand champion Terunofuji is sitting out the tournament as he recovers from surgery to his knees.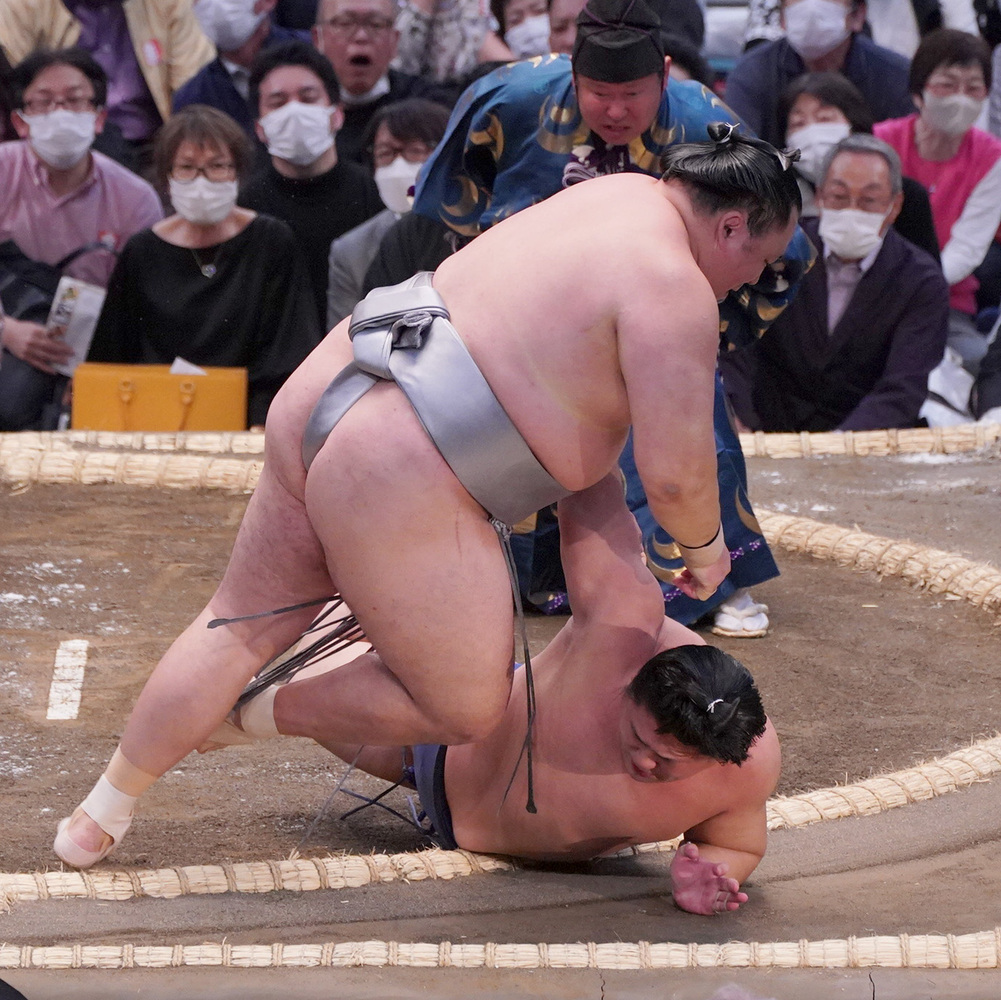 Tamawashi Opens Tourney with Win
In other major bouts, sumo's ironman Tamawashi posted a hard-fought victory over sekiwake Wakatakakage.
Wakatakakage, who got his first championship in the March tournament last year, spun the top maegashira around but the Mongolian recovered to thrust down his opponent while staying in bounds with his left foot.
Newly promoted sekiwake Kiribayama, who has been mentioned as a possible spoiler for Takakeisho's title hopes, used a barrage of powerful arm thrusts to send No. 2 maegashira Abi backpedaling out of the ring.
Mongolian Kiribayama has beaten Takakeisho in three out of their last five meetings. He was promoted to sekiwake after recording 11 wins in the New Year tourney.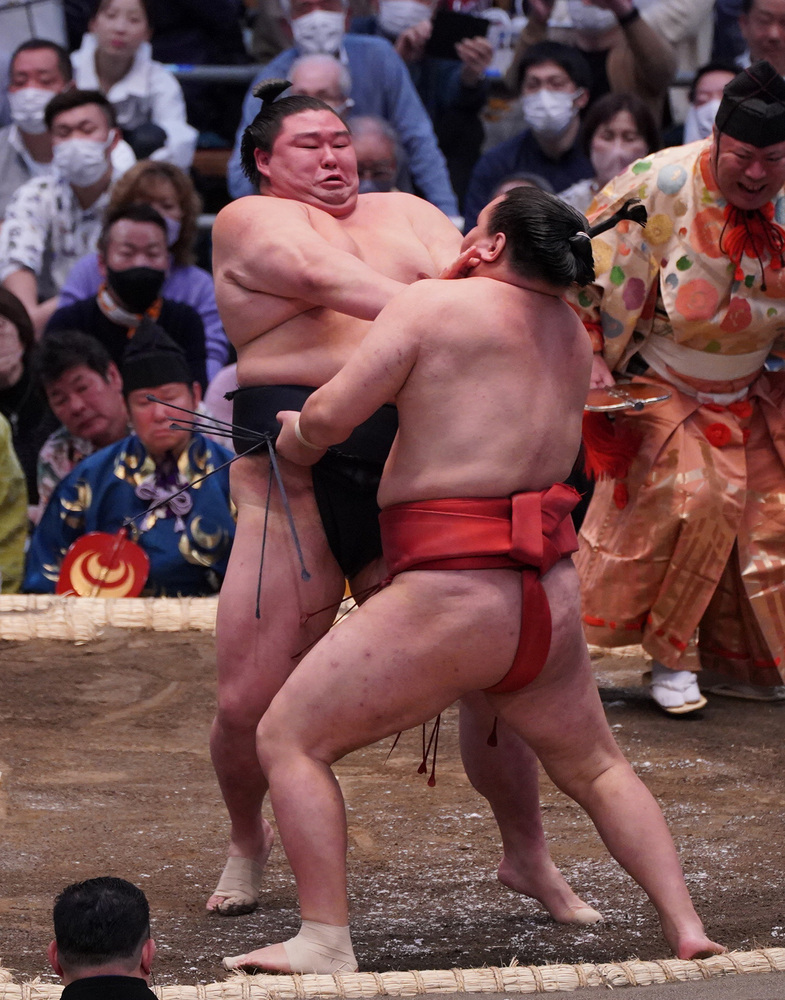 Shodai Overpowers Hoshoryu
Top maegashira Shodai fought off a frontal grip on his belt and used a fierce right-handed thrust to the neck to stand up Hoshoryu and bulldoze the Mongolian sekiwake out over the edge.
Former ozeki Shodai has struggled in recent tournaments to produce the kind of sumo he did on the opening day and it cost him his ozeki rank.
Fighting as a komusubi, Wakamotoharu kicked off his March campaign with a one-sided win over Ryuden.
Wakamotoharu, the older brother of Wakatakakage, shoved Ryuden back to the edge where the No. 2 maegashira stepped out with his left foot.
Komusubi Kotonowaka got his preferred left-hand outside grip on Mitakeumi's belt and forced the No. 3 maegashira out for a confidence boosting win.
Komusubi Daieisho overwhelmed Nishikigi at the face-off with an effective thrust to the neck, then bulldozed the No. 3 maegashira out over the edge with a frontal force-out.
Ura did a pirouette on the straw ridge while slapping down fellow No. 8 maegashira Ichiyamamoto to open with an impressive win.
Seventh-ranked maegashira Takayasu got a left-handed grip on the belt of Hokutofuji, also a No. 7 maegashira, and overpowered his opponent in a matter of seconds.
Winning Makuuchi Debut for Kinbozan
Further down the ranks, Kinbozan defeated Bushozan in a showdown of No. 14 maegashira to kick off his debut in the elite makuuchi division with a win.
Kinbozan is the first wrestler from Kazakhstan to compete in the top division.
Kinbozan, whose real name is Baltagul Yersin, has won two championships in the lower divisions. The 25-year-old needed just three tournaments in the second-tier juryo division to secure promotion to the elite ranks.

Author: Jim Armstrong
The author is a longtime journalist who has covered sports in Japan for over 25 years. You can find his articles on SportsLook.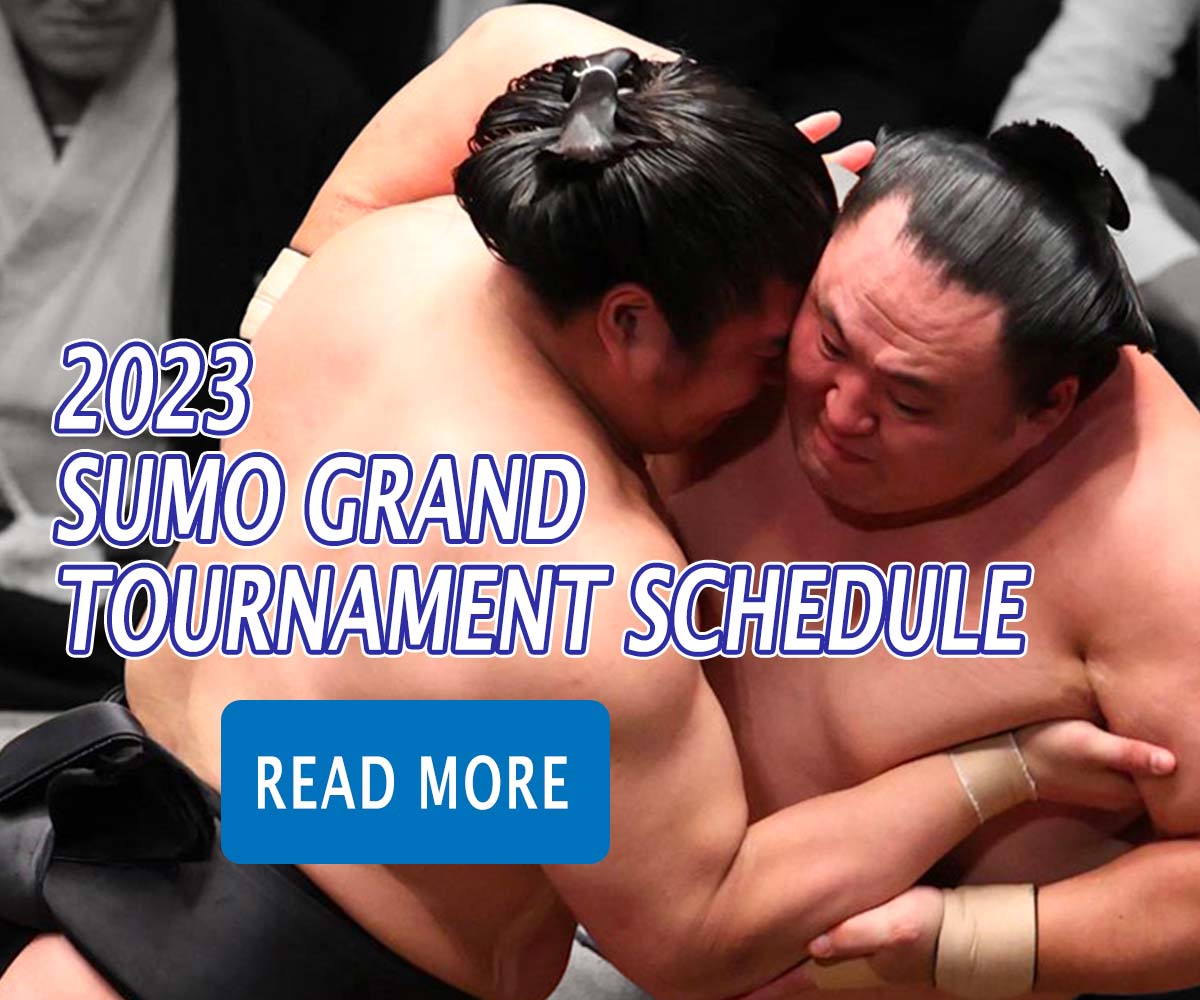 Subscribe to Our Newsletter