[JAPAN SPORTS NOTEBOOK] How Far Will the Tokyo 2020 Olympic Bribery Scandal Reach?
As investigators continue to pore through evidence and issue indictments, will the Tokyo 2020 scandal envelop dozens or hundreds more individuals?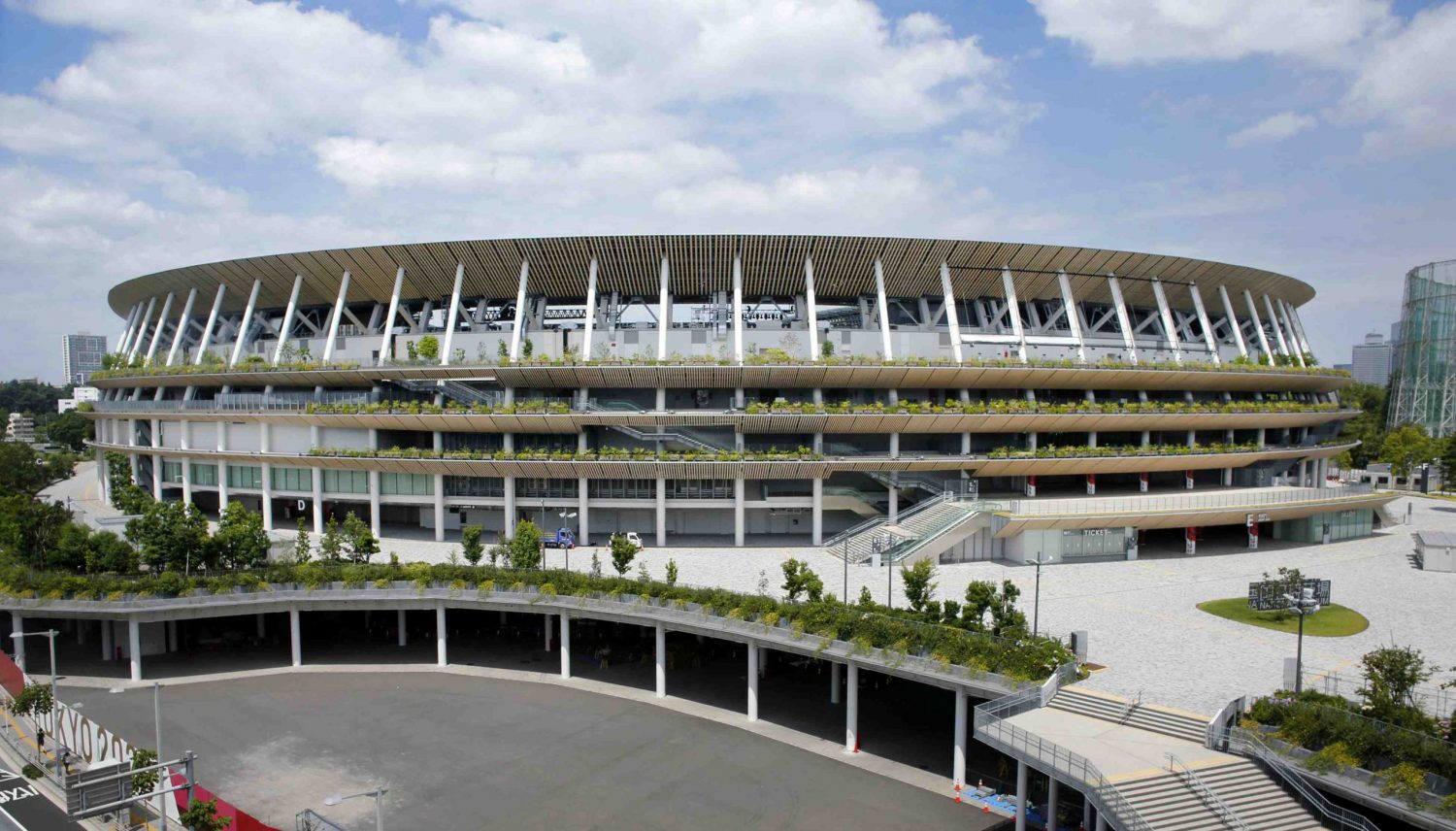 As the calendar moves closer to the 2024 Paris Olympics, the escalating evidence of alleged malfeasance linked to the delayed Tokyo 2020 Olympics further tarnishes its legacy.

At the nexus of the growing bribery scandal is Haruyuki Takahashi, who received a fourth indictment from the Tokyo District Public Prosecutors Office in November 2022. Takahashi, a former Tokyo 2020 Olympics and Paralympics organizing committee executive, was released on bail from the Tokyo Detention House a month later after a nearly fourth-month stay there.
Prosecutors contend that Takahashi, a former executive for advertising giant Dentsu, received bribes totaling about ¥200 million JPY ($1.525 million USD) from five firms: Aoki Holdings Inc, ADK Marketing Solutions, Daiko Advertising Inc, Sun Arrow Inc and Kadokawa Corp.
As a power broker within Japan's sports circles, Takahashi through his longstanding ties to Dentsu and later within the Tokyo 2020 executive board, wielded influence on getting contracts for companies to be involved in official capacities with the Tokyo Olympics, investigators have claimed. A prime example: Aoki Holdings was awarded the contract for the Japan Olympic team's official clothing.
Three Aoki Holdings officials were arrested in August 2022 after the company was accused of making ¥51 million JPY ($380,000 USD) in payments between October 2017 and March 2022 to Takahashi, who was the Tokyo 2020 marketing division chief at the time.

Takahashi has denied the charges, as have officials from Aoki Holdings.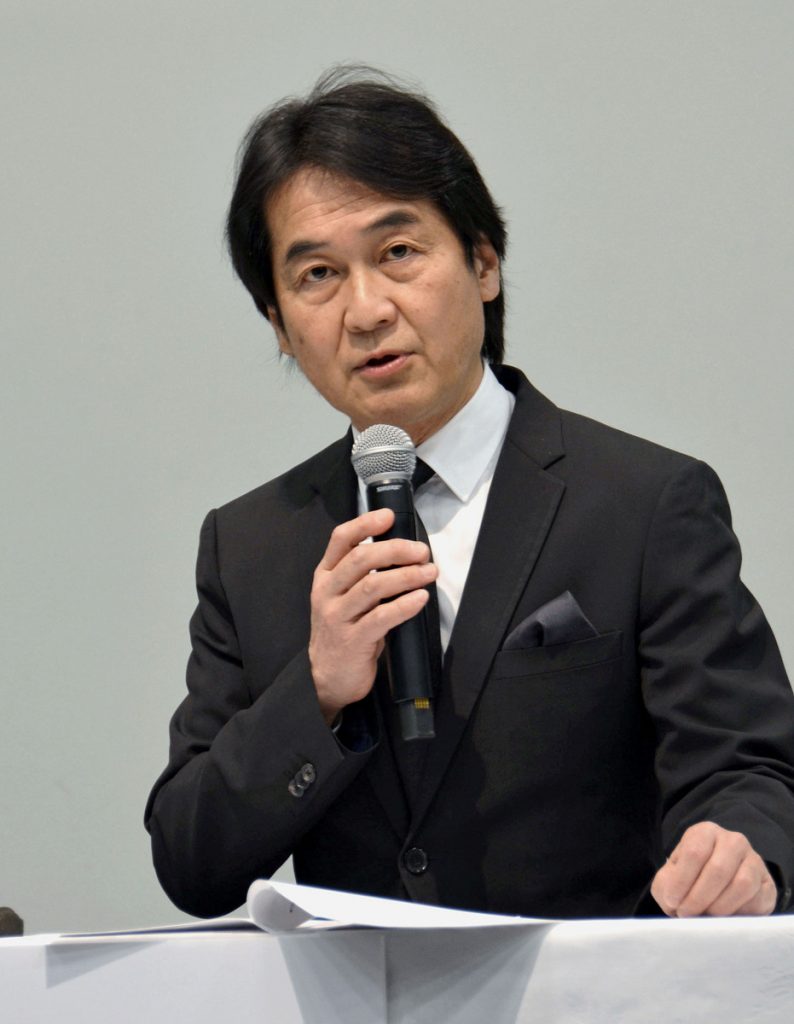 Kadokawa Back in the Spotlight
Meanwhile, Kadokawa Corp, which printed Tokyo 2020's official programs and guidebooks, returned to the spotlight as another element of the scandal in recent days.

Takeshi Natsuno, the Kadokawa president, spoke in a contrite tone at a news conference in Tokyo on Thursday, February 2. Tsuguhiko Kadokawa, the former Kadokawa chairman, had been arrested in September 2022 on bribery charges ー alleged payments of ¥69 million JPY ($480,000 USD) to Takahashi.

Among Natsuno's main points was what he said his company must now do: focus on bolstering oversight measures.

With the media chronicling the event, Natsuno bowed and apologized. He acknowledged that Kadokawa Corp had "seriously betrayed public trust," The Associated Press reported.

So what now?

How many months and years ahead will indictments and arrests be made in this ongoing saga?

Only time will tell. It appears, though, that investigators may have just scratched the surface.
RELATED: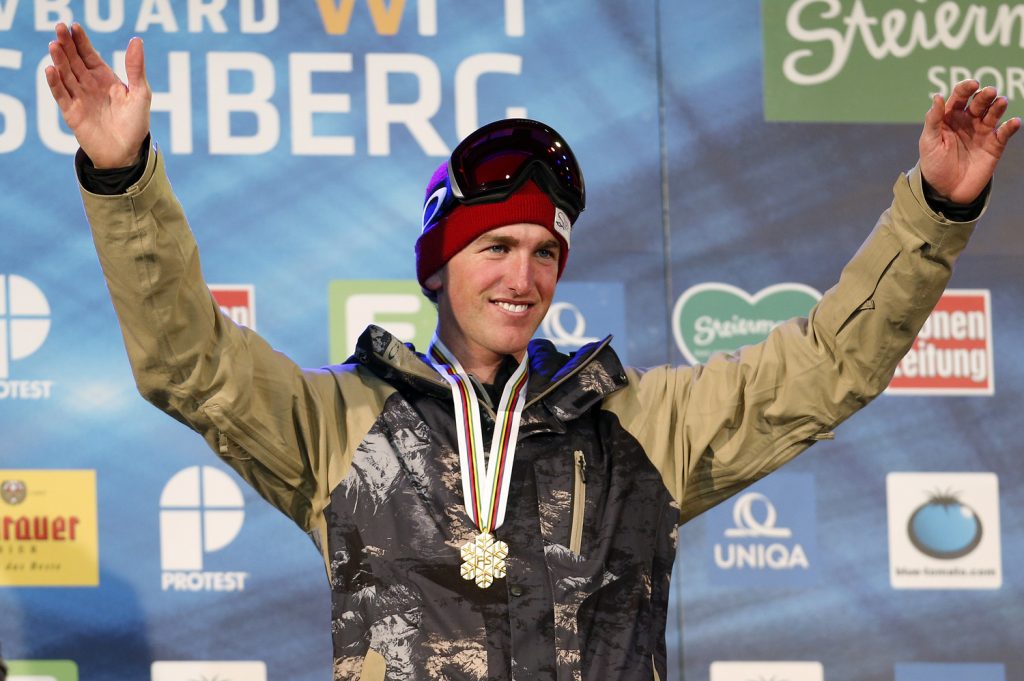 Kyle Smaine celebrates winning the men's freestyle ski half pipe event at the Freestyle Ski and Snowboard World Championships in Kreischberg, Austria, on January 22, 2015. (Darko Bandic/AP)
Skiing
Former World Champion Smaine Dies in Nagano Avalanche
American Kyle Smaine was one of two skiers who died during an avalanche on Mount Norikura near the village of Otari, Nagano Prefecture, on Sunday, January 29.
Smaine was 31. A California native, he was the freestyle skiing men's halfpipe world champion in 2015.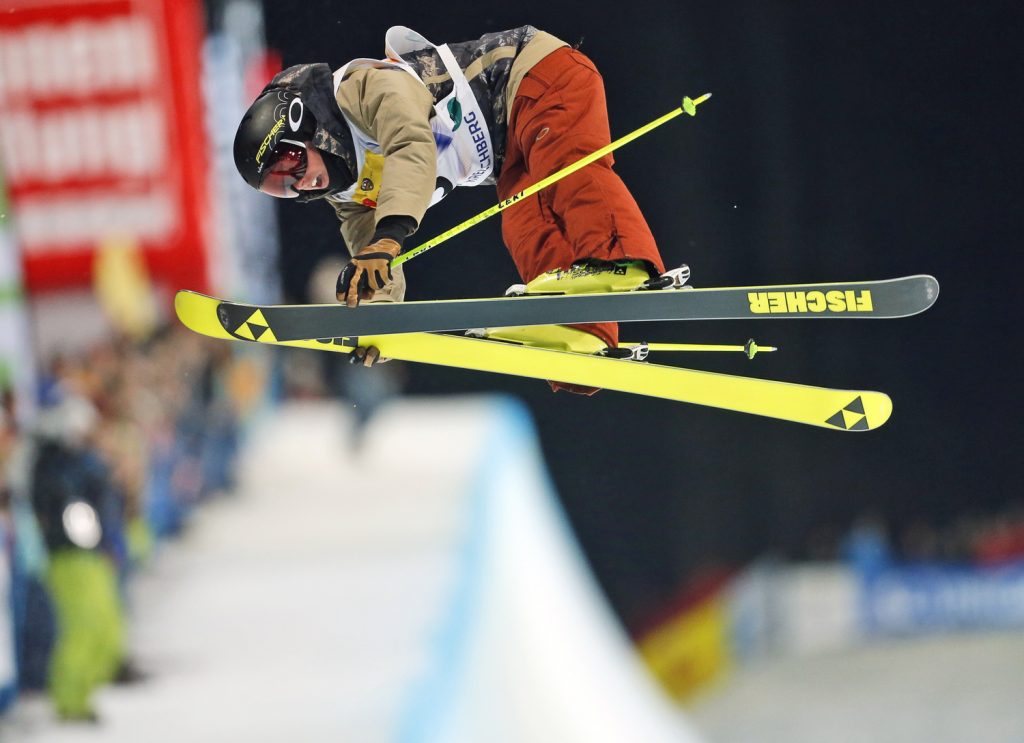 Kyle Smaine in a file photo from the men's freestyle ski half pipe event at the 2015 Freestyle Ski and Snowboard World Championships in Kreischberg, Austria. (Darko Bandic/AP)
Around 2:30 PM on Sunday, five foreign skiers were met head-on by the avalanche, according to published reports. An unnamed Austrian skier also died, while three others escaped, Britain's Sky News reported.

Smaine "was thrown 50 meters by the air blast and buried and killed," according to photographer Greg Gunderson's eyewitness account of the accident, The Associated Press reported.

This backcountry skiing locale is an "unpatrolled area near a ski resort," NHK reported.
"There's a higher risk in the backcountry because unlike regular ski runs, nobody manages those areas or takes steps to prevent avalanches," says Jun Nagai, a leader of a national backcountry ski guide organization told NHK.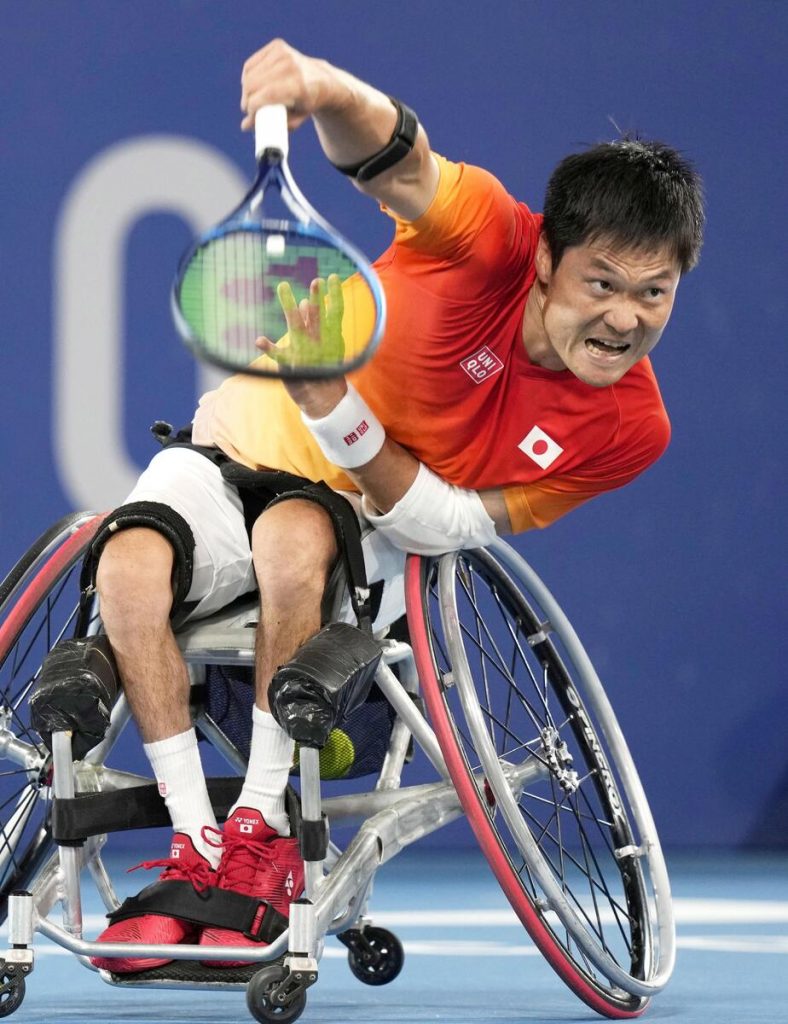 Shingo Kunieda in action at the Tokyo Paralympics in September 2021. (KYODO)
Tennis
Kunieda Likely to Receive People's Honor Award
Chief Cabinet Secretary Hirokazu Matsuno told reporters on Friday, February 3 that retired wheelchair tennis legend Shingo Kunieda is a candidate to receive the People's Honor Award.

Kunieda retired as the world's top-ranked men's player in January. The Reitaku University graduate won a jaw-dropping 50 Grand Slam titles (28 in singles competition, 22 as a doubles player). Kunieda claimed his third Paralympic gold medal as a singles player at the Tokyo Games in September 2021.

Both Matsuno and Japanese Prime Minister Fumio Kishida made comments on Friday that suggested only minor details have yet to be officially decided ー such as when the award will be given.

Speaking to reporters at a news conference, Matsuno praised Kunieda, 38, for inspiring people and giving "hope and courage to the people, and many people have praised him because of that."

Matsuno added, "For his achievement, the government would like to think how to honor him."
Kishida summed up Kunieda's exceptional career by calling it "unprecedented."

The People's Honor Award was established in 1977.
More than two dozen individuals and one group representing entertainment, culture and sports have received the award since then, the last of whom was two-time Olympic men's figure skating gold medalist Yuzuru Hanyu in 2018.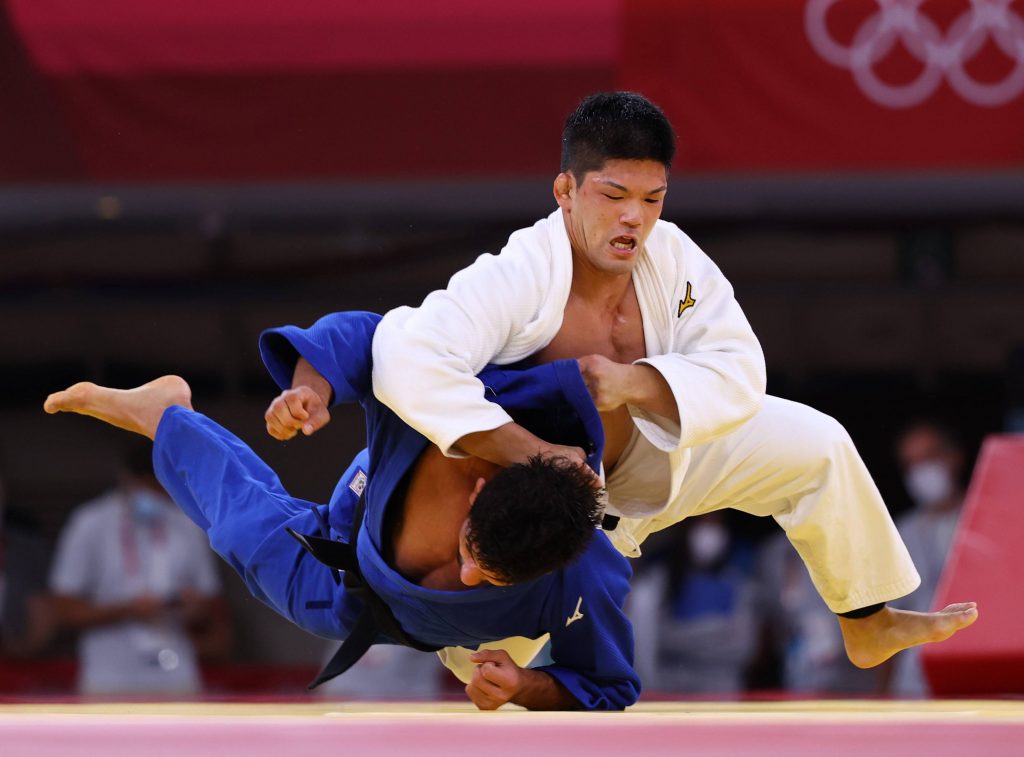 Shohei Ono in action against Georgia's Lasha Shavdatuashvili in the men's under 73-kg division final at the Tokyo Olympics on July 26, 2021. (ⒸSANKEI)
Judo
Ono Confirms Decision to Retire
Two-time Olympic champion Shohei Ono's decision to step away from competition and begin his coaching career is official.

Kyodo News reported that the Japanese Olympic Committee received the following message sent from Ono to the All-Japan Judo Federation on Friday, February 3:
"My time as an elite athlete is over. I will not compete at future Olympics or world championships."
Ono, a three-time world champion in the men's under-73 kg weight class (the same division he secured Olympic gold medals in 2016 and 2021), is set to participate in the JOC's overseas training program for sports instructors. His application was formally approved on Friday, the same day that Ono celebrated his 31st birthday.
He is scheduled to begin working in the two-year program in Britain at a TBD date.
RELATED: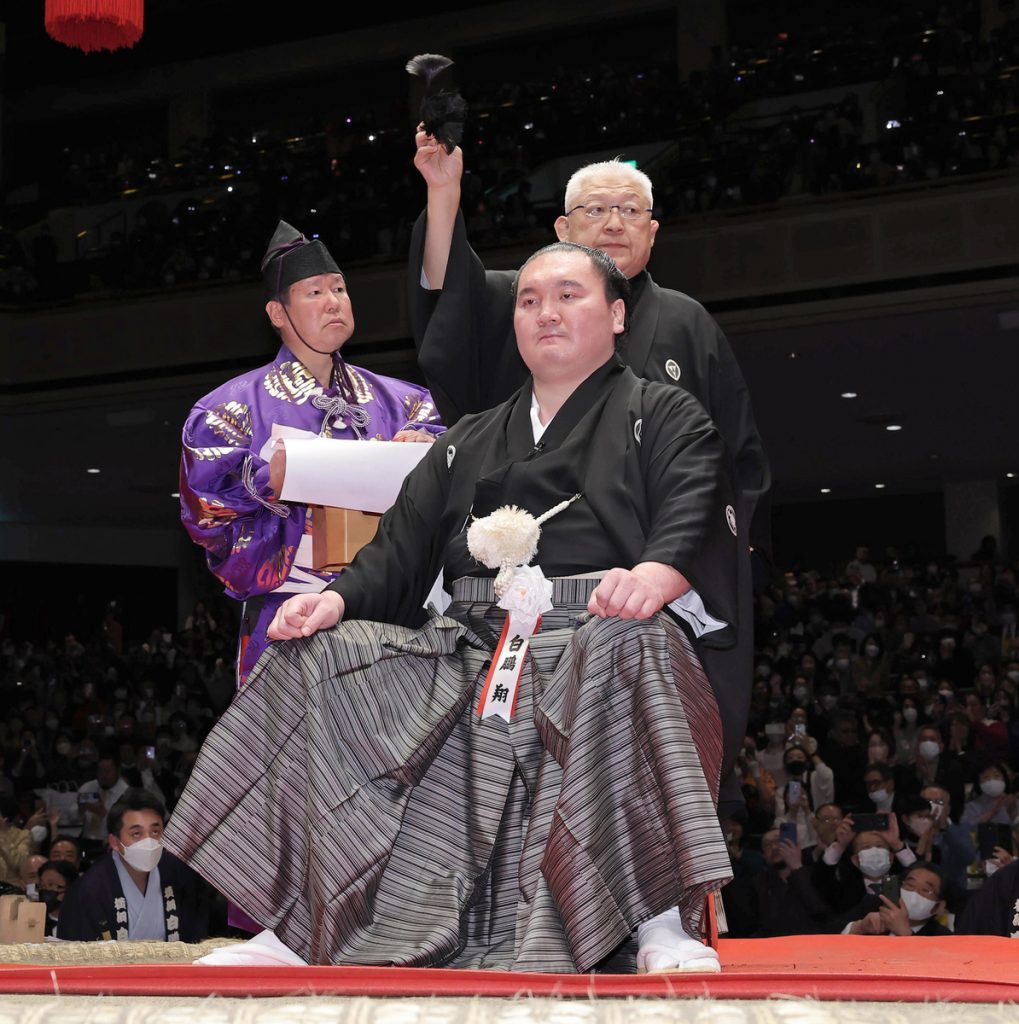 Ex-stablemaster Magaki removes Hakuho's topknot during the former yokozuna's retirement ceremony at Tokyo's Ryogoku Kokugikan on January 28. (ⒸSANKEI)
Sumo
Hakuho Honored in Retirement Ceremony
Hakuho, who won a record 45 Emperor's Cups in his legendary sumo career before retiring in September 2021, participated in one of the tradition rich sport's time-honored rites on Saturday, January 28. Before an audience of approximately 280 individuals, Hakuho participated in a ring-entering ceremony for the final time.

On this emotional day, Hakuho wrestled against his son, Mahato.

Takakeisho and fellow Mongolian native Hoshoryu joined him in the dohyo as onlookers cheered for the most successful wrestler in sumo history.

What followed next signified the symbolic end of Hakuho's former life as a wrestler. Two ex-yokozuna, Kisenosato and Harumafuji, along with his mother, who celebrated her 75th birthday that day, were all involved in trimming his topknot, NHK reported.

Fittingly, Magaki, his former Miyagino stablemaster, cut the final strand of the topknot.
Hakuho's formal name in the next phase of his sumo career is Miyagino. He's the new stablemaster and the 37-year-old described the emotions dancing in his head during the removal of his topknot.

"There is a sense of loneliness, as if losing part of my body," Hakuho said, according to Kyodo News. "I couldn't sort out my feelings, there were ups and downs and it was hard [during the ceremony]."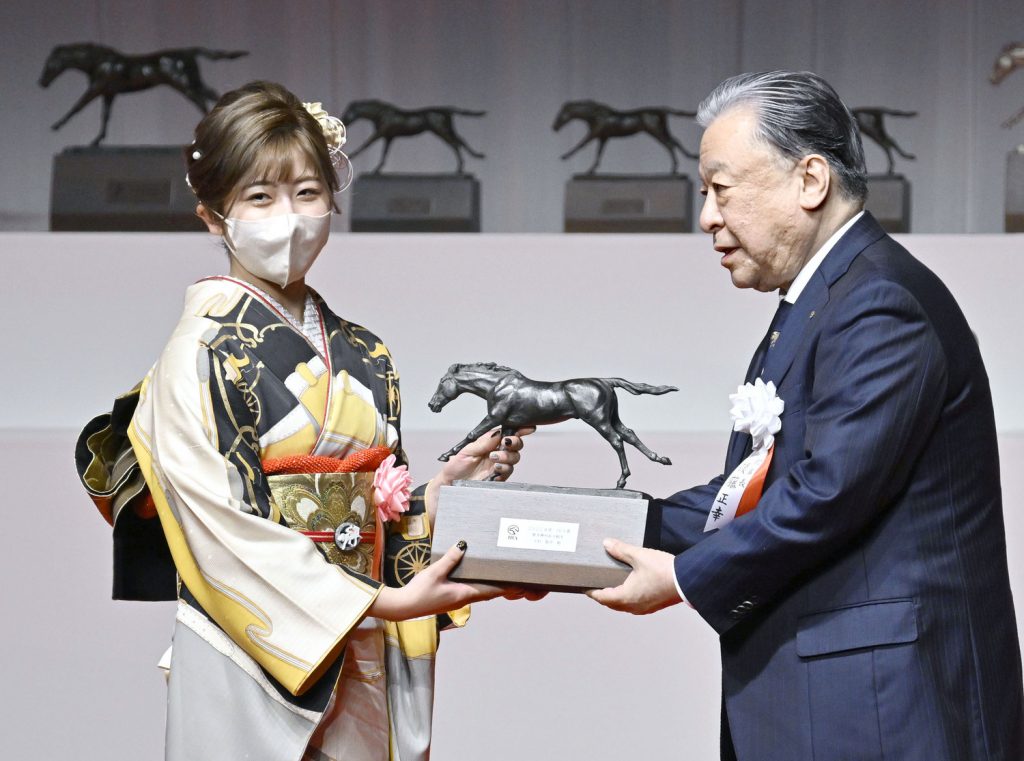 Seina Imamura receives the JRA Award for Best Jockey (Newcomer) for the 2022 racing season on January 30 in Tokyo. (KYODO)
Horse Racing
Imamura Receives Top Newcomer Award
Seina Imamura showed a lot of promise in her rookie season as a Japan Racing Association jockey.
In 606 starts in 2022, Imamura finished first 51 times, was second in 48 races and placed third on 42 occasions.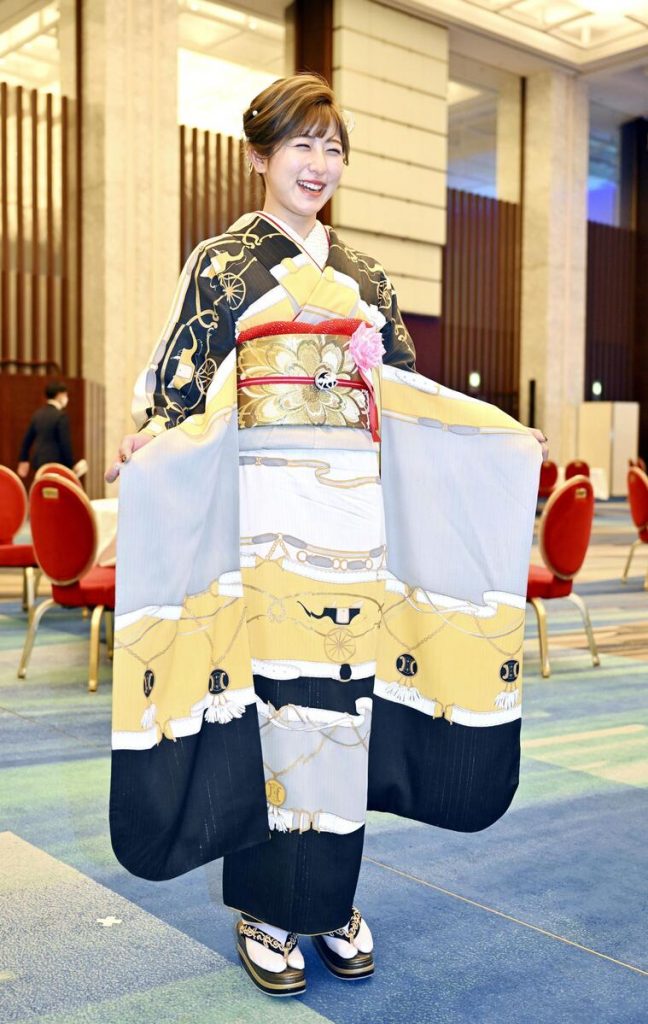 Jockey Seina Imamura attends the 2022 JRA Awards ceremony in Tokyo on January 30. (KYODO)

Her 51 wins as a rookie were fourth on the JRA's all-time list for debutante riders. Yuichi Fukunaga had 53 in 1996, Yutaka Take recorded 69 victories in 1987 and Kosei Miura secured 91 triumphs in 2008.

The 19-year-old daughter of former jockey Yasunari Imamura became the first female to receive this award, which was handed out during the 2022 JRA Racing Awards ceremony in Tokyo on Monday, January 30.

This article provides a comprehensive rundown of the 2022 JRA Awards.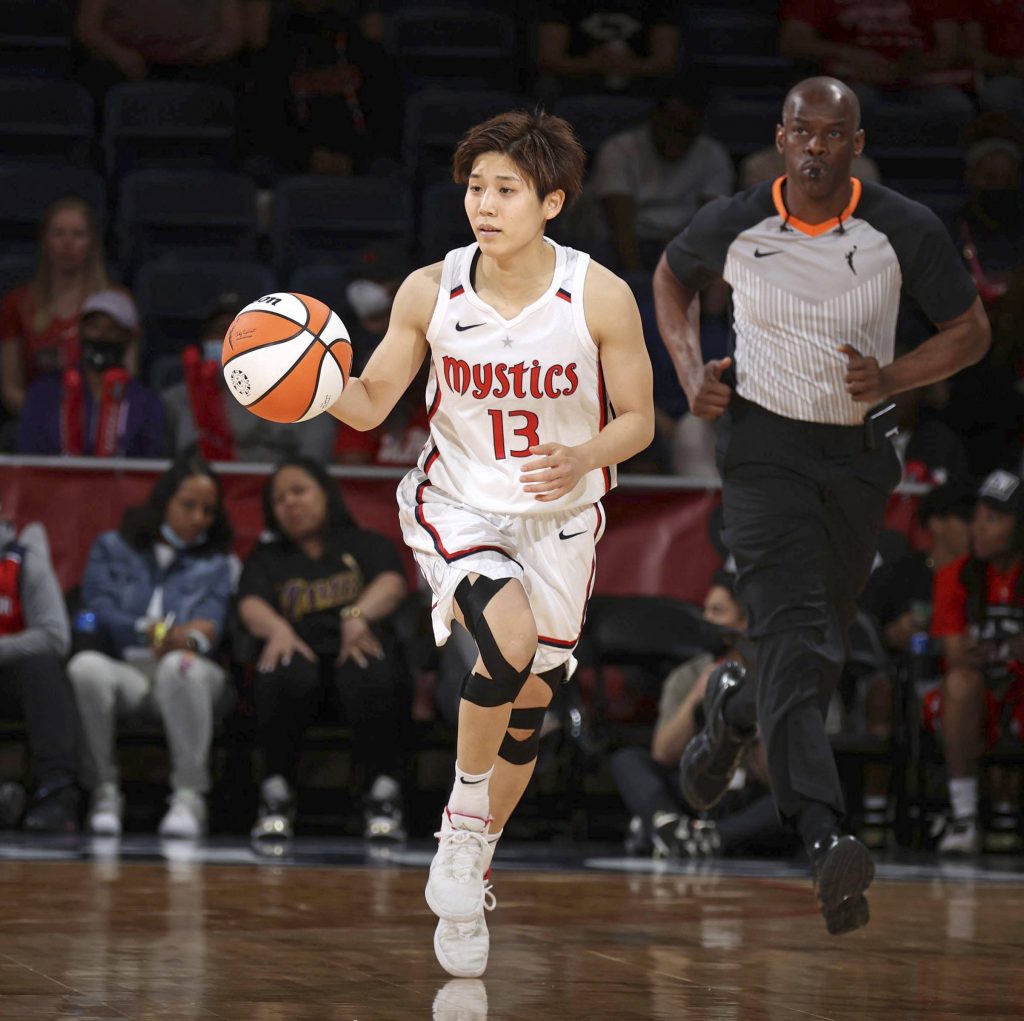 Point guard Rui Machida runs the Washington Mystics offense on May 10, 2022, against the Las Vegas Aces. (NBAE/GETTY IMAGES/via KYODO)
Basketball
WNBA's Mystics Won't Offer Machida a Contract for 2023 Season
Point guard Rui Machida will not return to the WNBA's Washington Mystics for the upcoming season, the team announced on Wednesday, February 1.

Machida, 29, averaged 1.8 points, 2.6 rebounds and 12.9 minutes in 36 games (two starts) for the Mystics last season, her first in the WNBA.

Washington, coming off a 22-14 season, is retooling its roster and Machida doesn't fit in the team's plans for the season, which tips off on May 19. As a result, the Mystics have officially relinquished their rights to Machida.
"We really enjoyed having Rui as part of our organization last season," Mystics general manager Mike Thibault said. "However, with the new changes in our roster, there isn't the same opportunity here for her this coming season. This will give her the chance to see if there is a better fit for her elsewhere. We wish her the best of luck."
Before joining the Mystics, Machida played for the WJBL's Fujitsu Red Wave from 2011-22.
Machida helped lead Japan to a runner-up finish in the Olympic women's tournament at the Tokyo Games in August 2021.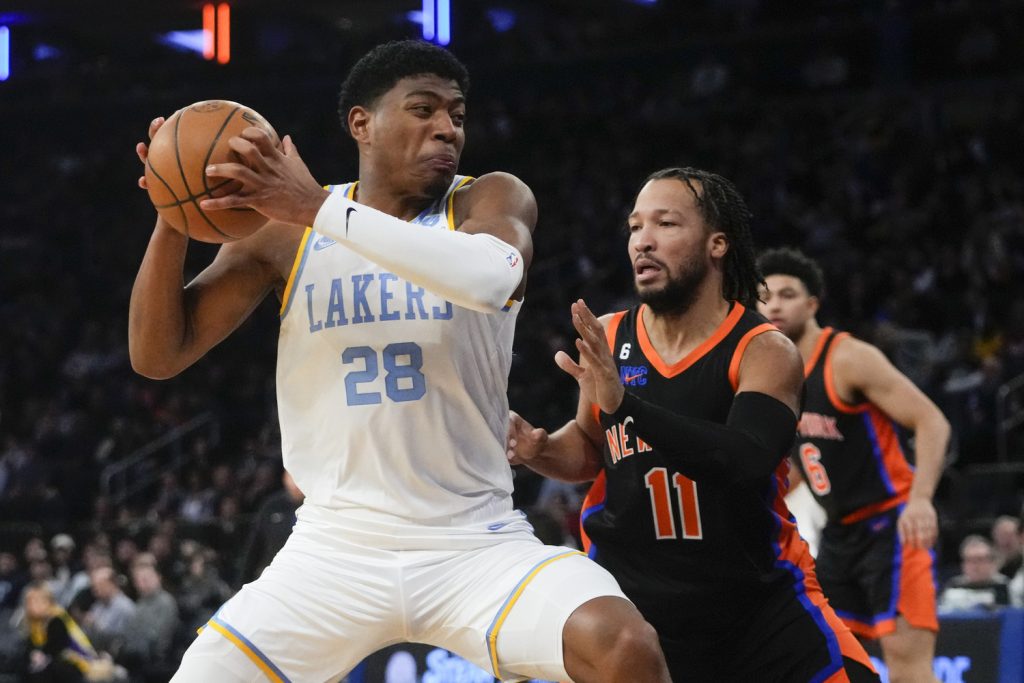 The Los Angeles Lakers' Rui Hachimura is defended by Jalen Brunson of the New York Knicks in the second half on January 31 in New York. (Frank Franklin II/AP)
Hachimura, Lakers Getting Acclimated With One Another
Rui Hachimura has played five games for the Los Angeles Lakers through Thursday, February 2 since being traded to the NBA team from the Washington Wizards.

The Lakers won three of five games, including back-to-back road contests against the New York Knicks (in overtime) and Indiana Pacers on January 31 and February 2. Three of those games were decided by six points or less, including a one-point victory over the Pacers.

Hachimura had 19 points on 8-for-12 shooting and pulled down nine rebounds against the Knicks.

He's averaging 12.0 points, 6.4 rebounds and 28.4 minutes in five games (three starts) in a Lakers uniform. Hachimura didn't start in any of his 30 games with Washington before the January 23 trade.

After the victory over the Knicks, Lakers superstar LeBron James said Hachimura has fit in with the team since the trade.
"He was aggressive from the beginning of the game to the end," James told a news conference.
James added, "His ability and what he can bring to our team, we need him to showcase that every night for us. And like [Anthony Davis] said, be aggressive from the very beginning. And he was that all the way until the very end, finishing off his performance with that block. So, it's a great piece to have, and we're lucky to have him."
Briefly…
Skateboarder Yuto Horigome, the men's street gold medalist at the Tokyo Olympics in 2021, placed 32nd in qualifying at the World Street Skateboarding Championships on Thursday, February 2, in Sharjah, United Arab Emirates. The top 25 advanced to the quarterfinals.
Dynamic duo: Celtic FC's Daizen Maeda and Kyogo Furuhashi each scored a first-half goal in the reigning Scottish Premiership champion's 3-0 victory over Livingston on Wednesday, February 1 in Glasgow. After earning its fourth straight league win, Celtic entered the weekend with a nine-point lead over Rangers.

Author: Ed Odeven
Find Ed on JAPAN Forward's dedicated website, SportsLook. Follow his [Japan Sports Notebook] on Sundays, [Odds and Evens] during the week, and Twitter @ed_odeven.